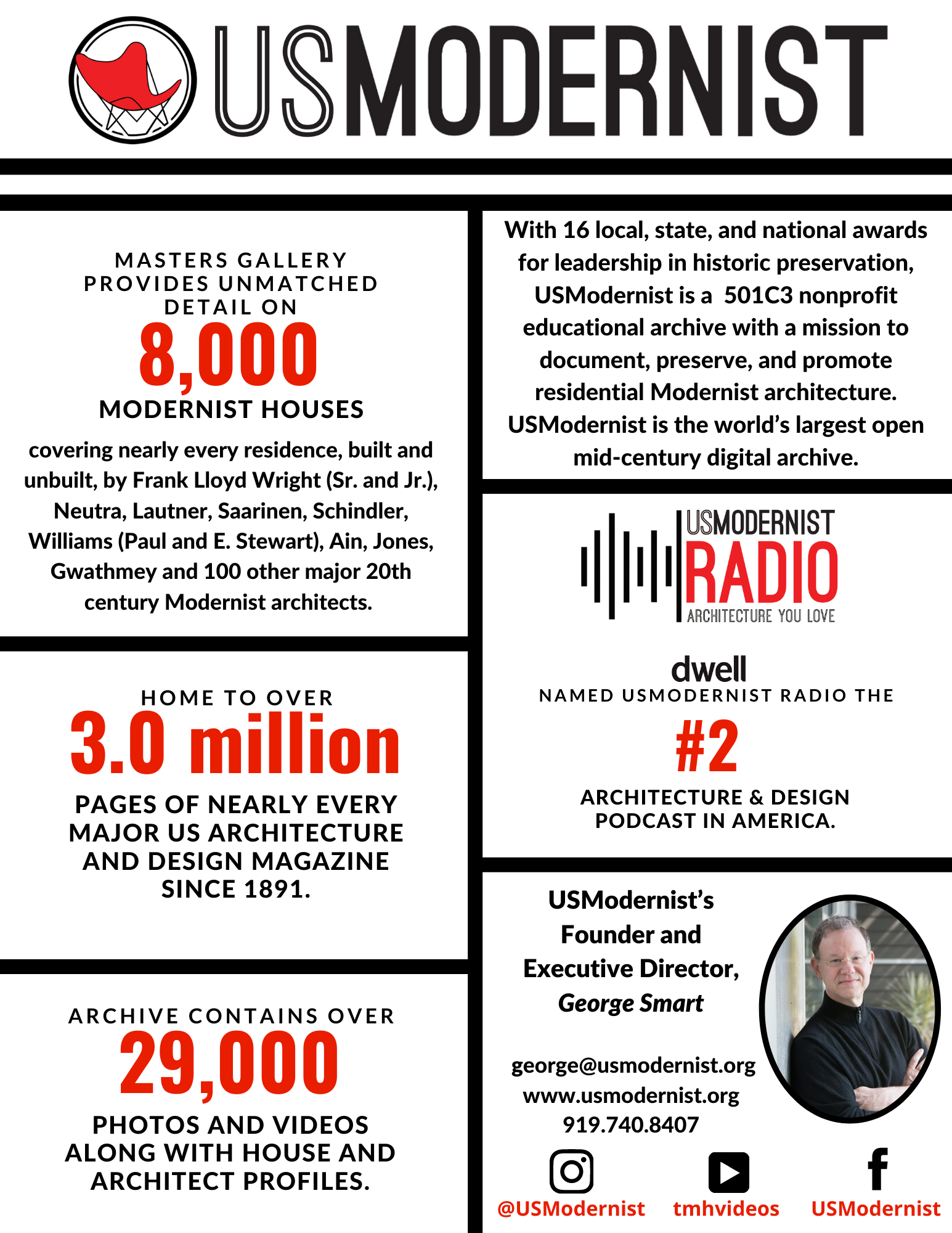 Overview. For passionate architecture fans, which are many, Modernist houses evoke a true love. These houses connect people to nature and the land through carefully designed spaces that are relaxing, compelling, and utterly addictive. For many, Modernist houses are livable sculptures. Our work raises awareness about Modernist preservation and preserves the legacy of exceptional design for future generations. We have been recognized with 16 awards for local, state, and national leadership in historic preservation, reviving interest in the state's legacy of great architecture and giving thousands of people access to the most exciting residential architecture, past and present. We connect people with their their future dream homes and preserve the legacy of exceptional works of art for future generations. We've lost too many to the bulldozer, such as the Catalano House, Raleigh, by Eduardo Catalano, destroyed 2001; Paschal House, Raleigh, by James Fitzgibbon, destroyed 2013; Ashford House, Raleigh, by Sam Ashford, destroyed 2014; Kistler-Hollstein House, Fayetteville, by Dan MacMillan, destroyed 2005; Goist House, Raleigh, designed by Terry Waugh, destroyed 2015.

History. The organization started as Triangle Modernist Houses in 2007 by George Smart as a local design website and became a nonprofit 501C3 in 2009. By 2013, having documented 2400 Modernist houses and 300 architects in North Carolina, the name changed to NCModernist®. In 2015, the national site USModernist® was launched while maintaining NCModernist.org. NCModernist continually hosts wildly popular local house tours, design networking events, and architecture movies. USModernist hosts national and international tours; the largest online digital archive of well-known mid-century Modernist houses and architects in America; a 3,000,000+ page architecture library, and the USModernist Radio podcast.

Situation. Many mid-century Modernist houses are endangered. Their locations, often on prime real estate, can be worth much more than the houses, making demolition and development an attractive option. By networking current owners and providing the public detailed information, histories and maps, we help endangered houses be purchased or otherwise preserved. NCModernist has helped hundreds of Modernist houses change hands and was directly involved in saving The Taylor House, Chapel Hill, by John Latimer and George Matsumoto; The Crumpler House, Durham, by John Latimer; The Kornberg House, Durham, by Jon Condoret; The Lasater House, Charlotte, by AG Odell; The Carr House, Durham, by Kenneth Scott; The Howard Residence, Greensboro, by Thomas Hayes; The Mattocks House, Chapel Hill, by Sumner Winn; The Raleigh Frye Lake House, Hickory, by Jim Sherrill.
George Smart
Founder/Executive Director. George's wife refers to this project as "a 14-year seizure."
Rebekah Laney
Development. She just left you a voicemail.
Frank Harmon FAIA
National Affairs. Sends alerts when our fenestration needs a parti hat.
Angela Roehl
Tours. Angela books exciting architecture tours then leads them. She really hates this.
Virginia Faust
Monitors iconic houses across NC day after day, for years.
Cindy Stratton
Not her real name. pays bills from a secret underground bunker near starbucks.
Catherine Cramer
Research. She can find any Modernist house. Resistance is futile.
Iva Kravitz
strategy pr. it's pronounced kray-vitz. She knows everybody.
Michael Locke
Research. He shoots thousands of houses in LA. With his camera.
Carie Chesarino
Research. first day on the job, she solved a huge cold case.
Tom Guild
USModernist Radio Engineer and Co-Host. He met the Rolling Stones but not Frank Gehry.
Ron Gallagher
Editor. He corrects grammer, too.
---
Modernist Archive Inc. Board of Directors
Anne Stoddard, Sharon Glazener, George Smart, Eleanor Stell, and Caterri Woodrum.
Mission
USModernist provides donors, volunteers, and advocates the information and organization they require to passionately engage the documentation, preservation, and promotion of US residential Modernist architecture.
Projects
USModernist provides documentation for nearly every iconic Modernist house in America. We educate the public to preserve Modernism through our archives, giving millions of people access to the most exciting residential architecture, past and present.