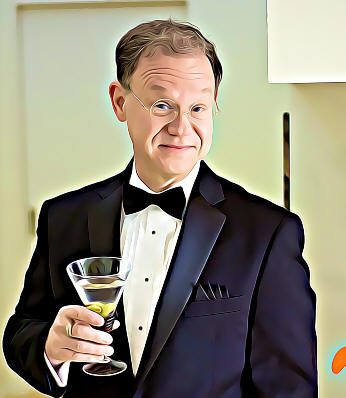 George Smart aka Mr. Modernism!
George Smart is an accidental archivist. From a late night Google search in 2007, his small but intrepid nonprofit staff and volunteers have built the largest open digital archives for residential mid-century Modernist design in the world. George is founder and Executive Director of USModernist ® and NCModernist ®, nonprofit organizations for the documentation, preservation, and promotion of Modernist design with 15 national, state, and local awards.
DWELL called George the Lorax of Modernist houses. He received the 2016 AIA Institute Honors for Collaborative and Professional Achievement, one of the AIA's highest honors for a non-architect. He is a frequent speaker at design, real estate, and architecture organizations including Palm Springs Modernism Week, the New York School of Interior Design, and WestEdge.
George is Producer and Host of the podcast USModernist Radio, named by DWELL as the #2 architecture and design podcast, with guests including Daniel Libeskind, Moshe Safdie, Josh Ramus, Tom Kundig, Paul Goldberger, Jake Gorst, Alan Hess, Larry Scarpa, Frances Anderton, Kyle Bergman, Tim Ross, Hicks Stone, Chris Rawlins, Harry Bates, Allison Arieff, Alison Brooks, Eric Lloyd Wright, Kelly Lynch, Eames Demetrios, Raymond and Dion Neutra, Susan and Eric Saarinen, Alexandra Lange, Nathanial Kahn, Kate Wagner, and Sarah Susanka, among many others. He has written for Atomic Ranch magazine and travels from Raleigh/Durham NC. He is @mr.modernism on Instagram. High-res photos: tux, jacket, Palm Springs, sweater.
Photo by SRQ Magazine
Keynote: The Accidental Archivist
America's mid-century Modernist architects and their original clients are almost all dead; their houses have been sold several times; and the local real estate community would just as soon market teardowns as find new, caring owners. Despite many Modernist houses aging over the 50-year mark, city councils and preservation groups have a hard time considering Modernist houses to be historic - because 50 years later many still look like the future.
Most architects don't know just how many amazing mid-century Modernist houses still exist. George Smart didn't know either - because they were largely undocumented and later, he found out, in danger of destruction. In 2007, one dark and stormy night, he started a project that has become USModernist, the world's largest online digital archive for Modernist residential design, and he has helped hundreds of endangered Modernist houses find new caring owners.
Dubbed the Accidental Archivist, George Smart has informed, engaged, and entertained design-oriented audiences from California to New York - and every week reaches tens of thousands as host of the podcast USModernist Radio, named by DWELL as the #2 architecture and design podcast.
If you're a Modernist fan in many towns and smaller cities, you often have nowhere to turn for documentation. Surely somebody has documented the Modernist houses. Surely some architect or preservation society or library at least has a list. The answer is usually no, and fans don't know what to do, so nothing continues to happen.
With bulldozers destroying mid-century Modernist houses daily, many "livable works of art" remain threatened by rising land prices and disinterested heirs, George will share the story and the details of how his energetic and dedicated team of volunteers documented over 7,000 Modernist houses across America, featuring nearly every Wright, Lloyd Wright, Neutra, Schindler, Lautner, Ellwood, Koenig, Ain, Soriano - built and unbuilt - and more. Of particular interest to architects, George will share how the USModernist Library collected, scanned, and made 2.8 million pages of practically inaccessible architecture magazines free and accessible to everyone.
Participants will learn how to start a documentation and preservation effort in their communities - with nothing more than a car, a cell phone, and a laptop.
After the program, participants will be emailing colleagues and friends expressing wonder at the extensive house histories, deep archives, and profiles of beloved mentors. They will fill George's inbox with new information and photos of classic mid-century houses not yet documented; they will share the presentation with current and prospective residential clients; they will drag spouses and partners, most willingly, out on the weekend to drive around; and they will be inspired to start documentation projects in their own communities.
George takes The Accidental Archivist on the road to design and architecture conferences, museums, libraries, preservation organizations, and real estate associations across America. George is also available for panels (as participant or moderator) and other audience formats. To book The Accidental Archivist, contact Iva Kravitz, The Iva Agency, (917) 297-7342.
Engagements
Columbia Design League * AIA National Conferences * AIA Foundation * Charlotte History Museum * Modern Richmond * Rhode Island State Preservation Conference

Plus 35 more talks in North Carolina
Learning Objectives for CE
Participants learn how thousands of significant Modernist houses were documented and made available to the public online, many for the first time.
Participants identify the beginnings of residential Modernist design as part of a national movement.
Participants learn key differences between Modernist and contemporary architecture.
Participants learn the key architects and influencers in North Carolina and national Modernism.
Participants learn marketing methods to preserve mid-century Modernist houses through preservation, occupancy, and sustainable development strategies.
Participants discover how documenting, preserving, and promoting residential Modernist design benefits the architecture and construction industries.
Participants learn key differences between selling a traditional house and selling a Modernist house.
Participants gain free access to a digital archive of over 22,000 photos of over 6,500 Modernist houses, along with profiles on 300+ architects.
Participants learn how USModernist became the country's largest open digital archive for Modernist houses and a recognized leader in Modernist preservation with 12 local, state, and national awards.