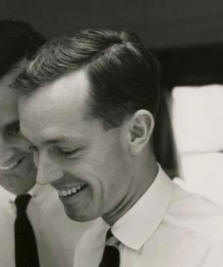 THORNTON LADD, AIA (1924–2010)
Thornton Ladd was born in Portland OR. After two years in the Navy during WWII, he graduated in architecture from USC in 1952 and interned with William Pereira before working at the City of Monterey then starting his own firm in 1954. By 1958, Ladd partnered with USC classmate, John Field Kelsey. In early 1975 Ladd and Kelsey became Ladd Kelsey Woodard when they bought Stewart Woodard's firm. In October 1981, the firm dissolved with the announcement of Ladd's retirement, Kelsey's semi-retirement, and Woodard's new firm Architects Pacifica. Unofficial Ladd Kelsey firm website.
---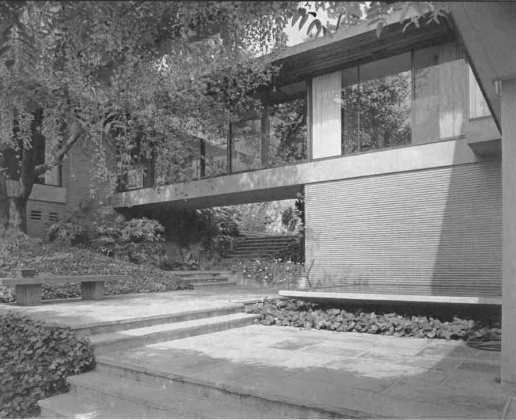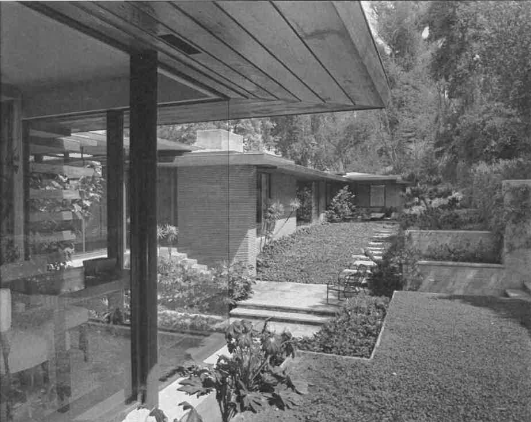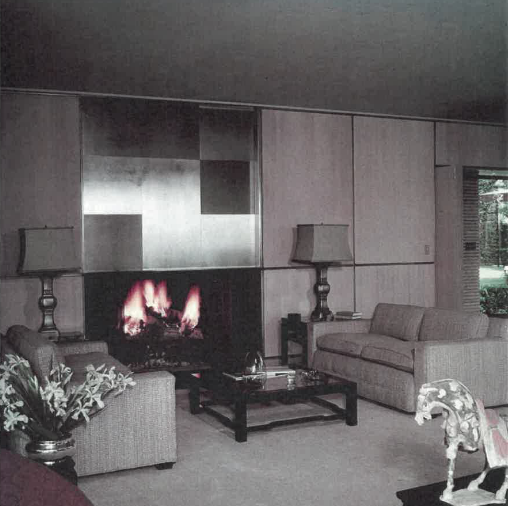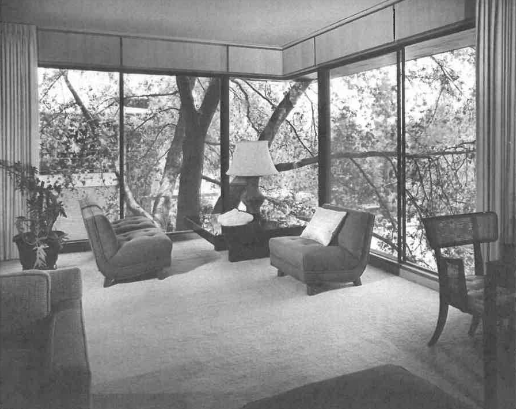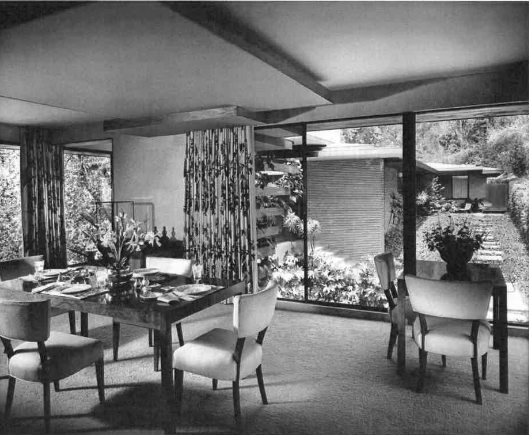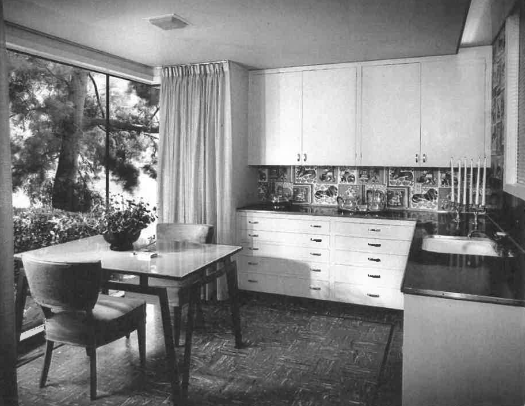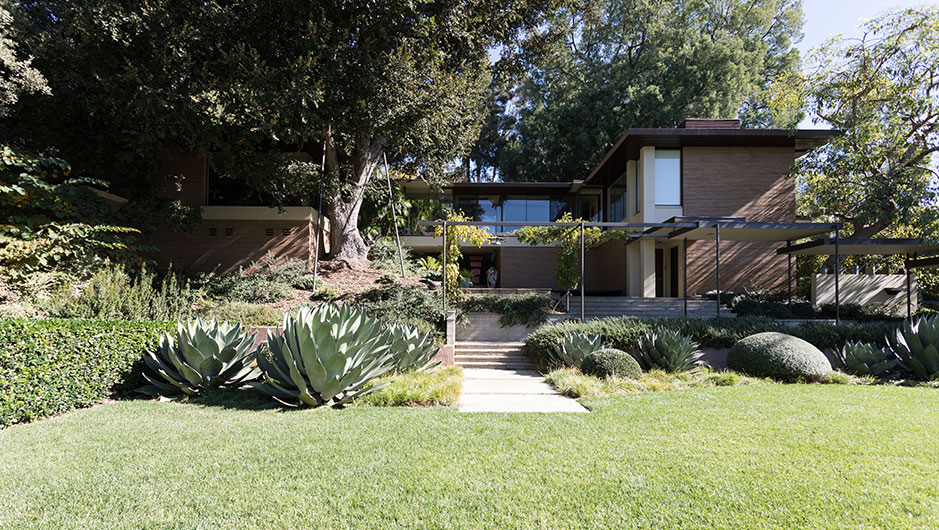 1948 - The W. Parker Lyon House, 280 California Terrace, Pasadena CA. B/W photos by Julius Shulman. Featured in House and Garden, February 1960. Sold in 2000 to Ethan and Joanne Lipsig.
---

1948 - The Paul and Pamela Campion House, 2215 North Santa Anita Avenue, Sierra Madre CA. Small addition in the 1950's. Sold to Clark P. Stevens

and

Karen J. Wada. Needs verification as a Ladd.
---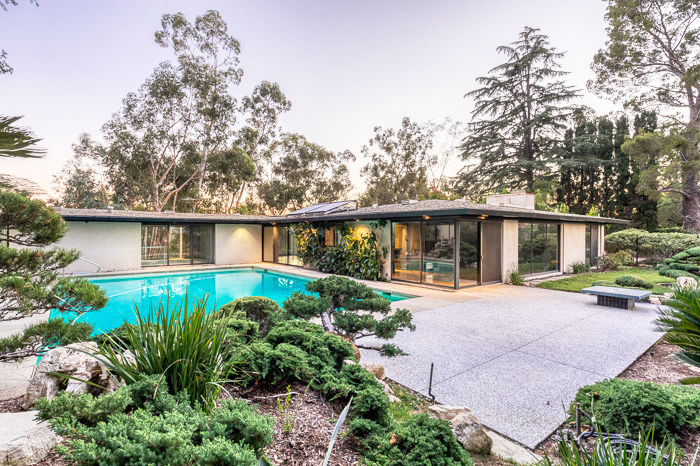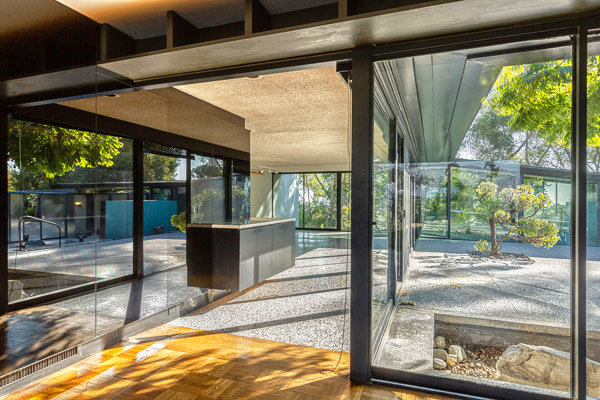 1949 - The Lillian Ladd House, aka Hilltop House, 1085 Glen Oaks Boulevard, Pasadena CA. Ladd's mother. Sold to Alexander and Adelaide Hixon. Deeded in 2011 to Harvey Mudd College. Sold around 2022.
---
1952 - The Paul Tuttle House, Pasadena CA. Paul Tuttle was trained as an architect and worked with his professor Alvin Lustig before attending the Taliesin Workshops for a year in 1949. He then worked for Welton Becket, then Thornton Ladd until 1956, when he moved to Santa Barbara and did furniture design, completing over 200 pieces. Status unknown.
---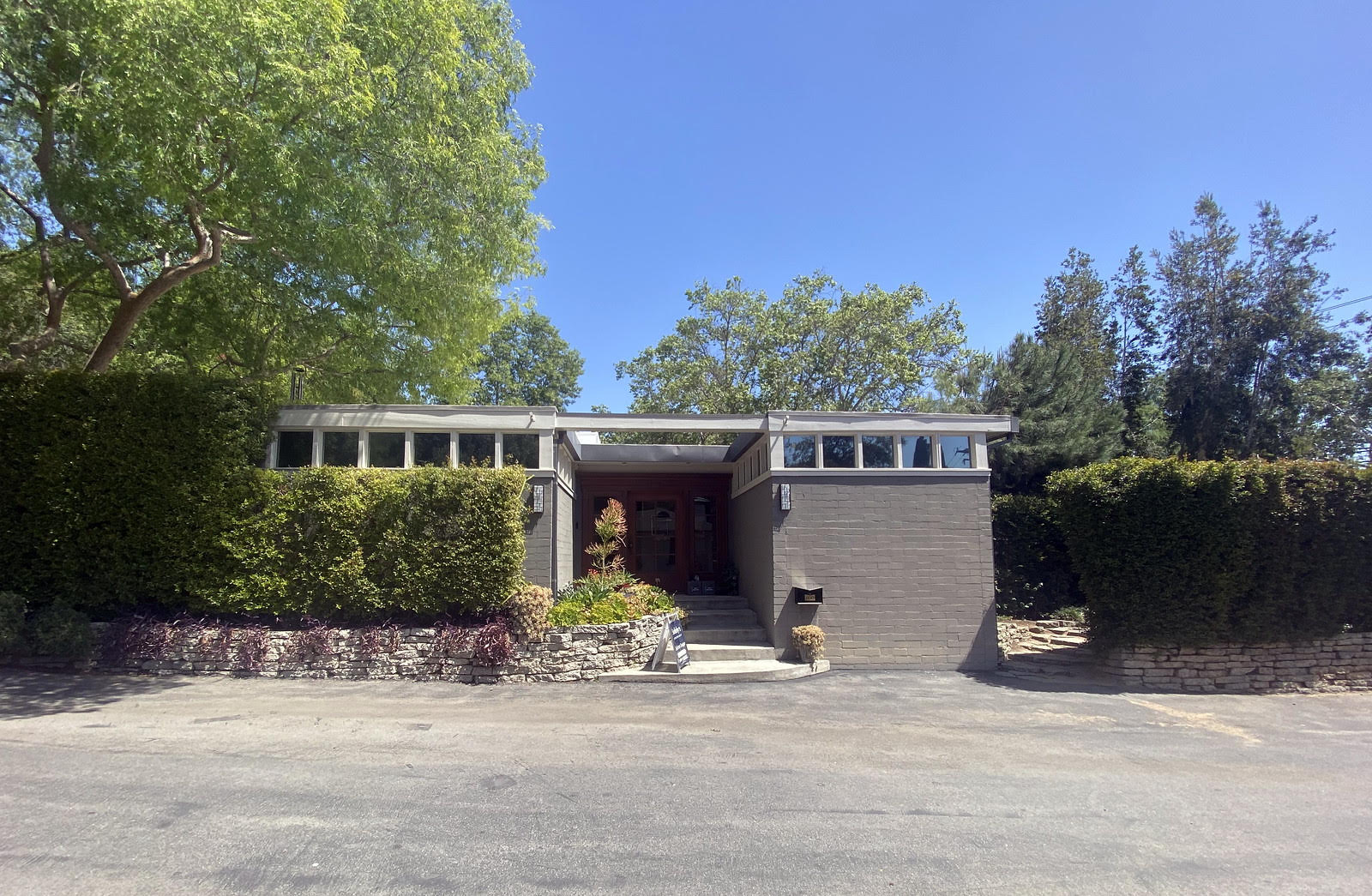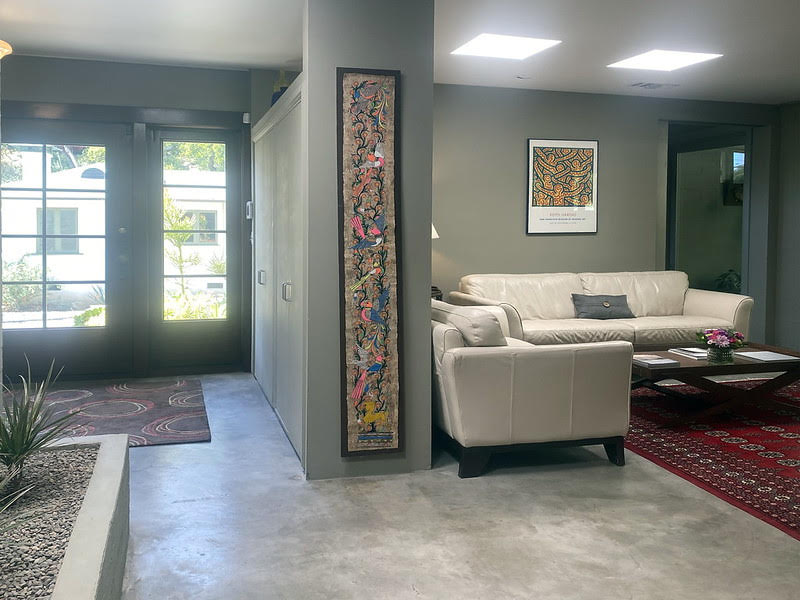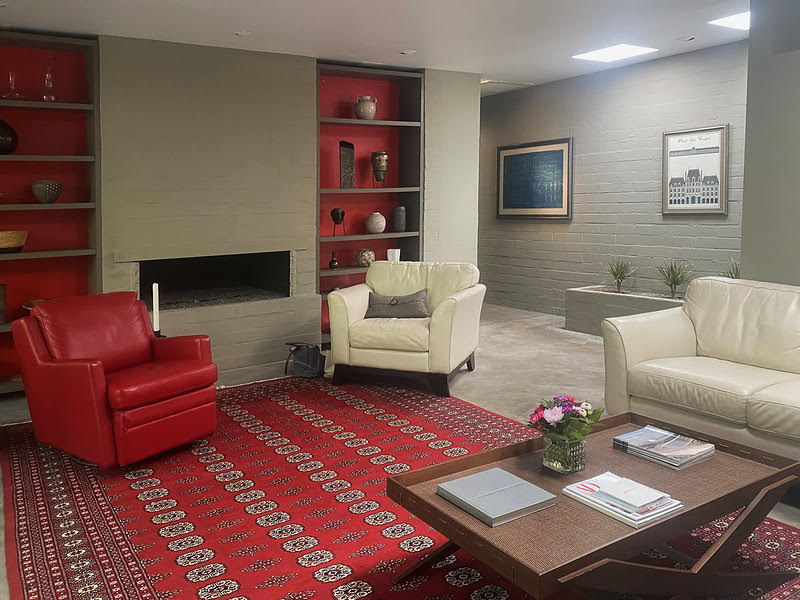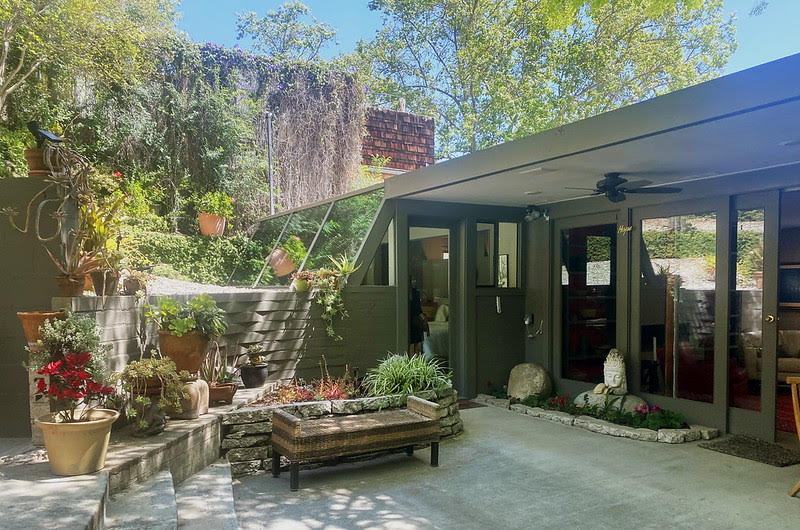 1949 - 600 Chaparral Road, Sierra Madre CA. Photos by Michael Locke. Sold to Robert G. Lovell. Sold in 1991 to Kenneth B. and Debra Lewin. Sold in 2006 to Maureen and Raymond Chartraw. Sold in 2018 to Richard D. Kalish. Sold in 2022 to Robert G. Lydecker and Sarah J. Lomeli.
---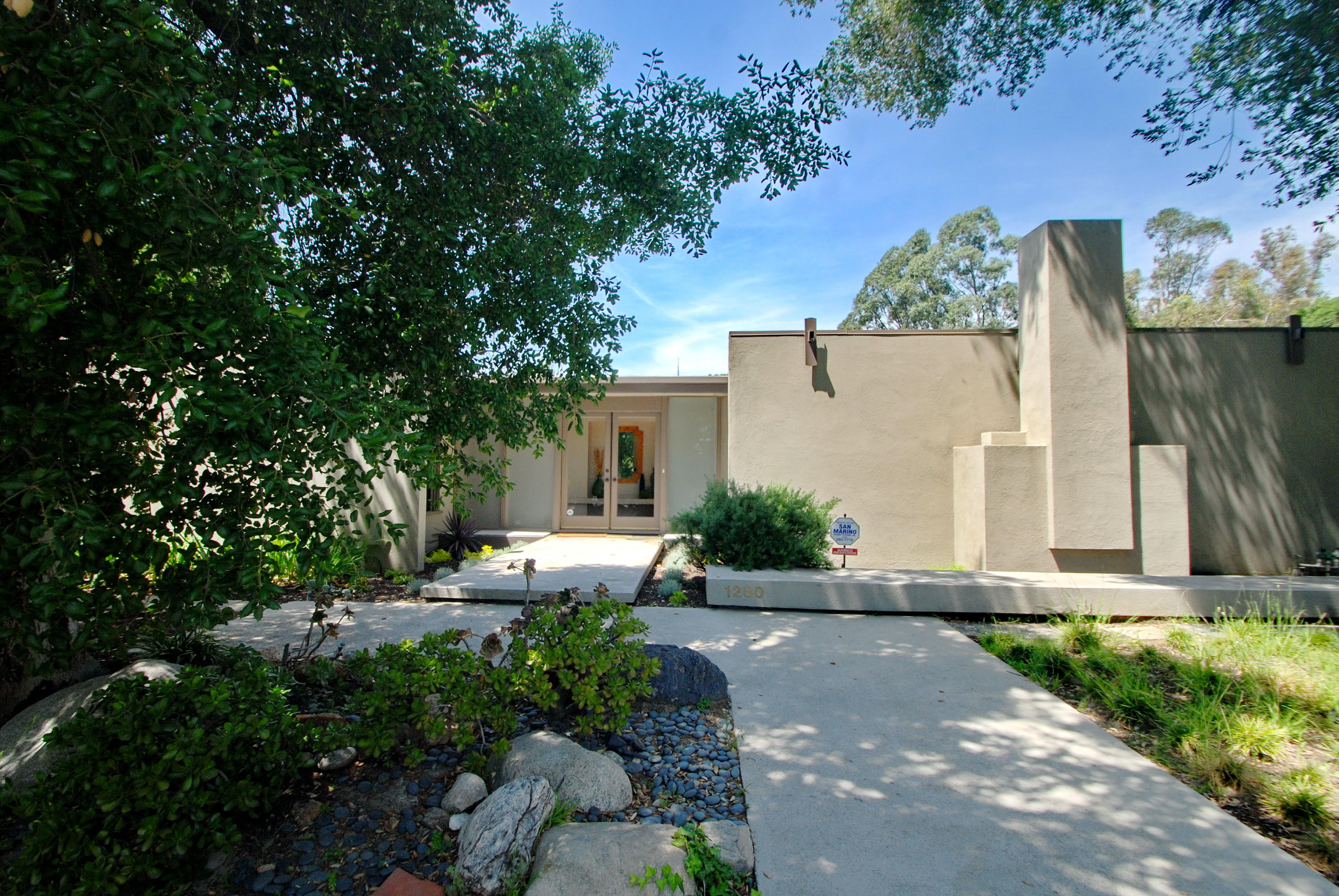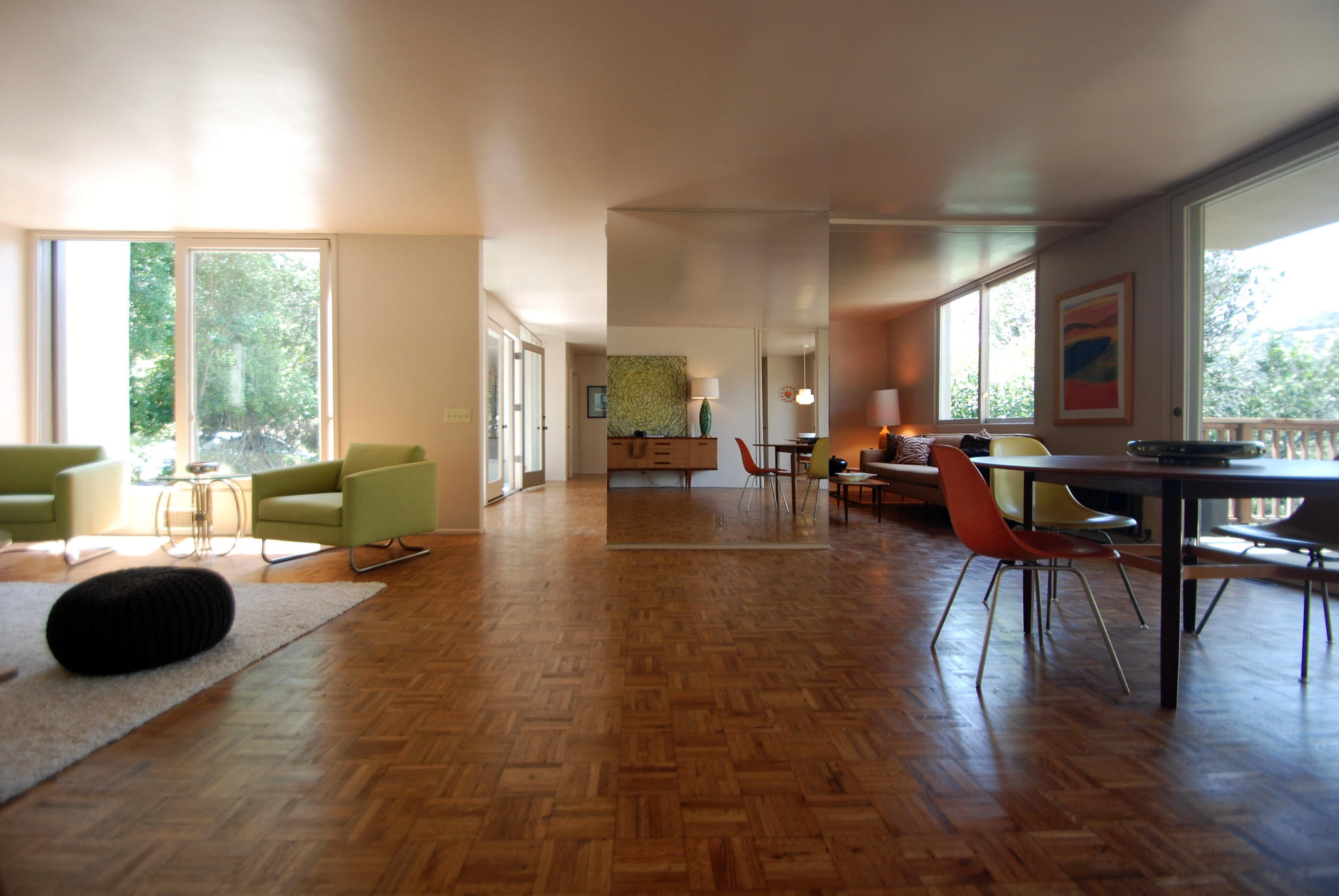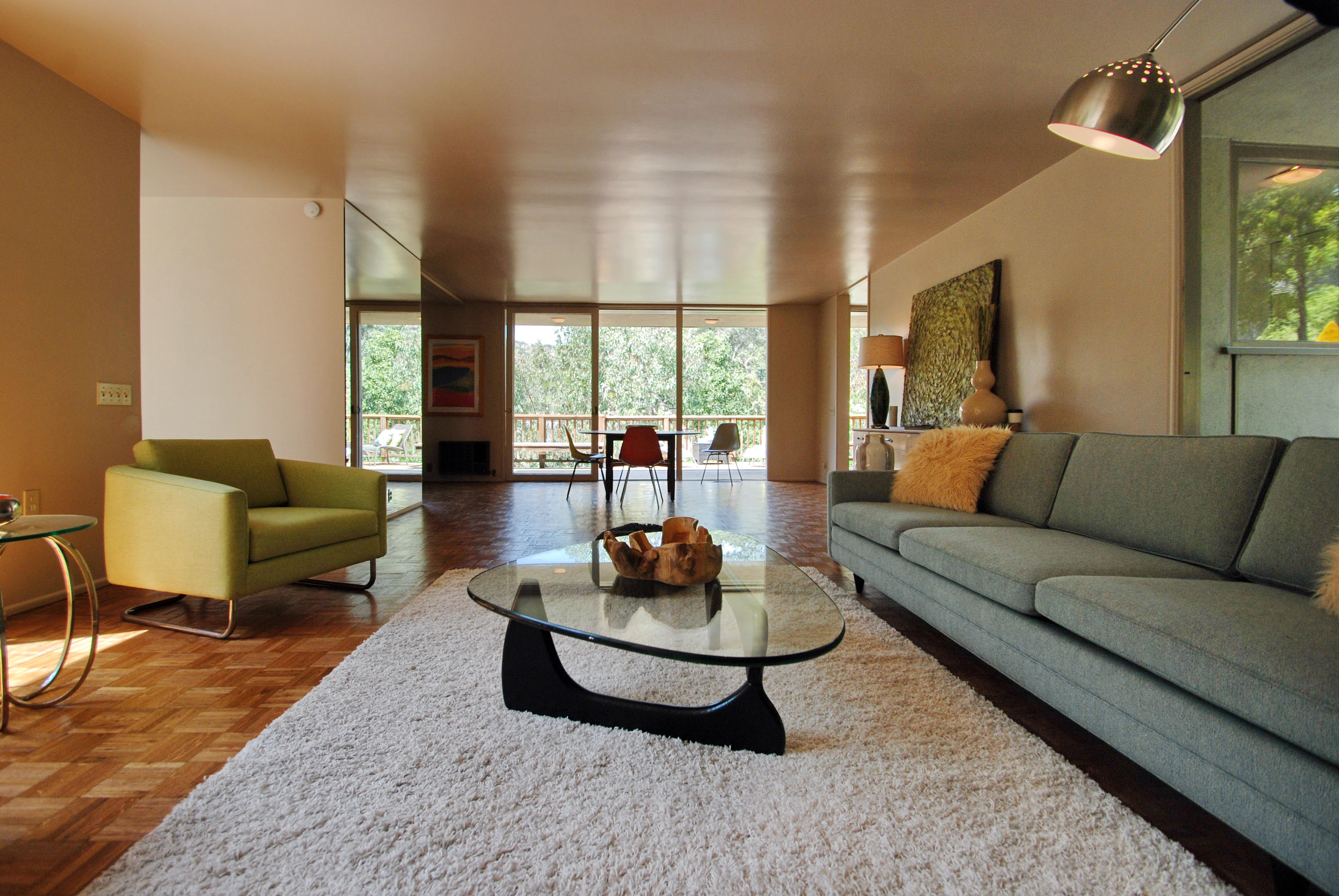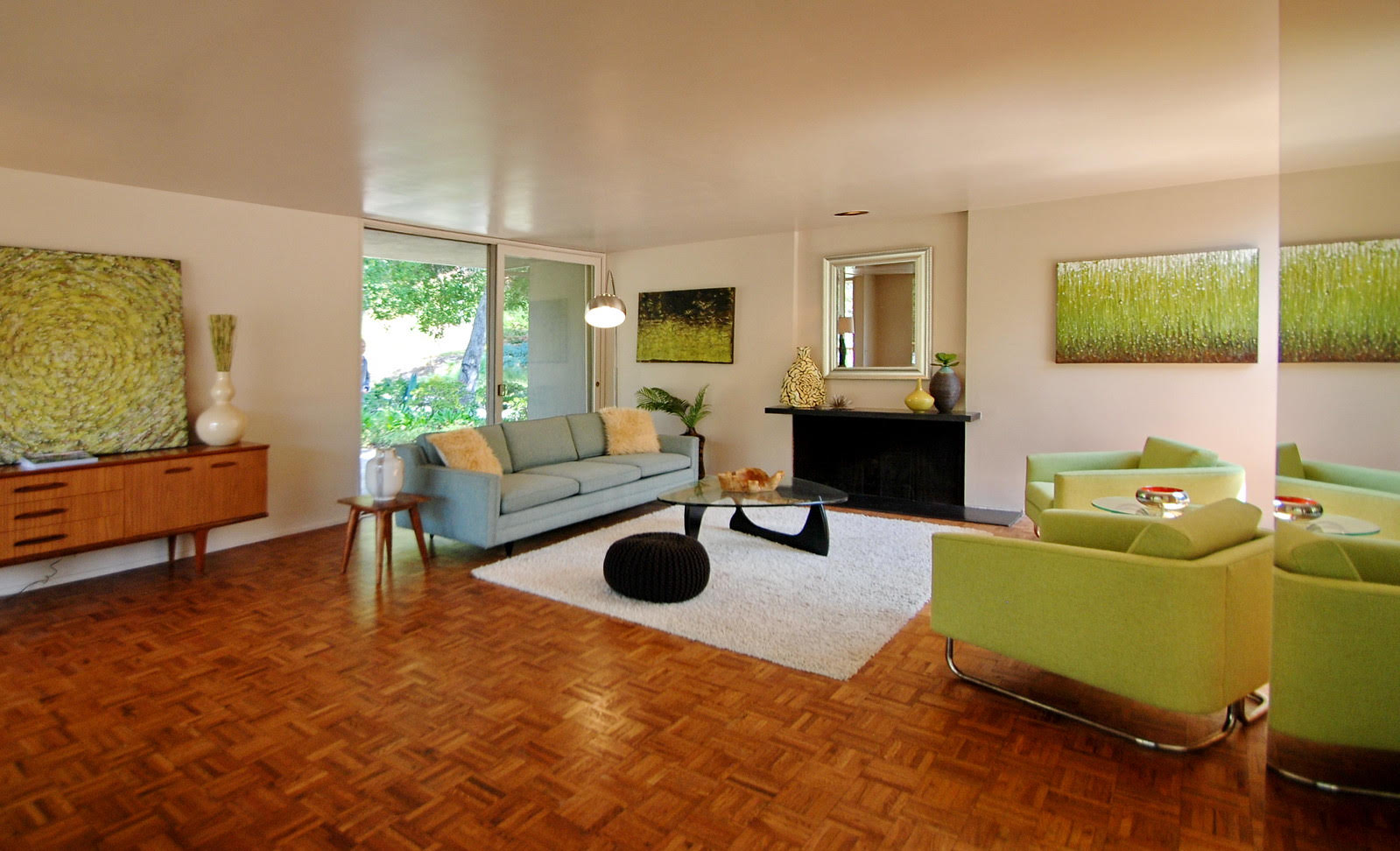 1955 - The Thornton Ladd House and Studio, 1280 Glen Oaks Boulevard, Pasadena CA. Designed and built prior to Ladd's partnership with John Kelsey. Photos by Michael Locke. Sold to Thomas R. Lake. Sold in 2018 to Debra Manners.
---
1955 - 13980 Midvale Drive, Whittier CA. Sold to H. S. and P. S. Bodger. Sold in 2005 to David Neil Livingston. Sold in 2021 to Erika de la Teja.
---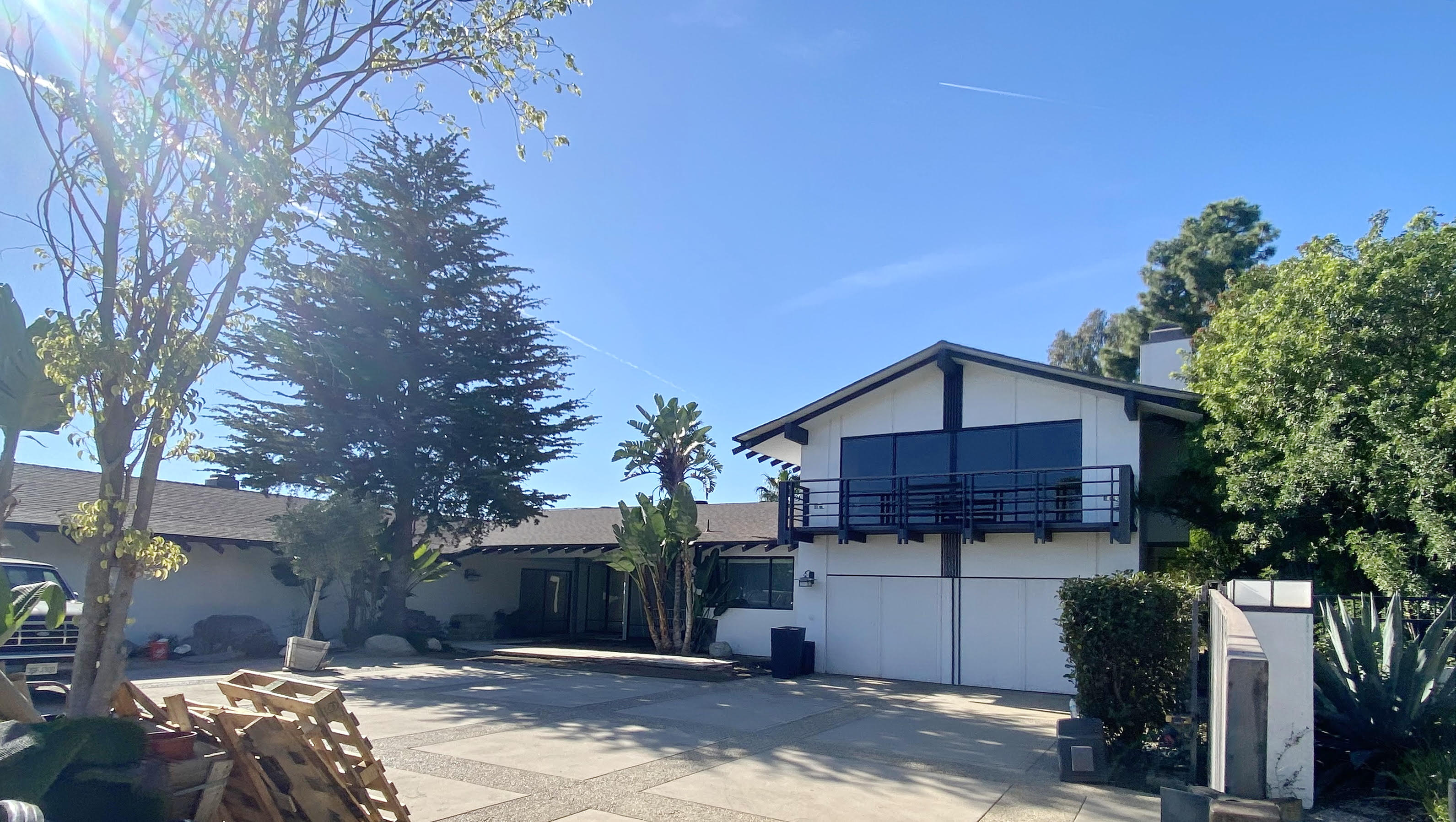 1956 - The Shirley Hirshberg House, 1211 Laurel Way, Beverly Hills CA. Riksen, Inc. was the builder. Sold to Russell Simmons. Sold in 1999 to Elezer Appe. Sold in 2001 to Victor and Ronit Gura. Sold in 2010 to Laurel Way LLC. Sold in 2011 to Ramin Delijani. Photo by Michael Locke.
---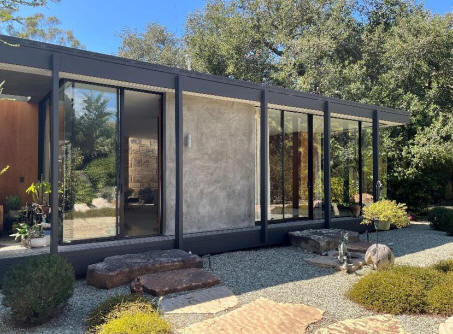 1956 - The Prynce Hopkins House, 1920 Garden Street, Santa Barbara CA. Photo by Nicole Hernandez. Hopkins argued with architect Ladd over construction costs. Ladd was equally frustrated by Hopkins for taking extended trips and not being available for consultation. Hopkins typed a sixteen page letter to Ladd detailing room-by-room changes he wanted. Once completed, Frank Lloyd Wright toured the house with Hopkins. Paul Tuttle designed the furniture for the house. Sold to the Vapnek Living Trust.
---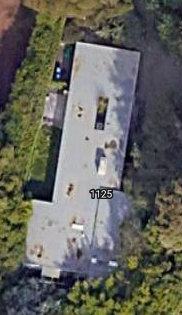 Around 1956 - The Esther Bear House, 1125 High Road, Montecito CA. Donald Bear died 5 years prior, had nothing to do with the house. Addition done in 1961. She died in 1985. Sold in 1988 to Lillian Carson.
---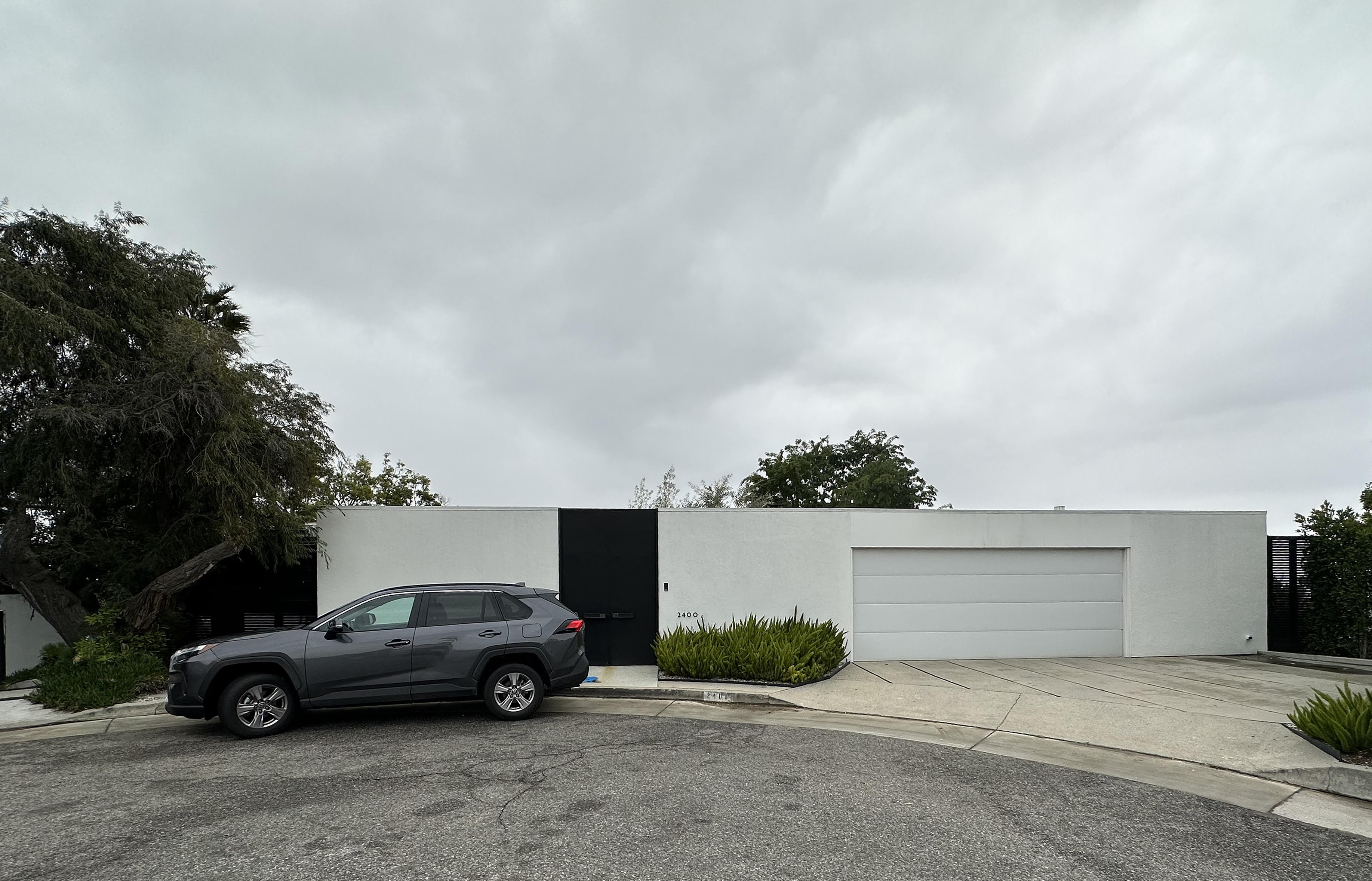 1958 - The Marco Wolff House, 2400 Carman Crest Drive, Los Angeles CA. Designed with John Kelsey. Photo by Michael Locke. Sold to Fred Harpman. Sold in 1992 to William McKenna. Sold in 2003 to Robert Johnson and Stephen L. Rose. Sold in 2011 to Adam Eastwood and Tiffiny Lendrum.
---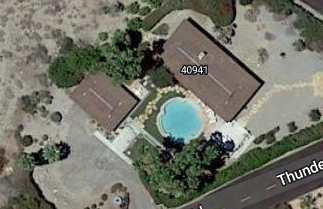 1960 - The Elise Tompkins Residence, 40941 Thunderbird Road, Rancho Mirage CA. Sold in 2012 to Thomas Watson and Andrew Klayman.
---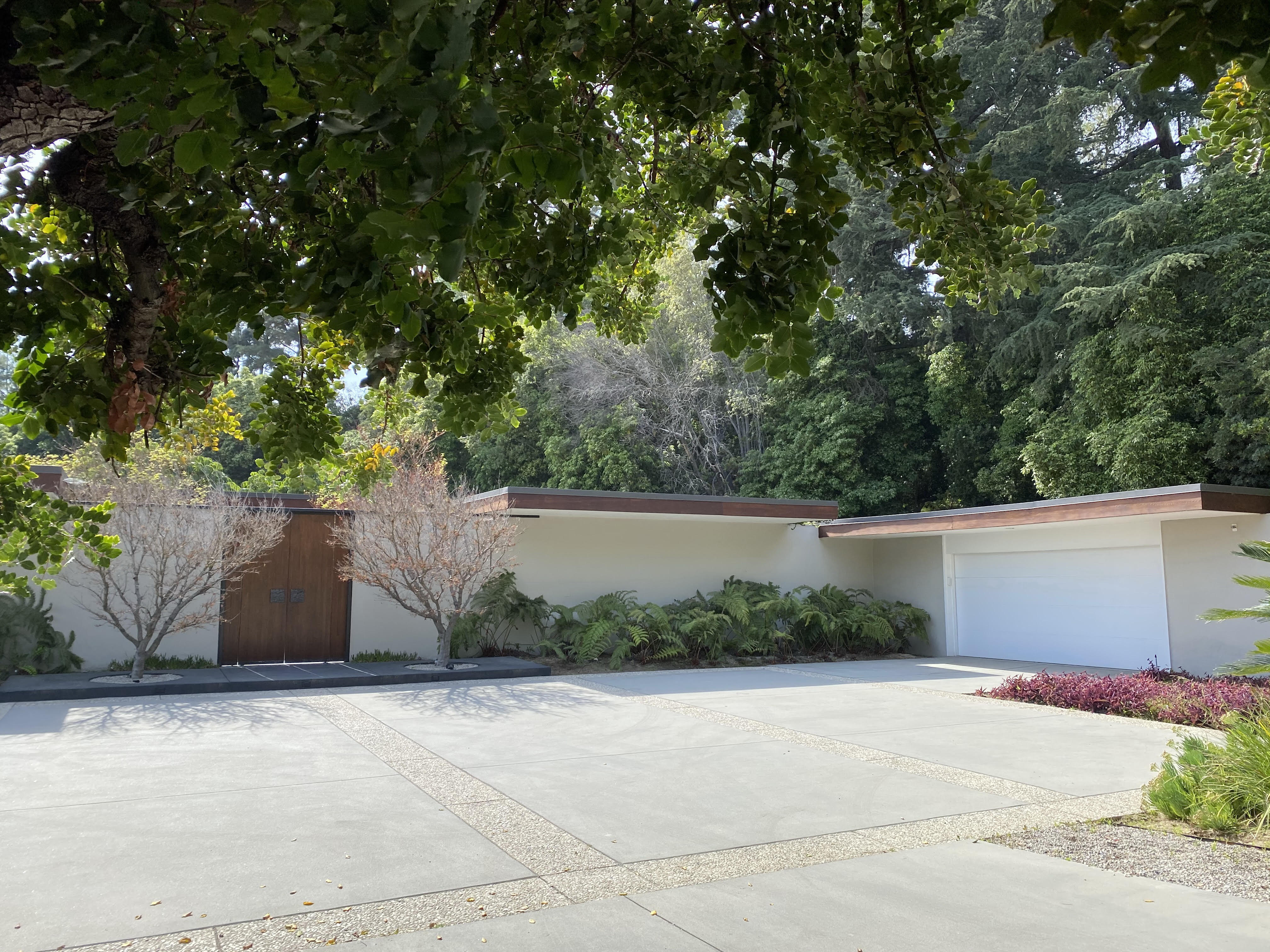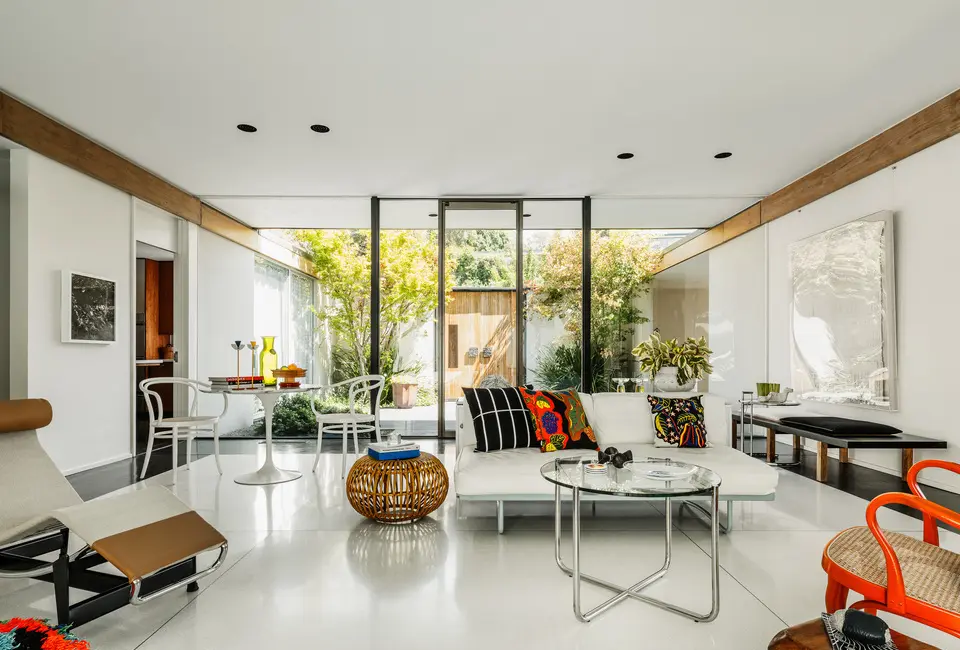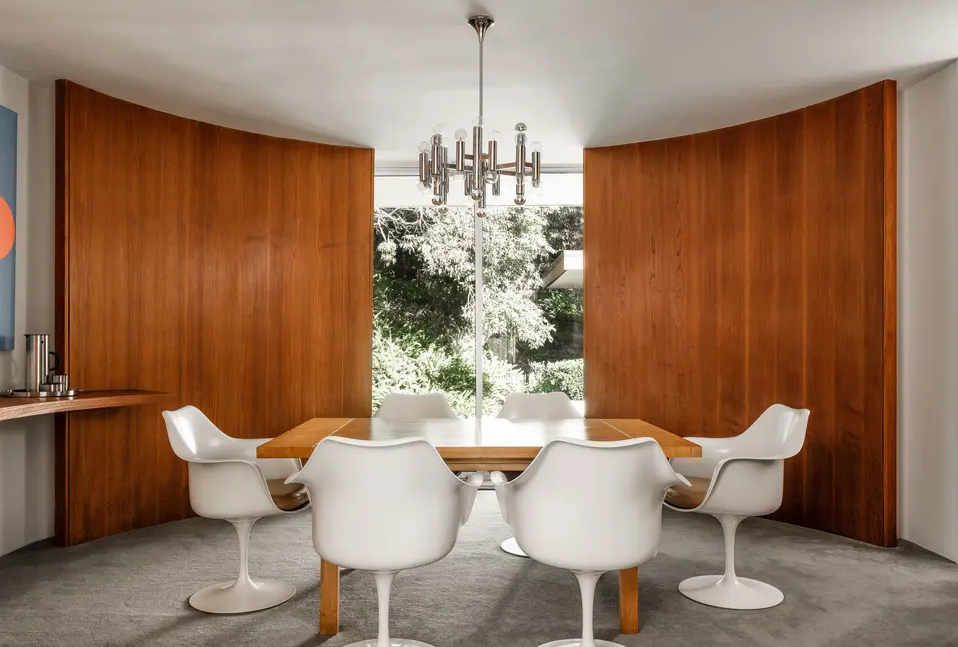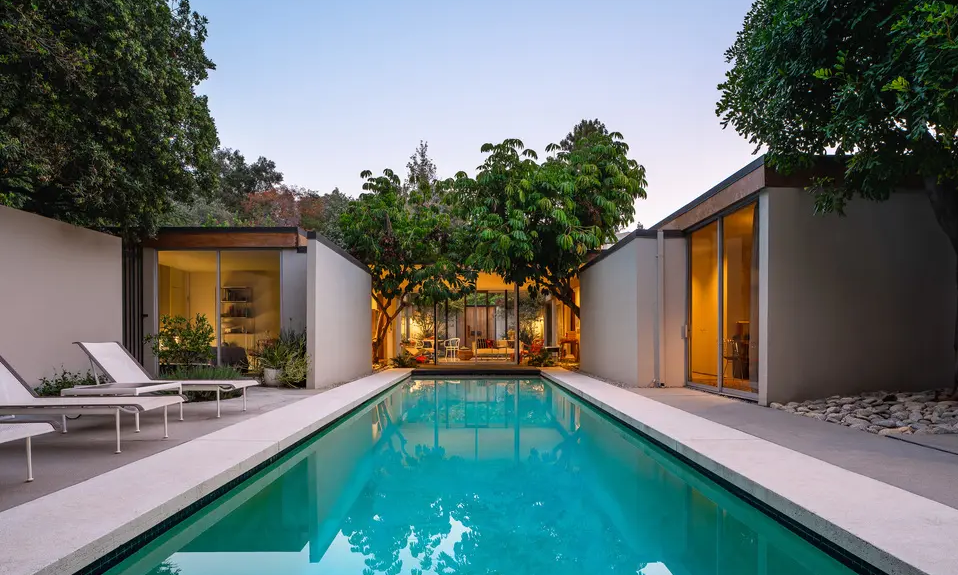 1961 - The John Kelsey House, 1160 Chateau Road, Pasadena CA. Designed by Kelsey for his family of five. Sold to Christopher Bonura. Sold in 2015 to Kevin L. Lane. Top photo by Michael Locke. Sold in 2020 to David Erin.
---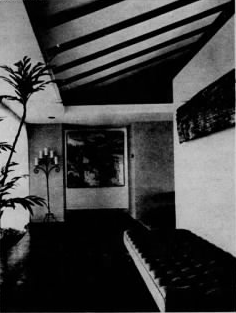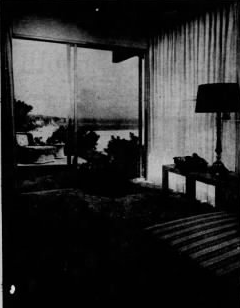 1961 - The Laguna Niguel Model House, Laguna Niguel CA. Master plan for 234 acres developed by Victor Gruen. Ladd and Kelsey designed a model home for the planned 7000 acre town. Laguna Niguel expanded in 1971. Fernald, Nicol and Schiller designed plans for the original post-and-beam homes in Monarch Bay and Monarch Bay Mall as well as the first homes in Niguel Terrace, later called Monarch Bay Terrace.
---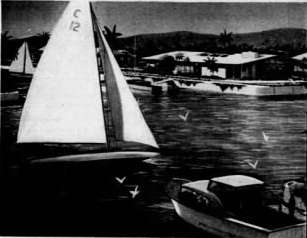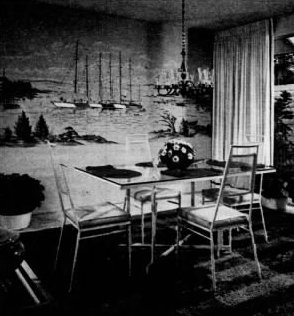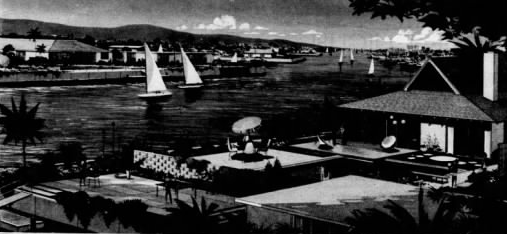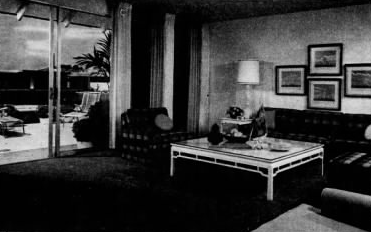 1961 - The Huntington Harbour Development, Huntington Beach, Orange County CA. Built in the 1960s and located on the northwest corner of Huntington Beach bordering Seal and Sunset beach, Huntington Harbour comprised five man-made islands and featured more than 500 bayfront homes of all shapes and sizes. Three well-known architects were in charge of home design, Ladd and Kelsey, William Cody, and Smith and Kennedy. Single family residences were built on 433 acres, with 76 acres for multi-family houses.
---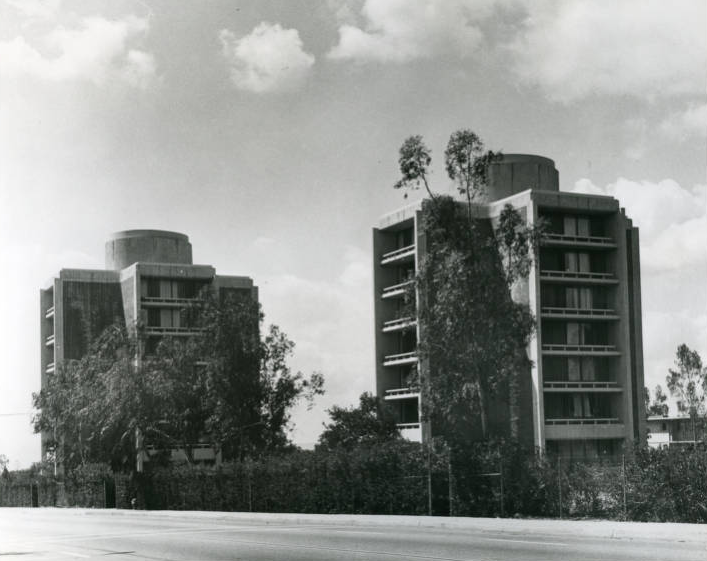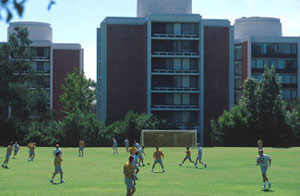 1967 - Auen and Fawcett Halls, North Mills Avenue, Claremont CA. Dormitories for Claremont Men's College, later known as Claremont McKenna College. Renovated in the early 1990s and in 2008. A similar-styled dormitory, Stark Hall, was added to the block in 1997.
---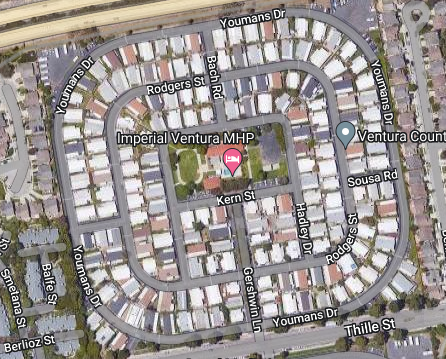 1971 - The Imperial Family Mobile Estates, 5067 Thille Street, Ventura CA. A 190-space mobile home park developed by Imperial Ventura Mobile Estates. Ladd is listed as the general partner. The complex included a clubhouse, heated swimming pool, and playgrounds. In 1972 a shuffleboard pavilion was added.
---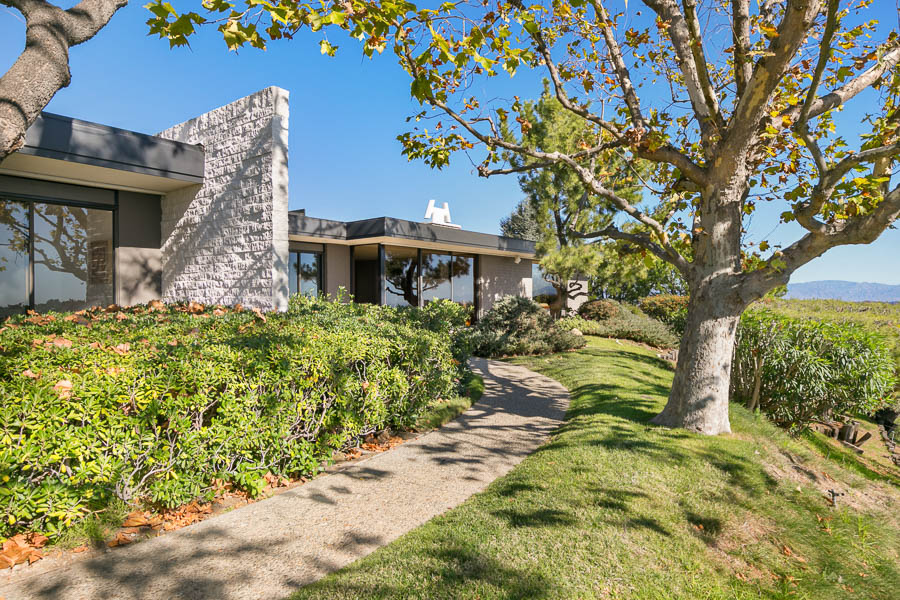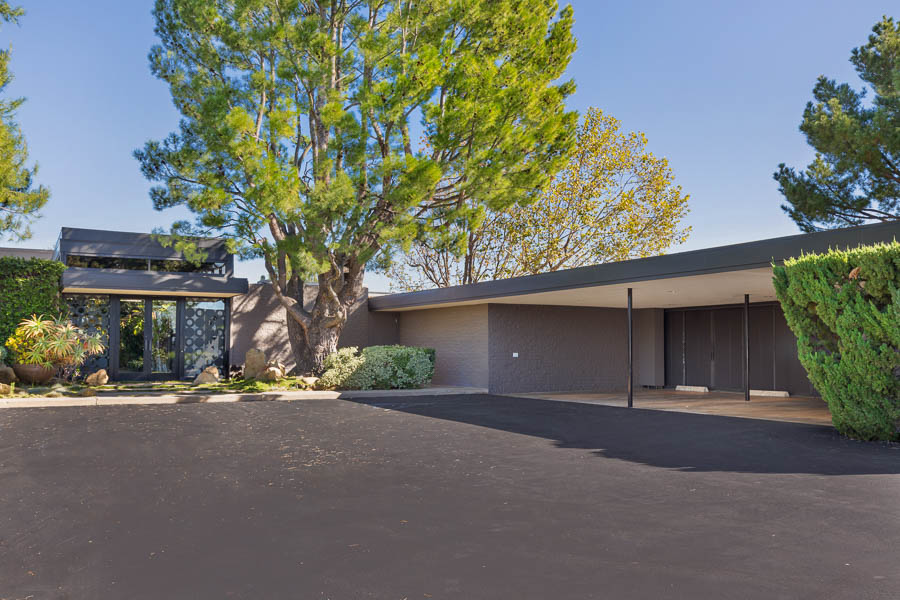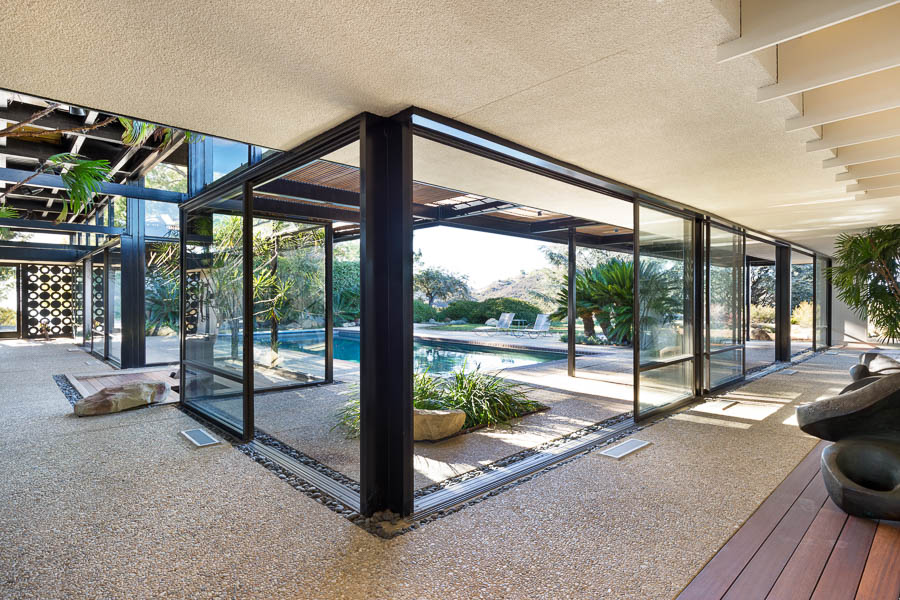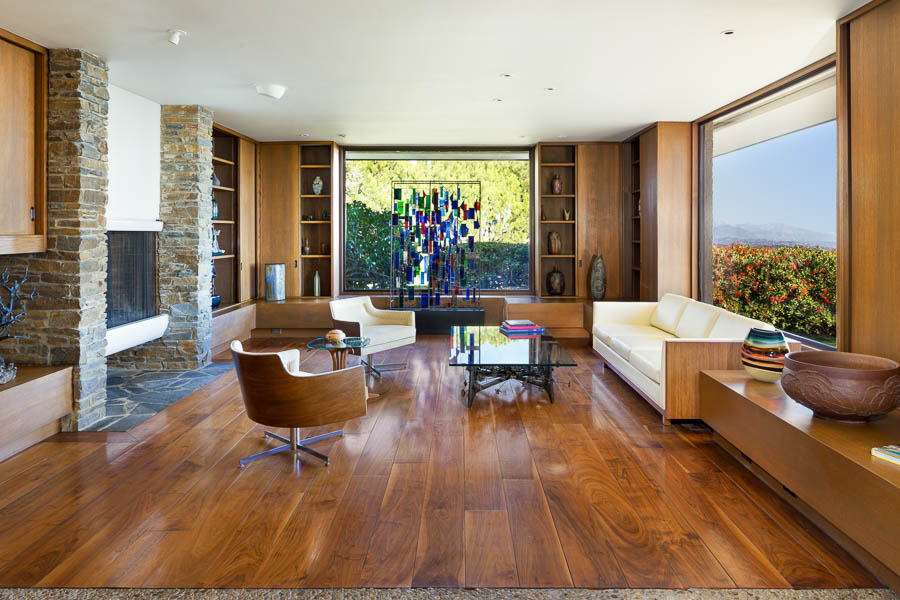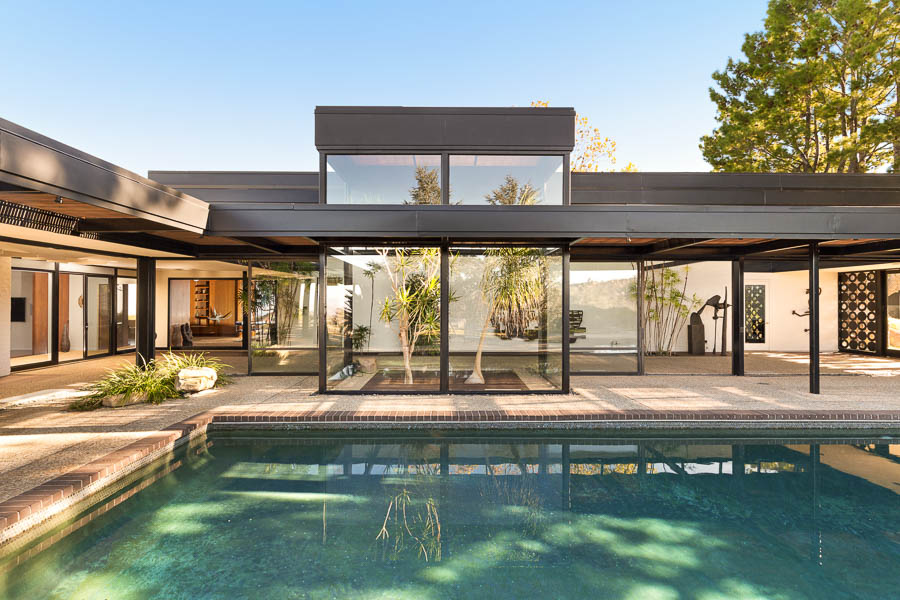 1975 - The Von Hagen House, 22035 Saddle Peak Road, Topanga CA. Sold to Holly Katz and Lawrence Klein. Sold in 2004 to Barbara Bosson, the actress from Hill Street Blues. Sold in 2007 Kathleen and Michael Glick. For sale in 2023.
---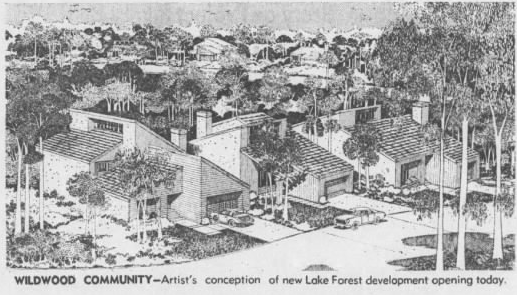 1975 - The Wildwood Community, Jeronimo and Rollingwood Roads, Lake Forest CA. The design plan comprised 59 single-family split-level homes. Status unknown.
---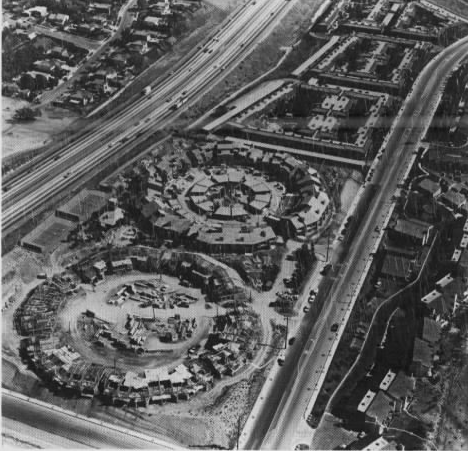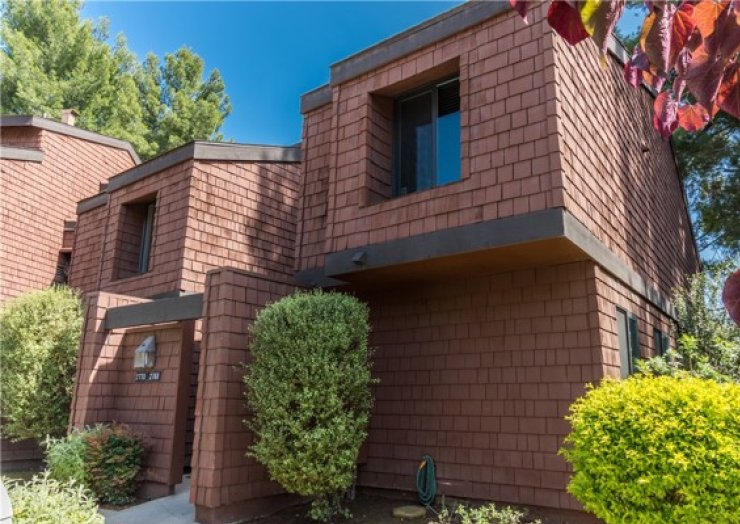 1977 - The Quail Ridge Townhouse Complex, Pine Creek and Quail Ridge Circles, Fullerton CA. The development contains 144 units designed by Stewart Woodard, who called it "circular exoskeletal design." Covered in the LA Times, 5/1/1977. Received the Sensible Growth Award in 1978 from Better Homes and Gardens. Example unit: 2768 Quail Ridge Circle.
---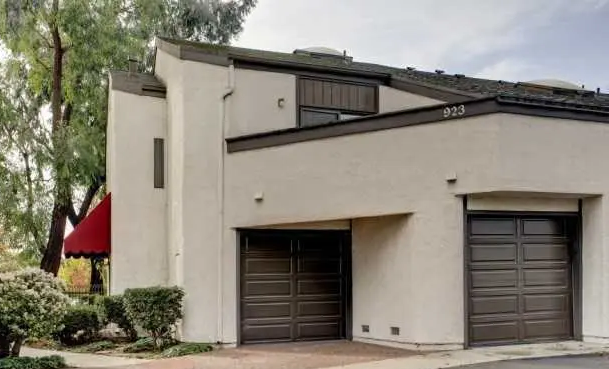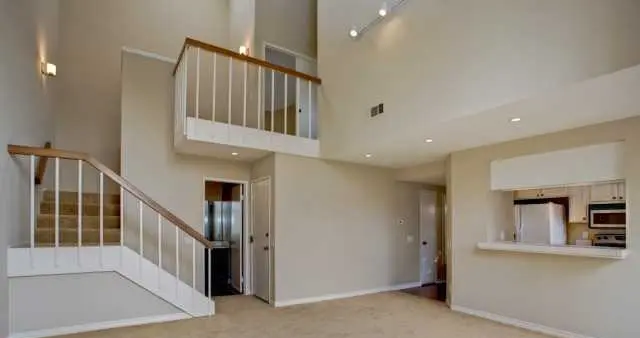 1979 - The Biddle Townhome Community, aka Sommerset Citihomes, Van Ness, Powell, Hyde, and Lombard Courts, Costa Mesa CA. 111 residences in 8 clusters. Developed by W. Scott Biddle. Example unit: 923 Powell Court.
---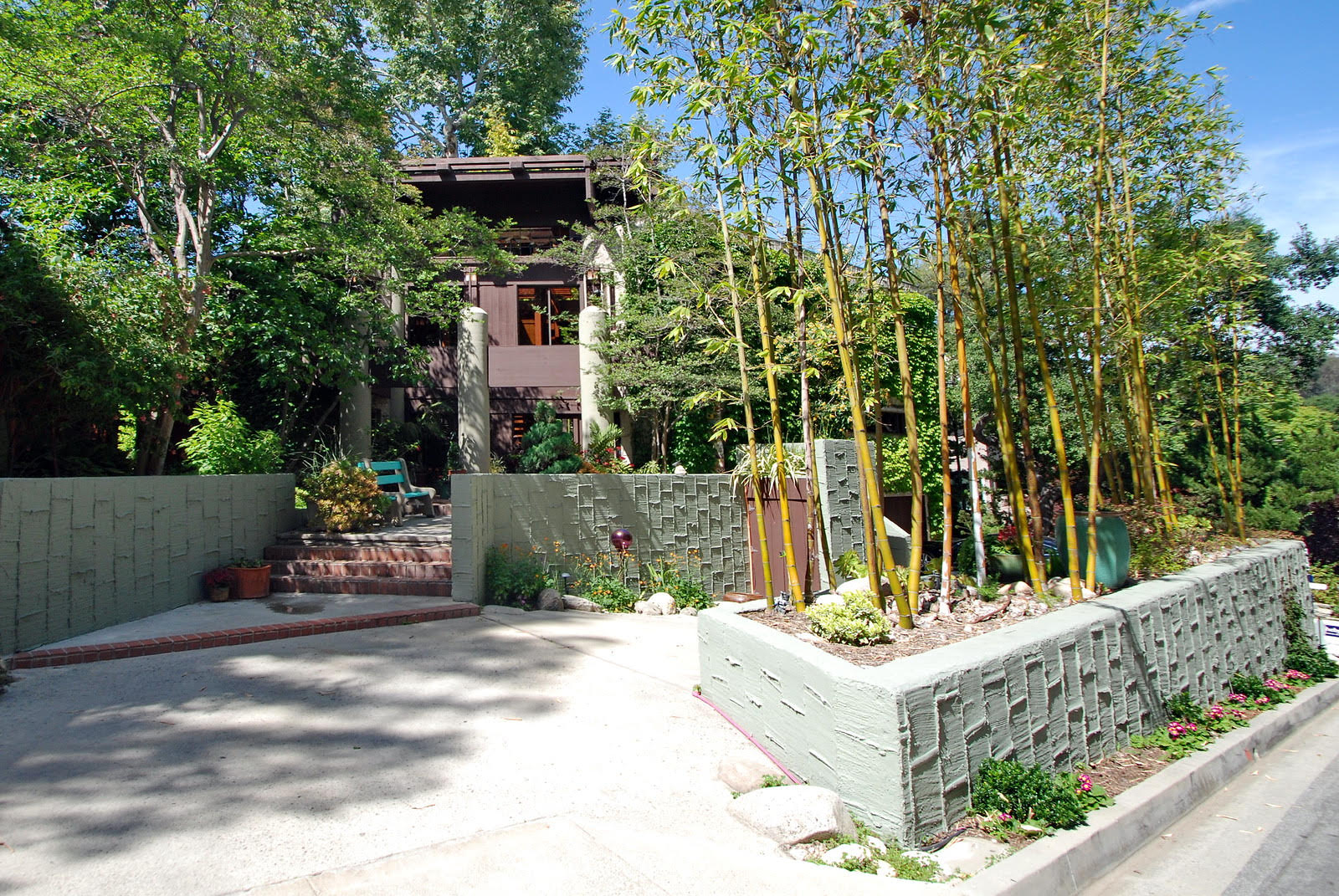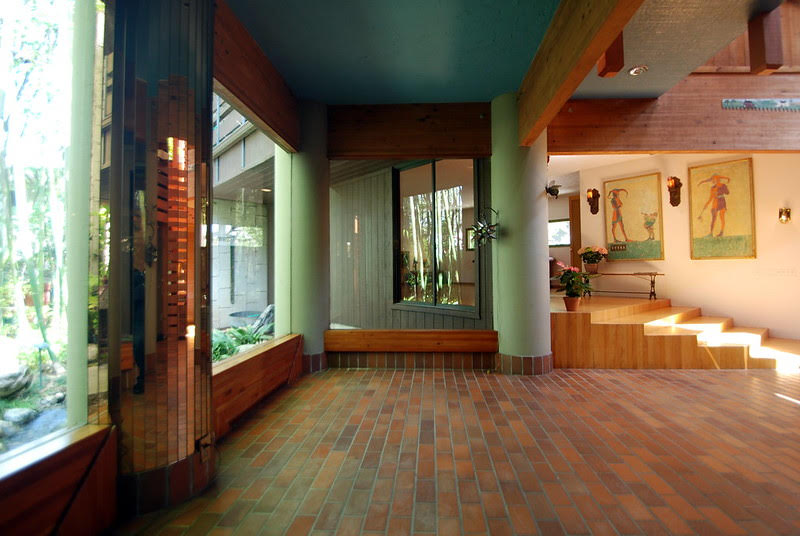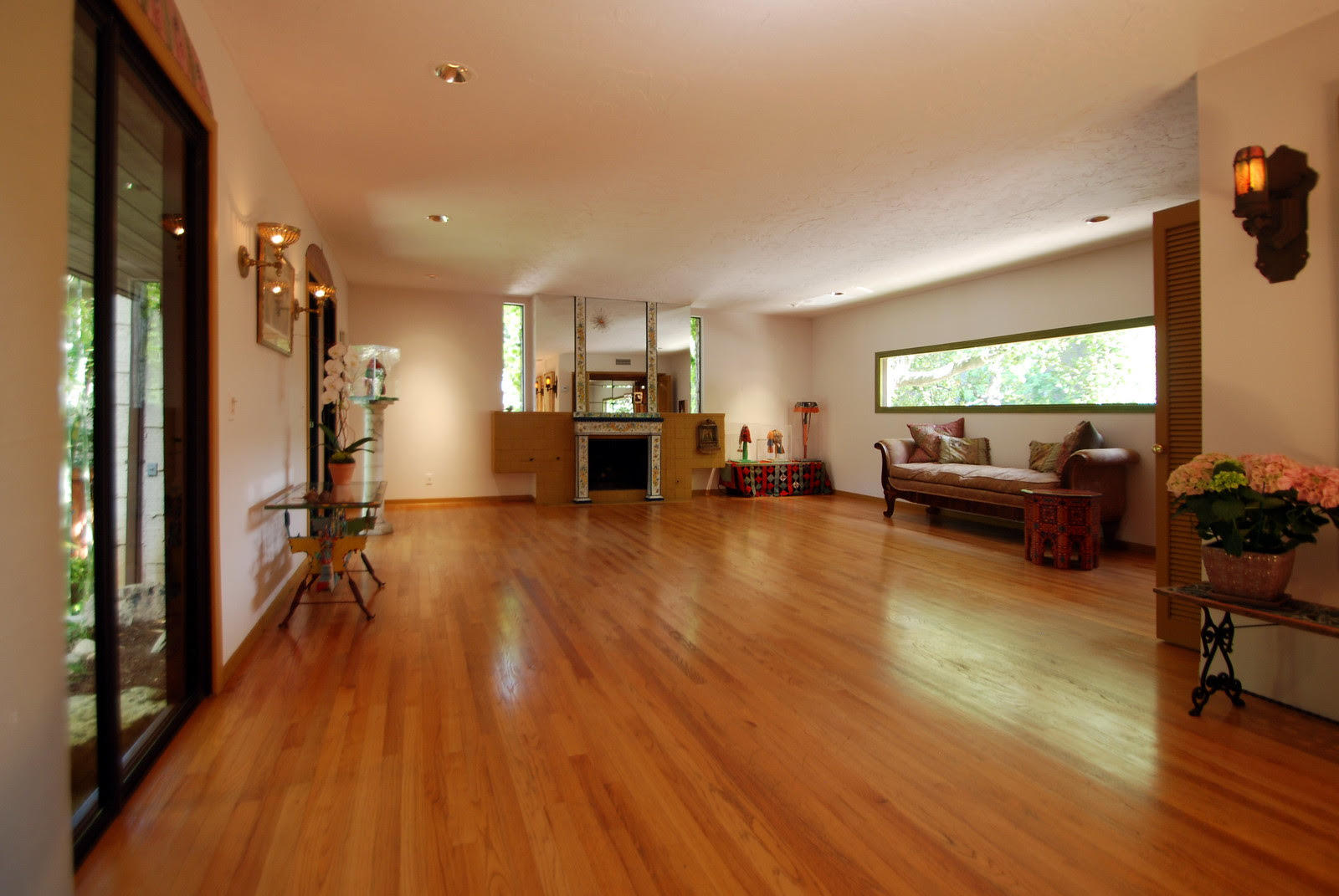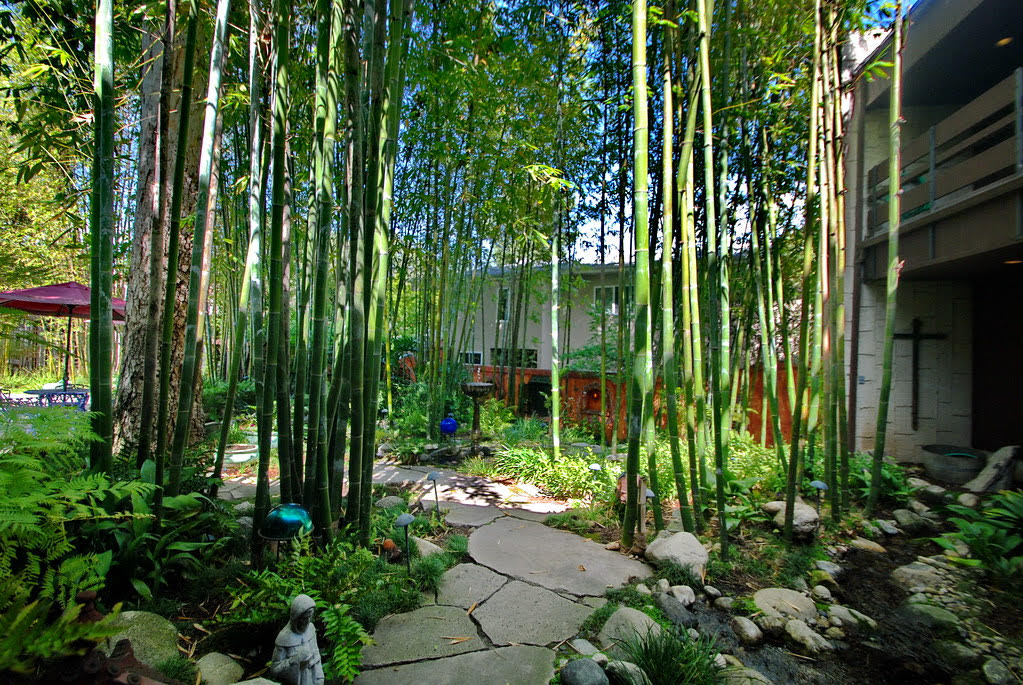 1979 - aka Bridge House, 819 Las Palmas Road, Pasadena CA. Sold in 1995 to George F. and Mary M. Regas. Sold in 2020 to Keith and Shandrea Houlemard. Photos by Michael Locke.
---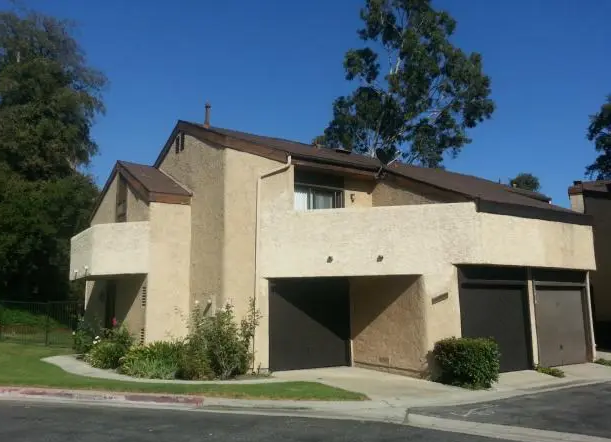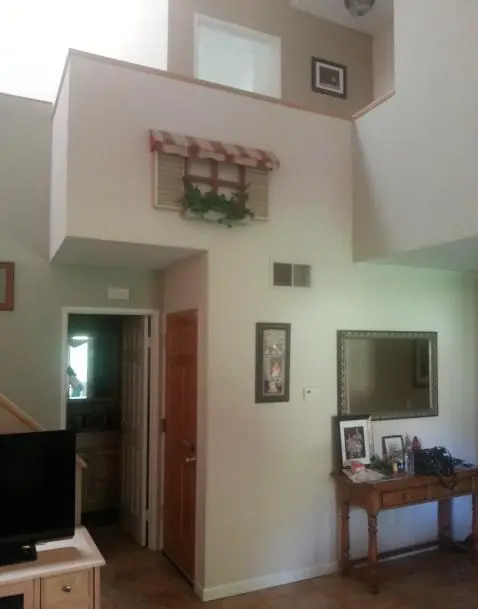 1980 - The Woodside Park Housing Development, Woodside Park Drive, Sentous Avenue, and La Puente Road, West Covina CA. A circular development of 208 single-family residences ranging in size from 1,160-1,590 sf. Example unit: 3616 Whittlers Place.
---
Sources include: The LA Times.