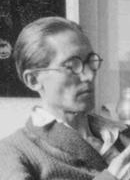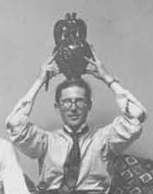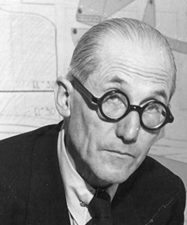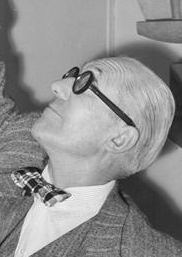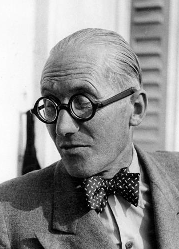 CHARLES-ÉDOUARD JEANNERET
aka Le Corbusier, aka Corbu (1887-1965)
---
Jeanneret was born in La Chaux-de-Fonds, Switzerland, and began his career after completing education at the advanced course of the Ecole d'Art. Trained as an artist, he travelled extensively through Germany and the East. In Paris he studied under Auguste Perret and developed a keen interest in the synthesis of the various arts. His first book was Vers une architecture [Towards a New Architecture], based on earlier articles in L'Esprit Nouveau. Jeanneret adopted the name Le Corbusier in the early 1920's. Jeanneret was an architect, designer, urbanist, writer, and painter known for being a pioneer in Modernist architecture. His career spanned five decades with buildings constructed throughout the world. From 1922, Le Corbusier worked with his cousin Pierre Jeanneret. During this time, Le Corbusier's ideas began to take physical form, mainly as houses which he created as "a machine for living" which incorporated his trademark five points of architecture:

1. Ground-level supports elevating the building from the ground and allowing an extended continuity of the garden beneath.
2. Functional roof, serving as a garden and terrace, reclaiming for nature the land occupied by the building.
3. Free floor plan, relieved of load-bearing walls, allowing walls to be placed freely and only where aesthetically needed.
4. Long horizontal windows, providing illumination and ventilation.
5. Freely-designed facades, serving as only as a skin of the wall and windows and unconstrained by load-bearing considerations.

He became a French citizen in 1930. In 1947, he started his Unite d'habitation series. Although relieved with sculptural roof-lines and highly colored walls, these massive post-war dwelling blocks received justifiable criticism. People just didn't get it, and their lives never transformed as he predicted and hoped. Yet, his dedication to providing better living conditions for the residents of crowded cities was undeterred.

Le Corbusier was part of the architect team that designed the UN Headquarters in New York. He died of a heart attack while swimming in the sea off Cap Martin in 1965. He was buried alongside his wife in the grave he had designated at Robuebrune. He wrote some forty books and left a body of about 32,000 architectural drawings and plans.

Overview in English Overview in French
Quotes by Le Corbusier
"You employ stone, wood and concrete, and with these materials you build houses and palaces; that is construction. Ingenuity is at work. But suddenly you touch my heart, you do me good. I am happy and I say - "This is beautiful." That is Architecture. Art enters in. My house is practical. I thank you, as I might thank railway engineers or the telephone service. You have not touched my heart. But suppose that walls rise towards heaven in such a way that I am moved. I perceive your intentions. Your mood has been gentle, brutal, charming or noble. The stones you have erected tell me so. You fix me to the place and my eyes regard it. They behold something which expresses a thought. A thought which reveals itself without word or sound, but solely by means of shapes which stand in a certain relationship to one another. These shapes are such that they are clearly revealed in light. The relationships between them have not necessarily any reference to what is practical or descriptive. They are a mathematical creation of your mind. They are the language of Architecture. By the use of inert materials and starting from conditions more or less utilitarian, you have established certain relationships which have aroused my emotions. This is Architecture."

"A house is a machine for living."

"Architecture is the learned game, correct and magnificent, of forms assembled in the light."

"Space and light and order. Those are the things that men need just as much as they need bread or a place to sleep."

"I prefer drawing to talking. Drawing is faster, and leaves less room for lies."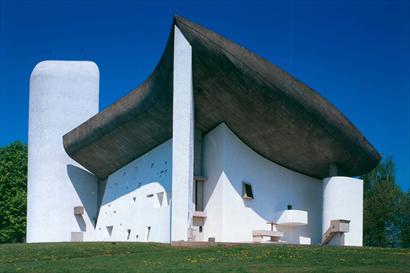 Chapelle Notre Dame du Haut, aka Ronchamp, photo above, completed in 1954, is one of the most important examples of religious architecture. Biography adapted from Wikipedia and Great Buildings online.
---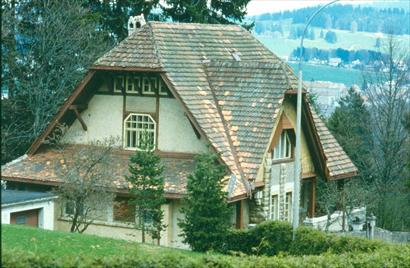 ---
---
---
---
---
---
---
---
---
---
---
---
---
---
---
---
---
---
---
---
---
---
---
---
---
---
---
---
---
---
---
---
---
---
---
---
---
---
---
---
---
---
---
---
---
---
---
---
---
---
---
---
---
---
---
---
Sources include Wikipedia, Foundation Le Corbusier, Great Buildings Online, Modern Architecture: Critical History by Kenneth Frampton.