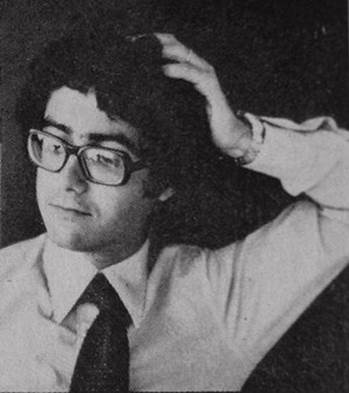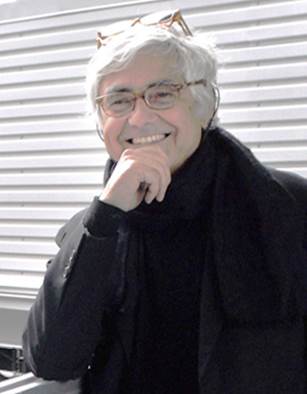 RAFAEL VIÑOLY, FAIA (1944-2023)
Viñoly was born in Montevideo, Uruguay. In 1964, Viñoly formed the Estudio de Arquitectura (now known as MSGSSS) with Flora Manteola, Ignacio Petchersky, Javier Sánchez Gómez, Josefa Santos, and Justo Solsona. Viñoly's projects from 1964 to 1978 were done collaboratively with the other architects in the firm producing internationally recognized works including the Buenos Aires TV Production Center. He attended the University of Buenos Aires, receiving a Diploma in Architecture in 1968 and a Master of Architecture from the School of Architecture and Urbanism in 1969.
Viñoly relocated to the US in 1978. He founded Rafael Viñoly Architects in 1983 with offices in New York City, Palo Alto, London, Manchester, Abu Dhabi and Buenos Aires. His first major project in New York was the John Jay College of Criminal Justice completed in 1988. In 1989, he won an international competition to design the Tokyo International Forum, a 1.5-million-square-foot cultural and convention complex. Other projects include Cleveland Museum of Art's renovation and addition, Duke University's Nasher Museum of Art, the Howard Hughes Medical Institute's Janelia Farm Research Campus, and the Kimmel Center for the Performing Arts. His wife, Diana Viñoly, is a designer who has done the interiors of several of Viñoly's projects. Viñoly once aspired to be a concert pianist and in 2000 he built a music pavilion and home theater on the grounds of his Long Island home, below, to provide a space for recitals. Special thanks to Carie Chesarino and Catherine Westegaard Cramer for this research.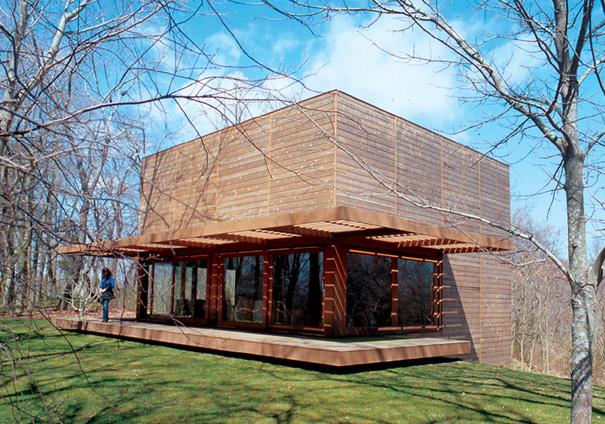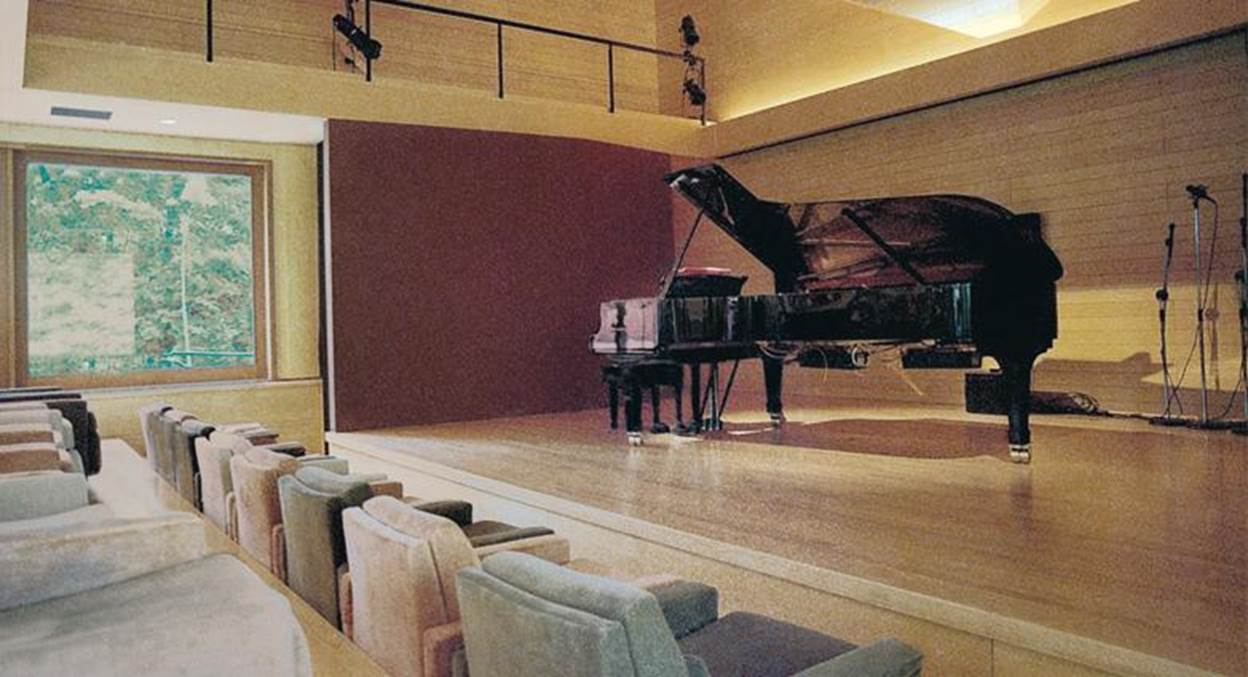 ---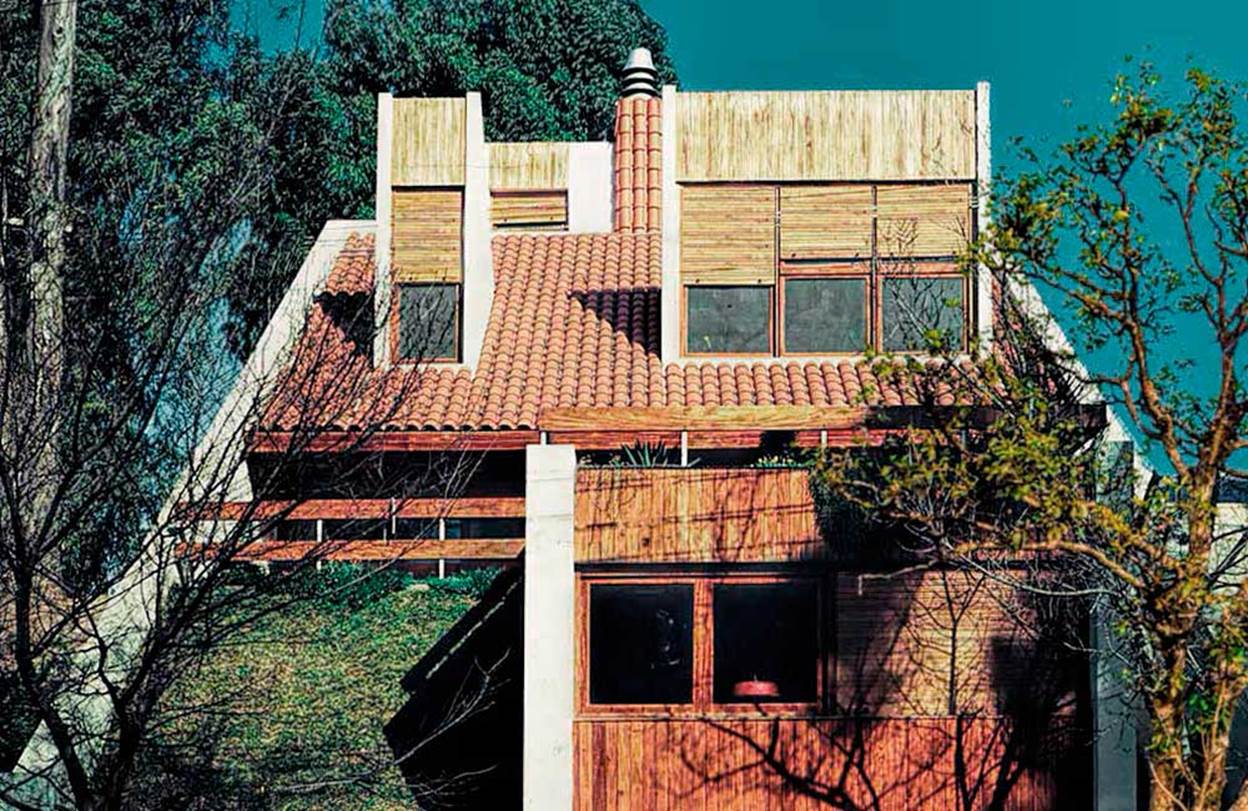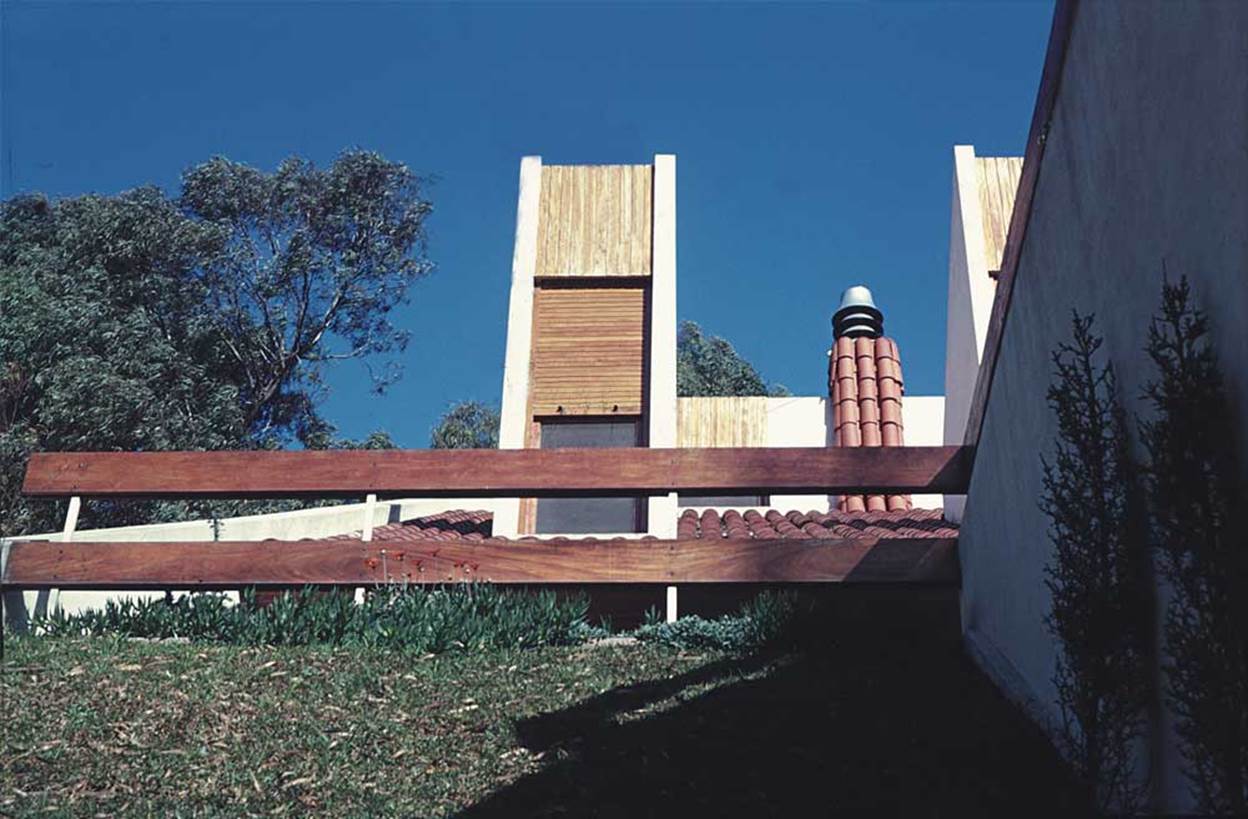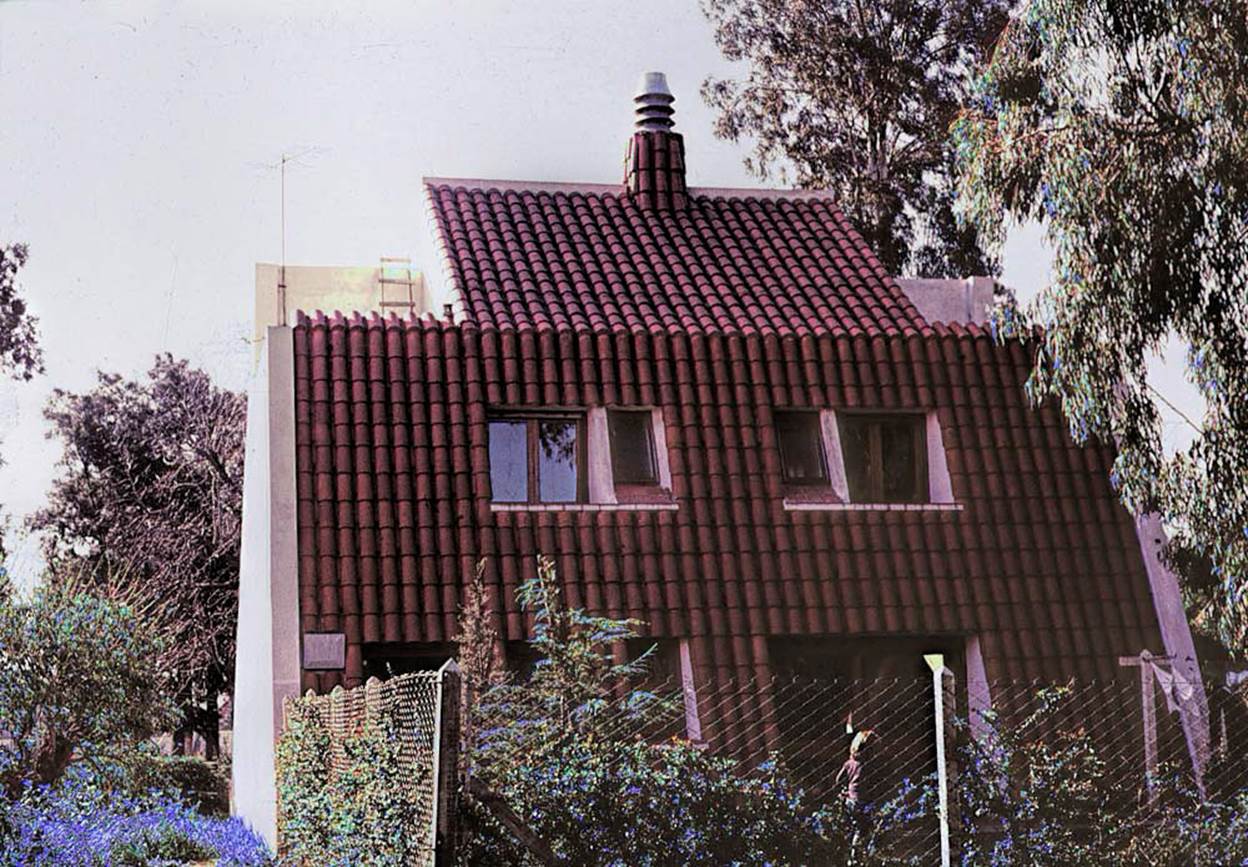 1964 - The Sierchuk House, Avenida General José de San Martín 940, Buenos Aires, Argentina. The tile roof continues down as a wall to provide shading. Photos from MSGSSS.
---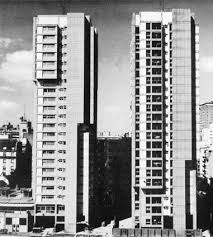 1966 - The Acoyte Housing Complex, Buenos Aires Argentina. These three 25-story towers were designed for middle- to upper-income families and were built behind a low-slung building containing commercial and public spaces. The towers were designed around a service core with a column-free interior, permitting extensive flexibility in apartment layouts. Each floor holds up to four customized apartments. The complex is clad in a combination of fine, pre-cast concrete and ceramic tiles that reveal the steel structure.
---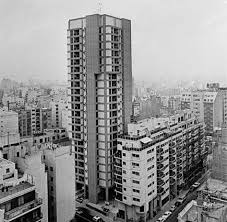 1967 - The Barracas Housing Complex, Buenos Aires Argentina. Intended for low-income families. The complex consists of a series of concrete boxes of identical plan and varying heights, interconnected by a vertical circulation system. Elevators only stop on every 3rd floor, supplemented by staircases.
---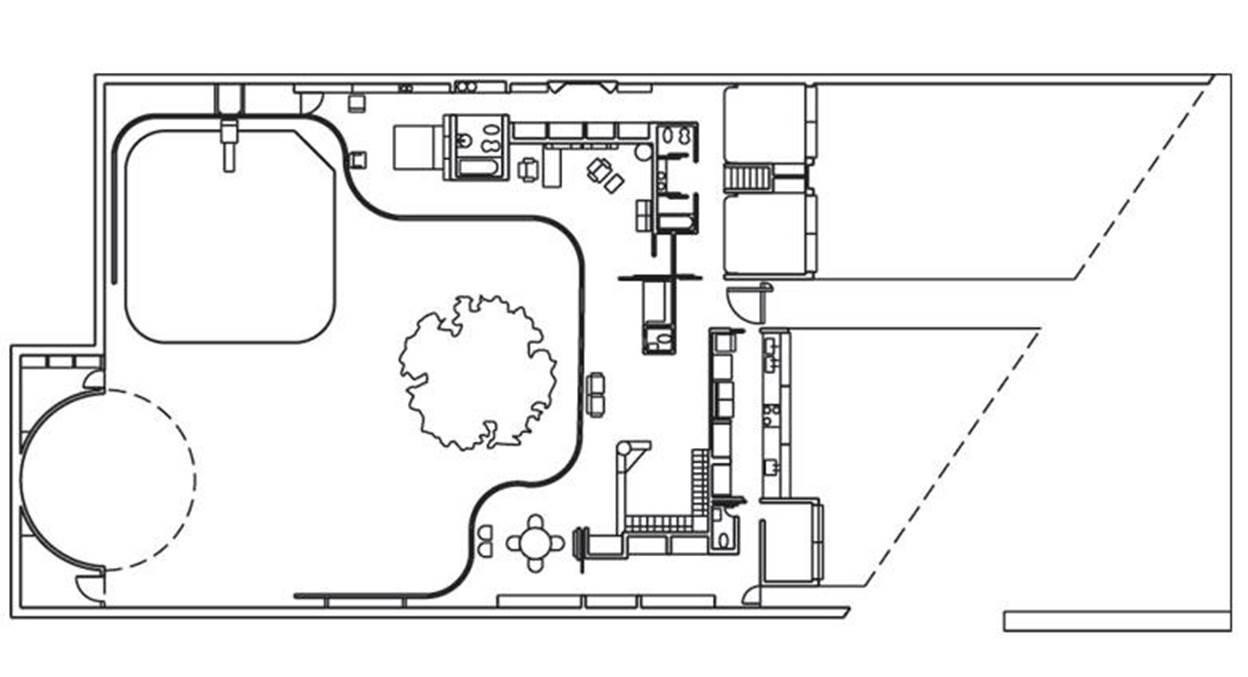 1967 - House, Buenos Aires, Argentina. Designed to accommodate client's request that the residence be without steps. Status unknown. Do you know where it is?
---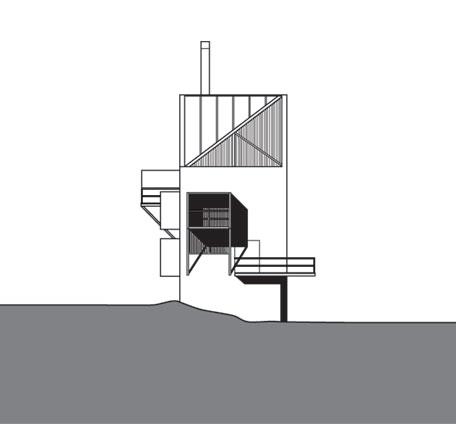 1967 - House, Buenos Aires, Argentina. Designed for a well-known Argentine actor. Status unknown. Do you know where it is?
---








1967 - Residential Building at Belaustegui 1036, Buenos Aires Argentina. Unbuilt. Like several of Viñoly's other speculative residential projects between 1967-1978, this project reflects the typical residential zoning of Buenos Aires discussed in connection with the La Plata College of Law. The facades of these side-by-side buildings are the architect's only public opportunity for design. Their interior layouts were typically determined by the availability of natural light, with facades that featured a balcony and large windows. Behind the front living areas, light cores provided both light and air to kitchens and service quarters.
1968 - Residential Building, Liberatador 7292, Buenos Aires Argentina. Unbuilt.
1968 - Residential Building, Campichuelo and Gandhi Streets, Buenos Aires Argentina. Unbuilt.
1968 - Residential Building, Larrea 719, Buenos Aires Argentina. Unbuilt.
1968 - Residential Building, Cramer and Riviera Streets, Buenos Aires Argentina. Unbuilt.
1968 - Residential Building, Asuncion 3854, Buenos Aires Argentina. Unbuilt.
1968 - Residential Building, Salvador Maria del Cabril 4184, Buenos Aires Argentina. Unbuilt.
1968 - Residential Building, Bahia Blanca 4250, Buenos Aires Argentina. Unbuilt.
---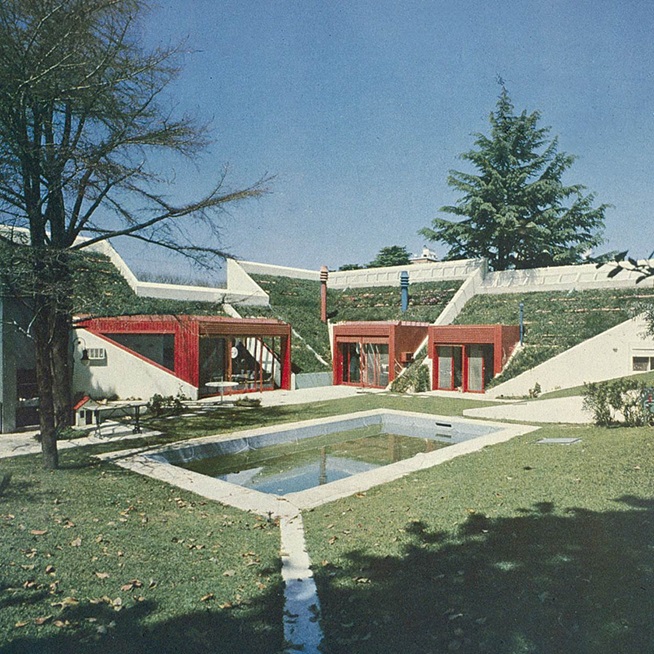 1969 - Casa Oks, La Lucila, Buenos Aires, Argentina. Photo from MSGSSS. Residence includes a garage, music room, three bedrooms, kitchen, living room, study, two bathrooms, a garden, and a swimming pool on a site of very limited in space. The solution was an inward-facing, grass-lined, prismatic "bowl" within an 8 meter tall concrete wall. The main interior spaces were arranged along the walls sky-lit perimeter from which sloping roofs of steel, glass, soil, and grass descend into a central courtyard. The site can be used as an exterior garden. None of the the interior spaces lacks natural light - each one opens visually onto the courtyard, with its grassy slopes interrupted by projecting volumes of glass and steel.
---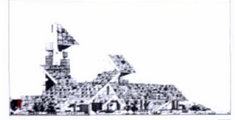 1970 - La Pastora Housing Complex, Punta del Este Uruguay. Unbuilt. This project was designed as a development of luxury summer vacation homes in Punte del Este, a beach resort convenient to Buenos Aires and popular to Argentines. The modular design called for rectangular frames built of large steel beams to be inclined against each other in clusters, yielding an ascending self-braced structure reminiscent of a house of cards.
---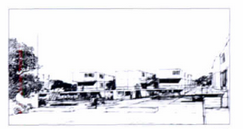 1970 - El Consejo Housing Complex, Parana, Province of Entre Rios Argentina. This complex provided over 2,500 units of low- and middle-income housing for the region's exploding population. The buildings were assembled from large steel-reinforced modules — essentially concrete tunnels quadrangular in section — two or three of which could be piled atop one another. Concrete walls and partitions erected within each module provided individually tailored floor plans. Elevated walkways and terraces broke up the uniformity of the architecture.
---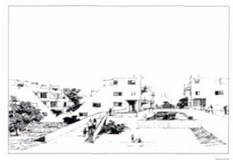 1970 - Adrogue Housing Complex, Buenos Aires Argentina. Unbuilt. Within the series of housing complexes developed in the 1960s and early 1970s, this project stands out by virtue of its relatively small scale and upmarket target clientele. The cluster of four-story, ten-unit terraced buildings, set within an extensively landscaped park, was meant to evoke a garden habitat: each two-to four-bedroom unit would have exposures on two sides and open onto a terrace overlooking the rest of the complex.
---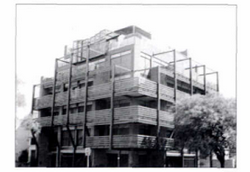 1971 - Residential Building at Juez Tedin 2909, Buenos Aires Argenitina. The independent steel structure enclosing this residential building's glass-and-brick facade originated as a way of meeting the project's requirement for terraces. Despite being outside of the buildings envelope, the steel frame is part of its reinforced concrete construction, and merges with balcony railings and wooden parapets to create a slatted exterior screen. The screen provides solar shielding and also defines the building's volume within the prescribed municipal zoning. Each apartment occupies an entire floor featuring an open layout around a vertical access core. The ground floor location of the tenants' garage was dictated by site conditions that made excavation economically unfeasible. Perched atop the open garage, the building has a large, unusually open lobby with views of the landscaped gardens that surround the site.
---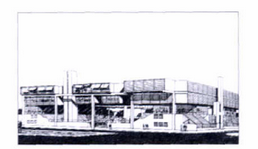 1971 - Confluencia Housing Complex, Province of Neuquen Argentina. Unbuilt. This complex included a bank, cafeteria, and other commercial spaces, as well as 450 housing units, within a steel and concrete box-frame structure occupying an entire block. The design left most of the ground level open to the city, with large portions of the building elevated above a public plaza.
---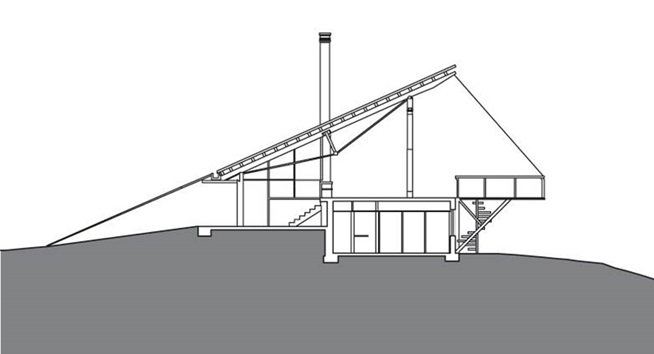 1972 - Summer House, Buenos Aires, Argentina. Status unknown. Do you know where it is?
---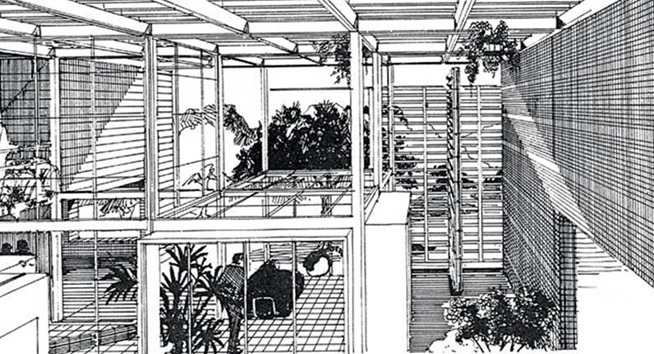 1972 - Buenos Aires, Argentina. Status unknown. Do you know where it is?
---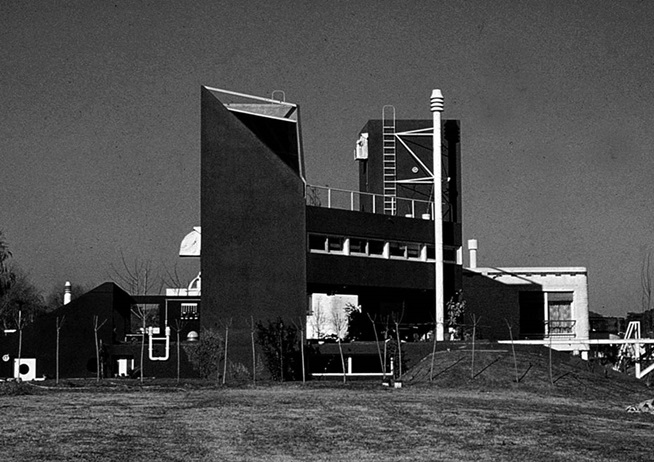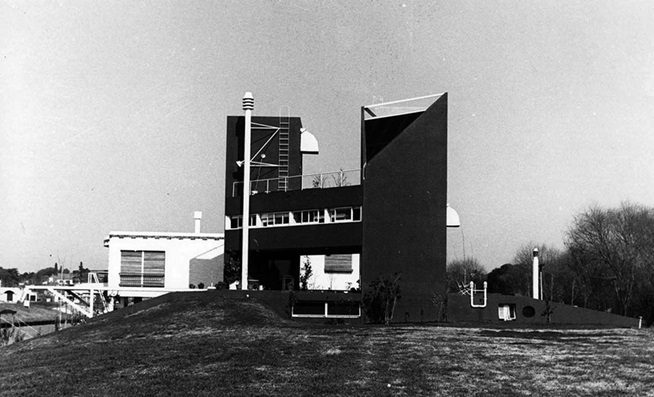 1972 - The Rafael and Diana Viñoly House, Presidente Roca, San Isidro, Buenos Aires, Argentina. Significantly altered. Photos from MSGSSS.
---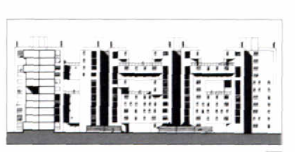 1972 - Housing Complex in the Federal Capital, Buenos Aires Argentina. Unbuilt. Similar to the earlier Rioja development, this was a 300-unit housing project with 10 interlocking and connected 11-story towers which would occupy an entire city block with extensive public spaces at the base of the buildings. Most of the space within the massive bridges that link the towers is taken up by housing units; these are accessible from the base of each tower through a vertical core of elevators and stairs serving the four apartments opening off it on each floor. Open pedestrian spans replace the residential bridges on the fifth- and ninth-floor levels.
---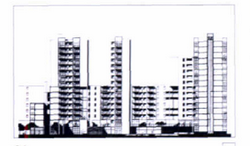 1972 - Villa Soldati Housing Complex, Buenos Aires Argentina. Unbuilt. Government subsidized social housing, these buildings would have provided 3200 single family units. The plan for a low- and middle- income "Edge City" on the outskirts of Buenos Aires combined 16-story towers with lower-rise four- and eight-story structures; the public space was to be a sprawling, two-level plaza with grade-level stores and services and landscaped rooftop terraces.
---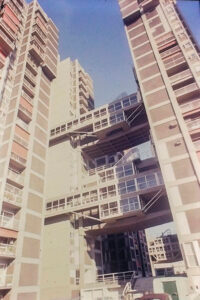 1973 - The Rioja Housing Complex, Buenos Aires Argentina. Commissioned in 1969 and designed by MSGSSS. The building was based on a 1960s Japanese design approach called "Metabolism" that made extensive use of organic growth patterns and of tree imagery, starting from a core construction capable of branching and expanding over time in a Buddhist tradition. Adopting the organic imagery without the Buddhist overtones, the architects executed a number of Metabolist designs. The Rioja Housing Complex was the first. The site was developed by the Bank of the City of Buenos Aires as subsidized housing for 440 employee families. It incorporated commercial space and community areas as well as private residences, giving rise to a solution that is a hybrid of two building types - the tower and the slab. The two elements are completely integrated within a cluster of seven 18 story units, linked by 10 bridges affording both circulation and residential areas.
---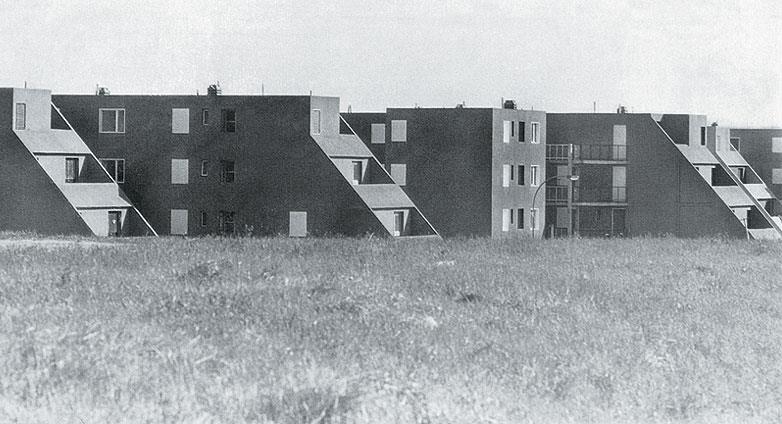 1974 - The San Isidro Housing Complex, Buenos Aires Argentina. This built, low-income housing complex differed from the earlier projects as it was organized around a series of communal facilities that include two primary schools, two daycare centers, a shopping center, a social center incorporating an auditorium and cultural spaces, and safety and security offices that house a resident force. Although the complex is designed to accommodate 572 residents per 2.4 acres, the projects stipulated maximum footprint of 30% of the total land area makes it possible to preserve privacy, personal space, and open vistas. One to three-story multi family houses are linked by pedestrian circulation paths, with the clusters separated by landscaped green zones and connected by streets to the centrally located communal facilities. The units were executed in brick and painted pre-cast concrete according to a rigidly specified construction system meant to ensure uniformity and hold down construction costs.
---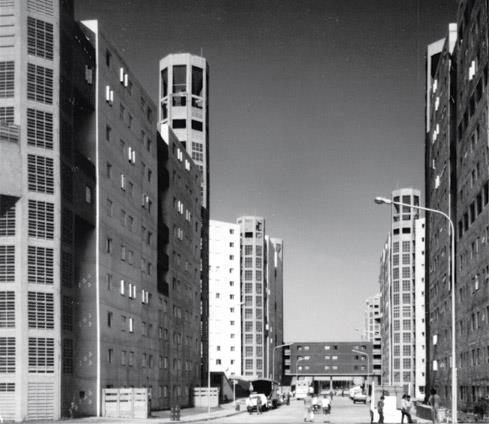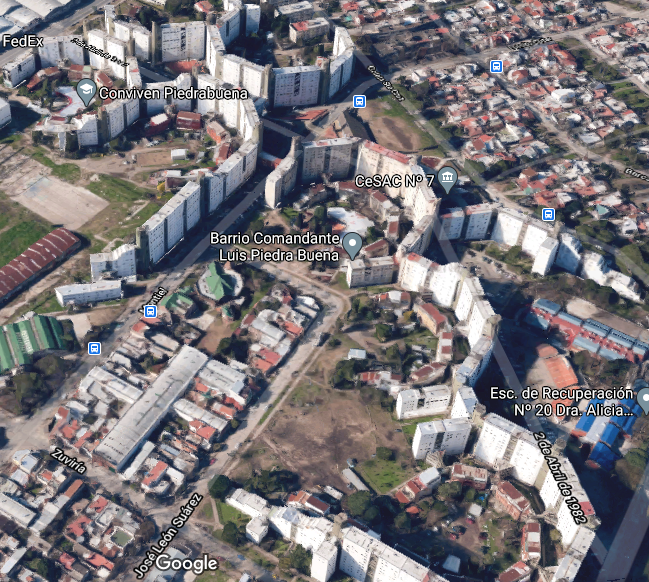 1974 - The Luis Piedrabuena Housing Complex, bounded by Avenida Piedra Buena, Avenida Gral Paz, Zuviria, and Goleta Santa Cruz, Buenos Aires Argentina. Constructed on the outskirts of Buenos Aires, this was the largest housing project to be built by the Estudio de Arquitectura. On a total land area of 24 acres, the complex is designed to accommodate over 19,000 people in low-income housing units; it includes two nursery schools, two primary schools, two high schools, a church, a sanitation facility, various athletic facilities, and a commercial center. There are seven housing modules. Within each module's outer ring stand lower-rise structures, similarly articulated and connected to it via terrace bridges that serve as communal gathering places. At the center of each modular structure is a landscaped garden.
---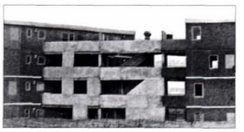 1974 - Alborada Ranelagh Housing Complex, Buenos Aires Argentina. This complex provided 450 basic one- and two-bedroom units of low income housing.
---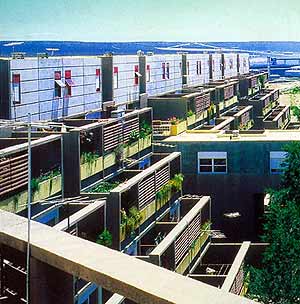 1974 - Aluar, Aluminio de Argentina (Aluminum of Argentina) Factory Housing, Puerto Madryn, Province of Chubut Argentina. Housing for 750 employees of the nation's largest aluminum concern, an inward facing array of buildings that turn their backs to the wind to create a sheltered common core. Each 40 unit module groups two visually distinct three-story sub-units in front of four, five-story sub-units, the taller structures act as shields for the given module as a whole, and in particular for the pedestrian zone located between the two ranks of buildings. Each apartment opens onto an east-facing sheltered terrace with a view of the Atlantic Ocean.
---

1975 - Buenos Aires Housing Complex, Buenos Aires Argentina. This unbuilt complex was to provide 10,000 housing units.
---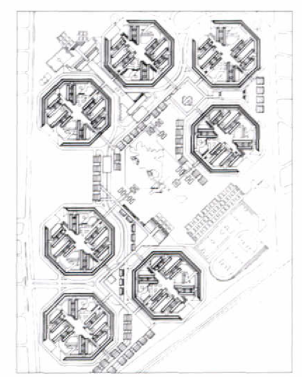 1975 - Chacras Saavedra Urban Housing Development, Buenos Aires Argentina. Unbuilt. This development would have created a small city of more than 60,000 people just outside Buenos Aires. Within an irregular array of seven complex octagonal modules reminiscent of the Piedrabuena project is a large landscaped park on which 6 medium- and high-rise luxury residential towers are located. The octagonal modules, linked by a platform building providing commercial and service zones as well as below-grade pedestrian networks and parking, contain 1,200 terraced middle-income units, each in low- and medium-rise structures. The development also created a wide variety of urban amenities including theaters, schools, electrical and steam cogeneration plants, public safety and security offices, and a fire department.
---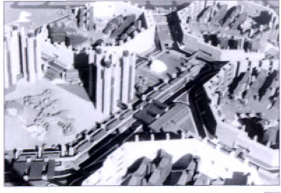 1976 - Benavidez Housing Complex A & B, Buenos Aires Argentina. Unbuilt. The two plans, each proposed for an urban housing development for over 100,000 people, reflect opposing views on how to define neighborhoods within large-scale, high-density projects. One featured a series of housing modules in which terraced, low-rise structures radiate from a central service core. This core is bisected by an artery that serves both vehicular and pedestrian traffic and contains commercial zones and common areas for the entire project. A taller ring of housing runs along the artery's entire length. The second plan is designed around a central service nucleus that is woven into the fabric of the development by a series of segregated pedestrian and vehicular streets. Most of the housing units are in low-rise linear buildings that cover most of the site. Three ridges of taller residential buildings radiate from the center and provide views of the surrounding countryside.
---

1977 - Apartment Building, Virrey del Pino, Buenos Aires Argentina. Unbuilt. This project for a speculative luxury housing development indicated its variously configured multilevel residences with a very active facade of concrete, steel, and glass featuring bold, diagonal elements. The building's plan called for a shared garage and a private penthouse terrace.
---

1977 - Covin Housing Complex, Guyana City Venezuela. This project, another low-income, high-density development designed by Estudio de Arquitectura, displays neither the tower-and-bridge morphology nor the modularity of earlier projects. Instead, 3,500 housing units would be provided in massive buildings of up to 11 stories. The vast array of apertures produced by an essentially industrial building system would allow the facades to serve as gridded canvases for graphic treatments echoing the forms and rhythms of the surrounding city.
---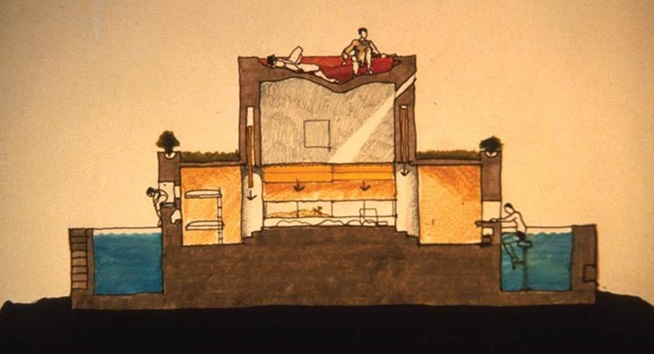 1977 - Country House, Buenos Aires, Argentina. This weekend residence makes use of a very small site by fitting a garden and a swimming pool within the buildings footprint. This design is a three-story square ziggurat within a square boundary wall. The first story contains a raised moat-like pool that completely surrounds the house. The second story houses the primary interior spaces grouped around a central double height living area. The children's bedroom is equipped with a waterslide, giving them easy access to the pool.
---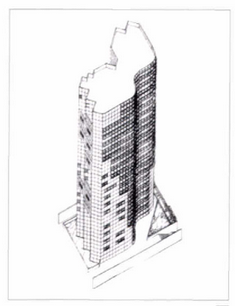 1977 - Residential Tower, Buenos Aires Argentina. Unbuilt. This project for a residential tower features an extensive system of protection from the elements. Sunshades fitted on inclined frames along the building's undulating facade form a scaled surface that shields the large balconies within. The building is divided into two largely independent lobes, each containing its own elevator core; each floor is occupied by a single apartment boasting a nearly 360-degree view and the added security afforded by a private elevator entrance.
---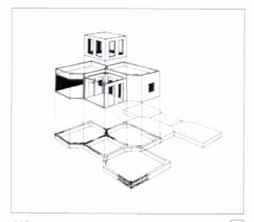 1978 - The San Juan Housing Complex, Caucete, Province of San Juan Argentina. This scheme had its origin in the severe earthquake that struck the Province of San Juan in western Argentina in 1977. The earthquake measured 7.4 on the Richter Scale and caused substantial property damage. In response, officials of the provincial government commissioned a 200-unit modular housing construction program to replace what had been damaged or destroyed. There were 3 critical requirements: the system had be easily and quickly implemented; it had to be adaptable to diverse sites throughout the province, including pre-existing housing developments; and, to make it feasible for low-income communities, it had to produce housing that cost very little to construct and maintain. A system was developed by the Estudio de Arquitectura consisting of a set of specialized modules, executed in pre-cast reinformced concrete, that could be assembled and recombined in varying configurations to meet individual needs. A double- height unit containing a water tank and incorporating large, unglazed perforations at the tops of its four walls, is intended to be the core of each house. The other modules contained a living room, bedroom(s), bath, and kitchen. The habitats could be executed in one of two ways, either prefabricated off-site, delivered, and installed, or poured in place using reusable forms. Unsure if these were completed.
---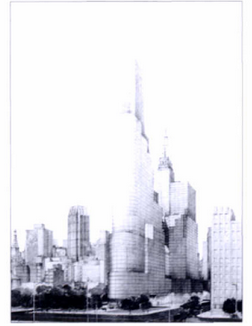 1980 - The Second Avenue Housing Development, New York NY. Unbuilt project for medium-to-upper-income housing development. A 36-story glass curtain wall tower was to accommodate approximately 280 residential units. The design for the tower incorporated a curved facade, meant to afford as panoramic a view as possible of the surrounding city.
---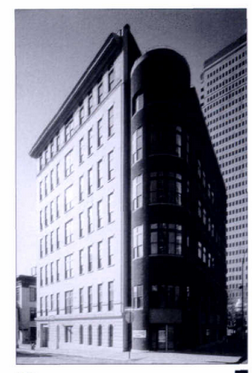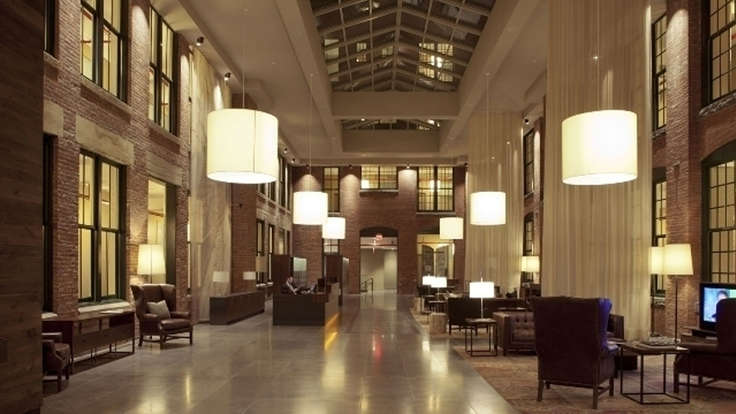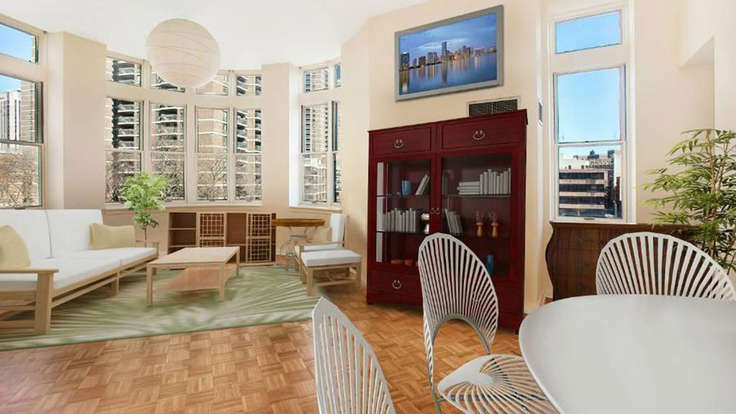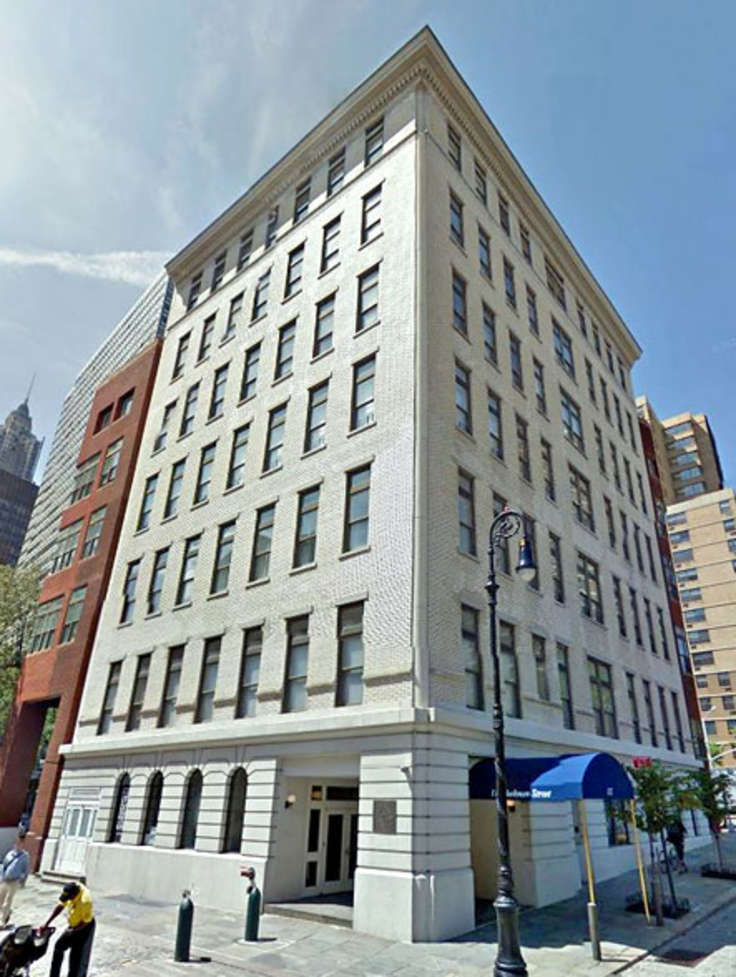 1982 - The Seaport Park Condominiums, 117 Beekman Street, New York NY. Remodel of a former nursing home in Manhattan's South Street Seaport Historical District into residential and commercial use. Original building was designed in 1918 by Adolph Martin as the Volunteer Hospital and became a nursing home in the 1960s or 1970s. In 1981, Symposium Realty gutted the hospital bulding and replaced two white brick facades with dark red brick and converted the building to 23 condominium apartments and retail space. A 1300 square meter addition increased the total area to 4100 square meters. All the units have classic layouts including entrance foyers and corner living rooms; large windows provide dramatic views of the Brooklyn Bridge and the East River. A ground floor restaurant opens onto a two-story arcade facing a public park.
---

1984 - The East-West Towers, 153 West 53rd Street, New York NY. Unbuilt. A mixed use development with 46 stories: commercial spaces in the first 7 stories; studio, 1-, and 2-bedroom apartments on levels 8-45; and a pool and exercise facilities on the 46th level.
---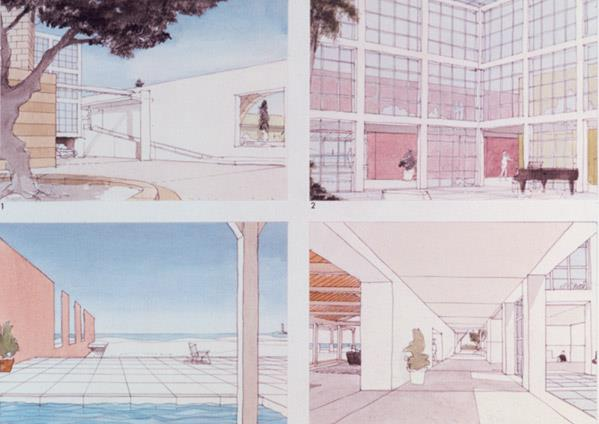 1985 - Summer House at Playa Brava, Punta del Este, Uruguay. Unbuilt.
---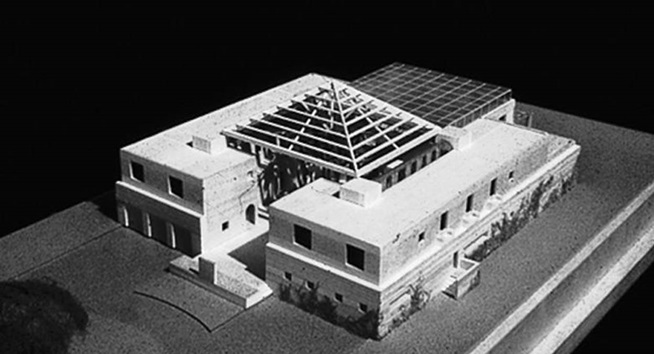 1985 - aka Penang House, Kuala Lumpur, Malaysia. Do you know where it is?
---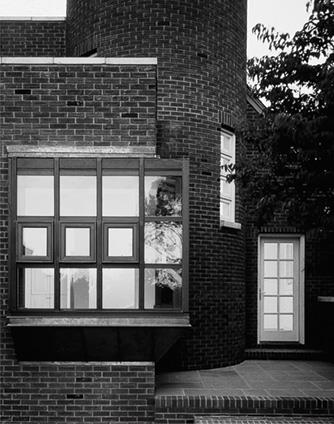 1988 - Renovation and Addition, Staten Island NY. Viñoly renovated and expanded a client's Georgian farmhouse. Do you know where it is?
---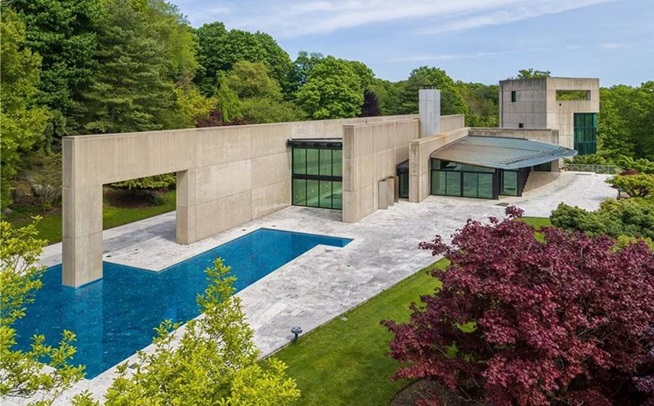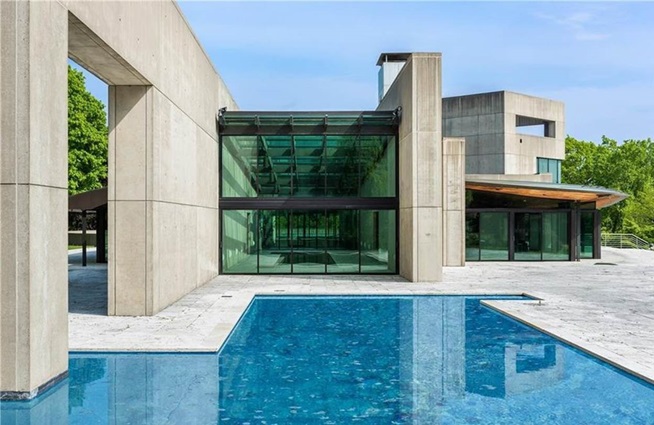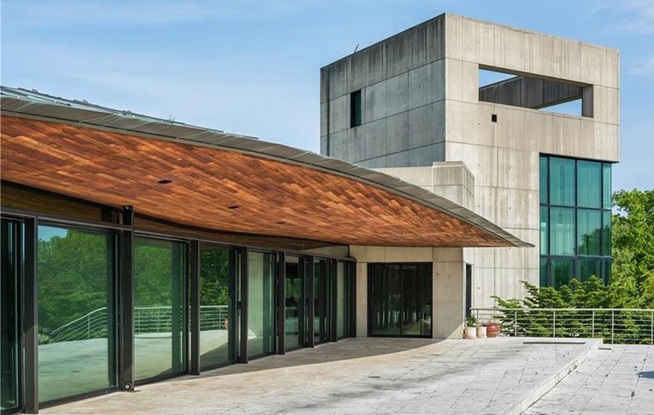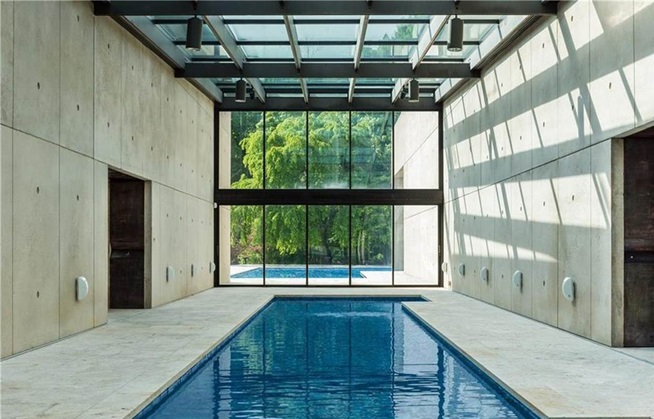 1990 - The Alice Lawrence House I, 191 Ridgebury Road, Ridgefield CT. Michael Dobbs and David McAdams were project managers. Featured in Progressive Architecture, May 1991. Viñoly's design had to incorporate as much of the massive concrete foundations that had already been poured based on a previous architect's design. Cost about $25M to build. Deeded in 2008 to heirs Richard Lawrence, Marta Jo Lawrence, and Suzanne Lawrence DeChamplain. Donated in 2010 to Fairfield University. Sold in 2012 to 191 Ridgebury Road LLC / Behroz Dilemani. For sale 2019-2022.
---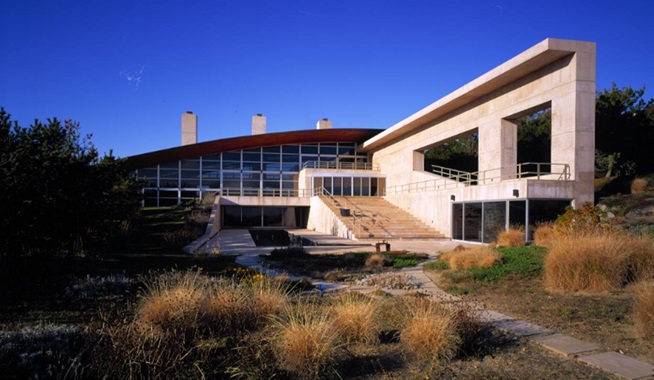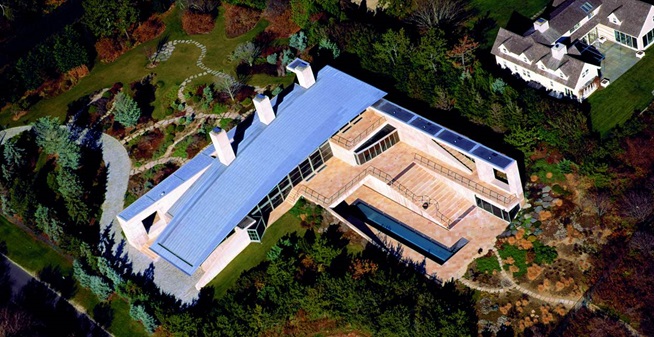 1990 - The Alice Lawrence House II, aka TWA Terminal, 73 Highway Behind the Pond, East Hampton NY. Concrete and steel 17,000 sf with a roofline said to resemble the Saarinen TWA terminal at JFK International Airport. A 28 foot wall sparked a feud with neighbors Lee Radziwill and Herbert Ross, who tried in vain to have the permit revoked. Sold in 2003 to Daniel S. Loeb. Deeded in 2006 to 73 Beach Terminal LLC, a Loeb company.
---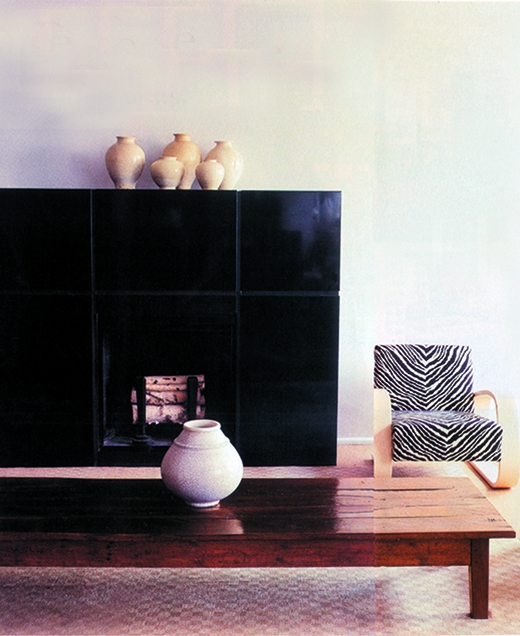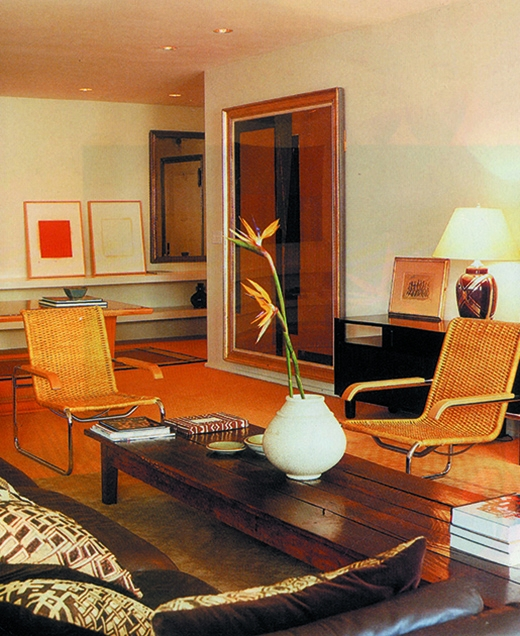 1995 - Apartment Renovation, Fifth Avenue, New York NY. Interior renovation of a pre-war apartment. Changes included modifying the fireplace to a monolithic black marble and converting a guest room into a piano practice and multimedia room. Interior design by Diana Viñoly. Photos from Diana Viñoly Interiors. Status unknown.
---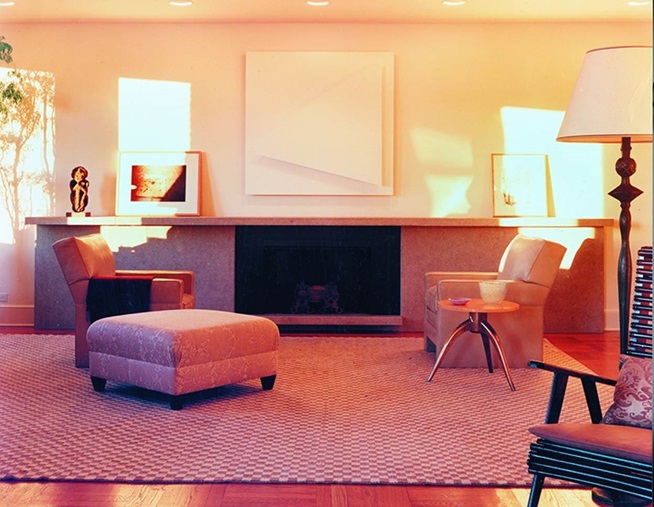 1997 - Apartment Renovation, Fifth Avenue, New York NY. Interior renovation of a pre-war apartment overlooking Manhattan's Central Park. Interior design by Diana Viñoly. Photo from Diana Viñoly Interiors. Status unknown.
---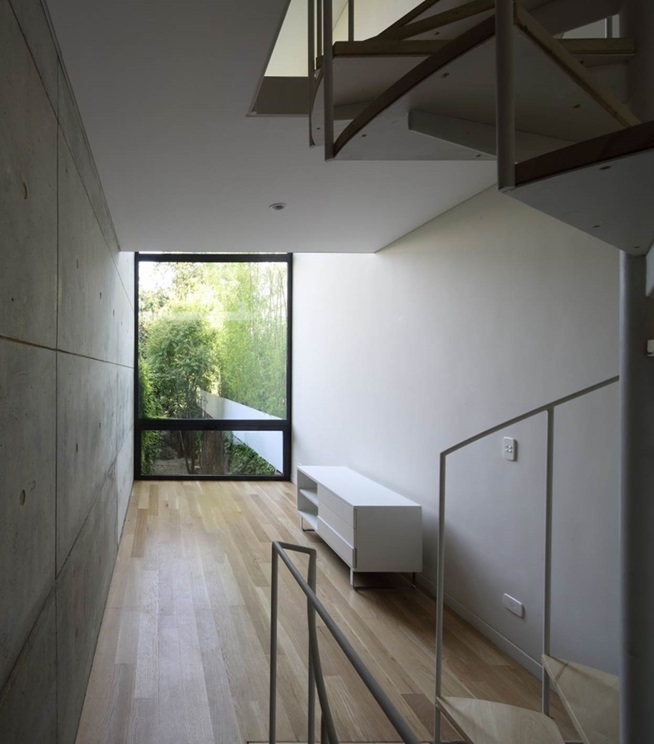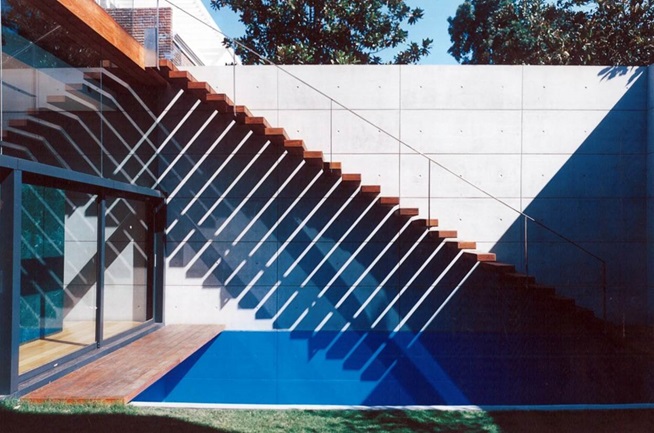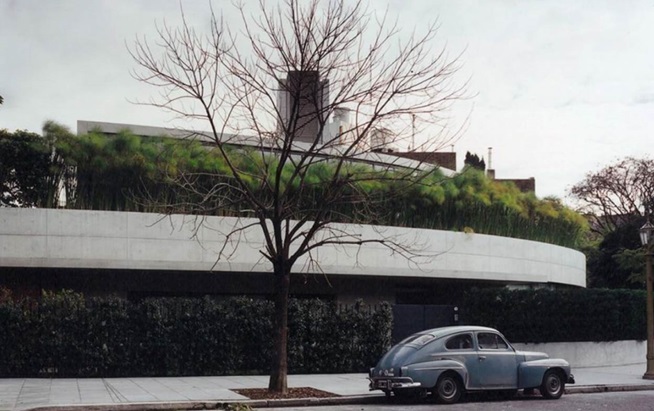 1997 - House on Ombú 3078, Palermo, Buenos Aires, Argentina. Designed to fit a triangular-shaped lot. Addition in 2014 by architects Daniel Silberfarden and Jens Wolter of 1:1BA. Status unknown.
---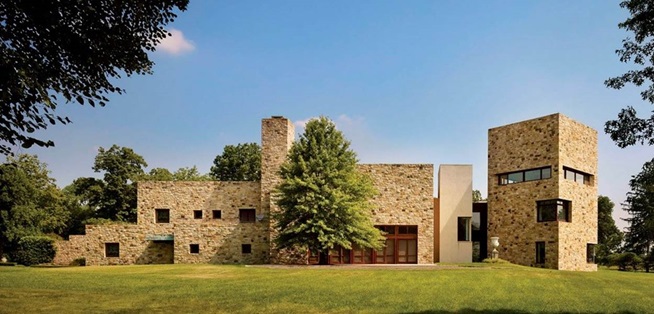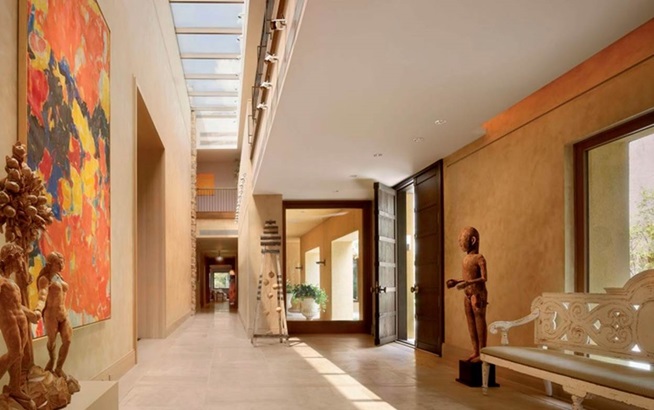 1997 - The Dennis Alter House, aka Arbor Hill, 7111 Sheaff Lane, Fort Washington PA. For sale in 2019.
---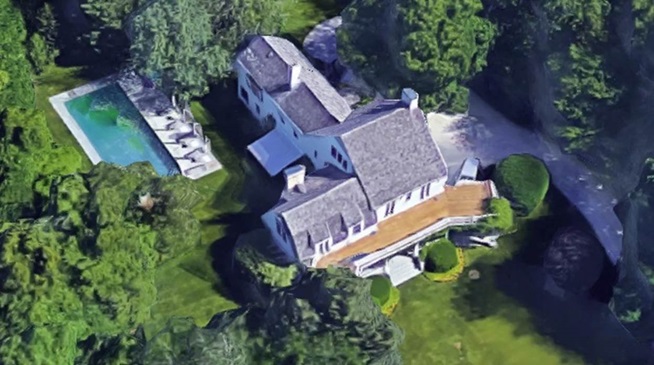 1997 - The Rafael and Diana Viñoly Vacation House, 380 Deerfield Road, Water Mill NY. Featured in Custom Builder, January/February 1997.
---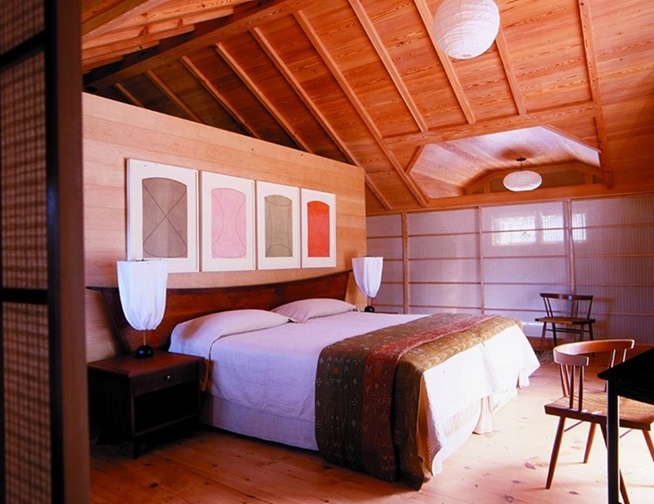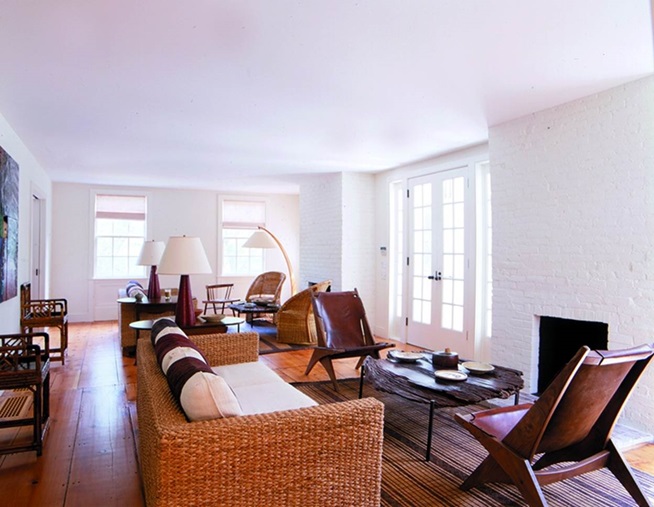 1999 - The Lewis and Dorothy Cullman House, 11, 15, and 17 Prospect Avenue, Sag Harbor NY. Viñoly renovated three existing houses to create a compound with a main house and two guest houses. Interior design by Diana Viñoly. Sold to Katherine and Luke E. Fichthorn IV. Photos from Diana Viñoly Interiors.
---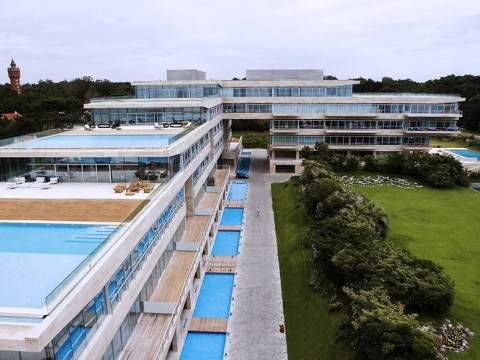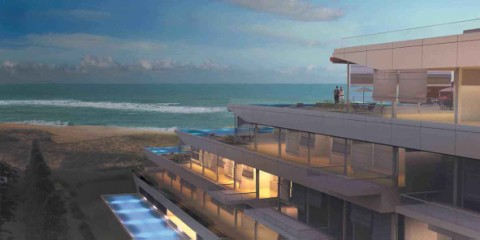 2009 - The Edificio Acqua Complex, Punta del Este Uruguay. Construction of the 34-unit residential building started in 2004, with final stages in 2009, at which time 50% had been sold. An unnamed Swiss buyer bought the 4-bedroom penthouse in 2009.
---

2011 - The Community Preservation Corporation Resources Renovation, Brooklyn NY. Partial demolition and renovation of the Domino Sugar Plant for residential use. Project was to include 2 glass towers. Before construction started, the property was sold in 2013 to Two Trees Management, which decided to go with a different architect.
---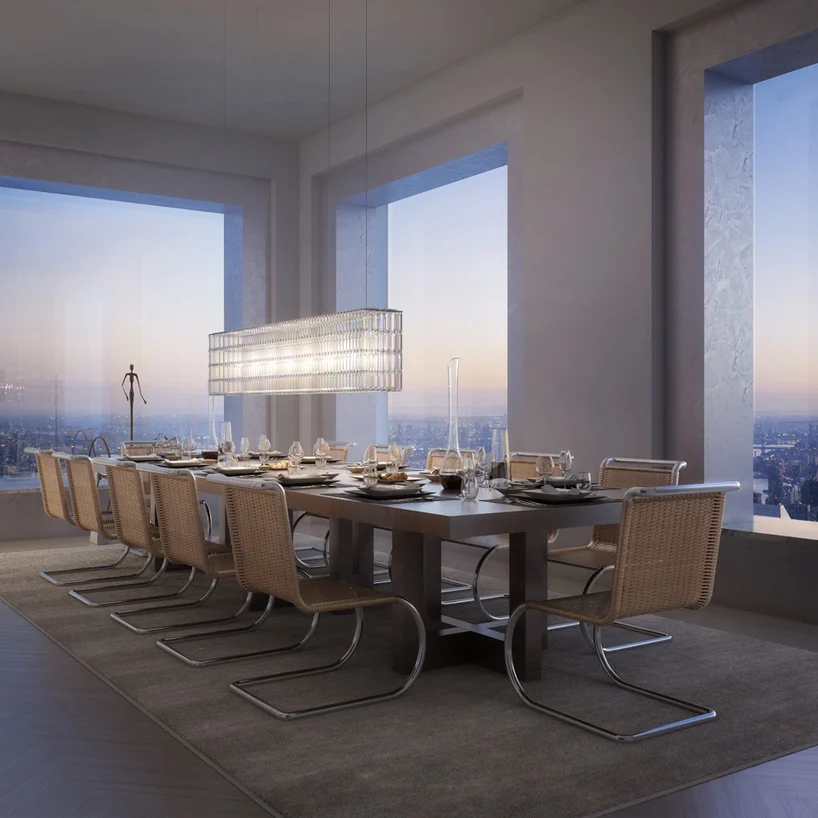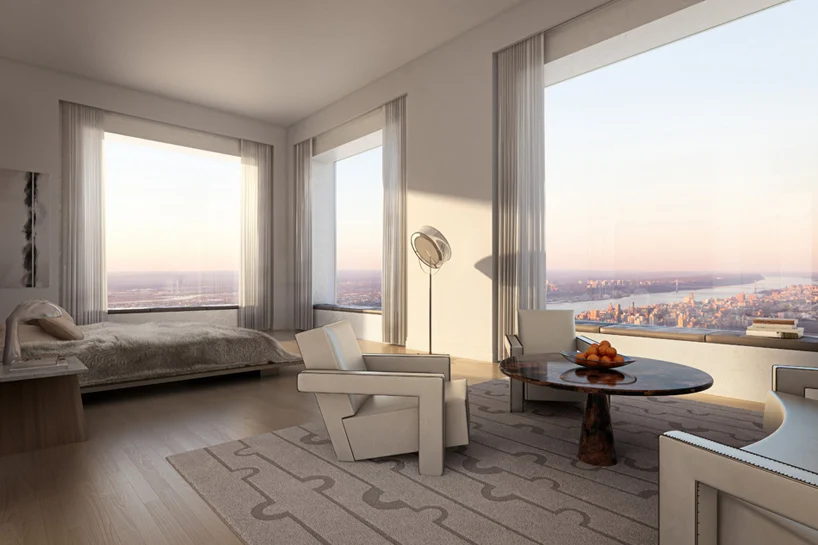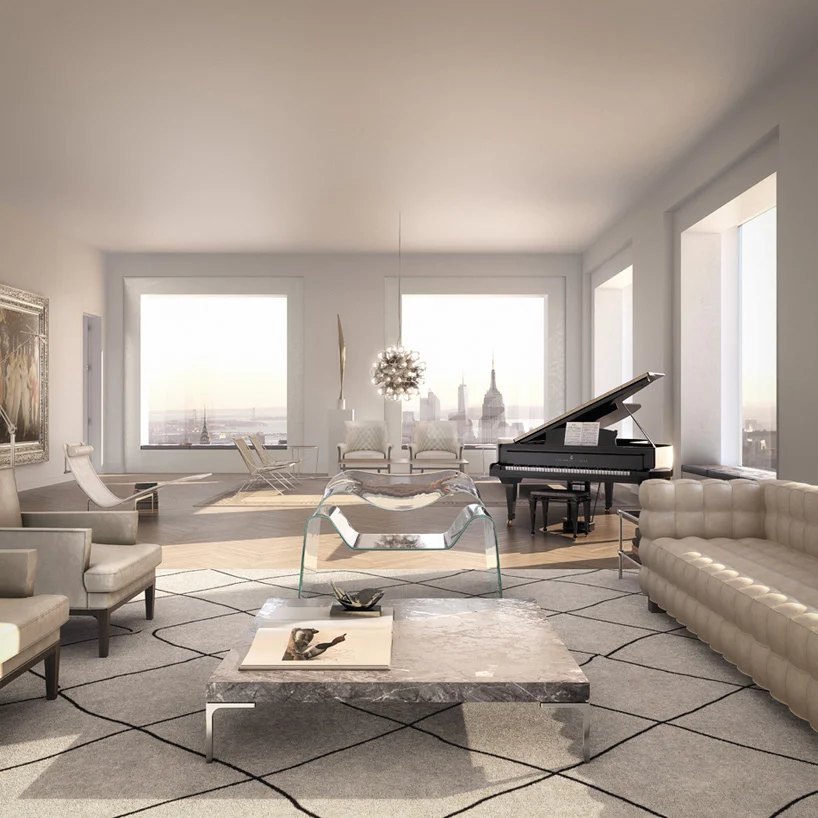 2015 - Condominiums, 432 Park Avenue, New York NY. Developed by CIM Group and Macklowe Properties, interior design by Deborah Berke Partners. 96 floors comprising 104 residences with 12.6' ceilings and 10'x10' windows. Each residence has its own private elevator landing. Jennifer Lopez and Alex Rodriguez sold a 4,000 sf condo there in 2019.
---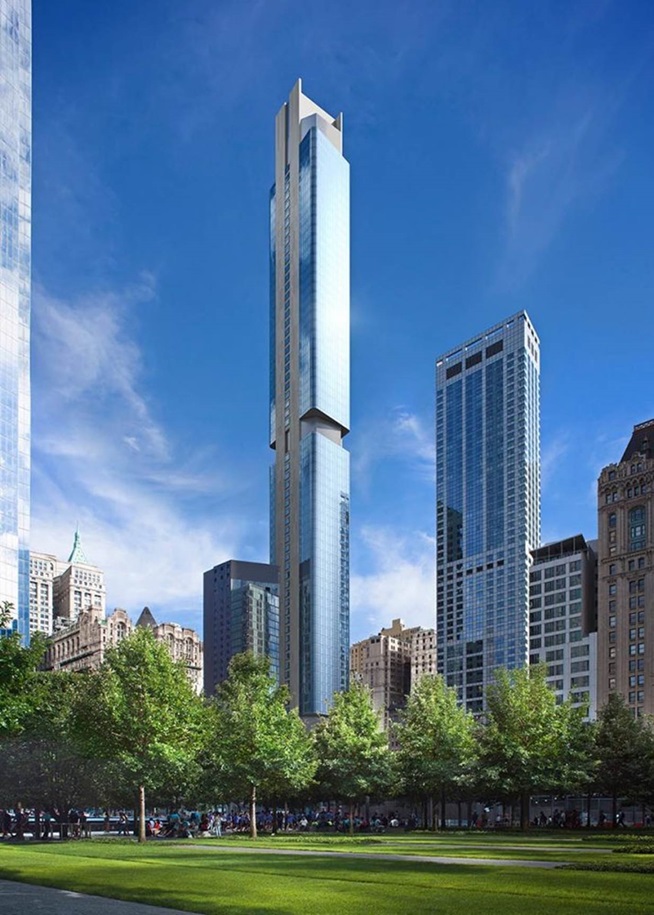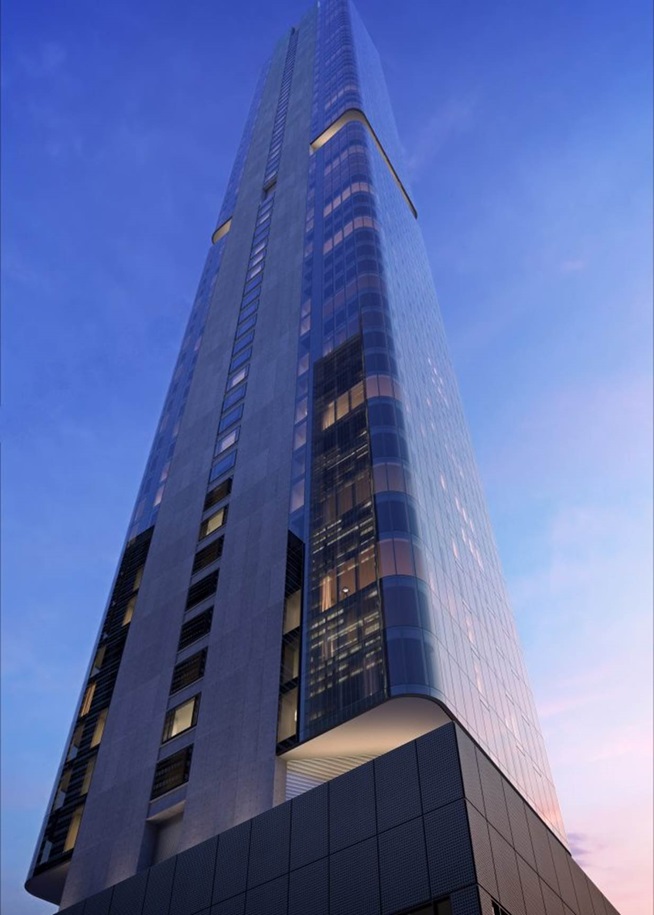 2018 - 125 Greenwich Street, New York NY. Residential skyscraper standing at 912 feet with 88 floors and 273 units.
---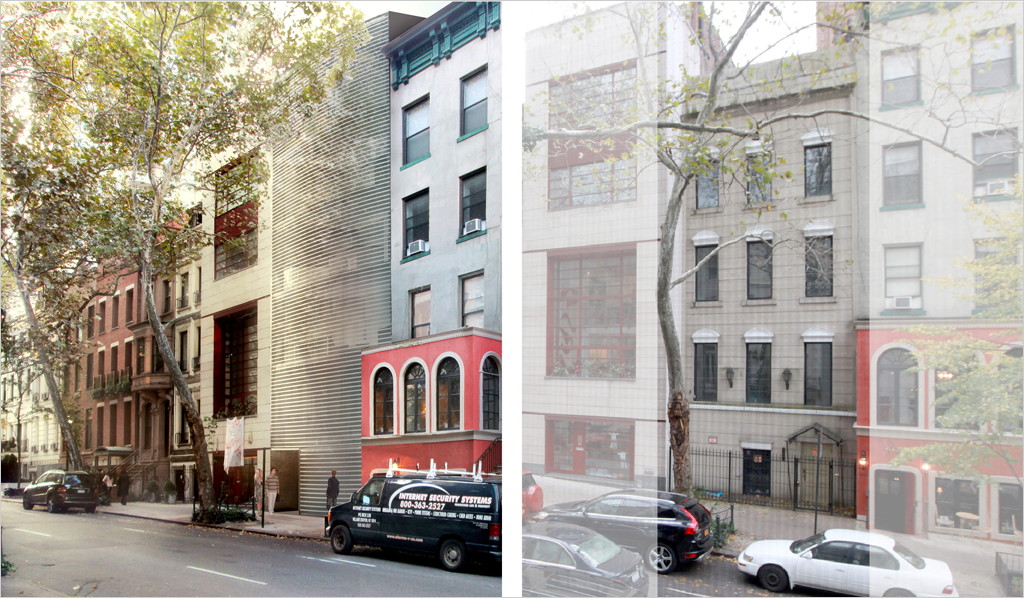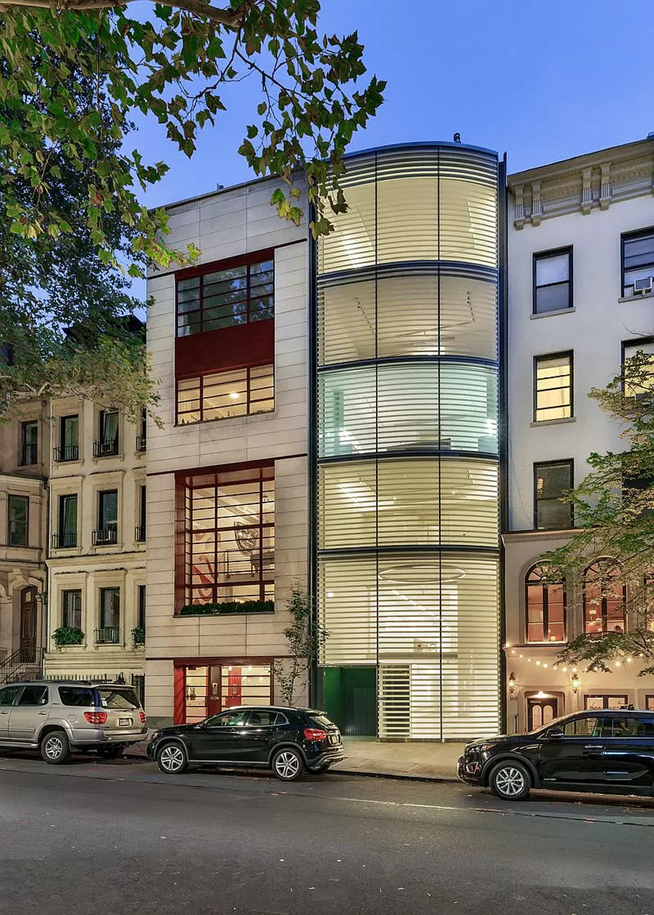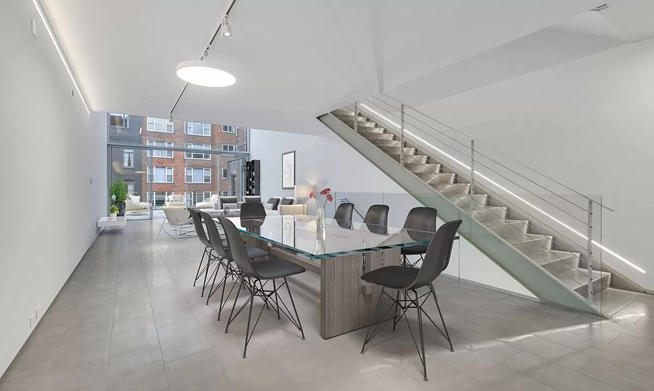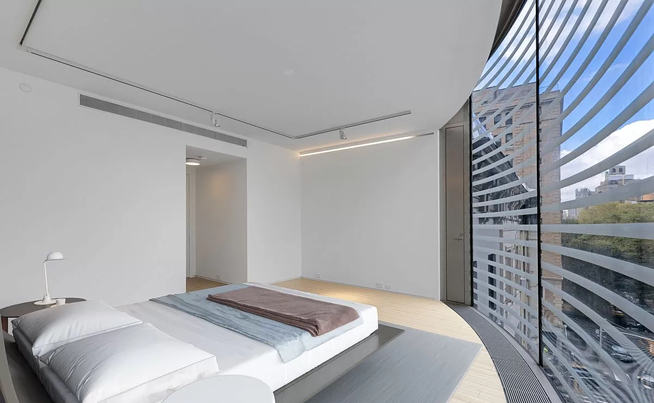 2018 - Mixed-Use Building, 162 East 64th Street, New York NY. Six story residential and office building designed for Armenian billionaire Eduardo Eurnekian. Plans began in late 2012. The top photo shows the rendering to the left and to the right, the 19th century townhouse it replaced.
---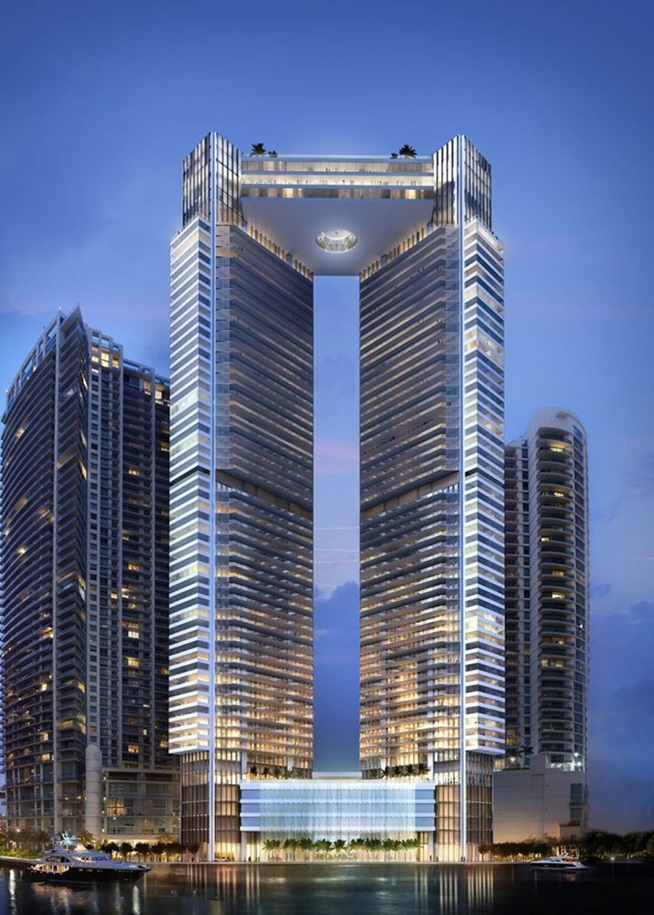 2019 - One River Point, 90 Southwest 3rd Street, Miami FL. Mixed-use complex with a pair of 65-story residential towers.
---
Sources include: Rafael Viñoly Architects; ModernaBuenosAires; Viñoly by Rafael Viñoly, Lars Müller, Román Viñoly, and Joan Ockman.