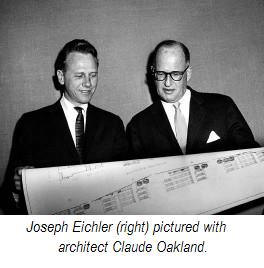 JOSEPH L. EICHLER (1900-1974)
There are a lot of houses called "Eichlers" by realtors. Eichler officially was only the developer for houses built in California and New York. Anything else is a copy; perhaps great workmanship, but still not the real thing. Therefore, any houses listed outside of California and Chestnut Ridge NY (and new ones developed by Monique Lombardelli) cannot be considered true Eichlers. The Bronx-born New York City native moved to the West Coast in 1940 where he worked as an executive in his family's wholesale dairy business. In his mid-40s, he found himself in need of a job when the dairy closed. He rented Frank Lloyd Wright's Bazett House. Inspired, he became a residential real estate developer known for building homes in the Modernist style. Between 1950 and 1974, he built over 11,000 homes in California (and three in Chestnut Ridge NY) which became known as Eichlers. He became one of the nation's most influential builders.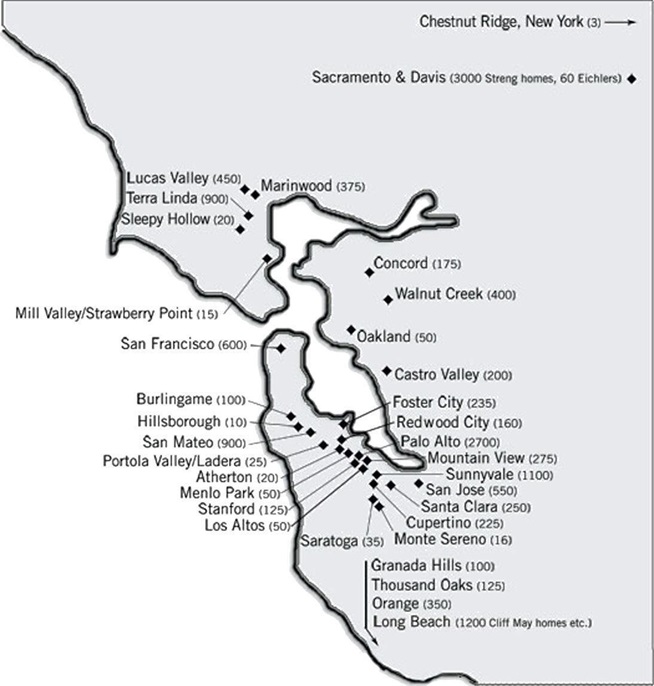 Unlike many developers, Eichler was a social visionary and commissioned designs primarily for middle-class Americans. One of his goals was building inclusive and diverse planned communities, ideally featuring integrated parks and community centers. He established a non-discrimination policy and offered homes for sale to anyone of any religion or race. In 1958, he resigned from the National Association of Home Builders when they refused to support that policy.
Eichler homes are a branch of Modernist architecture that has come to be known as California Modern and typically feature glass walls, post-and-beam construction and open floorplans. Eichler used Frank Lloyd Wright student Robert Anshen of Anshen & Allen to design the initial Eichler homes built in 1949. The majority of his project designs were and Frederick Emmons. He also hired Raphael Soriano and Claude Oakland. In 2014, developer Monique Lombardelli began construction on the first batch of Eichler houses in 40 years in Las Vegas NV and Palm Springs CA.
---
---
Sources include: Monique Lombardelli.