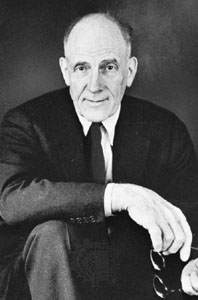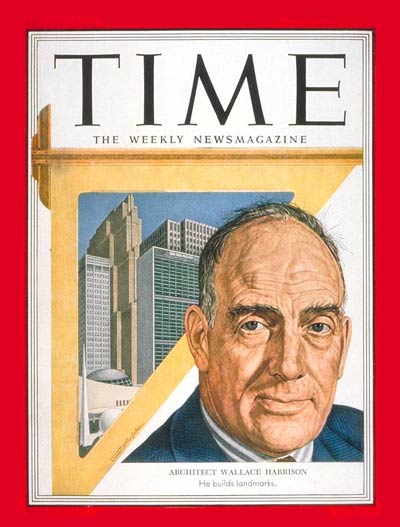 WALLACE KIRKMAN HARRISON (1895-1991)
Harrison took classes in engineering at Worcester Polytechnic Institute and in architecture at the Boston Architectural Club; he studied at the École des Beaux-Arts in the early 1920s and won the Rotch Taveling Scholarship in 1922. He worked for McKim, Mead & White and Bertram Grovesnor Goodhue from 1916 to 1923. His brother-in-law was married to John D. Rockefeller Jr's daughter, Abigail, and Harrison served as a designer and architectural adviser for Nelson Rockefeller, notably when Rockefeller was governor of New York.
Harrison started his professional career with the firm of Corbett, Harrison & MacMurray, participating in the construction of Rockefeller Center. In 1931-1932, Harrison joined with Max Abramowitz before Abramowitz left for France, returning in 1934. In 1935, Harrison formed a partnership with J. Andre Fouilhoux. In 1941 Abramowitz became a partner and the firm was known as Harrison, Fouilhoux and Abramovitz until Fouilhoux's death in 1945. The firm became known as Harrison & Abramowitz from 1945-1976, during which time it designed scores of university and corporate buildings, including Time Life (1959) and Socony- Mobil (1956).
Among Harrison's most noted projects are the Metropolitan Opera House at the Lincoln Center and the Empire State Plaza in Albany; Director of Planning on the United Nations complex, which was built on property contributed by the Rockefeller family; master planner and supervising architect for the World's Fairs of 1939 (with Fouilhoux) and 1964 and LaGuardia and Idlewild (now JFK) airport.
Harrison was a member of the US Commission of Fine Arts from 1955 to 1959. In 1967, Harrison received the AIA Gold Medal. Harrison's architectural drawings and archives are held by the Avery Architectural and Fine Arts Library at Columbia University. Harrison was married to Ellen Hunt Milton in 1926. They had a daughter, Sarah, and lived in Manhattan NY and Seal Harbor ME. Bio adapted from Wikipedia.
---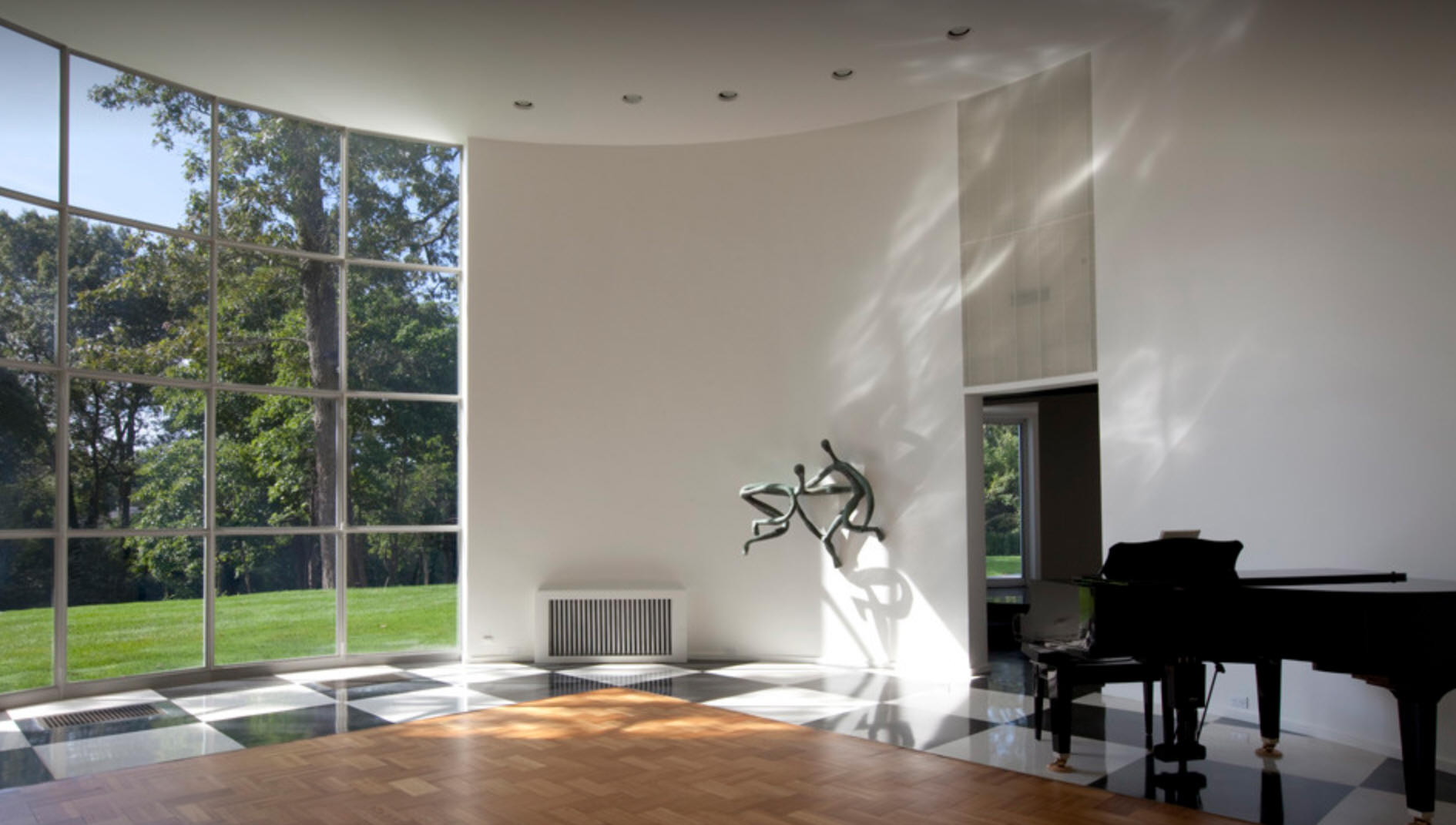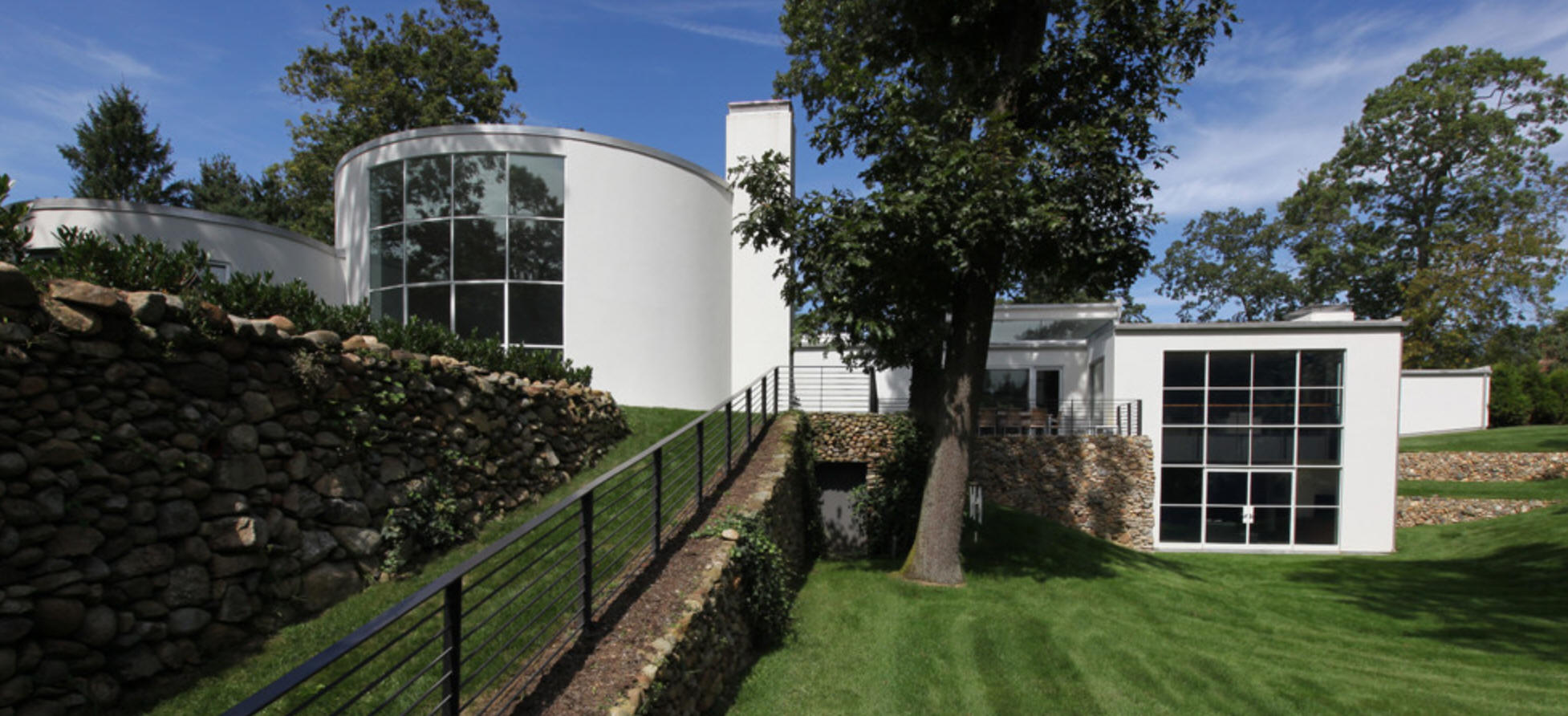 1931 - The Wallace and Ellen Harrison Summer House, 140 Round Swamp Road, Huntington NY. 11 acres. Included a 32-foot circular living room that is rumored to have been the prototype for the Rainbow Room in Rockefeller Center. Fernand Léger created a large mural for the home's circular living room and sculpted an abstract form to serve as a skylight. Alexander Calder's first show is said to have taken place at the home. Frequent visitors and guests included Nelson Rockefeller, Robert Moses, Marc Chagall, and Corbusier.
Shortly after purchasing the property in 1931, Harrison bought the Aluminaire House designed by Albert Frey and A. Lawrence Kocher and relocated it to the property. Aluminaire will be reassembled in Palm Springs in 2021. Photos by Javier Haddad. Sold in 1974 to Hester Diamond who placed the estate on the National Register of Historic Places. Sold in 1984 and about eight acres were sold to form a subdivision called Laurel View Estates. Sold in 2003 to Lawrence Spiegel who restored it and won the 2010 AIA Long Island Archi Award. Sold in 2021 to Australian designer Peter Andreas Bonnen.
---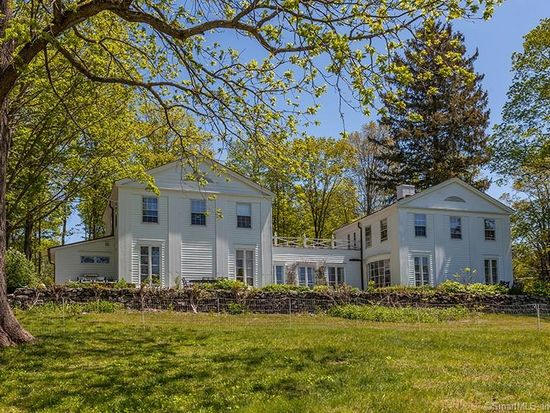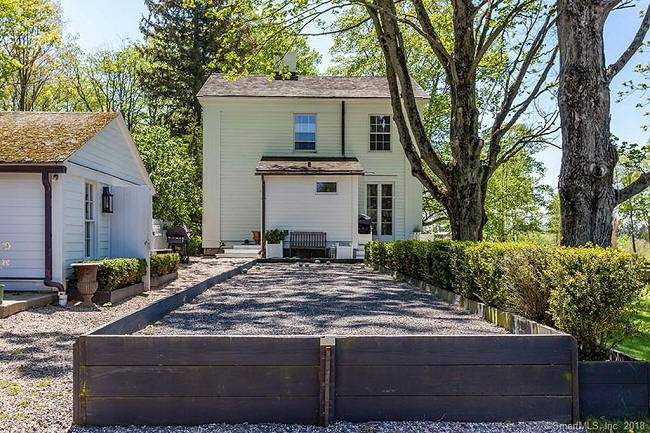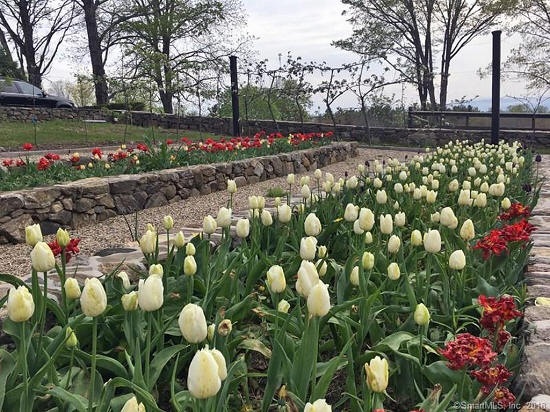 1936 - The Albert Fink Milton House, 69 Painter Ridge Road, Washington CT. Brother of David Milton, below. Sold in 2001 to Elliott and Karen Davis. Sold in 2020 to Peter Sherwin.
---
1936 - The Rockefeller Apartments, 17 West 54th Street, New York NY. Designed with Andre Fouilhoux. Originally 138 units, later converted into a 70-unit co-op, then renovated in 1997 by architect William Leggio. Renovated in 2008.
---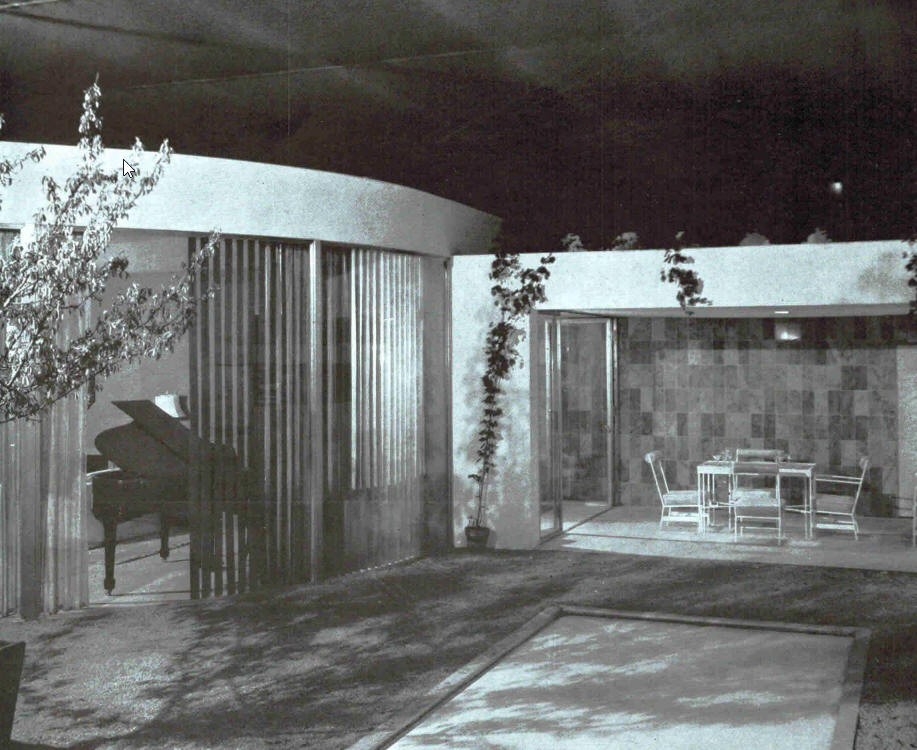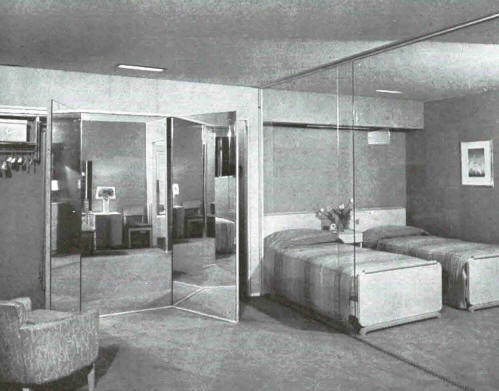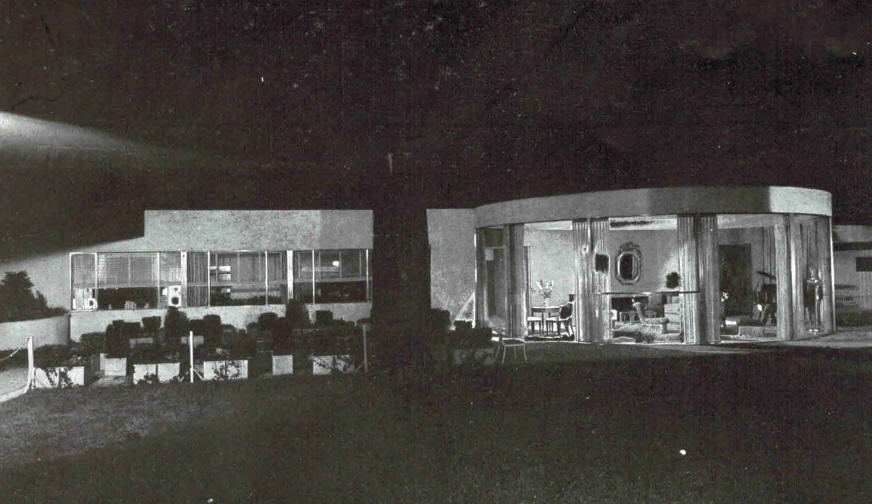 1937 - The Ladies Home Journal House, aka House of Tomorrow, New York NY. Designed with Andre Fouilhoux. Designed for the 1937 North American Home Show at Madison Square Garden. A whole demonstration house was built for $75000. Four rooms and a garage; featured air conditioning from GE, which was a new technology at the time. The rounded glass wall dropped into the ground at the touch of a button, opening up the main room to the outside. Featured in Architectural Forum, October 1937. Unclear what happened to the house after the show.
---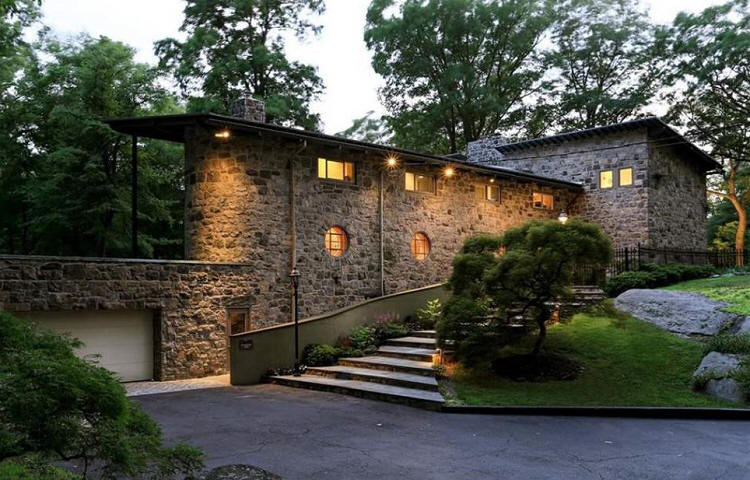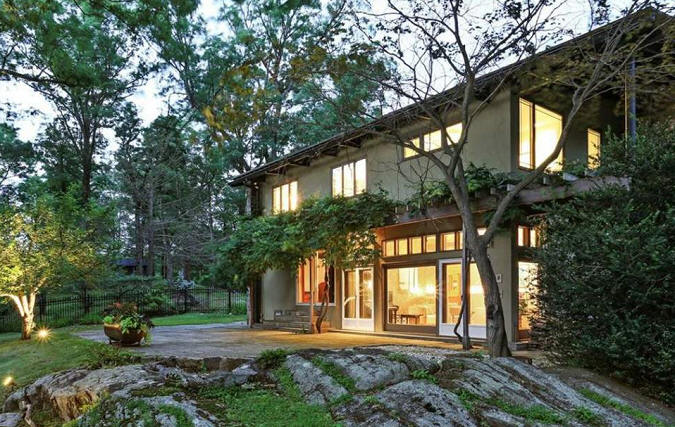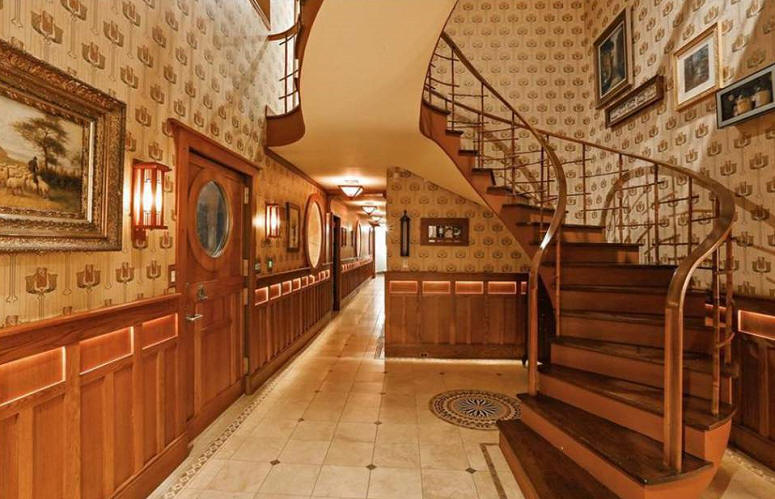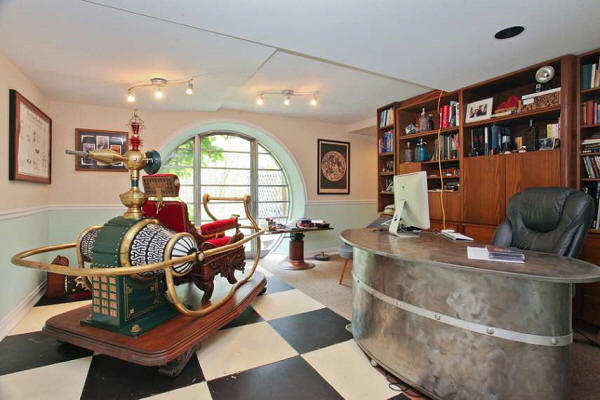 1938 - The Julian Jr. and Narcissa Street House, 710 Long Hill Road West, Briarcliff Manor NY. Designed with local fieldstone in the shape of a L using steel beams in the roofs of the house and garage. 45 years later, Street remarked that "it worked marvelously." Sold in 1974 to Howard and Janette Tomkins. Sold in the late 1970s to the Birnbaum family. Sold in 2001 to Robert Niosi and Sally Lee, who expanded the kitchen, renovated the master bedroom and made other interior changes, and left the exterior relatively unchanged, including the round windows. Niosi is an artist who designed a replica of a time machine (last photo). Sold in 2020 to James Sinclair and Katherine Coolican.
---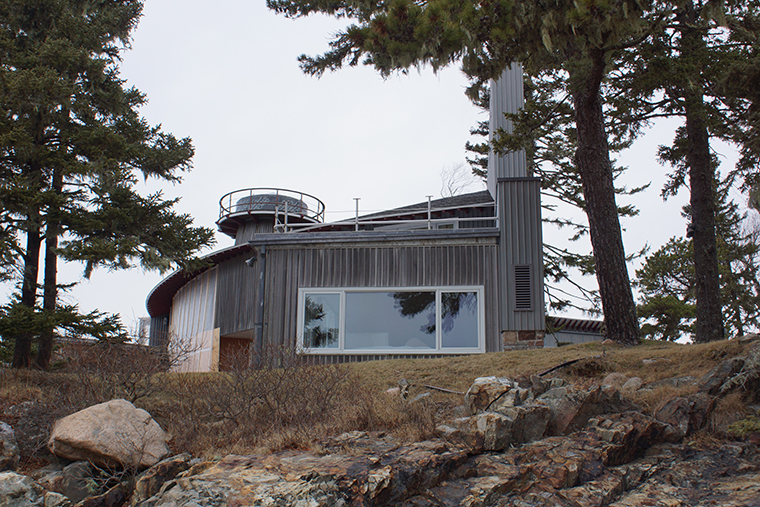 1939 - The Nelson Rockefeller Cottage, aka The Anchorage, Crowninshield Point, Mt. Desert Island, Seal Harbor ME. Designed with Andre Fouilhoux. Nelson's brother David Rockefeller had a house just across from his.
---

1939 - The David and Abigail (Abby) Rockefeller Milton House, aka Round House, Tucker's Town, Bermuda. Commissioned in 1936. For sale in 1984. Destroyed around 1997.
---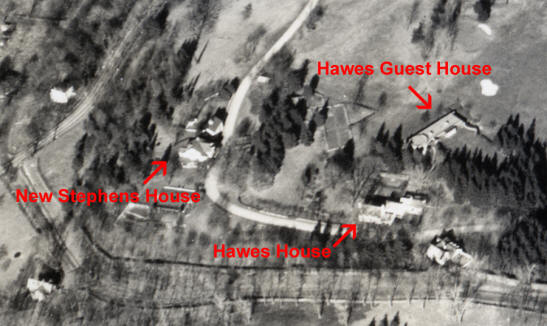 1939 - The Hawes Guest House, Pocantico NY, aka the Davids/Stephens/Hawes/Rockefeller Houses. In 1939 Nelson Rockefeller commissioned Harrison to build a Modernist guesthouse next to the Hawes house. The guesthouse was divided between the circular living room and the bedrooms by an open passageway. The abstract shape of roofs cutout opening was designed by artist Fernand Leger. Photos by Rockefeller Archive Center and an article by Lucas Buresh.
---

Early 1940s - The William A. M. Burden House, Mt. Kisco NY. Several plans over a period of 10 years, all unbuilt.
---
1943 - The Clinton Hill Coops, Brooklyn NY. a 12-building coop complex split between two campuses along Clinton Avenue in Brooklyn to house Brooklyn Navy Yards workers.
---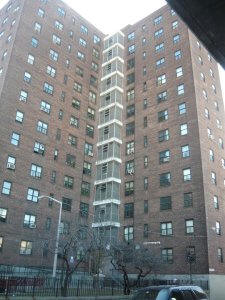 1944 - The Fort Greene Housing Project, aka Walt Whitman Houses and Raymond Ingersoll Houses, Myrtle to Park Avenues, Carlton Avenue to Prince Street, West Central Brooklyn NY. Designed with Andre Fouilhoux. 3500 on 38 acres completed during World War II as high priority housing for Brooklyn's wartime industrial labor force. Several architects were involved including Rosario Candela, and Ely Jacques Kahn.
---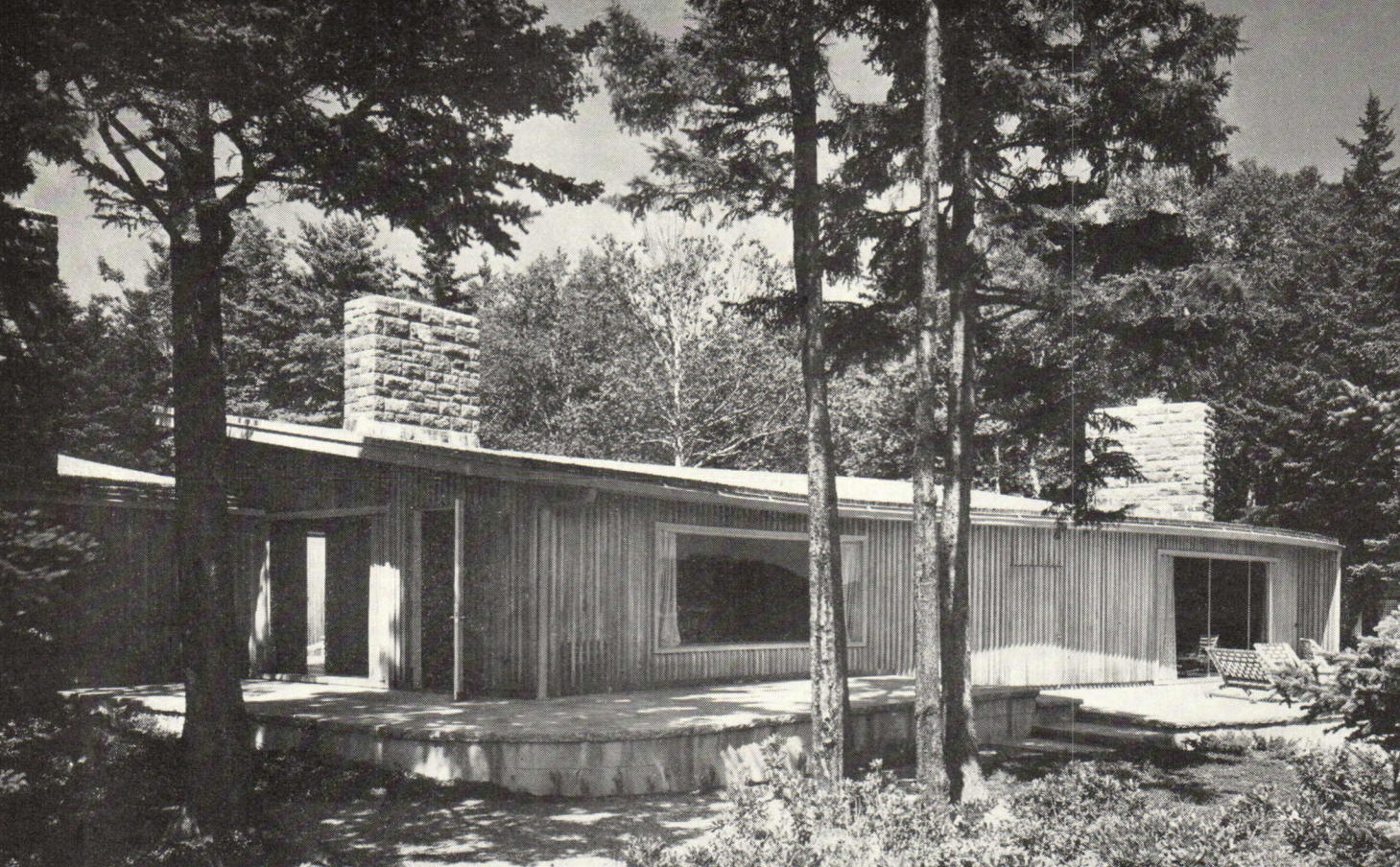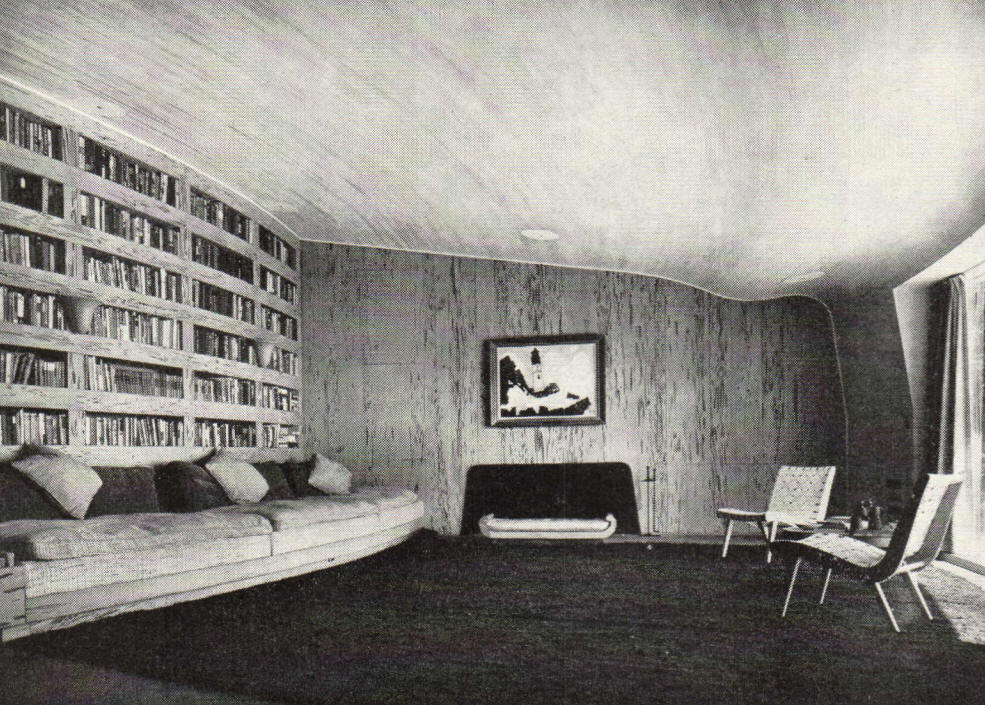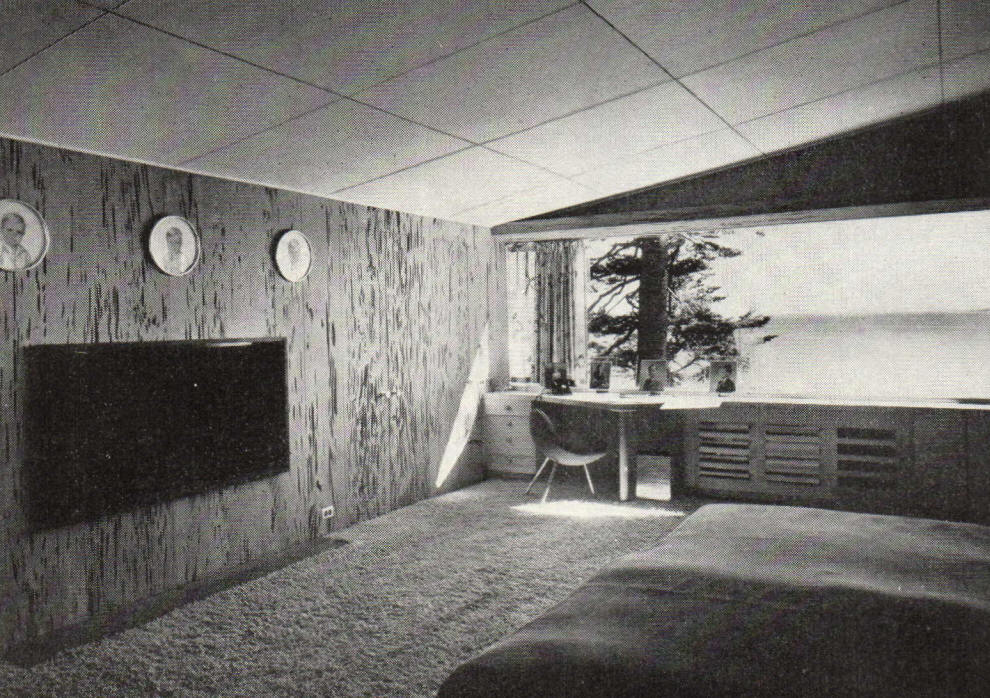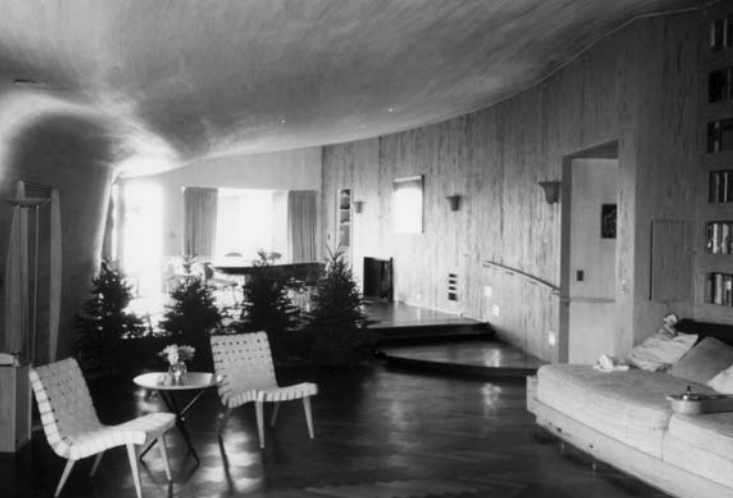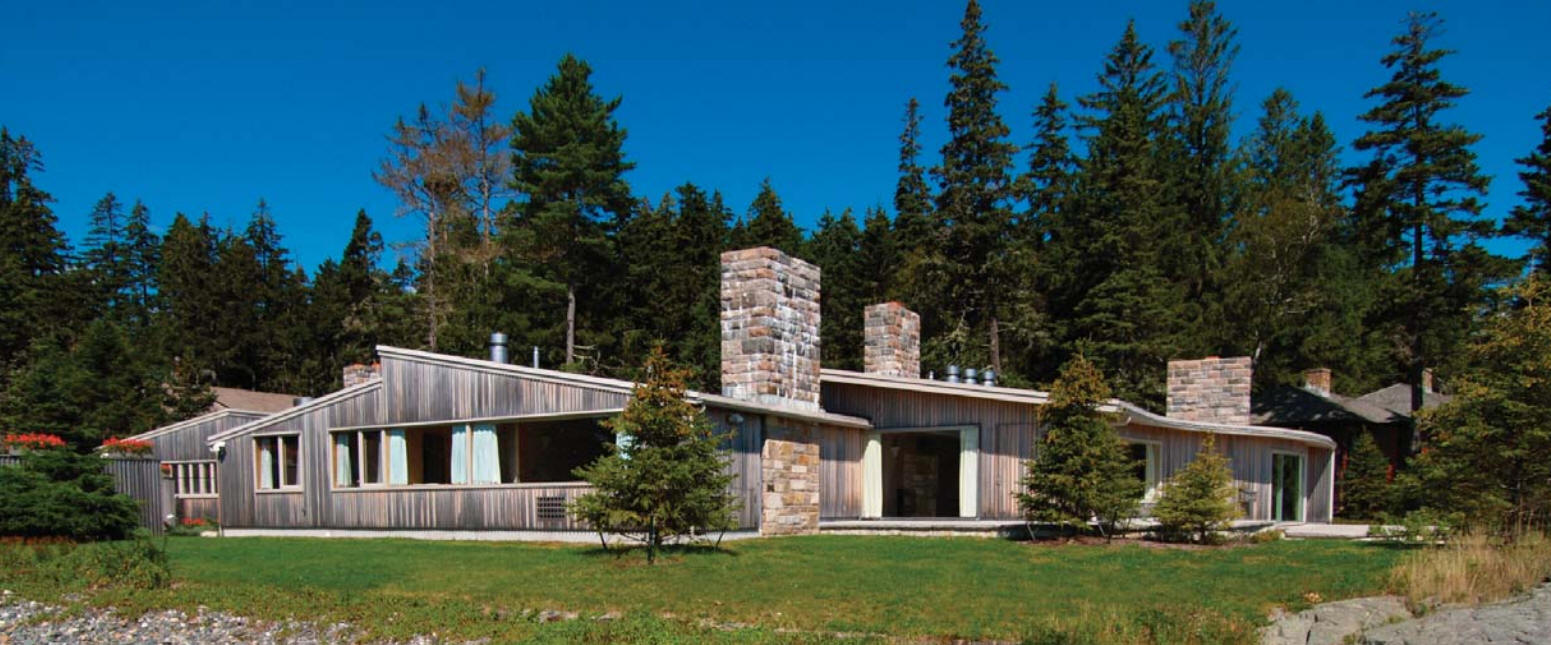 1947 - The William A. M. Burden Estate, aka Sea Change, 27 Corning Way, Northeast Harbor, Mt. Desert Island, Seal Harbor ME. Designed with Andre Fouilhoux and Japanese artist and landscape architect Isamu Noguchi. B/W photos by Tom Leonard. Additions in 1956 and 1980. Harrison also remodeled the 3 guest cottages on the property. In the early 1960s two of the cottages were connected and modifications made by architect William F. Pedersen, who also designed a 24 bed reinforced concrete bomb shelter. Fire in 1999 destroyed the main house. Rebuilt in 2005 by architect Heinrich Hermann. Listed on the National Register of Historic Places in 2009. Featured in Progressive Architecture, April 1950, pages 68-70. Deeded to Burden's youngest son and daughter-in-law, Ordway and Jean Burden.
---

1948 - The William A. M. Burden House, Florida. Unbuilt.
---

Sabana Grande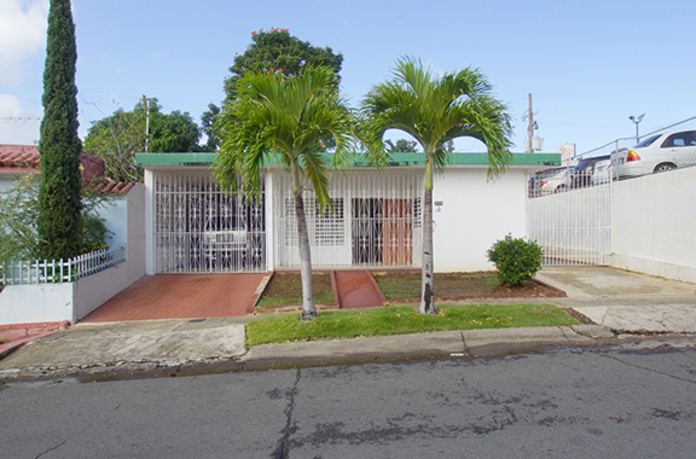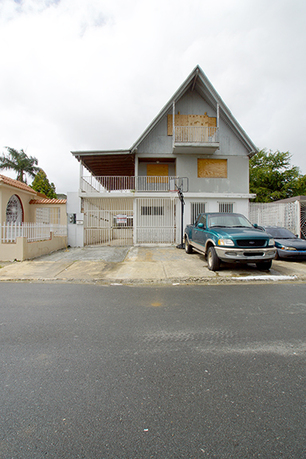 Las Lomas
1948 - The IBEC Housing Project, Puerto Rico and other countries. Nelson Rockefeller hired Harrison in 1948 to create the International Basic Economy Corporation in order to build profitable housing projects in Latin America. After visiting several areas Harrison returned to New York and began working out the details of a simple box plan. The experiments eventually became the IBEC Method and one of the first housing projects was started in San Juan. Villa Las Lomas was a 1500 home project that began in 1954. With the method Harrison put together, they were able to construct 6 homes a day, two basic models with 3 different facades. IBEC followed this with similar developments in Chile, Peru, and Iran. In the early 1960s, the Housing Investment Guaranty Program was passed which aided private housing projects built by U. S. developers in Latin America. Above are photos of three of Harrison's houses in Puerto Rico.
---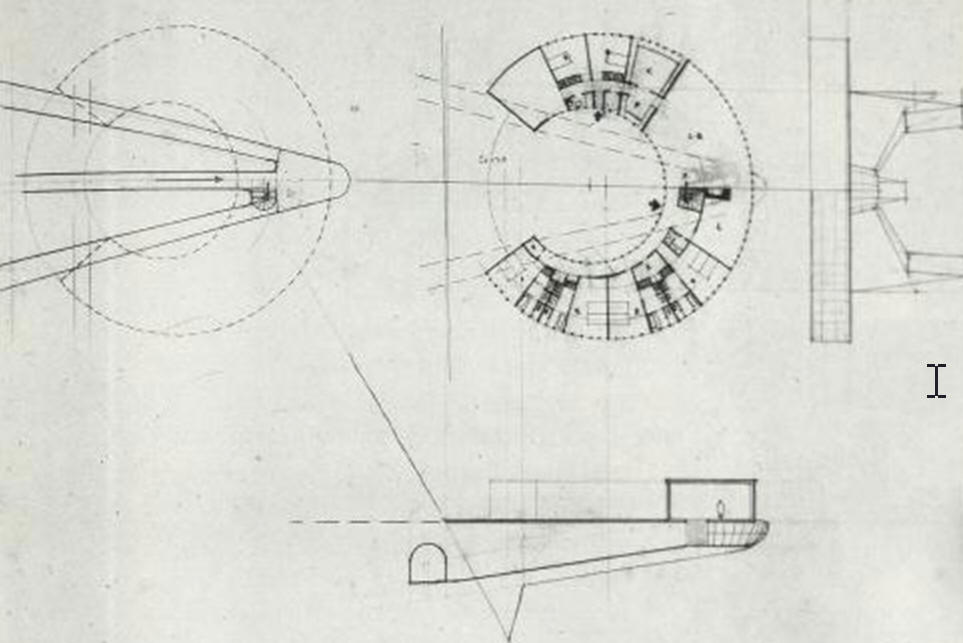 1950 - The Alcoa Guest House. Preliminary drawings for a 6 room circular, cantilevered house. Unbuilt.
---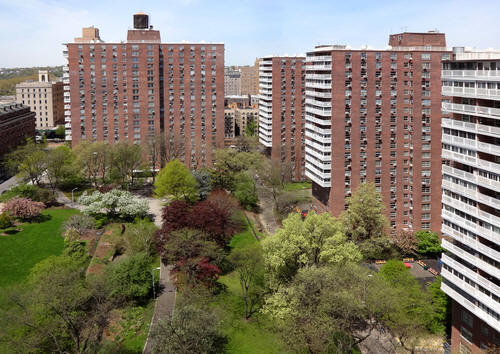 1955 - The Morningside Gardens Apartments, LaSalle and 123rd Street, New York NY. Six multi-story buildings, cast concrete construction, with red brick bonded masonry walls. A total of 980 apartments. Beginning in 2007, CTA Architects did an exterior renovation.
---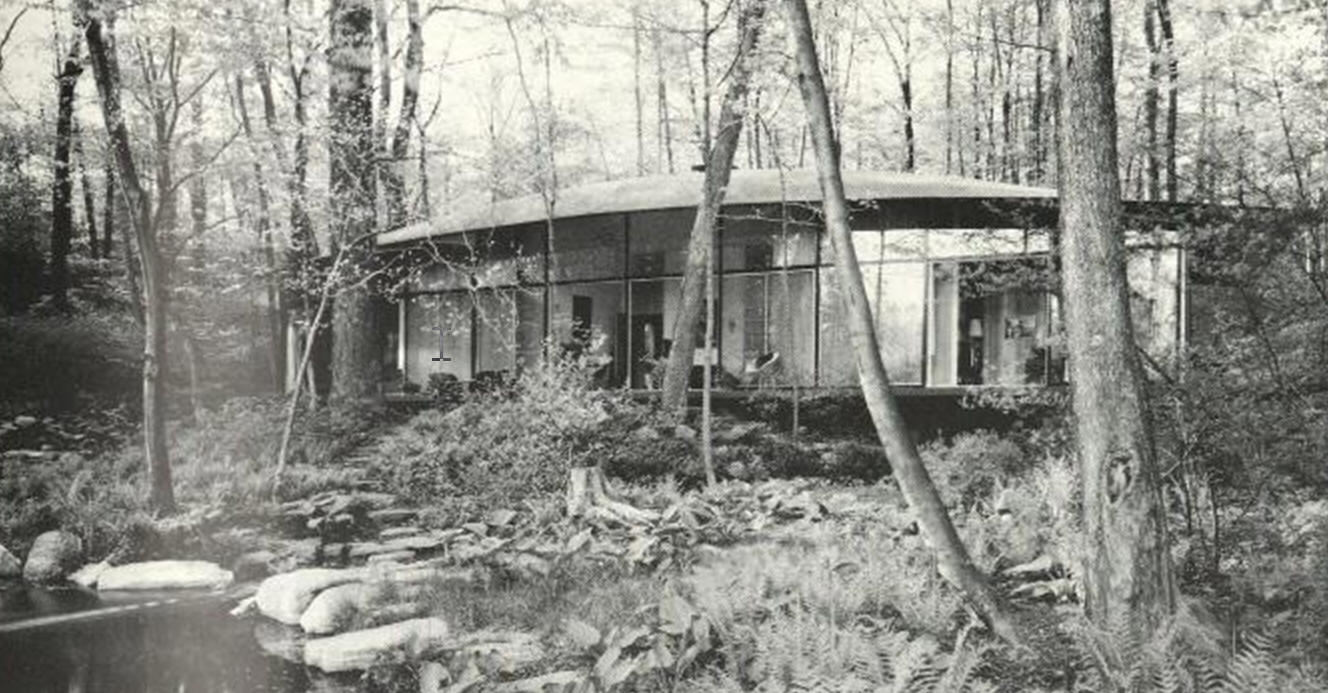 1959 - The Nelson Rockefeller House #2, aka Hunting Lodge, Pocantico Hills NY.
---

Year unknown - The Pardee Addition, Bermuda. Unsure if built.
---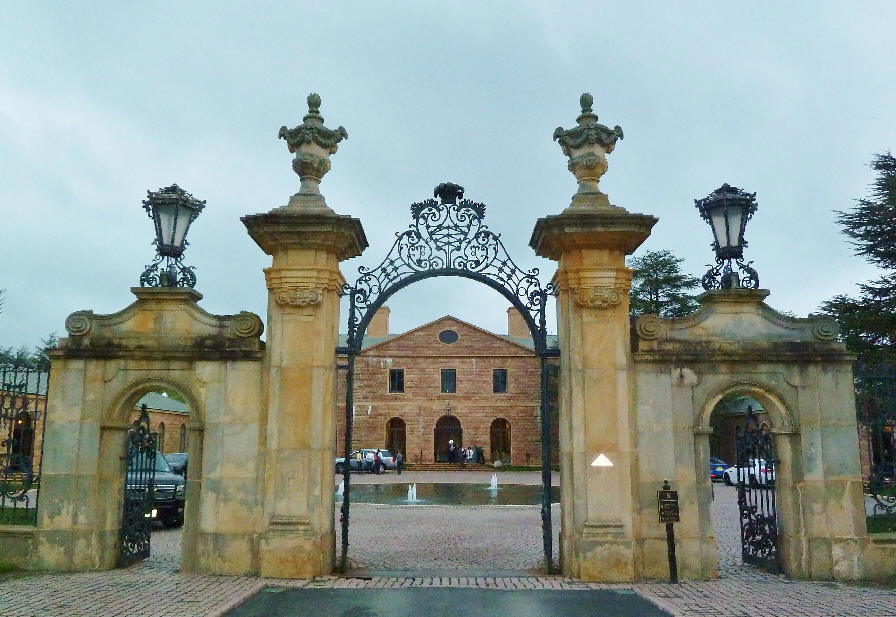 Around 1975 - The Johnson House, aka the Jasna Polana Mansion, Princeton NJ. Became a golf course clubhouse in 1998.
---
Sources include: Wikipedia; Columbia University.