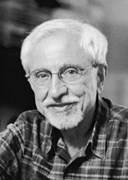 The Architectural Index, aka ArchIndex, was created by Ervin (Erv) J. Bell (1925-2015). The Architectural Index was a unique and invaluable resource in a time when the internet did not exist. The yearly publication was one of the only ways to easily search for articles across major US architectural magazines.
Erv Bell earned degrees from the University of Colorado in Architectural Engineering & Business. Later he received a Master's of Architecture from Berkeley. His architectural practice focused on residential solar housing and he served on the faculty at CU. After stopping the print edition, Bell took the publication online. By 2012, Google and other search engines made the Index obsolete. Many thanks to Erv's partner Jerry Moore for making the collection available.

Click a link to view a magazine in PDF format. In Windows, right-click to save and download. The magazine files are large. Depending on connection speed, access may take a few minutes.
---
1952
*
1953
*
1954
*
1955
*
1956
*
1957
*
1958
*
1959
*
1960
*
1961
*
1962
*
1963
*
1964
*
1965
*
1966
*
1967
*
1968
*
1969
*
1970
*
1971
*
1972
*
1973
*
1974
*
1975
*
1976
*
1977
*
1978
*
1979
*
1980
*
1981
*
1982
*
1983
*
1984
*
1985
*
1986
*
1987
*
1988
*
1989
*
1990
*
1991
*
1992
*
1993
*
1994
*
1995
*
1996
*
1997
*
1998
*
1999
*
2000
*
2001
*
2002
*
2003
*
2004
*
2005
*
2007
*
2008