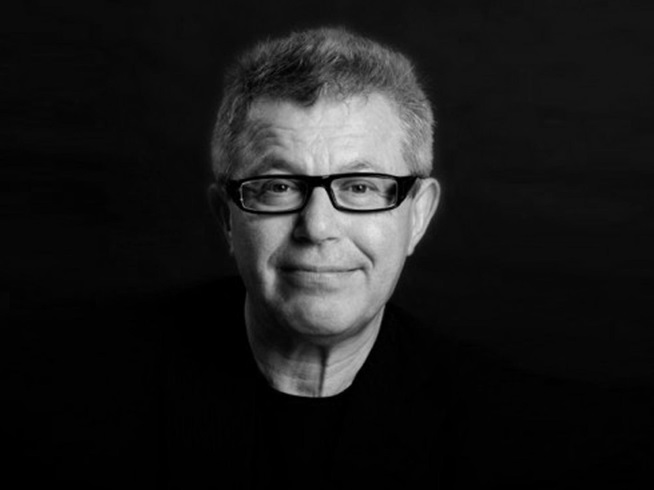 DANIEL LIBESKIND (1946-)
Born in Łódź, Poland, Libeskind learned to play the accordion and quickly became a virtuoso, performing on Polish television in 1953. He won a prestigious America Israel Cultural Foundation scholarship in 1959 and played alongside a young Itzhak Perlman. Libeskind lived in Poland for 11 years. In 1957, the Libeskinds moved to Kibbutz Gvat, Israel and then to Tel Aviv before moving to New York in 1959. In New York, Libeskind lived in the Amalgamated Housing Cooperative in the northwest Bronx, a union-sponsored, middle-income cooperative development. He attended the Bronx High School of Science. Libeskind became a United States citizen in 1965.
Daniel Libeskind attended Cooper Union in 1965 where he was taught by John Hejduk and received his professional architectural degree in 1970. He worked in 1968 for Richard Meier. He received a postgraduate degree in history and theory of architecture at the School of Comparative Studies at the University of Essex in 1972. The same year, he was hired to work at Peter Eisenman's New York Institute for Architecture and Urban Studies, but he quit almost immediately. His career for decades was an architectural theorist and professor, holding positions at various institutions around the world. From 1978 to 1985, Libeskind was the director of the Architecture Department at Cranbrook Academy of Art in Bloomfield Hills, Michigan. Libeskind founded Studio Daniel Libeskind in 1989 with his wife, Nina, and is its principal design architect. Libeskind completed his first building at the age of 52, with the opening of the Felix Nussbaum Haus in Osnabruck, Germany in 1998.
He is best known for the Jewish Museum in Berlin; the World Trade Center Master Plan, New York City; the Denver Art Museum, Denver, among many other projects.
Libeskind taught at numerous universities including the University of Kentucky, Yale University, UCLA, Harvard, the University of London, the Leuphana University Lüneburg in Germany, and the University of Pennsylvania. More post-modern or decontructed, Libeskind's style is full of jagged edges, sharp angles and unusual geometries. Libeskind and wife Nina Lewis spent their honeymoon travelling across the US visiting Frank Lloyd Wright buildings on a Cooper Union fellowship. Bio adapted from Wikipedia. Research by Catherine Westergaard Cramer.
---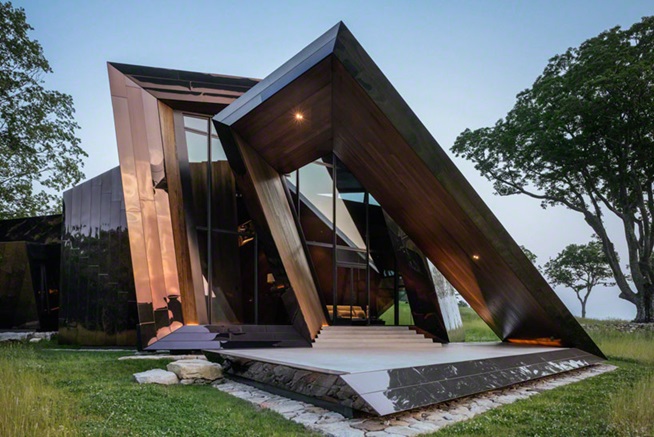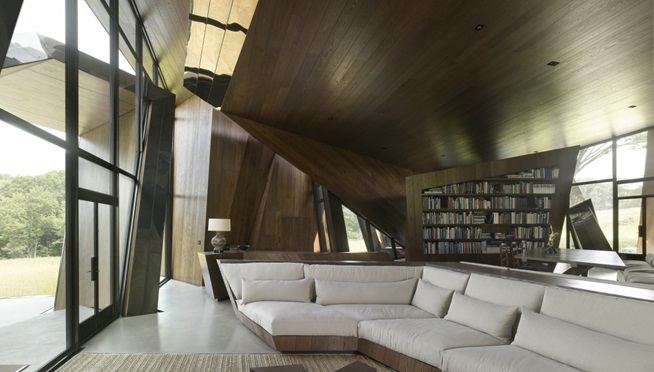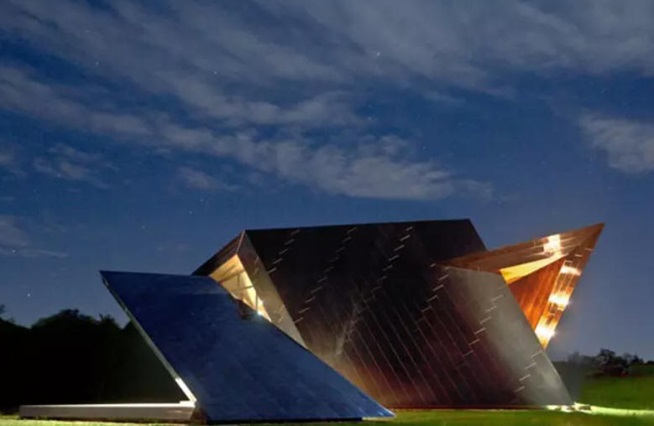 2010 - The Tobias Meyer and Mark Fletcher House, aka 18.36.54 House, aka 6:36:54 p.m. House, 66 Burnett Road, New Milford CT. The first alias comes from the use of 18 planes, 36 points, and 54 lines. Commissioned in 2008. About 54 acres. Featured in Architectural Record Houses of 2011. 3000sf. One bedroom, one bathroom. Project architects, Arne Emerson and Jerry Figurski; structural engineer, Hage; built by CNR Group; lighting, Arup; photos by Nicholas Koenig. Video. Article.
---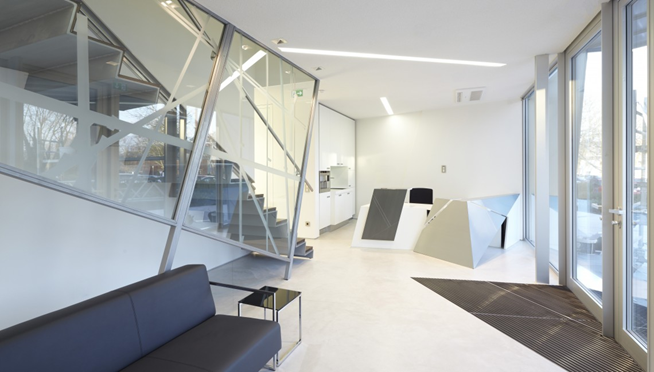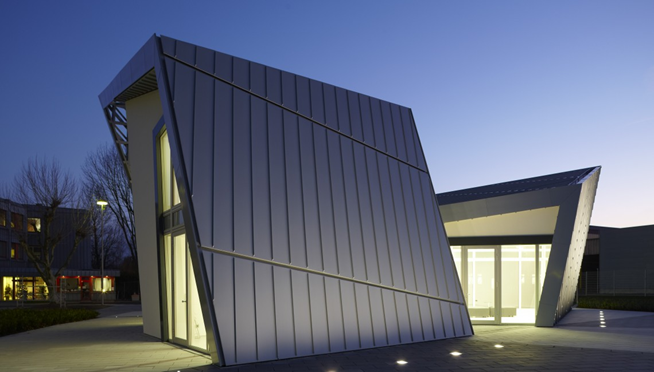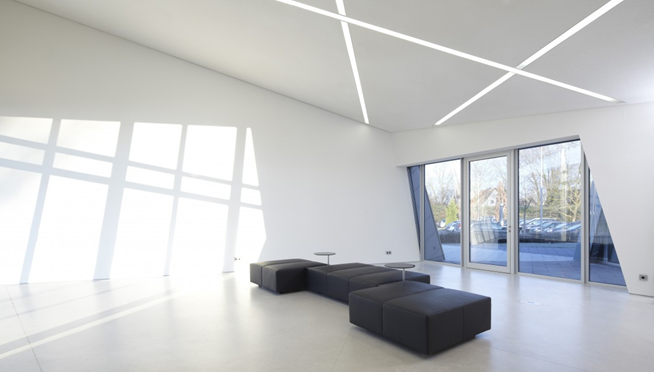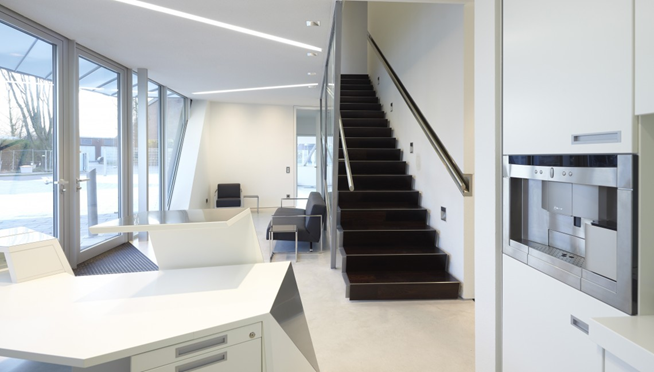 2009 - The Libeskind Villa, Bahnhofstraße 90, 45711, Datteln, Germany. The prefab prototype was built as the reception building for Rheinzink Company.
From the company website: This four bedroom, two-floor home can be constructed and shipped to almost any location in the world within months and assembled by a team of experts within weeks. Made of wood from renewable sources, zinc, and aluminum, the 5,000 square foot, German-made structure meets the highest standards of design and craftsmanship and complies with the highest energy-saving standards in the world. Ships worldwide.
---
Sources include: Architectural Record.