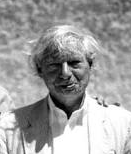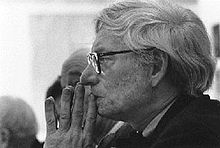 LOUIS ISADORE KAHN, FAIA (1901-1974)
Born Itze-Leib Schmuilowsky, Kahn was born into a poor Jewish family in Pärnu and spent the rest of his early childhood in Kuressaare on the Estonian island of Saaremaa, then part of the Russian Empire. At age 3, he saw coals in the stove and was captivated by their light. He put them in his apron which caught on fire and seared his face. He carried these scars for the rest of his life. In 1906 his family immigrated to the United States, fearing that his father would be recalled into the military during the Russo-Japanese War. His actual birth year may have been inaccurately recorded in the process of immigration. According to his son's 2003 documentary, the family could not afford pencils but made their own charcoal sticks from burnt twigs so that Louis could earn a little money from drawings and later by playing piano to accompany silent movies. He became a naturalized US citizen in 1914. His father changed their name in 1915.
Kahn trained in a rigorous Beaux-Arts tradition at the University of Pennsylvania. After completing his Bachelor of Architecture in 1924, Kahn worked as senior draftsman in the office of City Architect John Molitor. In 1928, Kahn made a European tour and took a particular interest in the medieval walled city of Carcassonne, France and the castles of Scotland. After returning to the States in 1929, Kahn worked in the offices of Paul Philippe Cret, his former studio critic at the University of Pennsylvania, and in the offices of Zantzinger, Borie and Medary in Philadelphia.
He founded his own firm in 1935. For a time in the 1940's, he had a partnership with Oscar Stonorov. He also served as a design critic and professor of architecture at Yale School of Architecture from 1947 to 1957. Kahn was elected an FAIA in 1953. He was made a member of the National Institute of Arts and Letters in 1964. He was awarded the Frank P. Brown Medal in 1964. He was made a member of the American Academy of Arts and Sciences in 1968 and awarded the AIA Gold Medal, the highest award given by the AIA, in 1971 and the Royal Gold Medal by the RIBA in 1972. From 1957 until his death, he was a professor of architecture at the School of Design at the University of Pennsylvania. Famous for his meticulously built works, his provocative unbuilt proposals, and his teaching, Kahn was one of the most influential architects of the 20th century. Jatiyo Sangshad Bhaban (National Assembly Building) in Dhaka, Bangladesh, is perhaps his most important building. He got the design contract with the help of Muzharul Islam, his student at Yale University, who worked with him on the project. It was Kahn's last project, the centerpiece of the national capital complex designed by Kahn that includes hostels, dining halls, and a hospital. According to Robert McCarter, author of Louis I. Kahn, "it is one of the twentieth century's greatest architectural monuments, and is without question Kahn's magnum opus."
In 1974, Kahn died of a heart attack in a men's restroom in Pennsylvania Station in New York. He went unidentified for three days because he had crossed out the home address on his passport. He had just returned from a work trip to India, and despite his long career, he was deeply in debt when he died.

Kahn had three families with three women: his wife, Esther, whom he married in 1930 and had a daughter; Anne Tyng, who worked with Kahn in 1945, and with whom he had a daughter in 1953; and Harriet Pattison, who began seeing Kahn romantically in 1959 and had a son in 1961, Nathaniel.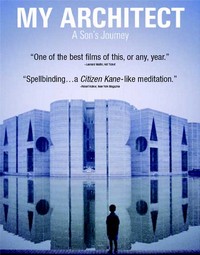 In 2003, Kahn's son Nathaniel released an Oscar-nominated biographical documentary, My Architect: A Son's Journey, which profiles his dad by talking to people who knew him including Muzharul Islam, B. V. Doshi, Frank Gehry, Ed Bacon, Philip Johnson, I. M. Pei, and Robert A. M. Stern. One of Kahn's projects took until 2012 to be built — the FDR Monument on the southern end of Roosevelt Island in New York City. Bio adapted from Wikipedia.

Interview by John Peter
1972 - Kahn talks at the IDCA International Design Conference in Aspen CO
---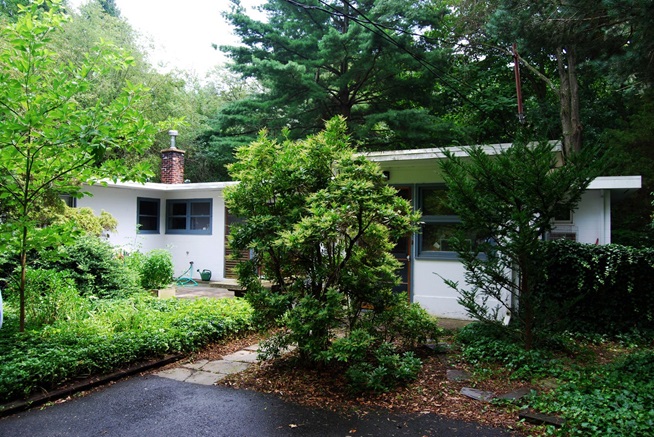 1936 - The Alan Mallach and Robin Gould House, 15 Pine Drive, Millstone NJ. Alan is an Urban Planner, as well as professor, author, and pianist. He served as Chair of the Planning Board for Roosevelt and Secretary of the Roosevelt Arts Project. He and Robin Gould moved into the home in 1983.
---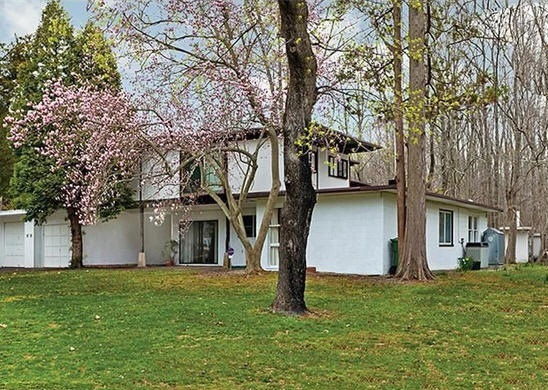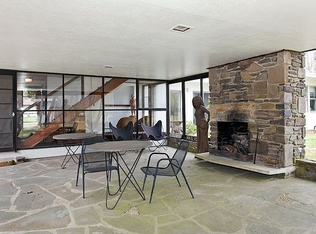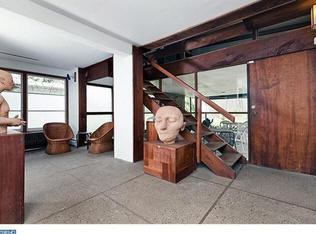 1936 - The Ben and Bernarda (Bryson) Shahn House, 20 Tamara Drive, Roosevelt NJ. Ben and his second wife, Bernarda (also an artist) moved into the home in 1939 not expecting to live there long, but ended up spending their lives there. In the 1960s, Ben's friend and architect as well as woodworker and furniture maker, George Nakashima, built an addition. Later, Ben and Bernarda's son, Jonathan and wife Jeb, moved into the other side of the semi-detached house which is addressed as 18 Tamara. Sold in 2012 to Chisa Yagi.
---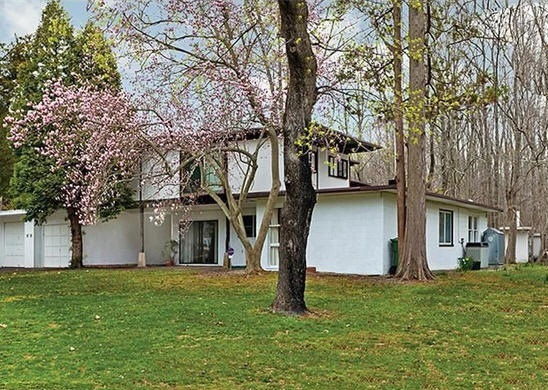 1938 - The Jersey Homesteads Cooperative Development, Hightstown NJ. Alfred Kastner was principal architect. The neighborhood was part of the New Deal funding and attempted to relocate those living in city tenements to the suburbs with the promise of a better life, house, and job. The site included a garment factory and farm. Jersey Homesteads' buildings are characterized by their spare geometric forms and use of modern building materials (including cinder blocks). The houses are integrated with communal areas and surrounded by a green belt. Kastner's design was considered innovative at the time. The Jersey Homesteads were renamed Roosevelt NJ in 1942 in honor of Franklin D. Roosevelt.
---
1940 - The Lea and Arthur Finklestein Addition, 645 Overhill Road, Ardmore PA. Unbuilt.
---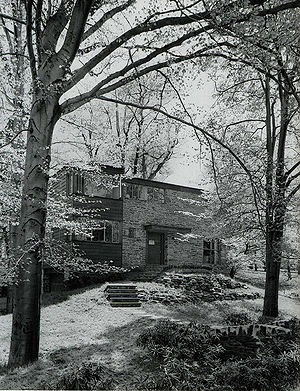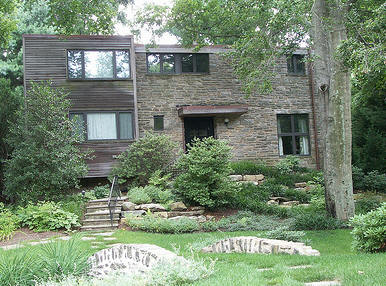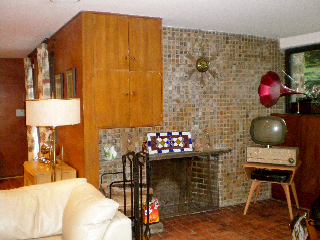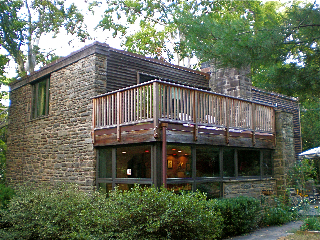 1942 - The Jesse Oser House, 628 Stetson Road, Elkins Park PA. Commissioned in 1940. Sold in 1947 to Nelson and Bobette Leidner. Kahn designed a small 1950 addition after a tree fell on the house. Sold to Adam Richards. Sold in 2006 to Mark and Margaret Robinson. Sold in 2014 to Kurt and Caoimhe Beil.
---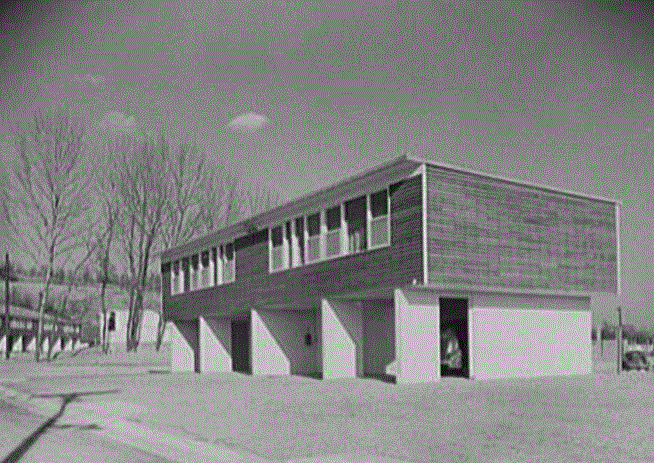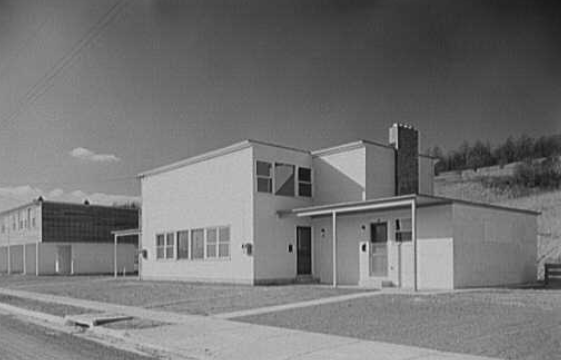 1943 - The Carver Court Housing Project, Coatesville PA. Project for black steel workers returning from WWII. Designed with Oscar Stonorov. Photos by Gottscho-Schleisner. Status unknown.
---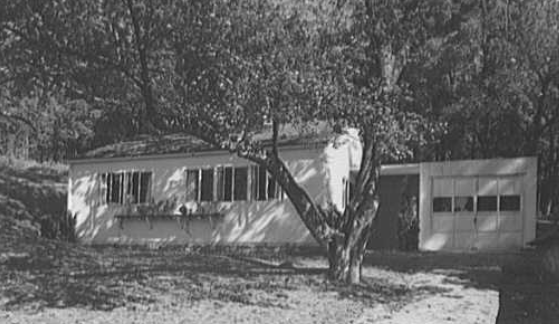 1943 - Harmon Homes, Phoenixville PA. Designed with Oscar Stonorov. Photos by Gottscho-Schleisner. Status unknown.
---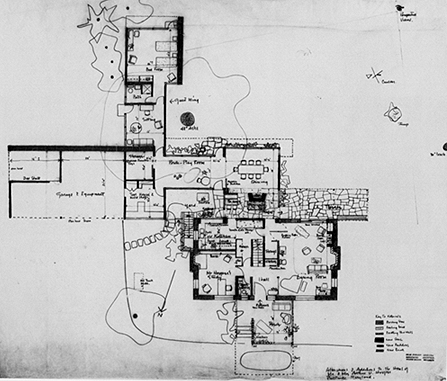 1946 - The Hooper House Addition, Baltimore MD. Unbuilt.
---

1948 - The Ehle House, Merion Township PA. Unbuilt. Designed with Abel Sorensen.
---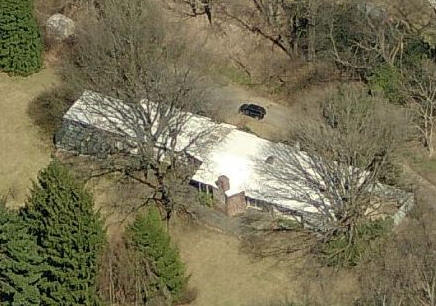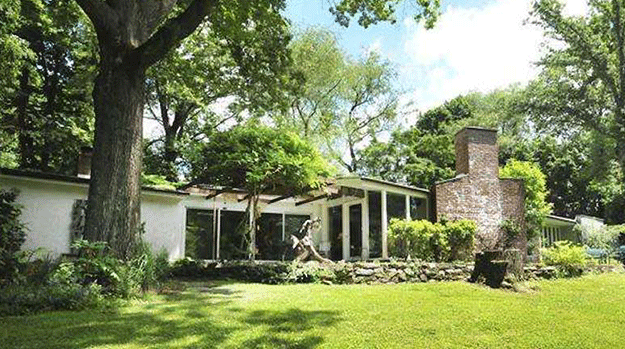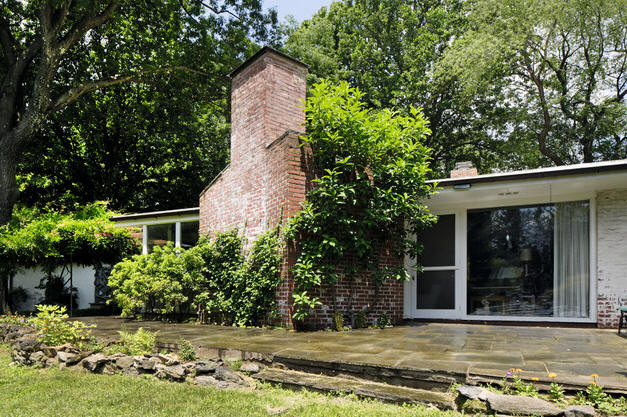 1949 - The Phillip Q. Roche House, 2101 Harts Lane, Conshohocken PA. Commissioned in 1947. Designed with Oscar Stonorov. Sold in 1977 to Robert B. and Caryl Wolf. Sold in 2014 to Christopher Arader. Bottom photo by Matt Wargo.
---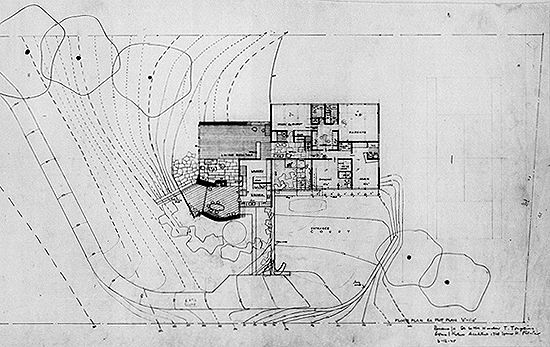 1949 - The Tompkins House, Germantown PA. Unbuilt.
---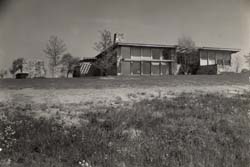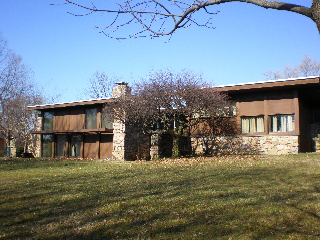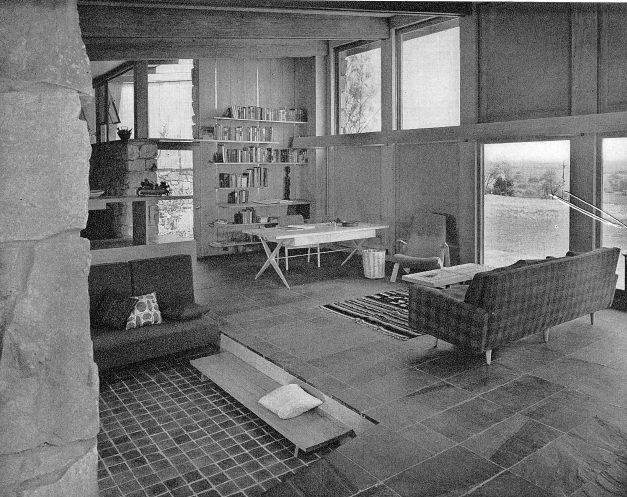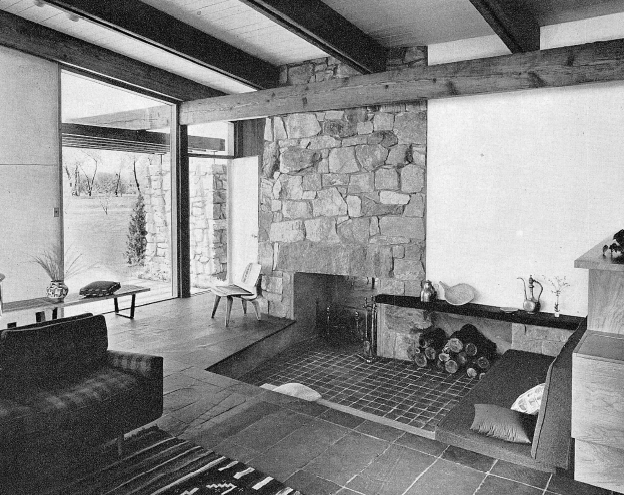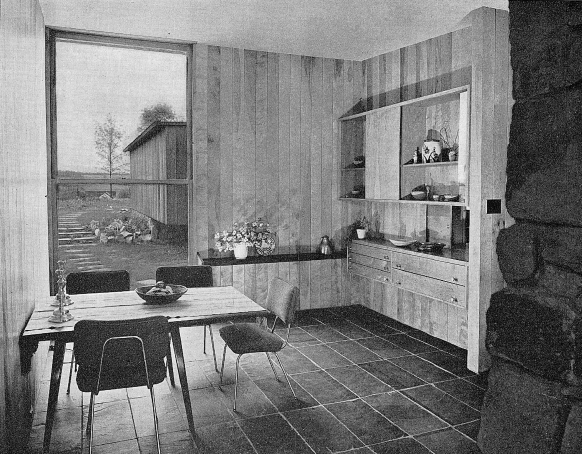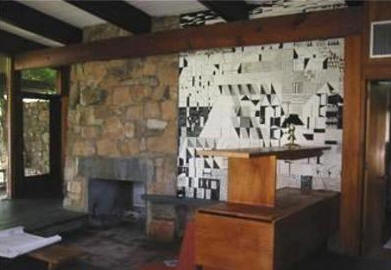 1950 - The Morton (Bubby) and Lenore Weiss House, 2935 Whitehall Road, Eagleville PA. 9.9 acres. Designed with Anne G. Tyng. Won the 1950 AIA Gold Medal. Pool added around 1970. Sold in 2002 to Paul Piantone, Tone 2000 Realty.
---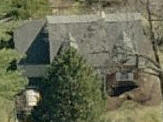 1950 - The Jacob Sherman Renovation, 408 Sycamore Avenue, Merion Station PA. Sold around 2002 to Gary Bernstein and Sheila Kineke. Unclear from the Kahn records if the project was completed.
---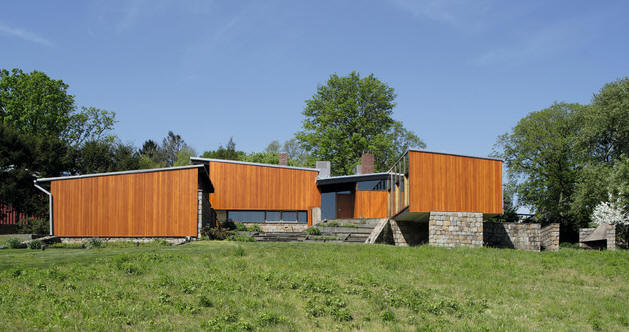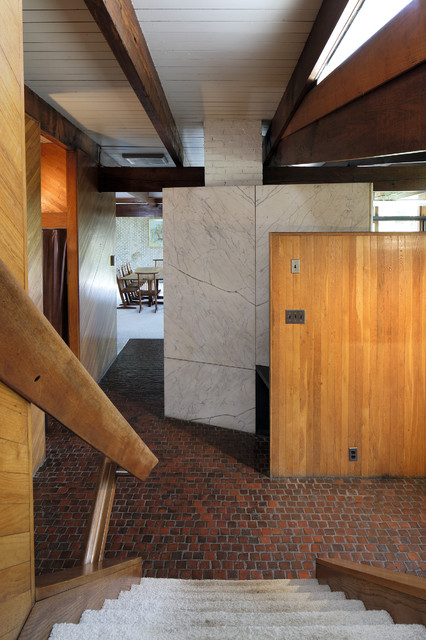 1951 - The Samuel Genel House, 201 Indian Creek Road, Wynnewood PA. Sold to Marlyn Ivory. Sold to Albert Arouh. Has been restored, bottom two photos by Matt Wargo.
---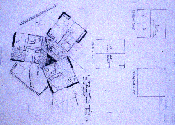 1954 - The Fruchter House, New Rochelle NY. Unbuilt.
---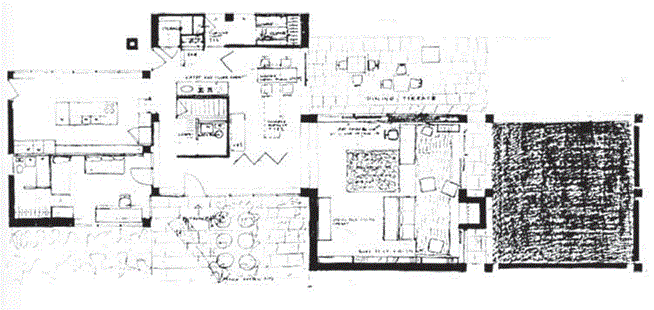 1954 - The Weber Devore House, Montgomery County near Philadelphia PA. Unbuilt.
---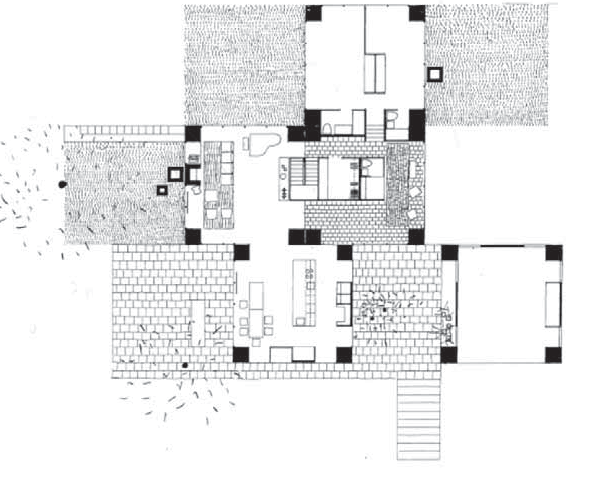 1955 - The Francis Adler House, Montgomery County PA. Unbuilt.
---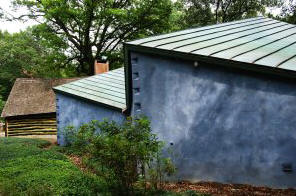 1956 - The Wharton Esherick Studio, 1520 Horse Shoe Trail, Malvern PA. Designed with Wharton Esherick. Commissioned in 1955. Now part of the Wharton Esherick Museum buildings.
---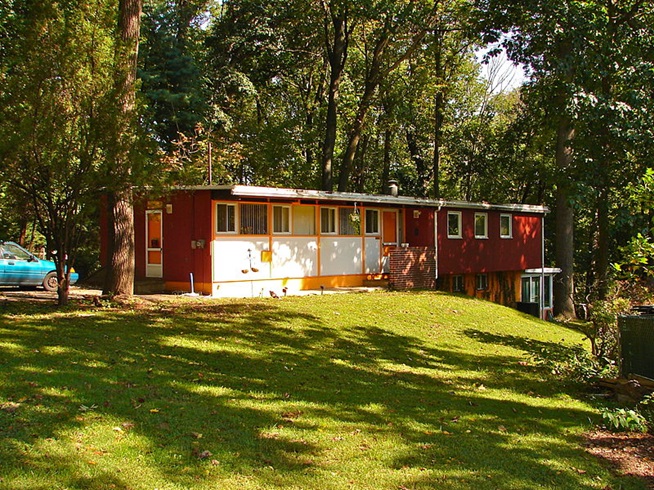 1956 - The Greenbelt Knoll Project, 1-19 Longford Street, Philadelphia PA. Kahn was involved in the overall design of 16 homes, but Montgomery & Bishop were responsible for the details of the plan. Each of the 16 homes had the same floor plan. This was the first racially integrated housing development in Philadelphia. The developer, Morris Milgram, a leader of the open housing movement, required that 55 percent of the homes be sold to whites, and 45 percent to non-whites.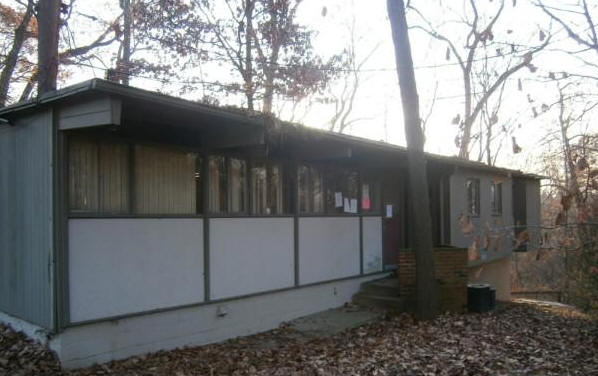 1956 - The Greenbelt Knolls Project, 2 Longford Street, Philadelphia PA.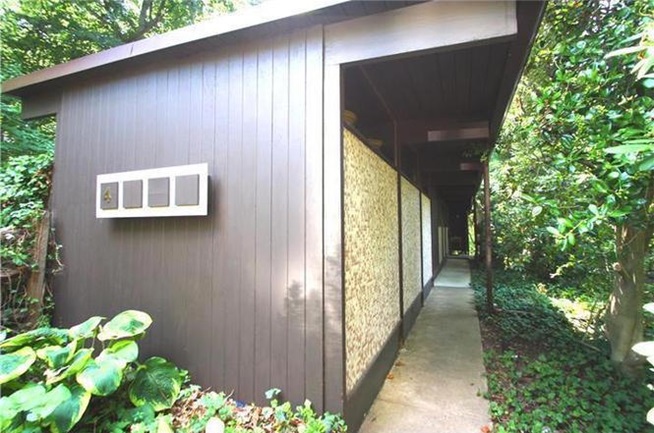 1956 - The Greenbelt Knolls Project, 4 Longford Street, Philadelphia PA.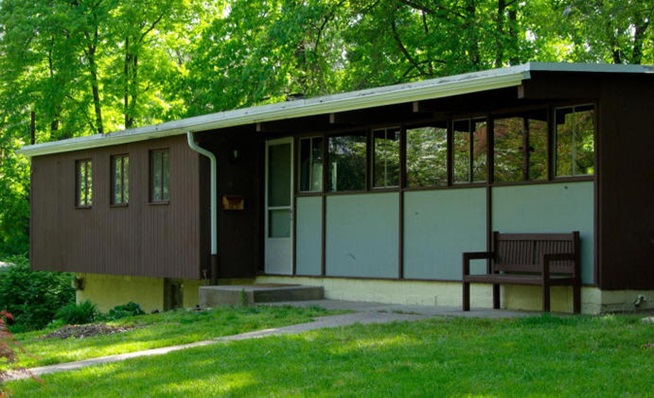 1956 - The Greenbelt Knolls Project, 8 Longford Street, Philadelphia PA.
---


1958 - The Morris House, Mount Kisco NY. Unbuilt.
1959 - The Goldenberg House, Rydal PA. Unbuilt
---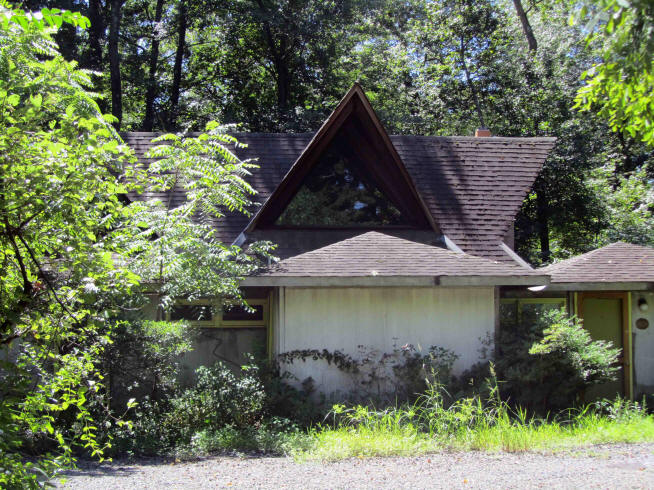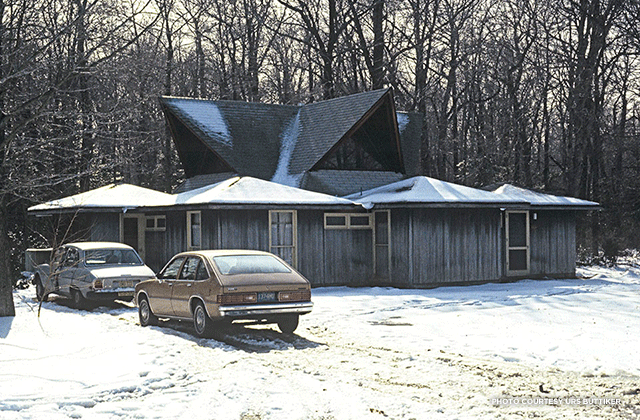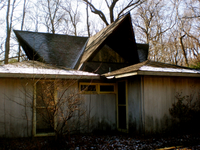 1962 - The Fred E. and Elaine C. Clever House, 417 Sherry Way, Cherry Hill NJ. Commissioned in 1957. 62 acres. Transferred around 2002 to Eric Clever. As of 2014, not in good shape. Sold in 2015 to Kevin Lyons. Top photo by Eric Milask.
---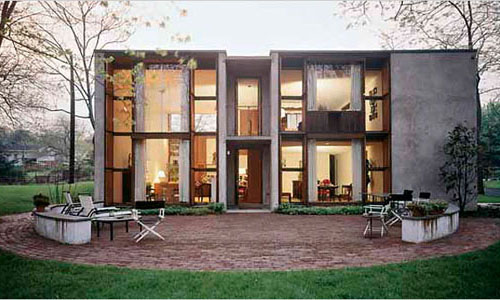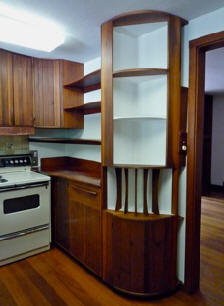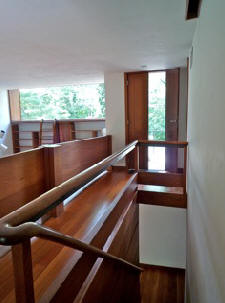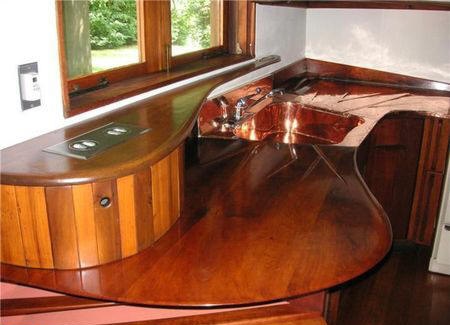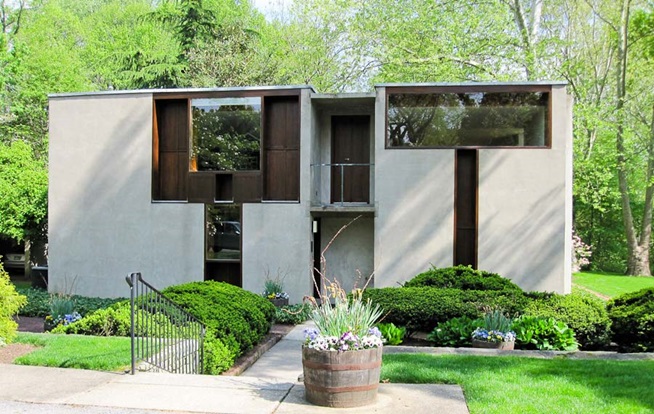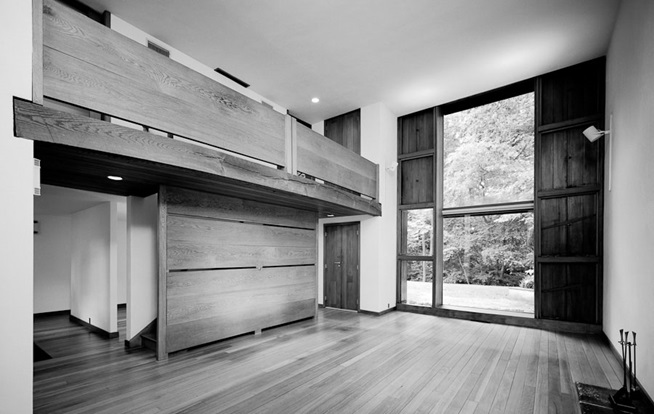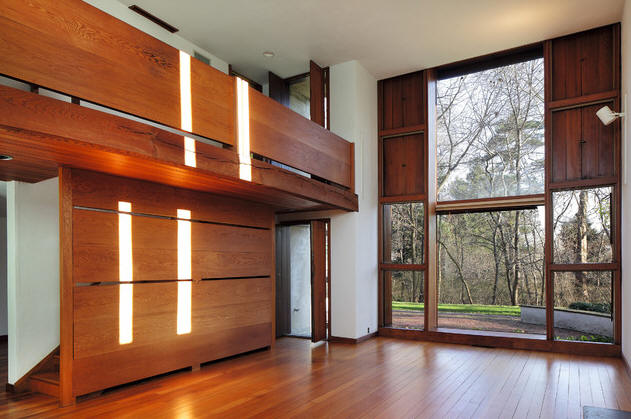 1959 - The Margaret Esherick House, 204 Sunrise Lane, Philadelphia PA. Commissioned in 1958. She lived in it for only a few months before dying of pneumonia at 43. Sold to second owners Burnap and Janet Post. Sold in 1981 to Lynn and Robert Gallagher. In 1992, the house received the Landmark Building Award from the Philadelphia AIA and was added in 2009 to the Pennsylvania Register of Historic Places. Bottom photo by Matt Wargo. Sold in 2014 to Paul Savidge and Daniel Macey, who did a complete restoration, winning a DOCOMOMO award.
---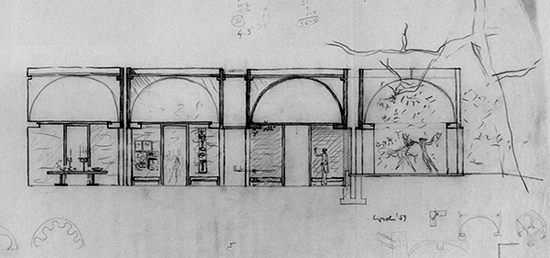 1959 - The Fleisher House, Elkins Park PA. Unbuilt.
---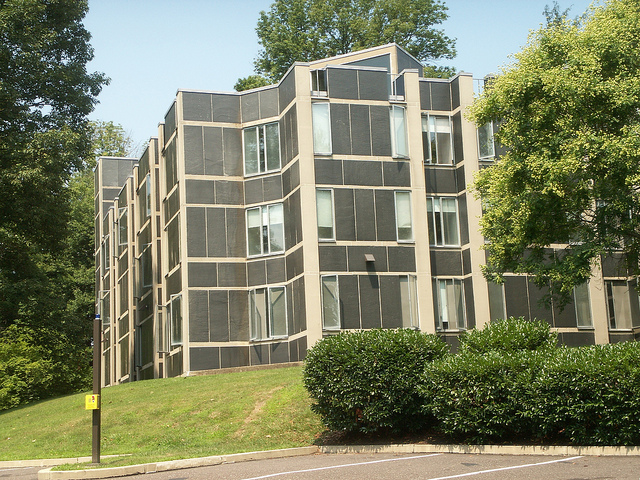 1960 - The Erdman Hall Dormitories, Bryn Mawr College, Morris Avenue, Bryn Mawr PA.
---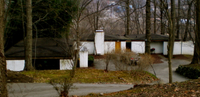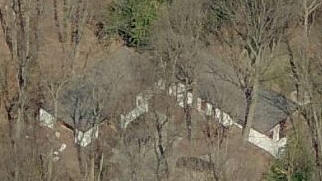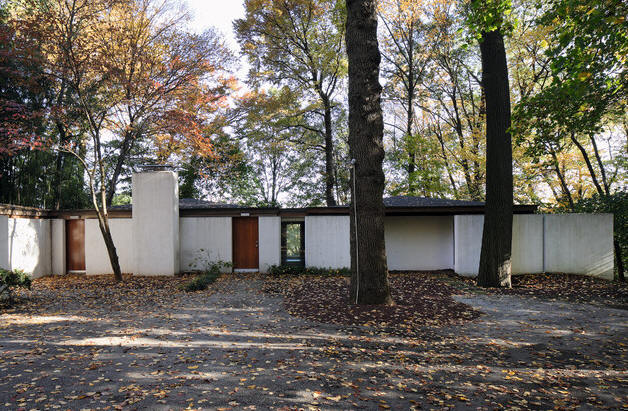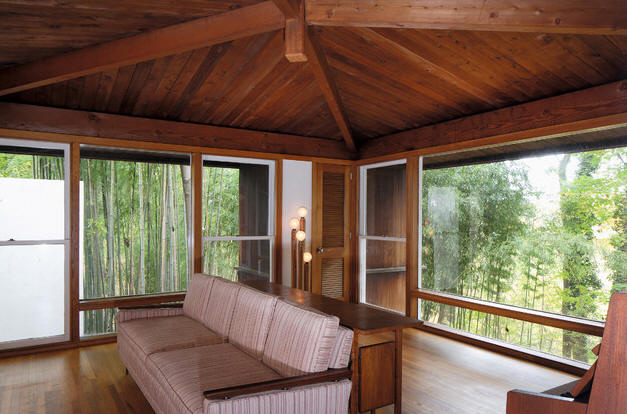 1962 - The Bernard and Norma Shapiro House, 417 Hidden River Road, Narberth PA. Commissioned in 1958. Designed with Anne Tyng. Alternations completed in 1975 by Tyng. Sold in 2020. Bottom photos by Matt Wargo.
---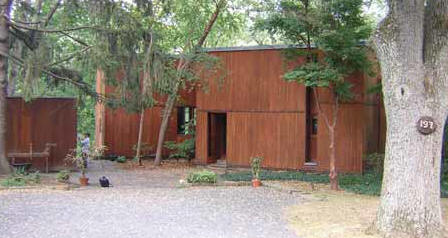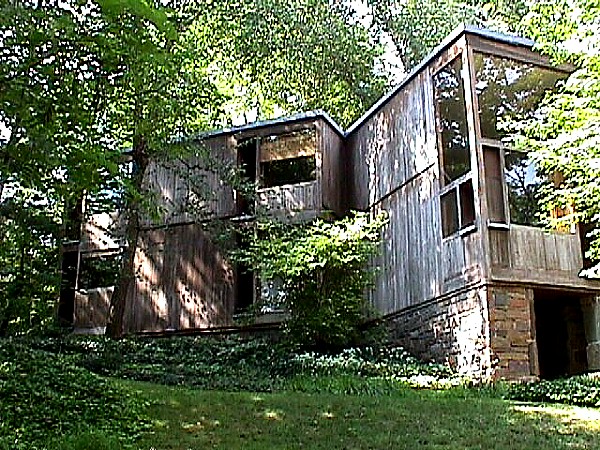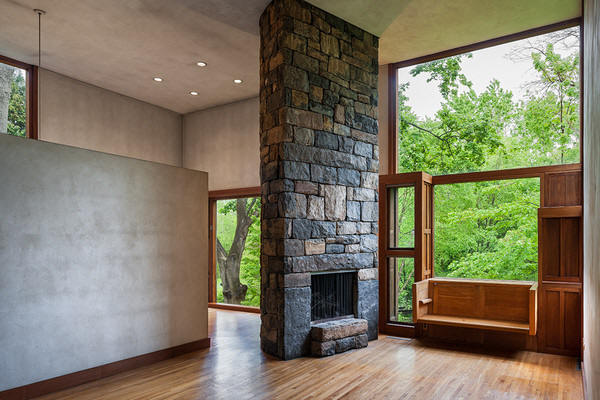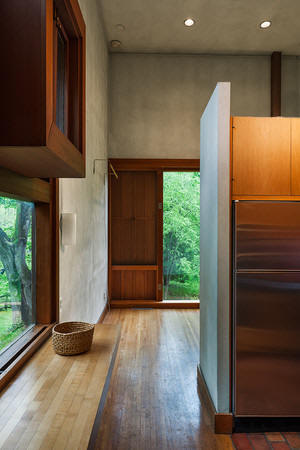 1967 - The Norman and Doris Fisher House, 197 East Mill Road, Hatboro PA. Commissioned in 1960. Upon Norman Fisher's death in 2007, he deeded the house to the National Trust for Historic Preservation, according to daughter Nina Fisher. Sold in 2012 to Charles Firmin-Didot and Bianca Sforni.
---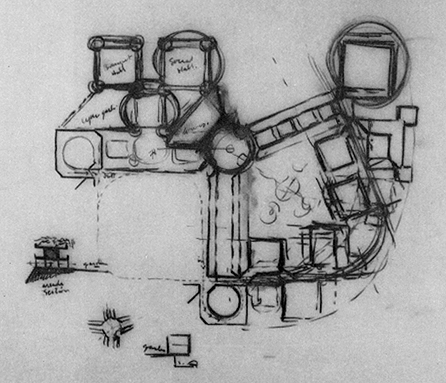 1966 - The President's Estate, Islamabad, Pakistan. Unbuilt.
---

1970 - The Stern House, Washington DC. Unbuilt.
---

1971 - The Honickman House, Whitemarsh Township PA. Unbuilt.
---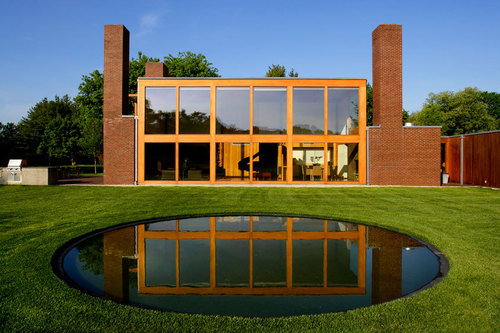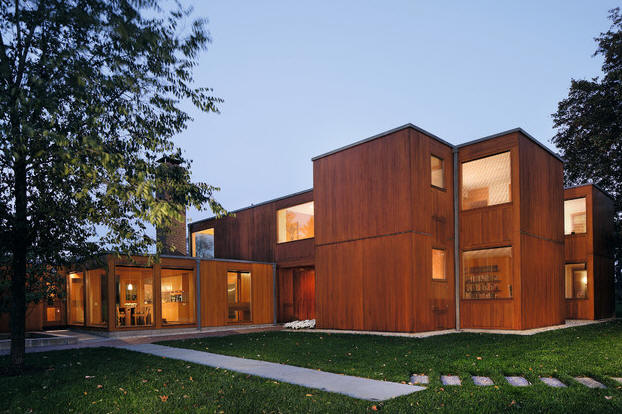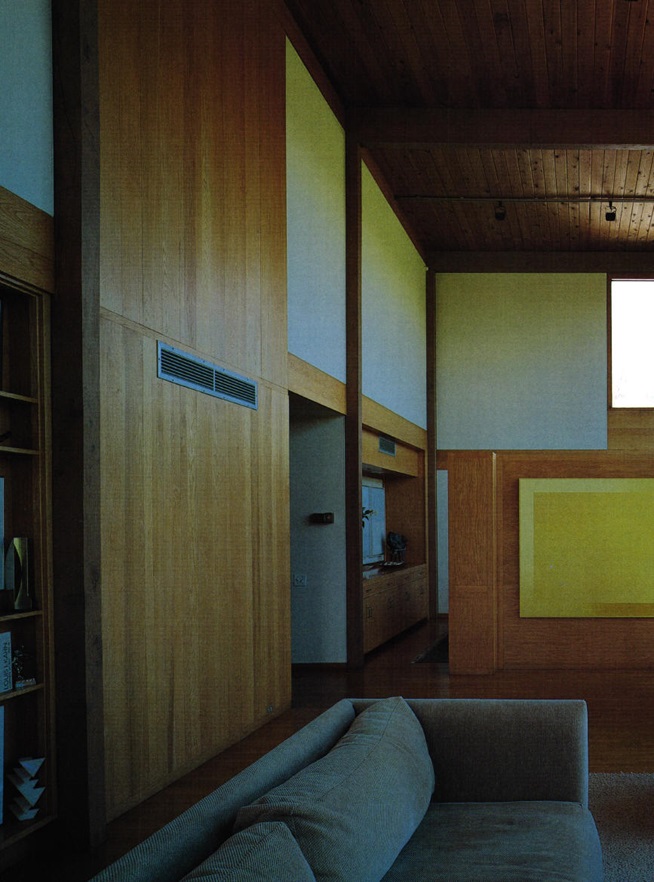 1971 - The Steven Korman House, 6019 Sheaff Lane, Fort Washington PA. This was Kahn's last house. Featured in GA Houses 44. Deeded around 1998 to son Larry Korman. Well-preserved. Top two photos by Matt Wargo.
---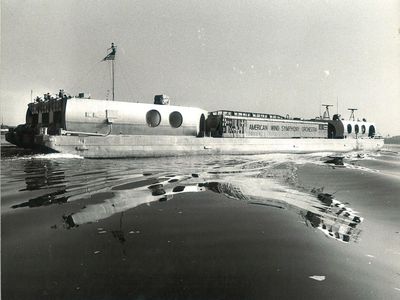 1976 - The Point Counterpoint II. Conductor Robert Austin Boudreau asked Kahn to design a unique floating stainless steel 195-foot-long floating concert hall commissioned by the American Wind Symphony Orchestra. The centerpiece of the double-hulled, self-propelled river showboat is the hydraulically-operated 25-foot-tall stage that opens up like a clam shell for a performance. The ship was for sale in 2017 in Ottawa IL where Boudreau sought potential buyers. As of 2018, it was in Pahokee FL. In 2022, it was bought by a group connected to developer Dean Adler and moved to a permanent home in Philadelphia PA.
---
Sources include: Nathaniel Kahn, The Houses of Louis Kahn, by George H. Marcus and William Whitaker.