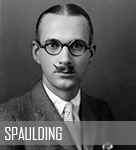 SUMNER MAURICE SPAULDING FAIA
(1892-1952)
Spaulding was born in Ionia MI. He attended the University of Michigan in Ann Arbor from 1911 to 1913 and graduated in architecture from MIT in 1916. He served in the Marine Corps during WWI. Spaulding went to Los Angeles and became a draftsman with Myron Hunt. He opened his own office in 1923 and in 1924 formed Webber, Staunten, and Spaulding with Walter Webber. He was on his own again from 1928-1940, working with various collaborators. In 1940 he formed Spaulding Rex Deswarte with John Rex and Clarence Deswarte. Spaulding taught architecture at the University of Southern California in Los Angeles and at Scripps College in Claremont.
He and wife Pauline had one daughter, Rosemary. Although primarily a classic architect with famous commissions such as the Lynn Atkinson House, aka Chartwell, aka the Beverly Hillbillies House; the Harold Lloyd Estate, aka Greenacres, in Beverly Hills; the Catalina Casino in Avalon on Santa Catalina Island; and a Modernist Case Study House. Bio adapted from Wikipedia. Research by Catherine Westergaard Cramer and Michael Locke.
---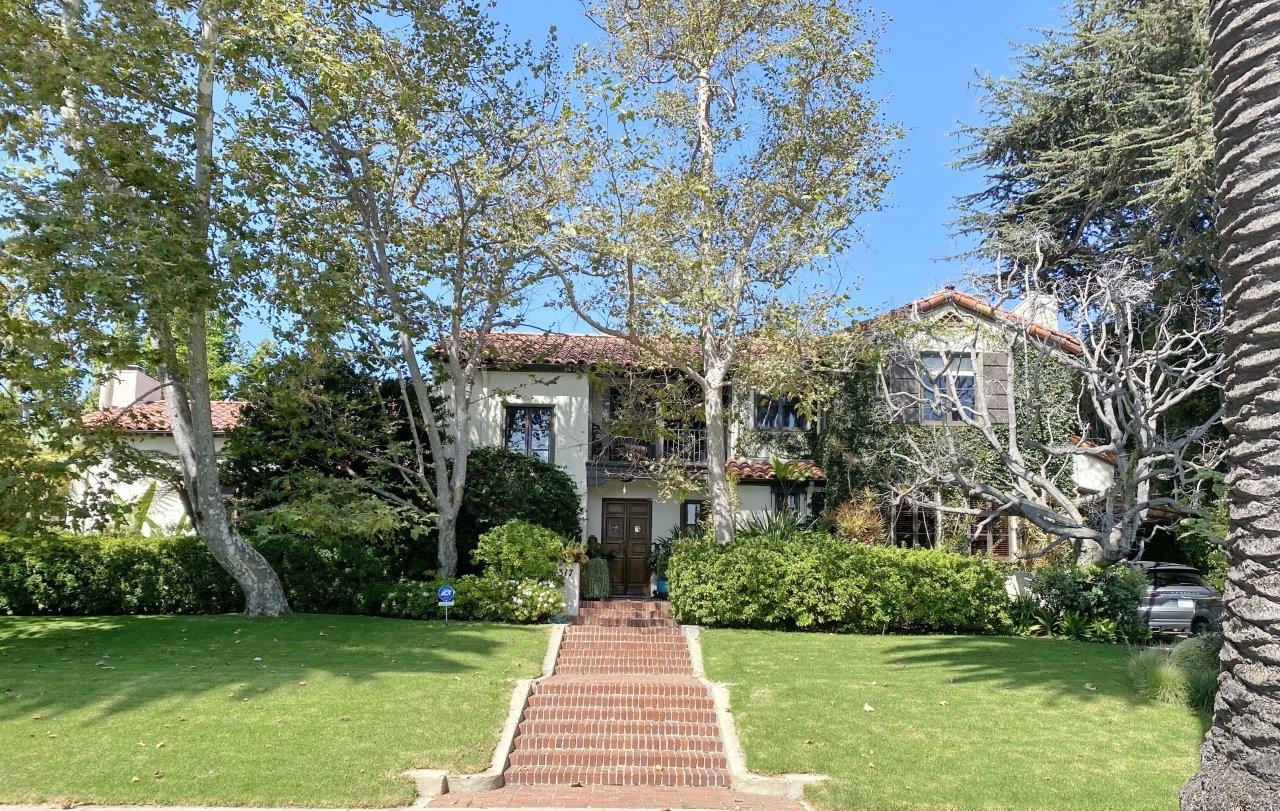 1923 - The Austin Aloysius and Marie Houze McFadden House, 317 Georgina Avenue, Santa Monica CA. Designed with William Field Staunton, Jr., and Walter I. Webber. The house is a Santa Monica Landmark.
Mr. McFadden was a Santa Monica businessman who invested heavily in the Ocean Park amusement park. After the disastrous 1912 fire, rebuilding the Ocean Park amusement pier was a high priority. Ocean Park got a big boost when in September 1921, McFadden, along with Charles Lick and George Leihy invested $250,000 in constructing a new pier seaward of the Dome Dance Pavilion. The proposed Lick Pier at the foot of Navy Street adjoining the south side of the Pickering Pier was almost entirely in Venice. It would be 800 feet long and 225 feet wide. When it opened in Easter weekend 1922 it had a 22,000 square foot Bon Ton Ballroom (of which McFadden was the manager), a Zip roller coaster, a Dodge'em, Caterpillar and Captive Aeroplane rides. The Pickering and Lick Piers caught fire on January 6, 1924. The losses were enormous: $2M with only $100,000 insured. Photo and text by Michael Locke.
---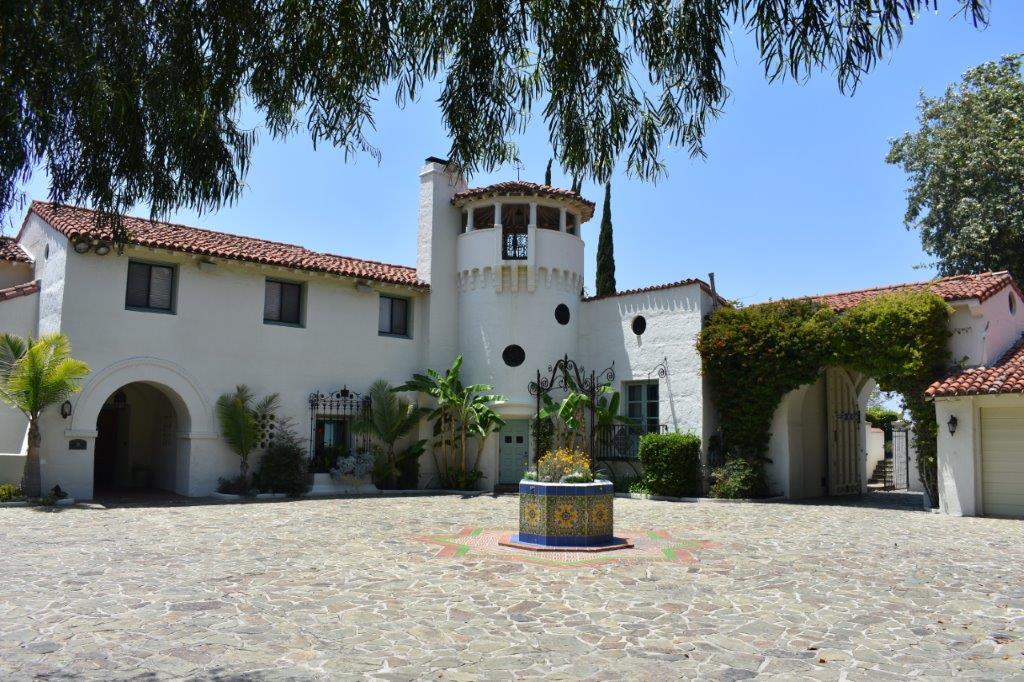 1925 - The Aubrey and Bonnie Bell Wardman House, 13952 Summit Drive, Whittier CA. The Wardman family were patrons of Whittier College, donating several buildings including Wardman Hall, Wardman Gymnasium, and Wardman Library. Deeded to Whittier College after Bonnie Bell Wardman's passing and became the home for the college President. The interior of the house was designed and furnished by Barker Brothers in a Spanish motif at the completion of construction. Much of the original furnishings remain as of 2018. The Wardman House was designated a Whittier Historic Monument (No. 5) in 1991. Photo by Michael Locke.
---

1928 - The Eli P. Clark Dormitory I, Pomona College, Claremont CA.
---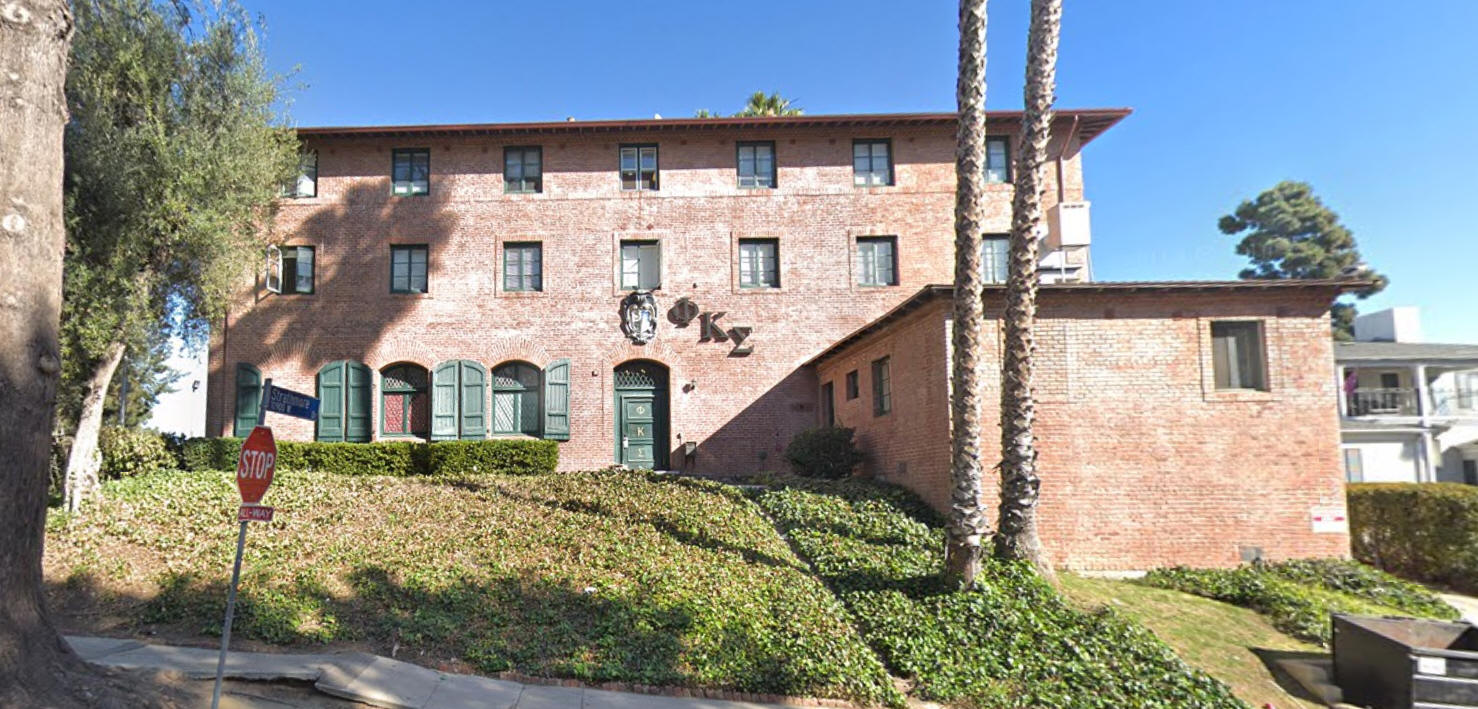 1928 - The Phi Kappa Sigma House, Men's Dormitory Apartments, UCLA, 10938 Strathmore Drive, Westwood CA.
---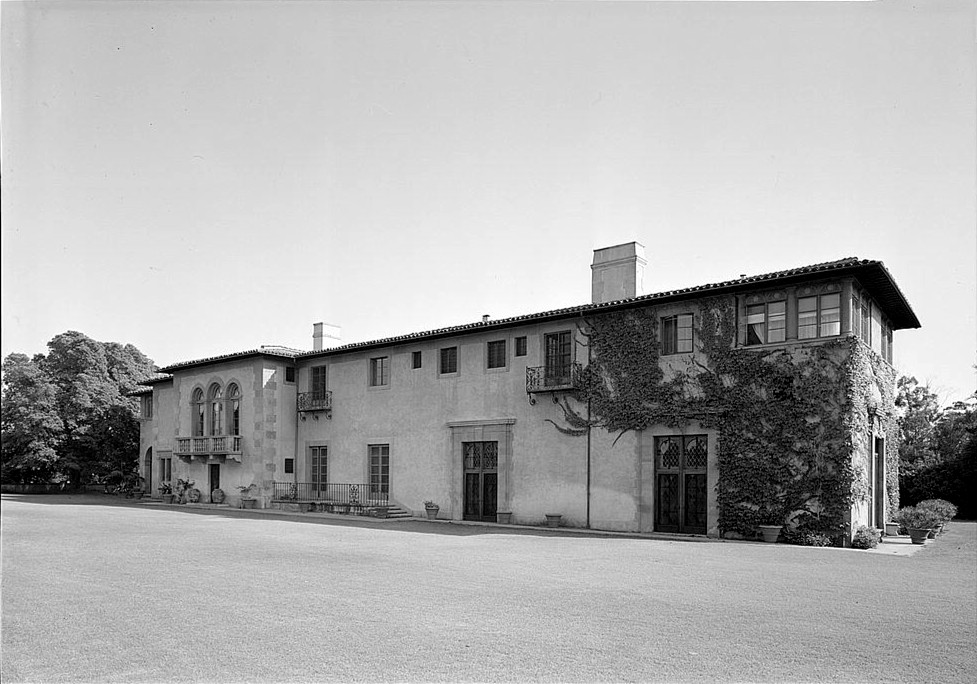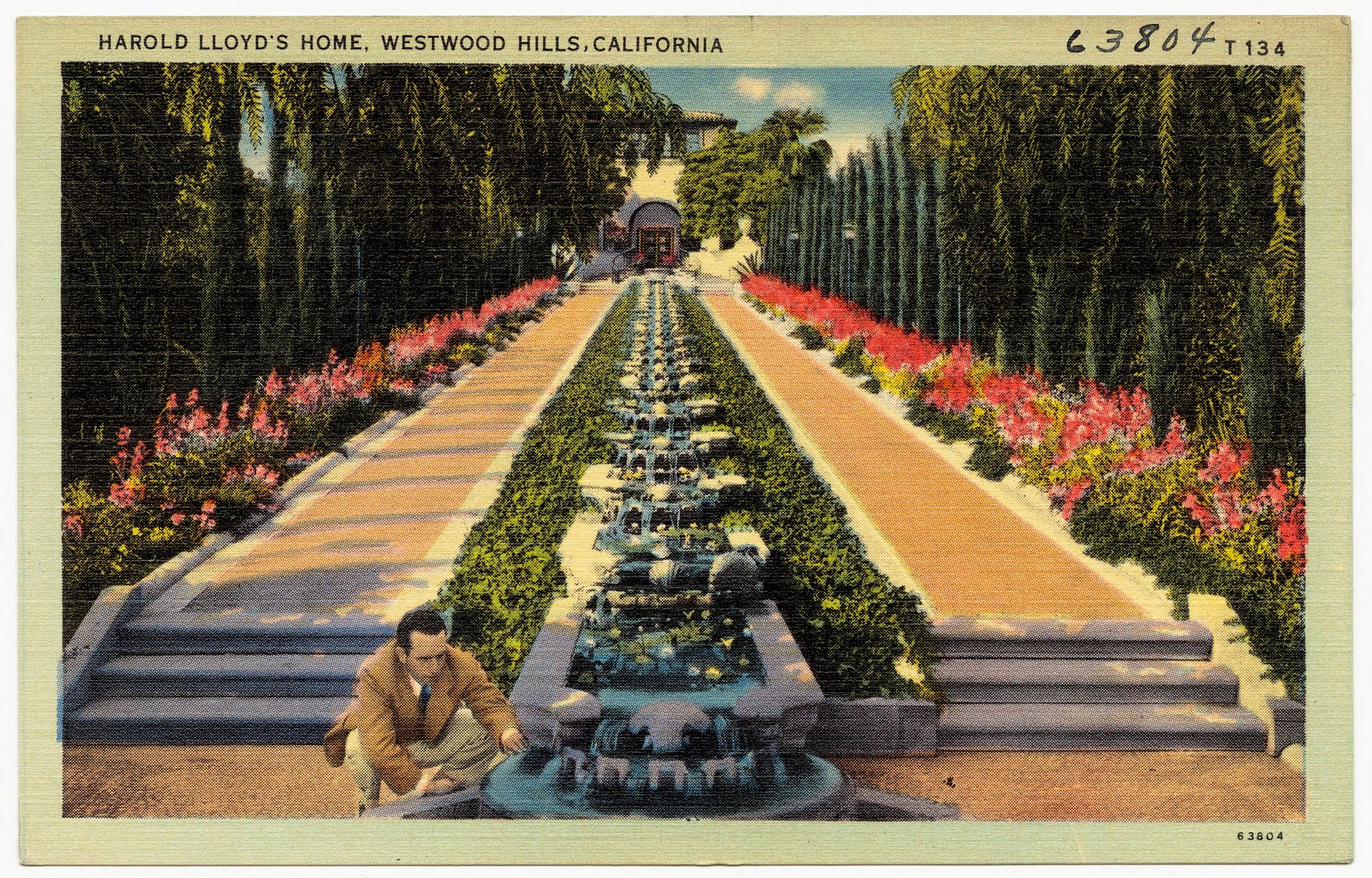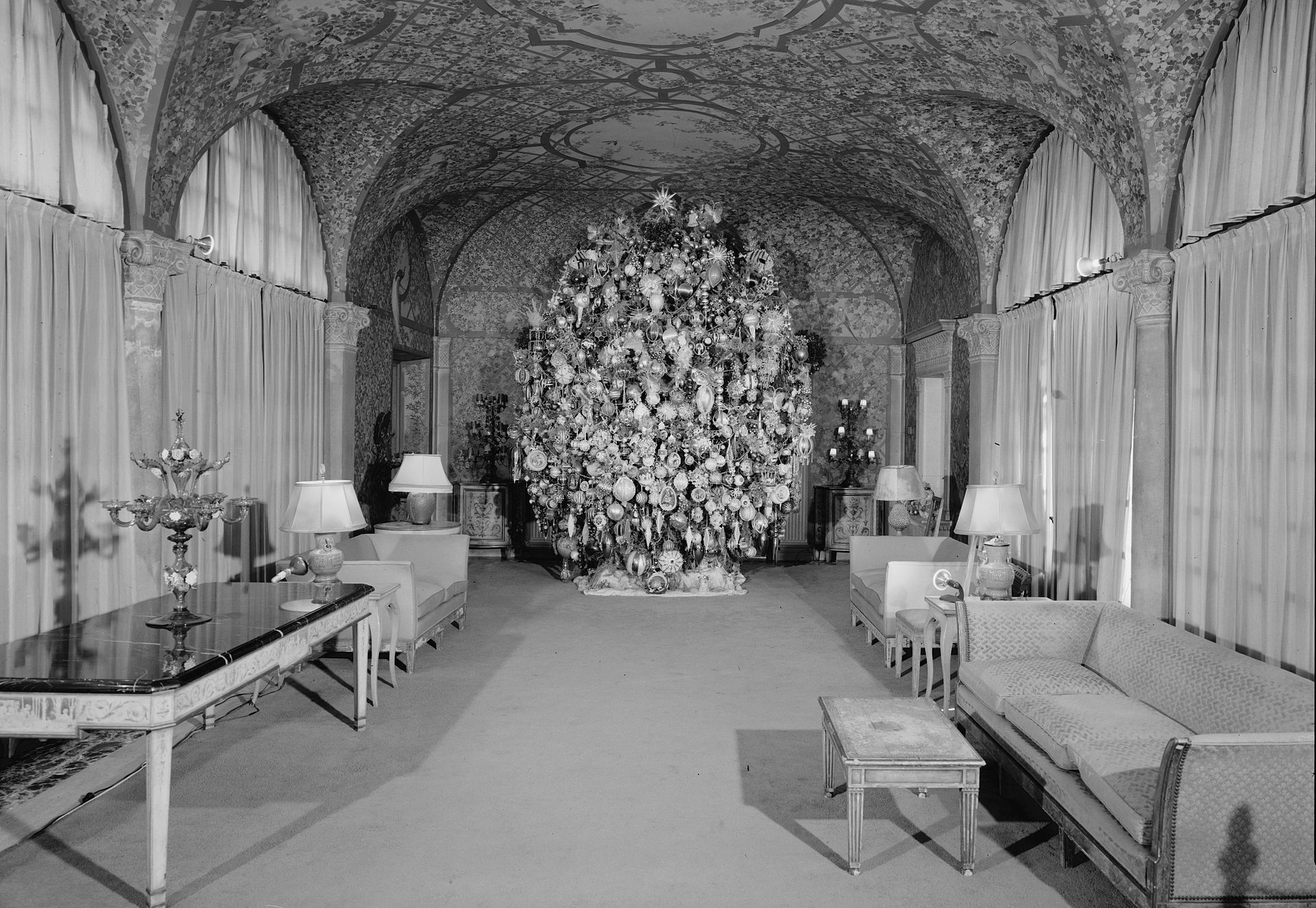 1928 - The Harold Lloyd House, aka Green Acres, 1740 Green Acres Drive, Beverly Hills CA. The estate originally consisted of a 44-room mansion, golf course, outbuildings, and a 900-foot canoe run on 15 acres. Landscape by A. E. Hanson. After Lloyd died in 1971, the acreage in the lower part of the estate along Benedict Canyon was subdivided into approximately 14 large home lots. The original address was 1040 Angelo Drive when the acreage was intact. The mansion, on top of its own hill, retained approximately 5 original acres of flat land. Added to the National Register of Historic Places in 1984. First photo from the Los Angeles Times, 7/24/1927. Sold prior to 2013 to Ronald Burkle.
---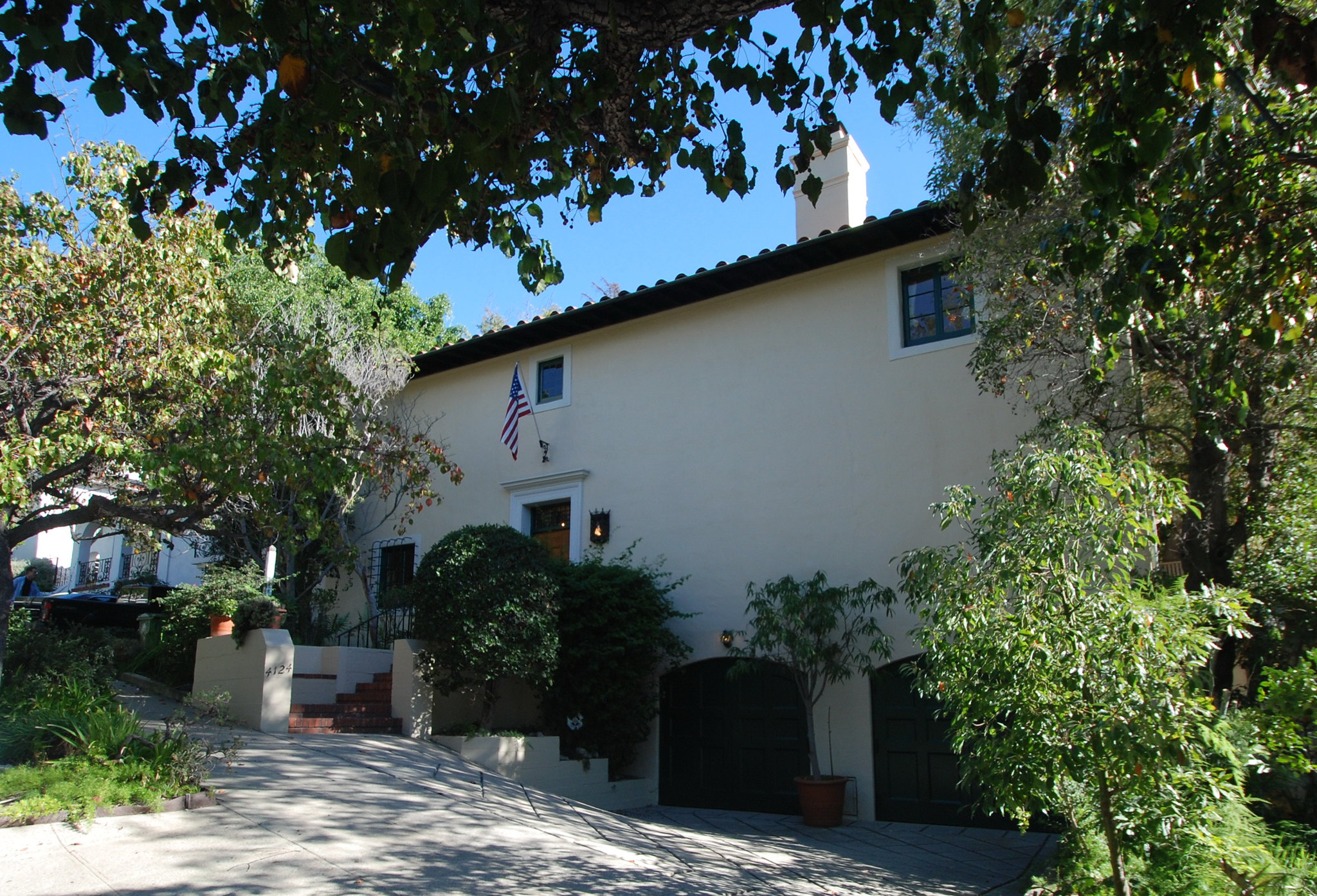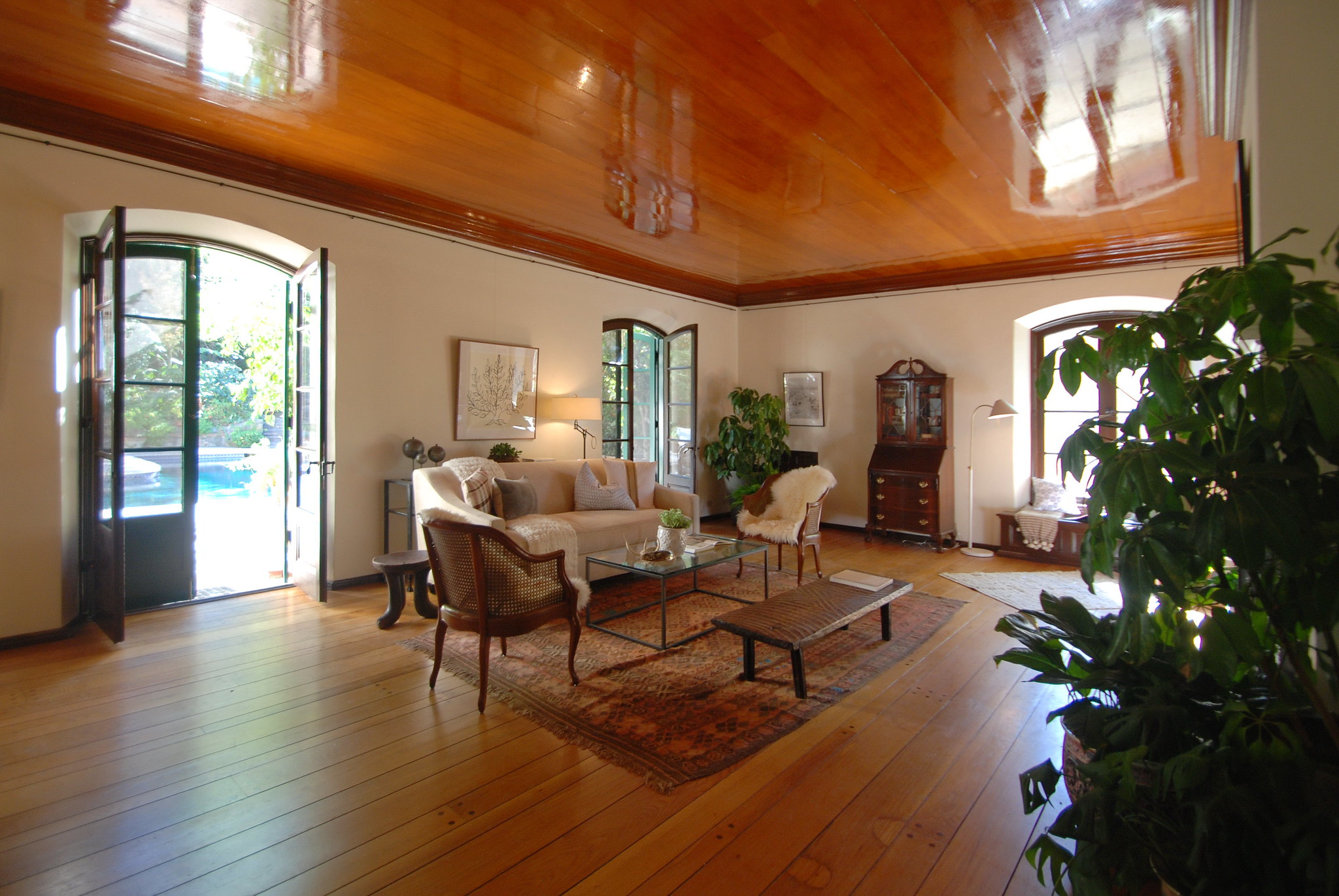 1928 - The Harold and Eleanor Crowell House, 4124 Dundee Drive, Los Angeles CA. Designed with Walter I. Webber. Photos by Michael Locke.
---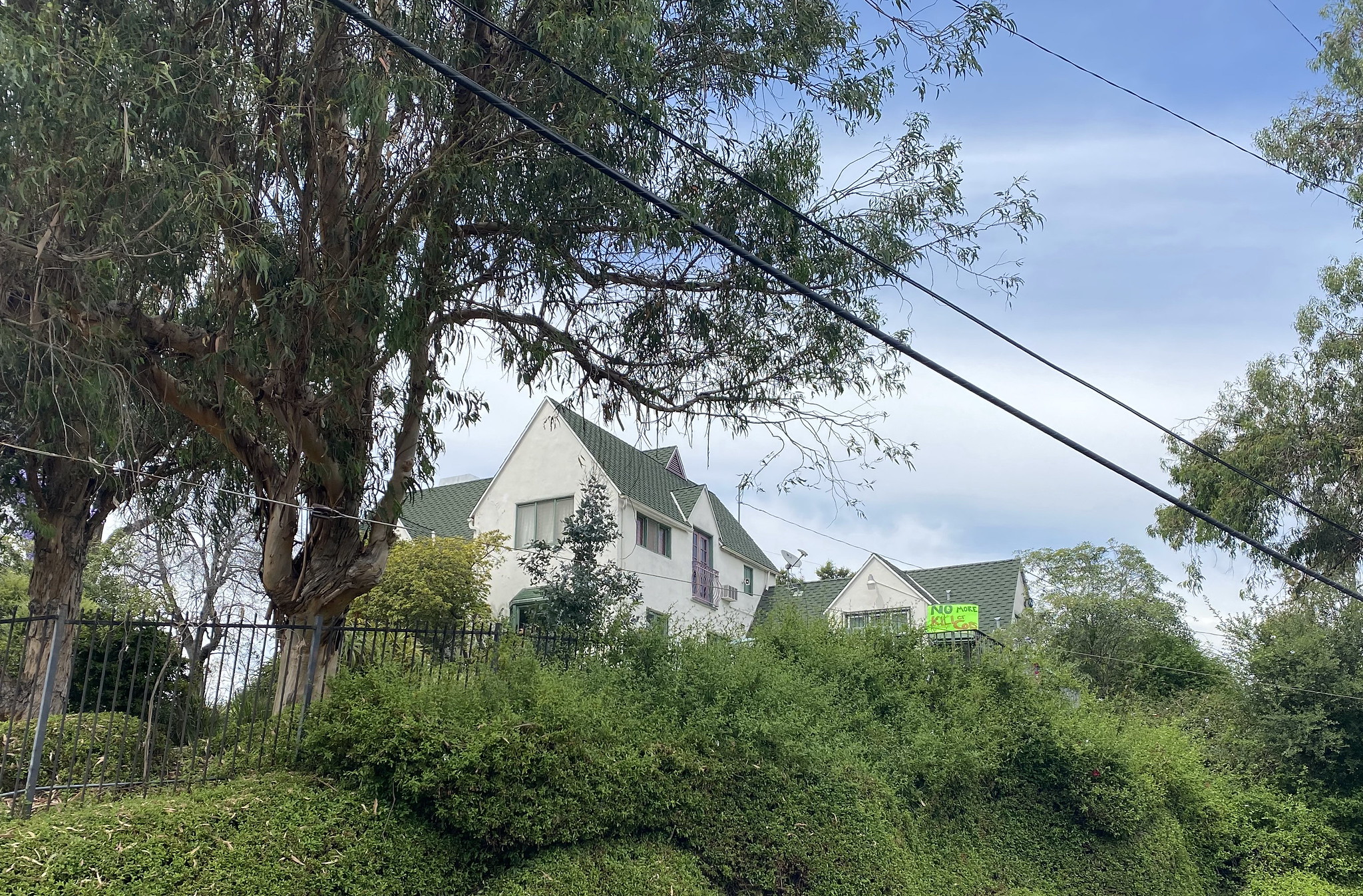 1929 - The Lionel L. and Helen Stone House, 2091 Cerro Gordo Street, Los Angeles CA. Designed with Walter I. Webber. Photo by Michael Locke.
---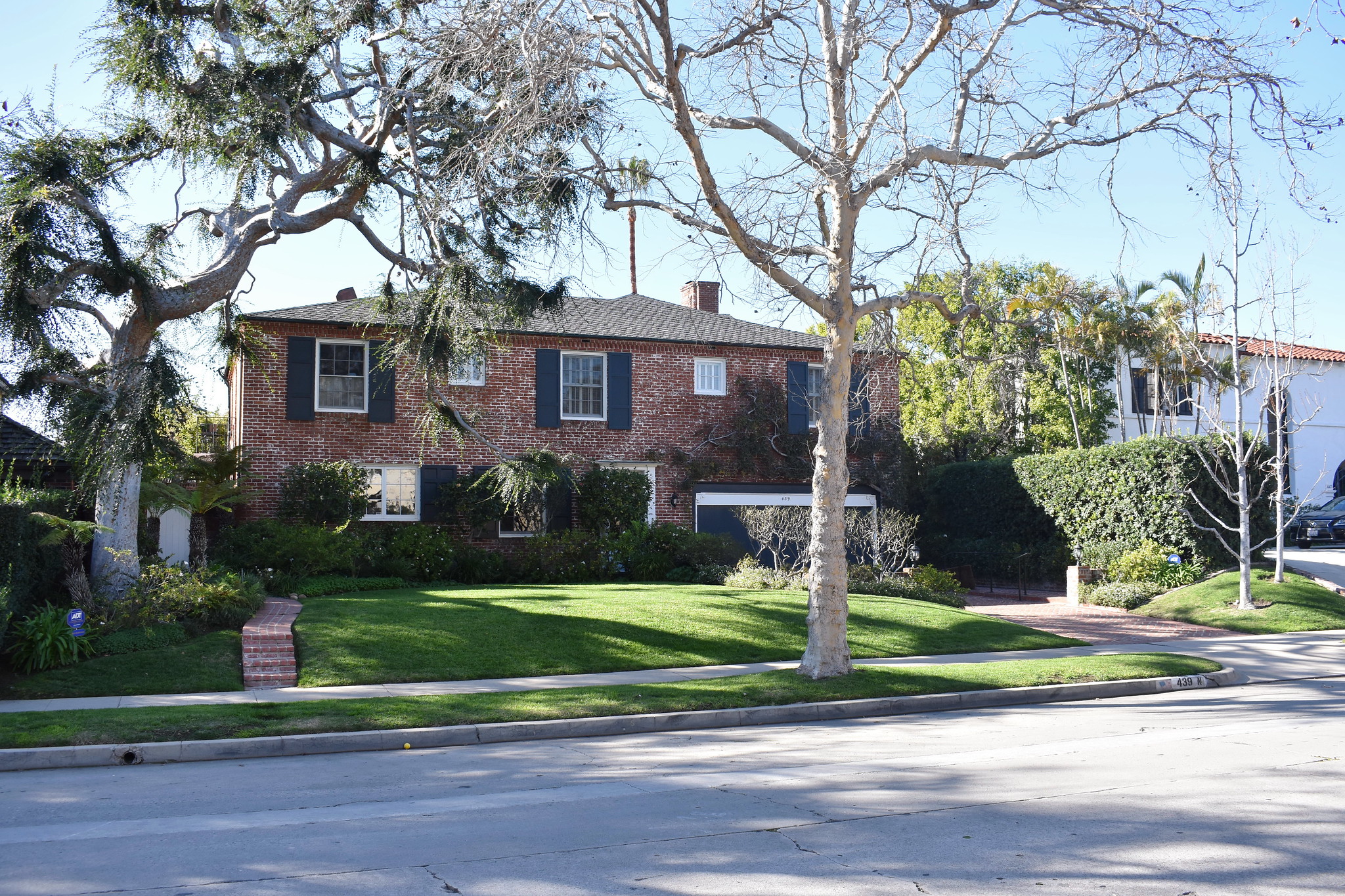 1929 - The Andrew Blackman House, 439 North June Street, Los Angeles CA. Designed with Walter I. Webber. Photo by Michael Locke.
---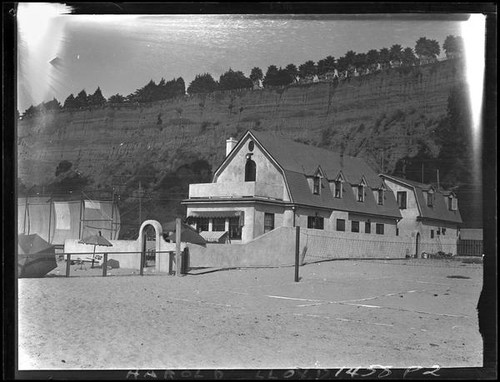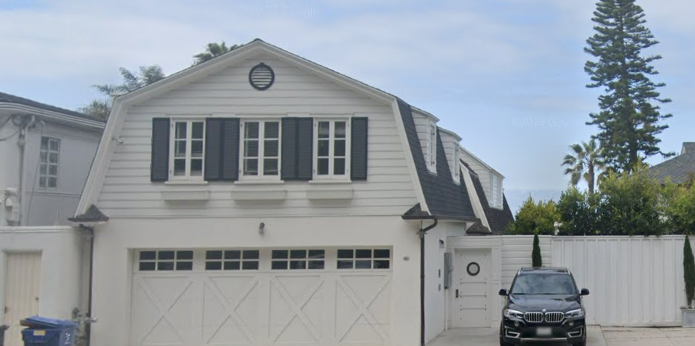 1931 - The Harold Lloyd Beach House, 501 Palisades Beach Road, Santa Monica CA. Sold prior to 2006 to Brian Novack. Addition built in 2008.
---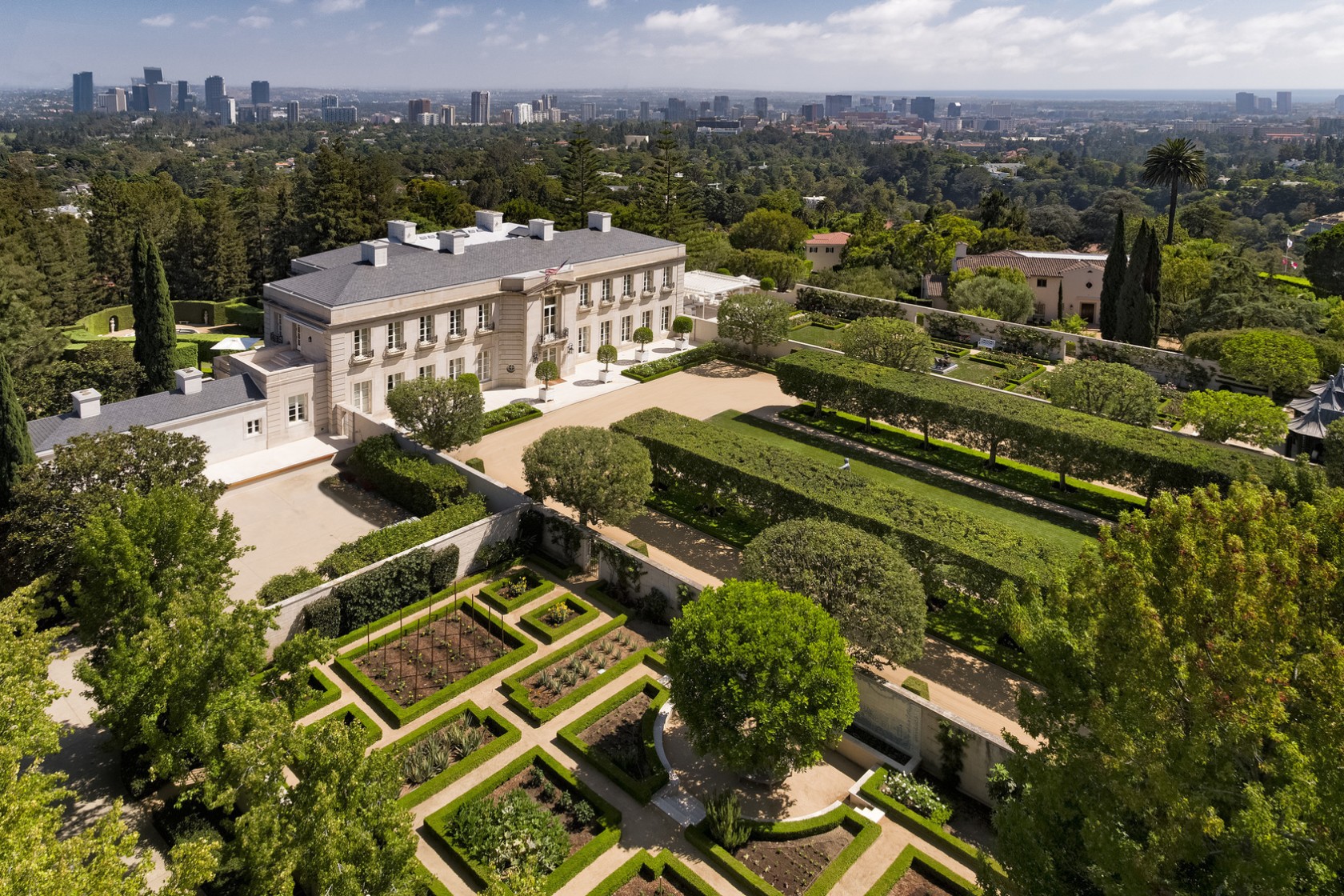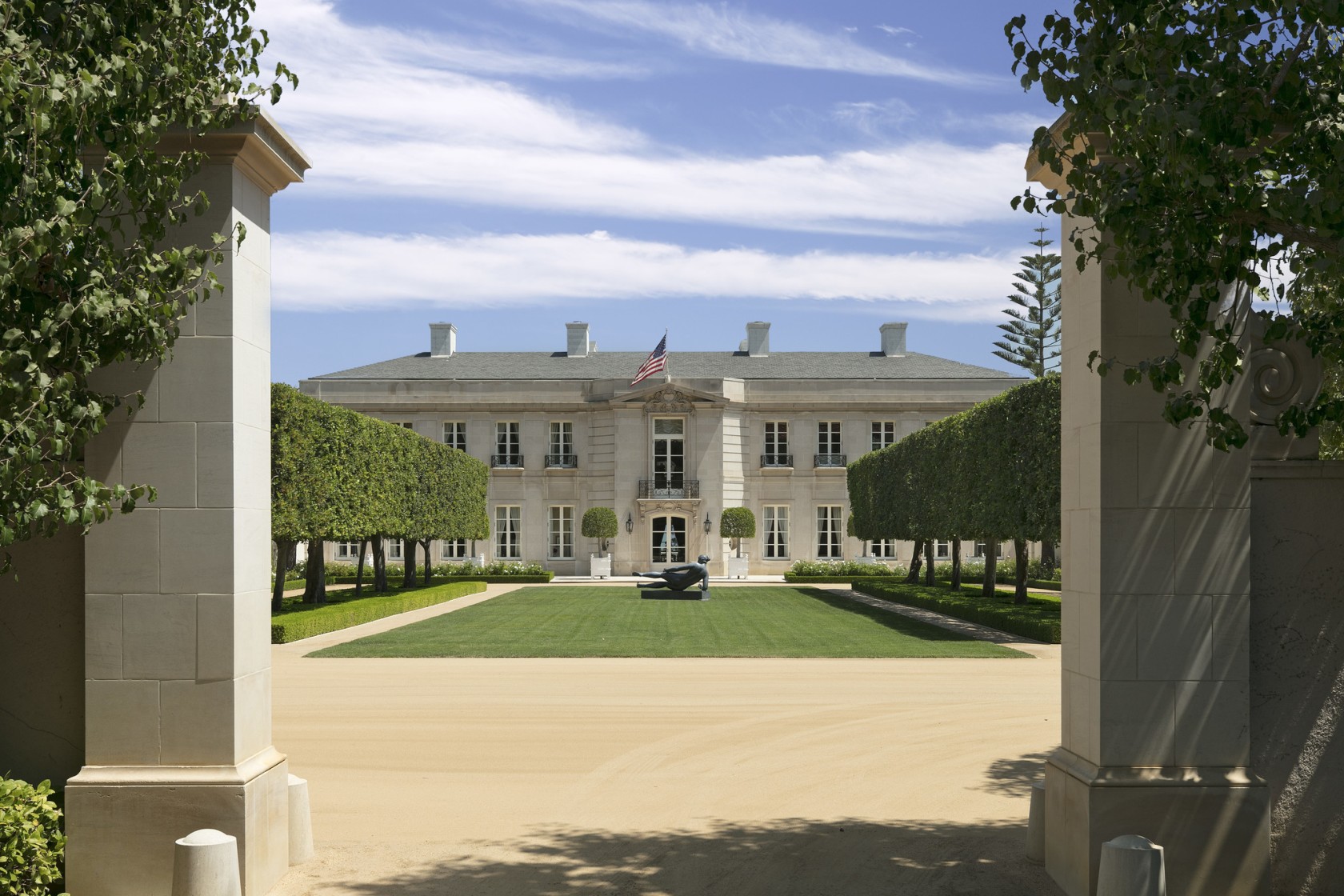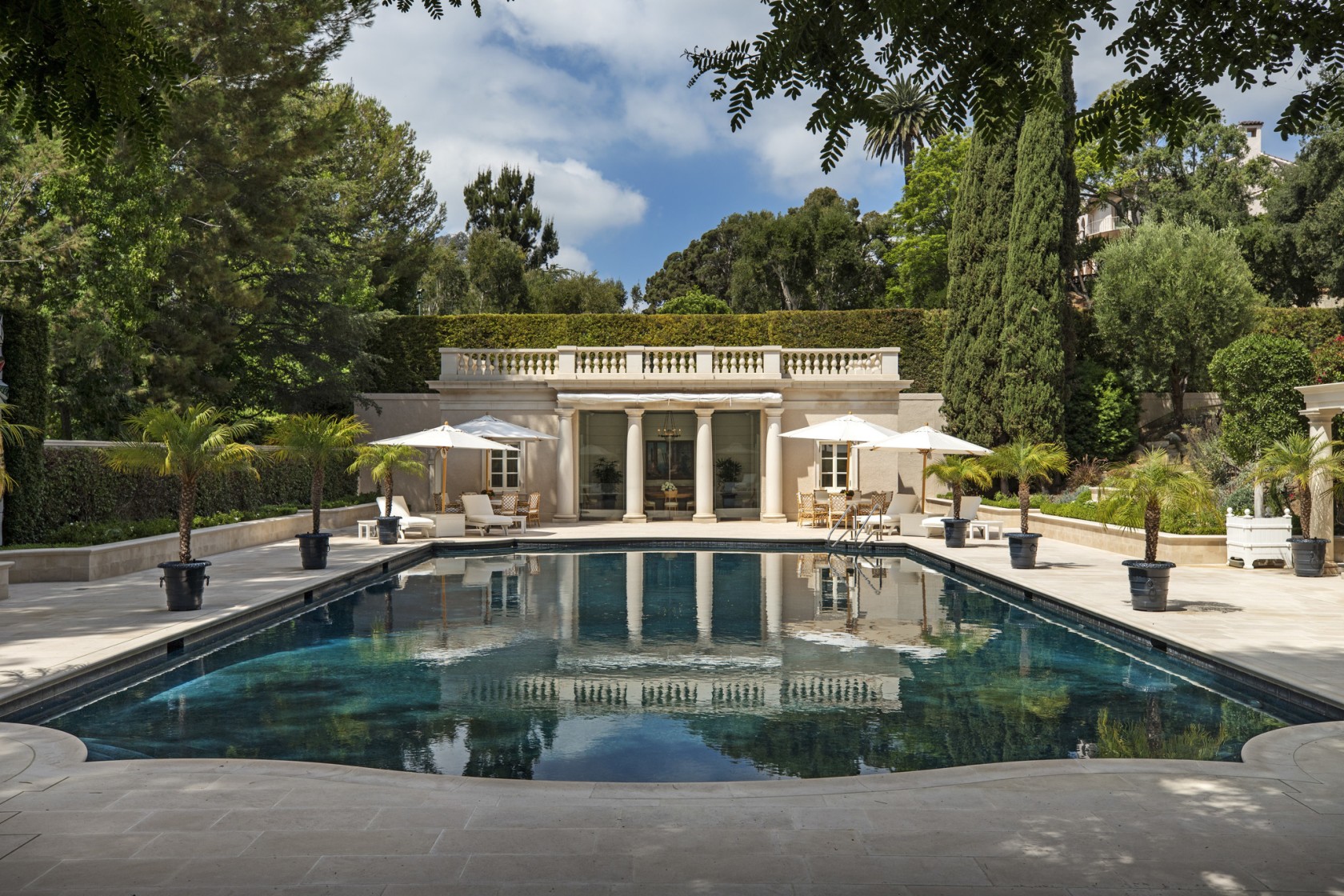 1933 - The Lynn S. Atkinson and Bernice Stephens House, aka the Chartwell Mansion, aka Beverly Hillbillies House, 750 Bel Air Road, Bel Air CA. Gardens designed by Henri Samuel. The Atkinsons never lived there as Bernice found it too pretentious. Sold to Arnold Kirkeby. Featured in the 1960s TV series The Beverly Hillbillies. Sold in 1988 to Jerry Perenchio. In 2018 it was listed as the the most expensive house in the United States and sold in 2019 to Lachlan Murdoch for $150 million, the highest in California history to that date.
---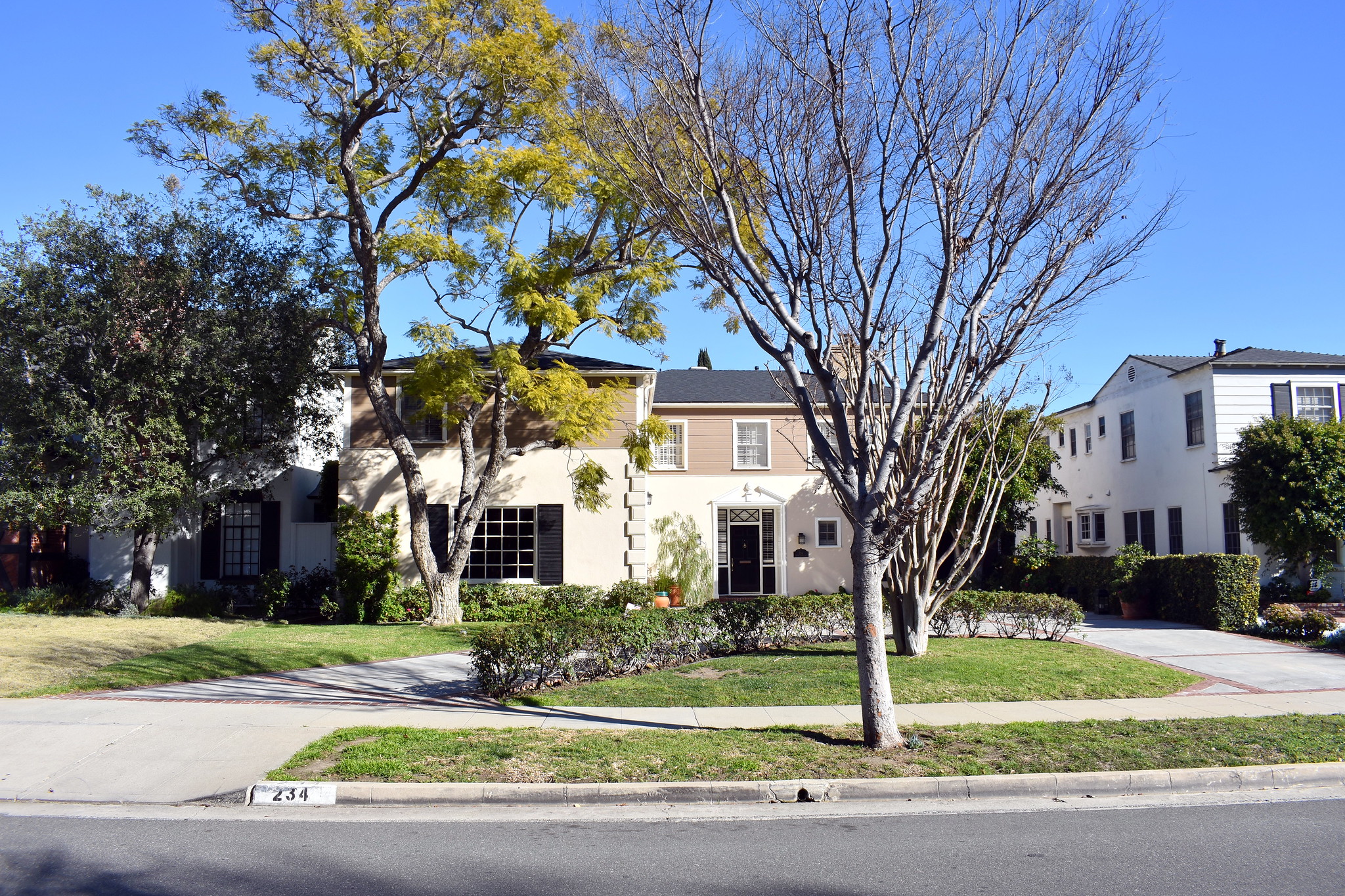 1935 - The George Mosbacher House, 234 South Roxbury Drive, Beverly Hills CA. Photo by Michael Locke.
---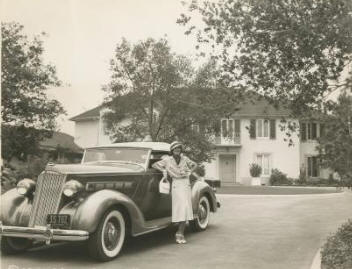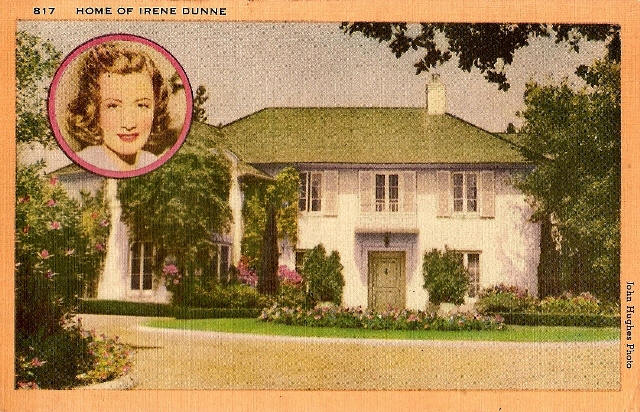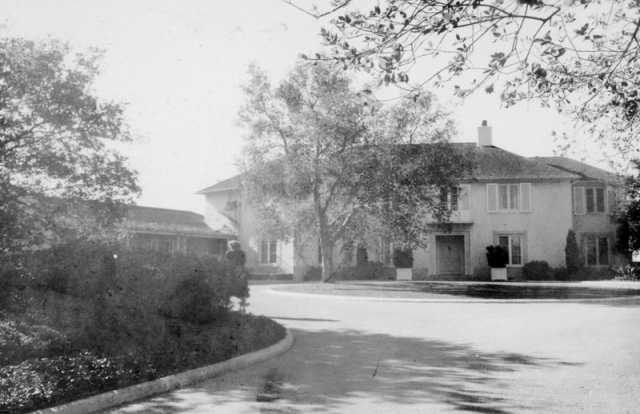 1935 - The Irene Dunne and Francis Griffin House, 461 North Faring, Los Angeles CA. Dunne lived there until her death in 1990. Destroyed in the mid-1990's.
---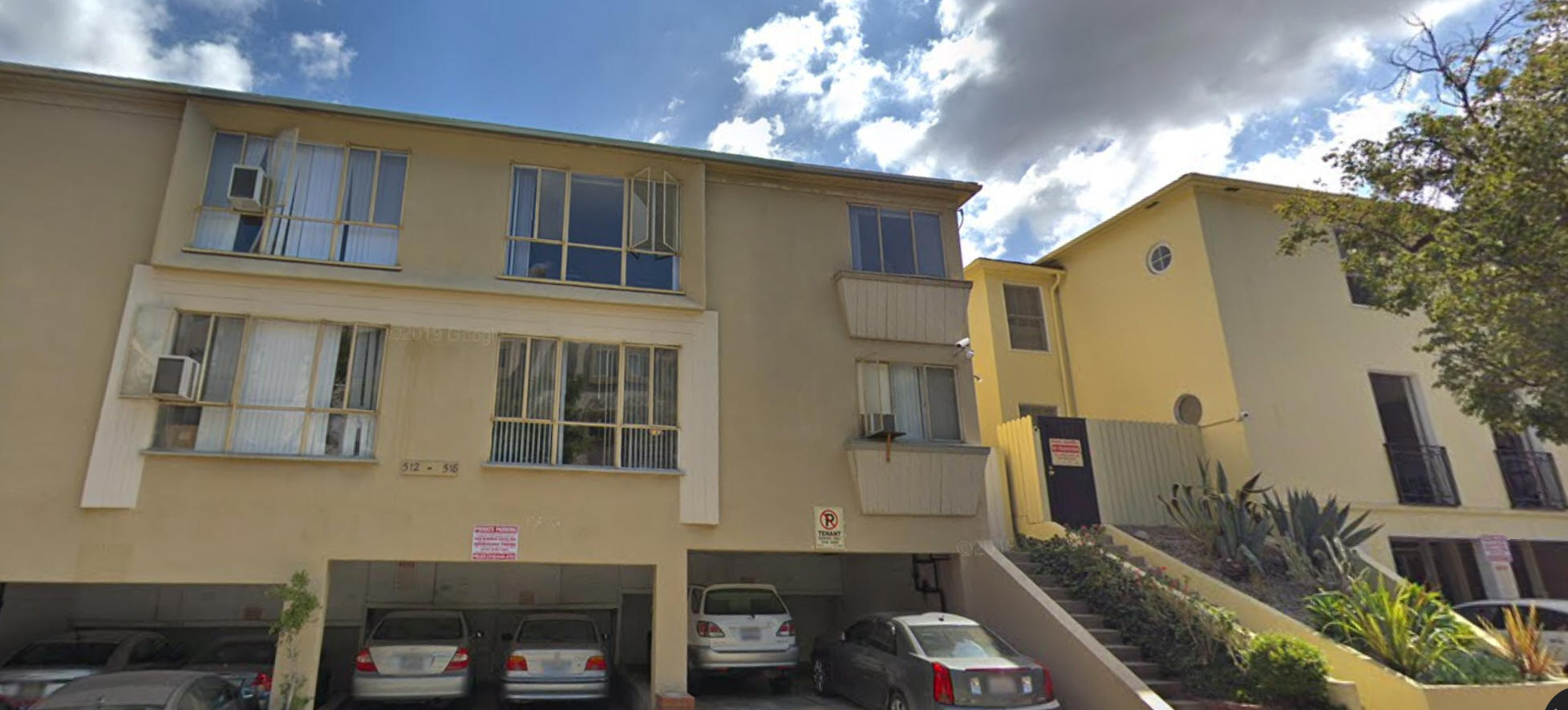 1936 - The Ann, Marjorie, and Christina Strang Apartments, 520-522 Midvale Avenue, Los Angeles CA. Sold in 2009 to Roxbury Lane LLC.
---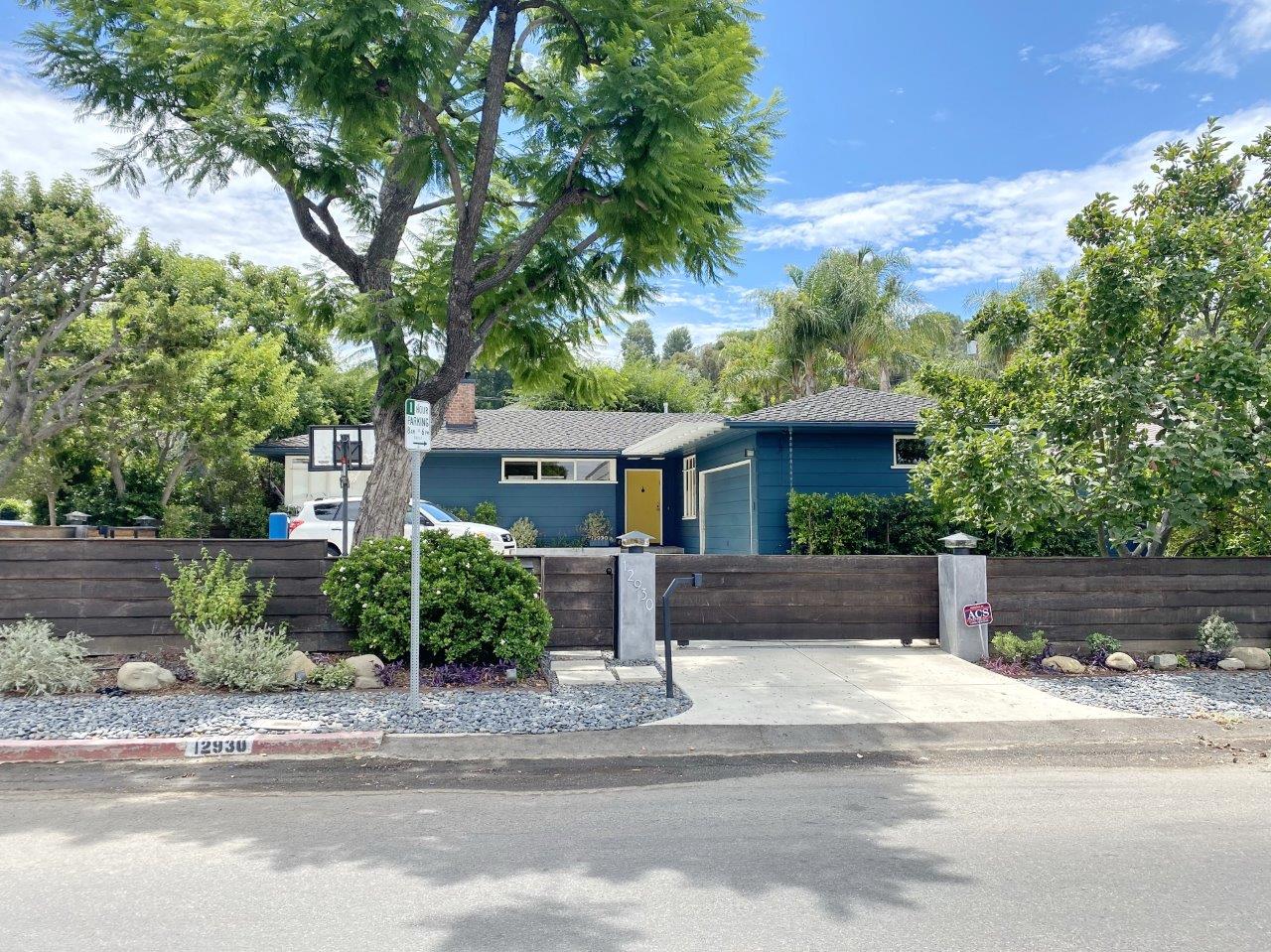 1939 - The Martin E. and Kathryn M. Pollard House, aka House in the Sun, 12930 Dickens Street, North Hollywood CA. Kersey Kinsey was the builder. Mr. Pollard served as president of the Los Angeles Airport Commission and a pioneer San Fernando Valley automobile dealer. Featured in Architectural Digest January 1941. House has been renovated. Sold in 2005 to Lisa Cholodenko. Photo and text by Michael Locke.
---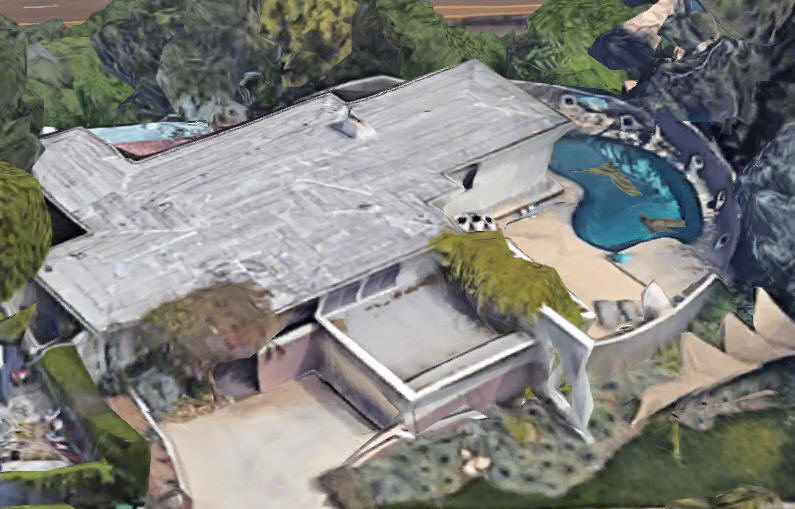 1940 - The George Behrendt House, 8137 Mulholland Terrace, Los Angeles CA. Designed with John Rex and C. Gordon Deswarte. Received an award in 1947 from the Los Angeles Times Home Magazine. Sold in the mid-1960s. Sold in 1995 to Carol Schaeffer.
---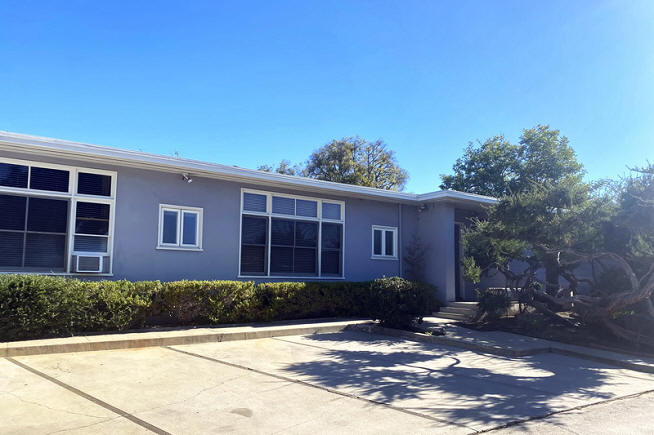 1940 - Edwin Jerome and Ellen C. Loeb House, 1830 North Dillon Street, Los Angeles CA. Spaulding's design replaced a smaller house designed for Dodie Priver by architect Rafael Soriano three years earlier. Sold to Eugene and Esther Ziskind. Deeded to Jerome and Emilie Siskind Jacobson, who engaged architect Richard Neutra to design a master bedroom addition to the house in 1948; Dion Neutra added a window in the master bedroom at a later date. Still owned by Emile in 2021. Photo by Michael Locke.
---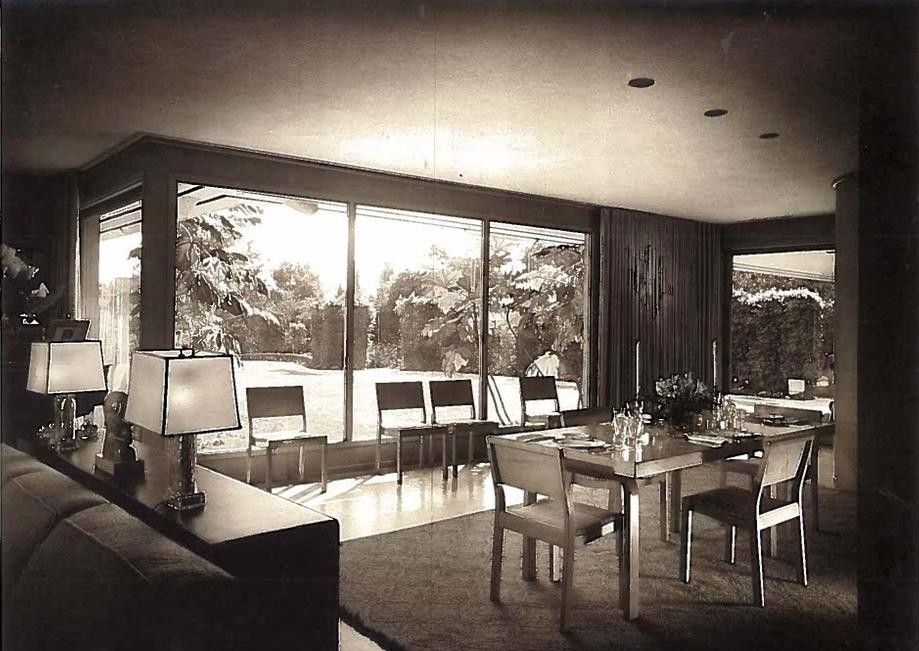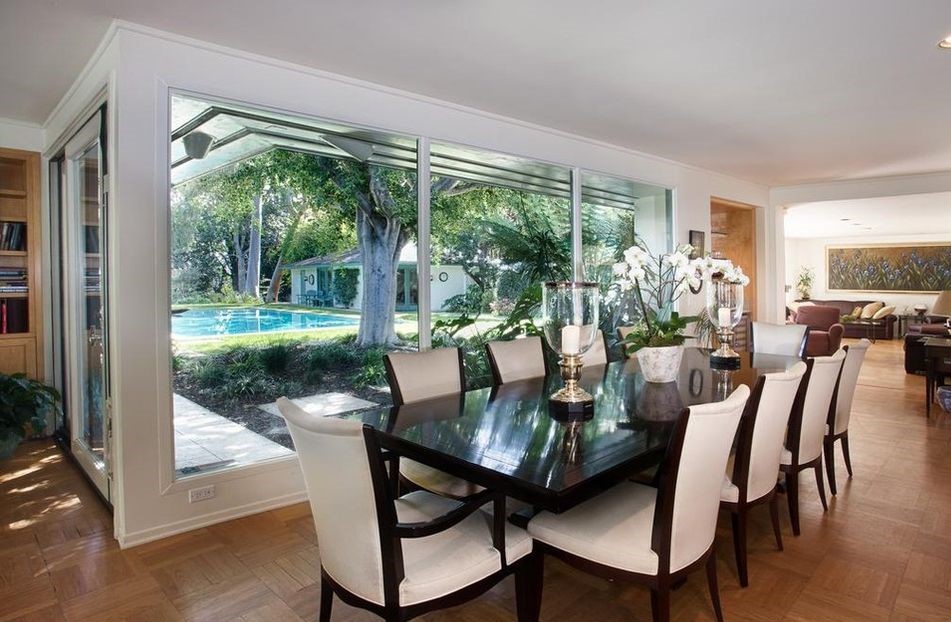 1942 - The Isadore H. Prinzmetal House, 645 Comstock Avenue, Los Angeles CA. Prinzmetal died there in 1970. Sold in 2018.
---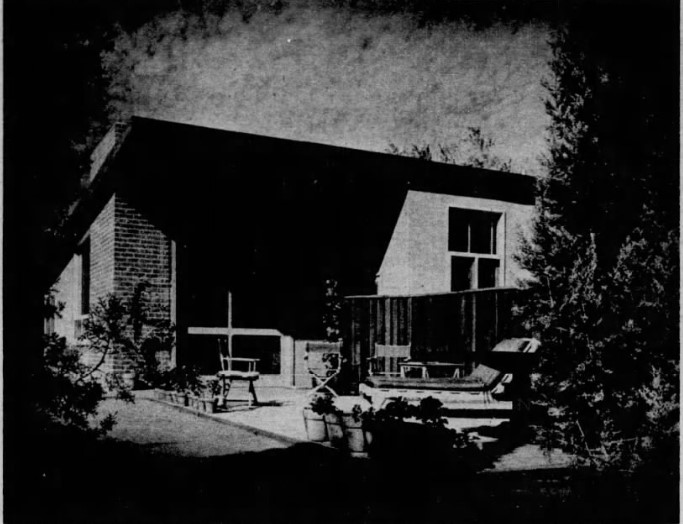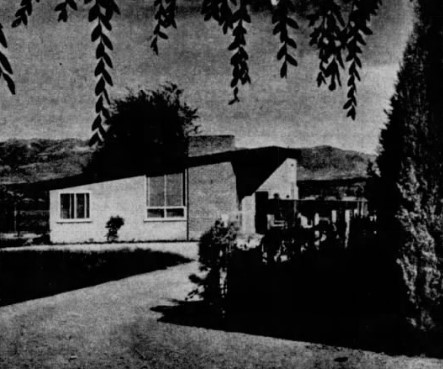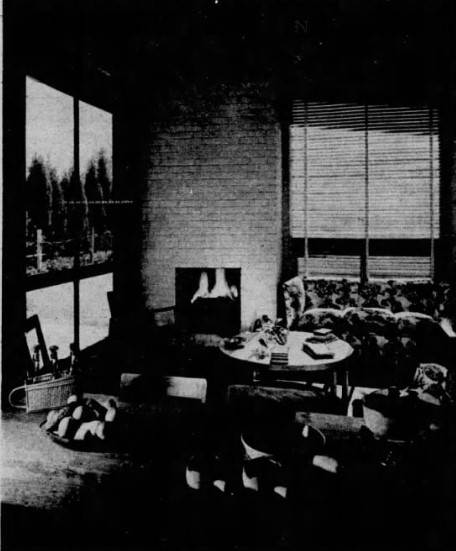 Mid-1940s - The Rudolph Leibig Guest House and Farmers Cottage, aka Meadow Lark Farm, 17500 Burbank Boulevard, Encino CA. Original address was 5519 Encino Avenue. Designed as the caretakers cottage, the house became the owners' home after canceling their plans for a larger home. Sold in 1947. Received an award in March 1947 from the Los Angeles Times Home Magazine. Photos from the Los Angeles Times, 11/24/1946. Property changed in the early 1960s and a Lutheran church was built in 1966.
---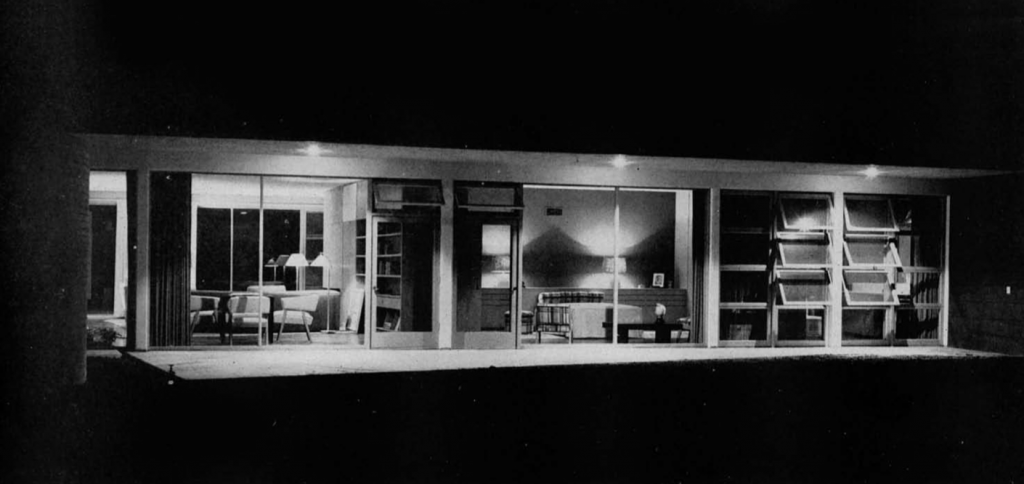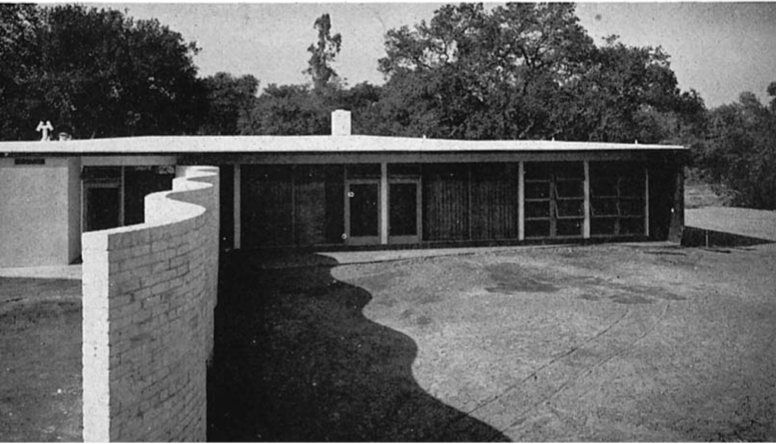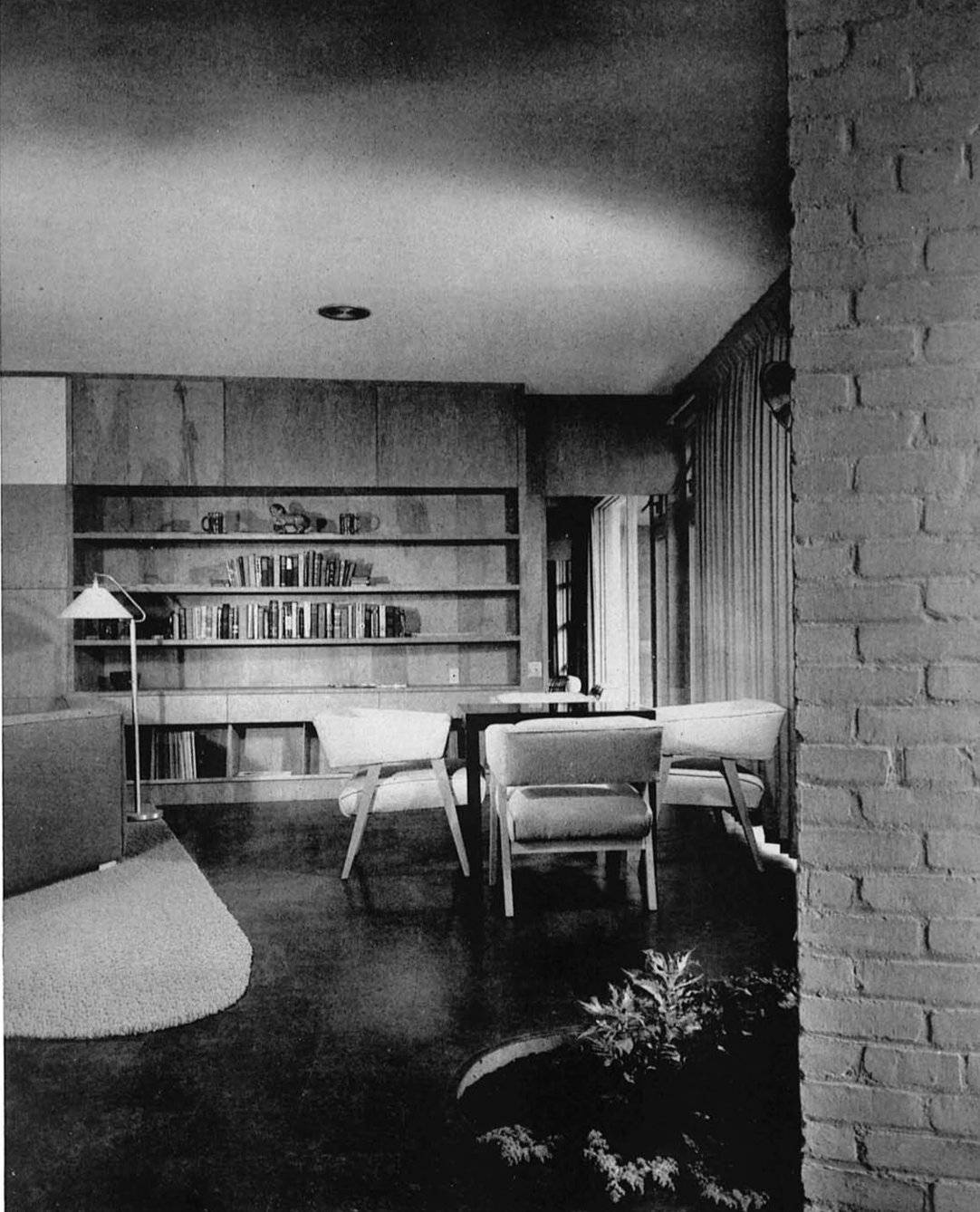 1947 - aka Case Study House #2, 857 Chapea Road, Pasadena CA. For sale in 1958-1959 and 1966. Sold in 1974 to Manuel Alvarado.
---
Sources include: The Los Angeles Times, Pacific Coast Architecture Database.