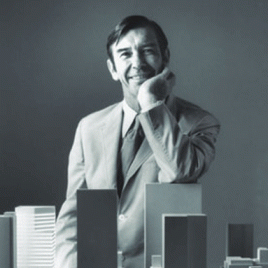 EDWARD LARRABEE BARNES (1915-2004)
Barnes was born in Chicago into a family he described as "incense-swinging High Episcopalians," consisting of Cecil Barnes, a lawyer, and Margaret Helen Ayer, recipient of a Pulitzer Prize for the novel Year of Grace. He graduated from Harvard in 1938 after studying English and Art History before switching to architecture, then taught at his alma mater Milton Academy, before returning to Harvard for further studies under Walter Gropius and Marcel Breuer. After a travelling scholarship, he graduated from the Harvard Graduate School of Design in 1942 and served in the Navy during World War II. After the war he worked for Henry Dreyfuss in Los Angeles designing prototypes for mass-produced homes. In 1949 he founded Edward Larrabee Barnes Associates in Manhattan. During his long career, Barnes also taught at Harvard University, the Pratt Institute, and the University of Virginia. In 1993 Barnes retired but continued as a consultant for Lee / Timchula Architects, founded by Barnes' lead partners, John M. Y. Lee and Michael Timchula. In 2007 Barnes was posthumously honored with the AIA Gold Medal. He also received the Thomas Jefferson Medal in Architecture, the Harvard University 350th Anniversary Medal, and some 40 other awards. His Haystack Mountain School of Crafts won the AIA Twenty-five Year Award. He married Mary Elizabeth Coss in 1944, one son, John. His archives are located at Harvard. Bio adapted from Wikipedia. Sources include the 1989 Koerble Thesis.
---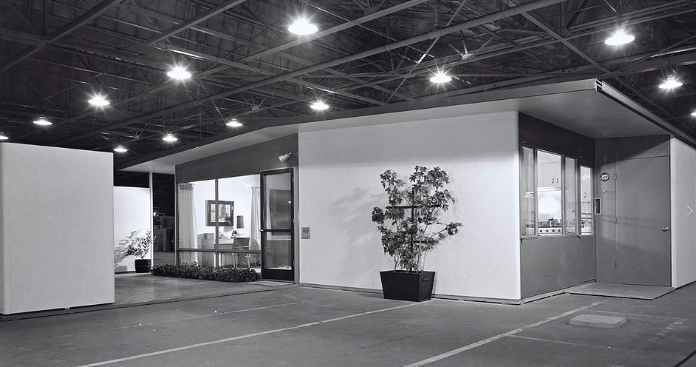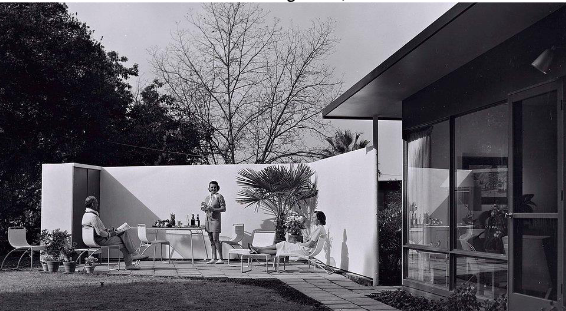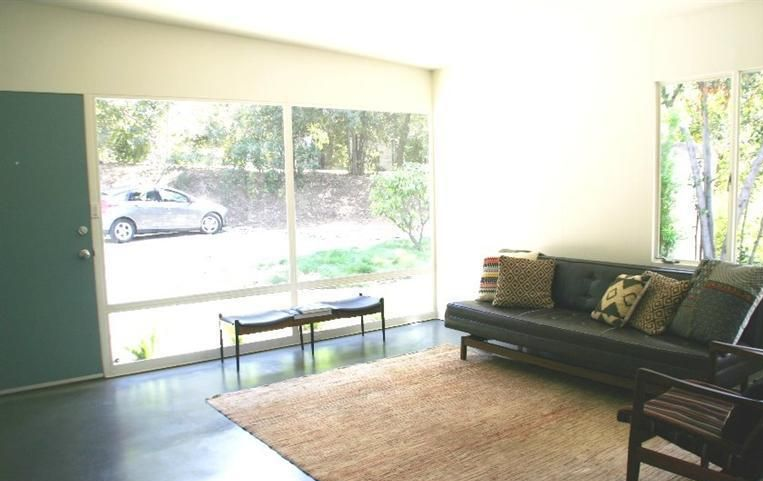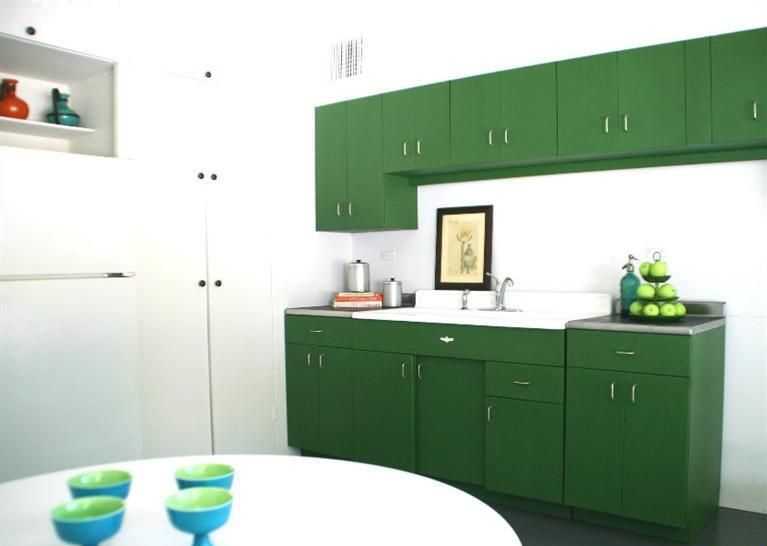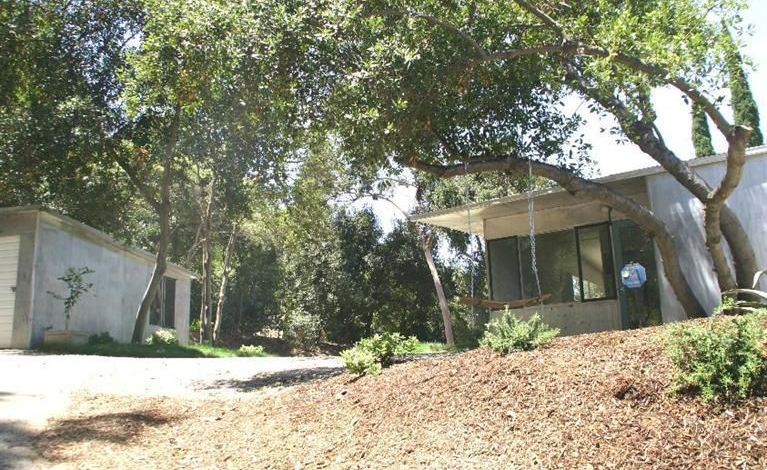 1947 - The Consolidated Vultee Aircraft Corporation Prefabricated House, California. Industrial designer Henry Dreyfuss invited Barnes to collaborate on a prefabricated house design to be produced after World War II by the Consolidated Vultee Aircraft Corporation, the firm that had produced over 10,000 B-24 "Liberator" bombers between 1941-1945. After the war, the company looked for other ways to use its industrial facilities, housing being one of them. Like a war plane, the Vultee House was to use panels with a paper honeycomb interior structure and aluminum exterior surfaces. A prototype one-bedroom design was created at the factory, and two- and three-bedroom models were actually built, but not in large numbers. Consolidated Vultee Aircraft sold its prefab house project in Downey CA to Southern California Homes, then a marketing division of Consolidated Vultee. The Southern California Homes President, Reginald Fleet, moved the prototype house from the factory to its present location on a 17,220 square foot lot at 325 Monterey Road, South Pasadena CA. It became the Fleet family home and was intended as a showcase and hoped to manufacture and sell in quantity but only one similar house was manufactured. Sold to Rosemary West. Sold in 2006 to Francisco and Martha Santino.
---

1950 - The Whitelaw and Joan Reid House, Purchase NY. Reid was Editor of the NY Herald Tribune. Commissioned in 1949. Featured in Architectural Record. Status unknown.
---

1951 - The Ted and Lucille Weiner House, 4900 Westridge Avenue, Fort Worth TX. 6.5 acres. It was the first Modernist house in North Texas. He developed lush gardens and waterfalls on the site. In 1960, they moved to Palm Springs but kept the property until 1971. Sold to Hugh Wolfe. Sold in 1972 to Clinton Wright who built twelve townhouses among the gardens starting in 1973. Sold to the Ard family, still owners as of 2021.
---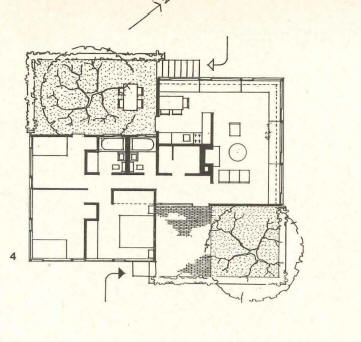 1951 - The Allen Buck House, Lakeville CT. Featured in Architectural Record, October 1956. Status unknown.
---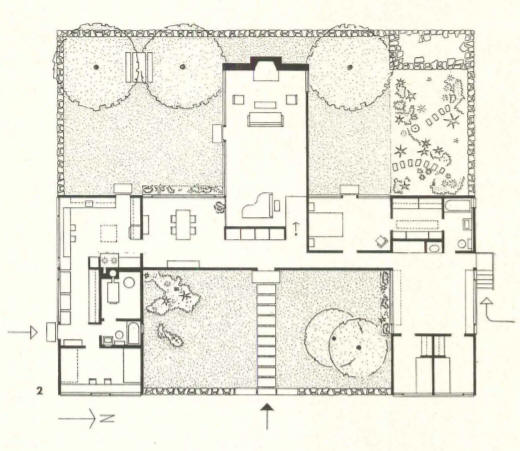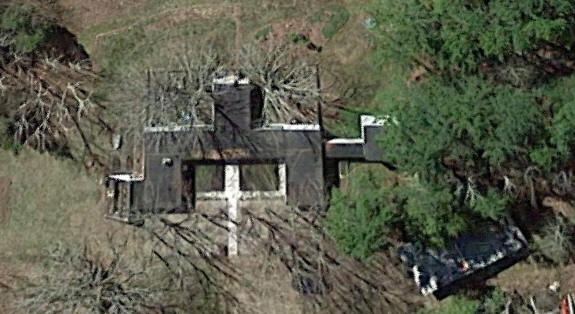 1952 - The Robert C. Osborn House, 392 Taconic Road, Salisbury CT. Published in Architectural Record, October 1956. Barnes did renovation plans in the 1980s. He thought this was the best of his platform houses. Was a rental in 2013. Status unknown.
---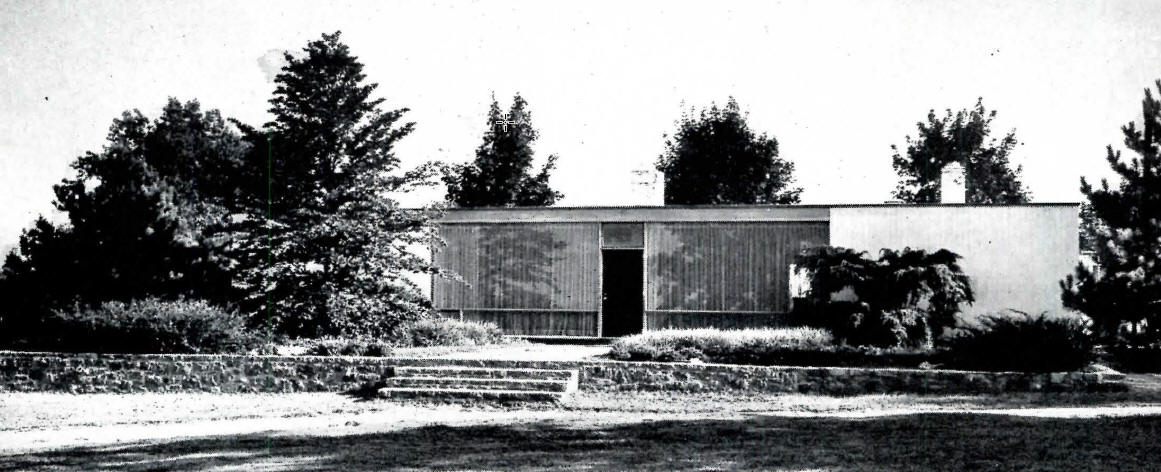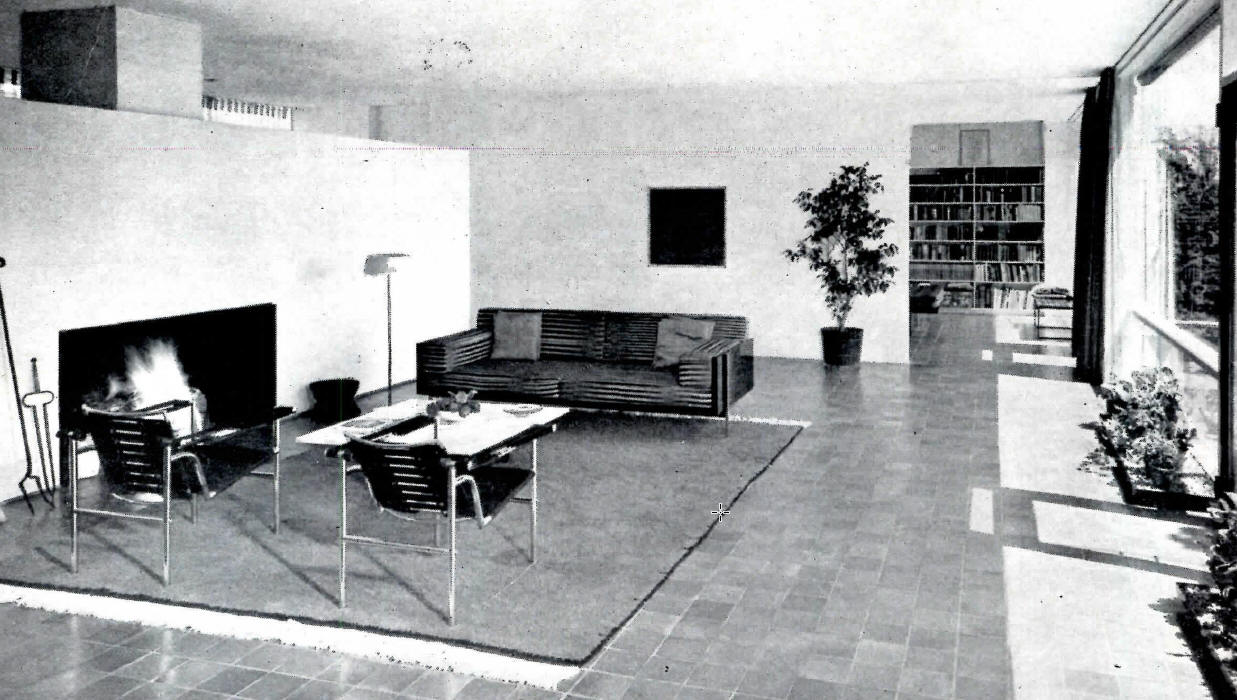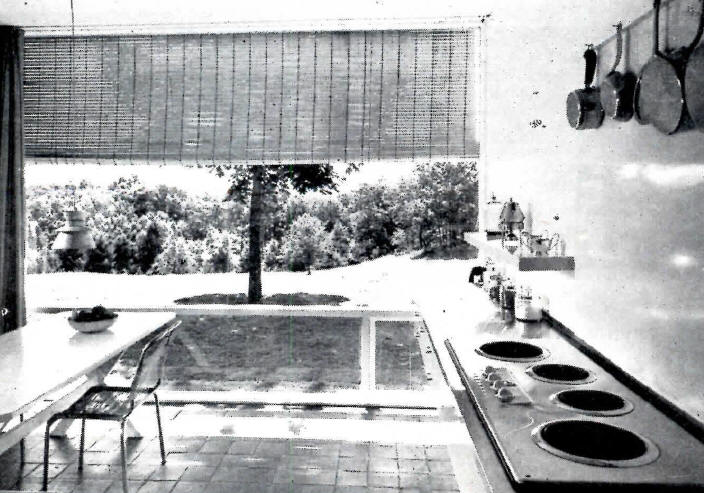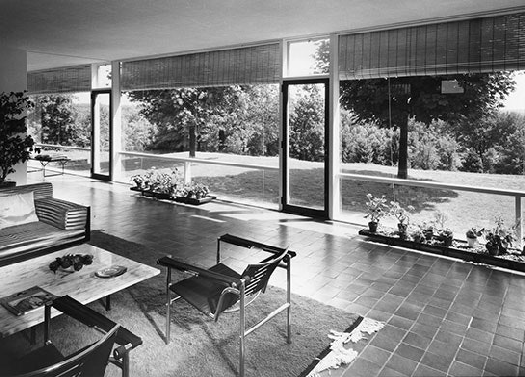 1952 - The Edward L. and Mary Barnes House, 205 Wood Road, Mount Kisco NY. Built by August Nelson; landscape design by James Fanning; HVAC by Benjamin Spivak. Featured in Architectural Record Houses of 1957; Architectural Record, October 1956. Sold in 1996 to Norman Selby and Melissa Vale. 6000 sf addition in 2011 by Stamberg Aferiat. Photos by Ben Schnall. Status unknown.
---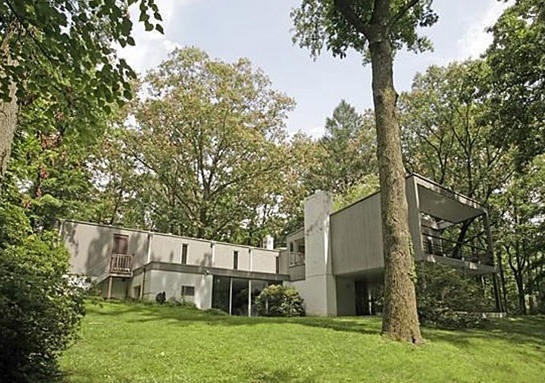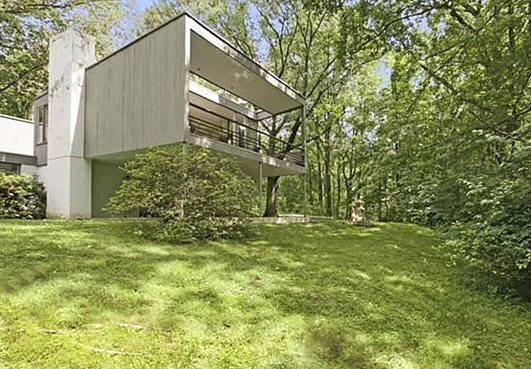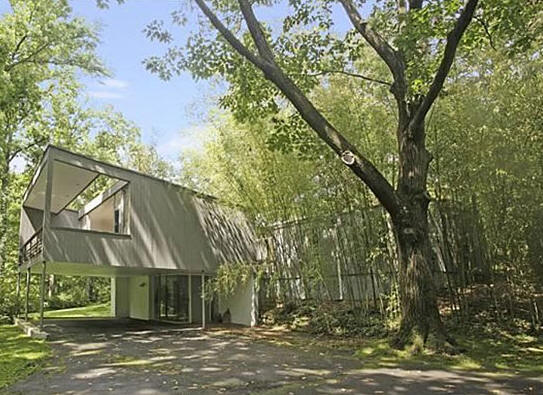 1952 - The C. Paul and Janet O'Connell House, 11 Forest Street, Alpine NJ. Sold in 1972 to Monroe and Harriet Krasilovsky. Sold in 2006 to Michael Cacouris and Anne Ronan. Sold in 2017 to Cristina Haberman.
---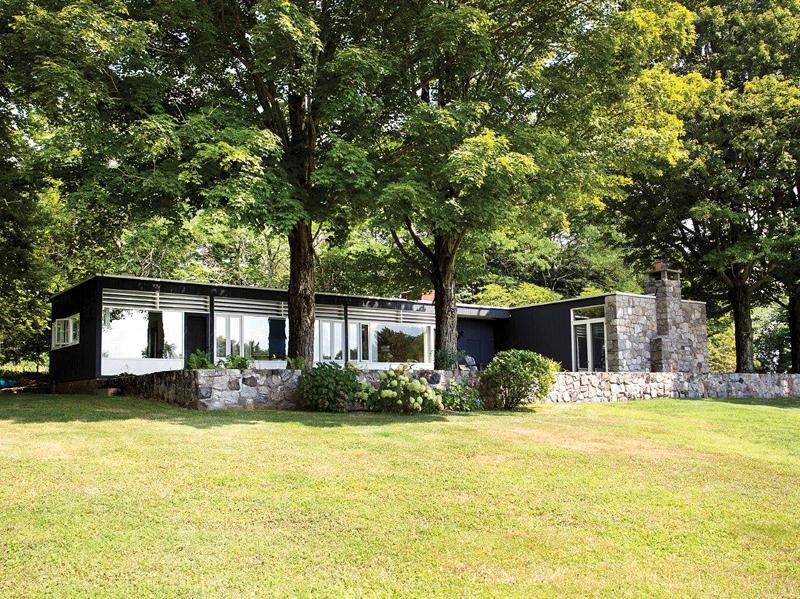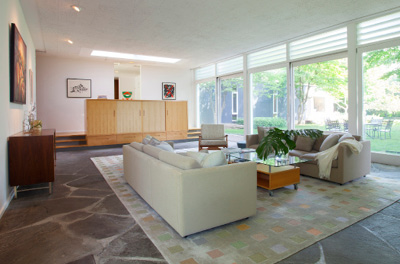 1953 - The Ted and Kathy Marsters House, 526 Maple Street, Litchfield CT. Featured in Architectural Record, October 1956. Includes a separate studio. Sold in 2016.
---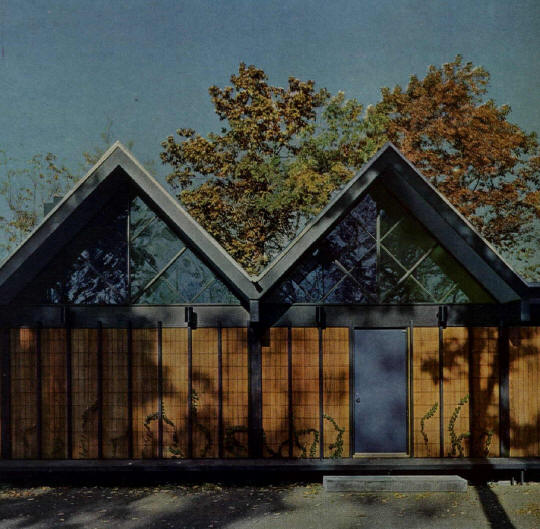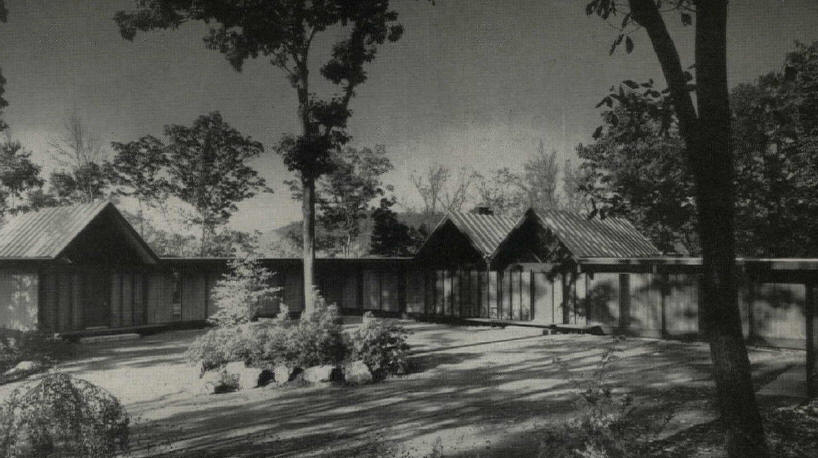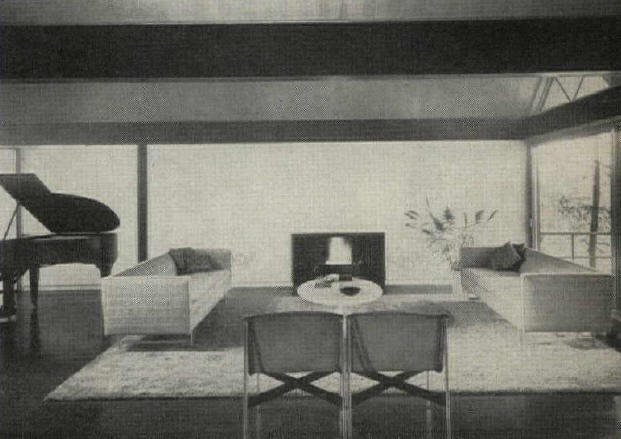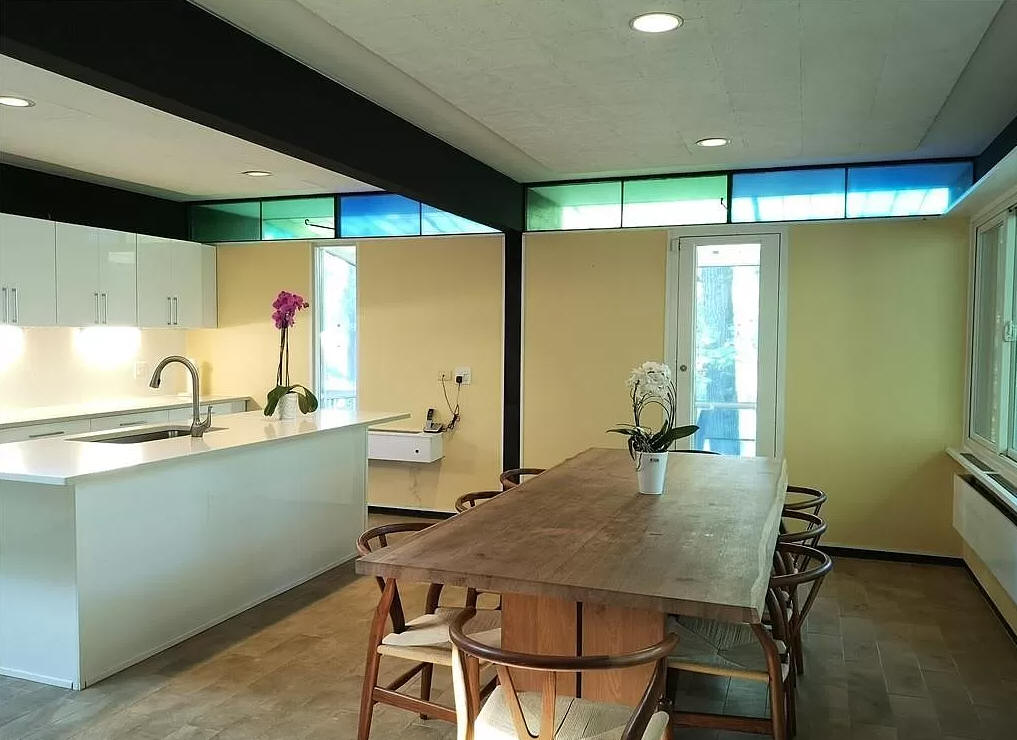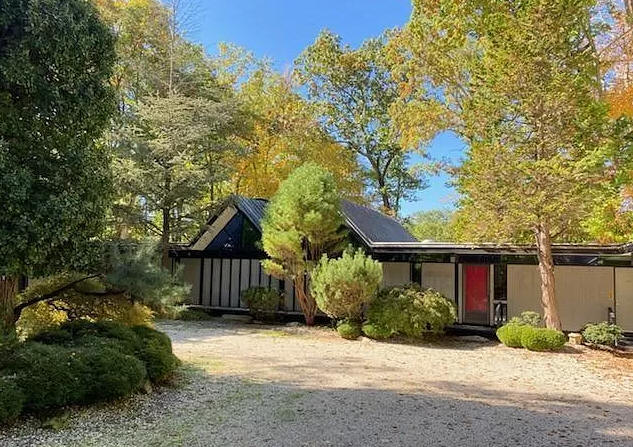 1958 - The Donald Miller Jr. House, 301 Roaring Brook Road, Chappaqua NY. Featured in Architectural Record Houses of 1959. Structural engineer, William Atlas; HVAC, Benjamin Spivak; built by O'Brien and Kinkle; landscape design, Bye and Herrmann; interiors, Mary Barnes and Emily Malino. Sold in 1977 to Gabby and Louise Rosenfeld. Photos by Ben Schnall.
---
1958 - The El Monte Apartments, San Juan Puerto Rico. The Modernist, crescent-shaped apartment buildings and their surrounds were completed in two phases: first, the northern section was designed by architect Barnes in conjunction with a local firm, Reed, Basora and Menendez. Hideo Sasaki contributed the landscape design. The southern portion was designed by the architectural firm of Torres, Beauchamp and Marvel with local landscape architect Hunter Randolph.
---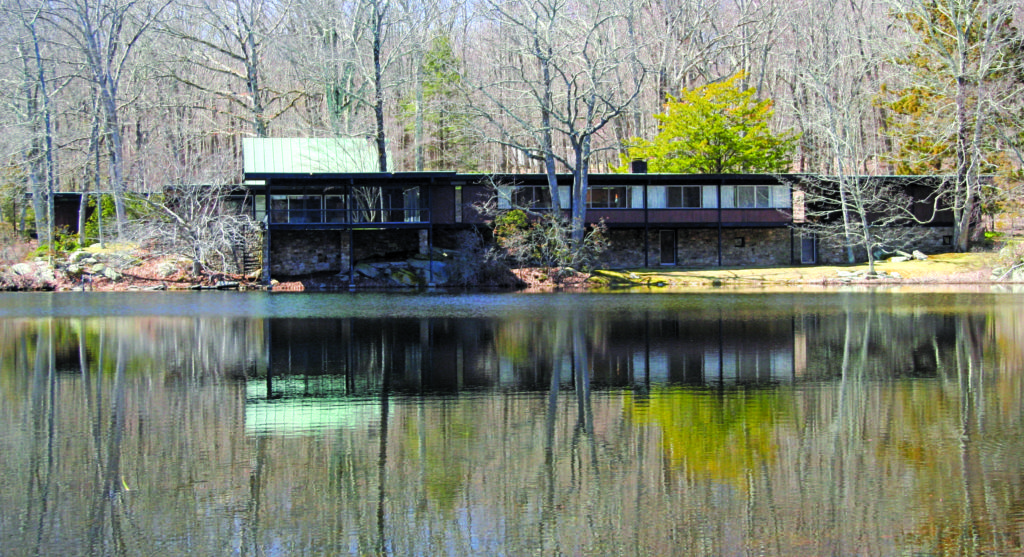 1958 - The John and Anne Straus House, 125 Eastwoods Road, Pound Ridge NY. 6800 sf. Sold in 2009 to Abby Simpson.
---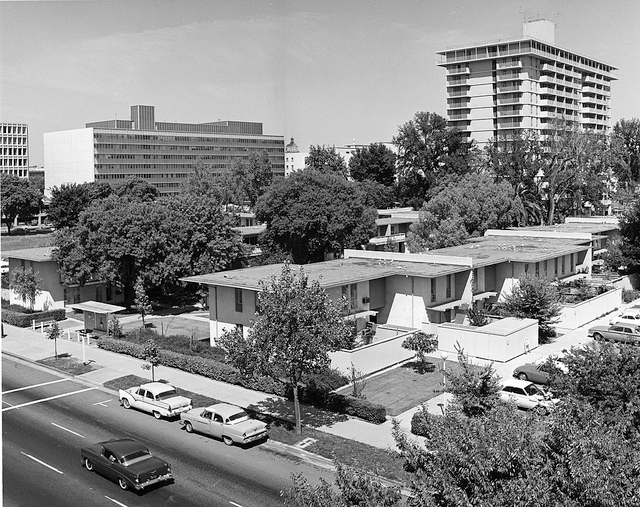 1962 - The Capitol Towers Apartments, 1500 7th Street, Sacramento CA. Designed in collaboration with Wurster, Bernardi and Emmons Architects and DeMars and Reay Architects. Barnes designed the low rise apartments, Wurster Bernardi and Emmons the high rise. Two-story frame and stucco apartments on the first floor opening onto private patios, second floor looks out in the other direction over common park space.
---

1962 - The Caribbean House. Status unknown.
---

1962 - The St. Paul's Schools Dormitories, 325 Pleasant Street, Concord NH. A chain of one story dorms. Tipped square windows light upper rooms under the sloping roofs. Deep red brick walls and copper roofs are in harmony with the Victorian surroundings.
---

1962 - The Yale University Freshman Dean's House, New Haven CT. Unbuilt. Project architect Giovanni Pasanella. A proposed house for the freshman dean for a corner of the old campus surrounded by brownstone buildings. It was a four-story tower, a low entrance with garage, high-ceilinged parlor, bedrooms and a family room with peaked roof and terrace. The material was all brownstone, including the roof.
---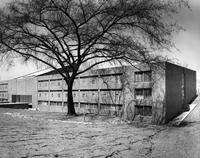 1963 - The Helen Newberry Joy Residence for Women, Anthony Wayne Drive and West Kirby Street, Detroit MI. Located at Wayne State University. Designed in collaboration with Richard Moger Associates, Giovanni Pasanella, project architect, and Hildegarde Bergeim. Destroyed in 2004.
---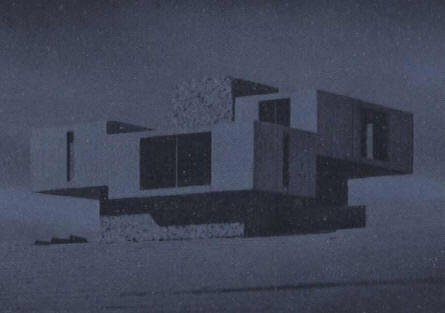 1963 - The Barklie McKee Henry House, Blue Mountain Lake NY. First scheme for the Adirondack House of 1964. Won a 1965 Progressive Architecture Award. Status unknown.
---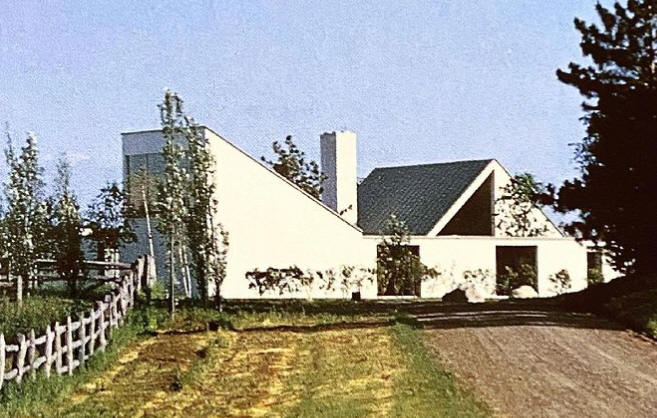 1963 - The John and Sage Cowles House, 725 6th Avenue North, Wayzata MN. Commissioned in 1959. Barnes did an addition and the site became the Spring Hill Conference center. That was destroyed to become the Spring Hill Golf Club.
---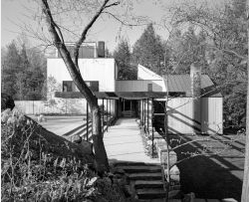 1965 - The Andrew Rockefeller House, Greenwich CT. Designed with Hildegarde Bergeim, associate. Three-story house with peaked roofs steps down a wooded hillside. Photo by Ezra Stoller.
---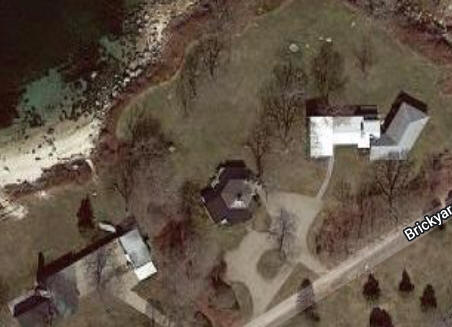 1965 - The Righter House, Brickyard Road, Fishers Island NY. Siglinde Stern, project architect. 3400sf. Separate guest house. Sold in 2003. Addition around 2008. Sold to Edmund N. Carpenter.
---

1967 - The John D. Rockefeller Guest House, Tarrytown NY. George Large, project architect. A dark stained house in the woods with peaked roofs and triangular windows looking up to the trees.
---

1967 - The Rochester Institute of Technology Dormitories, Rochester NY. Designed in collaboration with Harry Weese, Hugh Stubbins, Kevin Roche, Lawrence Anderson, and Dan Kiley. Student housing complex stands on a rise facing the academic campus. The massing ascends from low dormitories through courtyards to high rise blocks.
---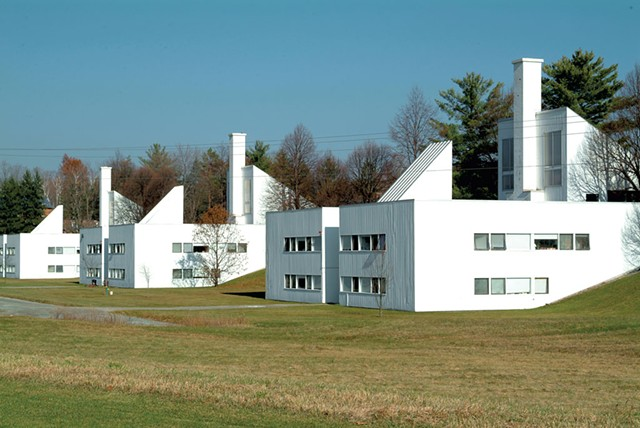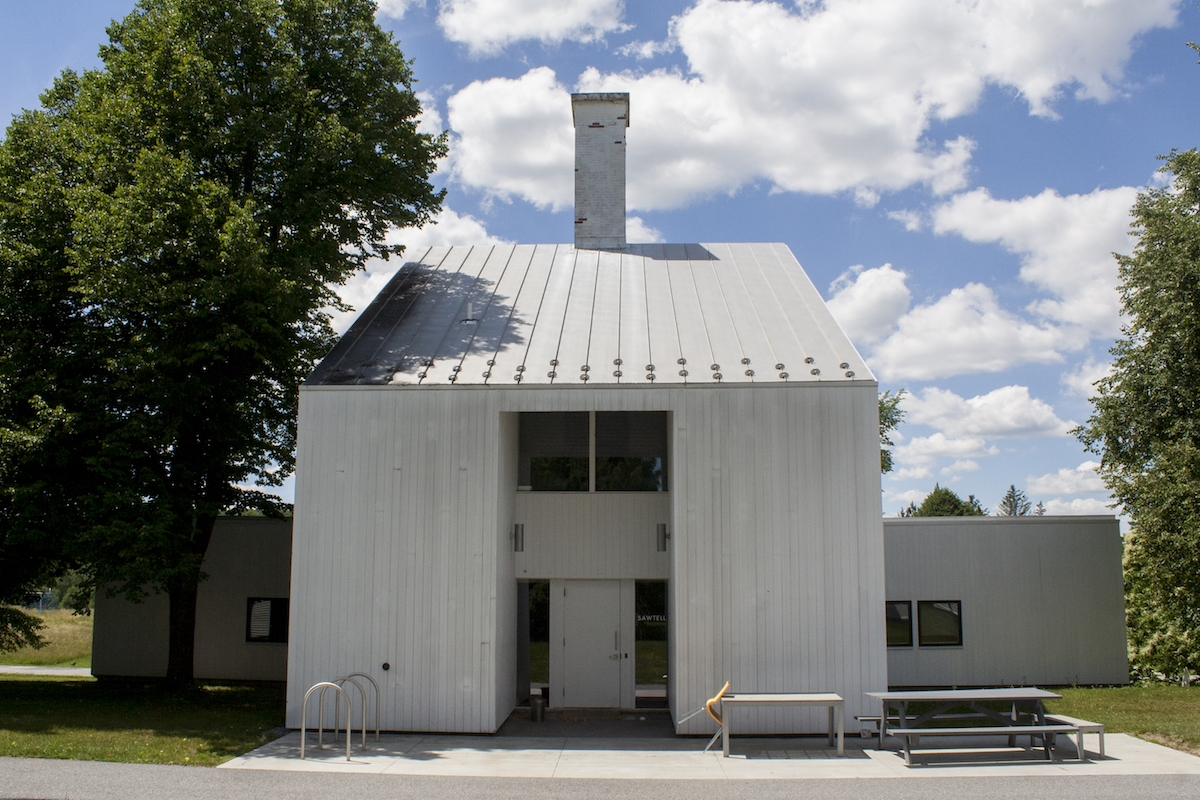 1967 - The Fels, Noyes, and Sawtell Dormitory Houses, 48, 88 and 124 3rd Street, North Bennington VT. Located at Bennington College. Built into the slope so that their height would not dominate the original campus.
---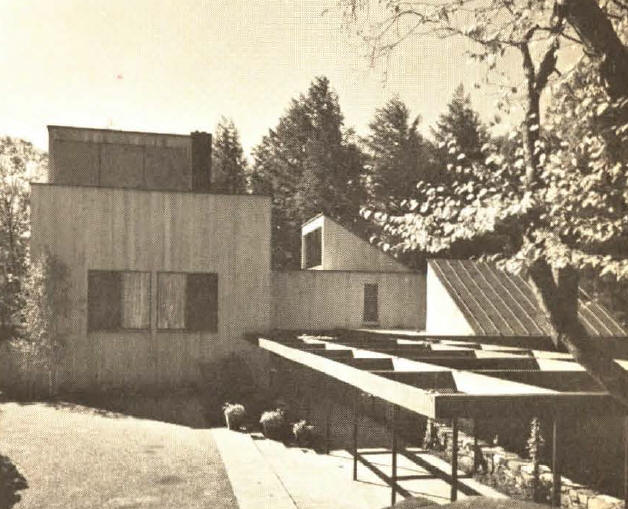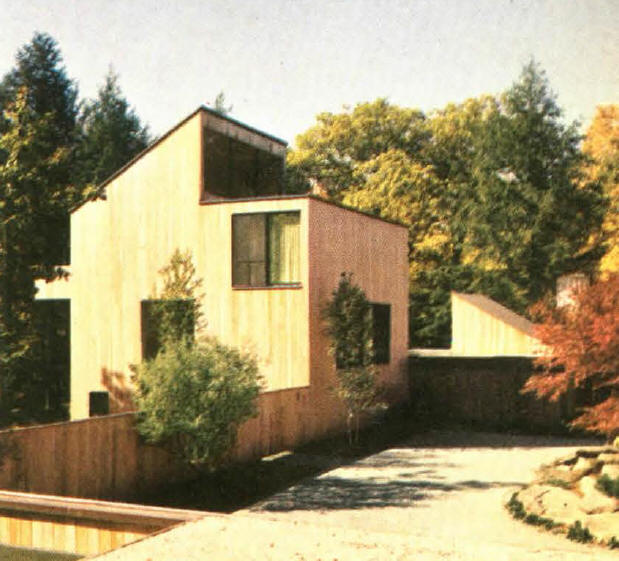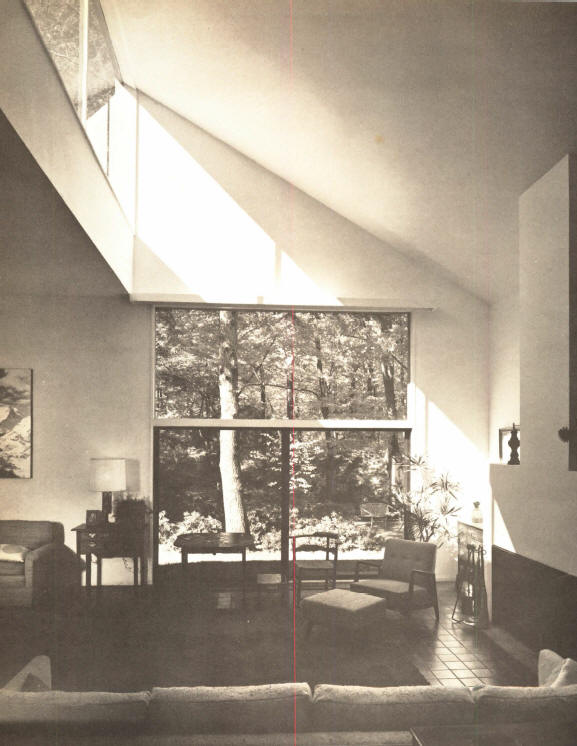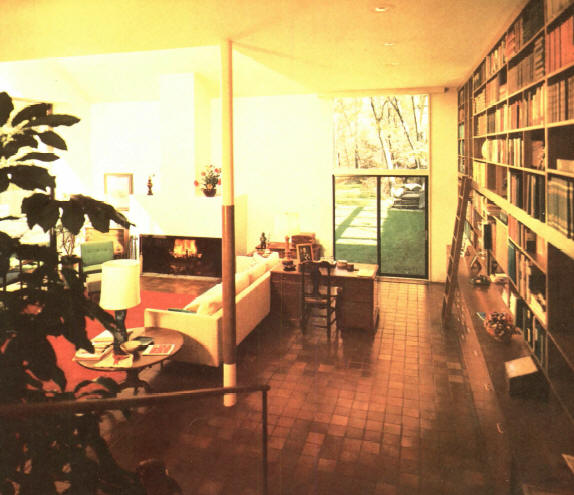 Around 1967 - House in CT. Featured in Architectural Record Houses of 1967. Structural engineers, Severud Associates; HVAC, Thomas Polise; built by August Nelson; landscape design, Peter Rolland. Status unknown.
---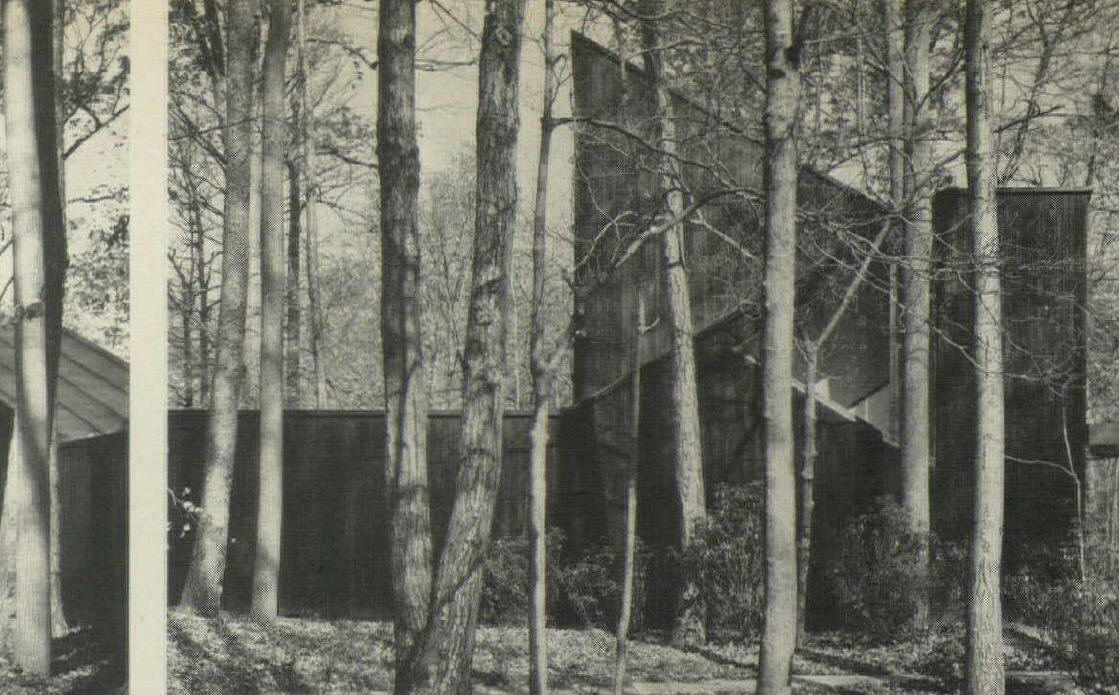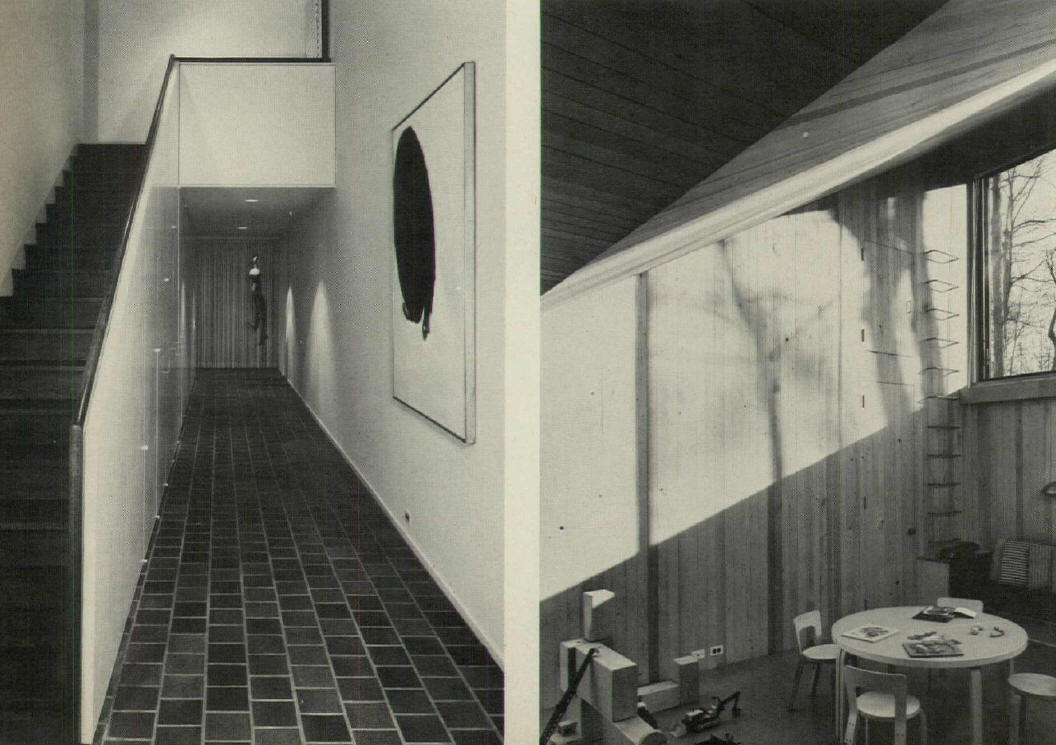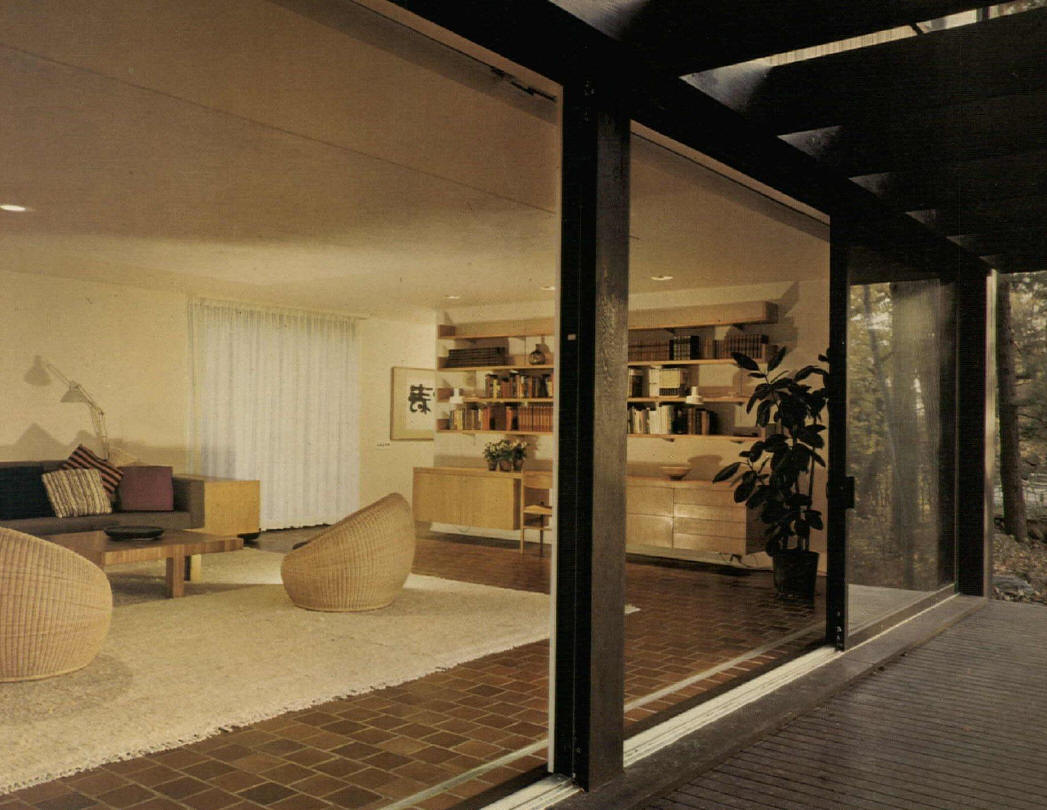 Around 1968 - aka Woodland House, Chappaqua NY. Featured in Architectural Record Houses of 1968. Structural engineers, Severud Associates; HVAC, Thomas Polise; built by Louis E. Lee; landscape design, Peter Rolland; photos by ESTO. Status unknown.
---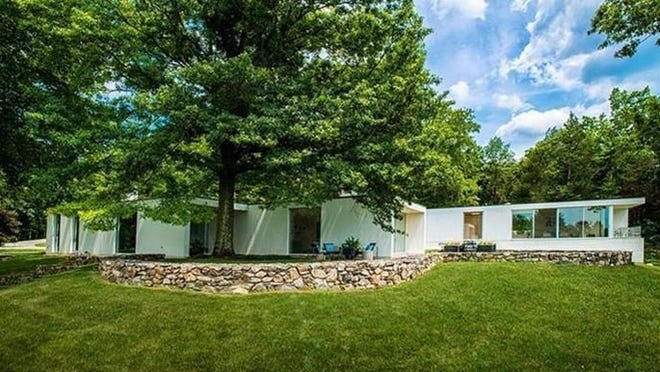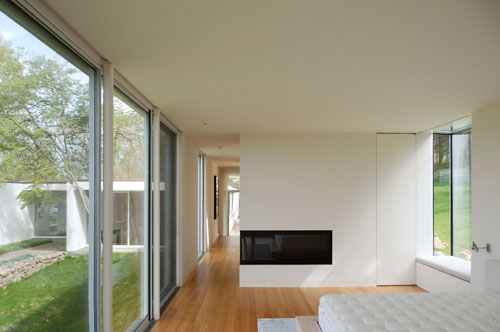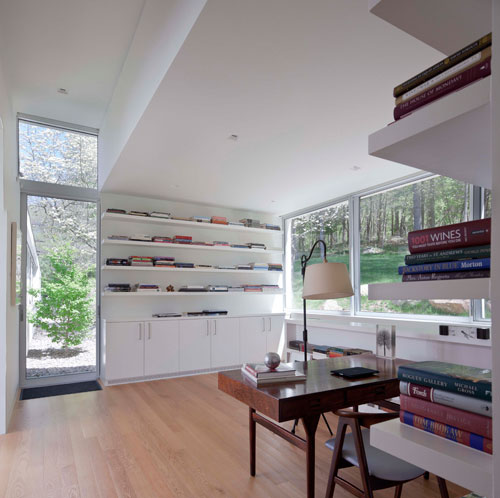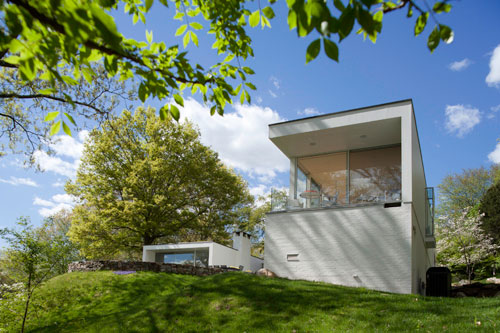 1972 - The Righter House, 125 David's Hill Road, Bedford Hills NY. 3400sf. Six acres. Sold to Marsha Russell and Lee Tawes. Robert Siegel Architects did a 2500 sf addition of a master suite and study. Sold in 2014 to 125 David's Hill Road, LLC (Allan Gordon).
---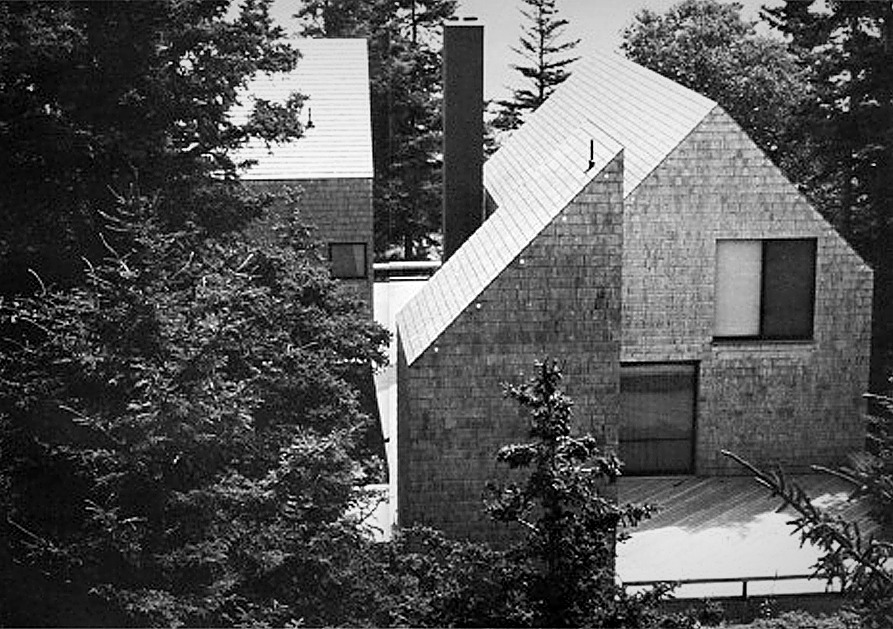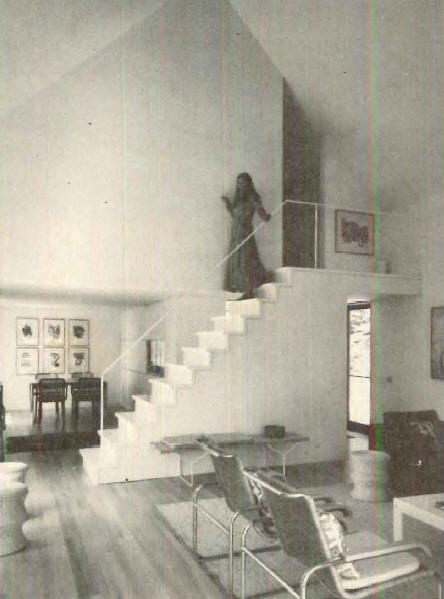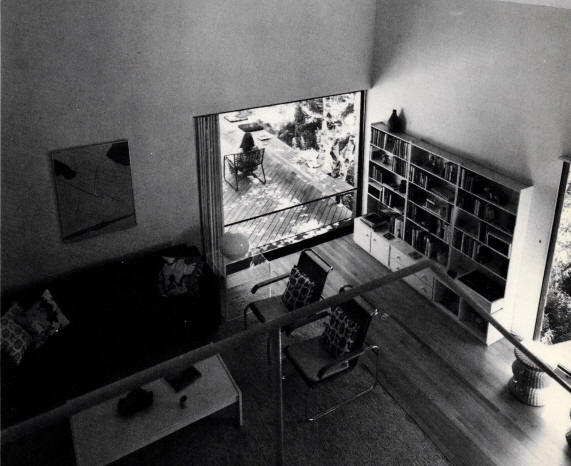 1974 - The August Hecksher House, Peabody Drive, Mount Desert Island ME. Commissioned in 1971. Built by Horace Bucklin; engineering by Severud. Featured in Architectural Record Houses of 1976; Architectural Record Vacation Houses of 1977. Photos by David Franzen. Status unknown.
---

1975 - The Bedford Hills House. Status unknown.
---

1975 - The Chilmark Houses: McNamara, Meyer, Ginsburg, Martha's Vineyard MA. Designed with associates Bruce Fowle and Laurie Maurer.
---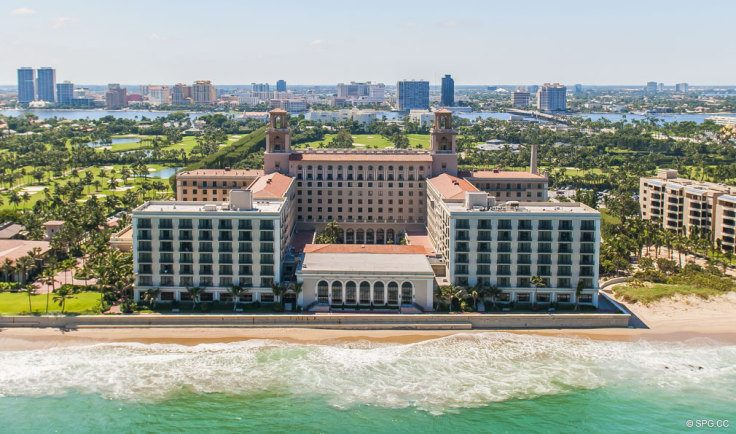 1982 - The Breakers Condominiums, 1 South County Road, Palm Beach FL. Designed with associate architects John Lee and Thomas Czarnoski.
---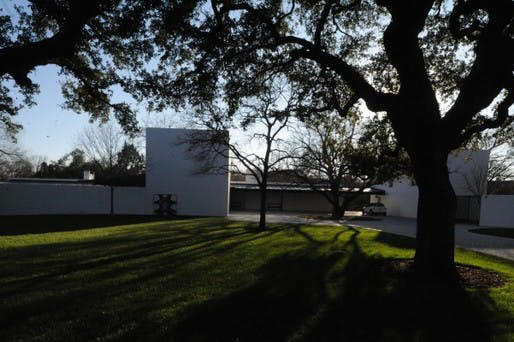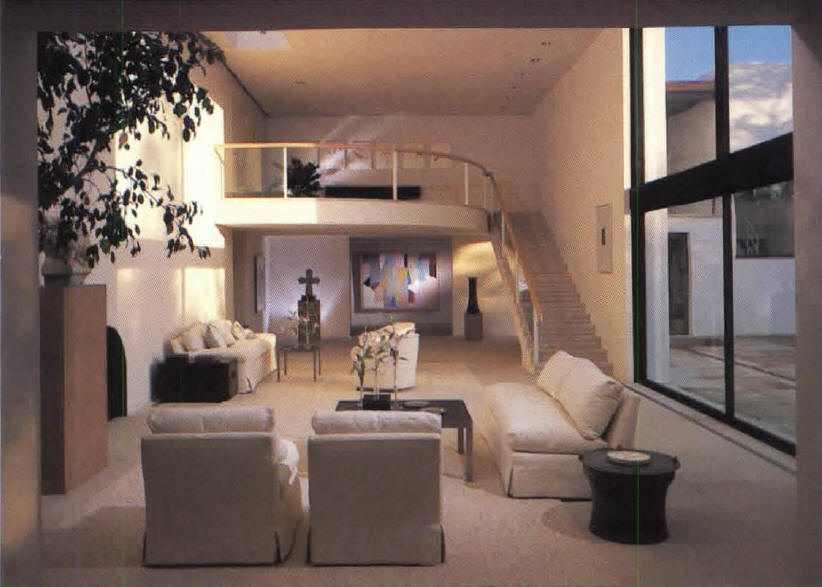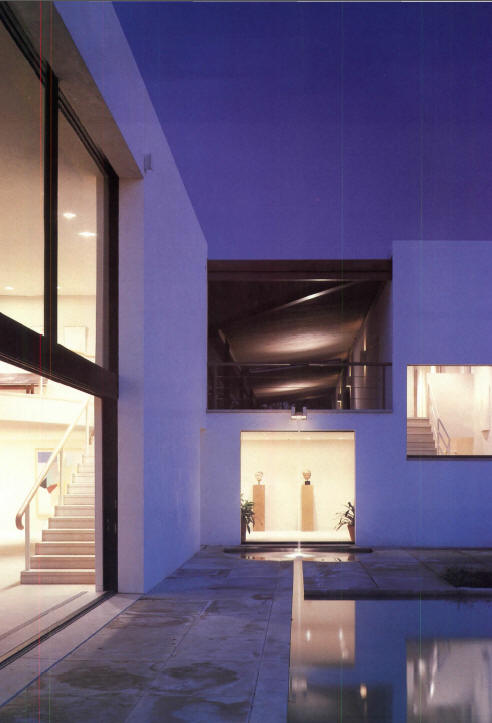 1983 - The Melba Davis Greenlee Whatley House, aka Greenlee House, 4608 Meadowood Road, Dallas TX. Designed with Armand Arvakian; photos by Niels Wheeler; interiors, Marguerite Theresa Green; built by Gene Campbell; lighting, Donald Bliss; structural engineer, Severud Perrone Szegezdy Stunn. Featured in Architectural Record Houses of 1984. Sold in 2001 to William and Catherine Rose.
---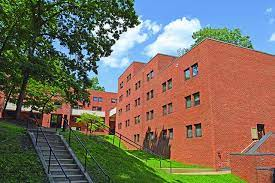 1984 - The Gooch-Dillard Residence Halls, 527 Floyd Drive, Charlottesville VA. Located at the University of Virginia at Charlottesville. Renovated in 2016 and 2017.
---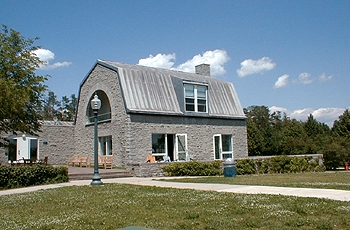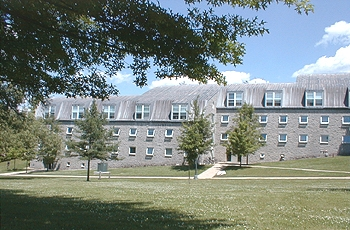 1986 - The Coffrin Hall Dormitory, 202 Freeman Way, Middlebury VT. Located at Middlebury College. Designed with associate architects John Lee and Daniel Hoffman.
---

1989 - Dormitory at Deefield Academy, Deerfield VA.
---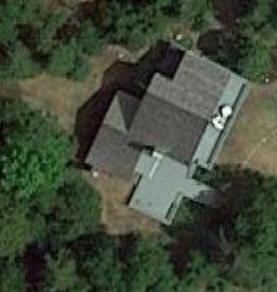 1989 - The Ved and Linn Cary Mehta House, 824 Pendleton Point Road, Islesboro ME.
---

1990 - The David Rockefeller House, Livingston NY. Designed with associates Zehra Kuz and Amelie Rennolds.
---
Sources include: Architectural Record; The Edward Larrabee Barnes Collection at Harvard Library; Bergen County Clerk's Office.