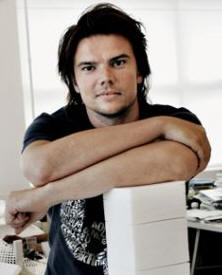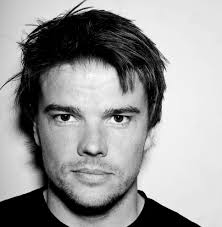 BJARKE BUNDGAARD INGELS (1974-)
Ingels was born in Copenhagen, Denmark. He attended Gammel Hellerup HS and graduated in architecture from the Royal Danish Academy of Fine Arts, enrolling to learn cartooning but leaving in love with architecture. He continued studies at the Escola Tècnica Superior d'Arquitectura in Barcelona, and returned to Copenhagen to receive his diploma in 1999. From 1998 to 2001, Ingels worked for Rem Koolhaas in Rotterdam on projects such as the Seattle Public Library with Josh Ramus.
In 2001, he returned to Copenhagen and started the design firm PLOT with Belgian OMA colleague Julien de Smedt. PLOT was disbanded at the end of 2005, and in 2006 Ingels created Bjarke Ingels Group (BIG) which grew to 540+ employees and offices around the world - one of the hottest, wildest, most successful architecture firms on the planet. He is the Frank Lloyd Wright of his generation.
In 2009, Ingels co-founded the KiBiSi design group, together with Jens Martin Skibsted and Lars Larsen. With interests in urban mobility, architectural illumination and personal electronics, KiBiSi designs bicycles, furniture, household objects and even aircraft, becoming one of Scandinavia's most influential design groups.
Among many honors, Ingels won the 2001 and 2003 Henning Larsen Prizes; the 2002 Nykredit Architecture Prize; the 2010 European Prize for Architecture; and several US AIA awards. He has been a visiting lecturer at countless architecture schools. He creates unique symbols for each project, built or not.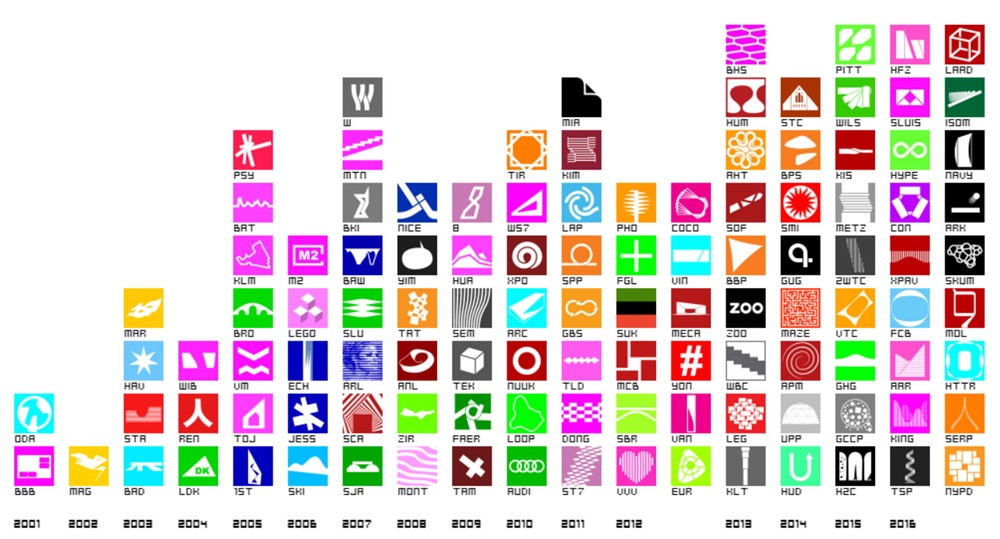 Ingels's first book, Yes Is More: An Archicomic on Architectural Evolution, catalogued 30 projects from his practice through 2009 in comic book form. In 2012, Ingels moved to New York City and expanded the practice into the US where it got the important commission for Two World Trade Center.
In 2015, Ingels bought a penthouse apartment in New York's Dumbo neighborhood. He later retrofitted a Norwegian ferry as a home in Copenhagen. In 2022, he bought a 1970s house in the exclusive Strandvejen area north of Copenhagen. He is married to Ruth Otero, with one son, Darwin.
---
Ingels is a master of presentation, and these are just a few:
2009 - TEDxAmsterdam
2011 - TEDxEastSalon, Hedonistic Sustainability
2013 - DW English
2014 - Wired, Power of Architecture
2014 - Worldcraft
2016 - TEDxEast, Social Infrastructure
2015 - Royal Academy of the Arts, Annual Architecture Lecture
2015 - NY Times Cities for Tomorrow, Social Infrastructure
2015 - Zumtobel
2015 - AA School of Architecture, Hot and Cold
2015 - Louisiana Channel, Advice to the Young
2015 - Dezeen, Architecture and Minecraft
2016 - Louisiana Channel, The Beauty of the Human
2016 - Fora TV, Can the Dryline Save New York?
2016 - Design Indaba,Expanded role of the Architect
2016 - 60 Minutes
2017 - ArchDaily
The following are just the residential projects: for the complete list visit www.big.dk.
---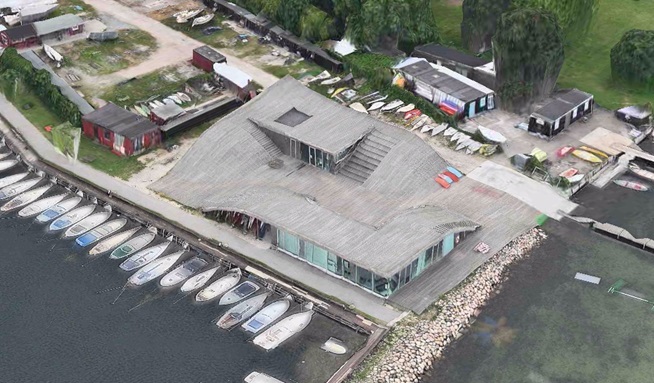 2004 - The Maritime Youth House, Amager, Sundby Harbour, Copenhagen, Denmark. Awards include the 2005 Mies Van Der Rohe Award Honourable Mention; 2004 European Architecture Award Luigi Cosenza; 2004 Copenhagen Award For Architecture; 2004 Ar+d Award.
---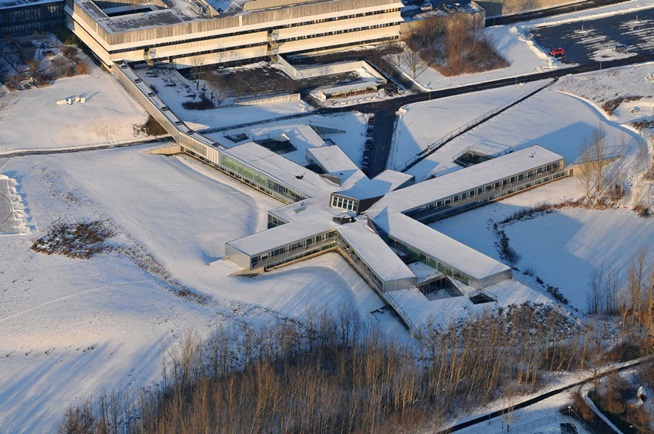 2005 - The Helsingor Psychiatric Hospital in Helsingor, Elsinore, Denmark, shaped like a snowflake.
---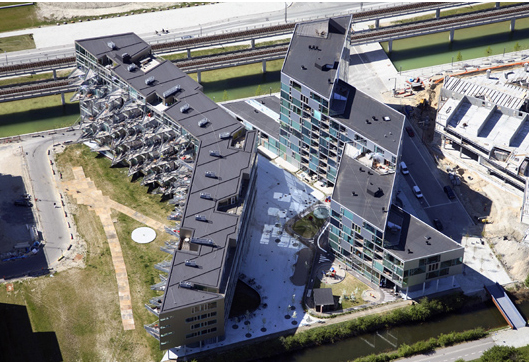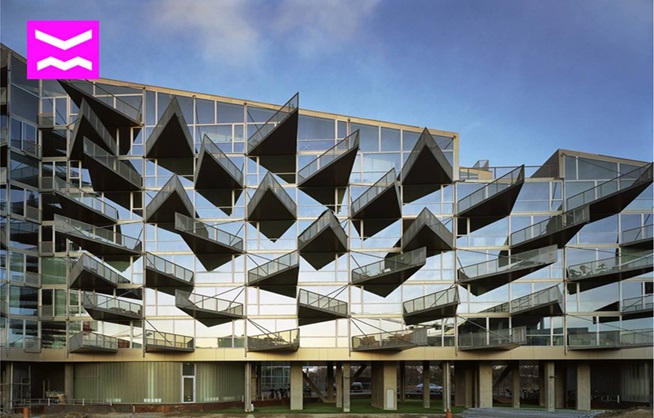 2005 - The VM Houses, Ørestads Boulevard 57-59, Copenhagen, Denmark. Inspired by Le Corbusier's Unité d'Habitation concept, Ingels designed two residential blocks of 225 units, in the shape of the letters V and M (as seen from the sky). There are some 80 different types of apartment in the complex, adaptable to individual needs. Ingels lived there until 2008 when he moved into the adjacent Mountain Dwellings, below. Video. Won the 2007 Mies Van Der Rohe Award Honorable Mention; 2006 Forum Award Best Building In Scandinavia.
---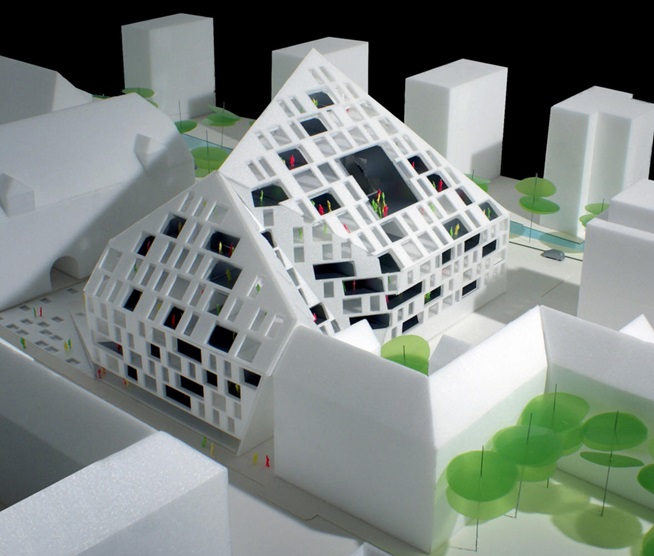 2005 - The Tojhuset Apartments, Copenhagen, Denmark. Unbuilt.
---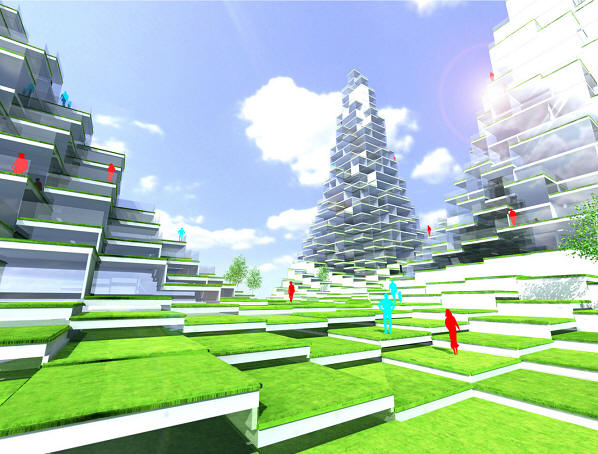 2006 - The Lego Towers, housing in Copenhagen, Denmark. Unbuilt.
---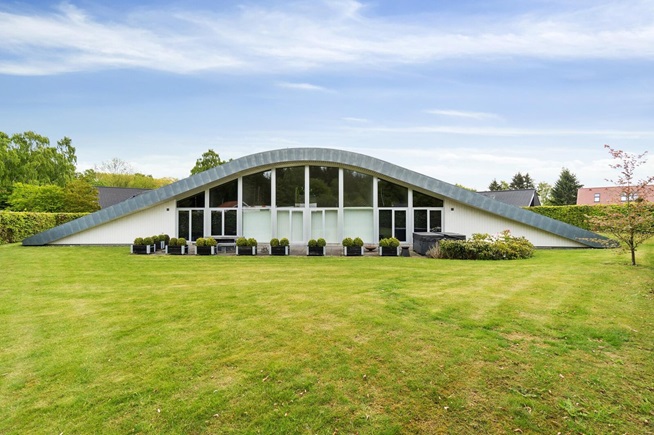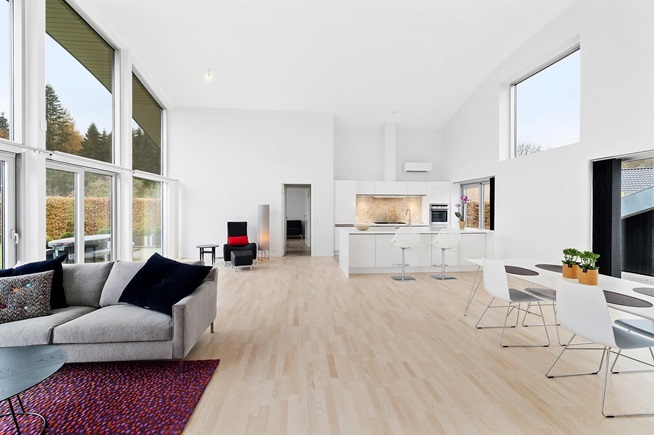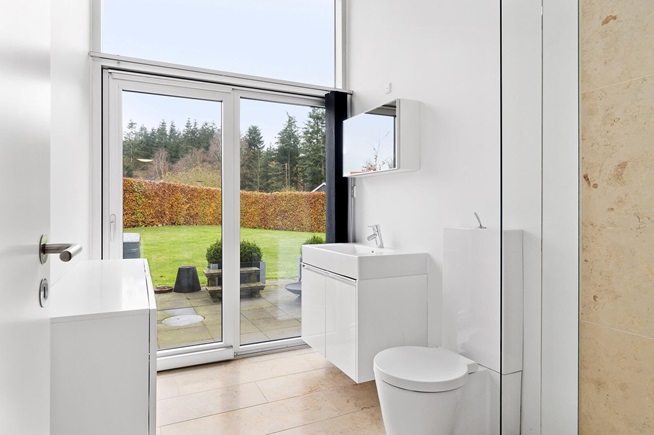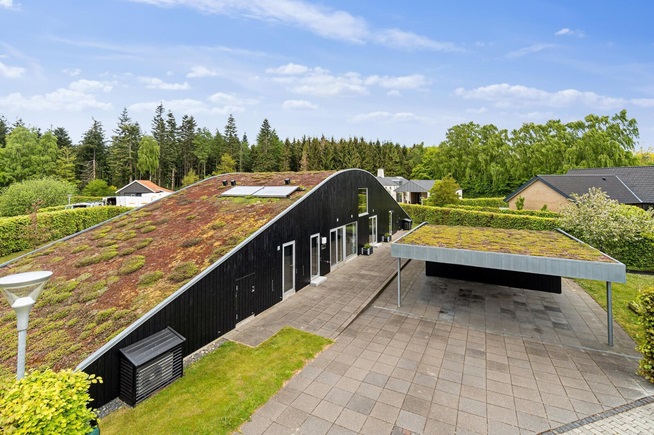 2008 - The Soren and Iben Olsson House, aka M2 Typehouse, aka Hill House, Rosenparken 12, 5620 Glamsbjerg, Denmark. Developed for home builder M2. The roof is covered with sedum, a robust grass, which is low-maintenance. Renovated in 2019. For sale in 2020.
---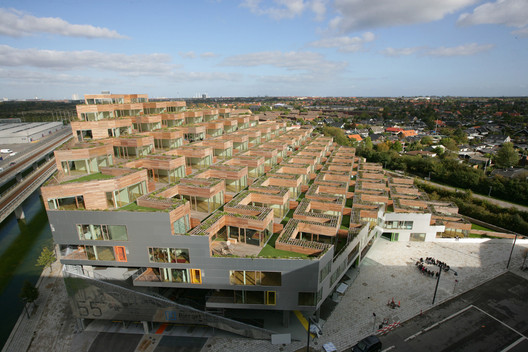 2008 - aka Mountain Dwellings, Ørestad, Copenhagen, Denmark.
---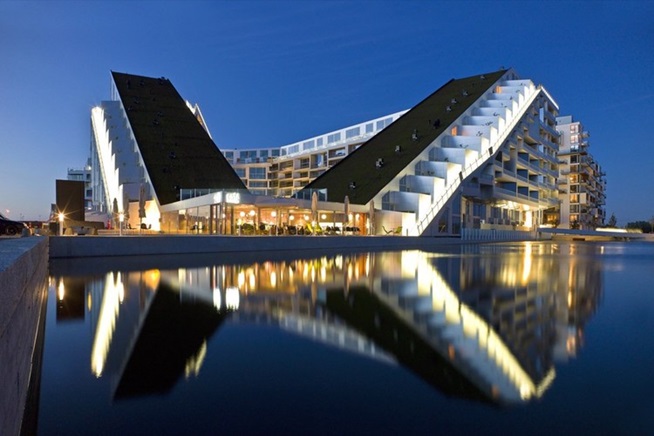 2010 - 8 House, Ørestad, Copenhagen, Denmark. At the time it was the largest private development undertaken in Scandinavia, combining retail with commercial row houses and apartments. 476 units. Video. Won the 2012 AIA National Award Best Housing; 2011 World Architecture Festival Best Housing; 2010 Scandinavian Green Roof Award.
---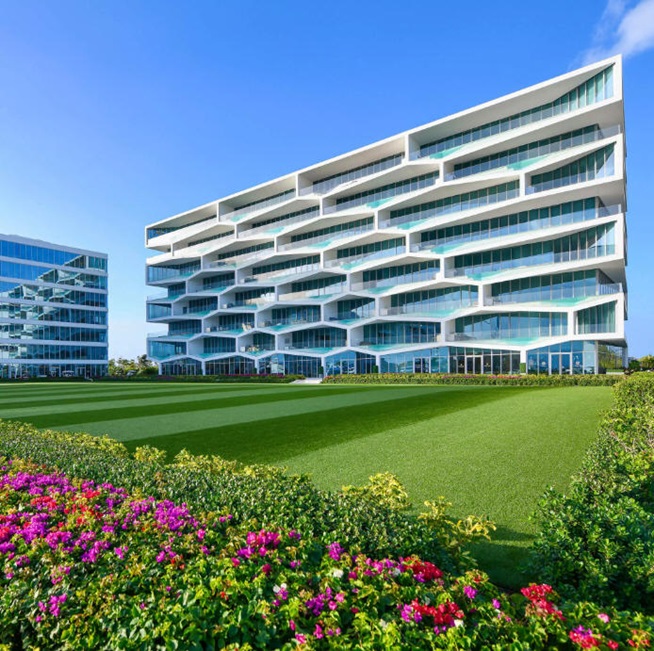 2013 - The Honeycomb Residences, 127 South Ocean Road, New Providence, Bahamas. Marina residences at the Albany Resort. The residence offers one- to six-bedroom units that range from 3,016 to 7,573 square feet across seven levels, with the ground floor dedicated to retail and lifestyle spaces.
---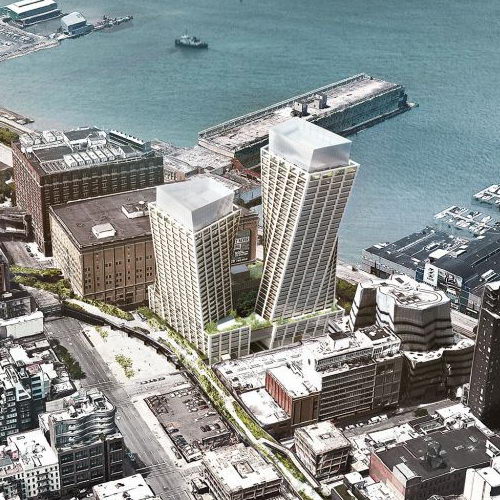 2016 - The HFZ Towers, 76 11th Avenue, New York NY. Unbuilt.
---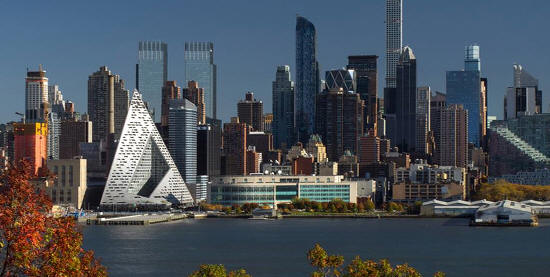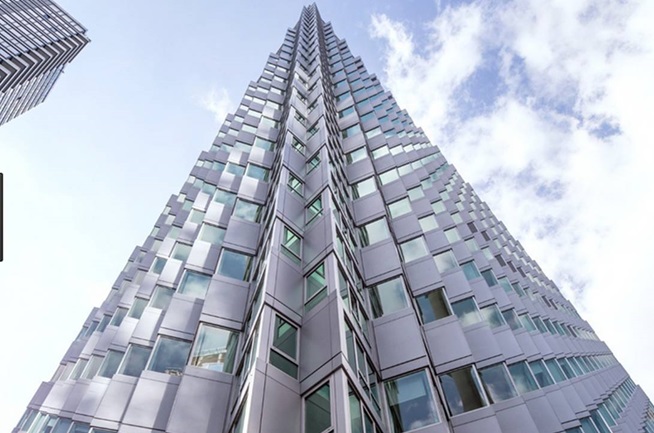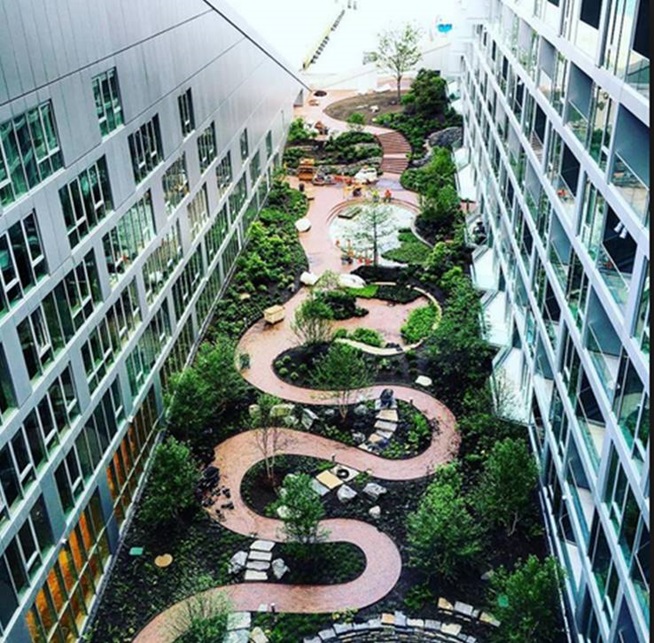 2016 - VIA 57 West, West 57th Street, New York NY. Ingels' first completed residential building in North America – and his first completed skyscraper anywhere. Developed by Durst Fetner Residential. Video. Won the 2015 P/A Progressive Architecture Citation Award; 2012 NY AIA Merit Award Future Award.
---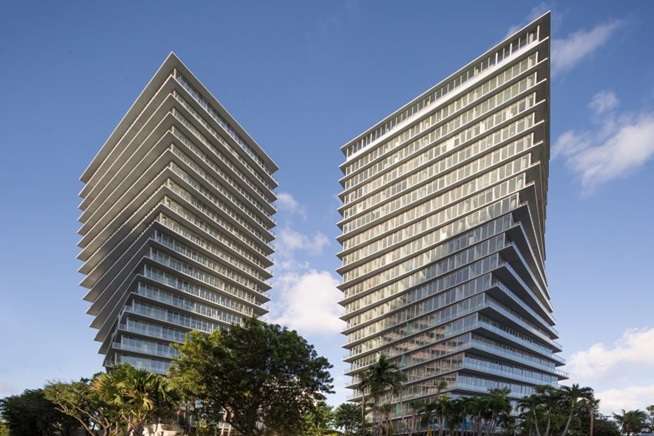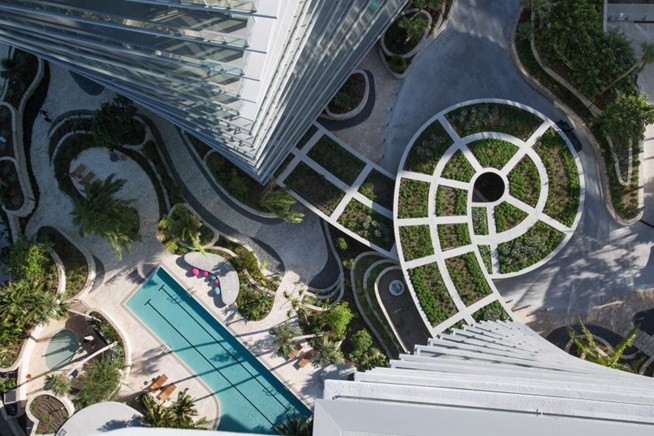 2016 - The Coconut Grove at Grand Bay, 2675 South Bayshore Drive, Miami FL. Video.
---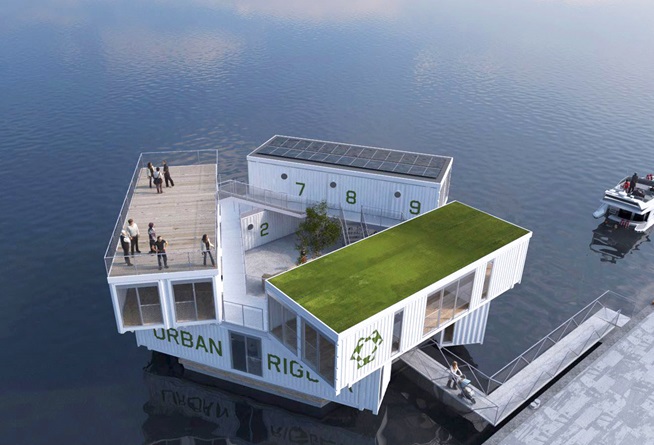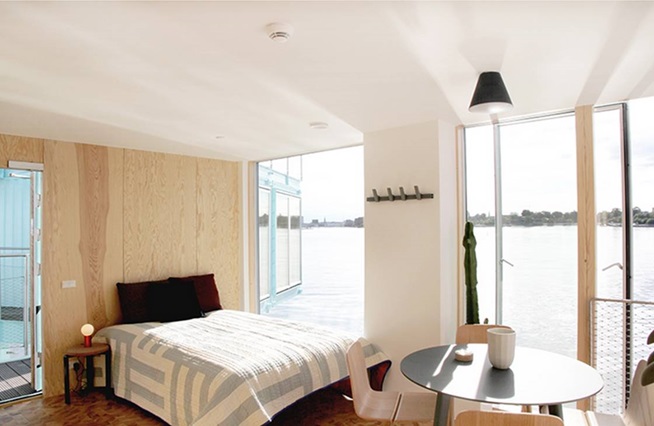 2016 - The Urban Rigger, Copenhagen Harbor, Denmark. Student housing made from shipping containers; it is a huge houseboat! Website.
---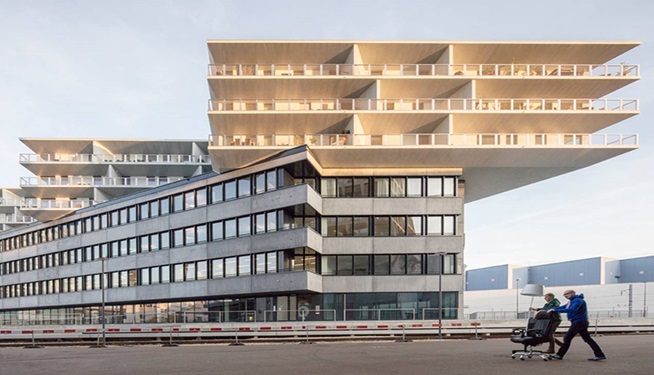 2017 - Transitlager, Basel, Switzerland. Photo by Laurian Ghinitoiu. A new building stacked on top of an existing warehouse building in the city's Dreispitz district. The uppermost floors contain residences.
---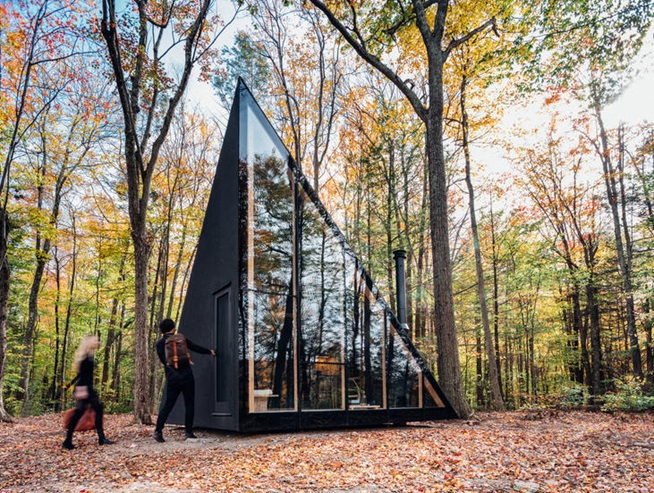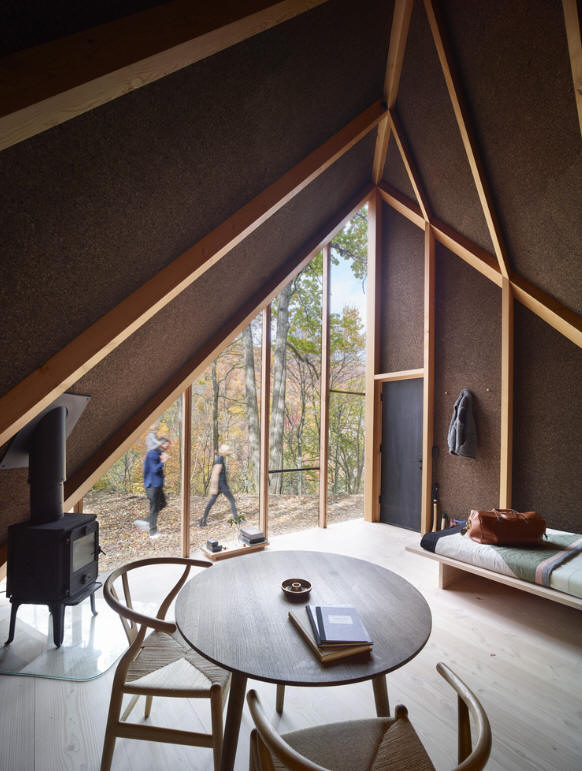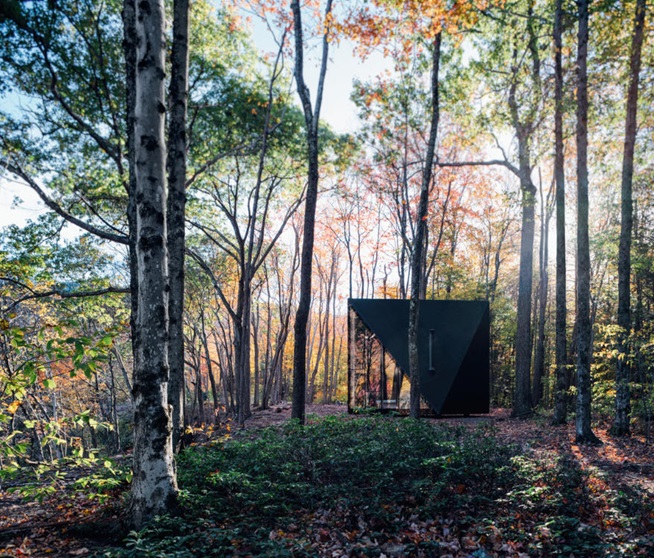 2018 - The Klein A45. A completely off-grid sustainable tiny house designed by Ingels and produced in Denmark by Klein. The design evolves from the traditional A-frame cabin, known for its pitched roof and angled walls which allow for easy rain run-off and simple construction.
---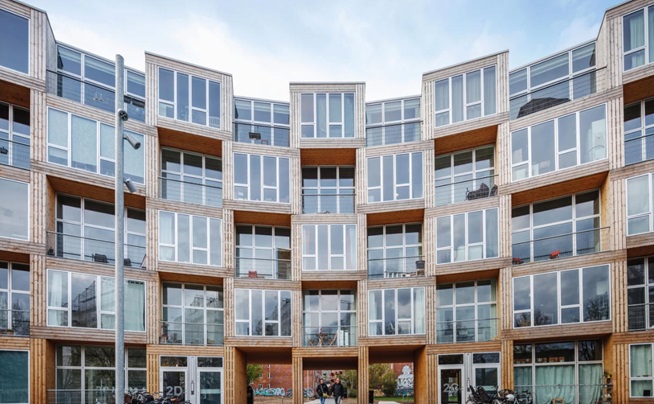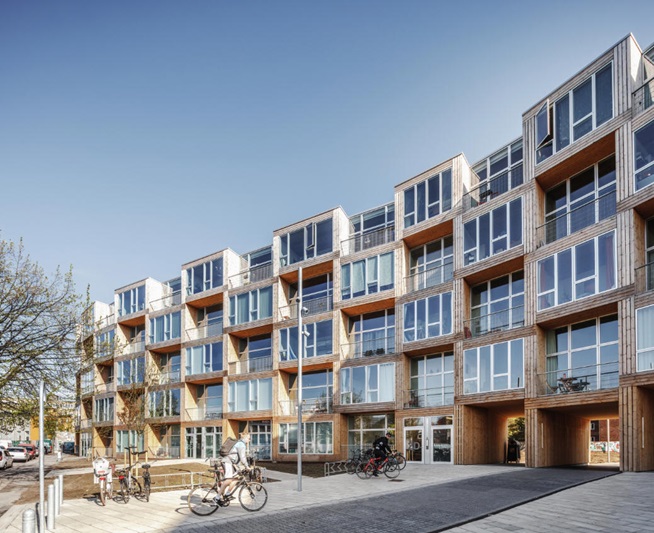 2018 - The Dortheavej Residence, aka Homes for All, Copenhagen, Denmark. Commissioned in 2013. The 5-story building contains 66 homes for low-income citizens.
---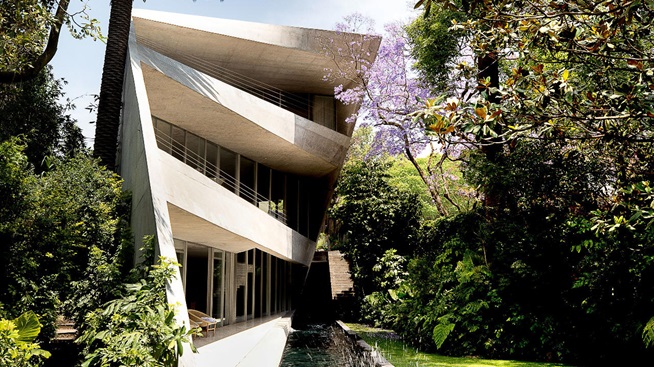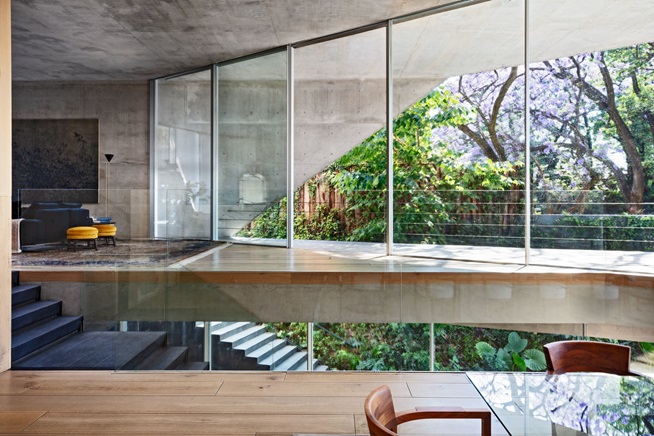 2019 - aka Mexico Villa. Landscape design by Entorno. Also houses a large automobile collection in the basement, accessible by car elevator. Photos by Paul Raeside. Project architect Martin Voelkle.
---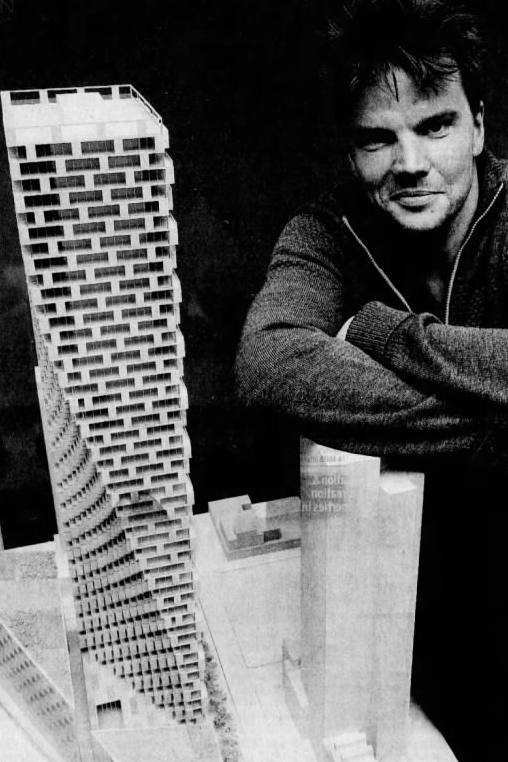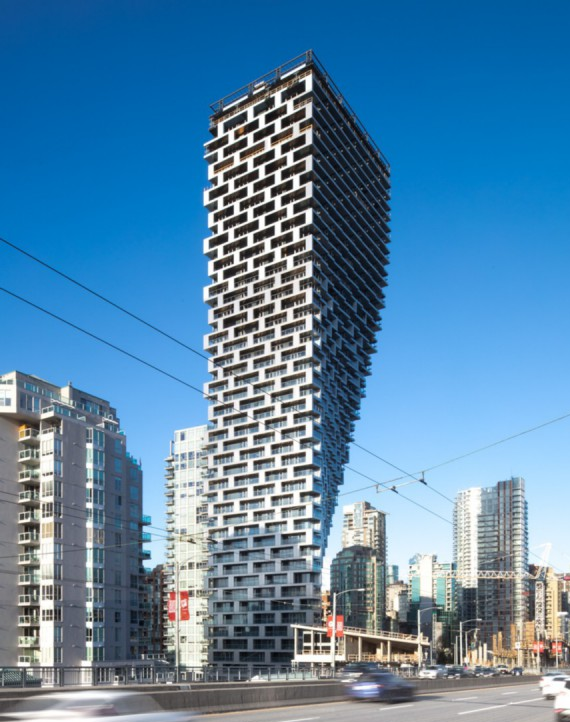 2019 - The Vancouver House, 1480 Howe Street, Vancouver, British Columbia Canada. A 49-story tower sits atop a 9-story base that includes market rental housing, commercial uses, and a child care facility. The tower contains 600 homes and 180 market rental suites. Commissioned 2012.
---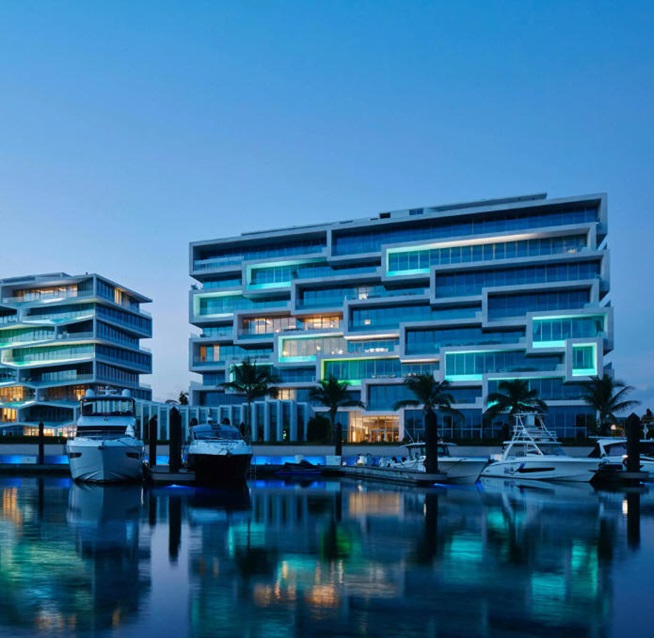 2020 - The Cube Residences, 127 South Ocean Road, New Providence, Bahamas. Marina residences at the Albany Resort. Features three- to seven- bedroom residences, each with their own private pools and balconies.
---

2021 - House in New Jersey. Project architect Martin Voelkle.
---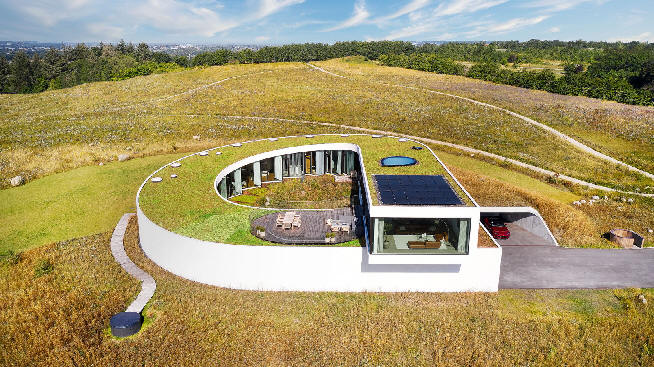 2021 - The Mads Peter Veiby and Rikke Rytter Veiby House, Aalborg, Denmark. Project architect Mads Engaard Stidsen. Featured in Architectural Digest, January 2023.
---

2021 - House in Los Angeles CA. Project architect Martin Voelkle.
---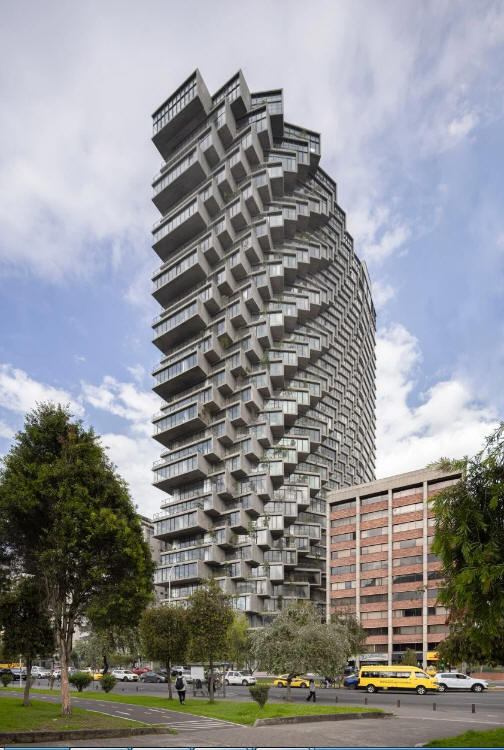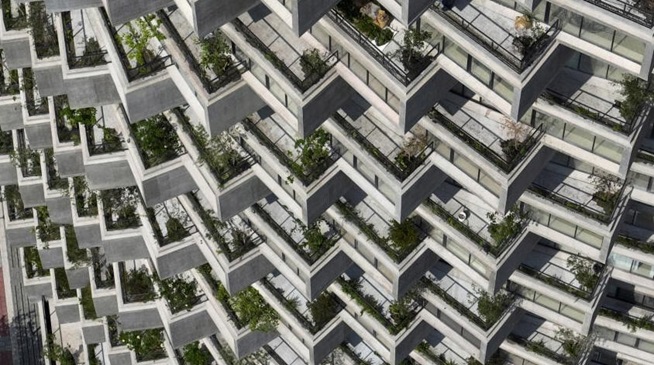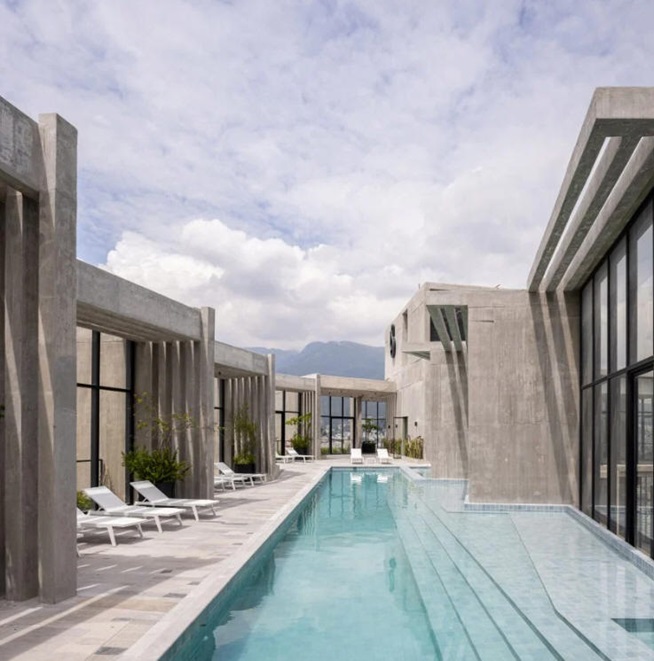 2022 - The Iqon Residential Tower, Quito, Ecuador. The 32-story high-rise features cascading balconies. Designed for developer Uribe Schwarzkopf. Comprises 220 apartments alongside commercial and office spaces.
---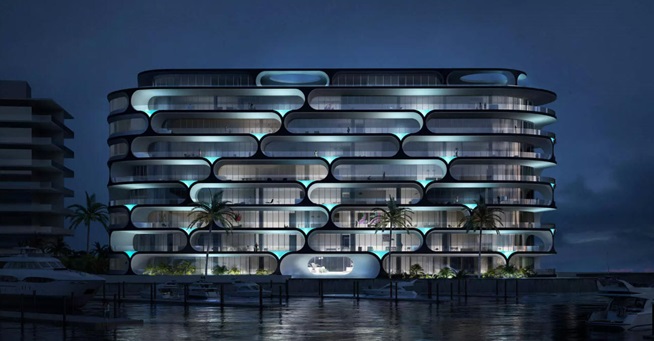 2023 - The Coral Residences, 127 South Ocean Road, New Providence, Bahamas. Marina residences at the Albany Resort. Eight levels with curved exterior features. Comrpises 24 private residences, ranging from 4,925 to more than 22,000 square feet. The two residences on the eighth level feature expansive rooftop terraces with private pools. Next to the Honeycomb and Cube Residences.
---

2023 - 88-unit Residential Project, Palm Jumeirah, Dubai, United Arab Emirates. Commissioned by Ellington Properties in a partnership deal with Shuaa Capital, the project will have nine residential floors.
---
Sources include: BIG; Wikipedia; Architectural Digest