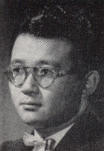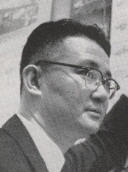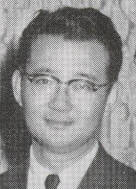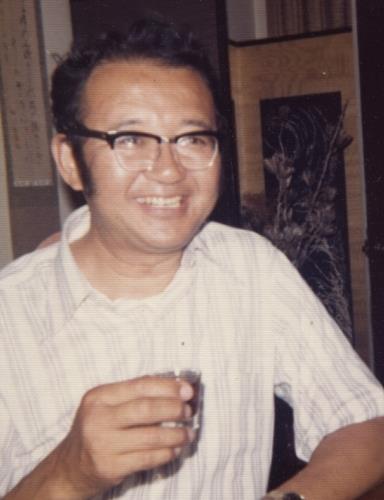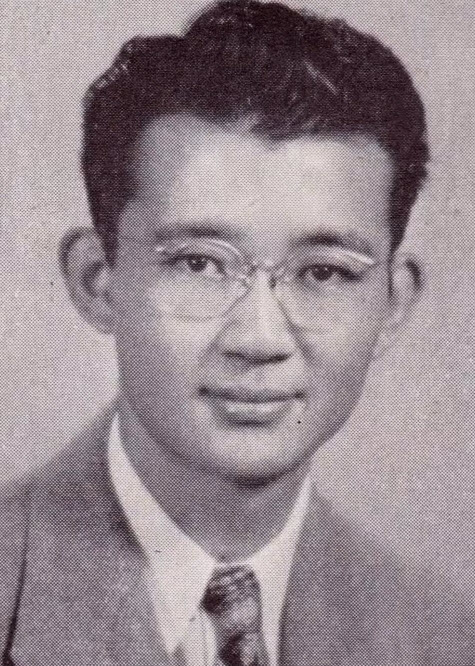 GEORGE MATSUMOTO, FAIA (1922-2016)
George Matsumoto grew up in San Francisco in Nihonmachi (Japantown), attending Lowell High School and taking Japanese classes at Kinmon Gakuen. He pursued a degree in architecture from the University of California at Berkeley in architecture. In his final semester, he and his family were sent to an internment camp in Poston AZ as part of the forcible relocation of Japanese-Americans during World War II. Matsumoto completed his undergraduate degree at Washington University in St Louis MO in 1943. With a scholarship to attend Cranbrook Academy of Art in Michigan, Matsumoto studied under Eliel Saarinen and graduated in 1945 with honors. He worked for Skidmore, Owings & Merrill in Chicago and in 1946 he joined Saarinen and Swanson.
After a year of private practice in Kansas City with Runnells, Clark, Waugh and Matsumoto, he became an instructor at the University of Oklahoma. In 1948, Henry Kamphoefner, then head of Oklahoma's architecture program, was appointed first dean of the School of Design at North Carolina State University. Matsumoto, along with several other faculty and students, left Oklahoma with Kamphoefner to start what became an epicenter for Modernist architecture education in the US.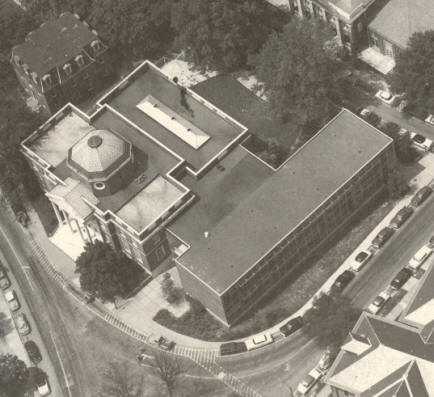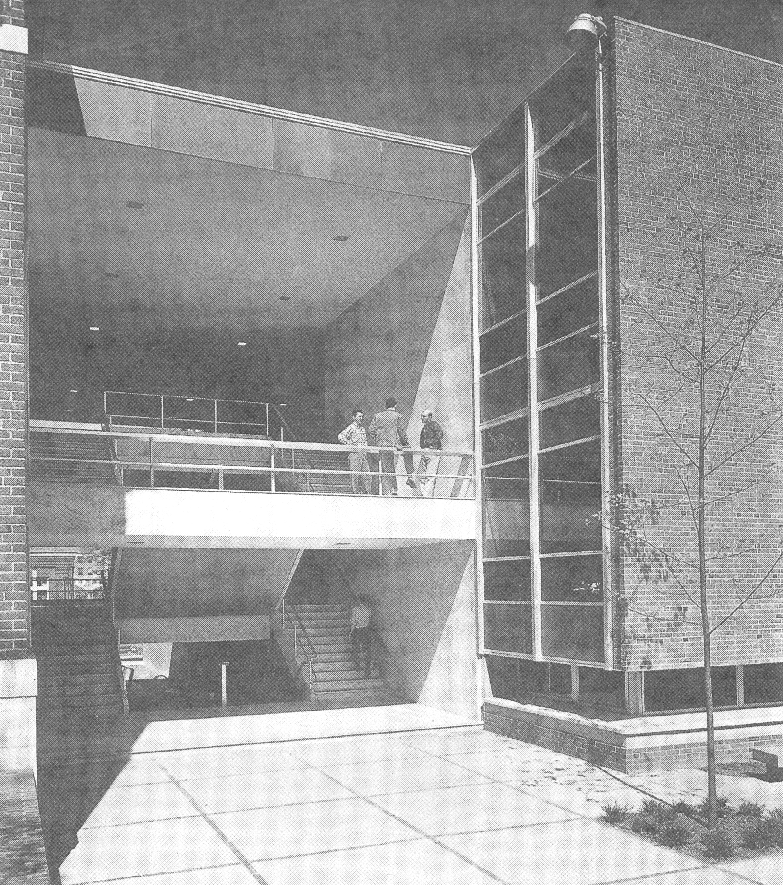 (left to right) Students Aubrey Kirby, Abie Harris, and Edwin Jones at the Matsumoto Wing of the NCSU School of Design, designed by Matsumoto with Carter Williams as the architect of record.
During his tenure at the NCSU School of Design between 1948 and 1961, Matsumoto won more than thirty awards for residential work. He designed a Modernist addition to the school, above. In 1961 he returned with wife Kimi and their children to California to teach at Berkeley until 1967 followed by a successful private practice. In part because of a disagreement with Trudy Taylor in Chapel Hill, Matsumoto swore off designing houses because he did not want to "deal with the wives."
Matsumoto houses share common characteristics: a flat roof, an unobstructed internal view from one end of the house to the other, terrazzo floors, natural woods for walls and ceilings, mahogany cabinetry, large windows in the rear, and small but highly functional kitchens. In 1996 he gave his drawings and papers to NCSU. From 2012-2015 he was the honorary Chair for the George Matsumoto Prize, a residential design competition founded by NCModernist in his honor.
NCSU Special Exhibition on George Matsumoto
2011 Matsumoto on living in a US Japanese internment camp, Part 1 | Part 2
1997 - Interview from Preservation North Carolina's Farfetched and Dear Bought: Four Architects Who Changed North Carolina. Produced by Mark Spano. Narrated by Charlie Rose. Also appearing: David Jackson, Charlotte V. Brown, and Frank Harmon.
Former student Henry Johnston shares: "I had George for freshman Descriptive Drawing... and sat on the front row where he would put his cigarettes on the edge of my drawing board... George at the end of the Semester would read out the grades of everyone to the class, when he got to this student he gave him a "D" whereupon the student replied that he wanted to transfer to Carolina but needed at least a "C" to make it... After completing the read out, he paused and said "Mr. X, if you will be so kind as to promise to never return to State College, I will give you a C. Mr. X promised and never came back."
Additional Resources: Douglas Plywood Second Homes for Leisure Living * Westinghouse Houses: pages one, two, three, four * Weyerhauser ad from 1957 * NCSU's Matsumoto archives: pages one, two, three, four, five, six
---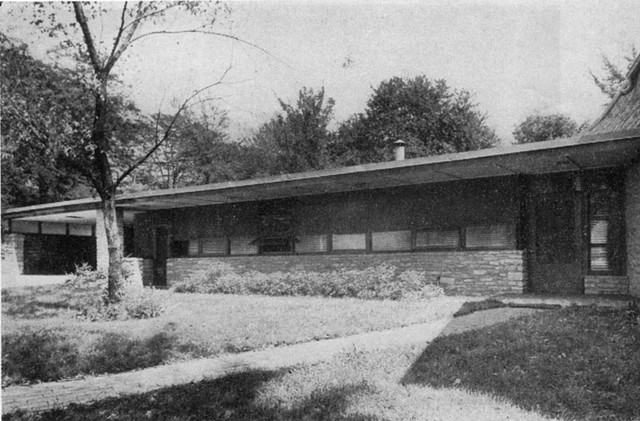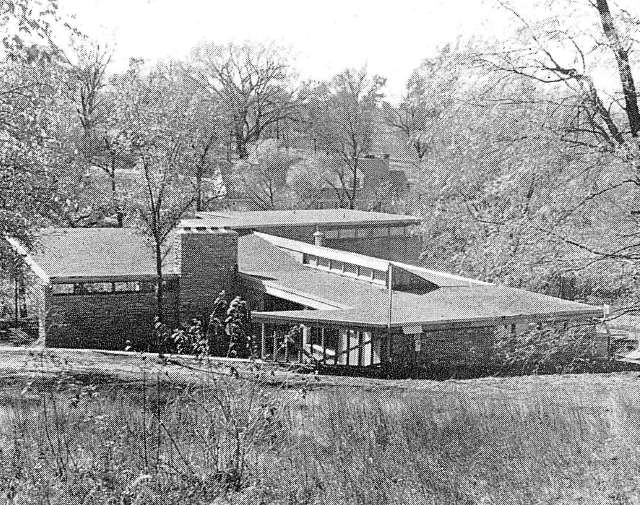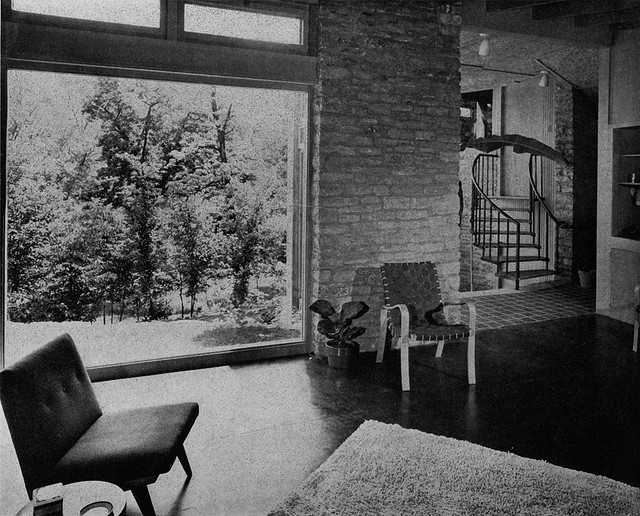 1947 - The James I. Clark Residence, 2400 West 86th Terrace, Leawood KS. Designed with Matsumoto's partner, James I. Clark. Won a 1949 Progressive Architecture Honorable Mention Award. Built by Don Drummond. Sold to Paul Jorgensen.
---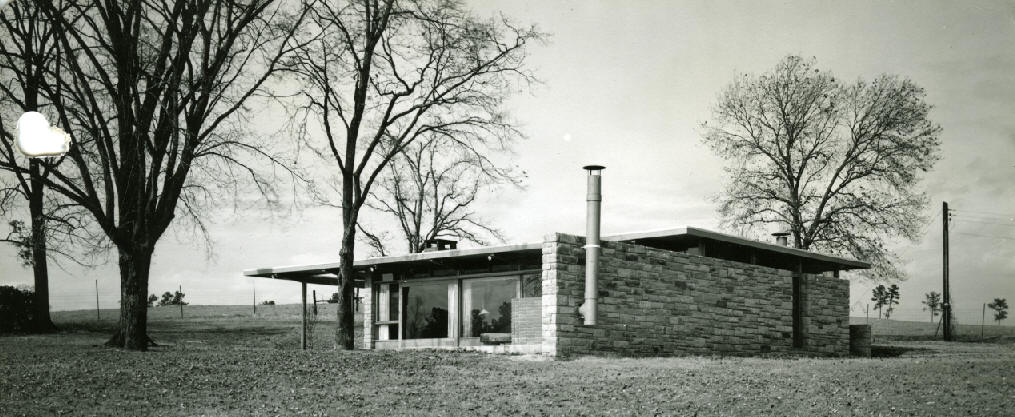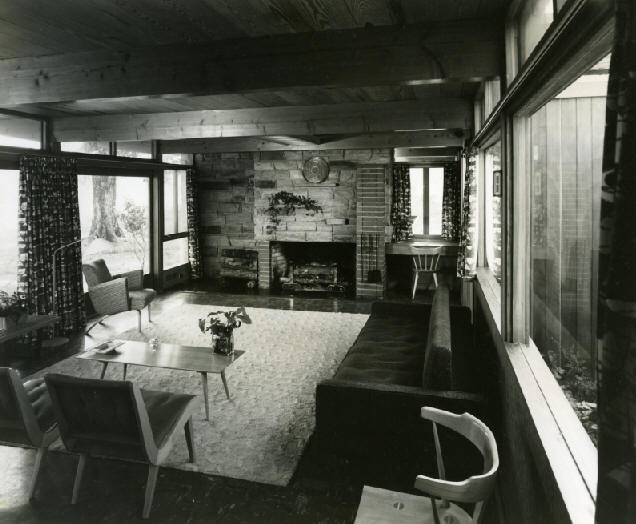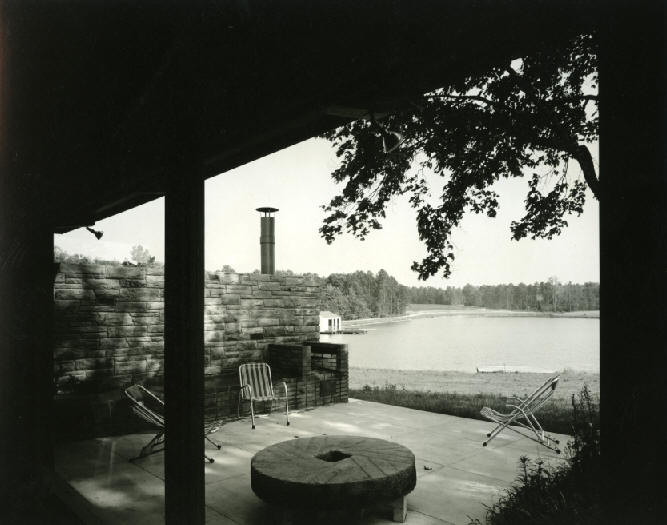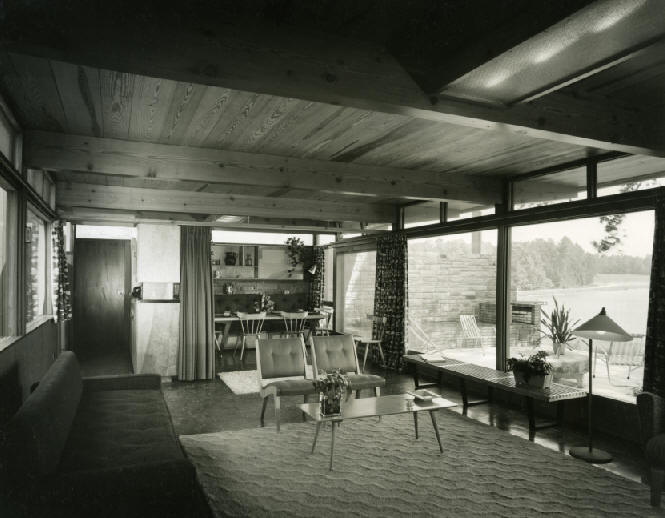 1949 - The J. Gregory Poole Lake House I on Carolina Lake off of Poole Road, Raleigh NC. Designed with Milton Small. This was part of a larger Poole family farm which is now Oakwood Historical Park. The house in that park is their former main residence. When they relocated to Cowper Drive in the Hayes Barton neighborhood, this farm remained a family property. Gregory Poole Jr. and his father used their company earthmoving equipment to build the lake. The father commissioned Matsumoto and Small to design a one-bedroom, 1500 square foot house with lots of glass, sliding doors, and a flat roof. Gregory Jr. went to Plymouth NC and retrieved heart pine timbers from a bridge that had been demolished along with quarried Wake County stone.
The lake and lake house was a weekend retreat for the family until the property was sold, first to a company called Dickerson, Inc and then to local developer Judd Ammons. Ammons developed commercial lots but the remote location of the lake house subjected it to repeated theft and vandalism, including shotgun blasts. Before being demolished in the early 1990s, Poole retrieved the heart pine timbers once again for reuse for a project in Wake Forest. Unfortunately, those timbers were later stolen.
Matsumoto also designed the Gregory Poole Equipment headquarters in 1954; everything except Poole's personal office and the Japanese gardens has been altered; a house for Gregory Poole; a house for Poole's daughter Jean; and a second Poole cabin. See entries below.
---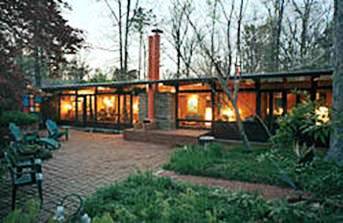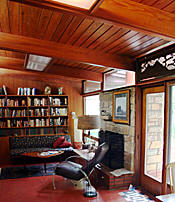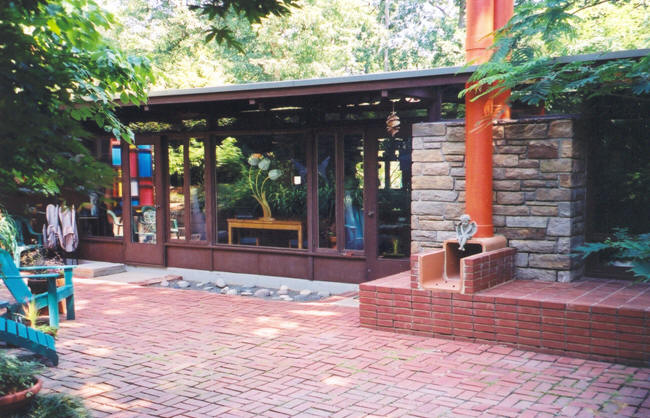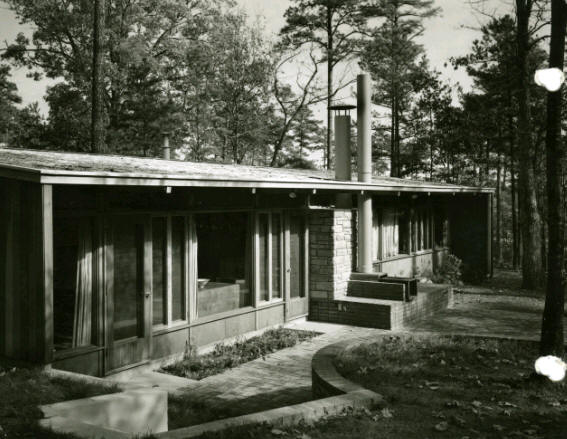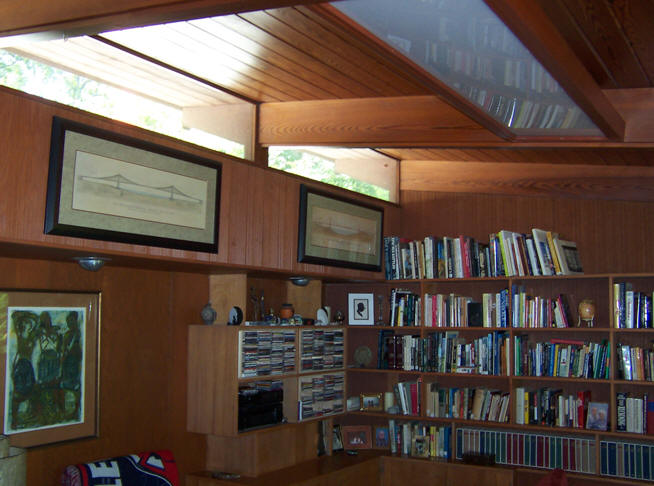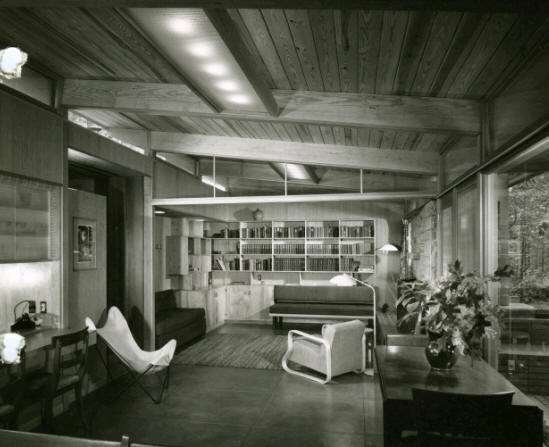 1950 - The Paul O. and June Richter House, 3039 Churchill Road, Raleigh NC. 1900 square feet. Built by Frank Walser. Sold to Walter and Albertina Adams in 1952. Sold in 1955 to Jack Peterson. Sold in 1970 to Stephen and Karen Renner. Sold in 1980 to Richard Boyd. Sold in 1988 to Randal Brown. Sold in 2004 to Jill Anderson and Edward Bern Walser, Frank Walser's son. Deeded to Jill Anderson. Top right photo by David Hunt.
---

1951 - The Jackson Residence, Raleigh NC. Designed with Holloway, Weber, and Reeves. Never built, according to Matsumoto in 2008. The clients moved to California.
---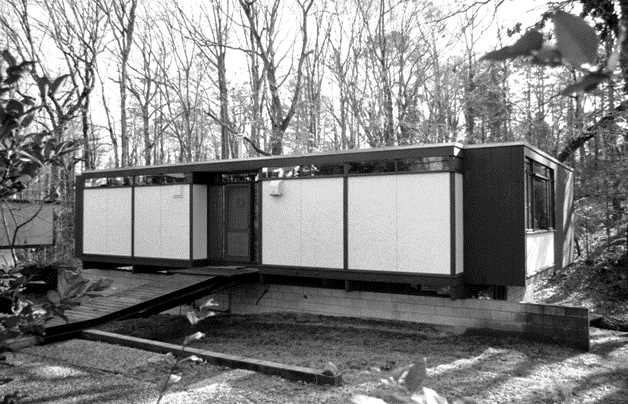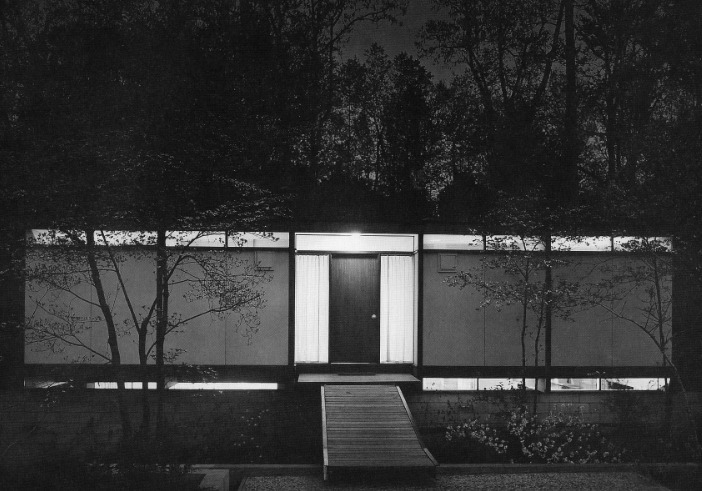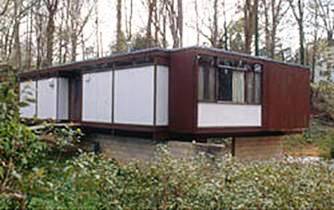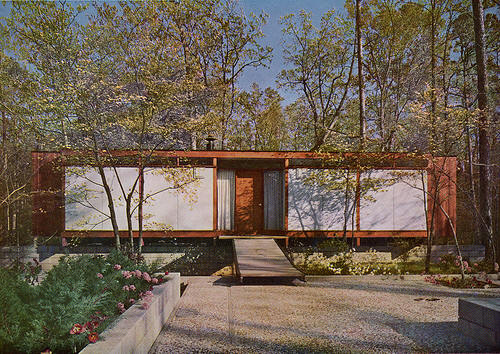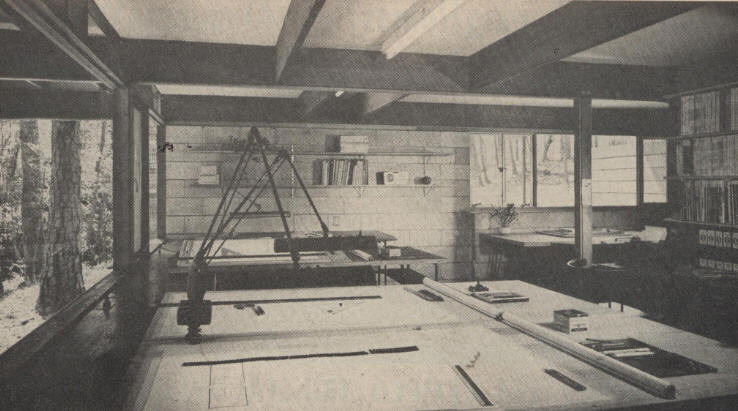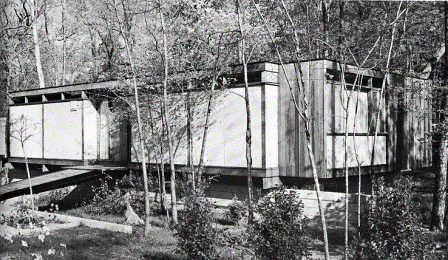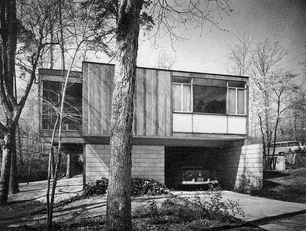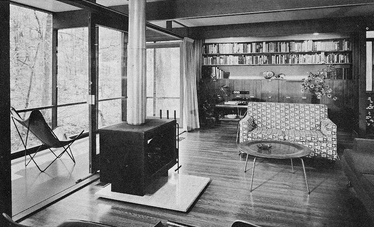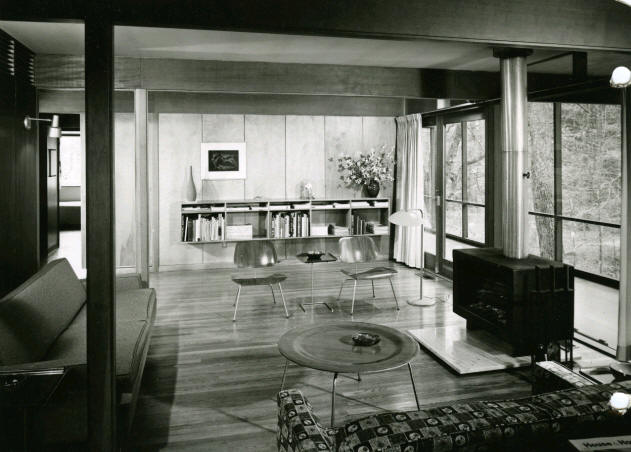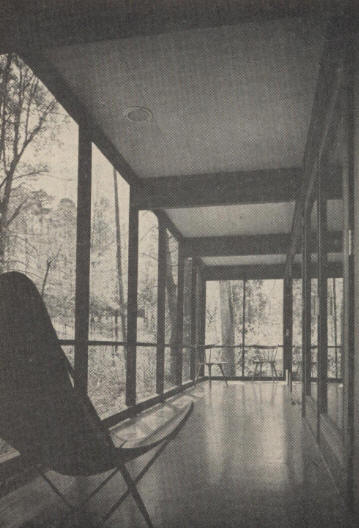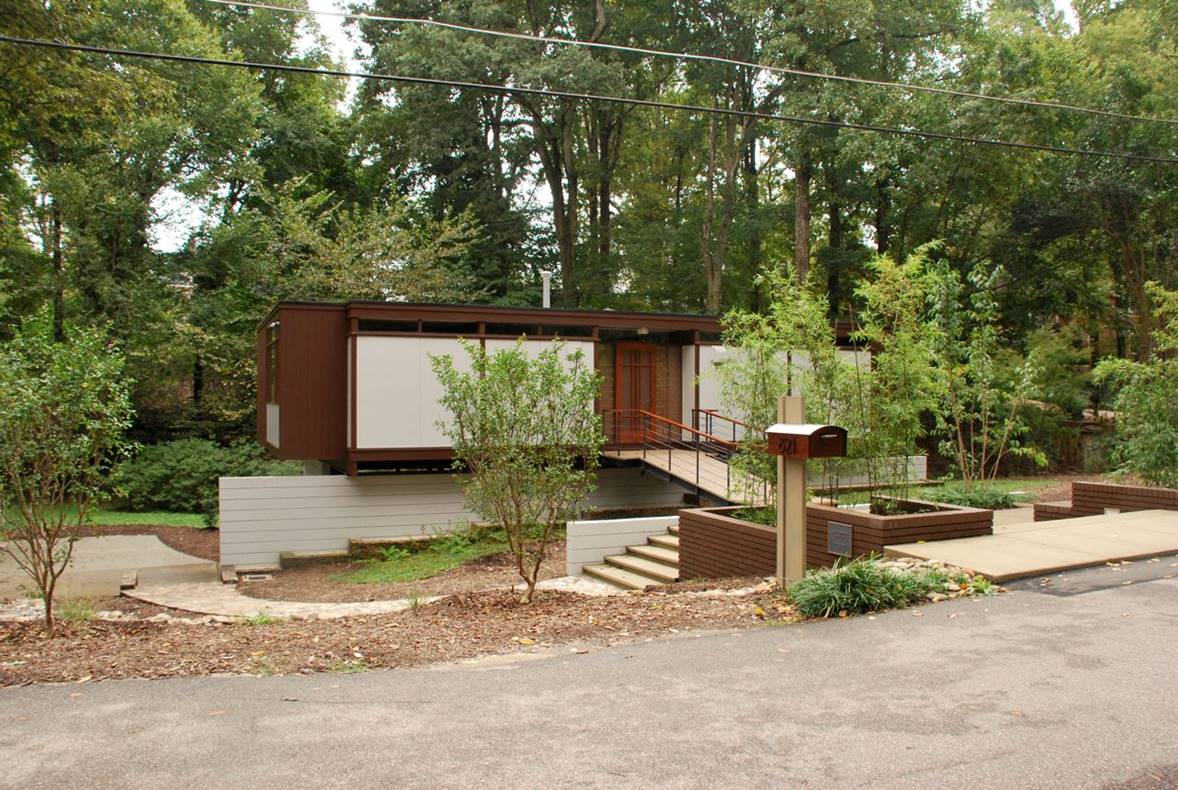 1953 - The George and Kimi Matsumoto House, 821 Runnymede Road, Raleigh NC. Neighboring land owner F. Wayne Koontz sold him the lot and Frank Walser did the construction. Landscape architect Lewis Clarke lived there for three months during the summer it was built (1953) while George and Kimi were in Chicago. In 1954 Clarke got married in the house and George and Kimi hosted the reception. Featured in Architectural Record Houses of 1957. Won the 1957 AIA National Honor Award. Sold to Banks and Louise Talley in 1961. Sold in 1974 to George and Beth Paschal (owners of a James Fitzgibbon house) for their daughter, Huston Paschal. Still owned by Huston Paschal as of 2021. B/W photos are probably by Joseph Molitor; bottom photo by Leilani Carter.
The house was selected for display at the US Pavilion at the Brussels Worlds Fair in April 1958. According to the April 1958 Southern Architect, a plexiglas model was designed by Robert F. Geoghagan and sent to Brussels in a custom shipping box. The model made it back to Raleigh after the World's Fair and stayed in the house for decades. As of 2014, Paschal donated the model to NCSU Special Collections. The shipping box was given to David Hill, a professor at NC State.

House Plans, page 2


House Plans, page 3


House Plans, page 4


House Plans, page 5


House Plans, page 6


House Plans, page 8

---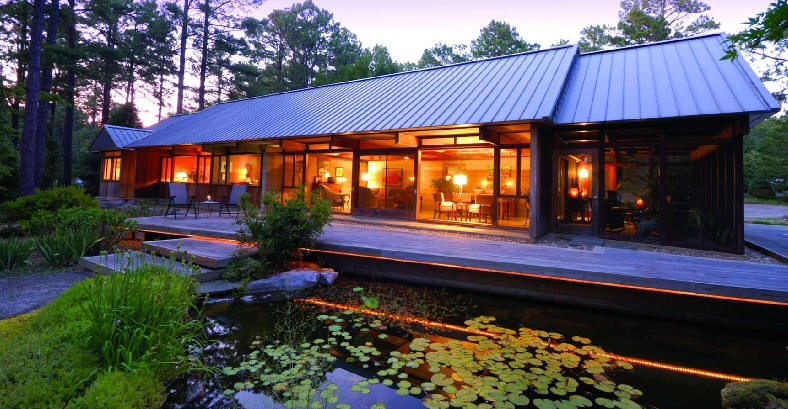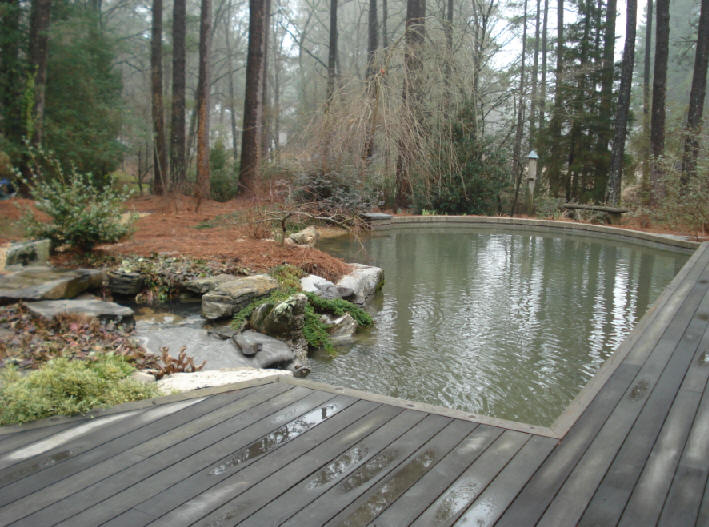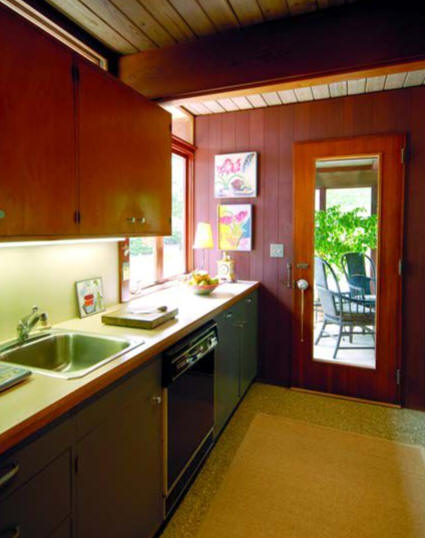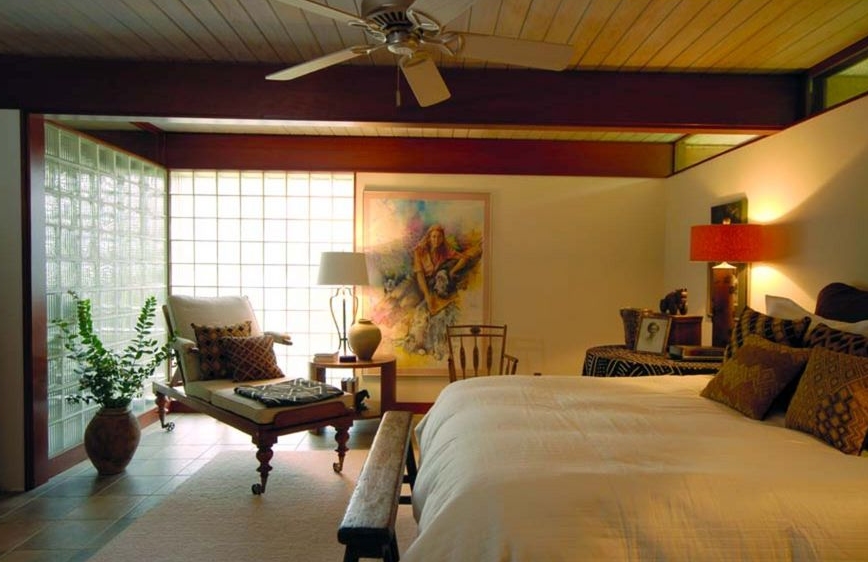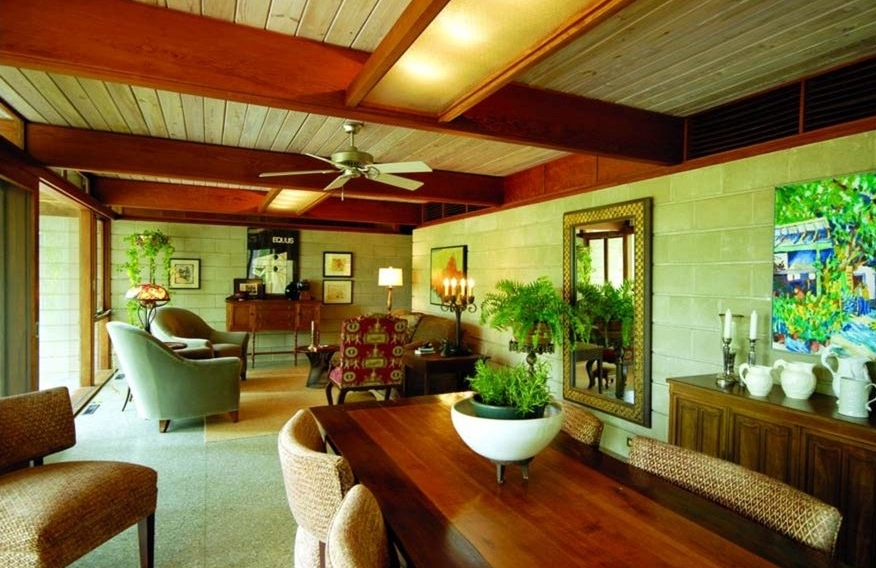 1952 - The George W. and Virginia Kelly Residence, 150 Riding Lane, Southern Pines NC. Sold in 1993 to Marion McCullough. When she died, daughter Denis McCullough bought it in 1996. She added a conventional roof while keeping the spirit of the original design, not an easy task with a Matsumoto home. Photos by Glenn Dickerson. Pond photo by George Smart.
---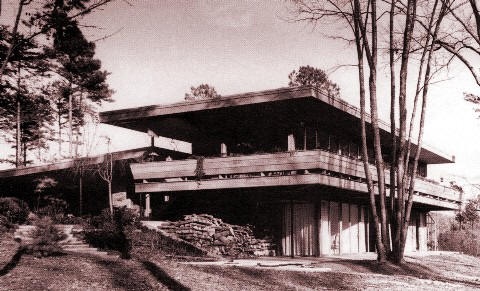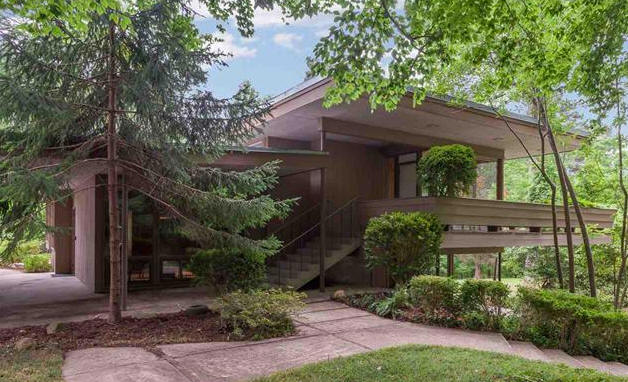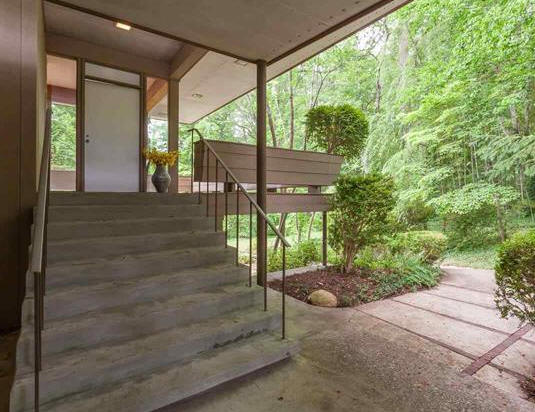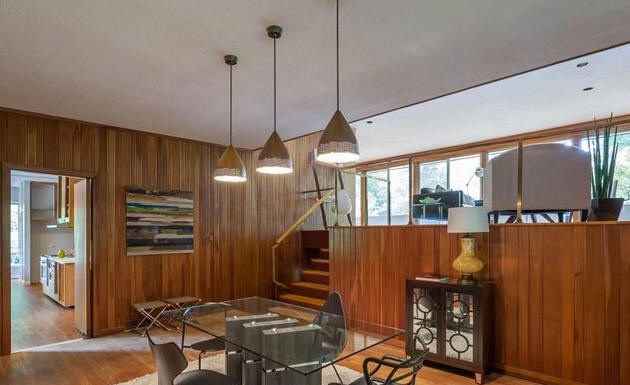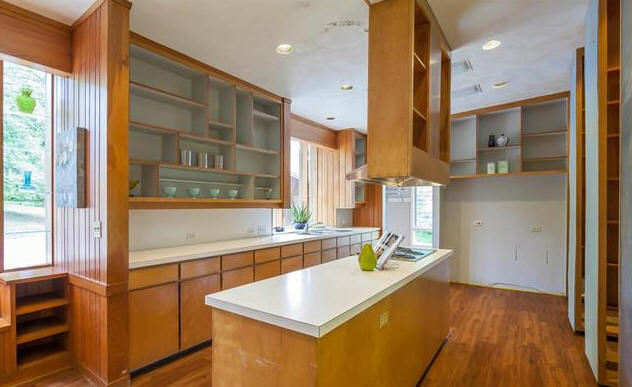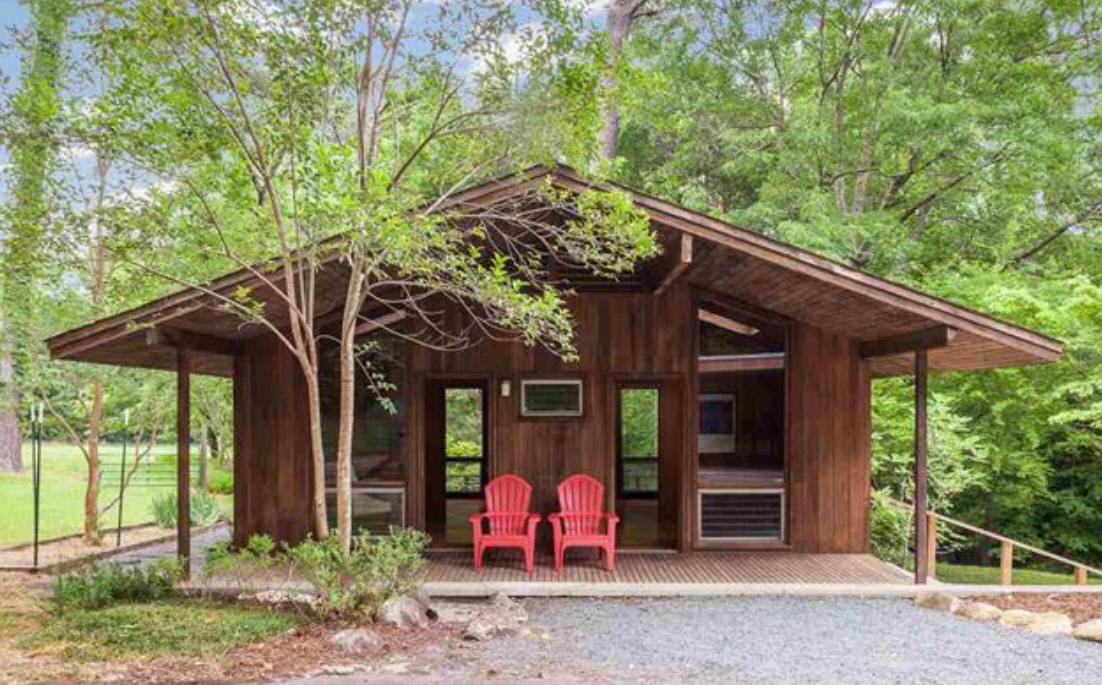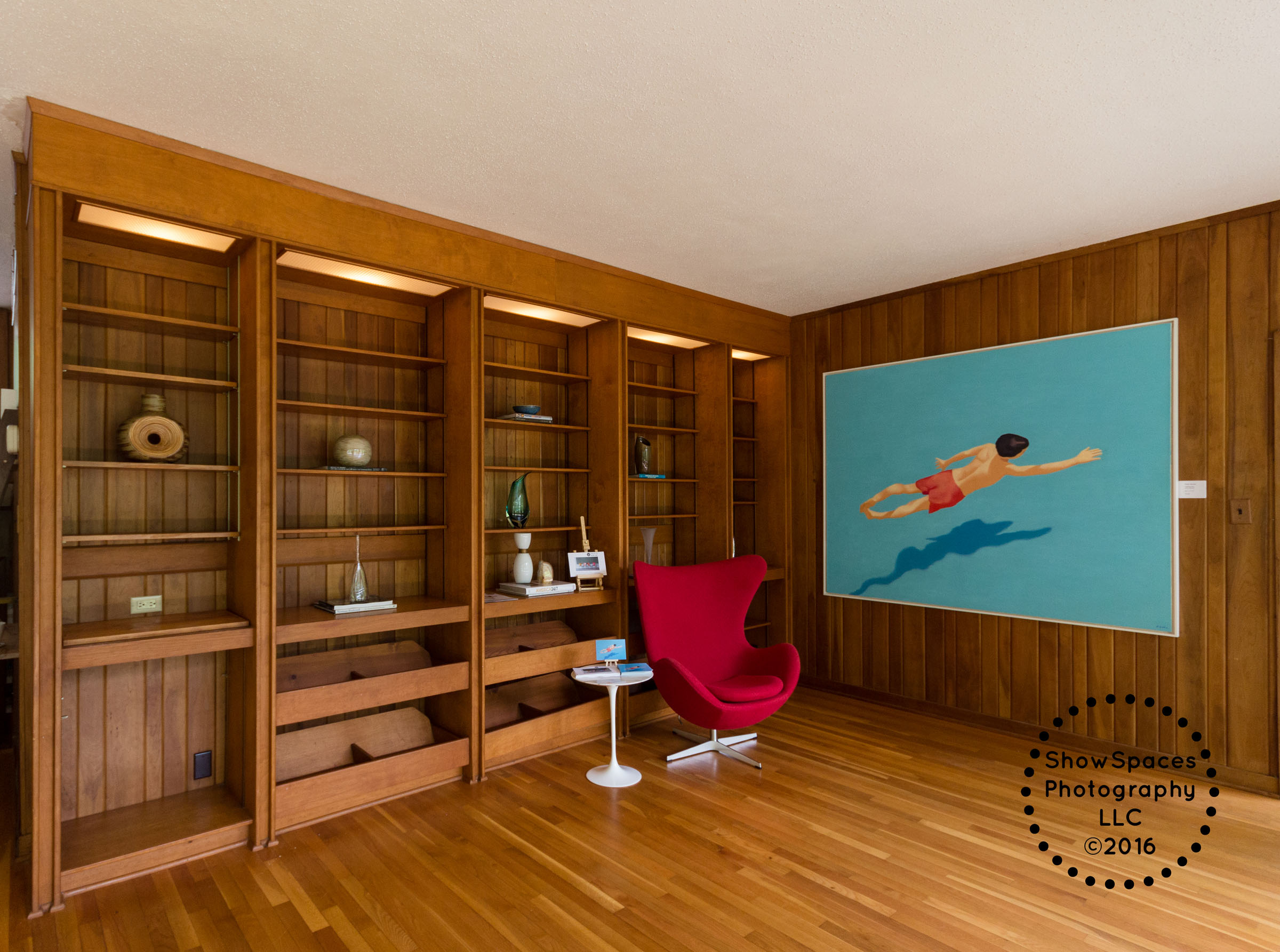 1952 - The Isaac M. and Trudy Taylor House, 618 Morgan Creek Road, Chapel Hill NC. The house is on 23 acres where musician James Taylor grew up along with three brothers and one sister. Matsumoto began the project but his ideas did not resonate with Trudy Taylor, who fired him. After that point Matsumoto temporarily swore off home design, "not wanting to work with the wives." Trudy Taylor lost no time in hiring John Latimer to finish. The basic design is still Matsumoto. There was a landscape design by Lewis Clarke but it was not used. The lower floor contains the children's bedrooms. The upper floor has a master bedroom and living room. The kitchen, renovated in the late 1960s by Arthur Cogswell, is on the mezzanine level. There's also a two-bedroom gust house where the kids played music.
From Long Ago and Far Away - James Taylor - His Life and Music by Timothy White: Trudy Taylor described the house as a "Japanese Inn." She designed it to be low-maintenance and efficient for active children. Each of the kids' rooms was simple in design, airy and easy to tidy up. Sun poured in the glass walls beckoning the kids outside. When Kate was 8, her mother hired a carpenter and spent $200 building Kate her own clubhouse. It's still there.
The "kitchen concerts" were a major outlet for all of the kids. They started one day when Trudy was cooking dinner. She picked up a tin of vegetables and told the kids to invent a jingle about the can of food. Trudy had trained as an opera singer at the New England Conservatory and always had all kinds of music in the house including musicals, African songs, choral music, etc. Eventually all of the kids went towards music careers. None finished college or had any interest in following medicine like father Ike. Trudy would treat one child at a time to a trip to NYC to see a Broadway show. When James was 12 his turn came and the show was Greenwillow. It had such a powerful effect on him that he asked for a guitar for Christmas and got one. While living at 618 Morgan Creek, the Taylors entertained more than 10,000 people at the house.
The Taylors divorced and moved out by 1972. The house was rented for a few years then sold in 1974 to Jim and Pat Johnston. Deeded in 2014 to a Johnston heirs trust. Bottom photos by Laura Fuelleman. Sold in 2016 to The Brown Family Trust 2007.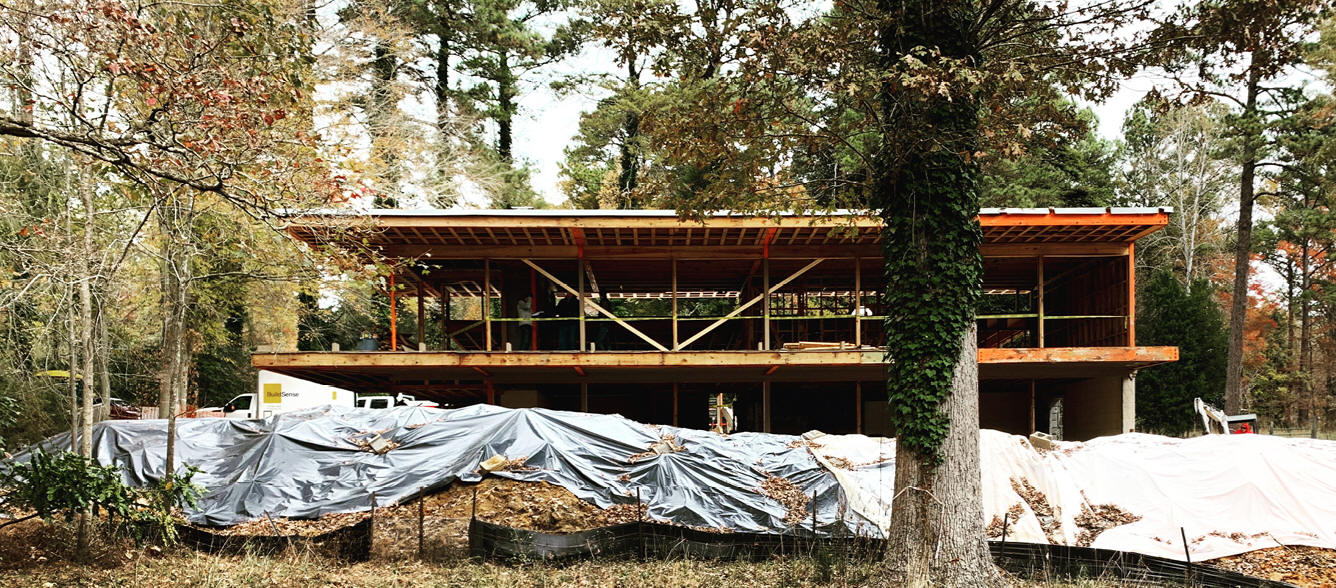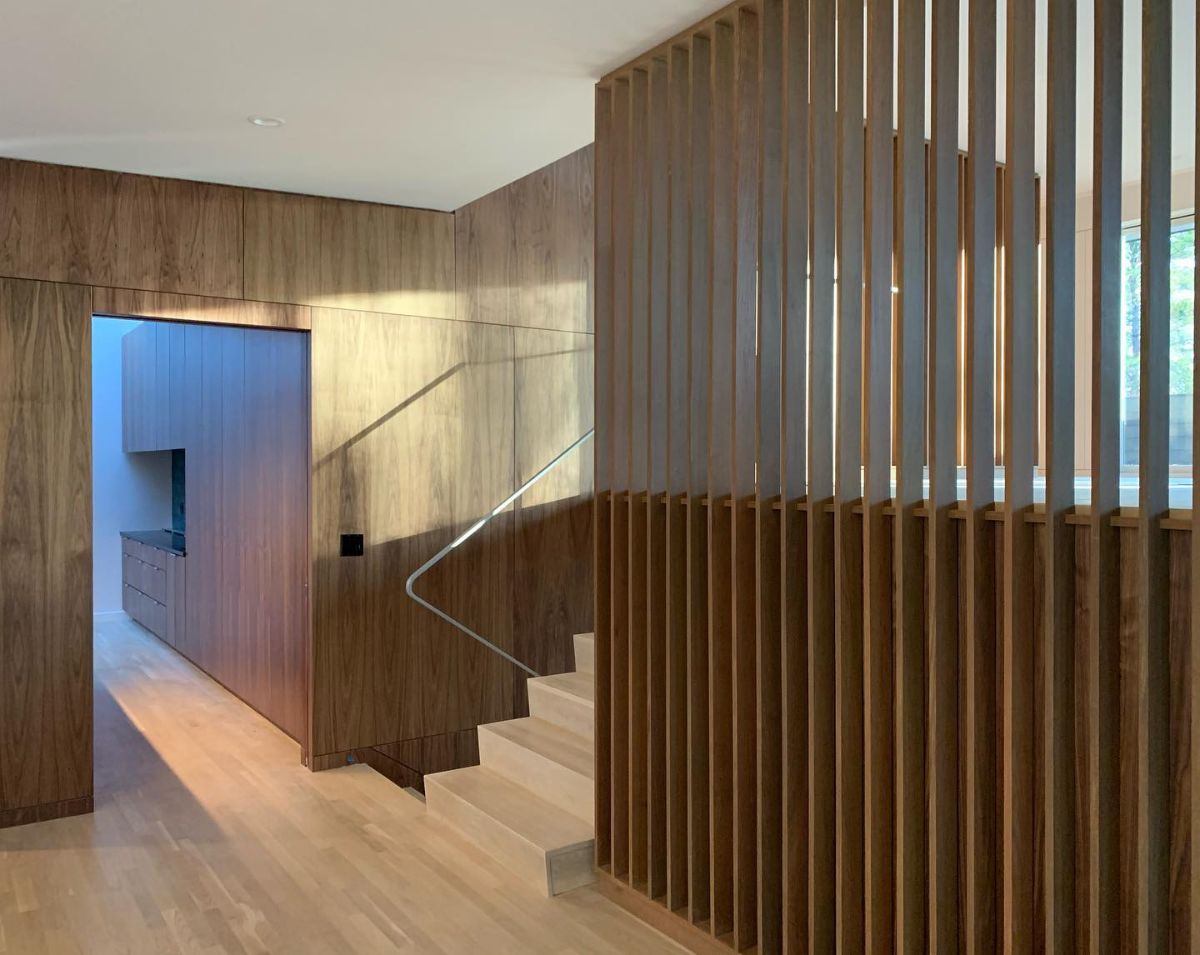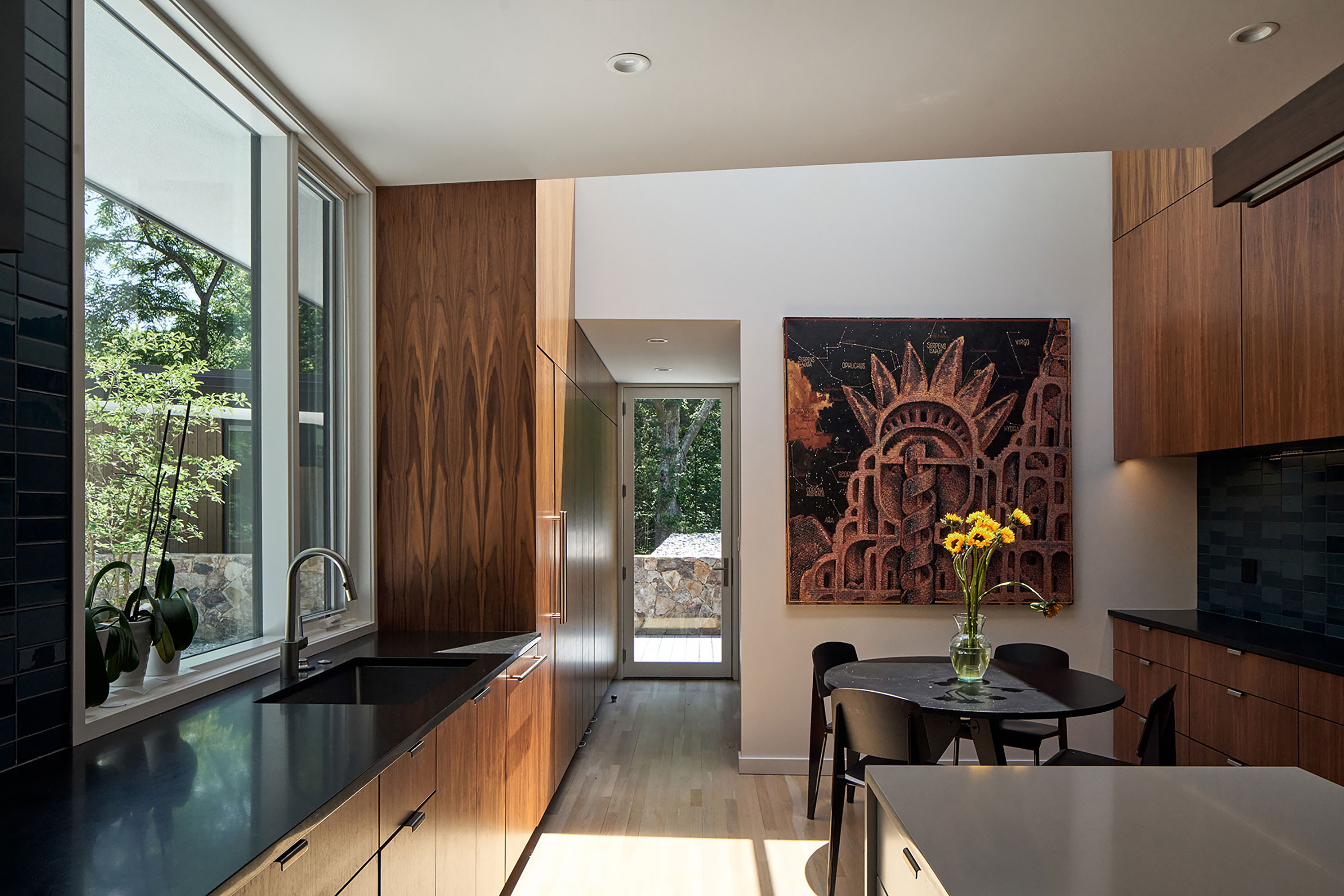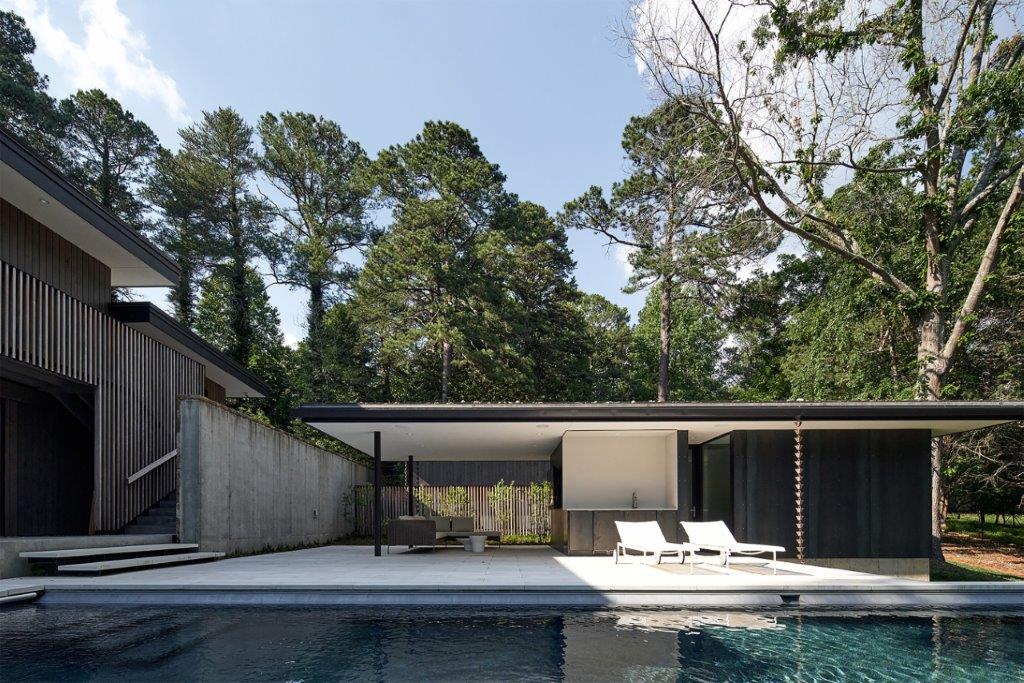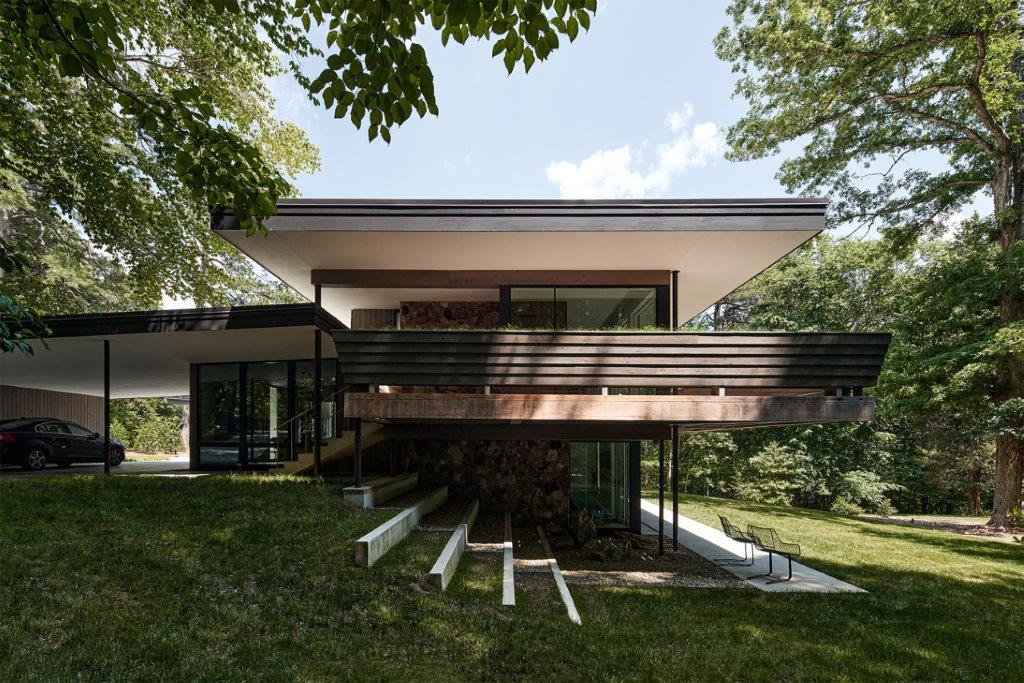 2020 restoration and addition designed by Matt Griffith and Zach Hoffman, built by BuildSense.
---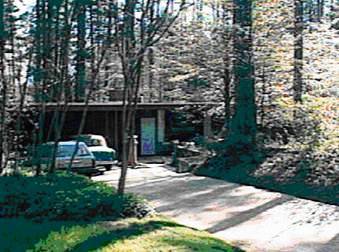 1953 - The C. A. (Gus) and Marion Aretakis Residence, 309 Transylvania Avenue, Raleigh NC. Built by Frank Walser. Two of Aretakis's sons went on to pursue housing as a profession: one as a developer, the other an architect. Still owned by the Aretakis family as of 2021. Landscape architecture by Lewis Clarke.
---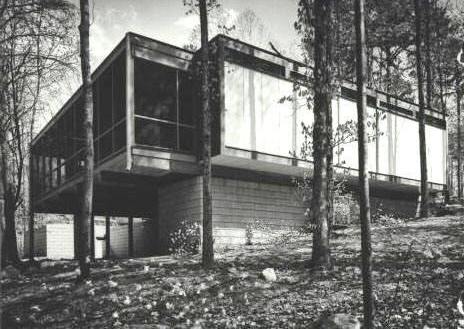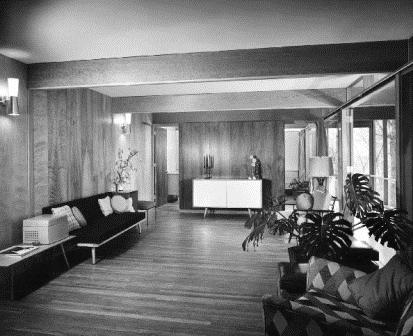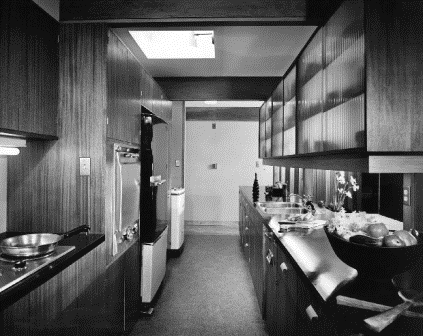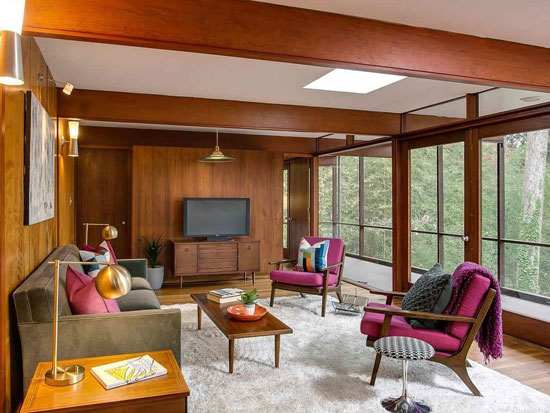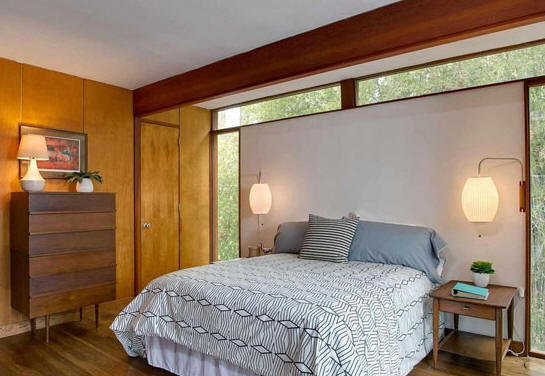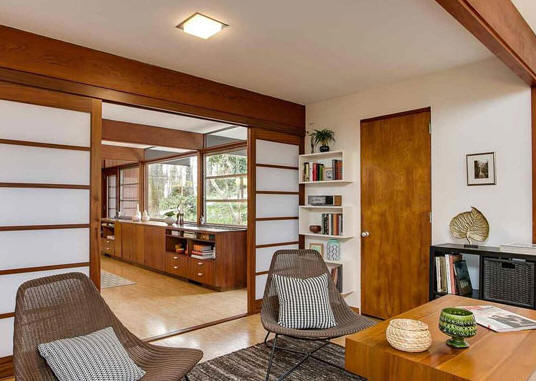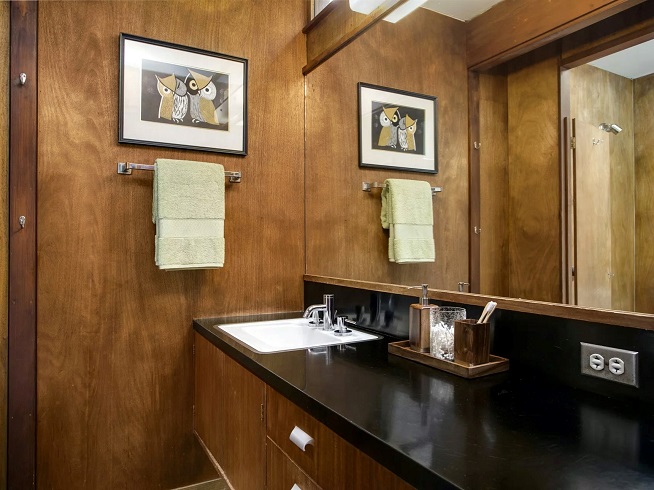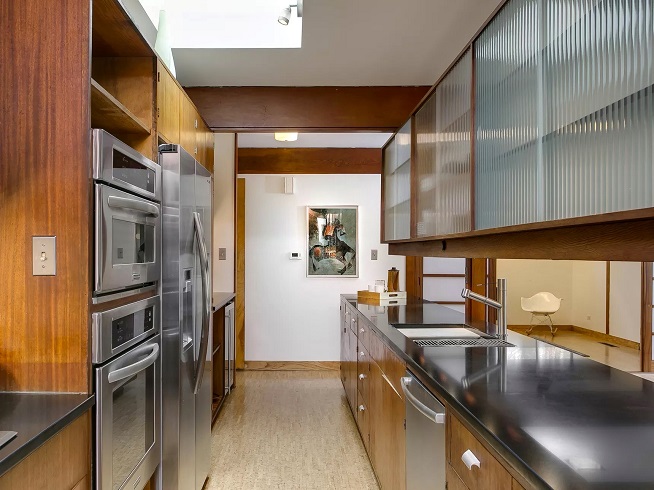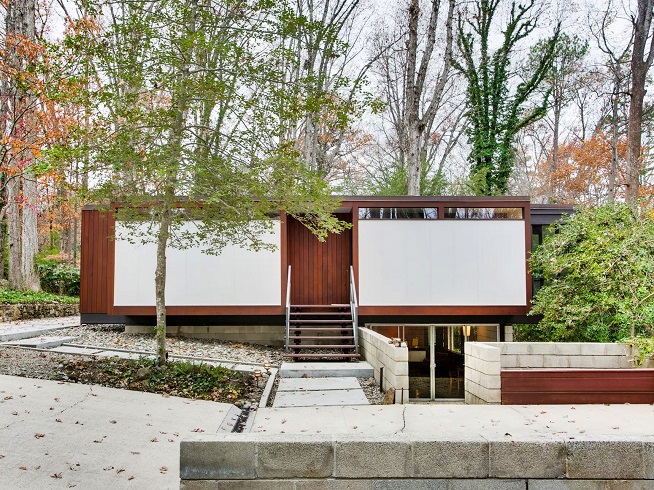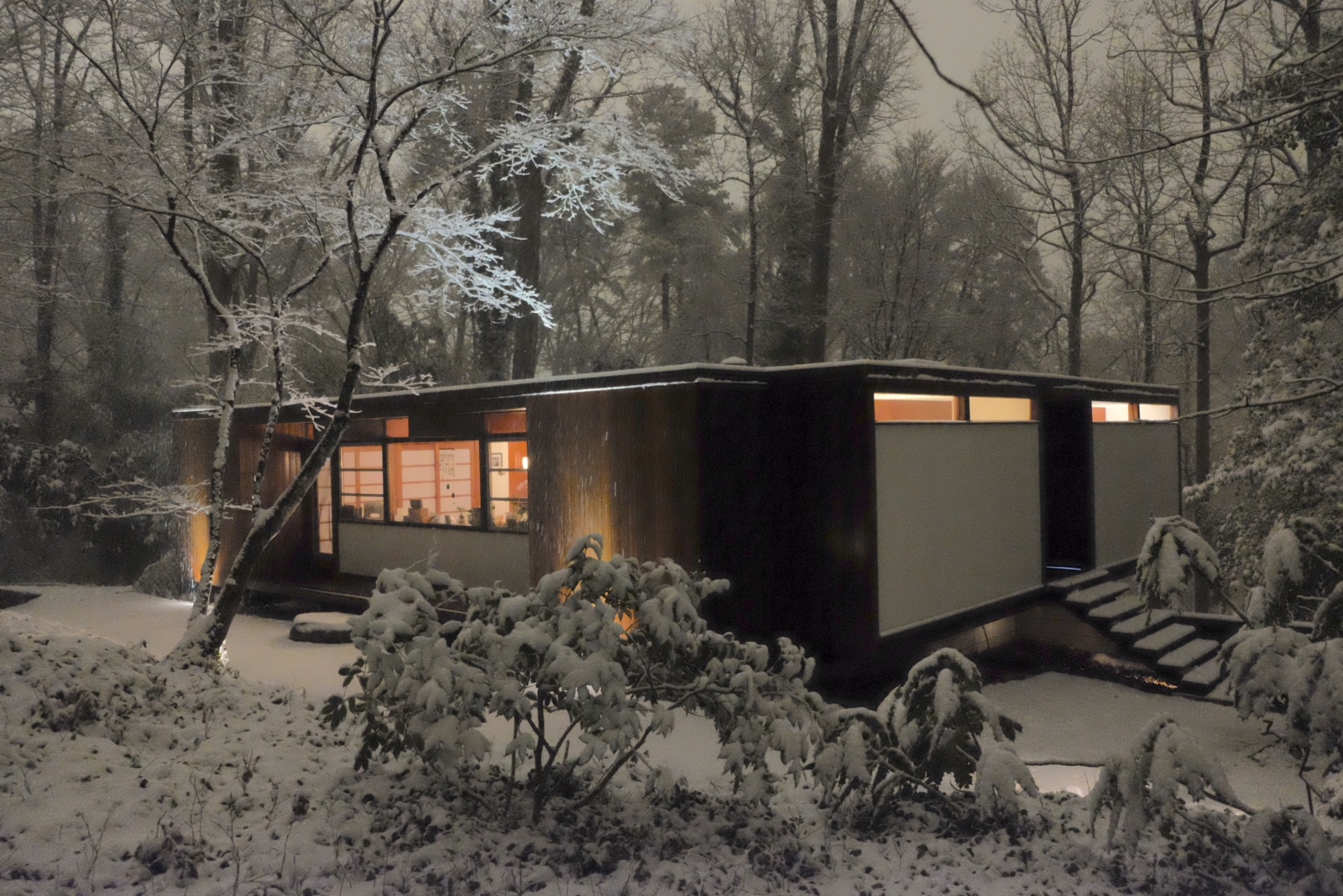 1954 - The Milton Julian House, 101 Ledge Lane, Chapel Hill NC. Built by Frank Walser. Designed for Milton Julian, locally known proprietor of Milton's Clothing Cupboard and uncle to international designer Alexander Julian. The family had to go to the North Carolina Supreme Court to overcome neighborhood opposition to the home's unique design. Until the area's principal developer Professor Coker's death in 1953, he or his wife had personally approved all house plans prior to construction and favored the Colonial revival style. While this design review process ceased after his death, neighbors argued the design was not in character with surrounding houses and used deed restrictions to prevent completion. The neighbors sued all the way to the North Carolina Supreme Court which ruled the design covenants were personal to Coker and therefore unenforceable.
The area under the deck was soon enclosed to make a living area for downstairs bedrooms. There is no internal stairway between floors; you have to go outside. Sold in 2004 to Erik Gustke. Although structurally sound, some wood beams and walls rotted from water damage. The bathrooms were small compared to today's standards and desperately needed renovation. The kitchen, however, with its 20-foot counter and floating cabinets, still amazed. Gustke had it for sale for a few months in 2008 (see owner brochure pages one, two, three, and four) but decided instead to pursue careful restorations built by Runyon Woods. Sold in 2018 to B. Allison Brooks and Jeff Tucker.
---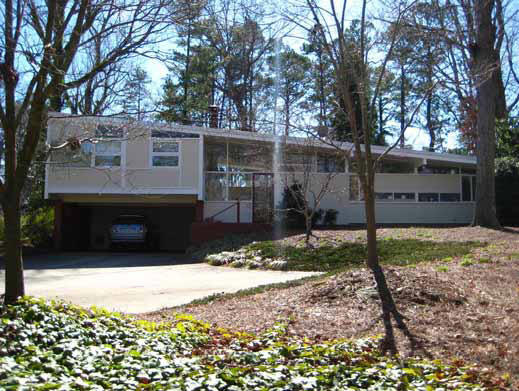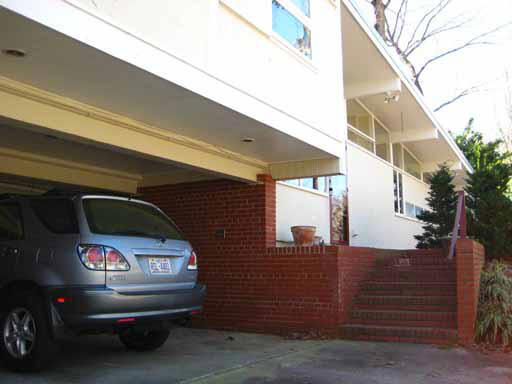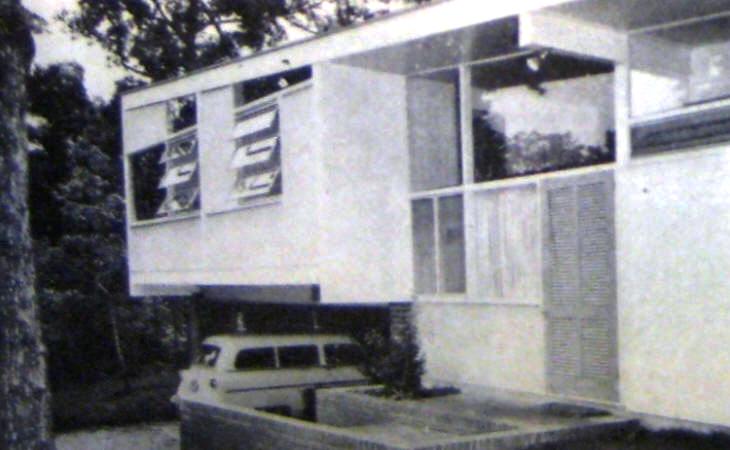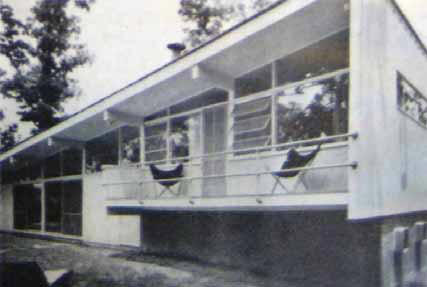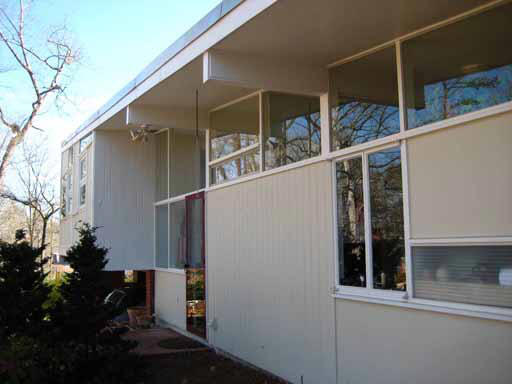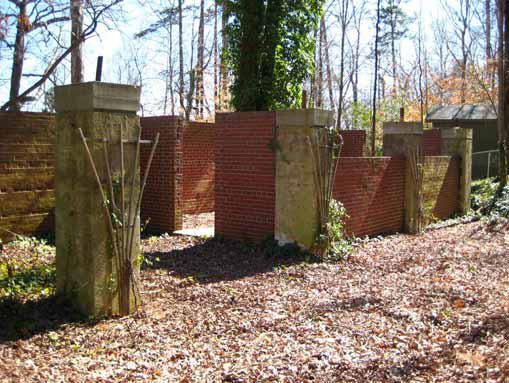 1954 - The William (Bill) Moore Weber and Marcia Weber Residence, 606 Transylvania Avenue, Raleigh NC. About an acre. Matsumoto designed this in collaboration with Weber who received his degree in architecture from NC State College in the 1940s. Weber was a partner in an architecture firm Holloway Weber and Reeves, and together they successfully ran one of the state's largest design firms. Weber died in 1963 at the age of 42, Ralph Reeves took over his interest and partnership in their architecture practice, and the firm's name was shortened to Holloway and Reeves. Also on the property are the ruins of the Bloomsbury Park Pavilion, a 1920s park destroyed in the 1950s (bottom photo). The house was featured in the 1954 Architectural Record (b/w photos above).
Sold in 1970 to Paul and Maxine Linney. Addition in 1975. Sold in 1976 to John and Penelope Sanders. Sold in 1982 to Joanna Johnson. Master bedroom addition in 1988 designed by Meg McLaurin. Johnson applied and was approved for making the house a Raleigh Historical Landmark in 2009. In 2014, against unanimous denial by the Raleigh Historic Development Commission, the Raleigh City Council approved Johnson's request to un-designate her home as a Raleigh Historical Landmark. Johnson got spooked that designation would decrease the property value, making it unsellable, which is an unfortunate real estate myth. Sold off-market in 2023 to Mark and Leslie Thompson, who will destroy it in the fall. Coverage in the News and Observer. In fall 2023, a couple stepped up to buy and move it.
---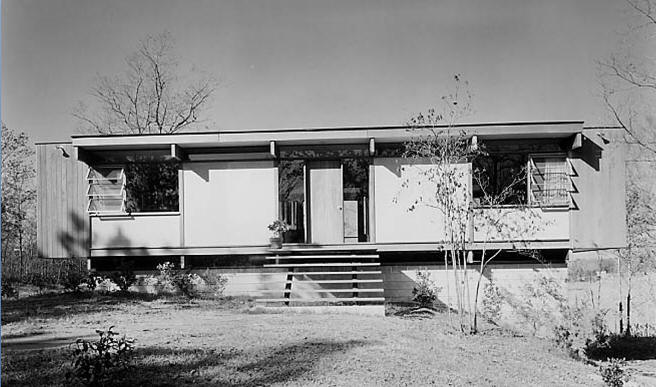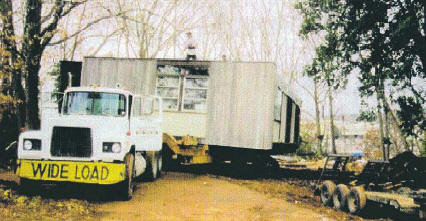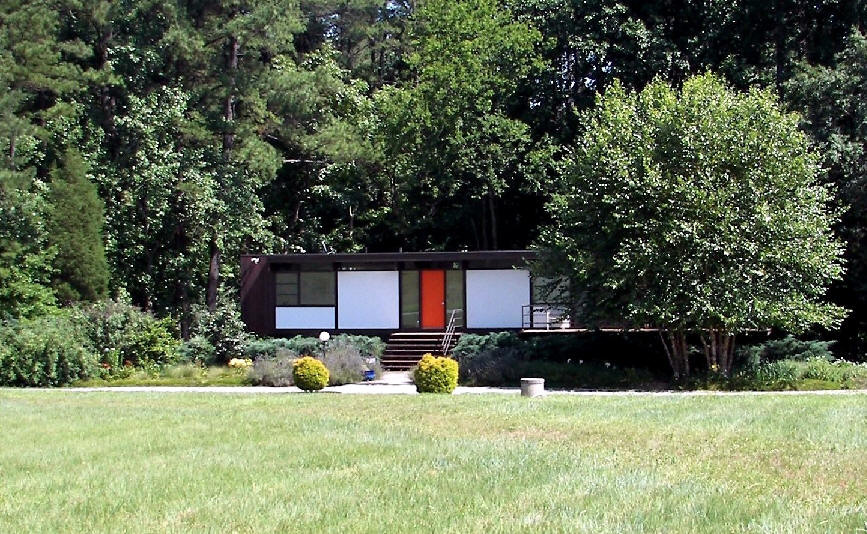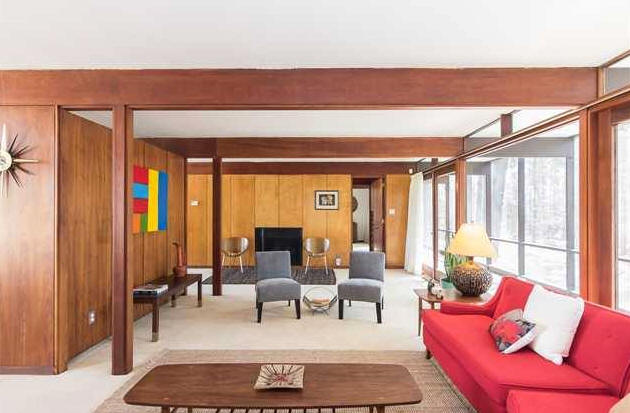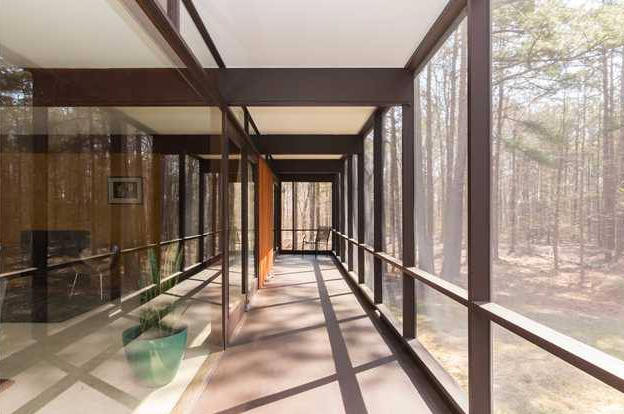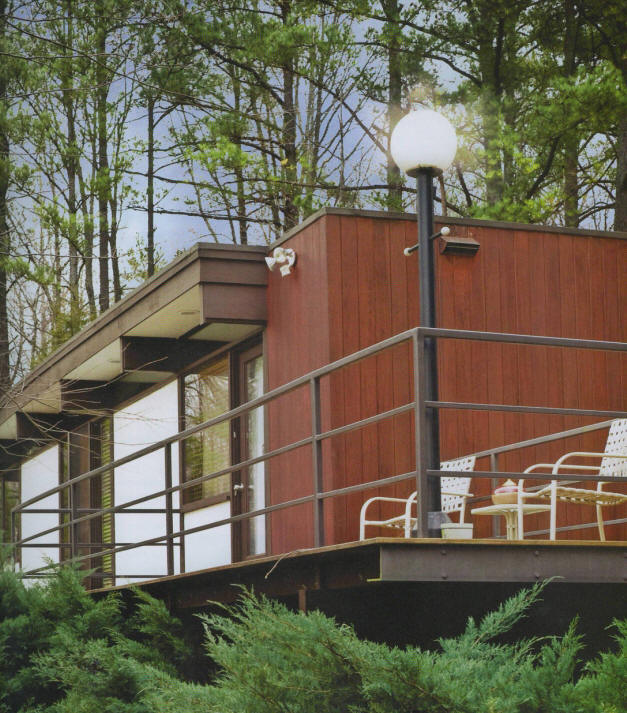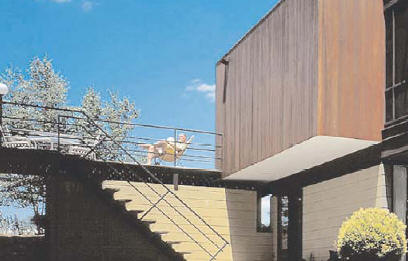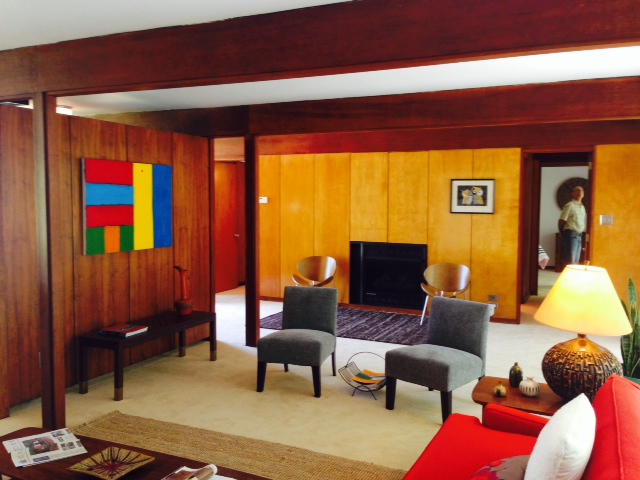 1954 - The George W. Poland House, originally located at 3129 Arrow Road, Raleigh NC, above Crabtree Valley (black and white photo). Over the years, the house became surrounded by commercial buildings and Crabtree Valley Mall. Built by Frank Walser. After his death in 2001, Poland's family donated the house to Preservation North Carolina. PNC put it on the market and imposed a buyer requirement to move the house to a suitable lot. Buyer Don DeFeo moved it to 23 acres at 502 John Jones Road in Bahama NC in 2002. The move and simultaneous downstairs addition was designed by architect Ellen Cassilly. Frank Walser's son Bern was involved in the move. Was a rental for many years. Sold in 2015 to Mark Osborn.
---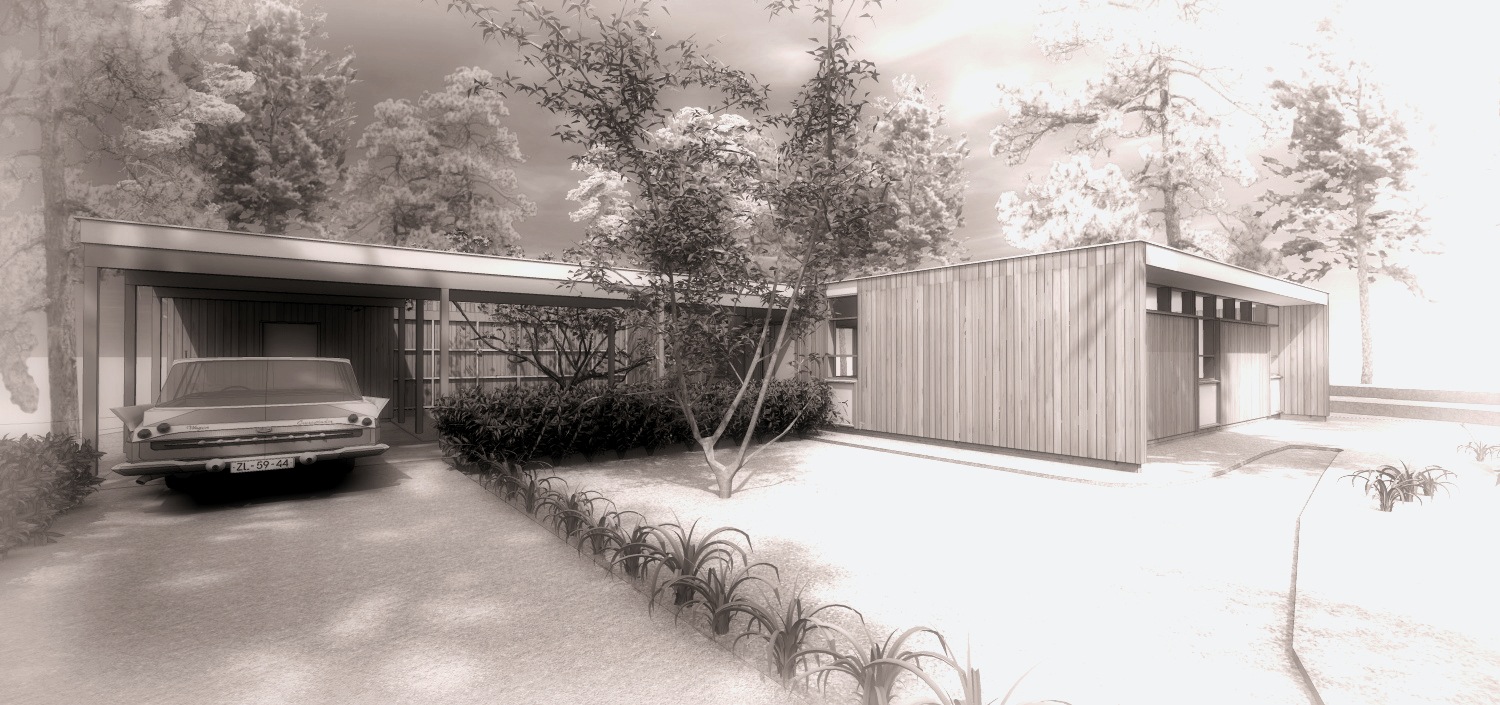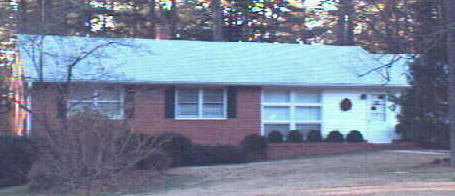 1954 -The General Electric Demonstration House, designed with Henry Kamphoefner. Unbuilt.
2012 rendering by David Hill from an original site plan showing Lots 18, 19, and half of 20, Ridgewood Addition, Raleigh NC. That locates to 3437 Churchill Road, which was owned in 1954 by MB and Elsie Mizelle. As shown from the bottom photo, they clearly went in another direction.
---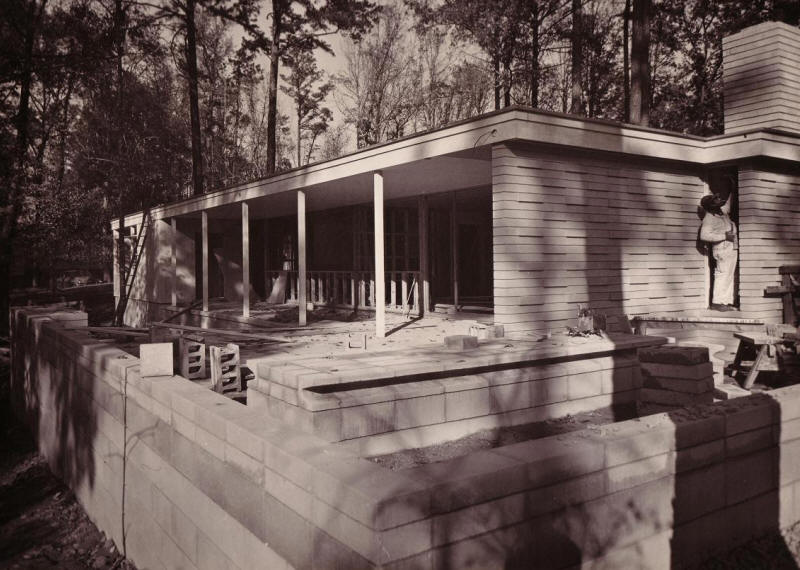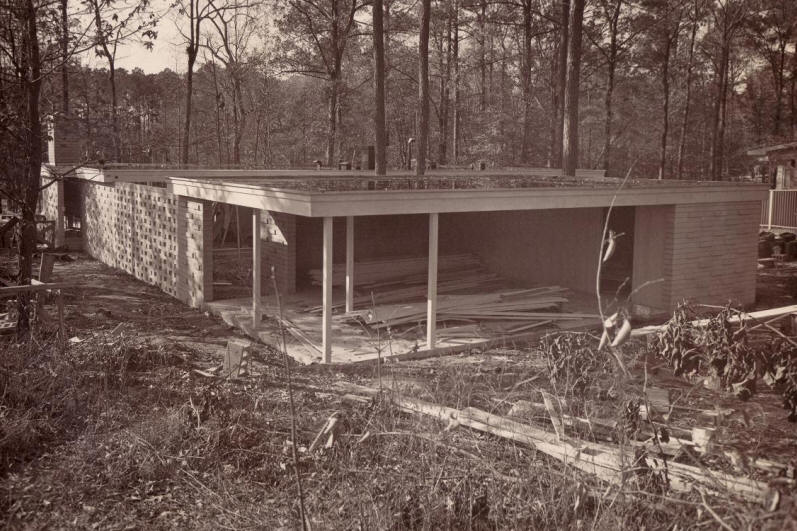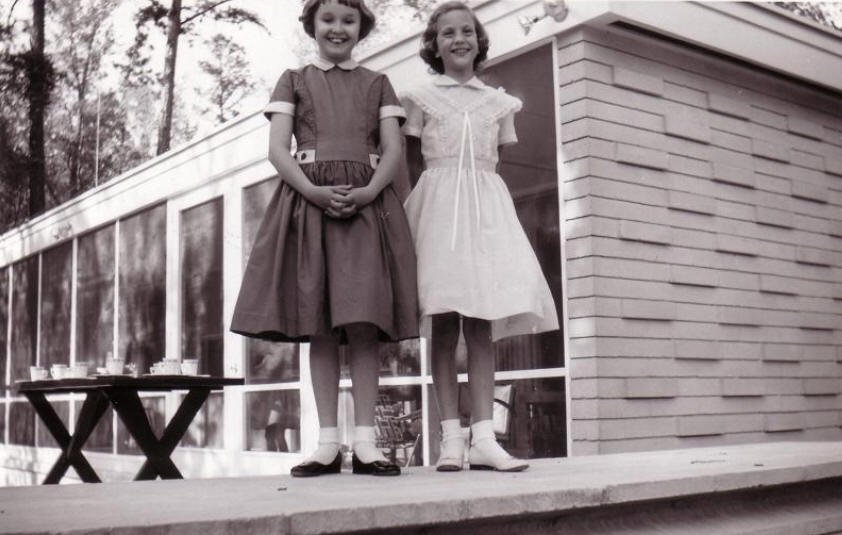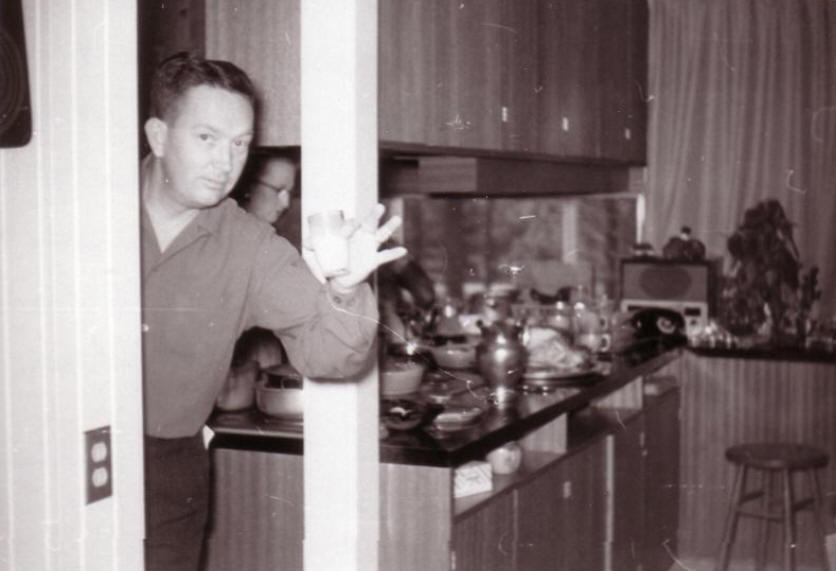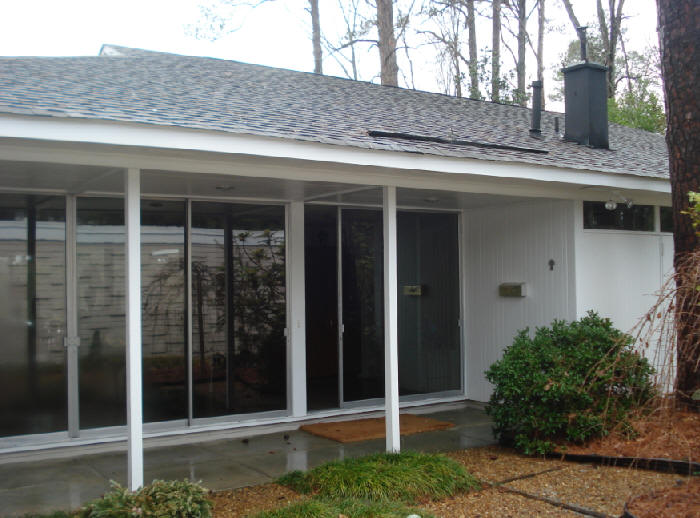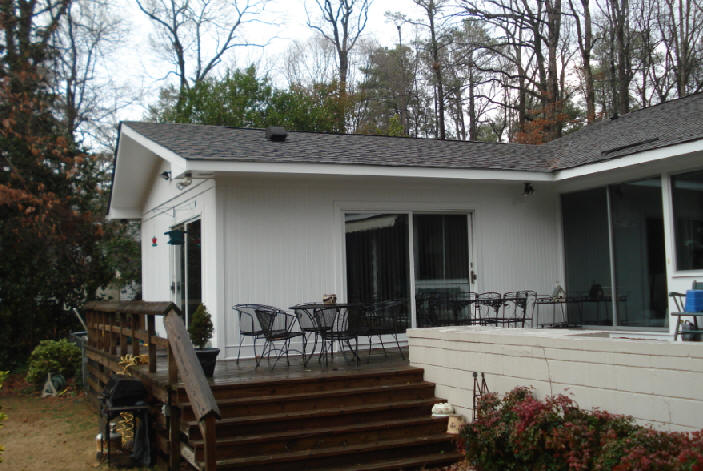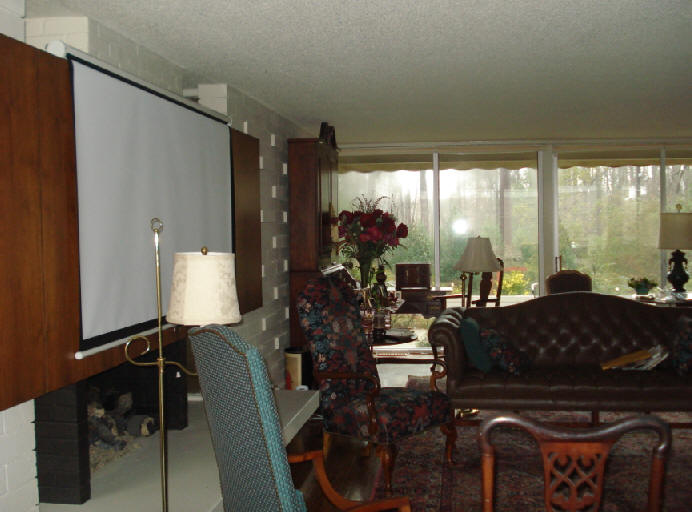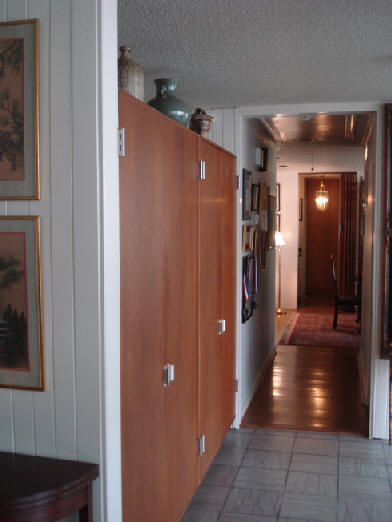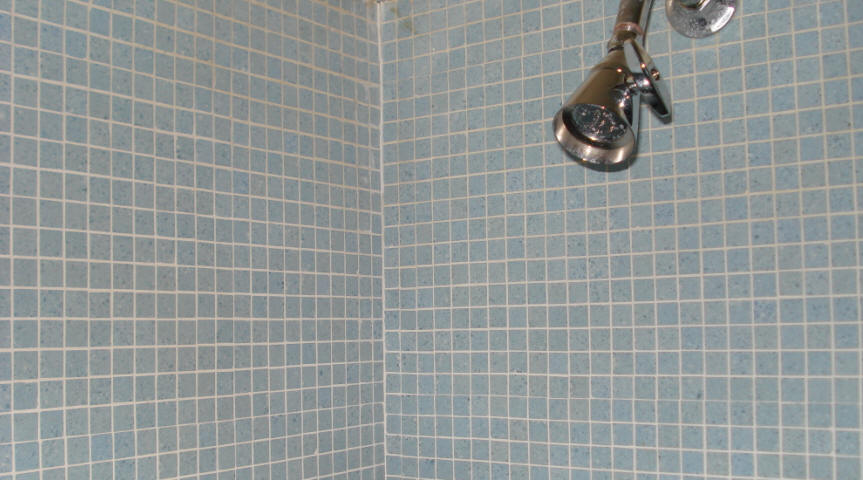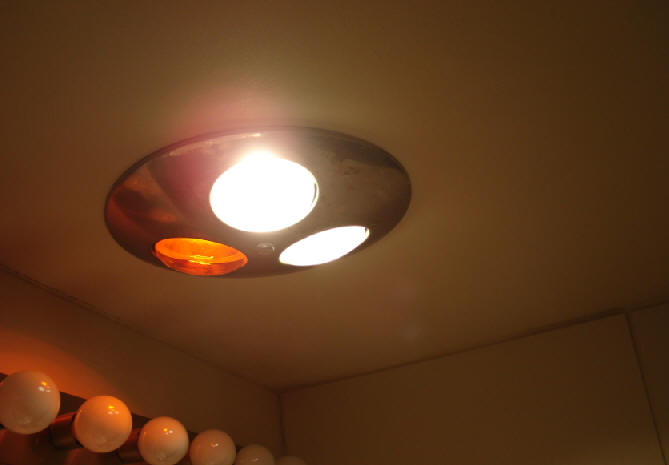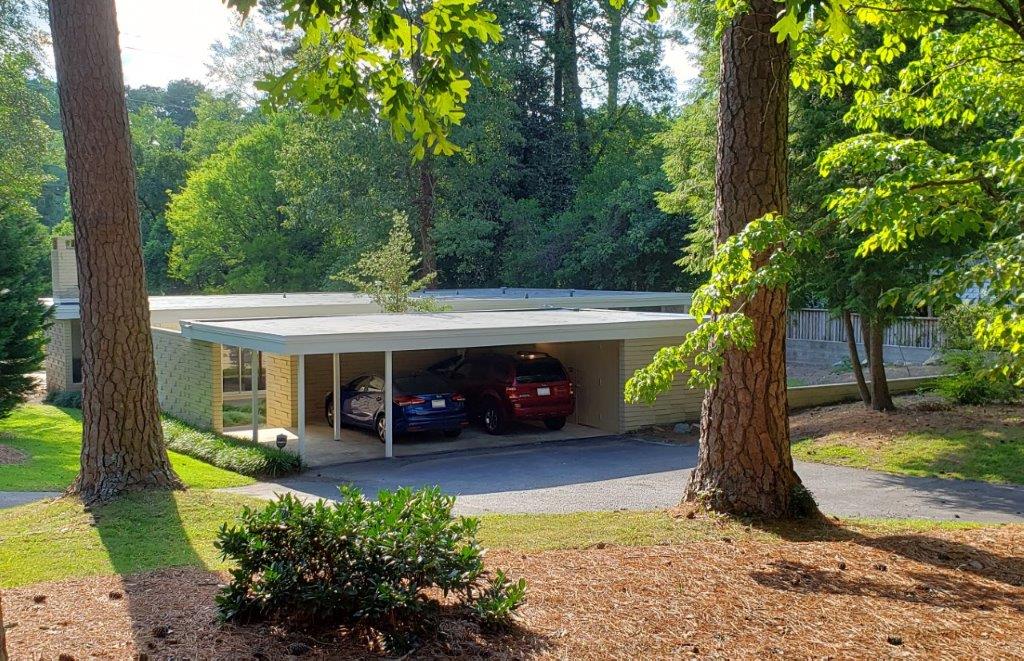 1955 - The Thomas and Marian Hicks House, 718 Evergreen Road, Rocky Mount NC. Photos include daughter Janet Hicks (April 1957) on the outdoor patio platform they called "the coffin" and father Tom Hicks (June 1959) in the kitchen. The features such as press-to-open teak cabinets, black countertops, and pass-throughs from the open-style kitchen to the outside were all revolutionary at the time. The Hicks added a bedroom and bathroom on the side of the house facing the river plus a traditional roof on top of the flat roof which gave them an attic. Sold in 2003 to Lewis and Nancy Thorp. The Thorps did unfortunate repairs, painting the original black walnut, Philippine mahogany, samara, and Japanese nakora built-ins white. Some iconic 1950s bathroom features survive such as a blue tile shower and an alien-looking heat lamp, above. Deeded to heirs. Sold in 2018, renovation 2019-2022.
---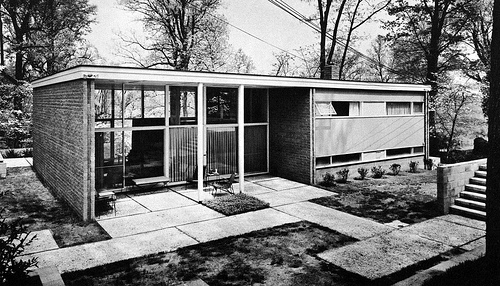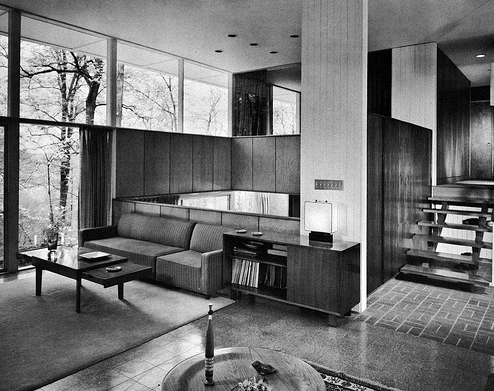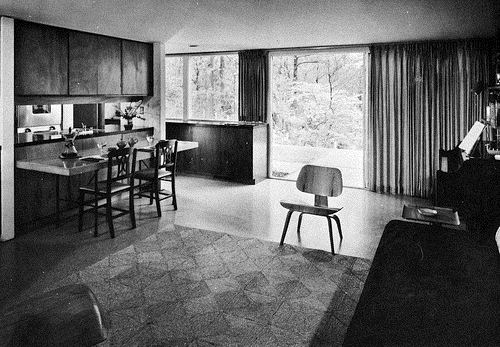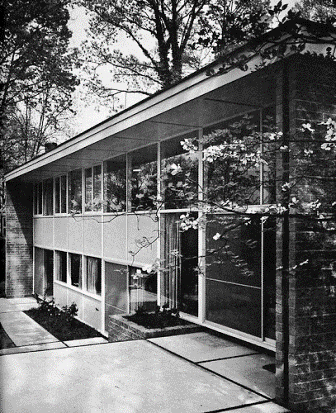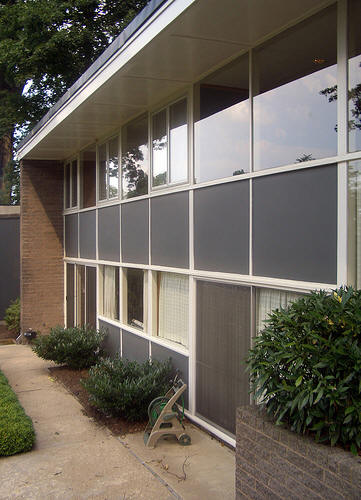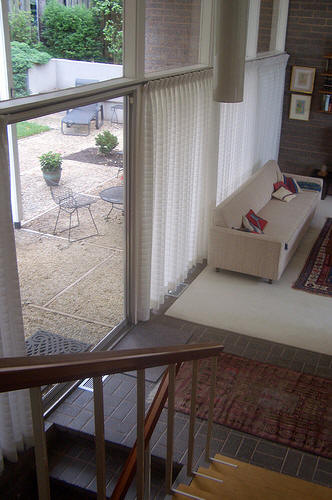 1957 - The Eric and Jeannette Lipman Residence, 5310 Riverside Drive, Richmond VA. Featured on the cover of Progressive Architecture, March 1959. Won an AIA North Carolina design award. Featured in the book Contemporary Houses Evaluated by Their Owners (1961). Garage and bedroom addition around 1998. B/W photos from MidCentArc; color photos by Ryan Tevebaugh. Sold in 2017.
---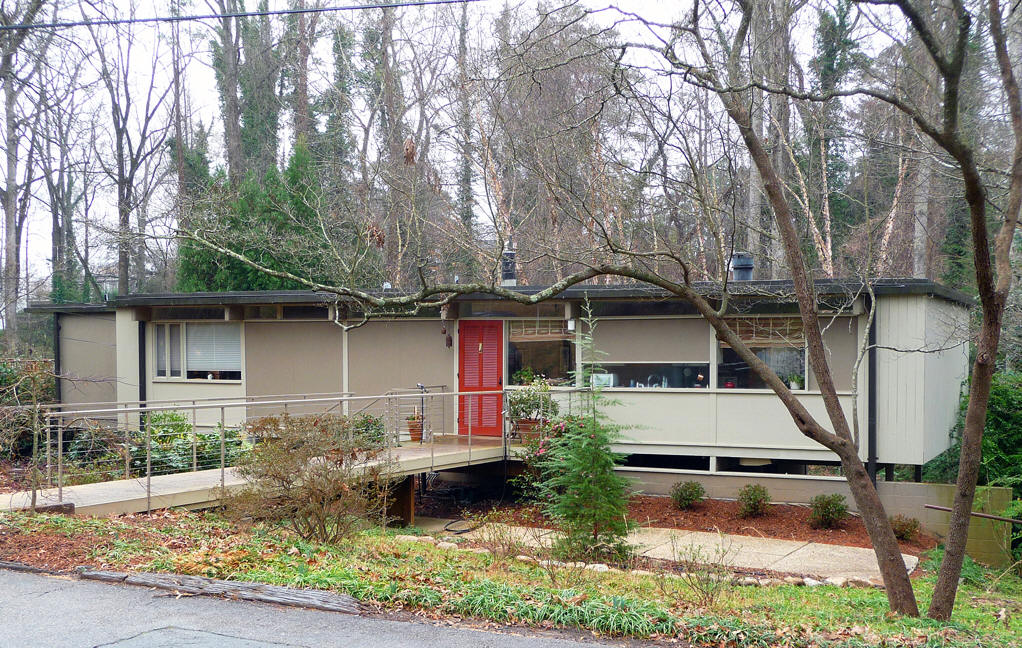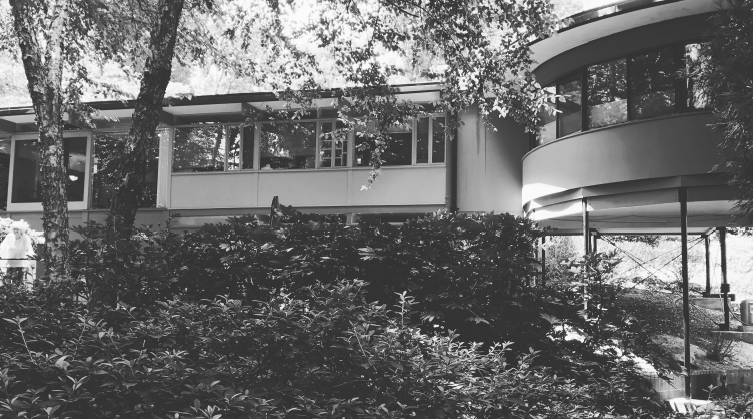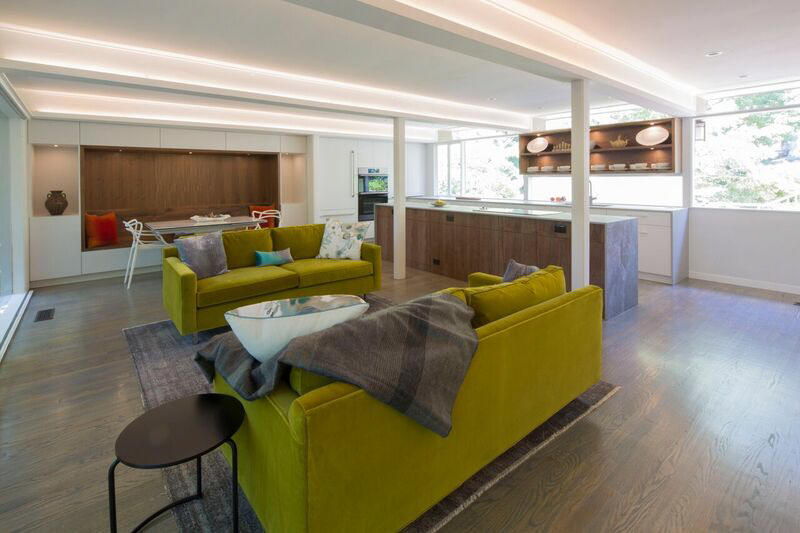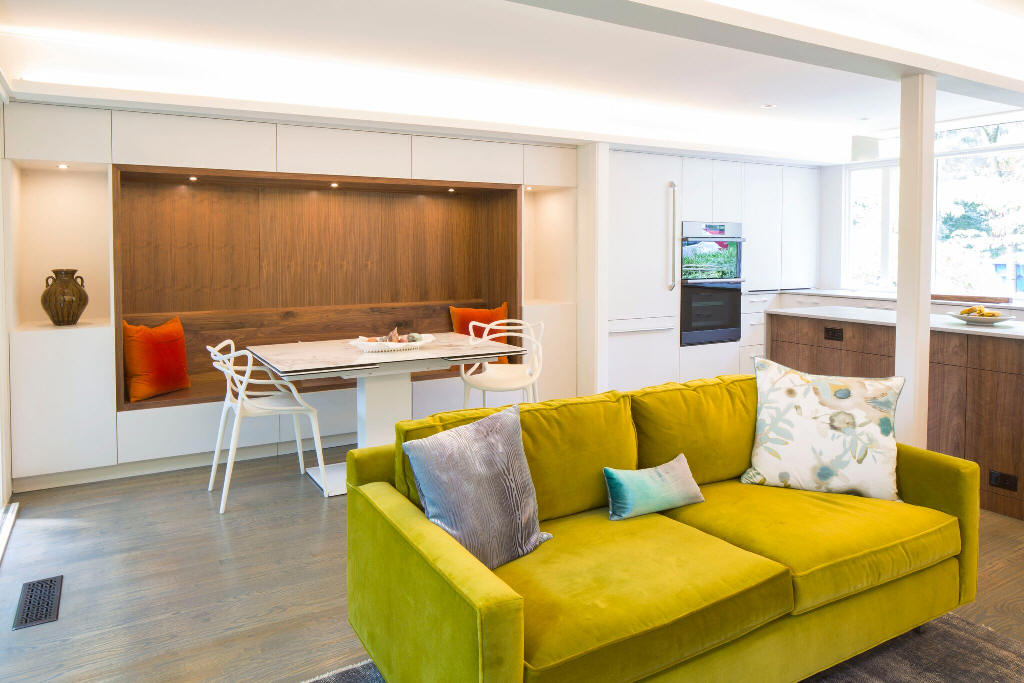 1957 - The F. Wayne Koontz Residence, 817 Runnymede Road, Raleigh NC. Koontz admired the house his neighbor George Matsumoto designed and decided to build one like it himself. Construction by Koontz and NCSU School of Design students William Ross and John Duncan. Sold in 1957 to George George. Sold in 1962 to Ray Pasqualone. Sold in 1965 to EJ (Jimmy) Tyson via Pat Juby. Sold later in 1965 to W. Dean Best. Sold in 1968 to Don and Betty Adcock. Bedroom addition designed by Frank Harmon, black and white photo. Sold in 2017 to Lisa and Thomas Williamson. Restoration by Louis Cherry, last two photos.
---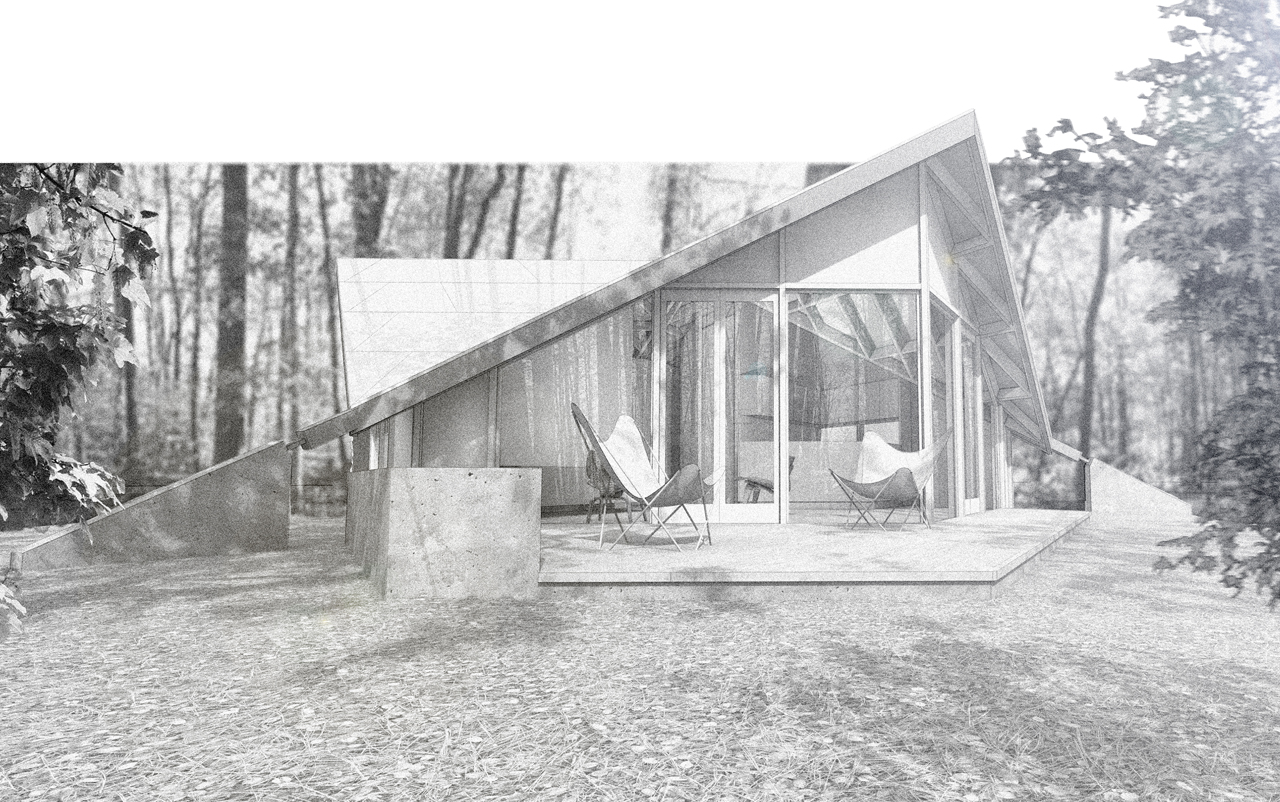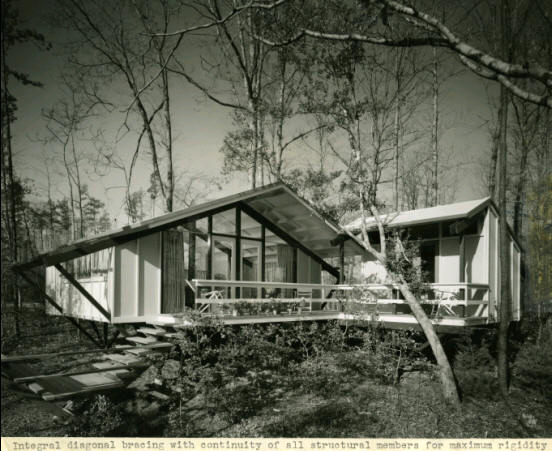 1958 - The Woman's Day Low-Cost Vacation House, aka the Douglas Fir Plywood Association (DFPA) House. According to Dr. David Hill of NCSU, "between 1958 and 1963 Woman's Day magazine commissioned seven different architects to design summer cabins." Matsumoto's cabin was the first and was sponsored by DFPA.
The top photo is the first version drawn for Woman's Day. They chose his second scheme for publication, bottom photo. Matsumoto was flooded with inquiries as people wanted assistance or customization building his design. As he received no royalties or consulting fees from the Women's Day deal, these inquiries were mostly annoying. Another architect and Homestead Supplies Inc. copied his plan without compensation and called it the Leisure Lodge, even going so far as to do a full-scale build in the LA Arena.
---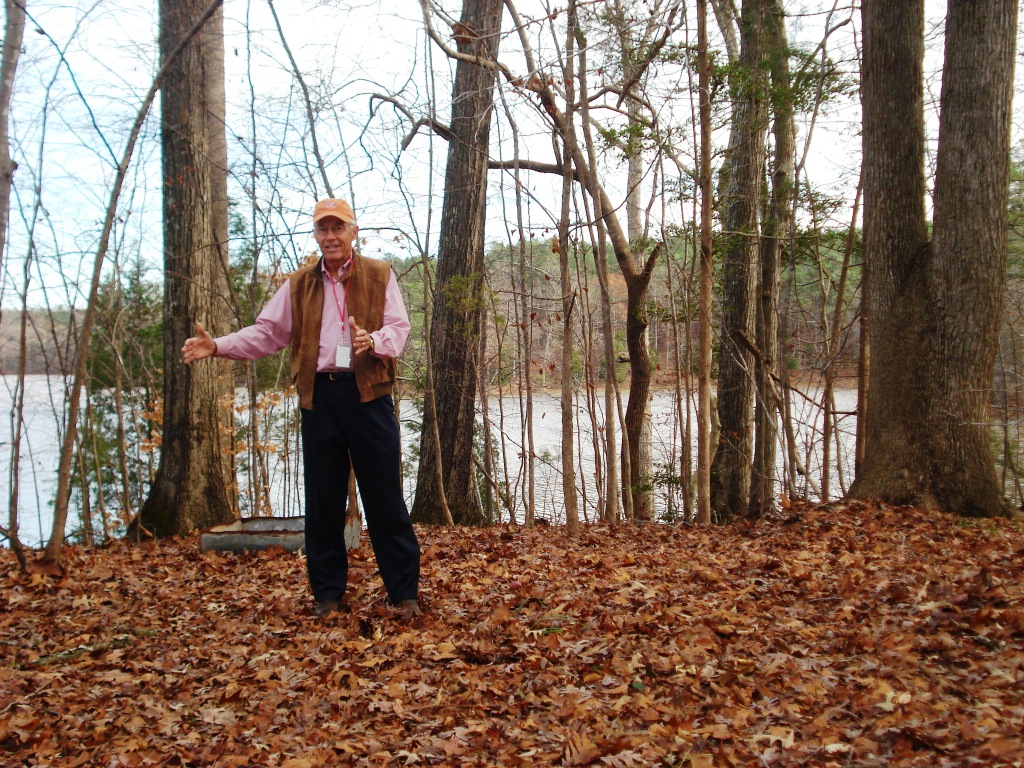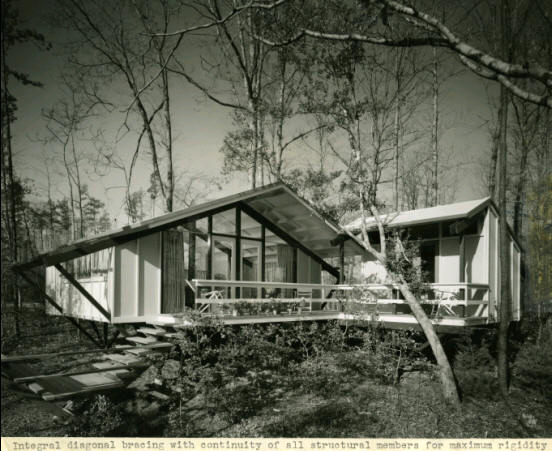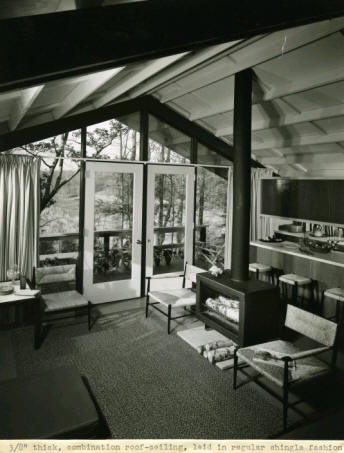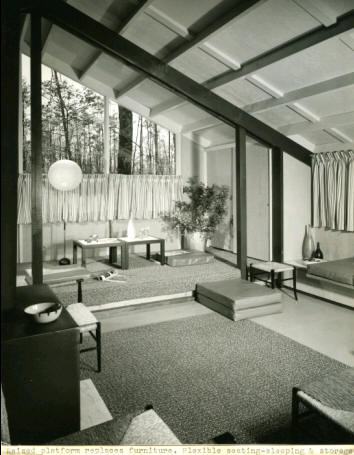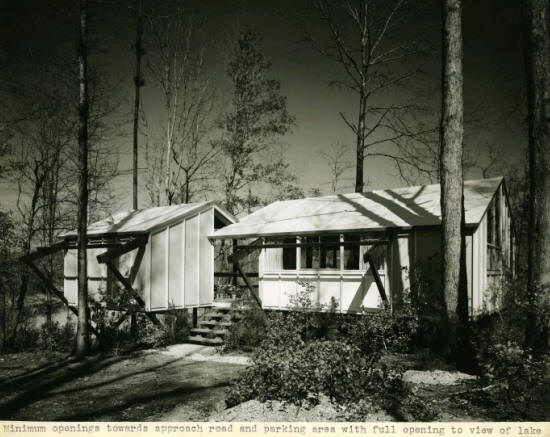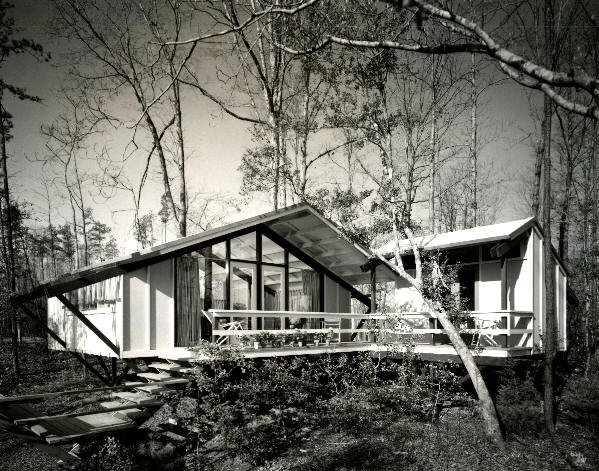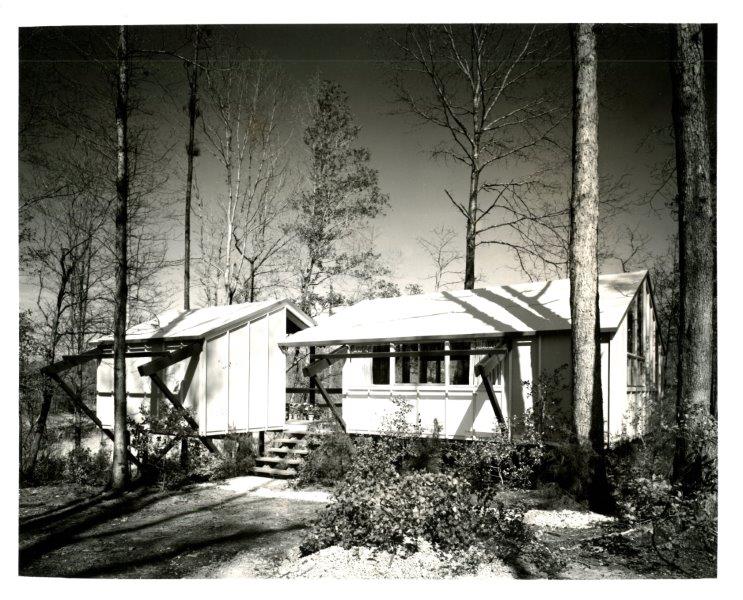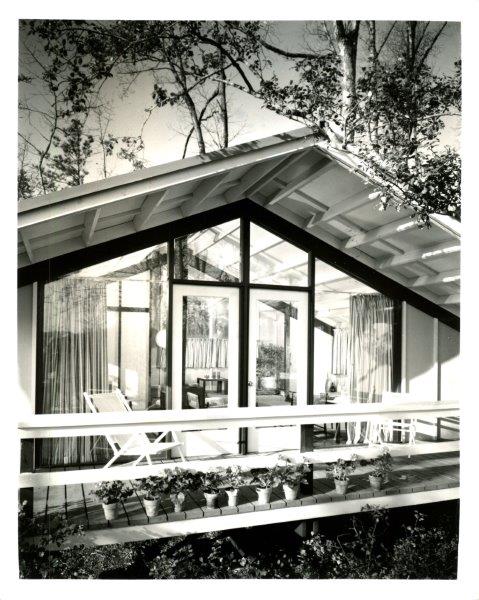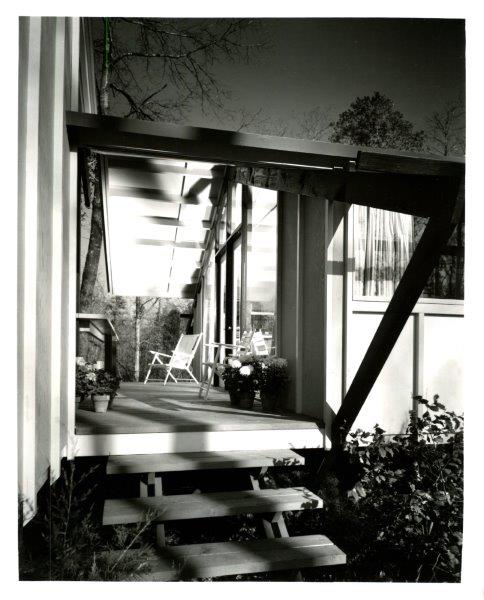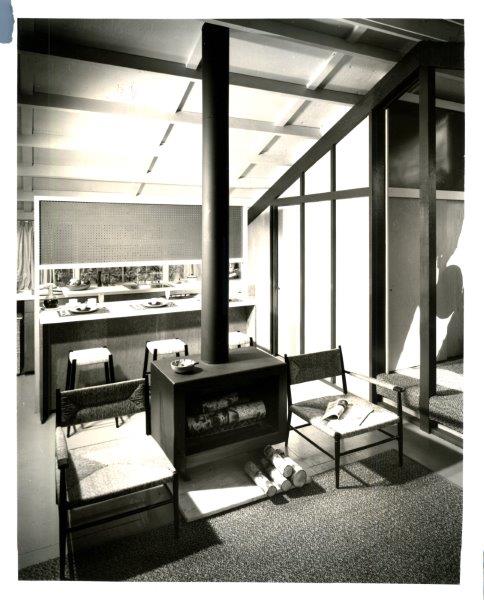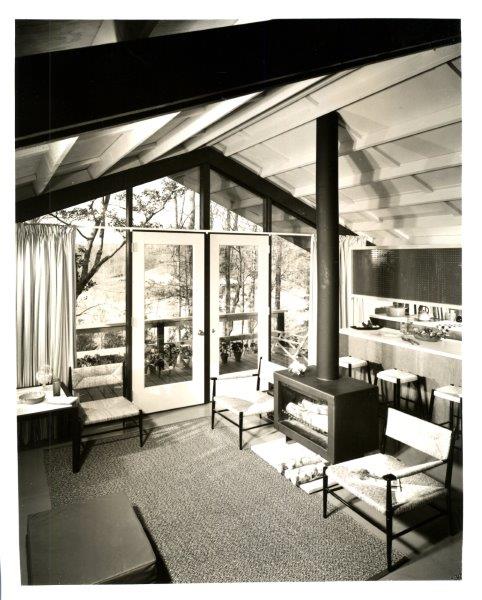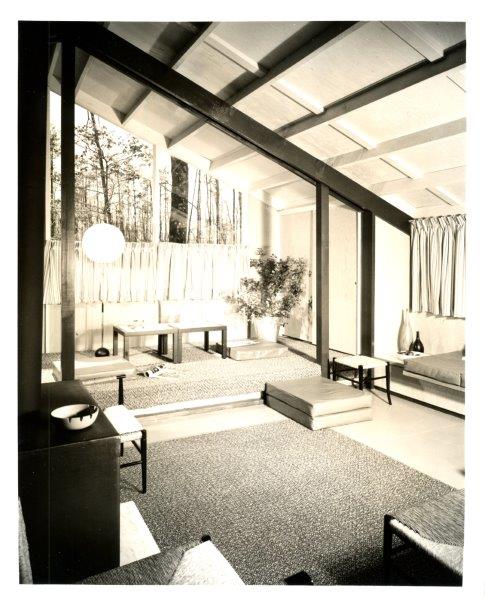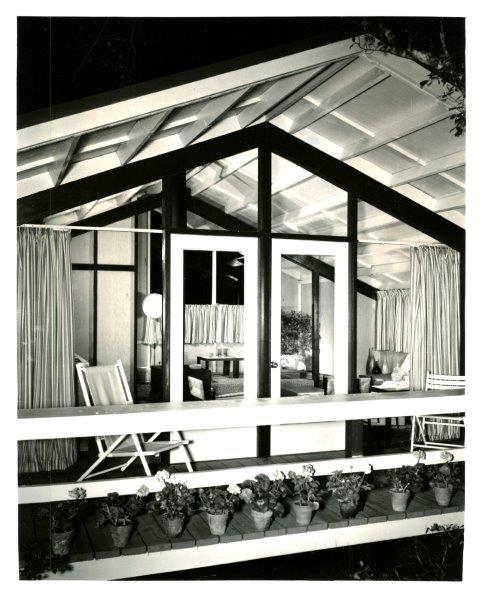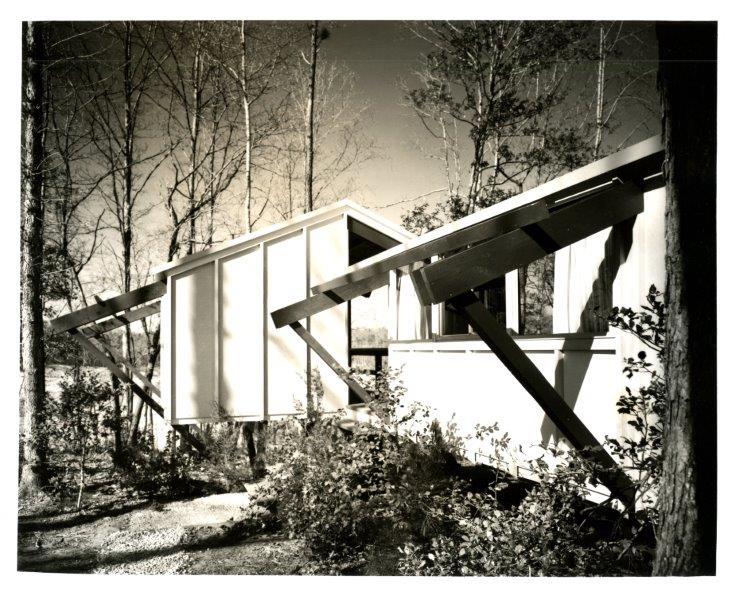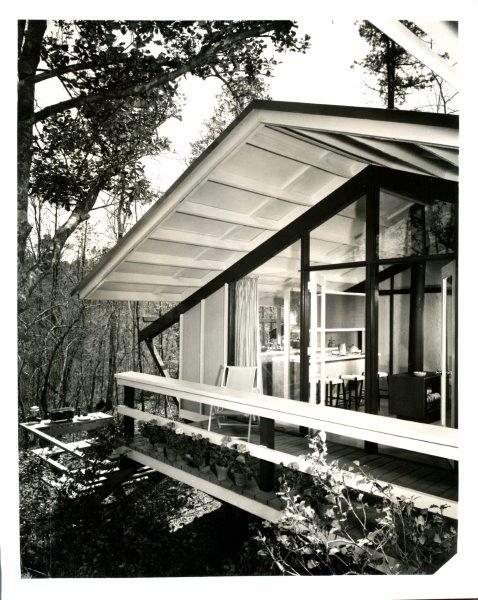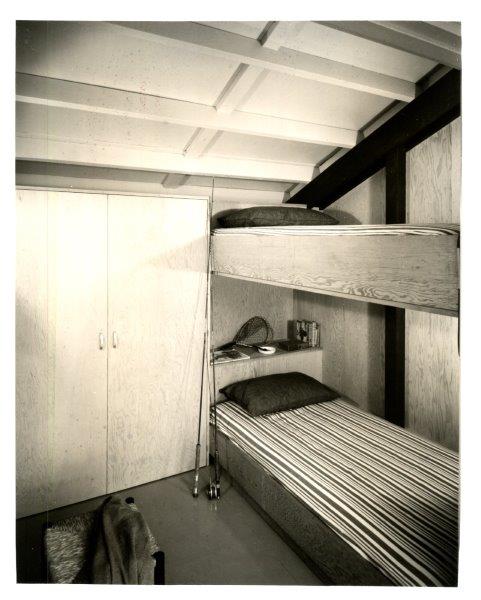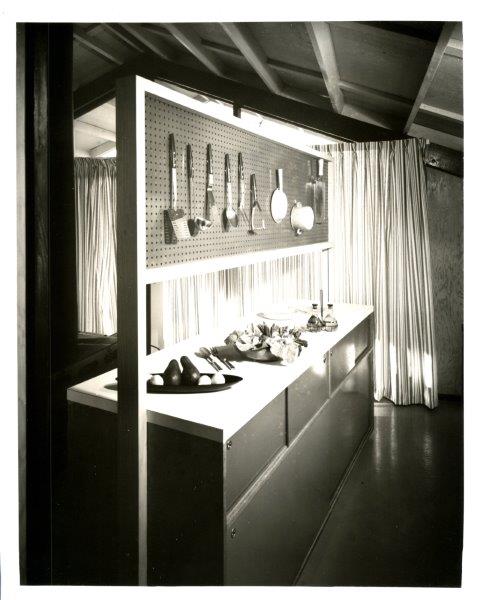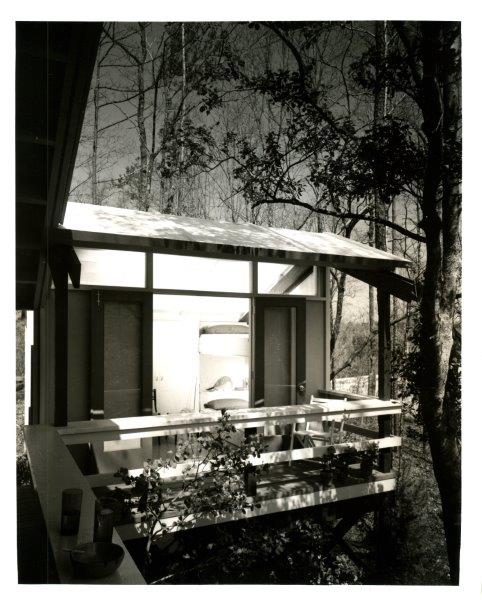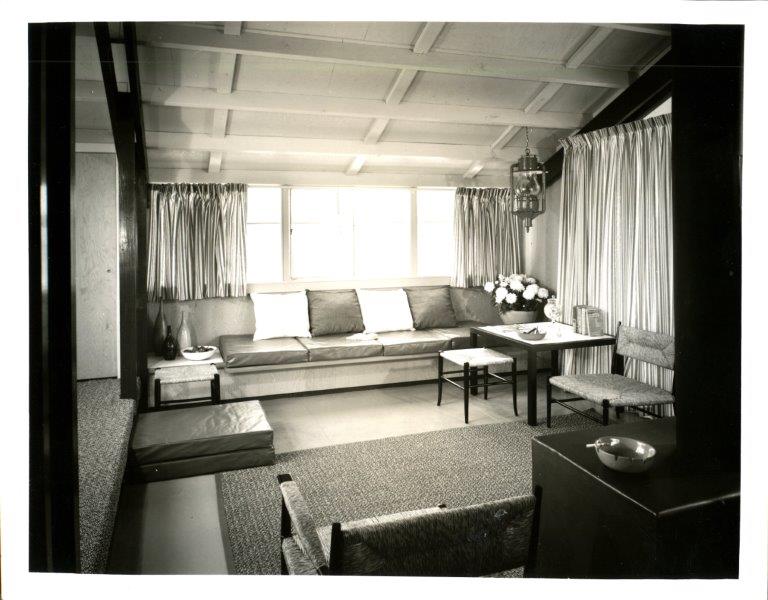 Around 1958 - The J. Gregory Poole Cabin, near what is now Falls Lake, north of Raleigh NC. This is the Women's Day/Douglas Fir design. The Poole family created a small lake and on the site they built the published second scheme for $1,500 in materials and a total cost of about $7,000. Received a 1960 Merit Award from the AIANC. Article page 1, page 2. The Army Corps of Engineers bought the land in the 1970s and the house was destroyed during construction of Falls Lake Reservoir. B/W photos by Joseph Molitor. In the color photo, on a trip back to the site in 2010, Gregory Poole, Jr. indicates where the front stairs were.
---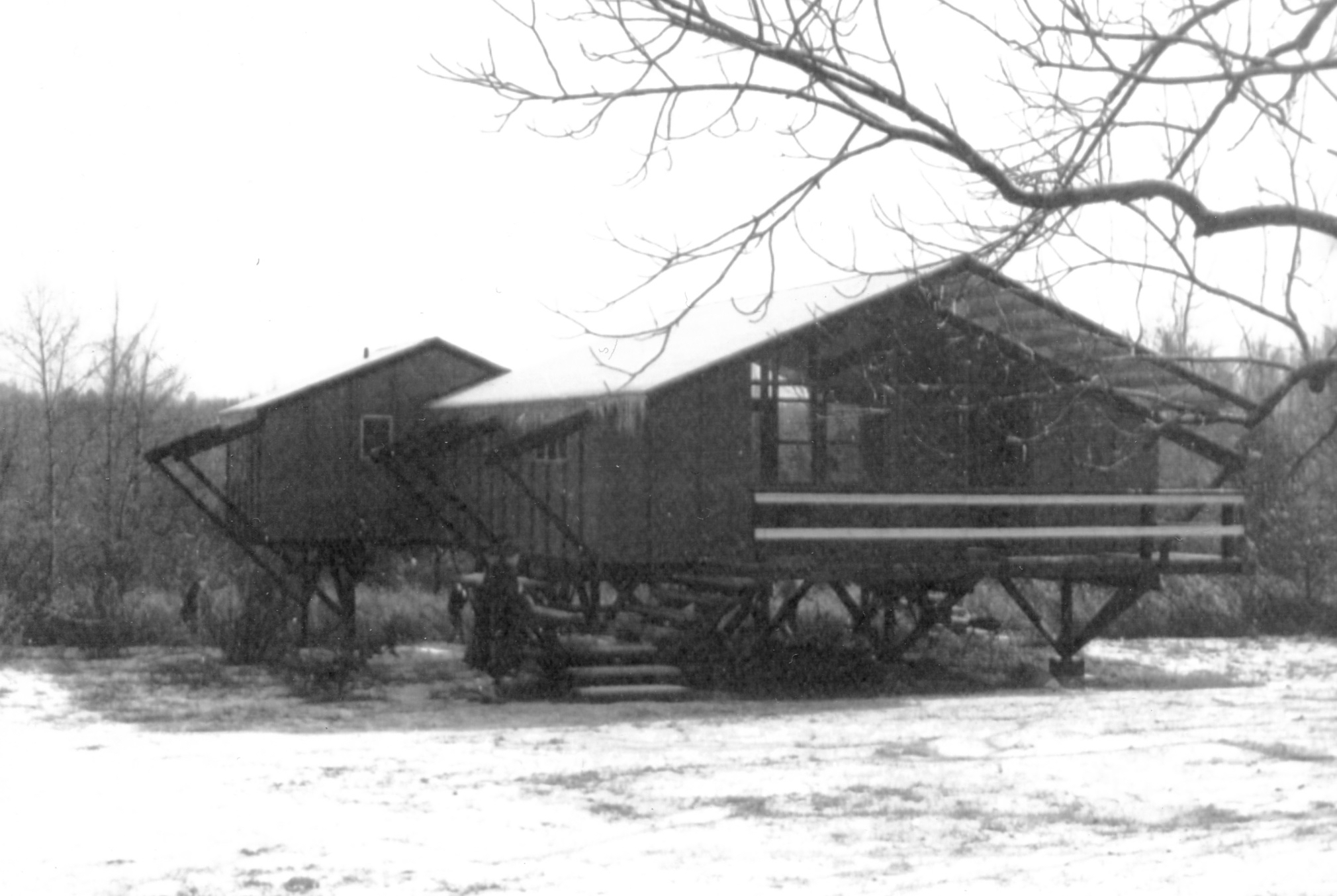 Late 1950s - The John and Grace Freeman House, aka the Woman's Day Vacation House, somewhere in SC. The clients found George Matsumoto through their parents who lived in Raleigh. Located on 67 acres of land located on the west side of Mt. Gallant Road approximately one mile north of Celanese Road and one mile south of Indian Hook Road, Rock Hill, South Carolina. That is in York County, SC, and the property is close to the Catawba River, with Stone Branch Creek running through it. The land was one of the last large undeveloped plots of land between Rock Hill and Charlotte before its sale in 2000. Destroyed to make way for a housing development.
---
Around 1958 - Westinghouse selected regional architects to design several houses around the country:
Northwest - Bassetti + Morse
Southwest - A. Quincy Jones + Emmons
Central - Little + Dalton
Northeast - Satterlee + Smith
Southeast - George Matsumoto
The houses ranged from 900-2200sf. House plans were $10 each. Matsumoto designed at least four Westinghouse Total Electric Houses: Jackson MS, Tampa FL, Atlanta GA, and Little Rock AR. There is also one in Raleigh, below. Westinghouse Houses Newspaper Coverage: One, Two, Three, Four. Brochure. Here's a pamphlet from a tobacco sweepstakes.
---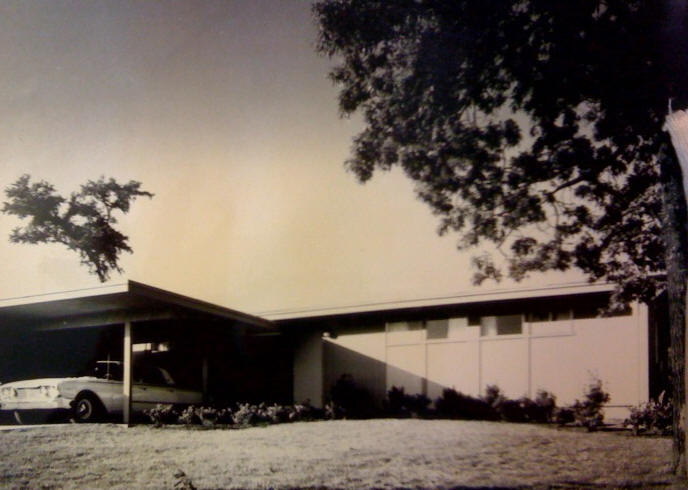 1958 - Westinghouse Total Electric House, Little Rock AR. Do you know where it is?
---

1958 - Westinghouse Total Electric House, Atlanta GA. Do you know where it is?
---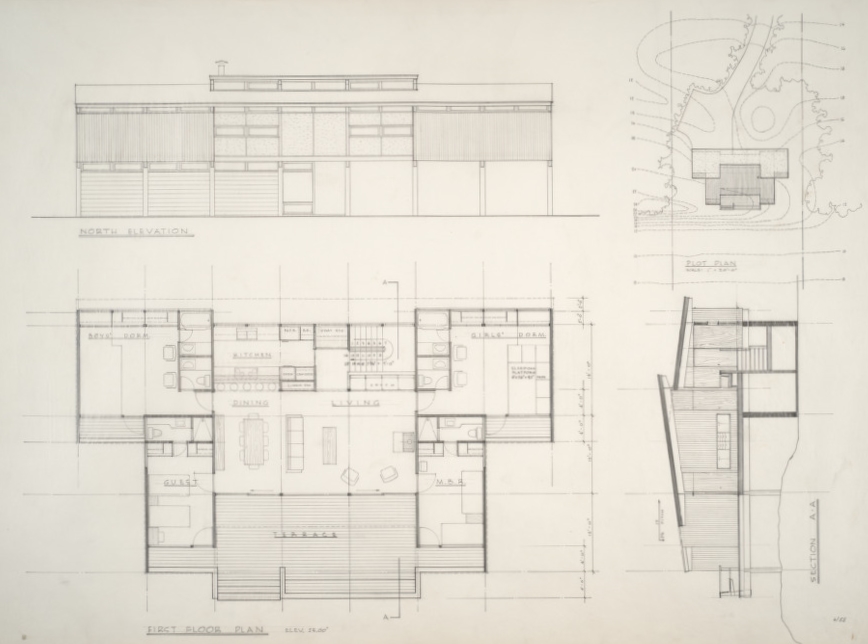 1958 - The Jack Rowland Beach Cottage, Atlantic Beach NC. Likely unbuilt. Image from the George Matsumoto Papers.
---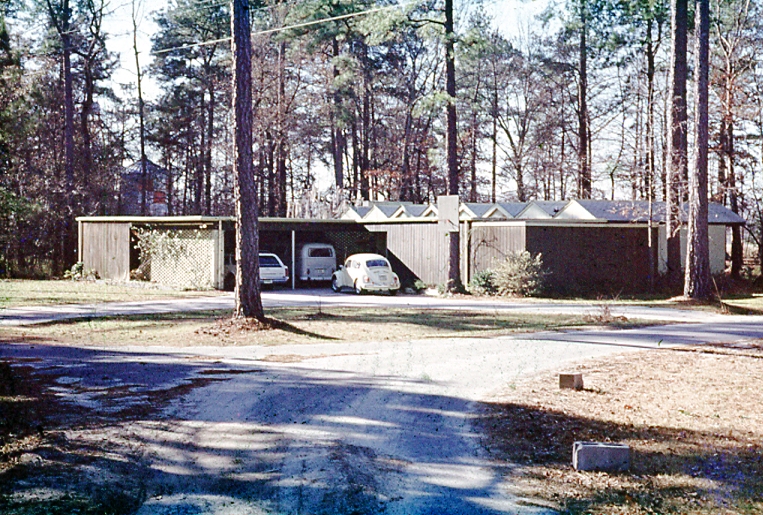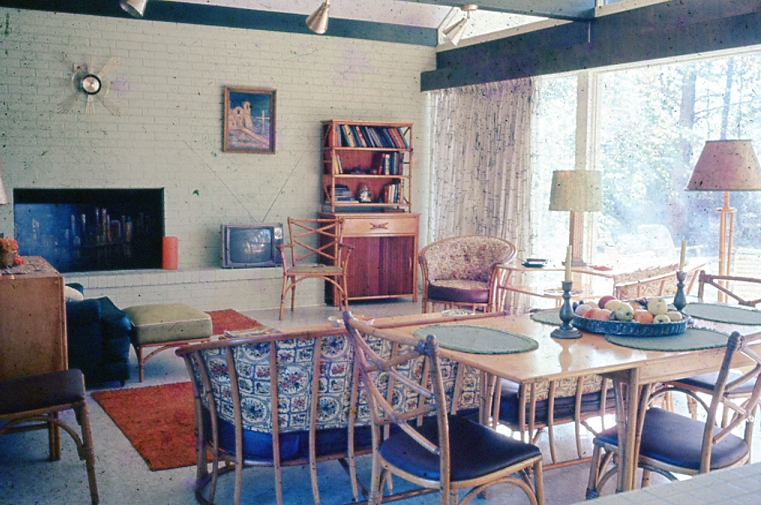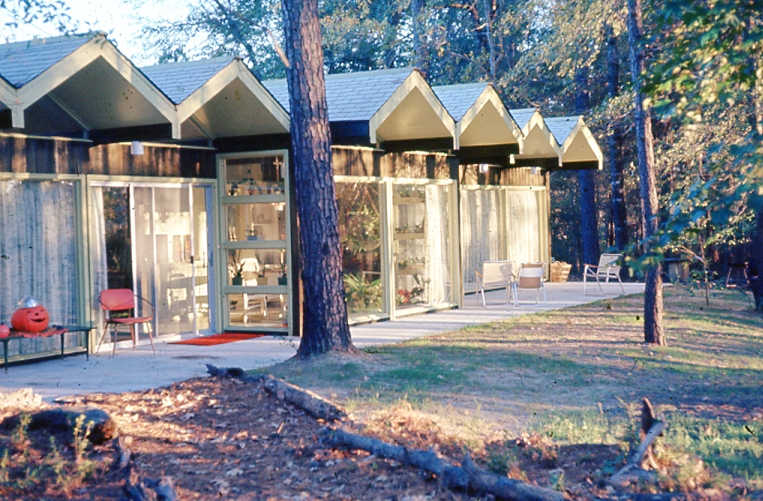 Around 1959 - The Westinghouse Total Electric Gold Medallion Home, aka House 15, 1050 State Road 1186, aka 1051 Circle Drive, Robersonville NC.
---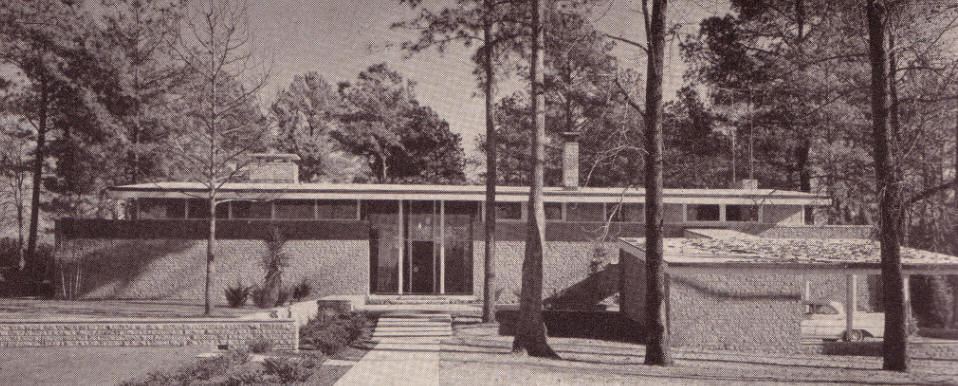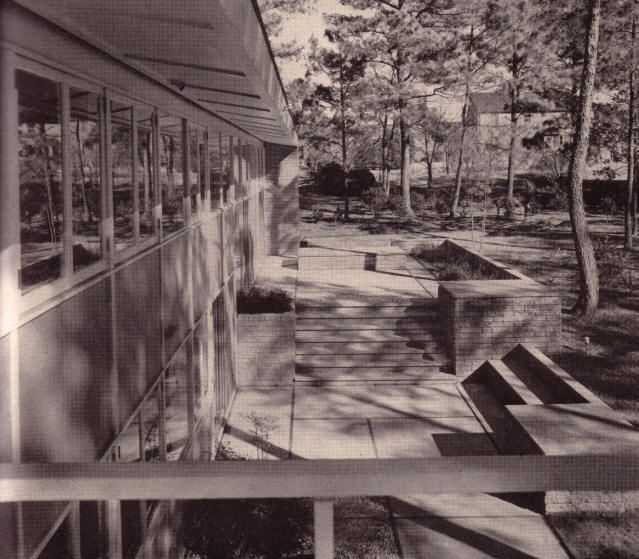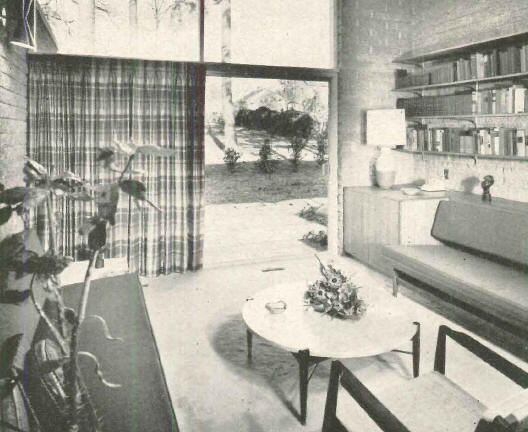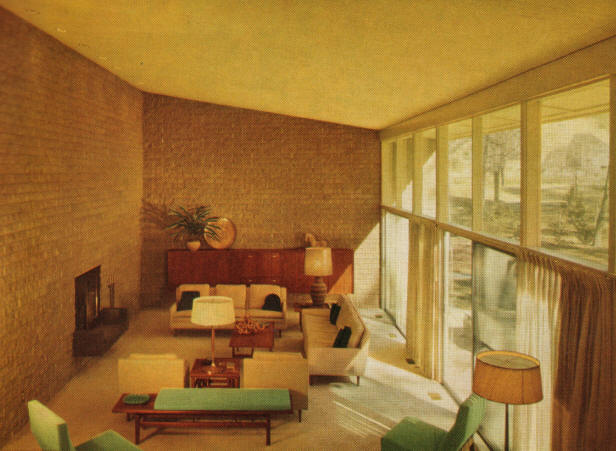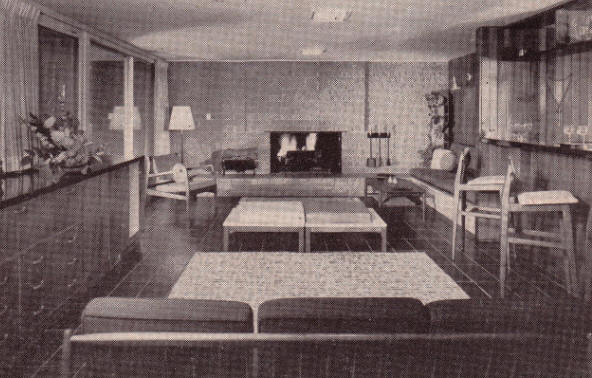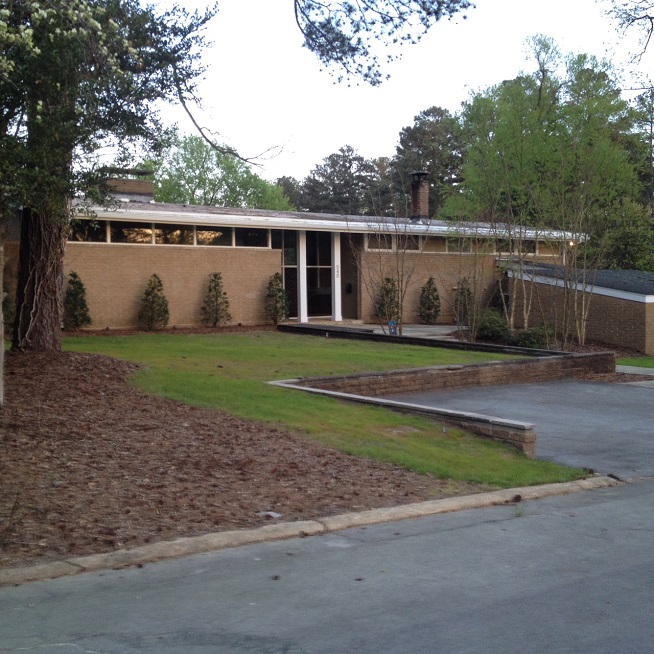 240 White Avenue, Roanoke Rapids NC. The Adams originally consulted Henry Kamphoefner to recommend an architect and Matsumoto was on that short list. After selecting Matsumoto, the Adams were concerned how a Japanese man would be received in rural post-WWII Roanoke Rapids. Mrs. Adams recalls Matsumoto was "a skilled professional, yet so human. He treated all the people associated with the house with respect and they loved him." Featured in Architectural Record Houses of 1961.
Edwin Gil Thurlow was the landscape architect which included bringing huge rocks from the Roanoke River. Later the couple added a "teenage room." When Kirkwood Adams, president of the local paper mill, had a stroke in 1982, they added an elevator and ramps. Sold in the early 1990s to Samuel Smith. Sold in 2005 to Rick and Stephanie Gainey. Sold in 2007 to Ryan and Mandy Grizzard. Sold in 2014 to Matthew and Lauren Harris. B/W photos by Joseph Molitor.
---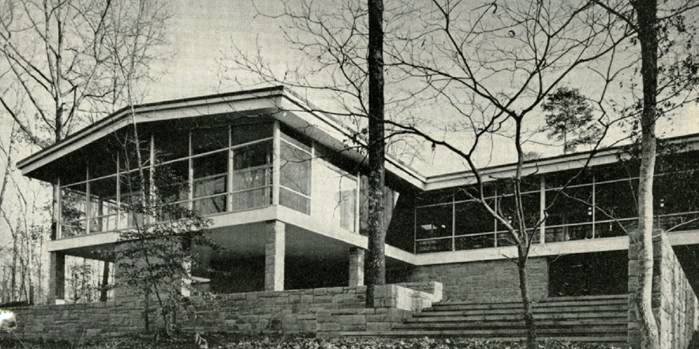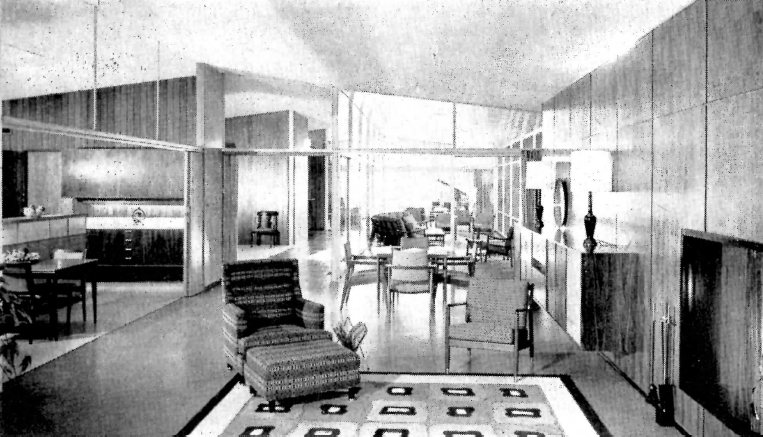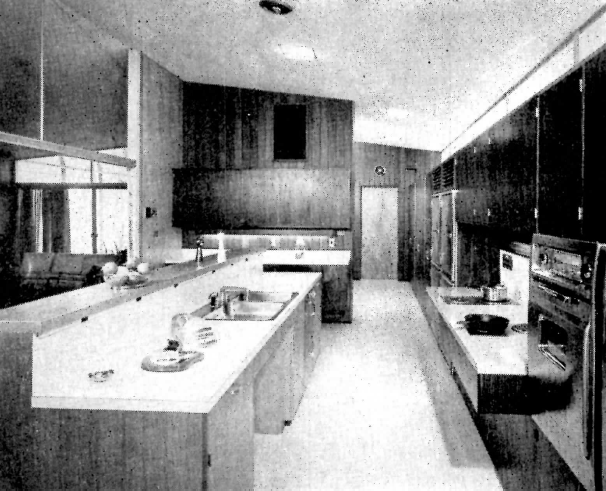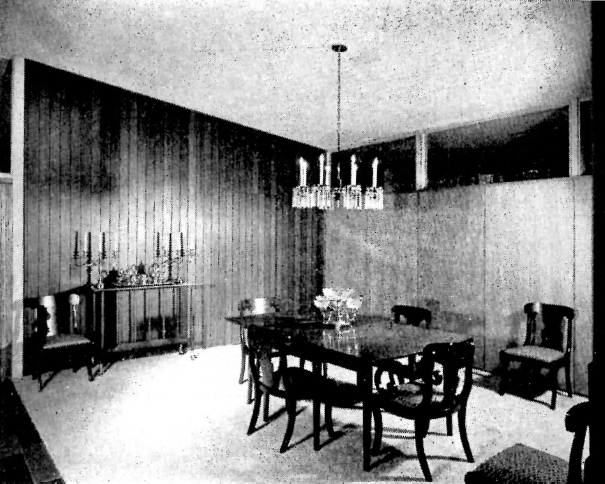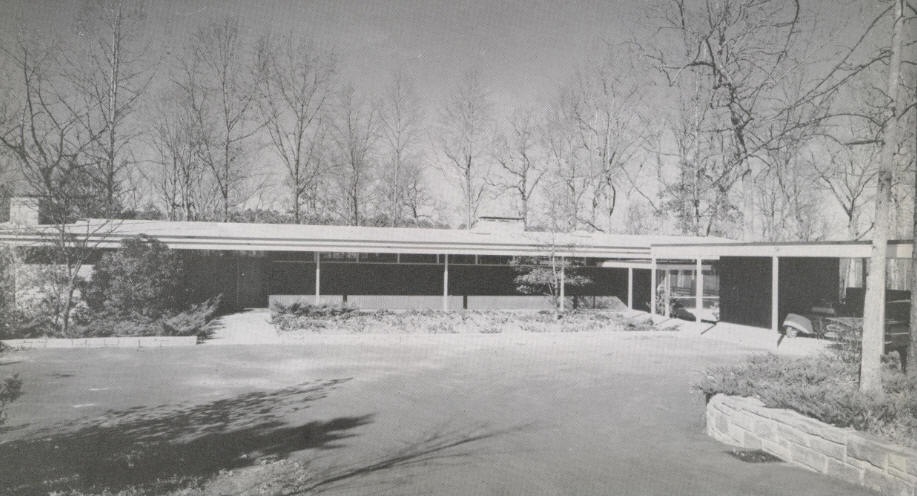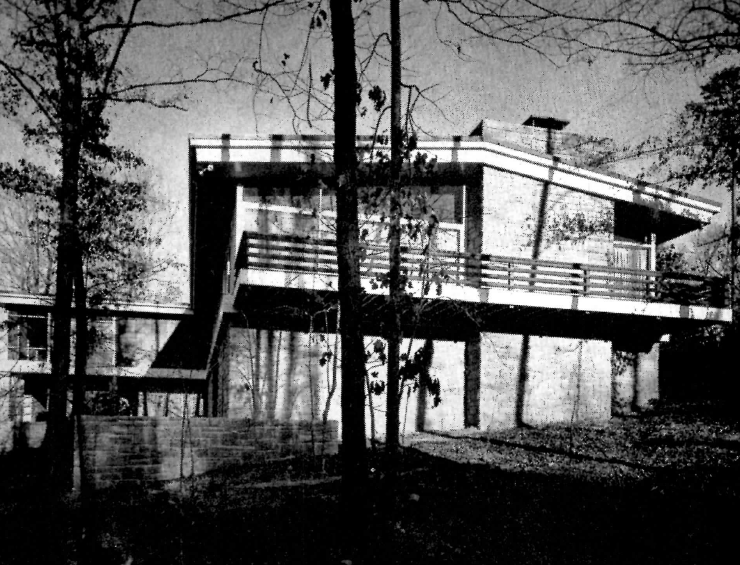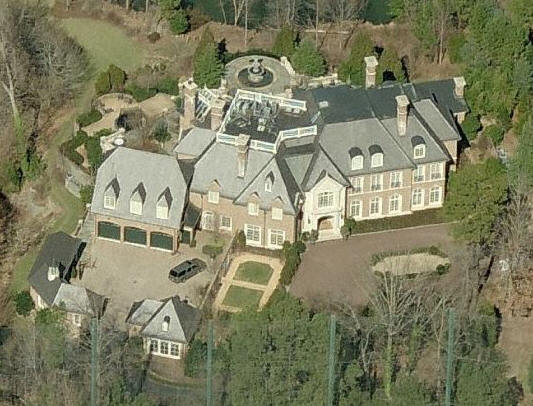 1959 - The J. Gregory and Irene Poole Residence, 2745 Lakeview Drive, Raleigh NC. Designed with Milton Small Jr. Built by Frank Walser. The engineer was Adolphus Mitchell. The landscape architect was E. G. Thurlow. Featured in Architectural Record, March 1960. The Pooles sold this breathtakingly beautiful three acres property overlooking the lake at Carolina Country Club to Thomas and Molly Castelloe in 1967. At that point, Lewis Clarke redid the landscaping. After their divorce, Castelloe sold it to Thomas Rouse of Texas in 1991. Rouse tore down the house and began construction of a huge new house. At 90% complete, it burned down during a party by trespassing teenagers. Sold in 1998 to Robert Winston. He hired designer Carter Skinner and built one of Raleigh largest mansions, bottom photo.
As of 2010, son Gregory Poole Jr. did not share his parents' affection for modernist architecture (finding them lacking in warmth) but he described the demolition of the Lakeview house as a "tragedy." He saw the progressive ideas of Matsumoto and the School of Design as very influential and important to the history and development of Raleigh.
---

1959 - The Tate Residence, Winston-Salem NC. Unbuilt. Matsumoto designed just one building in town, the IBM Building, at 875 West 5th Street, later the home of WSJS.
---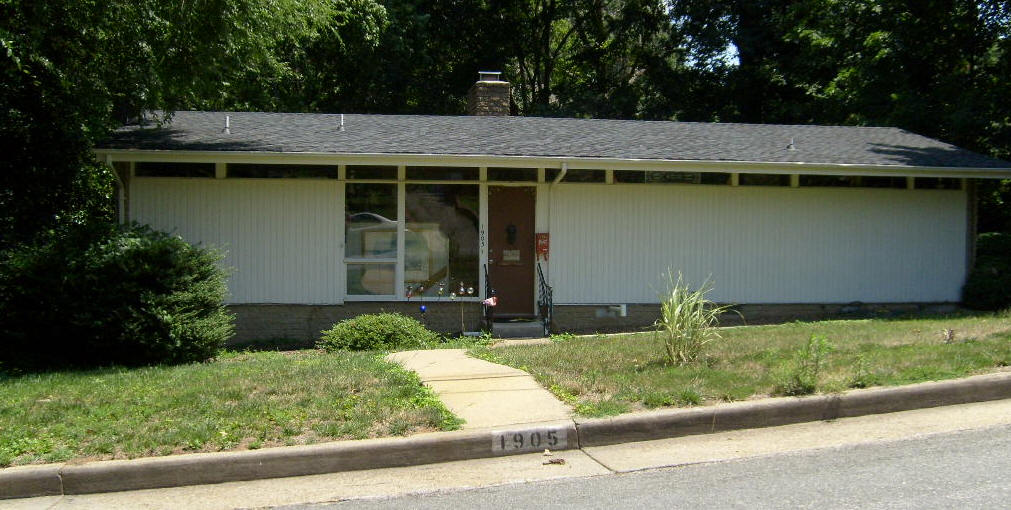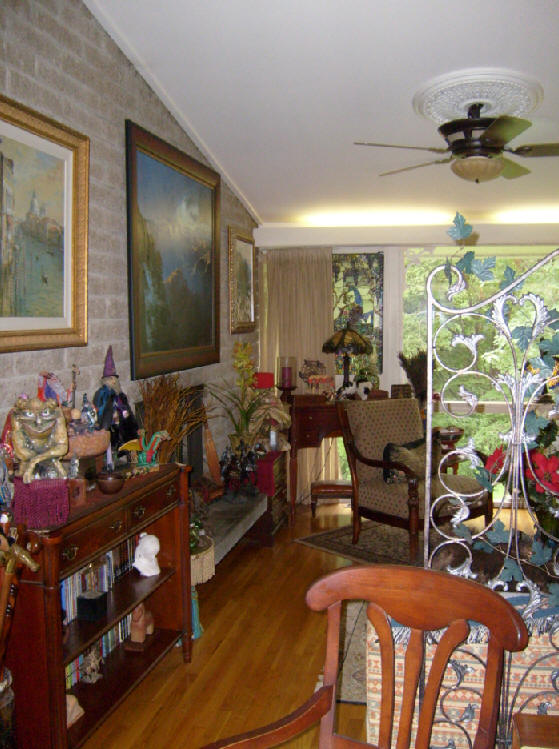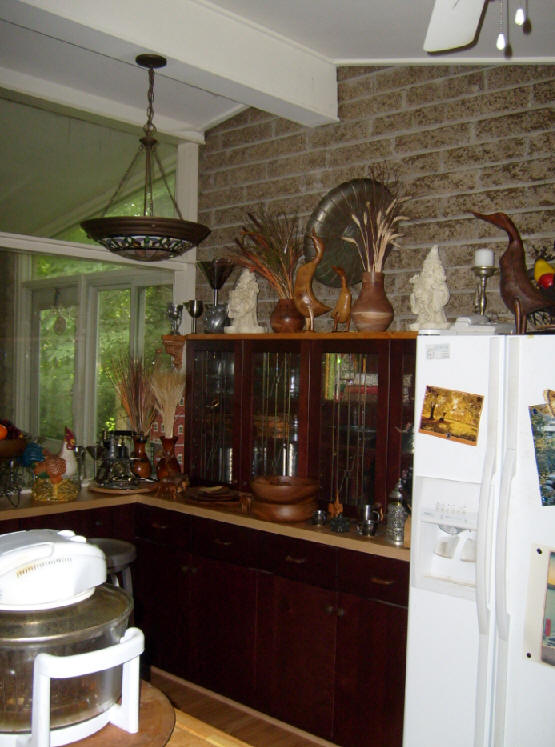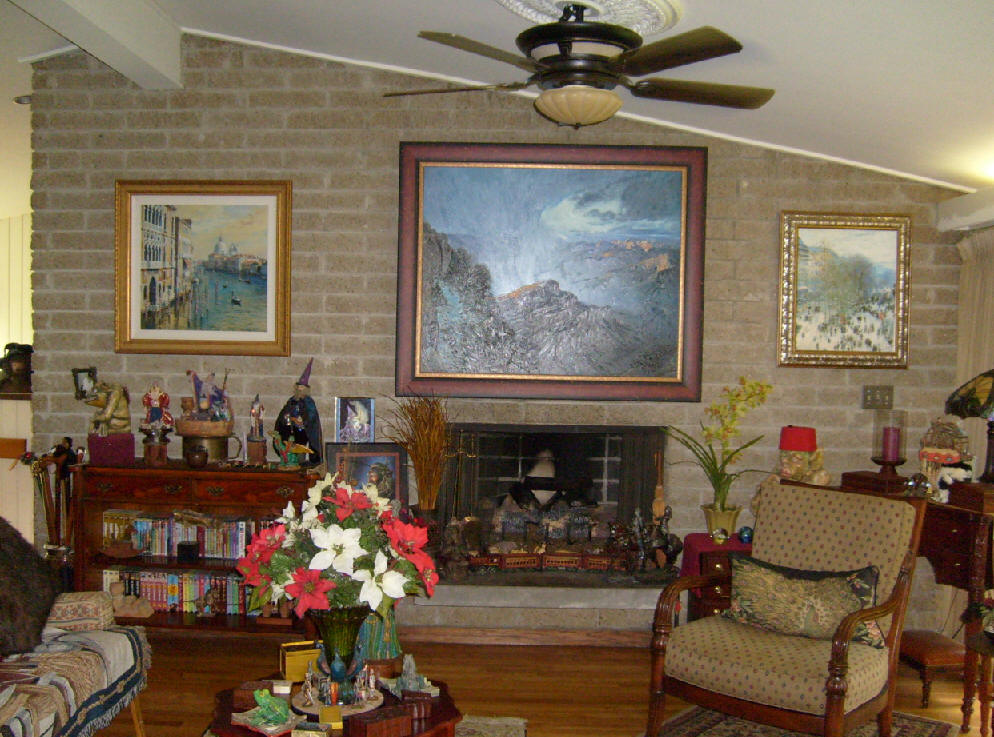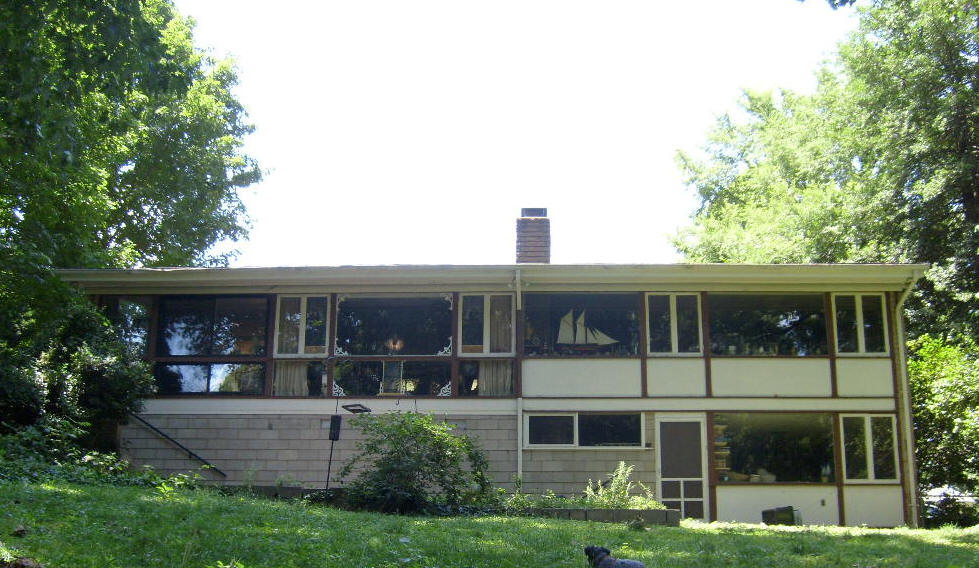 1960 - The Gwendolyn Sully Hudson Residence, 1905 Woodbine Road, Richmond VA. Situated next to the James River in the Westover Hills area. 1225 sf. Dr. Hudson died in 2006 and the house was willed to her neighbor and personal physician John H. Stevens. Dr. Hudson's ashes remain in her treasured house.
---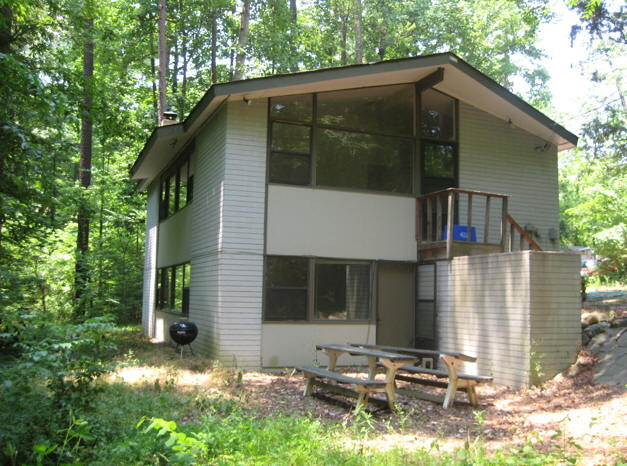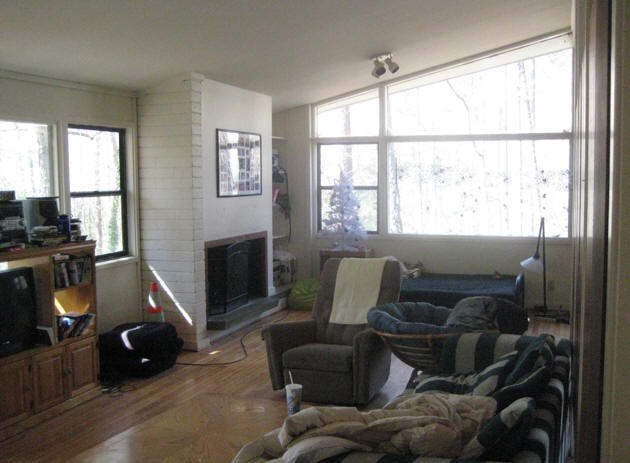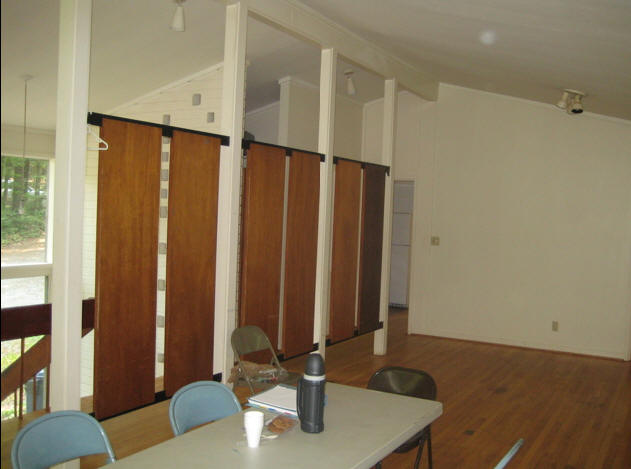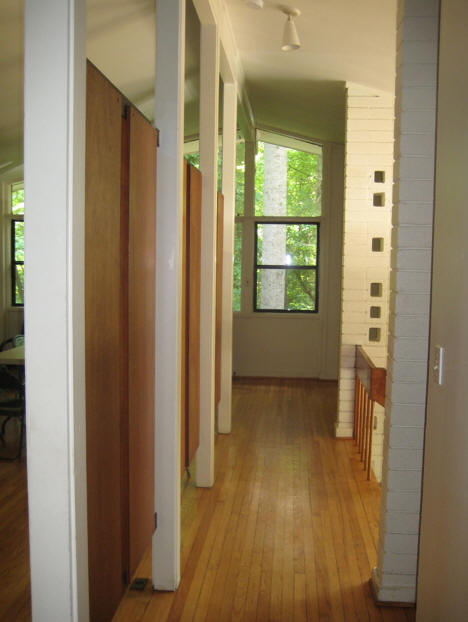 1960 - The Clergy Residence, Community Church of Chapel Hill Unitarian Universalist, 106 Purefoy Road, Chapel Hill NC. Co-designed with NCSU School of Design Professor Cecil Elliott. This house and the original sanctuary was used by church ministers until the early 1980s. It was a group home for a decade and rental property after that. An attractive brick, two-story residential structure with 1,728 gross square feet, it is equally divided between the two floors with four bedrooms and two and one-half baths. The modernist design is "upside down" with the bedrooms on the ground floor and the living room, dining room, and kitchen on the second floor. The second floor has cathedral ceilings on a 300 sf living room with fireplace. The dining room is 146 sq feet opening into the kitchen of 122 sq feet. There is also a half bath and small closet on the second floor. The second story floors are hardwood.
---

1960 - 1503 East Northside Drive, Jackson MS. Commissioned in 1958. Sold around 1967 to Kirk G. Taylor, who doubled it in size about 1970 to 4000 sf. Much of Matsumoto's original plan was eliminated in the addition. Taylor still lived in the house as of 2011.
---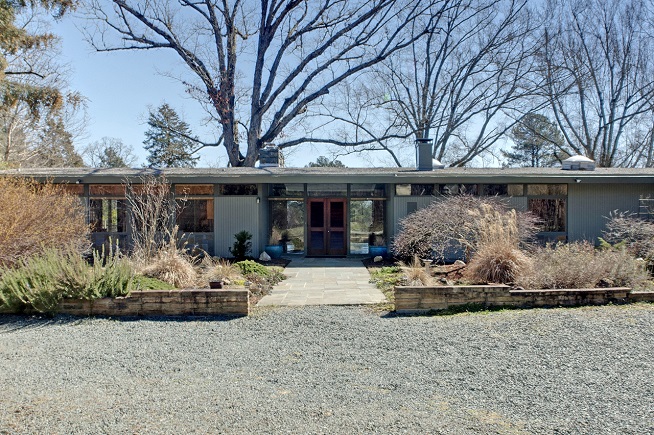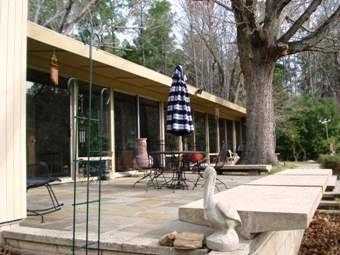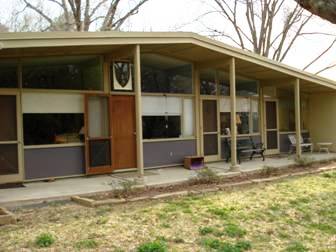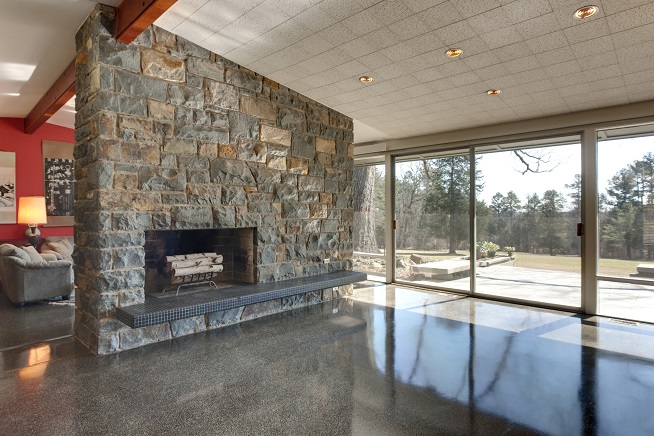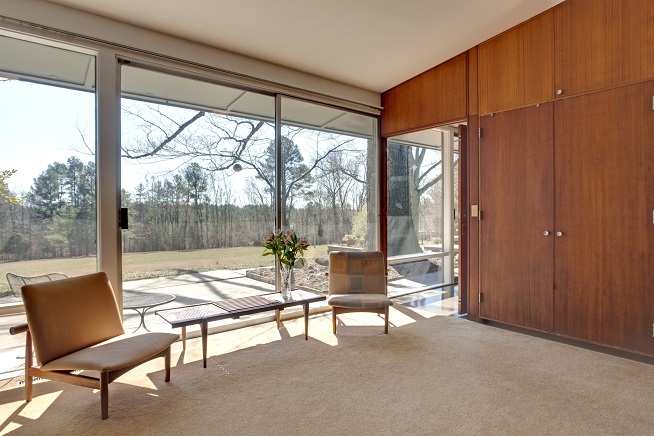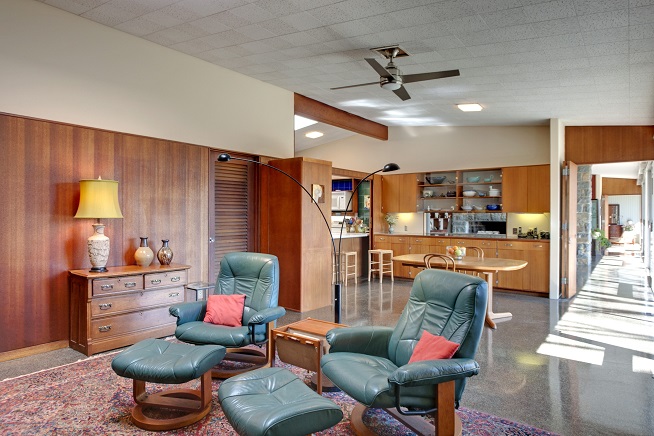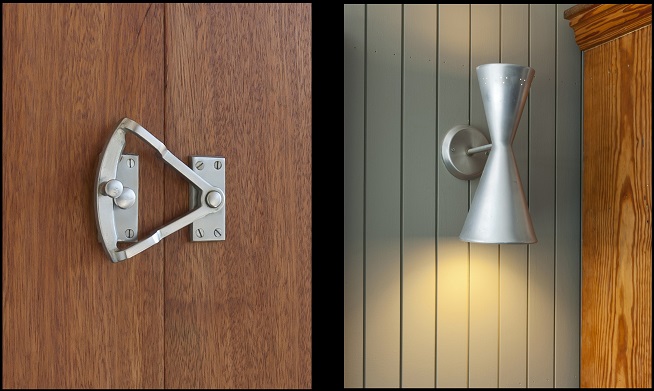 1960 - The Cecile and Bryce Dewitt Residence, 702 Old School Road, Chapel Hill NC. This was Matsumoto's largest Triangle area house. The 5-bedroom, 3300 sf ranch on 55 acres was built by Frank Walser for two UNC physicists and their four daughters. Each daughter had her own room with an outside door leading to a play area. After moving away, the Dewitts rented the house to students for 15 years. Sold to David and Marsha Warren who added skylights to illuminate the kitchen and family areas. Sold in 2013 to Elisabeth and Philip Benfey. After considering renovation options, none of which were very practical, they tore down the house. Phil Szostak designed a new Modernist house in its place.
---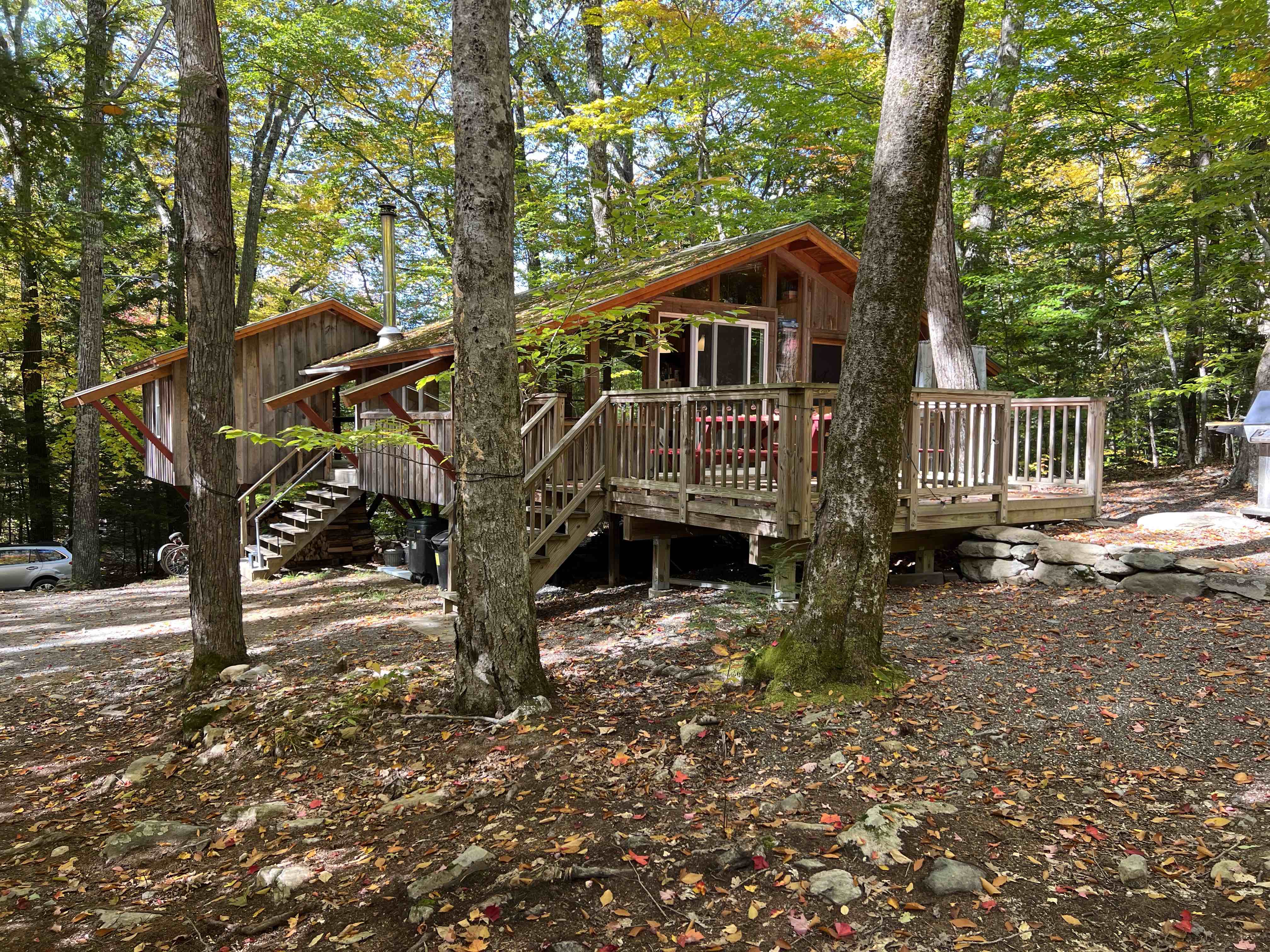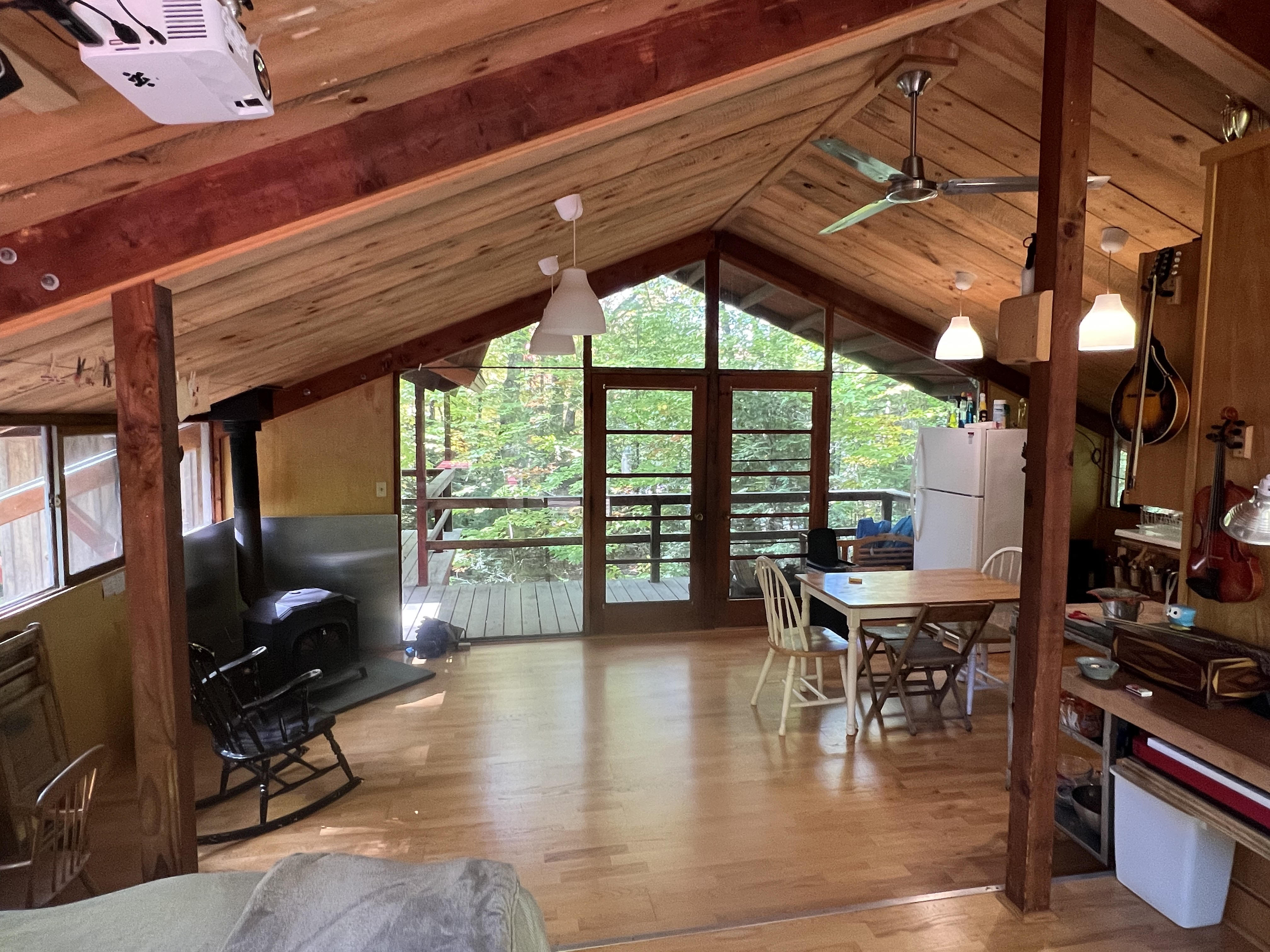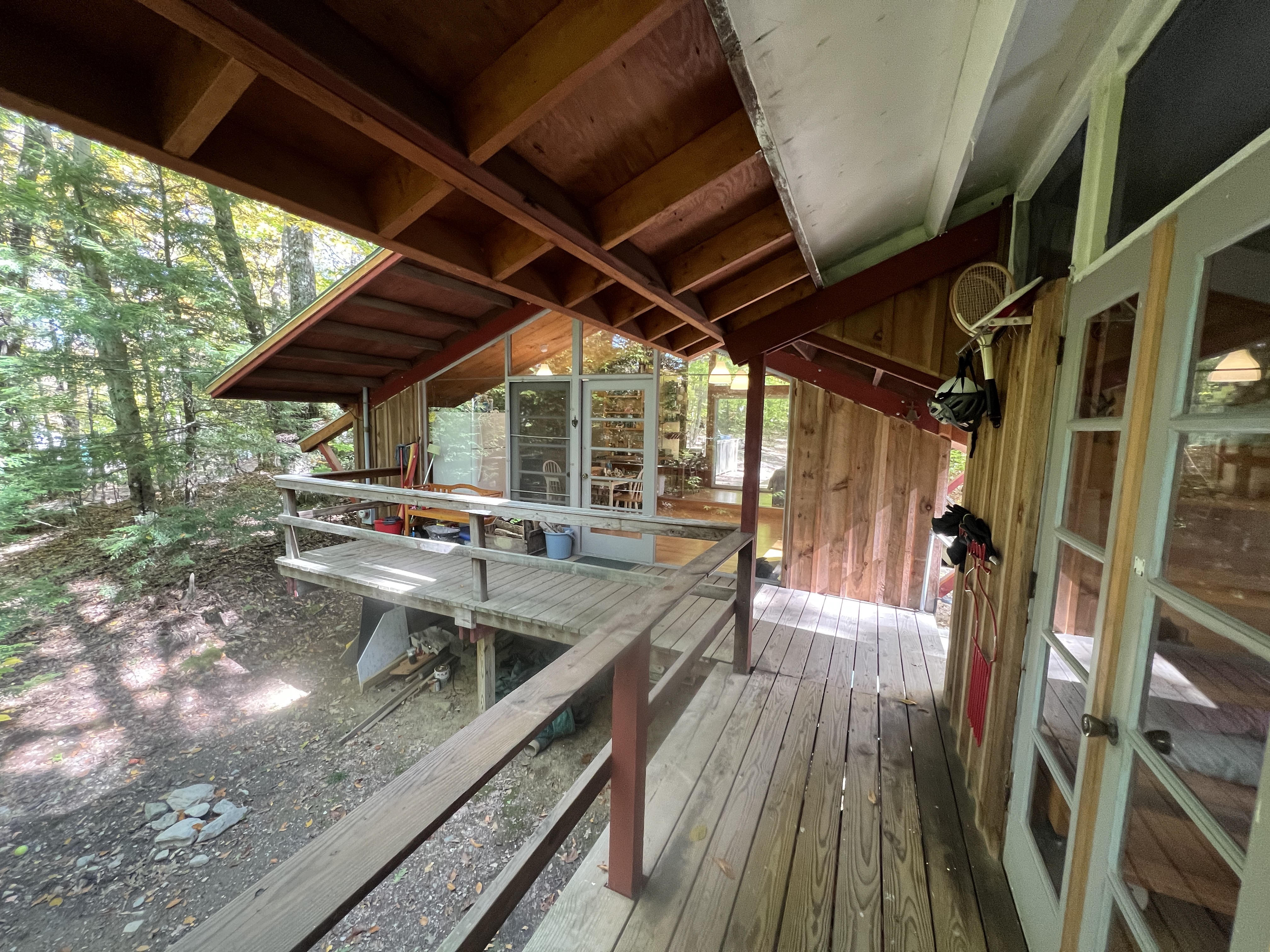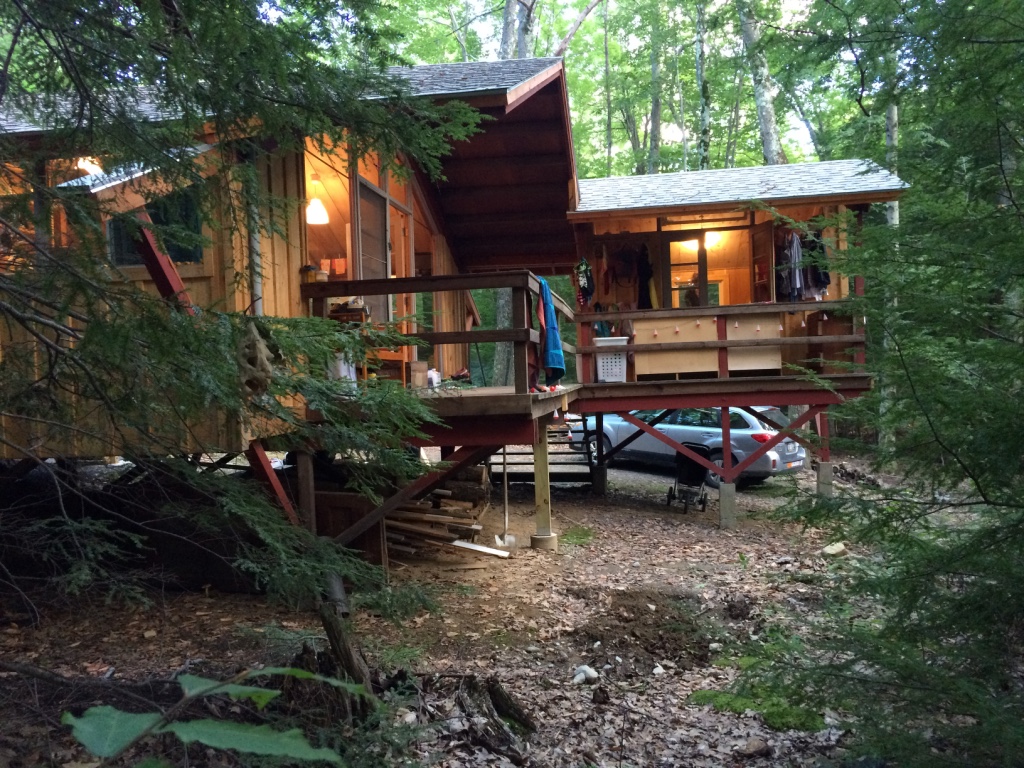 1960 - The Meany House, aka the Woman's Day Low-Cost Vacation House, 16 Flicker Hill Road, Petersburgh, NY. Located on Babock Lake. Sold in 2014 to Igor Vamos added a foot of overhang to the roof to protect the walls from rot.
---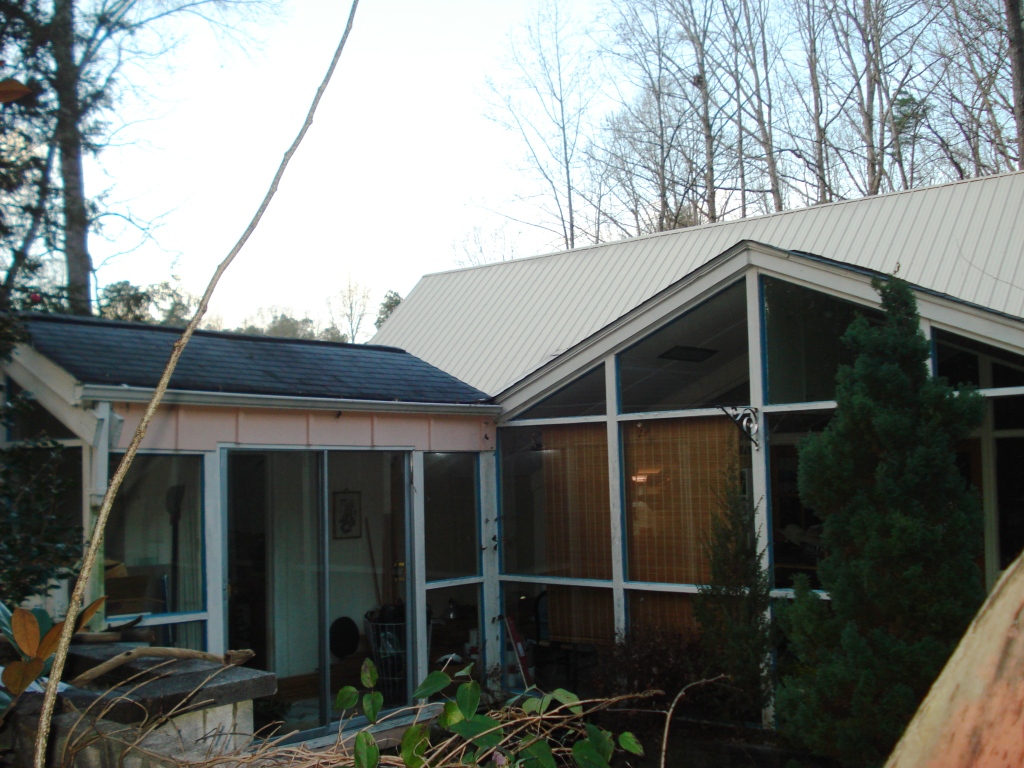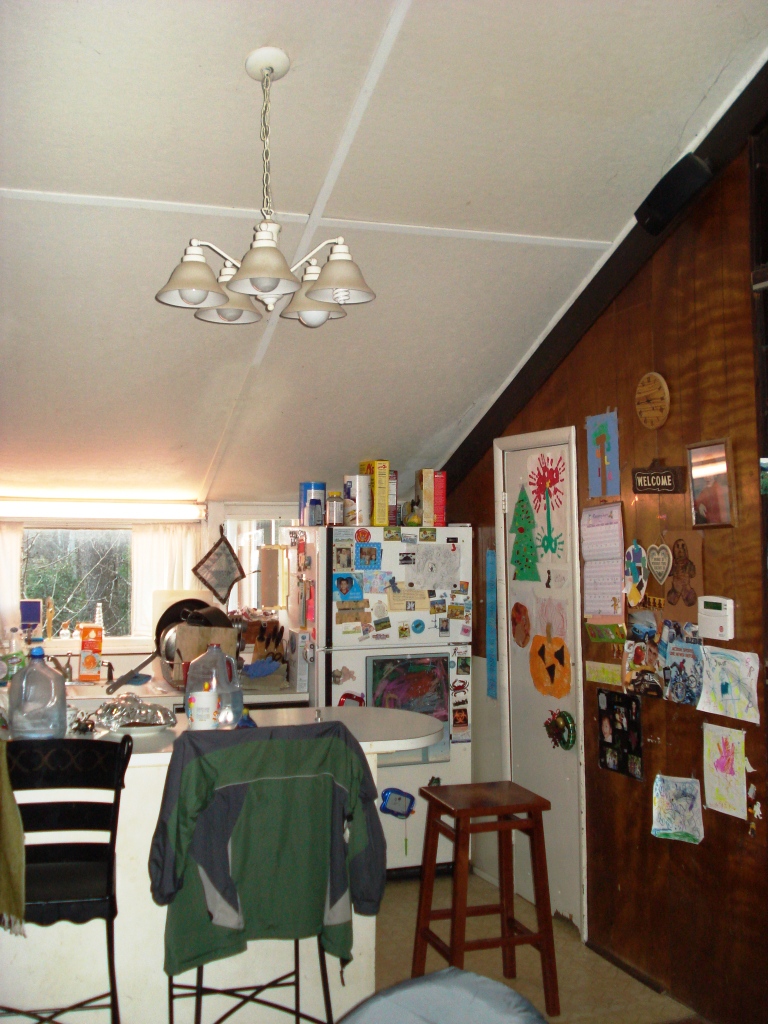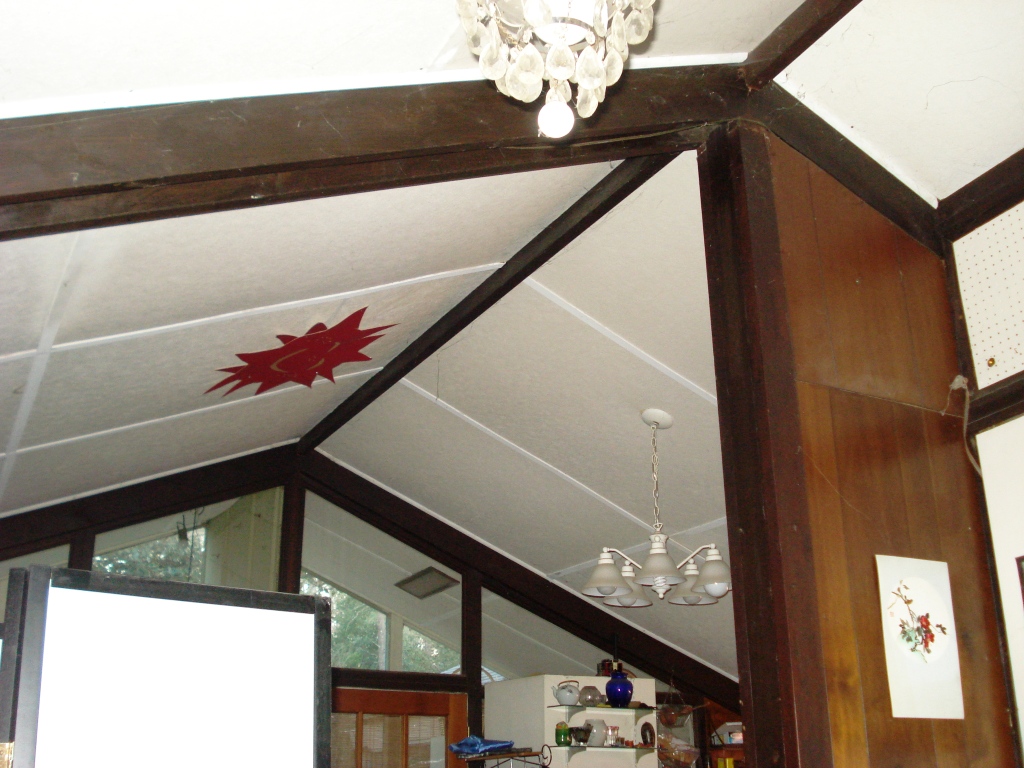 Around 1960 - The Kemp Nye House, aka the Woman's Day Low-Cost Vacation House, 9701 Carrie Road, Chapel Hill NC. Record store owner Kemp Nye ordered the plans and built a slightly modified version. A flat-roofed addition to the rear came in the 1980s. Photos by George Smart. Sold in 1993 to Christine Parks.
---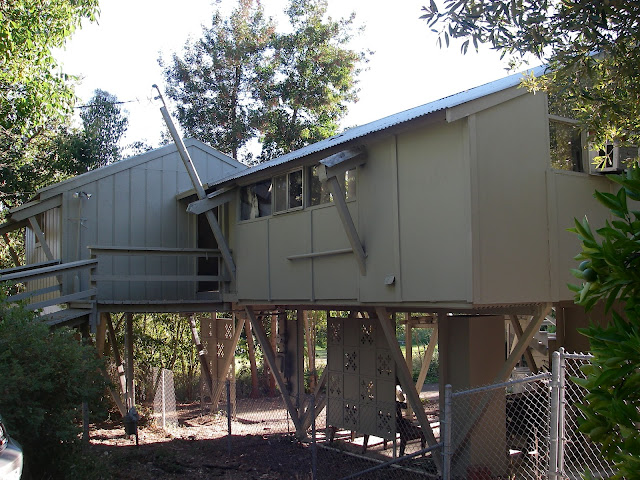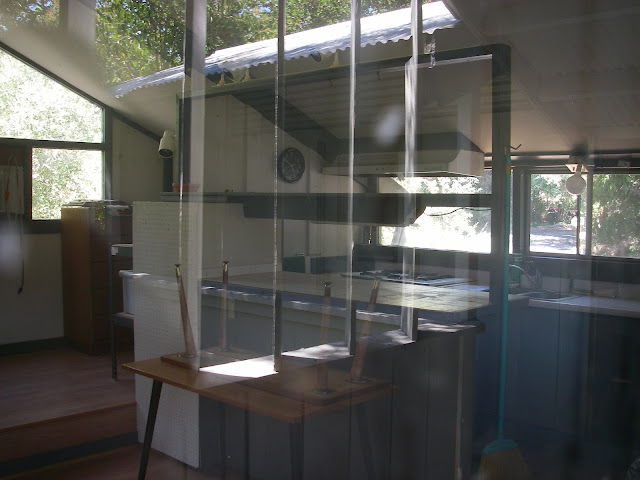 Around 1960 - The Eugene S. Caldwell House, aka The Woman's Day Low-Cost Vacation House, aka the Douglas Fir Plywood Association House, aka the Bird House, Forestville CA. Status unknown.
---

Around 1960 - Another build of the Woman's Day Low-Cost Vacation House, aka the Douglas Fir Plywood Association House, Tacoma WA. Status unknown.
---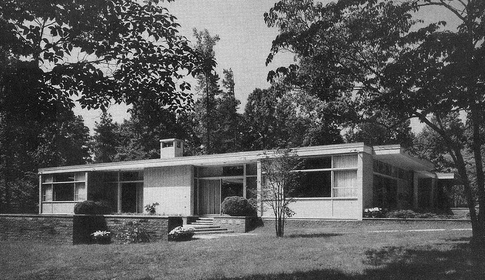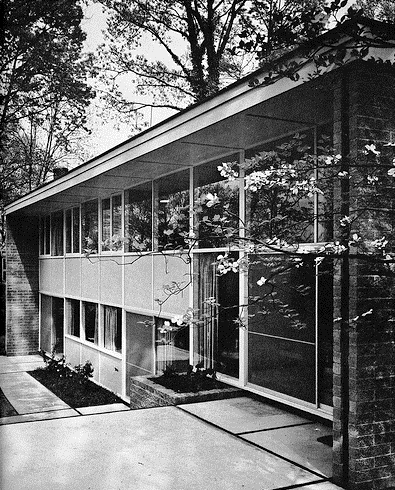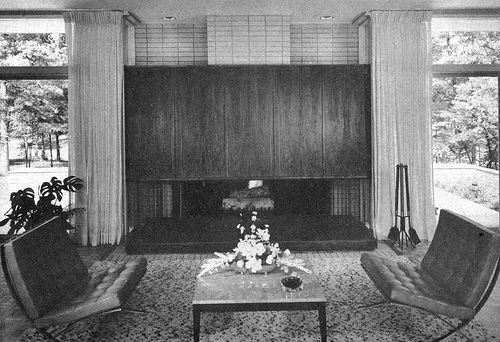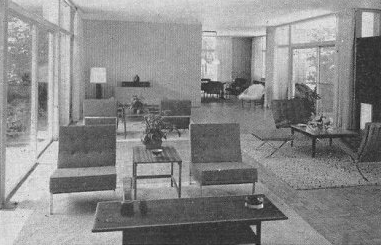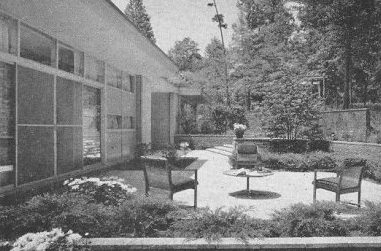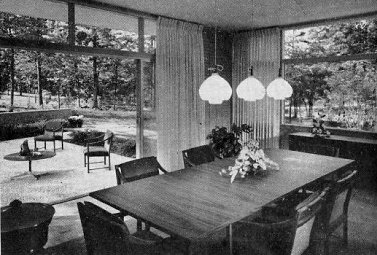 1961 - The Edwin and Polly Thrower Residence, 3219 Forsyth Drive, Greensboro NC. Featured in Architecture Record Houses of 1962. Edwin Gil Thurlow, landscape architect. Jack Cartwright, interior designer; built by Superior Construction Company. After their divorce, the house was sold to John Byerly. Sold again. A pitched roof was added along with extensive remodeling, color photos. Sold to Mark and Iuliana Phillips. B/W photos by Joseph Molitor.
---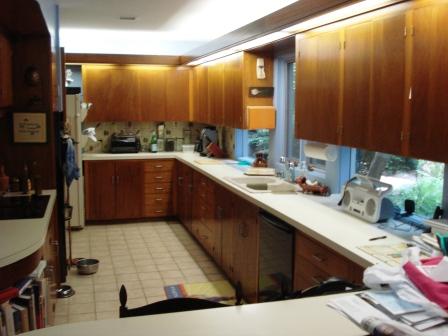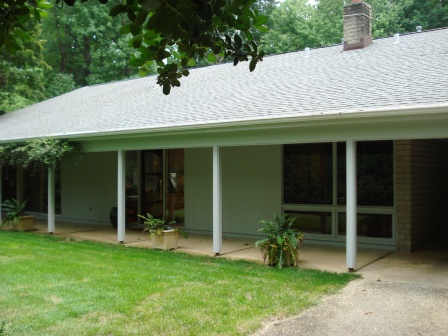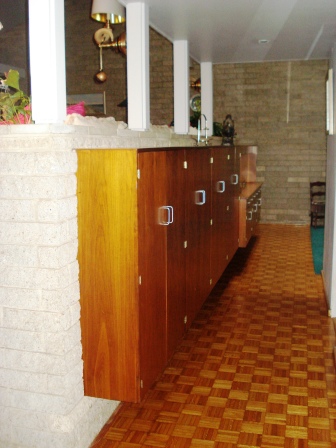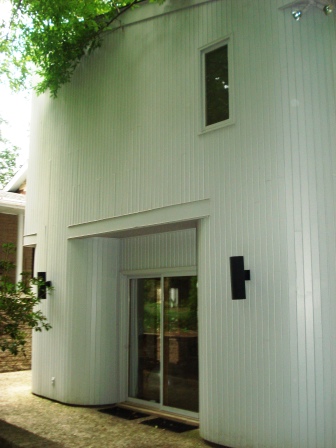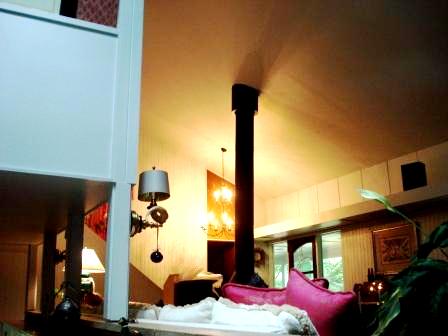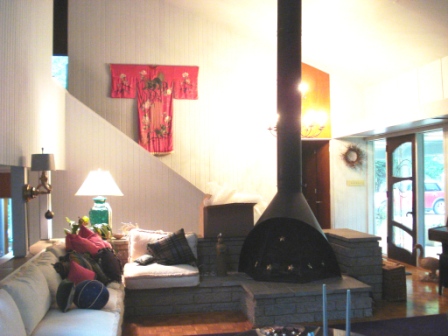 1961 - The Frank H. and Lillian Norwood Moore House, 3705 Camley Avenue, Raleigh NC. On 1.25 beautiful acres above Crabtree Valley. This is a Westinghouse Total Electric Home. Sold in 1976 to Fred and Jane Heaton. Raleigh architect Irv Pearce designed a sizable addition in 1978 including a new rear staircase, family room, and kitchen eating area. The project involved converting the existing master bedroom to an office, replacing windows, removing built-ins in the children's very small bedrooms, and merging two small upstairs bathrooms to one larger one. He closed in an upper loft area in a downstairs bedroom, incorporated the bedroom's closet into an existing tiny bathroom, and added access to the loft area off the upstairs bathroom creating much-needed storage. The addition also included a lean-to greenhouse and deck off of the rear of the house. Inside, the addition flows smoothly from Matsumoto's original design and increases the home's practicality. Outside, however, it looks like a completely different house (left photo). Starting in 2008, it was empty for a few years. Deed in 2011 to Clay and Alexis Heaton. Photos by George Smart.
---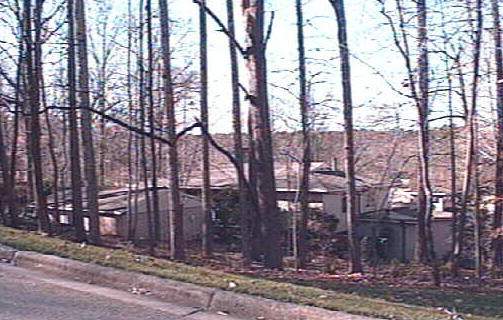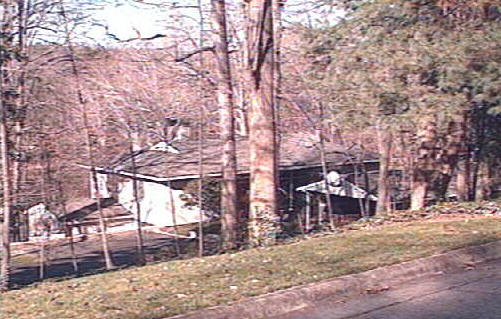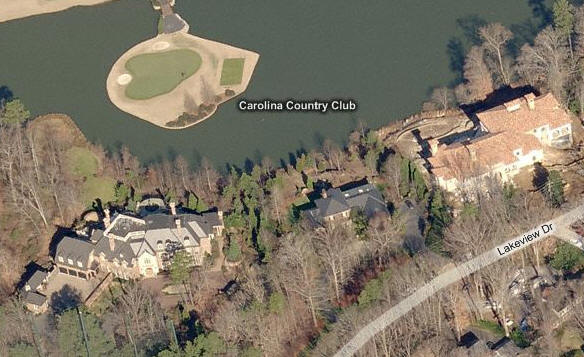 1962 - The William A. (Bill) and Jean Poole Watkins Residence, 2749 Lakeview Drive, Raleigh NC. Sold in 1966 to Joseph and Cynthia Hardison. Harwell Hamilton Harris designed a garden house addition in 1967. Sold in 1992 to Fred and Georgette Stone. Sold in 2002 to John and Catherine McConnell. They destroyed it and built a new mansion, shown in the bottom photo. The lot directly below the golf course island is the 1958 Gregory and Irene Poole Residence. Now look two houses to the right. The Pooles gave this lot to their daughter Jean upon which she and her husband commissioned Matsumoto to design this house.
---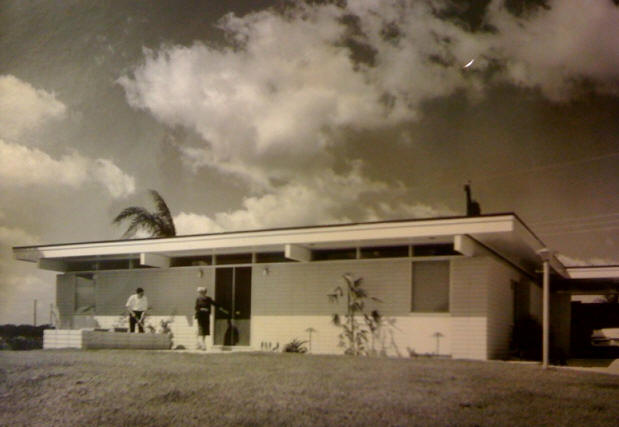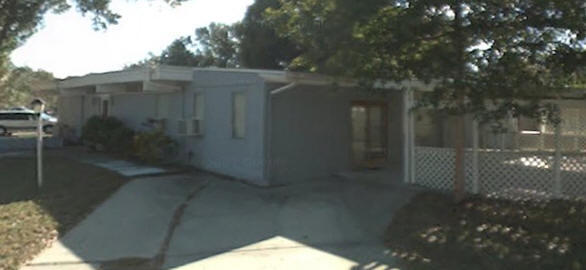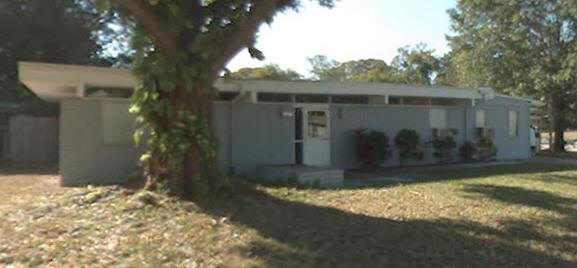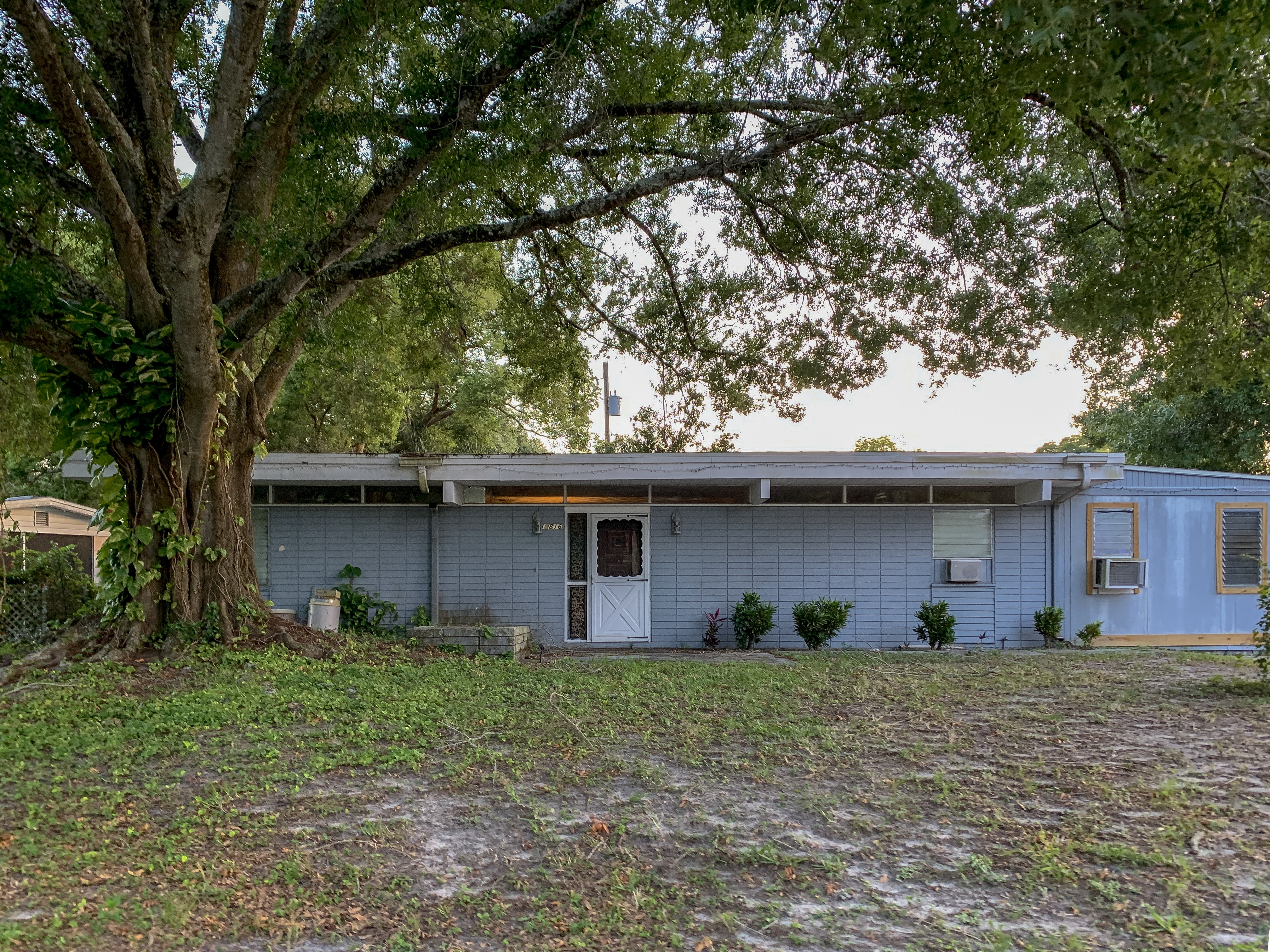 1962 - aka Westinghouse Total Electric House, 14816 North Iris Avenue, Tampa FL. Project architect, Mark Hampton. Sold to Michaelson Construction Company. Sold in 1969 to Vina May Carter. She added son Fred E. Ray Jr. as an owner in 1987. Sold in 2002 to Karenna A. Haughton.
---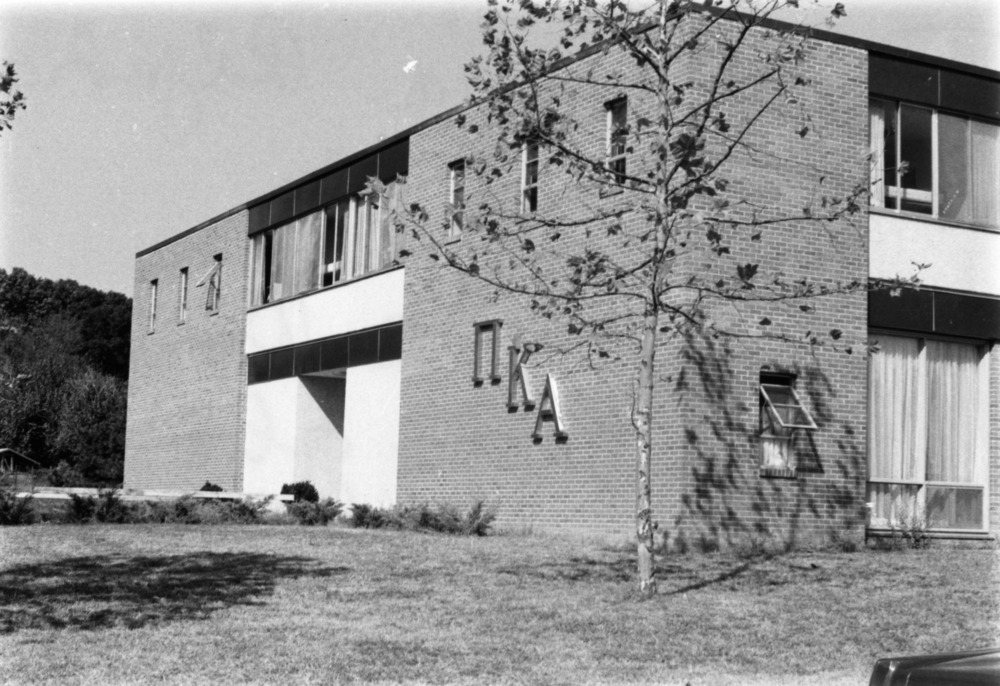 1962 - The Pi Kappa Alpha Fraternity House, Raleigh NC. Located at North Carolina State University. Designed with George Milton Small. Photo from the George Matsumoto Papers. Status unknown.
---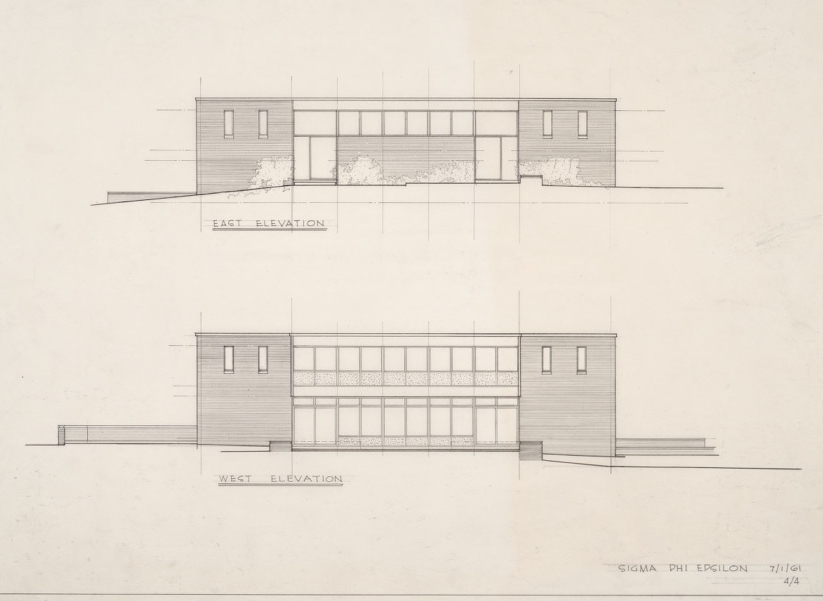 1962 - The Sigma Phi Epsilon Fraternity House, Raleigh NC. Located at North Carolina State University. Designed with George Milton Small. Image from the George Matsumoto Papers. Status unknown.
---

1963 - The Woman's Day Low-Cost Vacation House, aka the Masonite House, somewhere on Cape Cod MA. According to Dr. David Hill of NCSU, "between 1958 and 1963 Woman's Day Magazine commissioned seven different architects to design summer cabins." Matsumoto was the first in 1958. He came back in 1963 with a second design.
---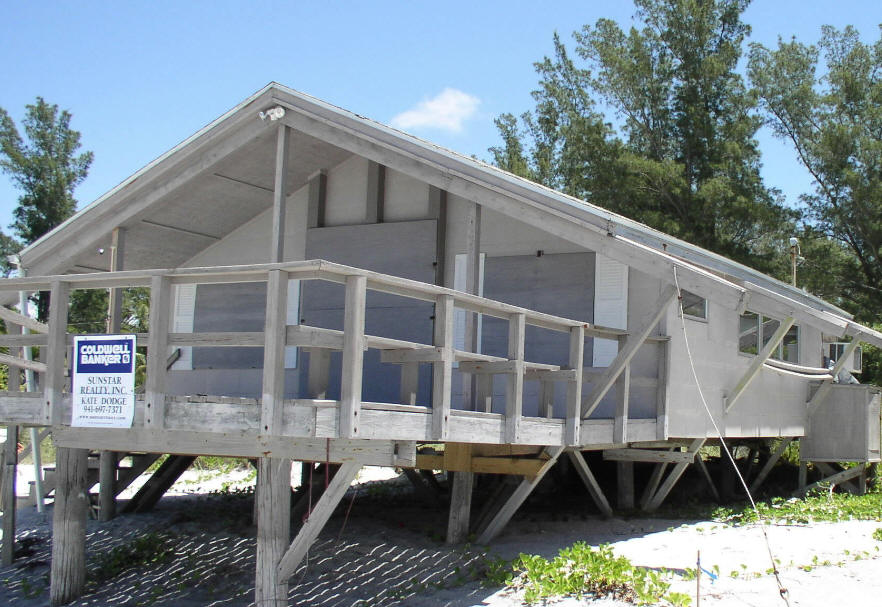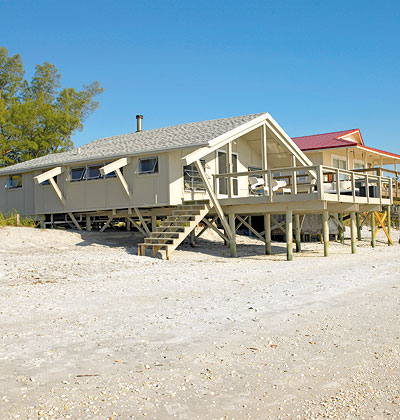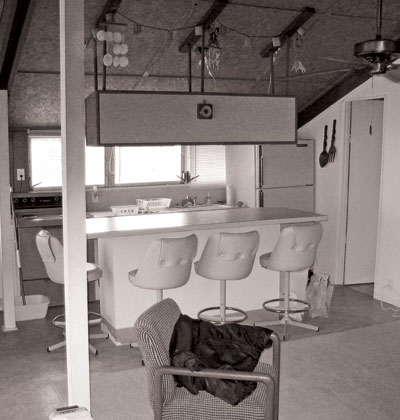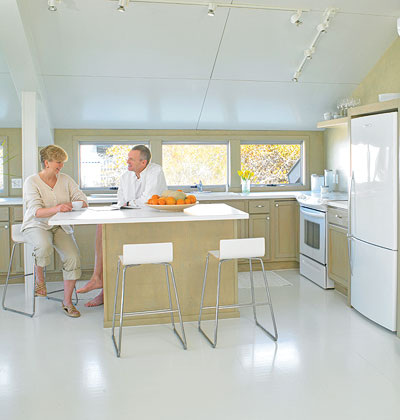 1965 - Another build of the Woman's Day Low-Cost Vacation House, aka the Douglas Fir Plywood Association House, 8522 Little Gasparilla, Placida FL. Was boarded up when sold in 1990 to Paul and Judy Madsen who did an extensive renovation. Color photos by Troy Campbell and Paul Madsen.
---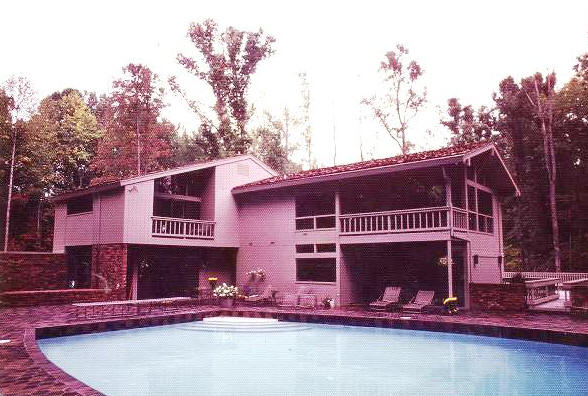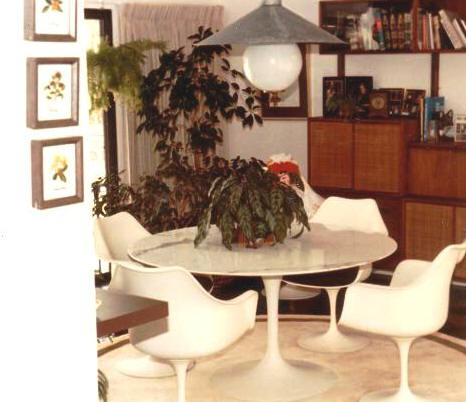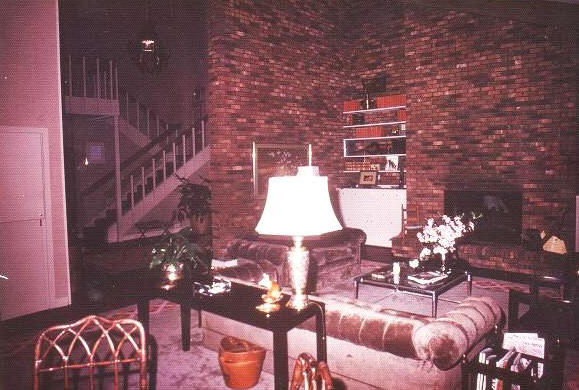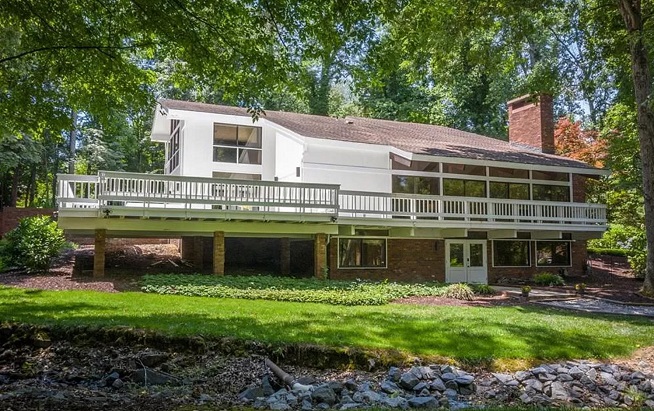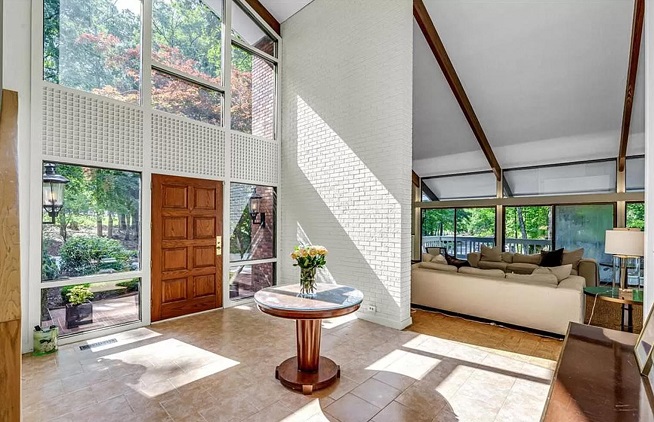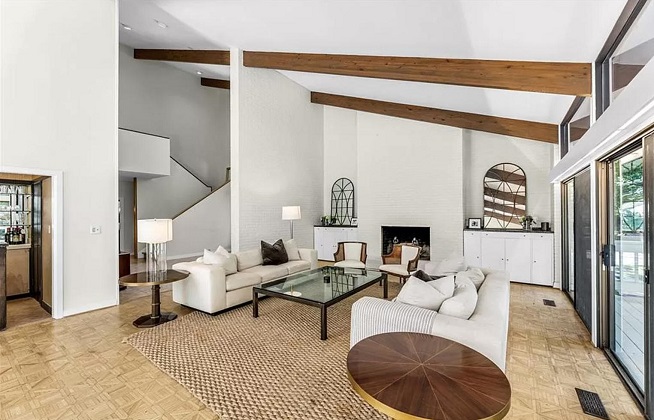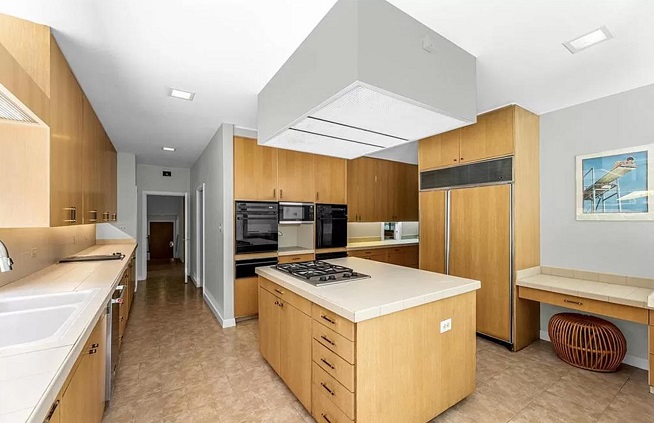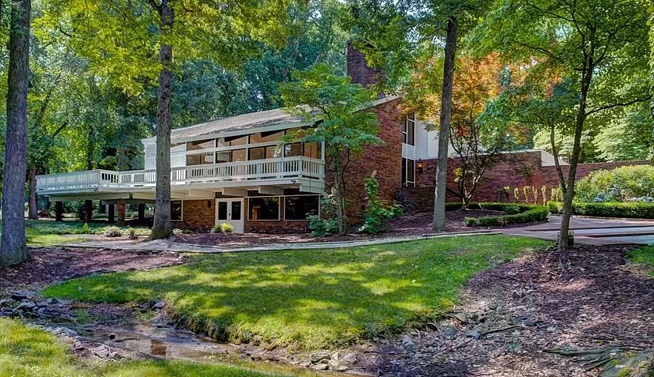 1976 - The Edwin and Elizabeth (Boots) Thrower Residence, 1 Chowan Road, Sedgefield area of Greensboro NC. Sold in 1995 to Caron and John K. Wilson III. Sold in 1996 to Ronald R. and Caryl Silver. Sold in 1999 to Herbert L. and Deborah Mitchell. Sold in 2011 to East Atlantic Properties LLC. Sold in 2012 to Everett Lea Rumley III. Sold in 2018 to Brandon Barbour and Clair Rowe. Sold in 2021 to Blair Kopf.
---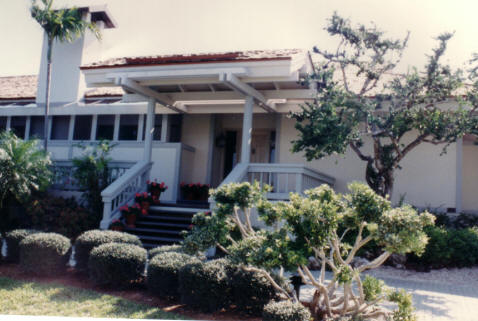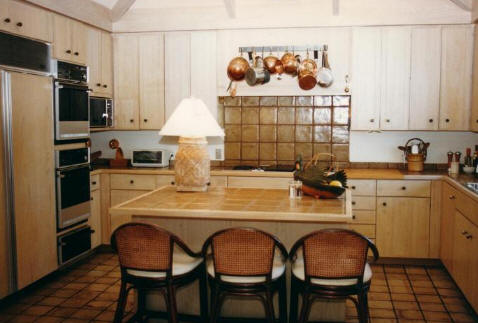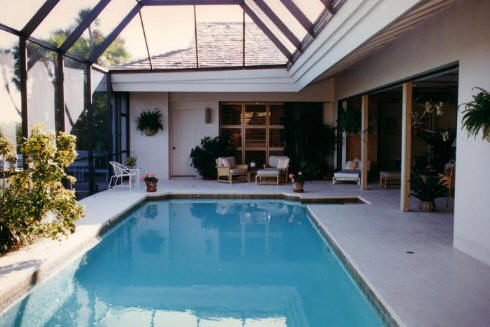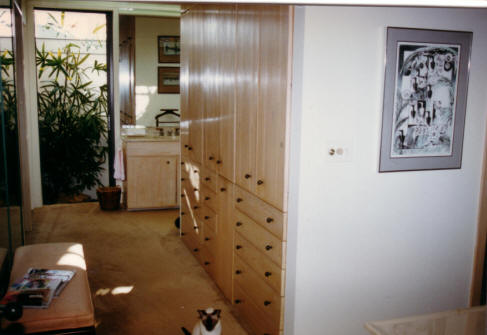 1983 - The Edwin and Elizabeth (Boots) Thrower Residence, 26 East Snapper Point Drive, Key Largo FL. Commissioned in 1981. Sold in 2019 to the Patricia Isenberg Revocable Trust.
---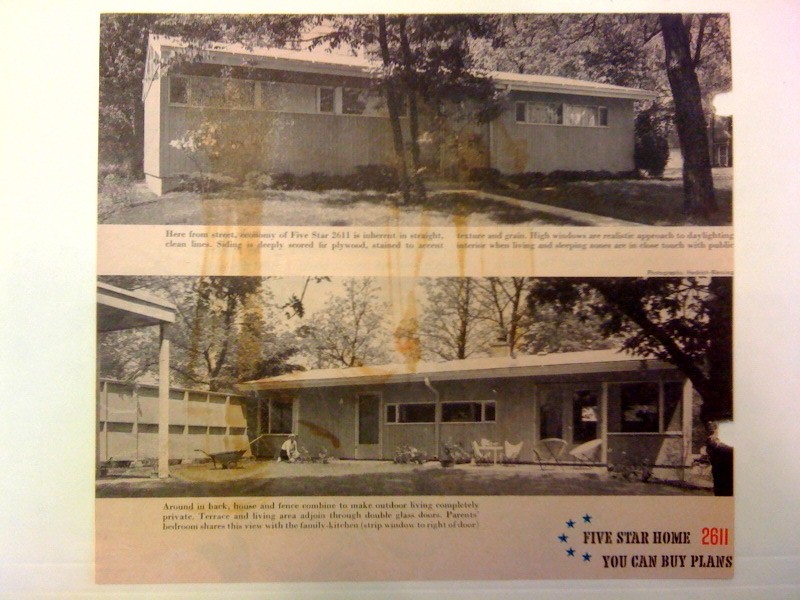 Other - The Johnson Houses: These were 1000-1200 square foot houses for Arthur Johnson in Oak Park IL, intended "to be the most house for the least money." They became a purchaseable house plan in Better Homes + Gardens Five Star Homes #2611. The site plan shows seven lots bound by Turner Avenue, Taylor Avenue, and Hill Street — which no longer appear on Chicago maps (street names must have changed). Gyo Obata stamped the plans because Matsumoto was not registered in Illinois. Obata was Matsumoto's college classmate who would go on to form Helmuth Obata Kassabaum (HOK), a large and influential international firm.
---
Sources include: George Matsumoto; Devon Tolson; Thomas Castelloe; David and Marsha Warren; Eric Gustke; Bern Walser; NCSU School of Design; Greg Raschke; Catherine Bishir; Mary Thorp; Sarah Adams; Margaret Adams; Preservation North Carolina; David Hunt; Matt Jones; Janet Hicks Bethune; Matsumoto Collection at NCSU; School of Design: The Kamphoefner Years, 1948-1973, by Roger Clark; Cleon Hayes; MidCentArc Photos; John Stevens; Barbara Koontz Garwood; Gregory Poole Jr.; Allen Spalt; Christine Parks; DesignWatch by Frank Harmon AIA, 2/28/1996.