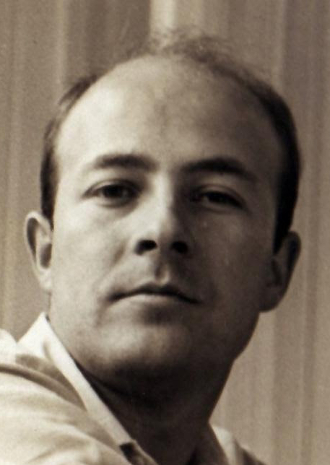 JOHN BLACK LEE (1924-2016)
Lee was born in Chicago IL and attended Brown University. After serving in WWII, he graduated Brown and worked as an apprentice carpenter for Walter Gropius in Chicago. Lee was recruited by Paul Schweikher, dean of the Yale School of Architecture, to join Schweikher & Elting. Moving to the east coast, Lee worked for Oskar Stonorov, followed by Eliot Noyes in New Canaan CT. Lee established his own practice, John Black Lee & Associates, in 1954. Lee married Clara Sprankle in 1949 and they had three children, John Black Lee Jr., Mary, and Lydia. Bio adapted from Wikipedia.
2012 interview (YouTube).
---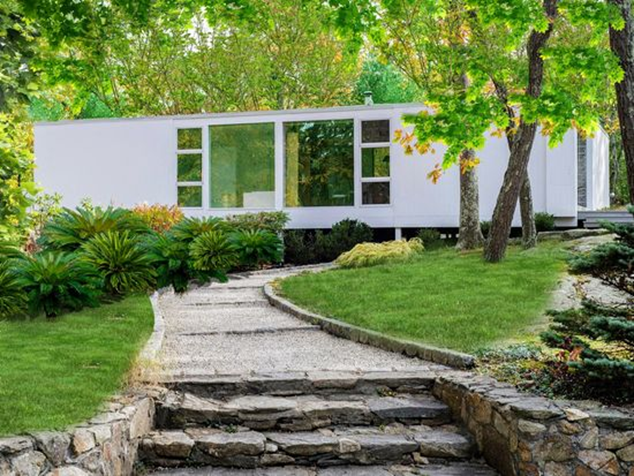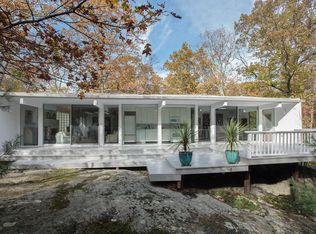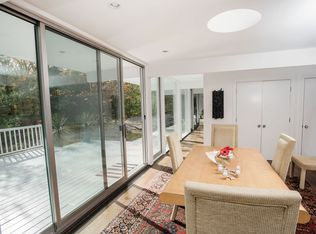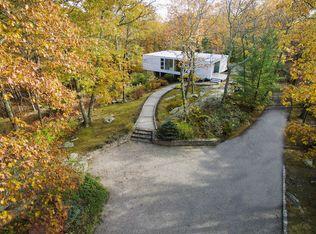 1952 - The John Black Lee and Clara Lee House I, 729 Laurel Road, New Canaan CT. Sold in 1955 to John Morton Poole IV. Sold in 1964 to Kathlyn C. Thurrott. Sold to Tyrus L. and Kathryn V. Homewood. Sold in 1971 to C. Kleinsinger. Sold in 1977 to architect Donald Swisher who restored the house to Lee's original design. Sold in 1978 to Katrina Giuriata. Sold in 1991 to Suzanne Cerny. Sold in 1993 to Peggy S. McConnell who built a two-car garage and modified the deck. Sold in 1997 to Eugene A. and Roseanne C. Diserio. Sold in 2019 to Sarah Getto and William Pierce.
---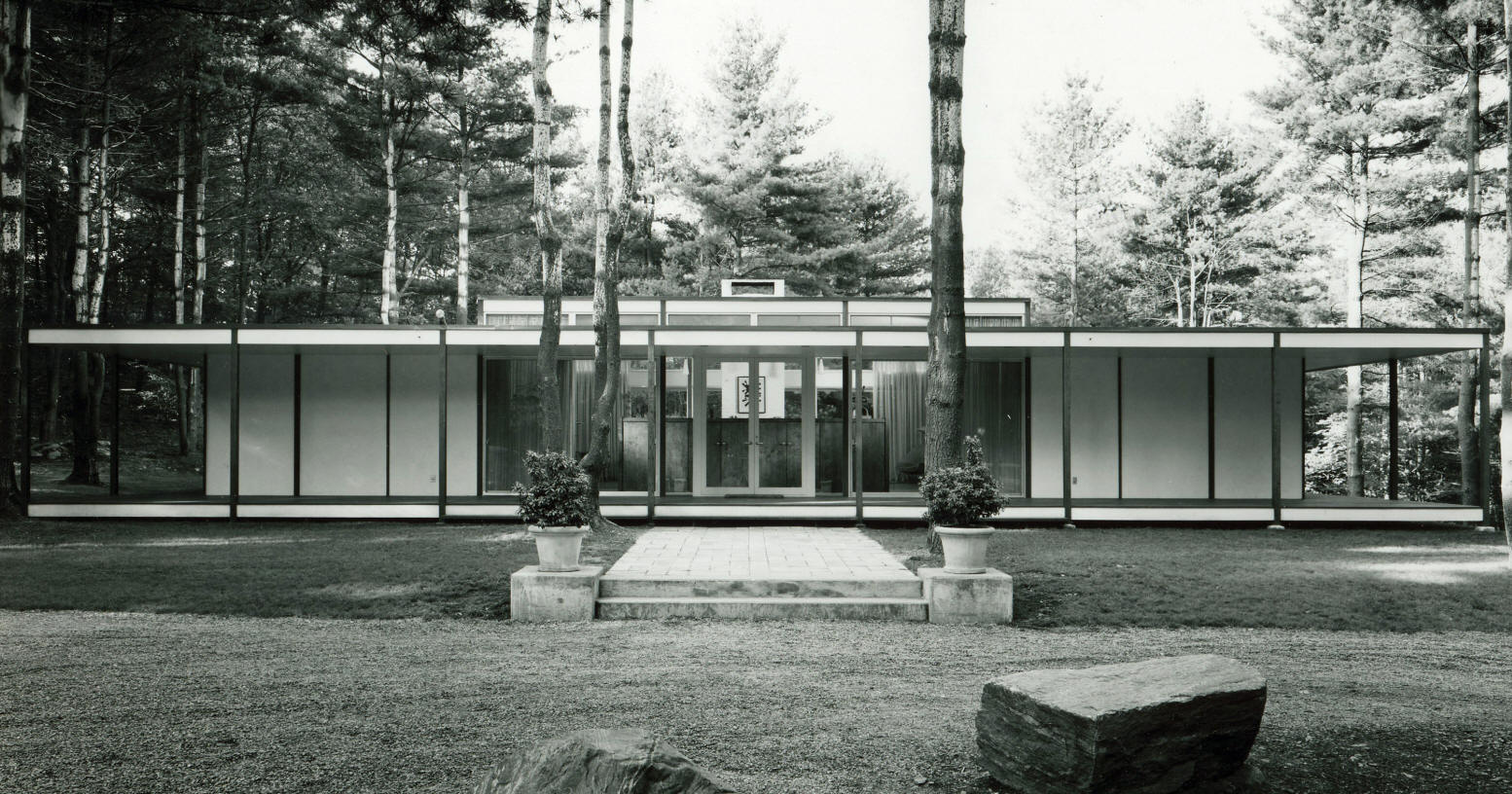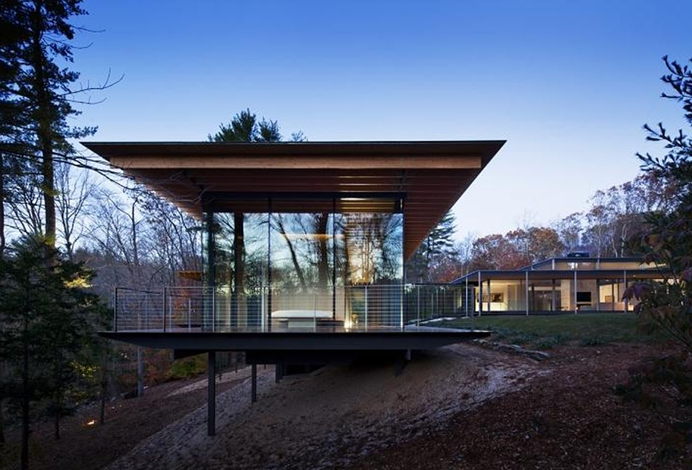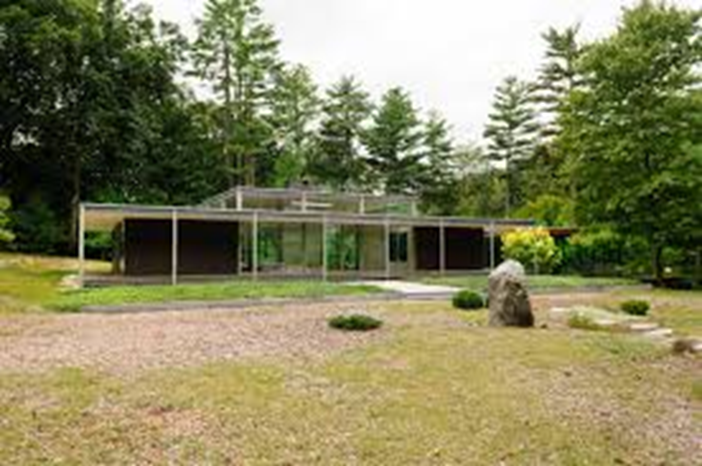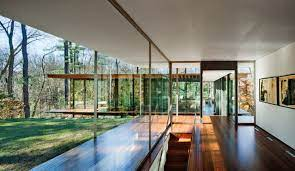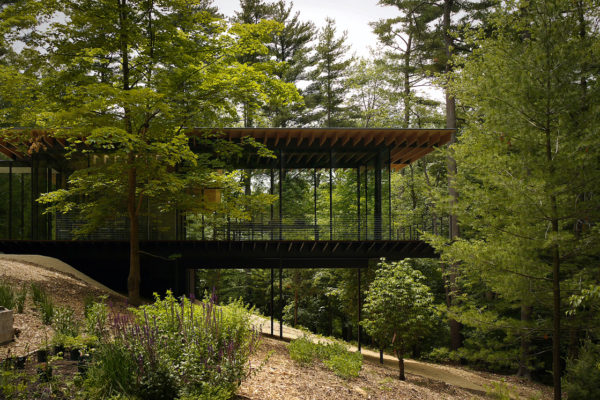 1956 - The John Black Lee and Clara Lee House II, 202 Chichester Road, New Canaan CT. Part of 20 acres Lee purchased in 1954, six lots exclusively for new houses of Modern design. Built by Ernest Rau. Landscape design by Paschall Campbell. Featured in the New York Times Magazine, 11/3/1957; Architectural Record; Better Homes and Gardens; and House & Home. Won a 1959 AIA award. Sold in 1990 to Eric Lloyd and Susan Pollish, who hired Toshiko Mori (aka House in Connecticut I) for a 1994 renovation including a new studio and garage. In 2004, Thomas Phifer and Partners designed a new family room for the basement. In 2006 a large tree came down in a storm damaging the roof. Around 2011, Kengo Kuma added a full glass L-shaped pavilion comprising a kitchen, dining room, and master suite. Top photo by Joseph Molitor.
Video (YouTube).
---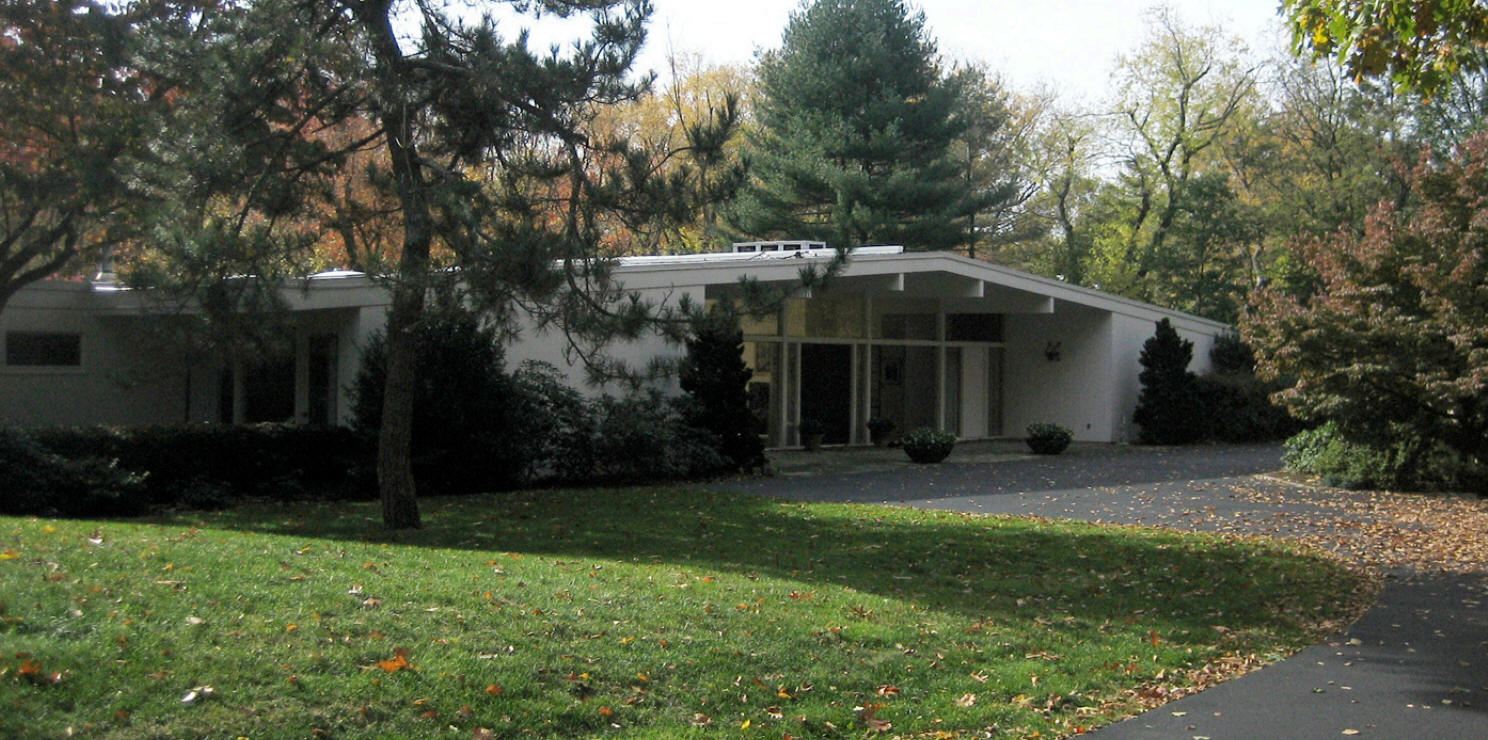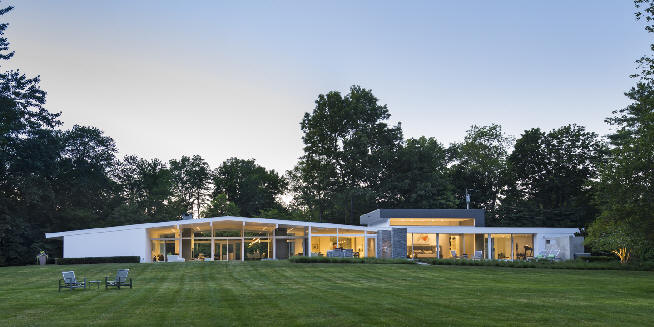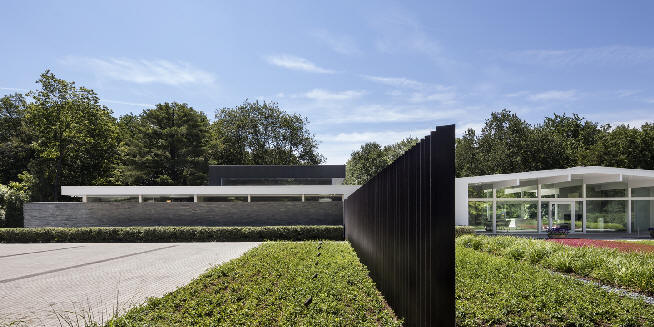 1957 - The Theodore and Virginia D. Rogers House, 478 Oenoke Ridge, New Canaan CT. Built by Ernest Rau. Addition and two-car garage added in 1973. Charles Middeleer was the landscape architect. Sold in 1959 to Jason D. Dana. Deeded in 1965 to Bertha B. Dana. Sold later in 1965 to Janet F. Rowley. Sold to J. Clifford Norby and Eunice R. Norby. Sold in 1968 to David R. and Alice E. Jennings. Sold in 2013 to Mark Ullman. Renovated in 2018 by Joel Saunders. For sale in 2021. Bottom two photos by Peter Aaron.
---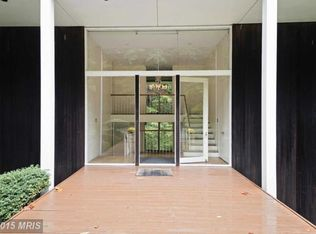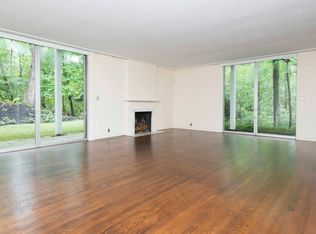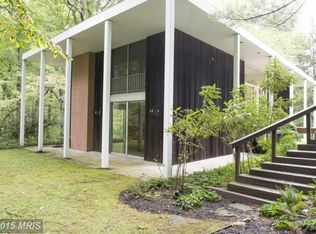 1959 - The Frank T. and Anne B. Gray House, 1200 Copper Hill Road, Baltimore MD. Sold in 2015 to Ryan Higgins.
---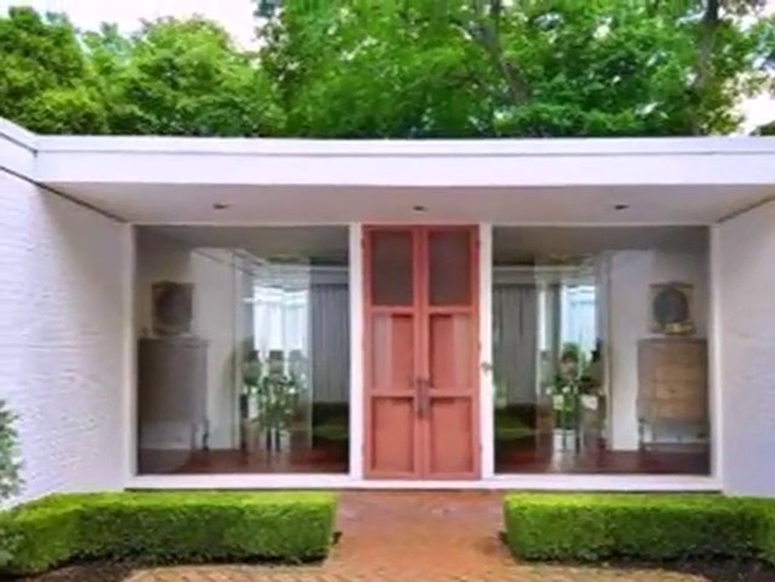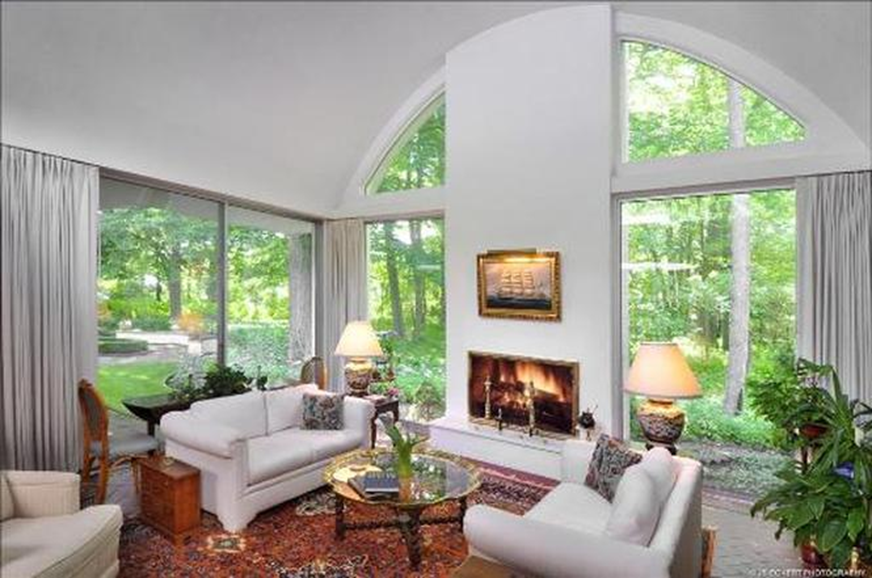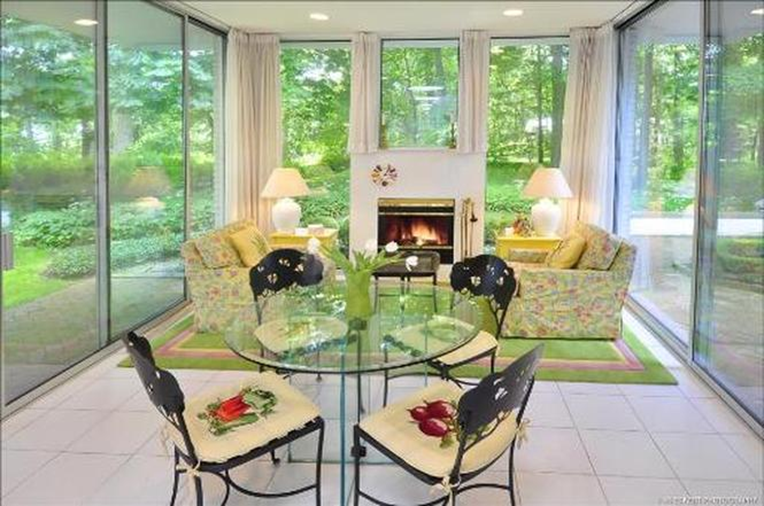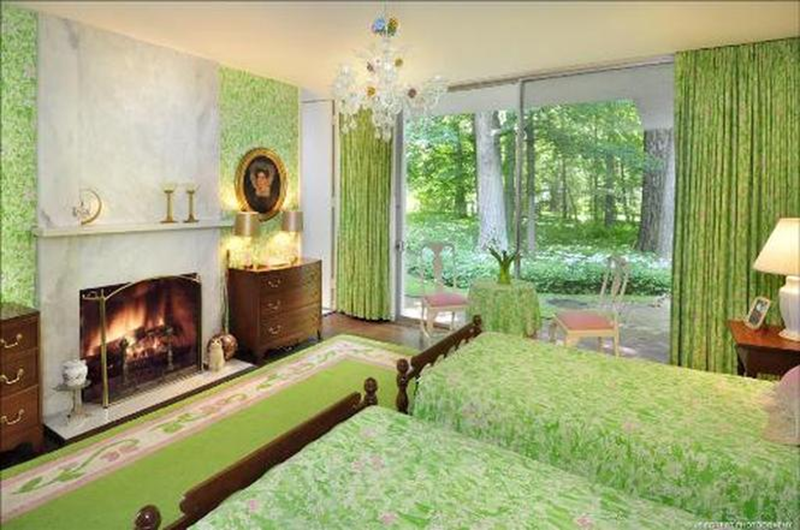 1960 - The Lydia Beckwith Lee House, aka Ravello, 367 Bluffs Edge Drive, Lake Forest IL. Built for his mother. Sold to William and Priscilla Billington. Sold in 2011 to Jeffrey Guenther Arlington.
---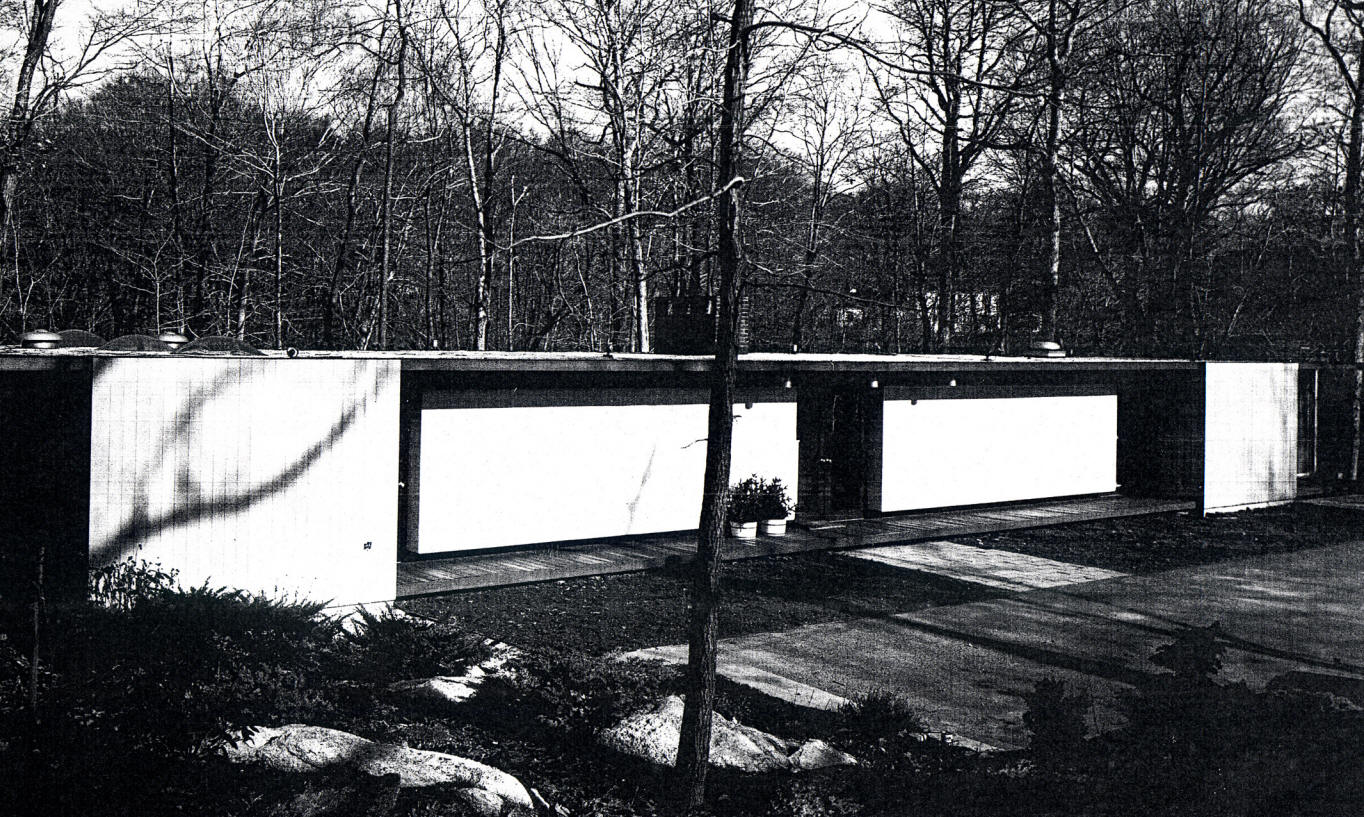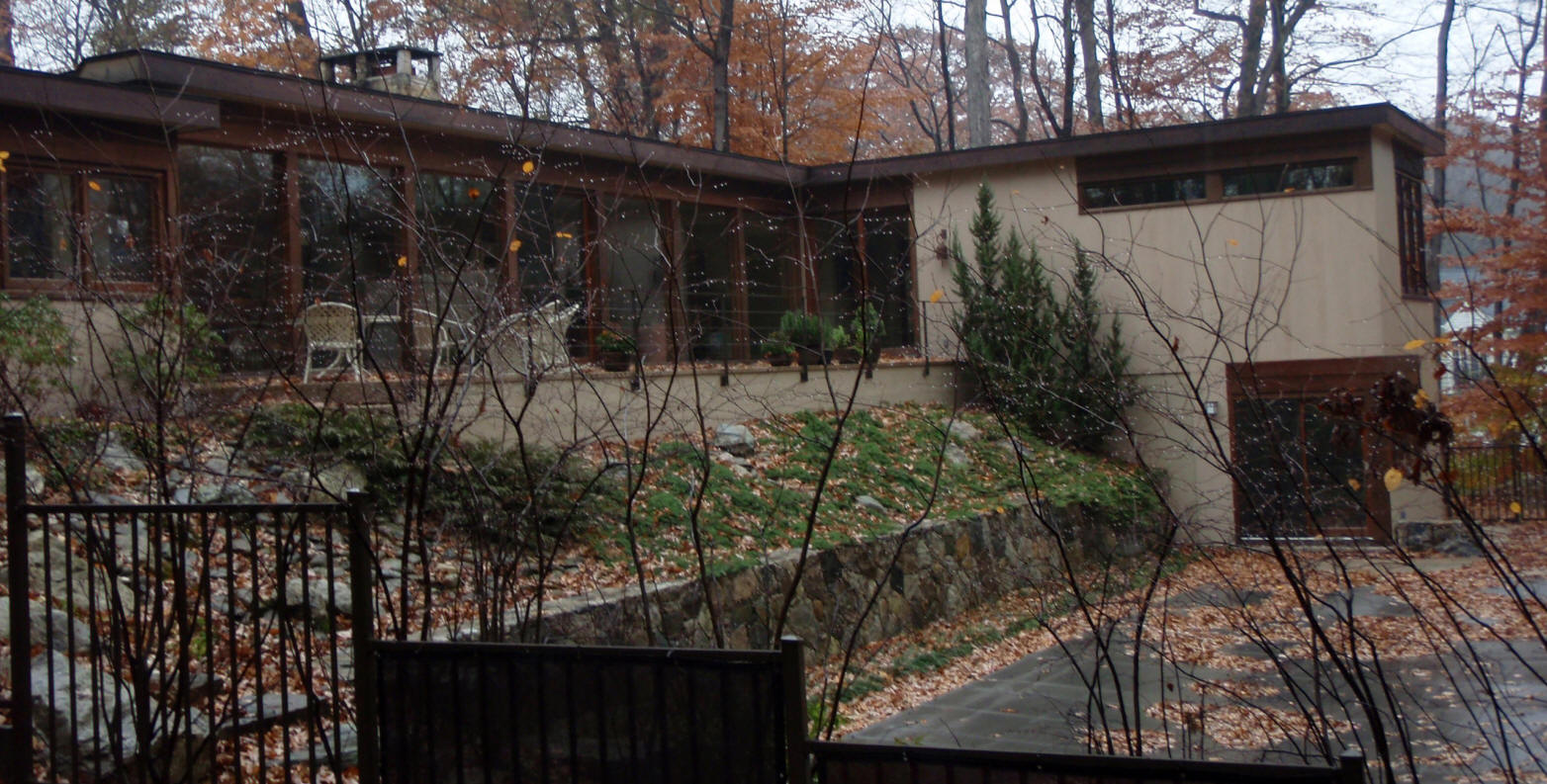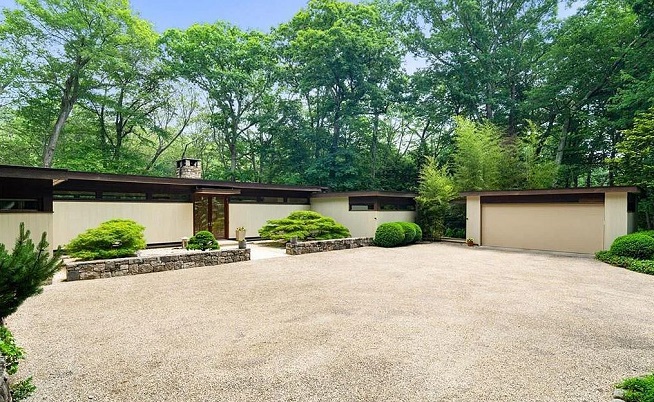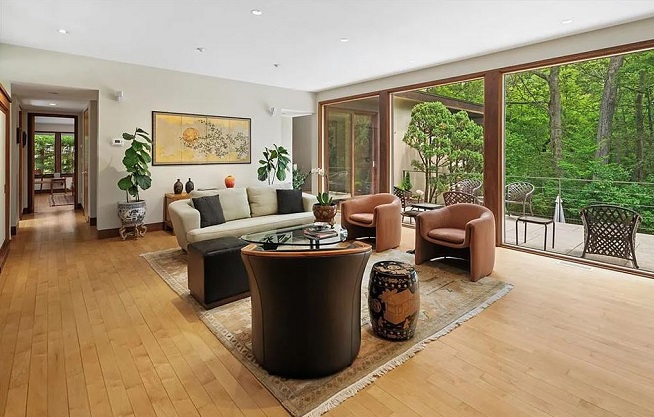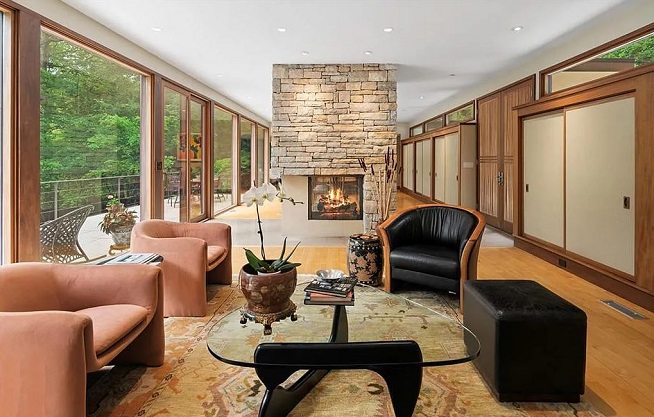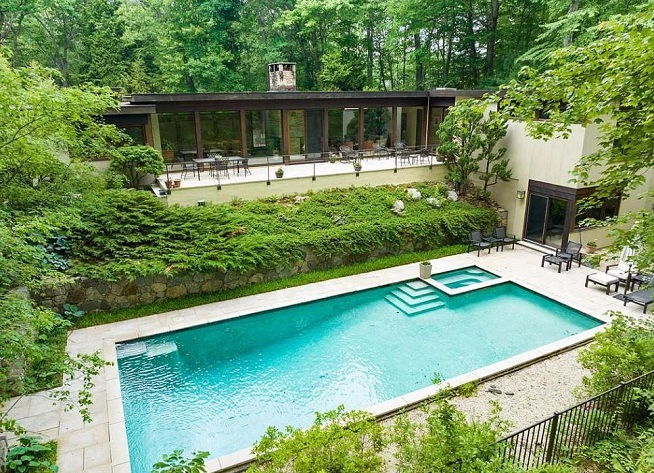 1960 - The David A. and Mary Jane Teaze House, 296 Frogtown Road, New Canaan CT. Overlooking the Noroton River. Lee added two rooms to the front of the house in 1968. Deck addition in 1975. The couple moved out in 1996 to be closer to their daughter but the house stayed in trust. Sold in 2001 to Carter F. and Lillian Wolfe who did a remodel and addition including a new garage. Second photo by Martin Skrelunas. For sale in 2023.
---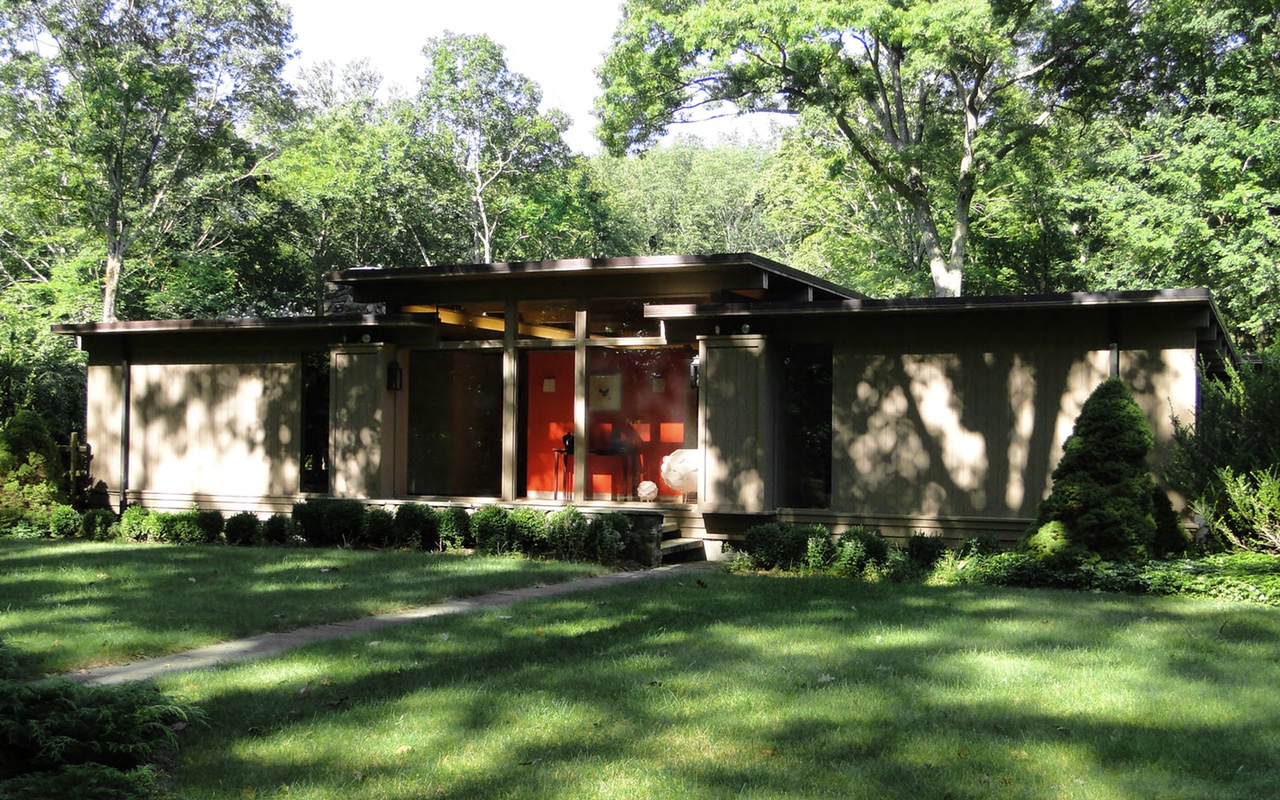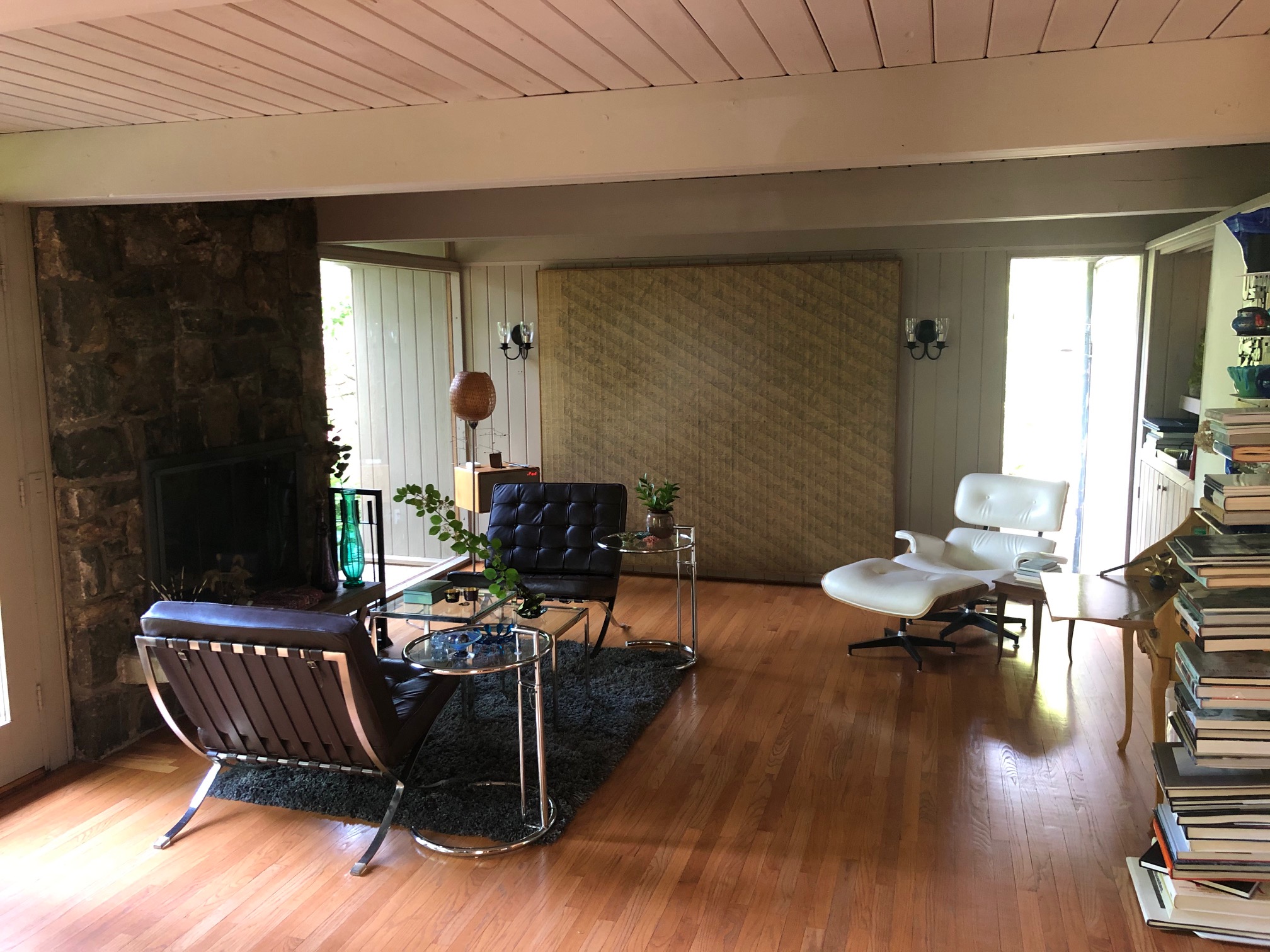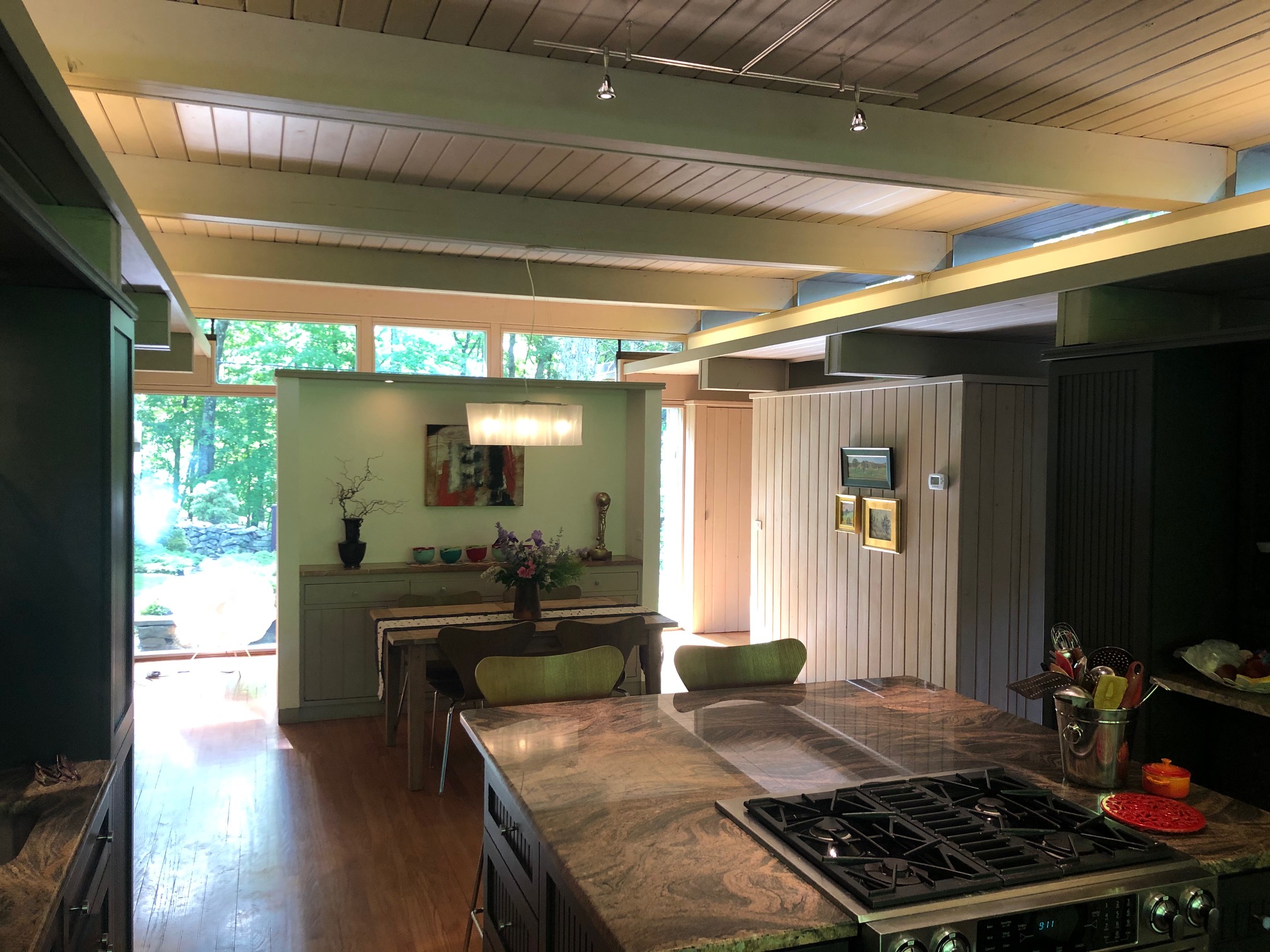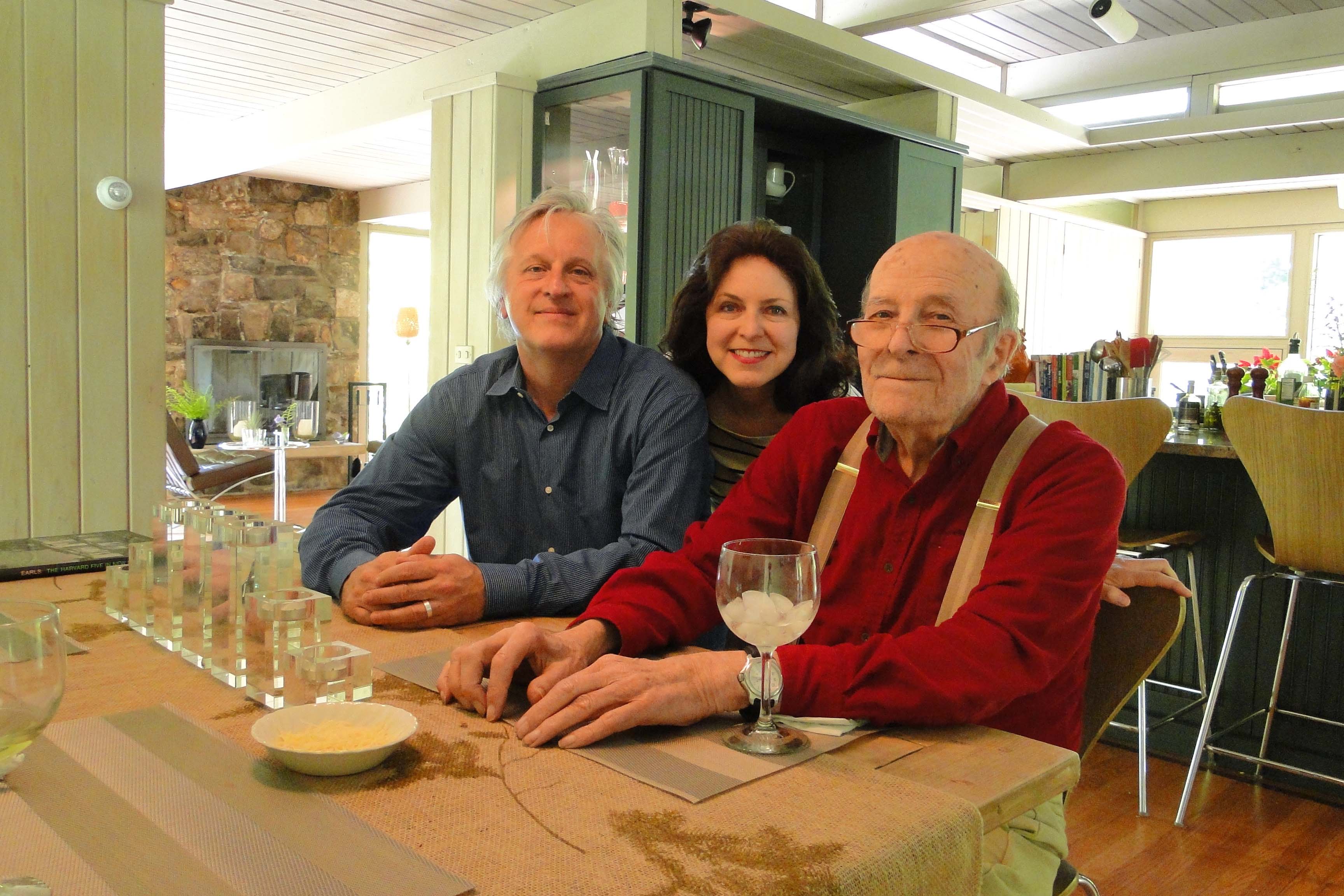 1960 - The Richard Hayes Killgore House, 61 Hopewell Woods Road, Redding CT. Sold in 1979 to Alyce Gibson and Delmore Kinney. Sold in 1998 to Barbara and George Swander. Sold in 2012 to Tim and Melinda Shea, who contacted Lee in 2014. He was not aware the house was ever built! Although he designed the house, the owner was short of funds and the project was put on hold, he thought. According to Tim Shea, it brought tears to Lee's eyes to see one of his "unbuilt" houses intact! (3rd photo)
---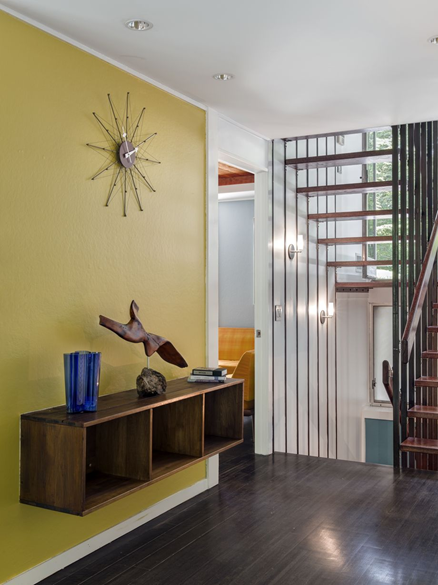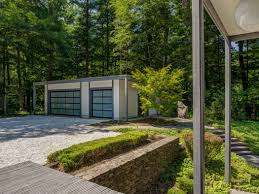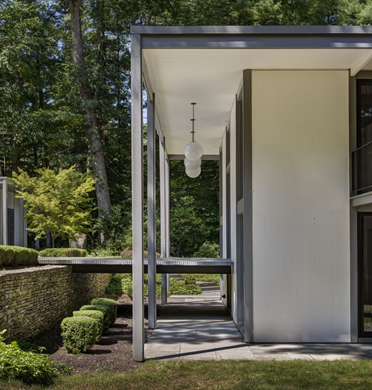 1961 - The Harrison DeSilver House, aka Pole House, aka System House, 128 Chichester Road, New Canaan CT. Designed with homeowner and architect, Harrison DeSilver. Built by Ernest Rau. House plans featured in Better Homes and Gardens, March 1963. Featured in Progressive Architecture and House and Home, July 1964. This house was later made into a kit, published and marketed to be built with prefab parts. House won the AIA 1964 Homes for Better Living Award. Sold in 1969 to Donald R. and Barbara A. Homer who added a workshop in 1975. Sold in 1997 to Benjamin S. Thompson and Rebecca A. MacDougall. Sold in 2002 to Robert M. Pederson and Andrew Mersmann, who replaced the windows in 2006. Sold in 2011 to Philip G. and Natlie Louw.
---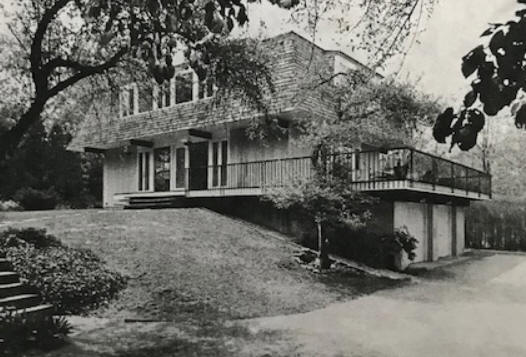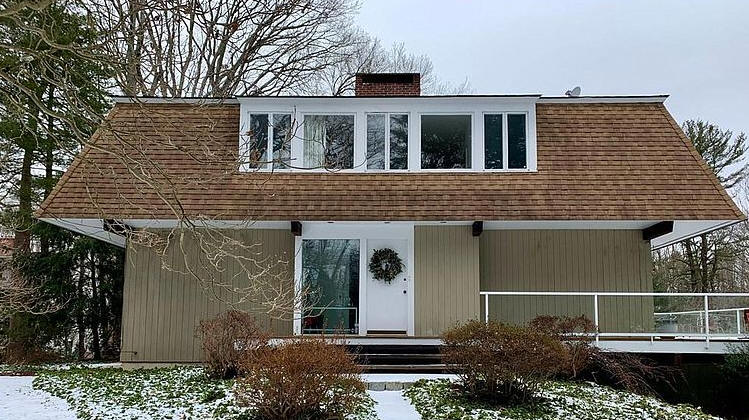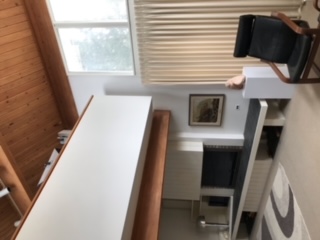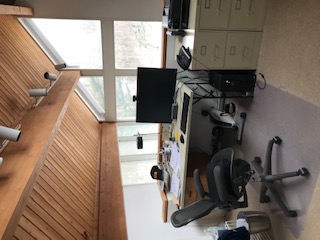 1965 - The Aneen Gorman House, 38 Old Rock Lane, New Canaan CT. Landscape design, C. Middlear. There was a major fire during construction and the house had to be rebuilt. Sold to the Schoens. Sold to the Levines. Sold in 1971 to Merlin and Gail Schulze. Sold in 2021 to Cosima Zoller. Interior photos by Inger Stringfellow.
---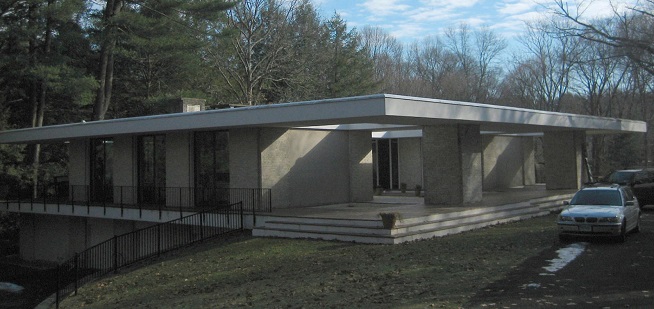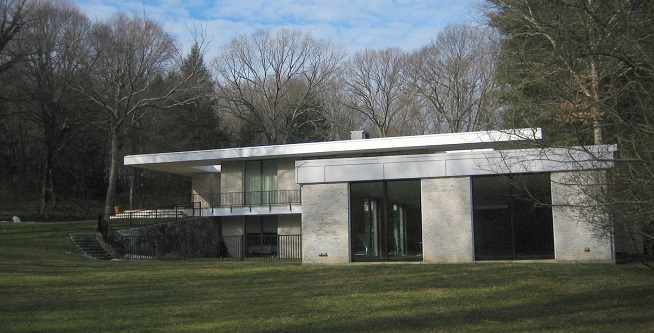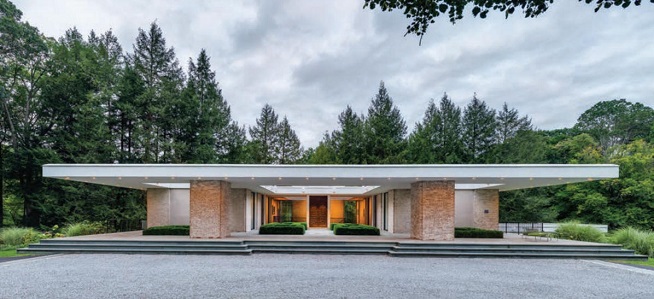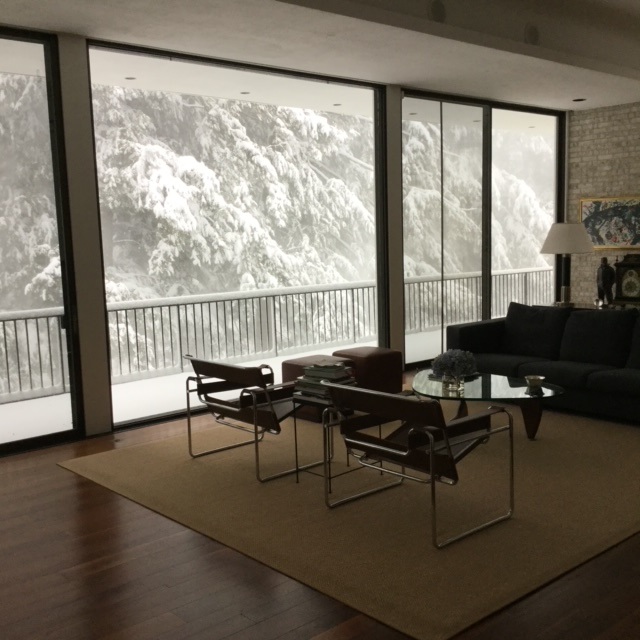 1966 - The Lee G. Day Jr. House, 416 Greenley Road, New Canaan CT. Deeded to Conway Day. Sold in 1992 to Gary and Judith Witkin who added an indoor pool in 1993. Sold in 1996 to Thomas McCaughey, who enclosed a terrace into a garage in 2006. Featured in Wallpaper, December 2001. Renovated in 2012 by architect Dinyar Wadia. Top three photos by Heather McGrath; bottom by Susan McCaughey.
---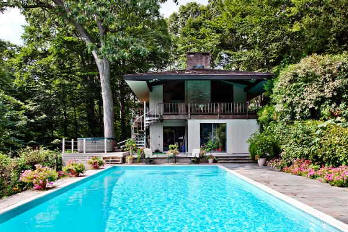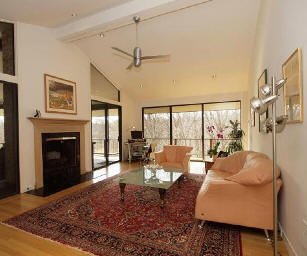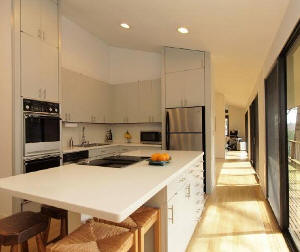 1968 - The Andrew P. Monroe Jr. House, 131 Brookwood Lane, New Canaan CT. Pool added in 1969. Small addition at the basement level under the cantilevered deck in 1971. The carport was enclosed to create a 2-car garage at an unknown date. Sold in 1988 to James M. and Susan Dillon. Sold in 1998 to Peter and Diane Thom. Sold in 2000 to Alan M. Engelson. Sold to Lindsay Burn and Spencer Grimes. Sold in 2018 to Donald DeFosset Jr.
---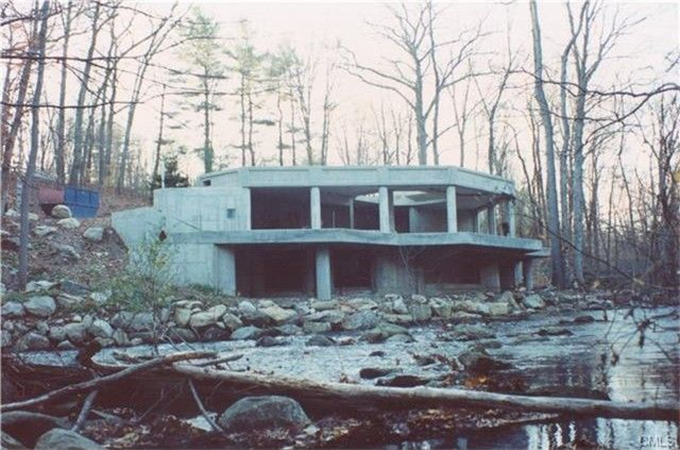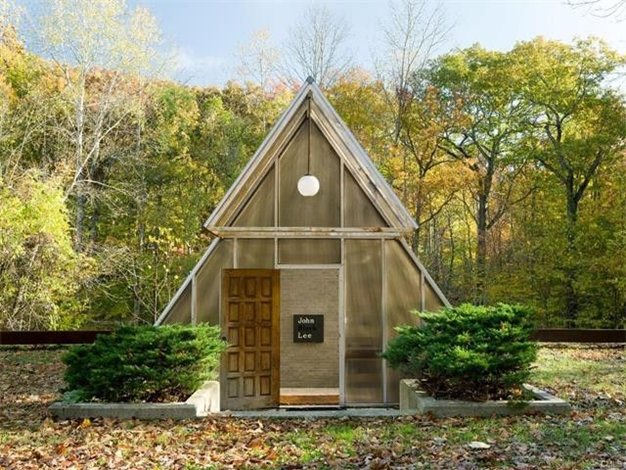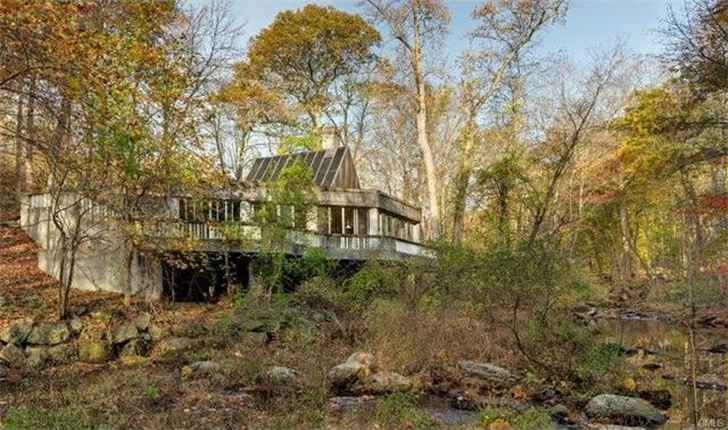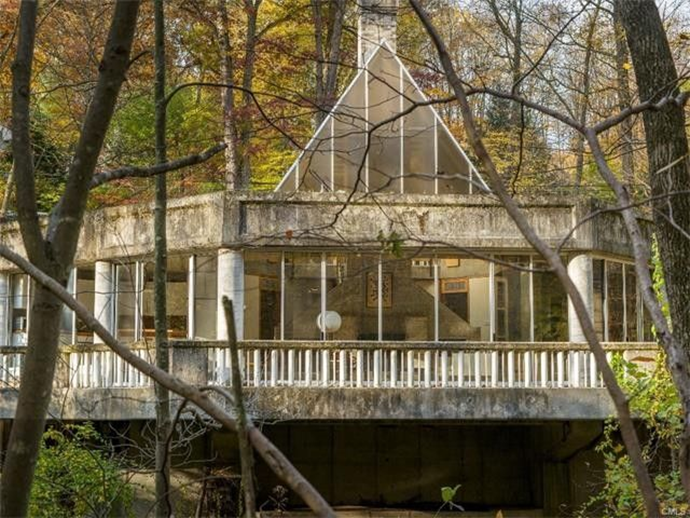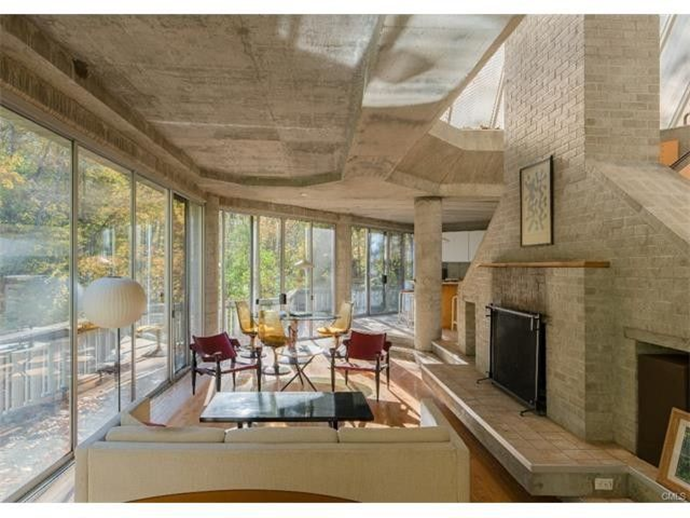 1990 - The John Lee House III, 160 Mill Road, New Canaan CT. Built into the hill on the banks of the Silvermine River and constructed entirely in concrete. "This house is the only one in New Canaan that you enter thru a skylight," John Black Lee said. Sold in 2017 to Russell Sean-Lewis.
---
Sources include: 2009 New Canaan Modern Survey; Inger Stringfellow.