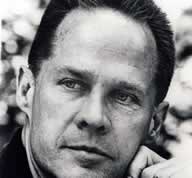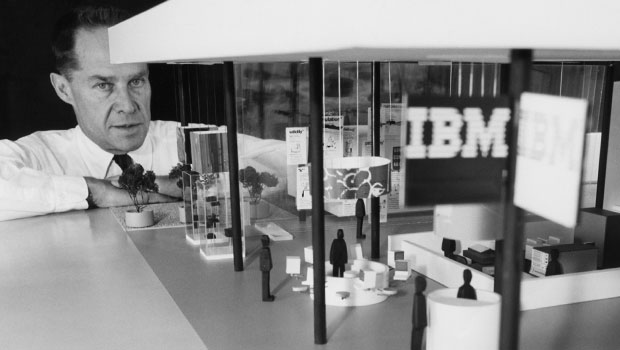 ELIOT FETTE NOYES, FAIA (1910-1977)
Born in Boston MA, Noyes graduated Andover Academy in 1928 and Harvard University in Architecture in 1932, majoring in English, Greek, and Latin. He entered the Harvard Graduate School of Design in 1932 and was frustrated by their Beaux-Arts approach. In 1935, he was hired for his painting and drafting skills by archaeological team from the University of Chicago excavating Persepolis, an ancient city in what is now Iran. Upon return to Harvard in 1937, he went back to the Graduate School of Design under Walter Gropius and graduated in 1938.
After working for Boston's Coolidge Shepley Bulfinch & Abbott, he left to work for Gropius and Marcel Breuer. Awarded a Wheelwright Traveling Fellowship, he toured the US visiting Frank Lloyd Wright's Fallingwater and Taliesin; Eliel Saarinen's Cranbrook Academy of Art; and Richard Neutra houses, plus he spent time in Mexico. After returning briefly to Gropius and Breuer, he became the first director of the Industrial Design Department at the Museum of Modern Art in 1940, launching Charles and Ray Eames as part of a competition that Noyes started.
Noyes left MoMA in 1946 to become the design director for Norman Bel Geddes, an industrial designer of cars, planes, trains, and boats. When Bel Geddes's firm folded in 1947, Noyes continued developing IBM's Model A electric typewriter design introduced in 1948. Noyes also served three years as Associate Professor of Architectural Design at Yale University.
Noyes is recognized for his design of the World's Fair pavilions for IBM at Brussels, Belgium, and San Antonio, Texas; the Westinghouse Pavilion at the 1964 New York World's Fair; and the United Nations Pavilion at Expo '67 in Montreal, Canada. He is well-known for transforming major companies, such as the iconic round gas pumps and round roofs for Mobil gas stations; and the IBM Education Center in Armonk NY. Noyes married architect Mary (Molly) Duncan Weed (1915-2010) who created many of the interiors for Noyes' projects. He wrote a column for Consumer Reports from 1947 to 1954, plus a book, Organic Design and Home Furnishings, in 1941. His New Canaan CT house (Noyes II) was profiled in LIFE Magazine (2/15/63). Noyes became known as one of the "Harvard Five" Modernist architects (which included Philip Johnson, Marcel Breuer, John Johansen, and Landis Gores). Many thanks to son Fred Noyes and researcher Catherine Westergaard Cramer.
"One thing I am not going to become is a guy who is called in to change the expression on the corporate face by hanging abstract paintings on the office walls." — Eliot Noyes
---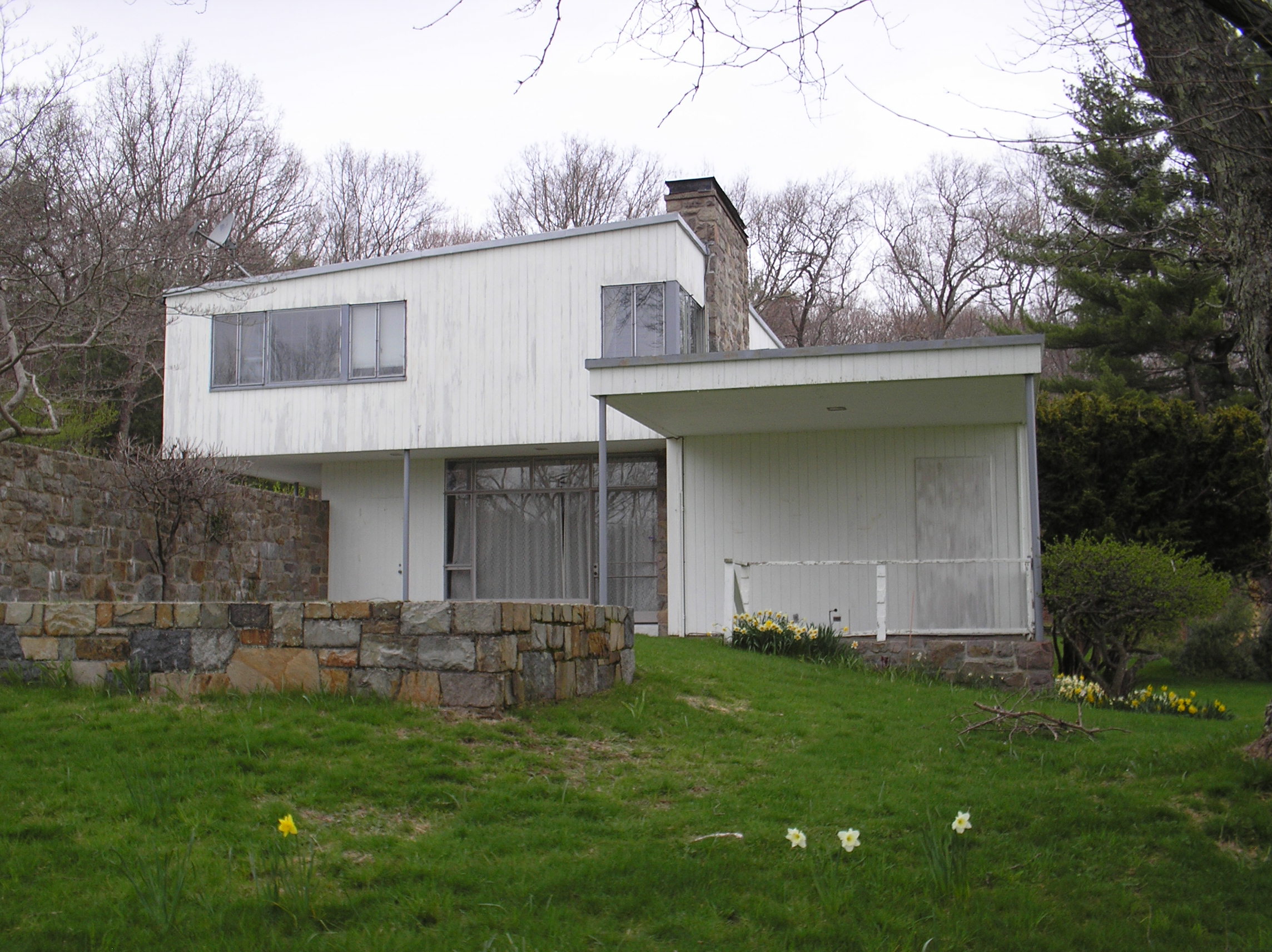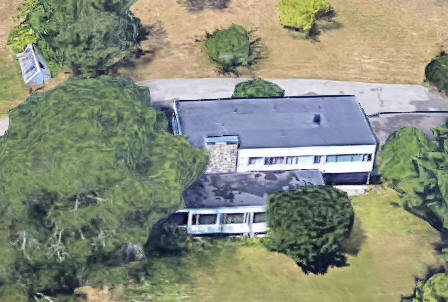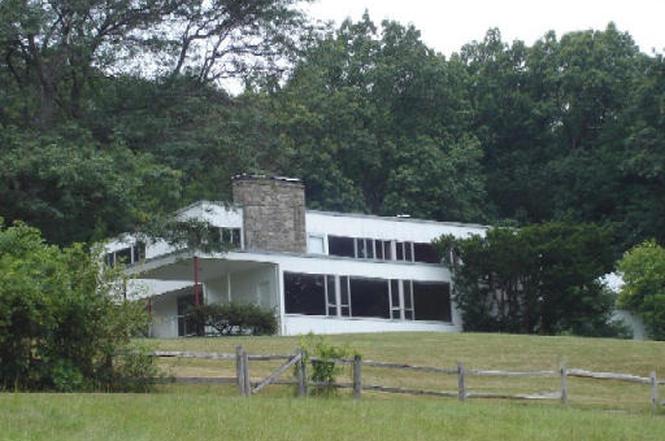 1941 - The Mary Frothingham Jackson House, 33 Farm Street, Dover MA. Designed with G. Holmes Perkins. Addition by Noyes in 1948. Alterations in 1990. Deeded to Charles Jackson. Sold in 2007 to Dmitry Lubarsky. Sold in 2012 to Barsky Trust. Sold in 2016 to William J. Milbury. Destroyed in 2020, then completely rebuilt by 2022 by architect Catherine Truman.
---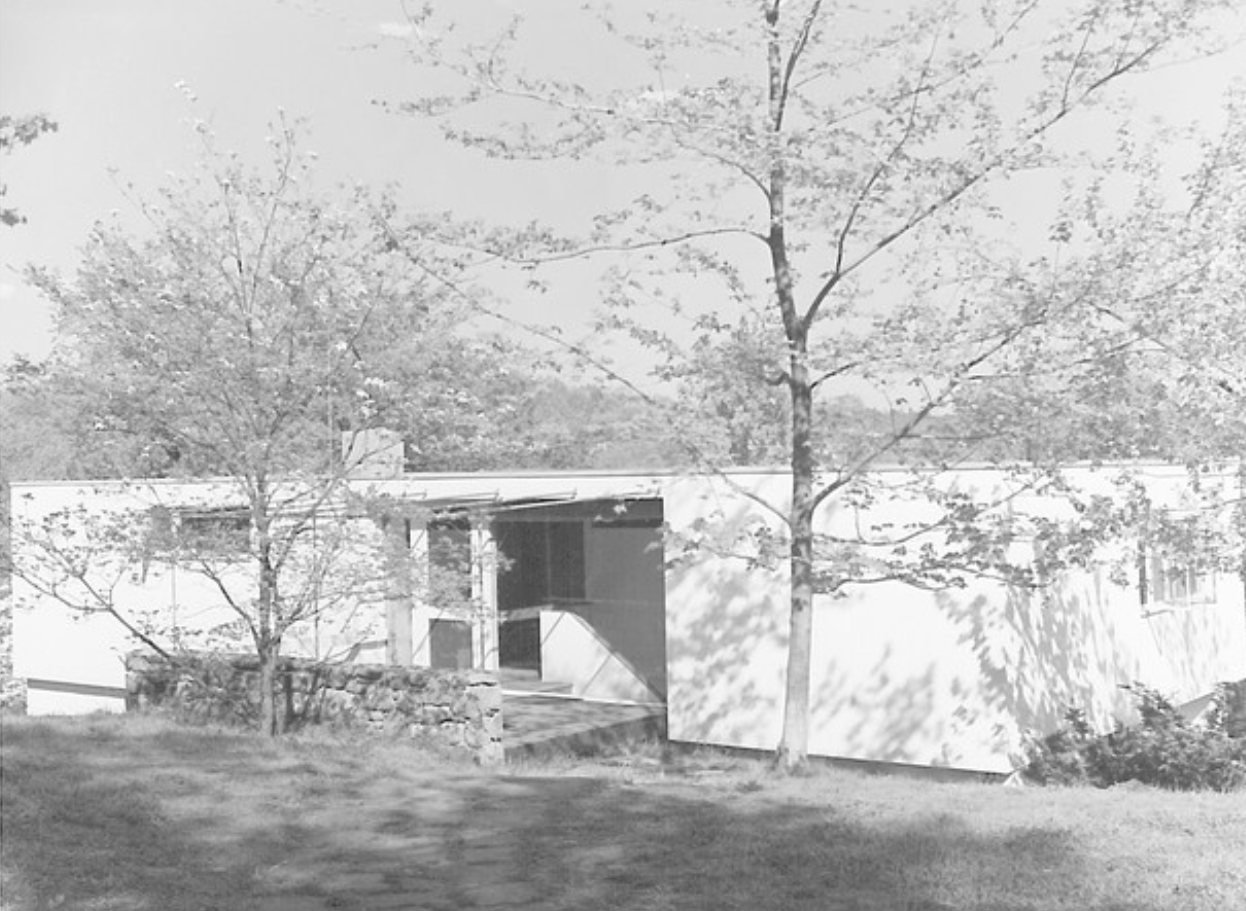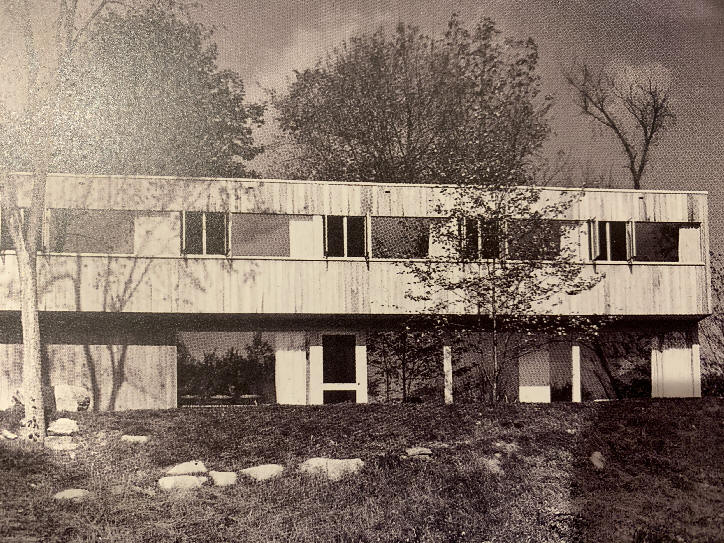 1947 - The Eliot Noyes House I, 51 Lambert Road, New Canaan CT. Built by Paul Borglum and Meek. Destroyed in 2005.
---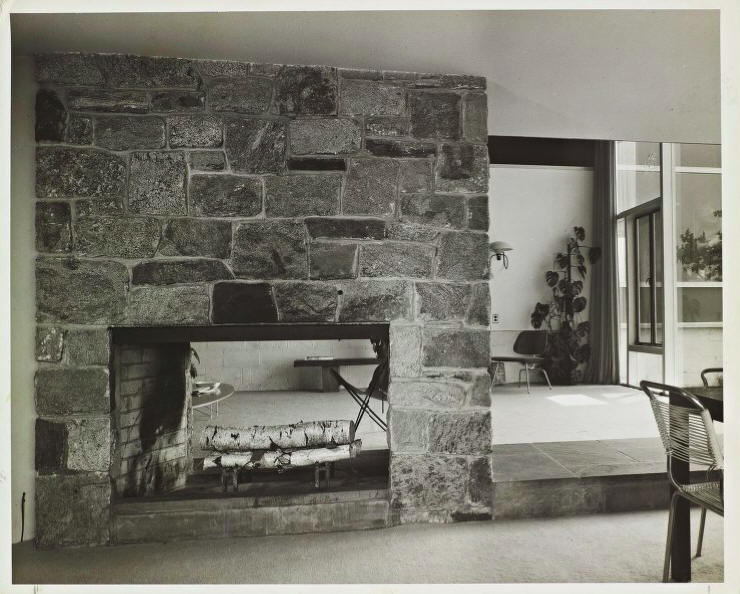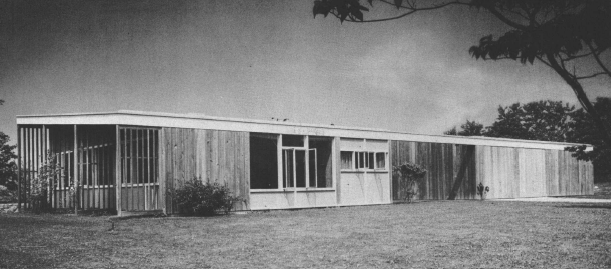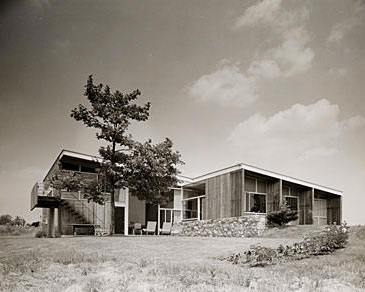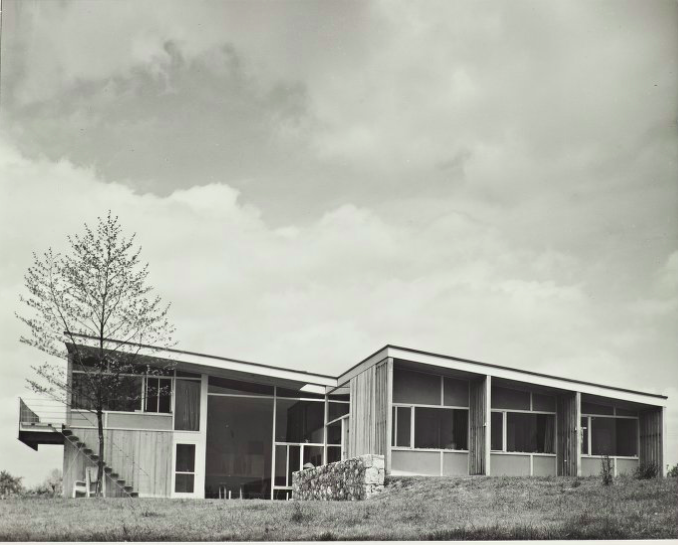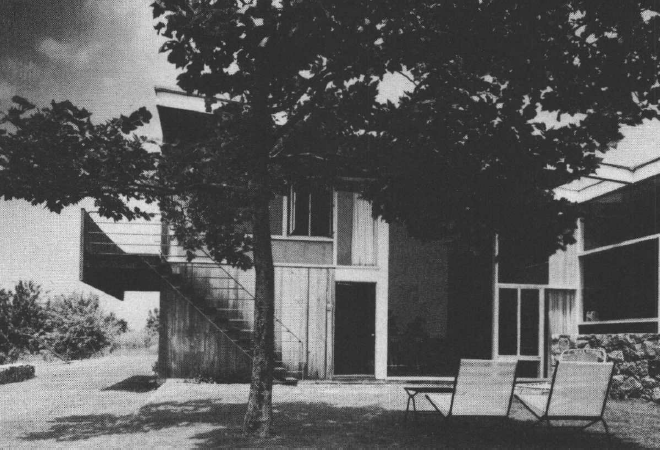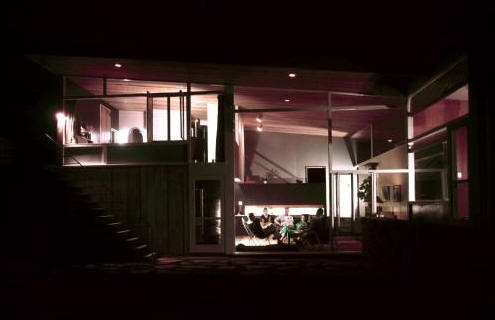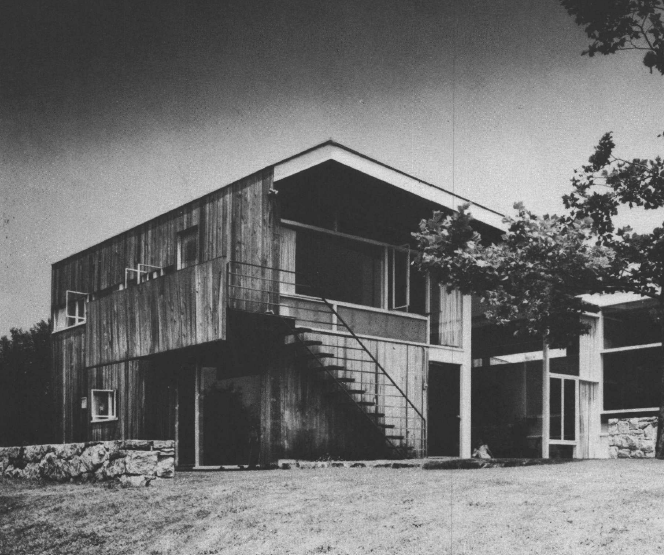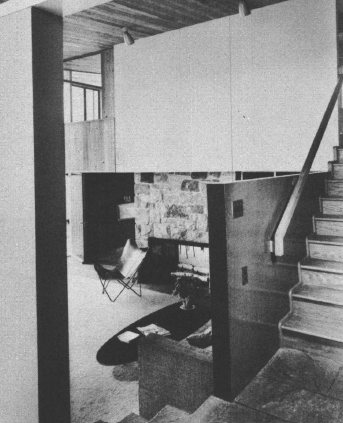 1949 - The Ogden Kniffin House, Turtleback Road, New Canaan CT. Designed with Marcel Breuer. Sold in the 1960s and later destroyed. Featured in Architectural Record, September 1953. Photos by Wayne Andrews/ESTO, Ben Schnall, and Walter Sanders.
---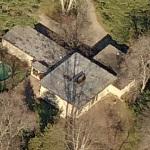 1950 - The Tallman House, 1578 Ponus Ridge Road, New Canaan CT. Destroyed in 2003.
---

1950 - The Margaret Knowles House, Nonquity MA. Designed for Eliot's sister. Deeded to her children and grandchildren.
---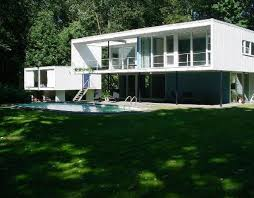 1951 - The Nina and Paul Bremer House, 60 Windrow Lane, New Canaan CT. Commissioned in 1950. Built by Borglum & Meek. The Harvard Five architects often congregated at the Bremer House for parties. Lyn Bremer Chivvis grew up in the house and later had Noyes design a house for her and husband Beecher, see below. Featured in House & Home, February 1953. Noyes did a guesthouse in 1953. Kitchen and bedrooms remodeled around 1968 with a pool added in 1969. Sold by the Bremer Trust in 2004 to Stephen Dayton.
---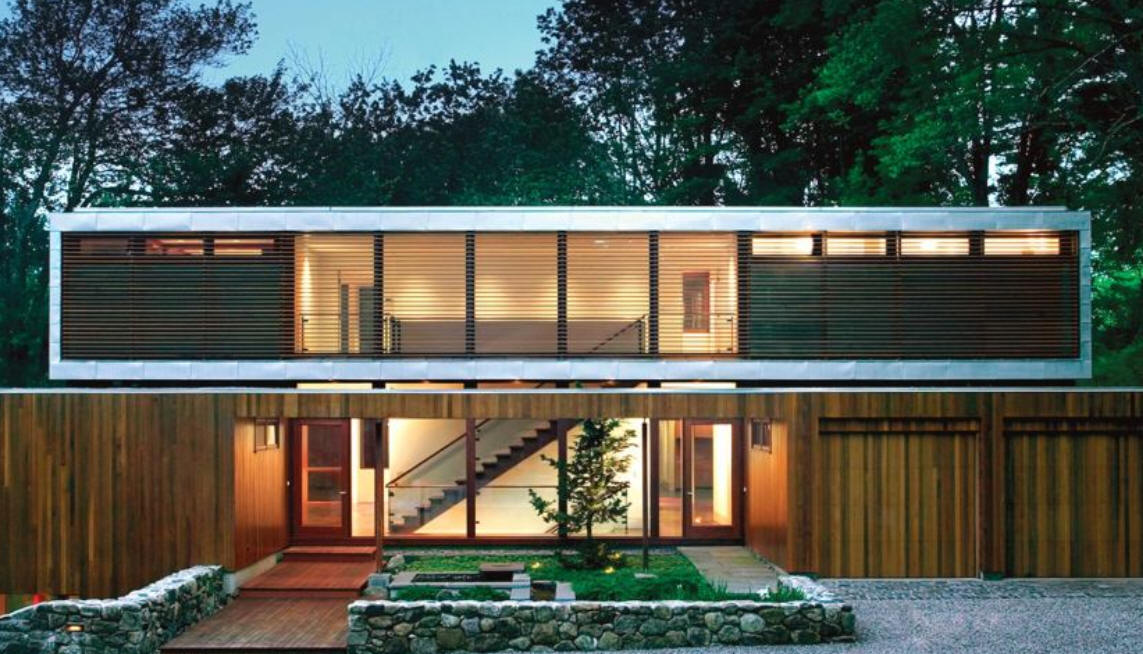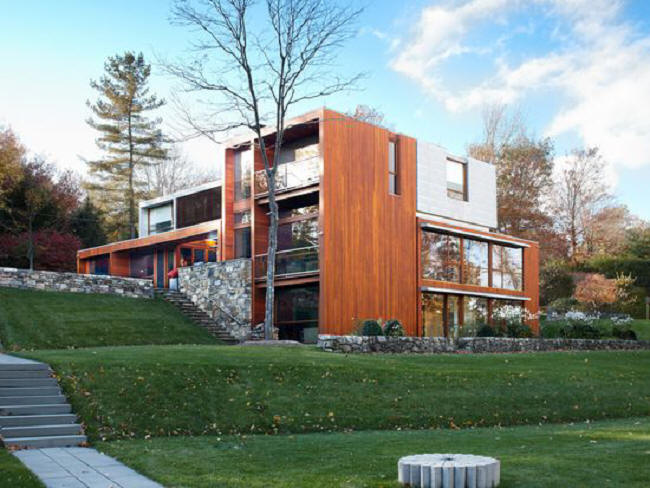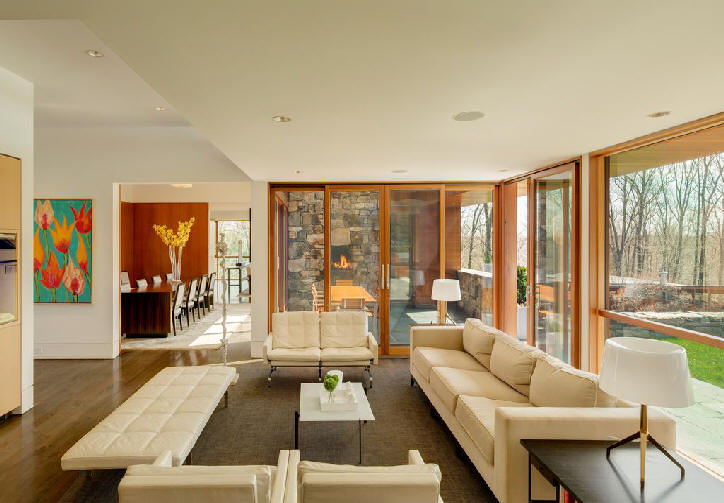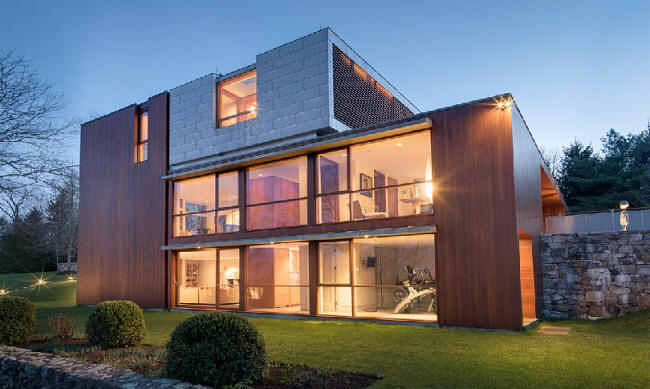 1951 - The Brown House, 81 Cross Ridge Road, New Canaan CT. Top photo by David Sundberg/ESTO. Sold in 1998 to David Prutting who hired architect Joeb Moore for a renovation and second story addition, built by Prutting. Moore also renovated the pool house and cabana. Sold in 2004 to Johan and Kristen Eveland. Sold in 2018 to Phillip Toohey. Architect Amanda Martocchio did a renovation. Sold in 2020 to Zhen Refuge LLC (Jackie Capra, Kristen Eveland's mom).
---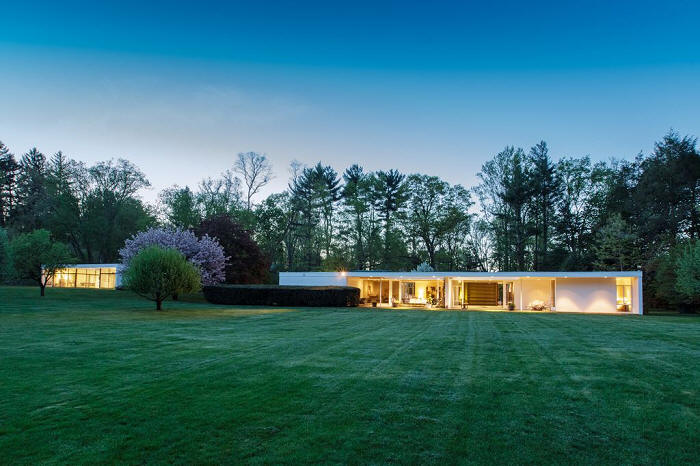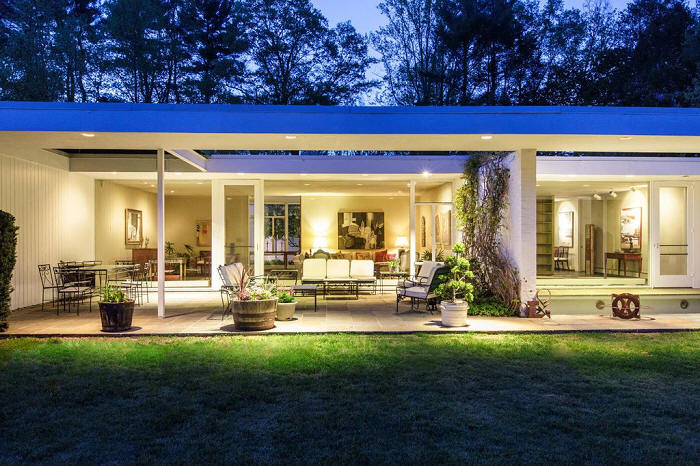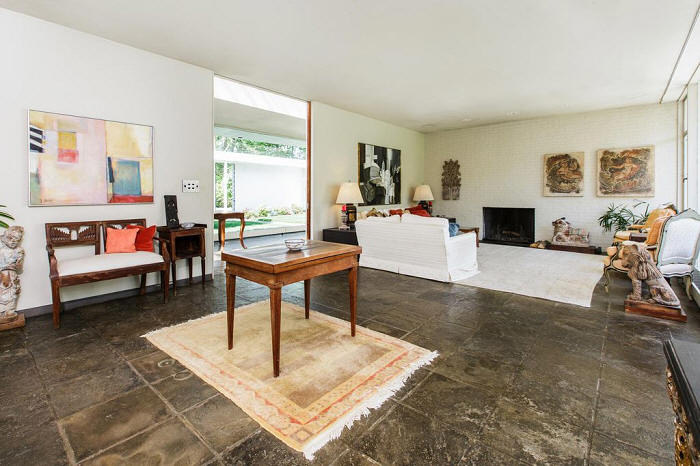 1951 - The Lee Ault House, 90 Lambert Road, New Canaan CT. Built for an art collector. Built by Borgium and Meek. Landscape design by Thomas Church. Deeded in 1958 to Dorothy Ault. Featured in Architectural Record, November 1958. Sold in 1959 to William Feick. Deeded to Alexander and Joan Feick. Pool added around 1980. Sold in 2018 to Christian and Saadia Madsbjerg, who did a renovation.
---

1951 - The Spencer and Virginia Moseley House, 59 Arrowhead Trail, New Canaan CT. Spencer Moseley built the road, which was not originaly called Arrowhead, according to son Brewster Moseley. Sold around 1954. Likely sold a few more times. Sold in 1994 to Mark Dewaele. Destroyed in 1995.
---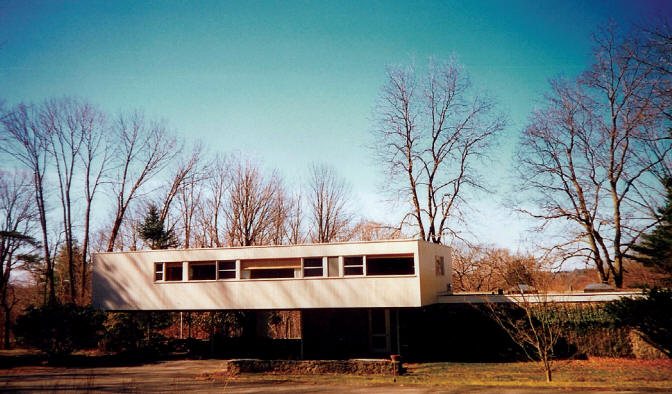 1951 - The Stackpole House, 928 Ponus Ridge Road, New Canaan CT. Photo by Bill Earls. Destroyed in 2000.
---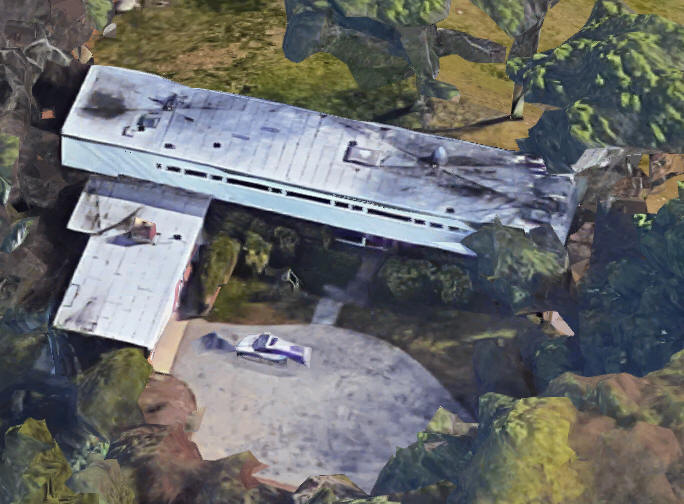 1952 - The John and Frances Hersey House, 361 Hulls Farm Road, Southport CT. May have previously been numbered 351. Commissioned in 1951. Sold in 1972 to Lindamir Realty. Sold in 1994 to Chung and Alison Lew.
---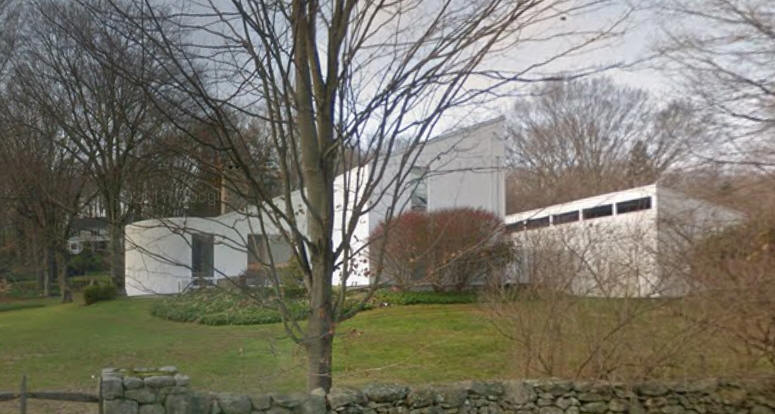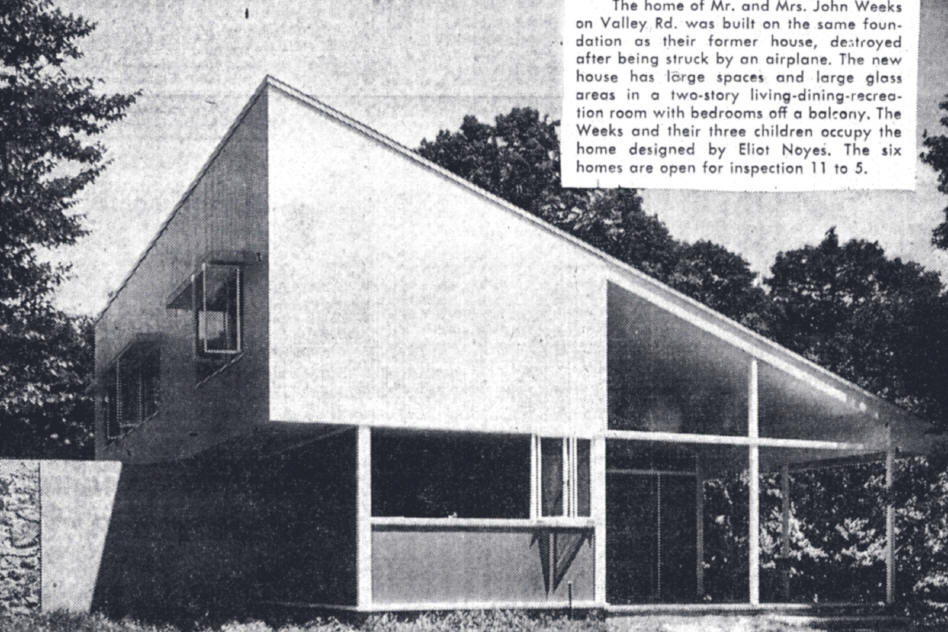 1952 - The John and Ruth Weeks House, 310 Valley Road, New Canaan CT. Featured in the New York Times Magazine. Sold in 1977 to James P. and Flora Lee. Sold in 1993 to John and Sally Hough who brought it down to the studs and fireplace and commissioned former Noyes partner Alan Goldberg for a new house.
---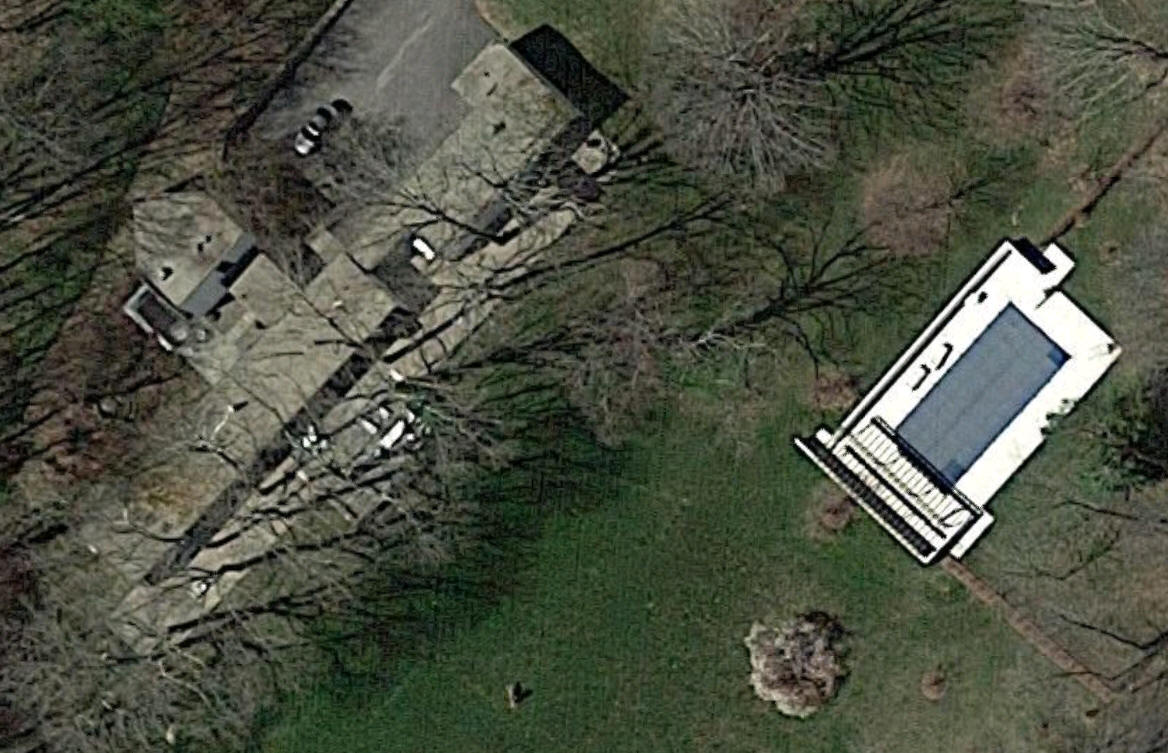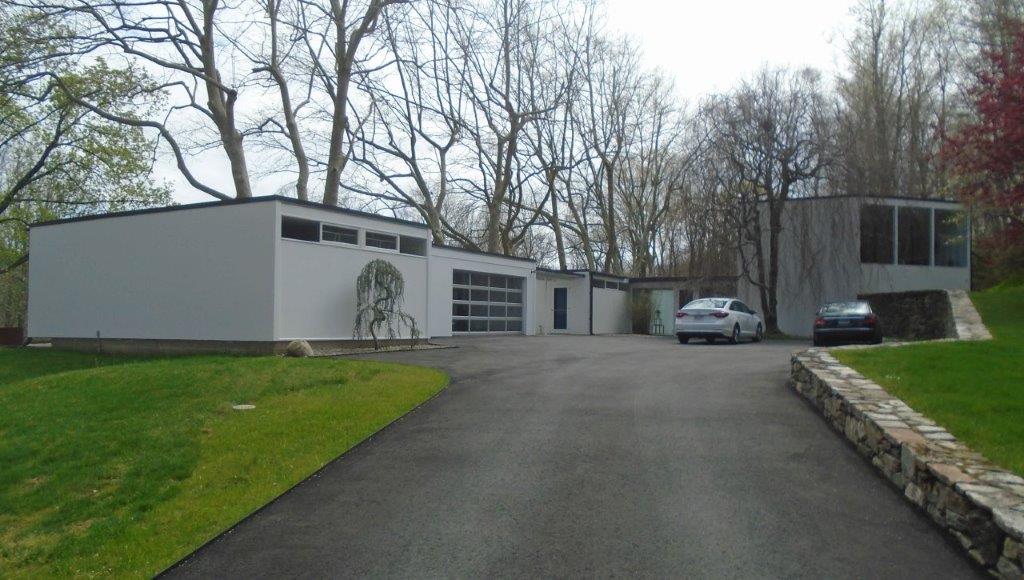 1953 - The Austin E. Briggs House, 23 Chestnut Woods Road, Redding CT. Briggs was the cartoonist of 1940s Flash Gordon fame. Featured in Architectural Record, November 1958. Sold in 1972 to Marcus and Trudy Gildin. Sold in 2000 to Dana Whitney and William J. Nelson.
---

1953 - The John Senior Jr. Addition. No photo or address. Do you have one?
---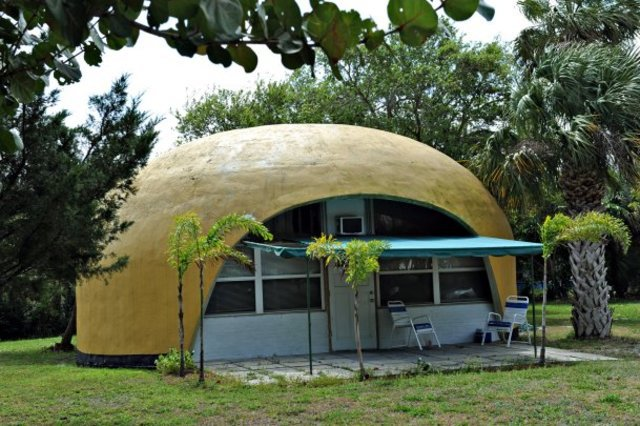 1954 - aka Yellow Bubble House, 9096 Southeast Venus Street, Hobe Sound FL. Sold in 2011 to Blake Cilwick. Destroyed in 2012.
---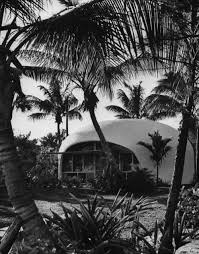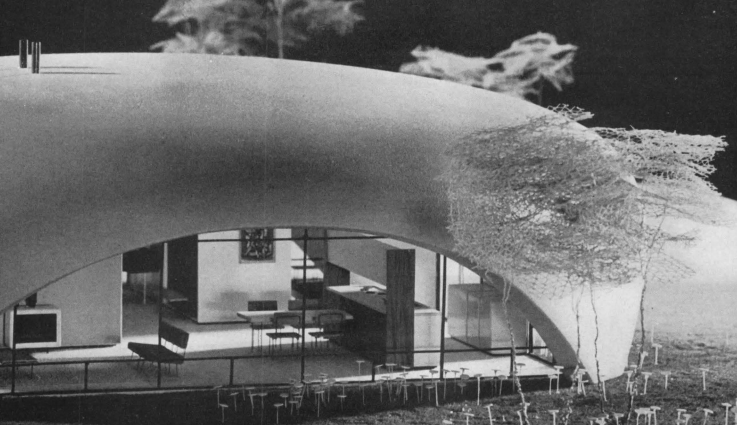 1954 - The Joseph V. Reed House, aka White Bubble House, 9086 Southeast Venus Street, Hobe Sound FL. Designed with Wallace Neff. Featured in Architectural Record Houses of 1956. Sold in 2011 to Geraldine Muir.
---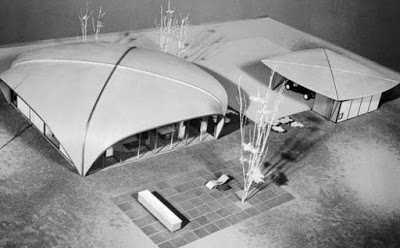 1954 - The General Electric Wonder Home. Unbuilt. General Electric approached Noyes and asked if he would design a house for an exhibitiion depicting the American home of 1964, ten years in the future with all the attributes of modern life pre-molded in. Noyes created four insulated plastic segments bolted together with criss-crossed aluminum ribs that created the four legs of the structure - like a table - leaving the sides open to large expanses of glass.
---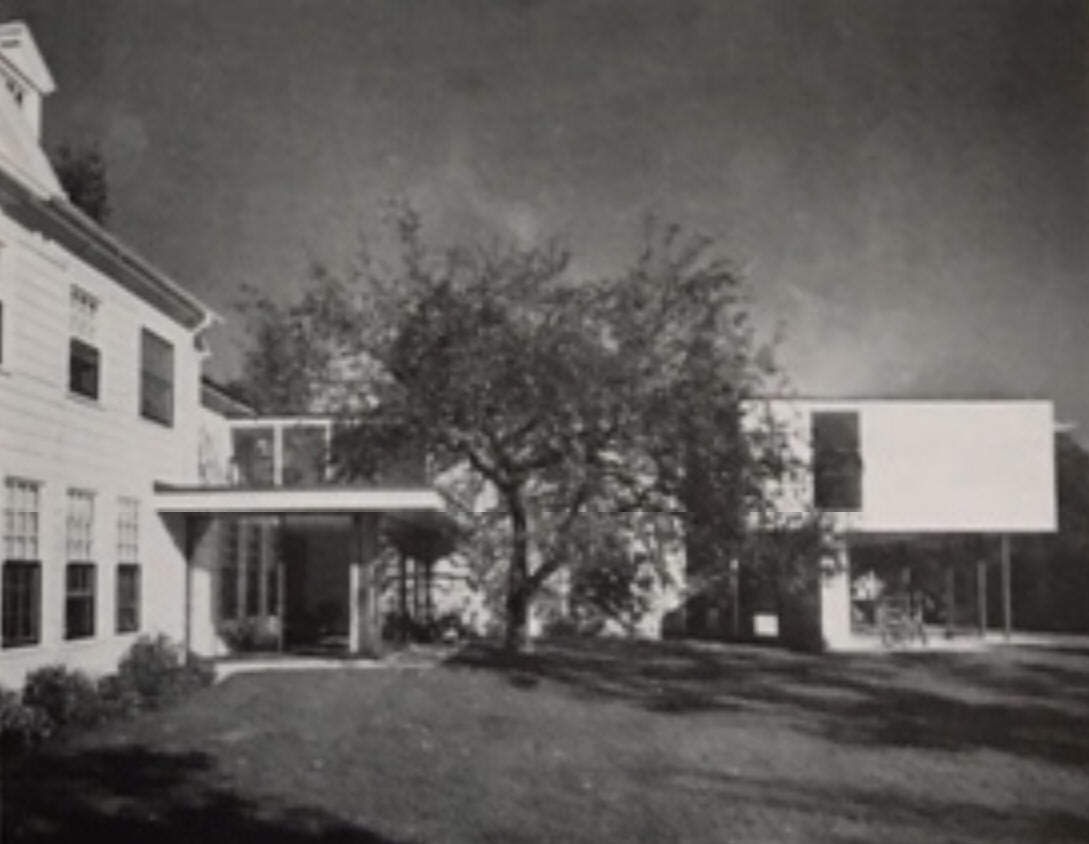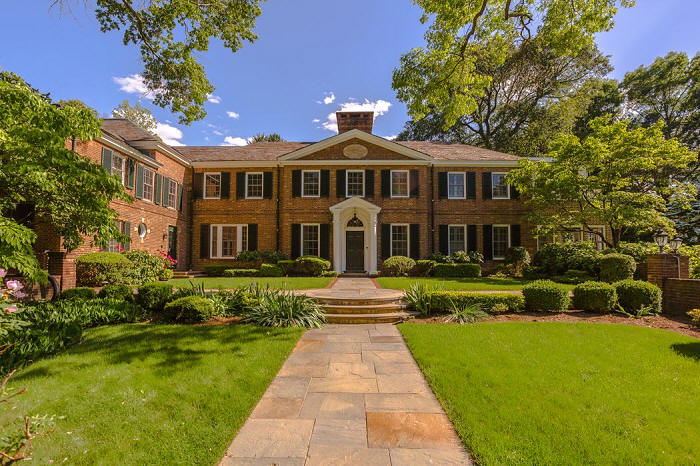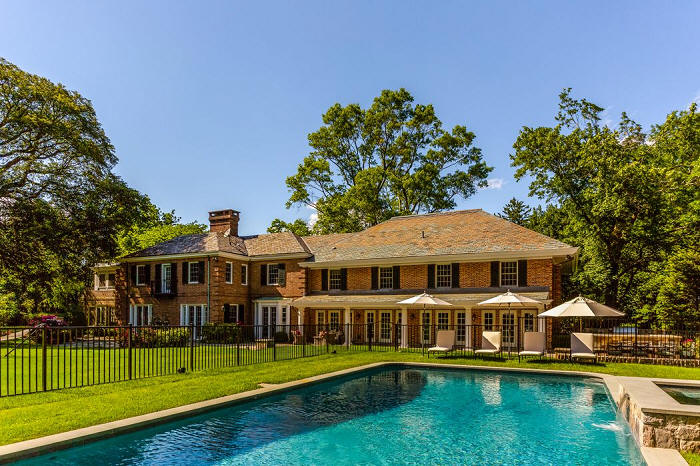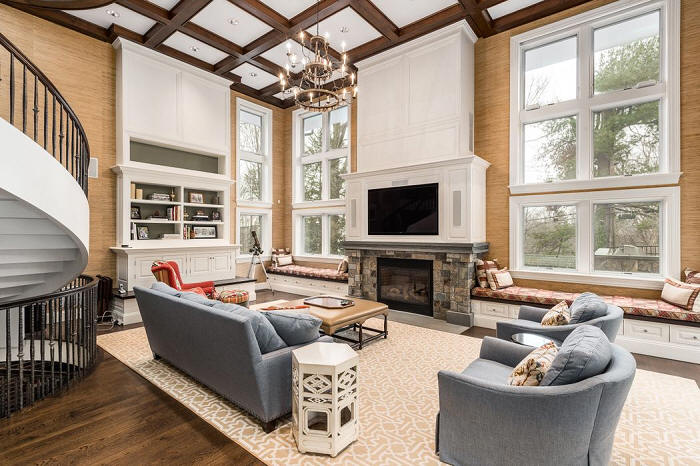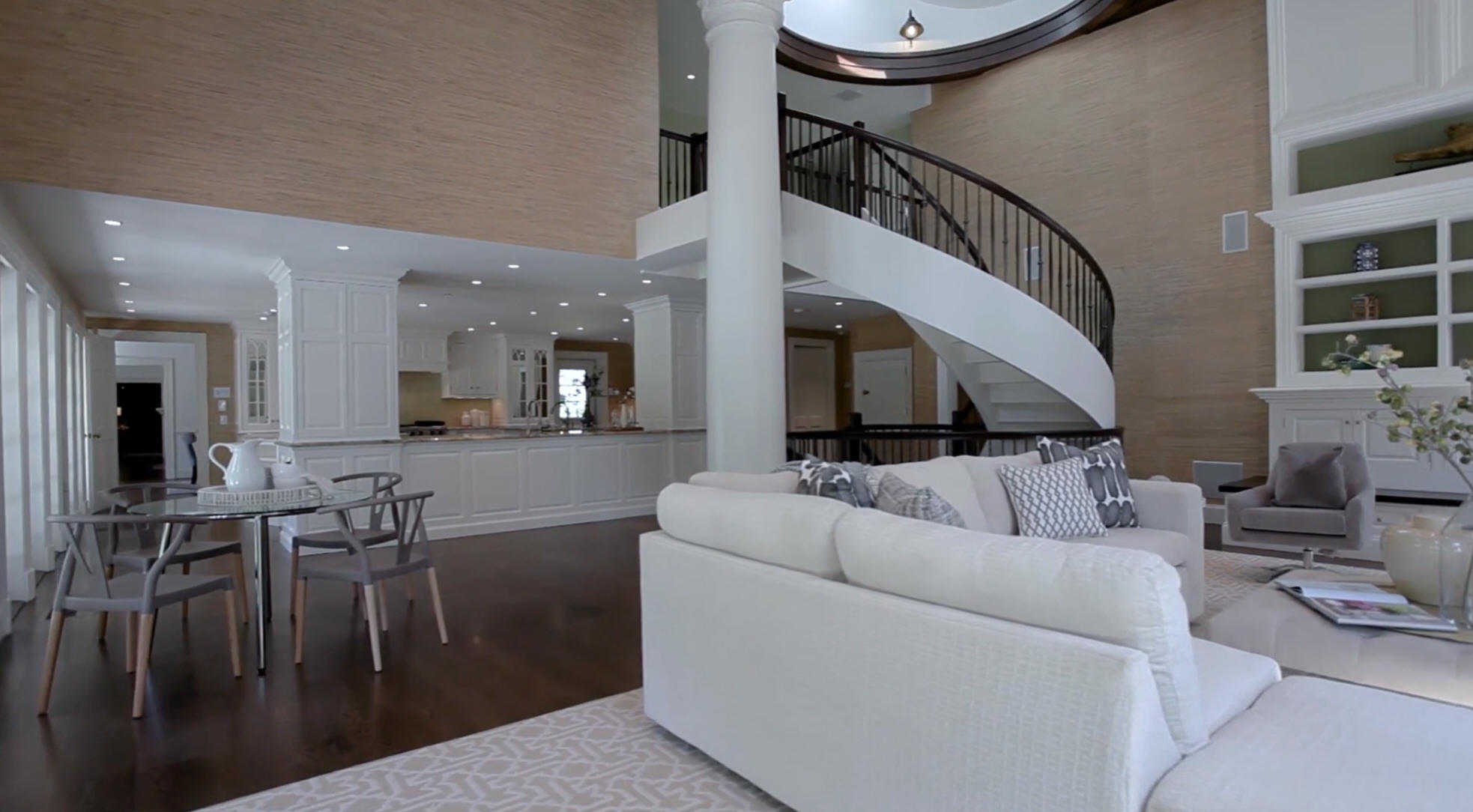 1954 - The Walter Bareiss House Addition, 11 Deer Park Court, Greenwich CT. Original home built in 1936. Noyes did an additional wing to accommodate a growing art collection and family. At some point, the addition was unfortunately altered to remove all the Modernism. Walter Bareiss died in 2007 and the house was sold for the first time to Daniel and Sharon Green. Sold in 2021 to Blake and Mariana Mastallr. Video.
---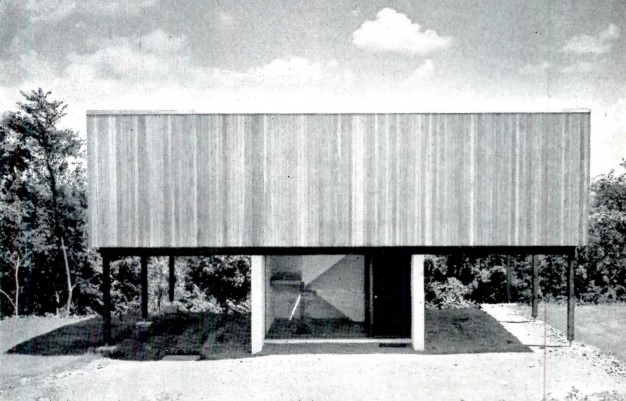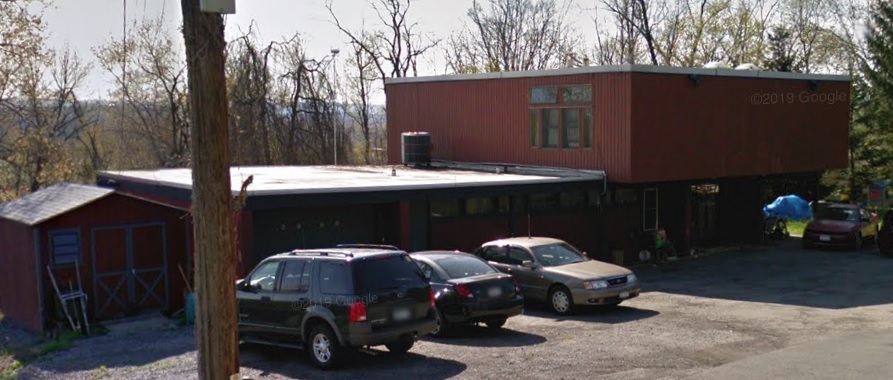 1954 - The Werner Buchholz House, 24 Edge Hill Road, Wappingers Falls NY. Featured in Architectural Record, November 1958. Has been modified with additions.
---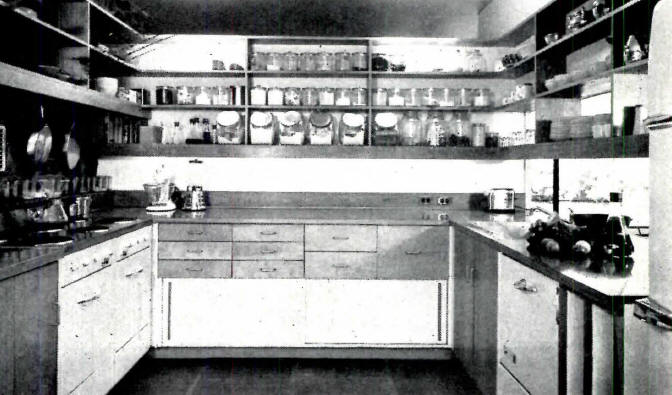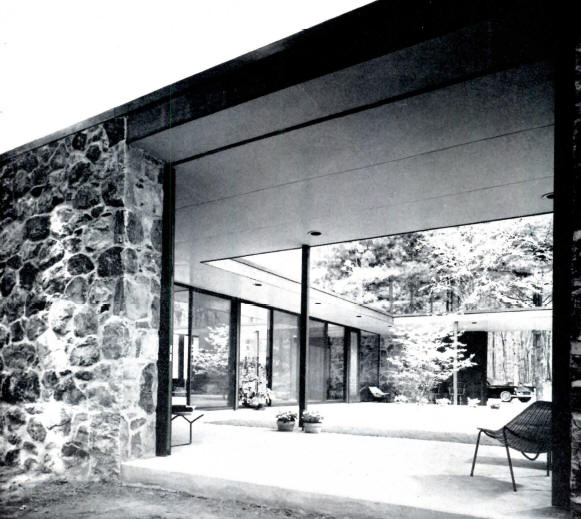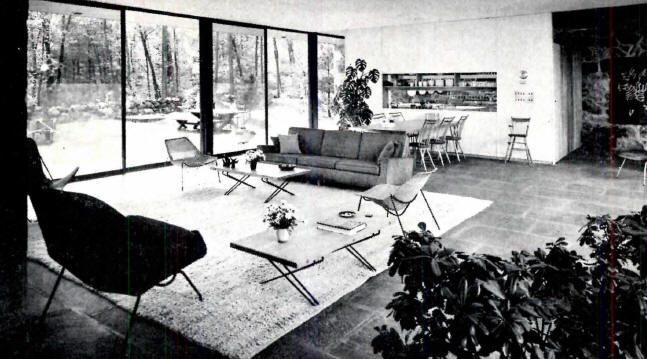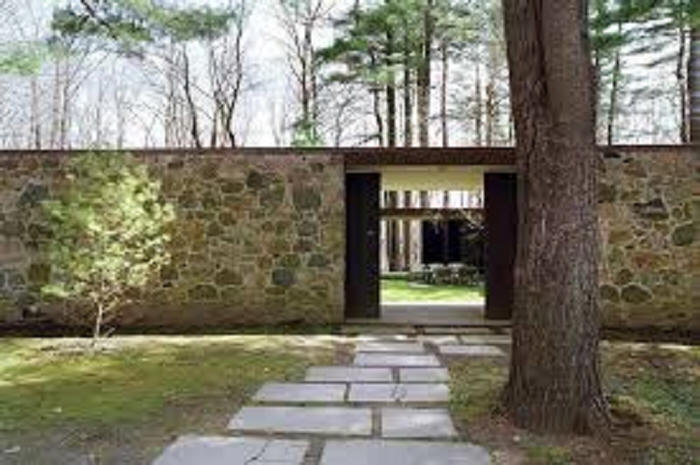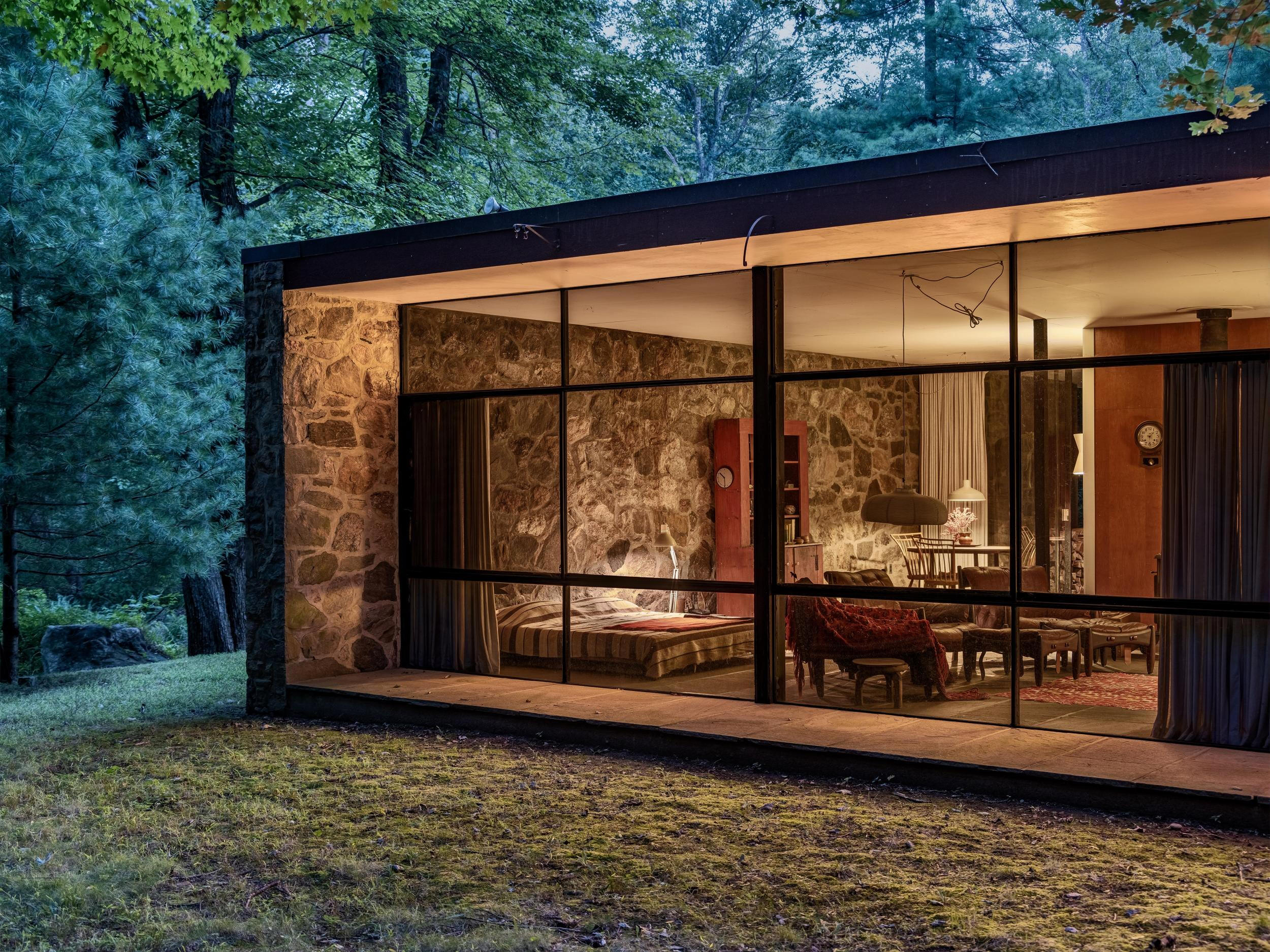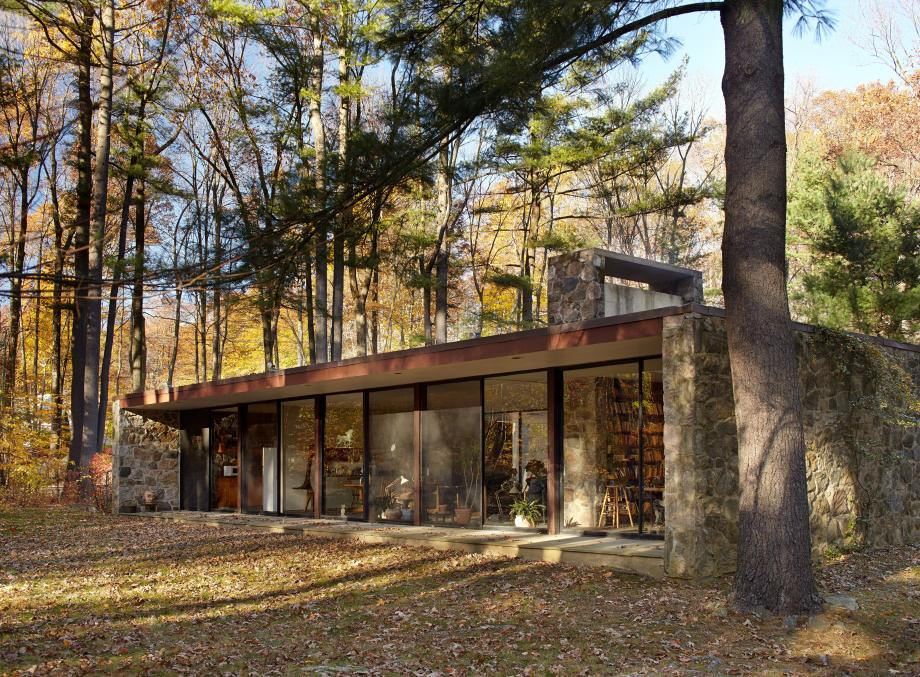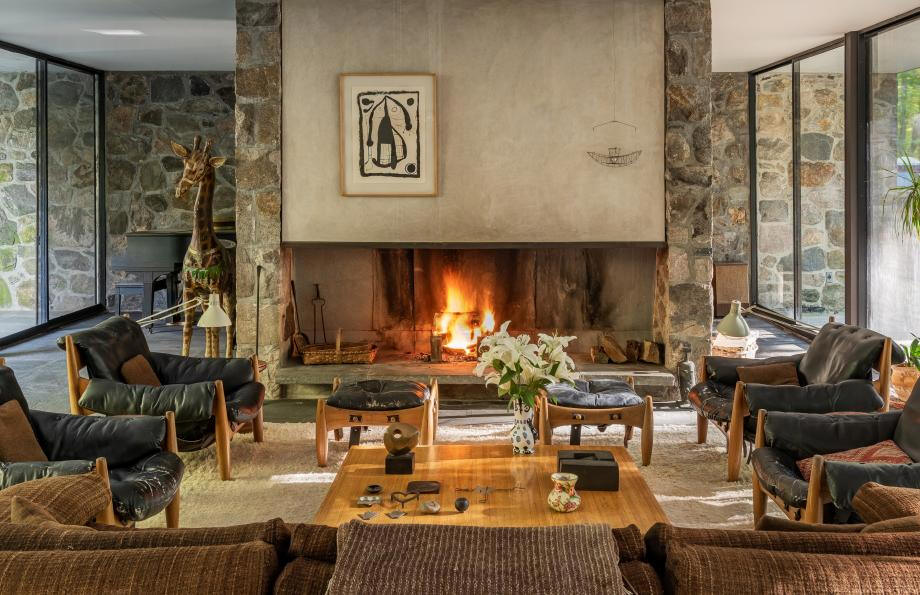 1956 - The Eliot and Molly Noyes House II, 210 Country Club Road, New Canaan CT. Commissioned in 1955. Built by Borgium and Meek; lighting by Richard Kelly. Featured in LIFE and Time magazines. Featured in Architectural Record Houses of 1957. Won a 1957 AIA Merit Award. Deeded to the Noyes Family Partnership/Fred Noyes. Put under preservation easement in 2019 with the Connecticut Trust for Historic Preservation. Color photos by Michael Biondo; B/W by Ezra Stoller.
---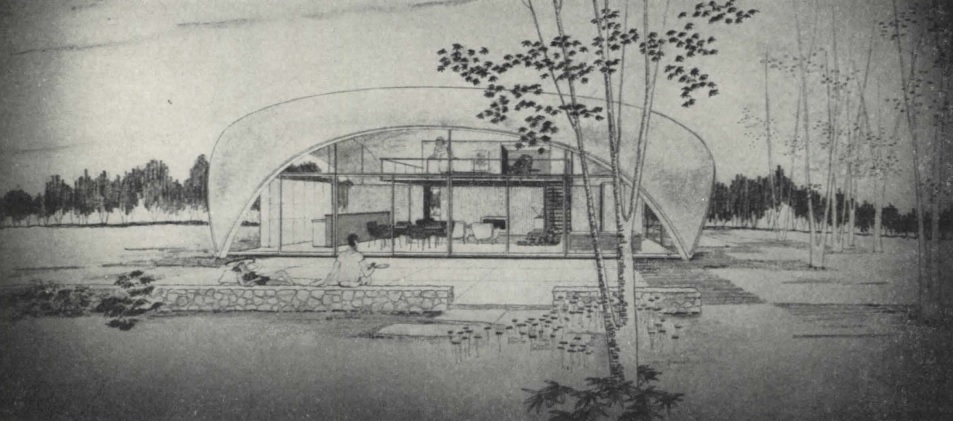 1956 - The Model House for the Southeast Housing Homestyle Center, aka Museum of Houses, aka Grand Rapids Homestyle Center Residence, Grand Rapids MI. Unbuilt. Other participants included Alden Dow, Harwell Hamilton Harris, George Nelson, Ralph Rapson, and Paul Rudolph. Detroit realtor Jason Honigman conceived The Home Research Foundation to showcase new Modernist houses on 80 acres outside Grand Rapids, MI. The press referred to it as "an outdoor museum for houses," "the world's most wondrous village," and, eventually, "the lost theme park." The project was extensively promoted in major design magazines such as Architectural Record, Arts and Architecture, and Interiors . The first set of 12 homes was to be designed and started in 1956, followed by 13 in 1957, and 25 more ending in 1960. The Home Research Foundation closed in May 1957, due to funding issues, and the Homestyle Center was never built. The park around which the houses were to be built is now part of the 132 acre Fredrick Meijer Gardens and Sculpture Park, planned in 1982 and opened in 1995.
---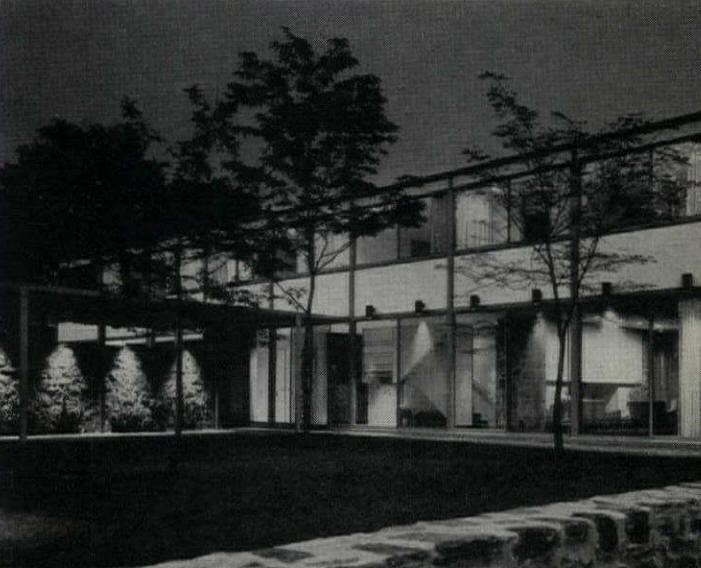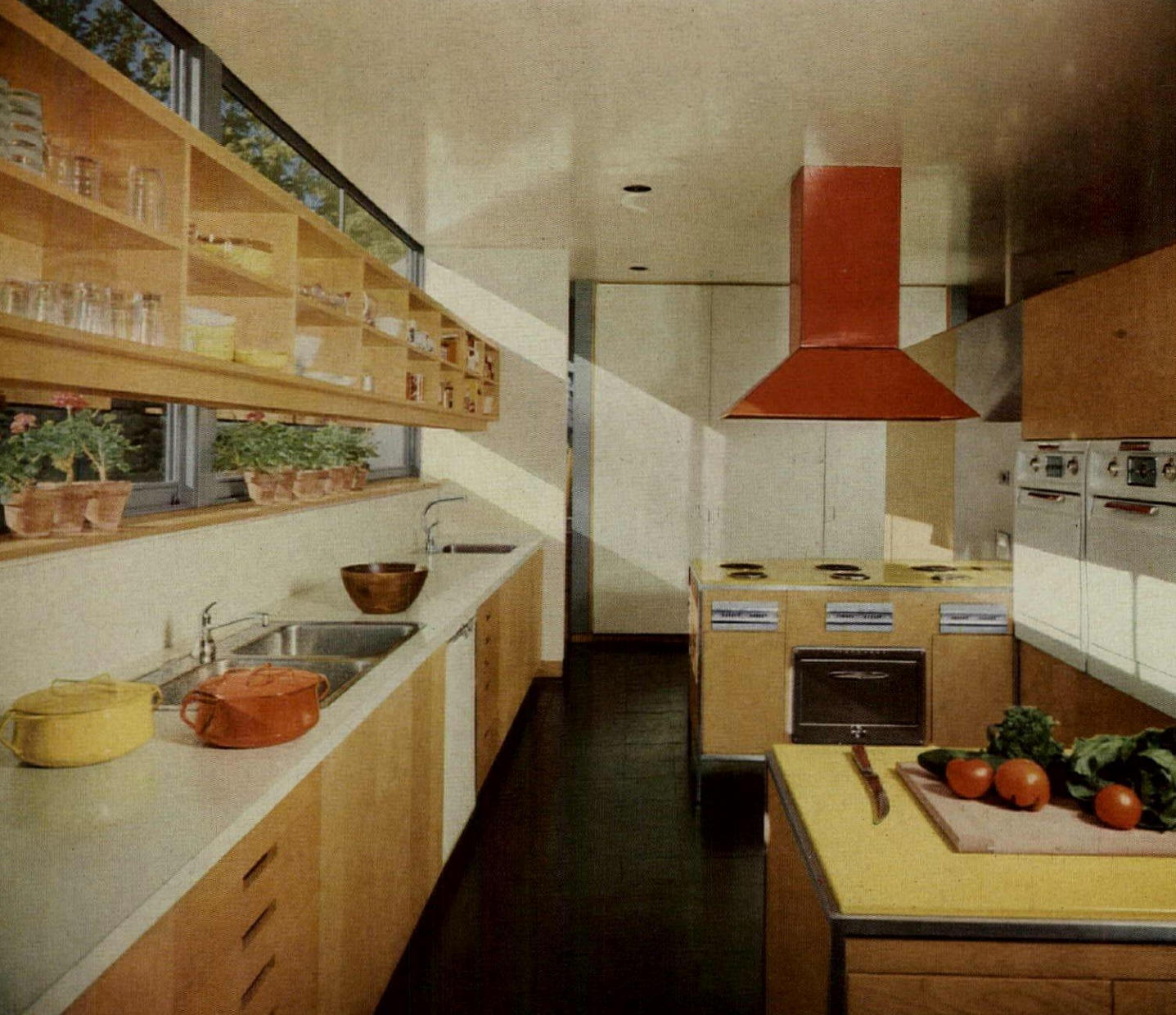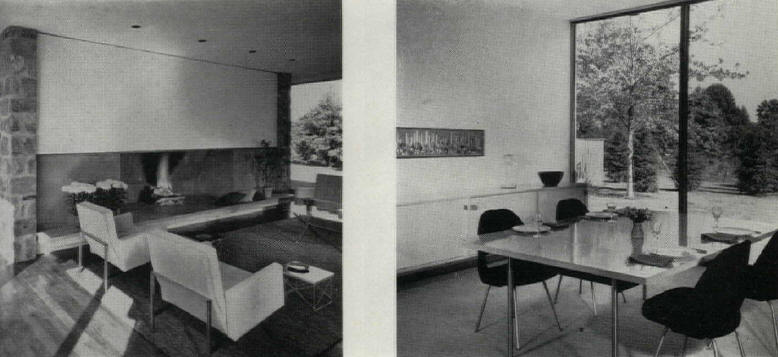 1956 - The Robert A. Bernhard House, 55 Lincoln Avenue, Port Chester NY. Featured in Architectural Record Houses of 1959. Engineers: Werner Jenson Korst; lighting, Richard Kelly; built by EW Howell; photos by Ben Schnall; landscape design, Charles Middeleer; iInterior design, Hugh and Katherine Smallen. Destroyed.
---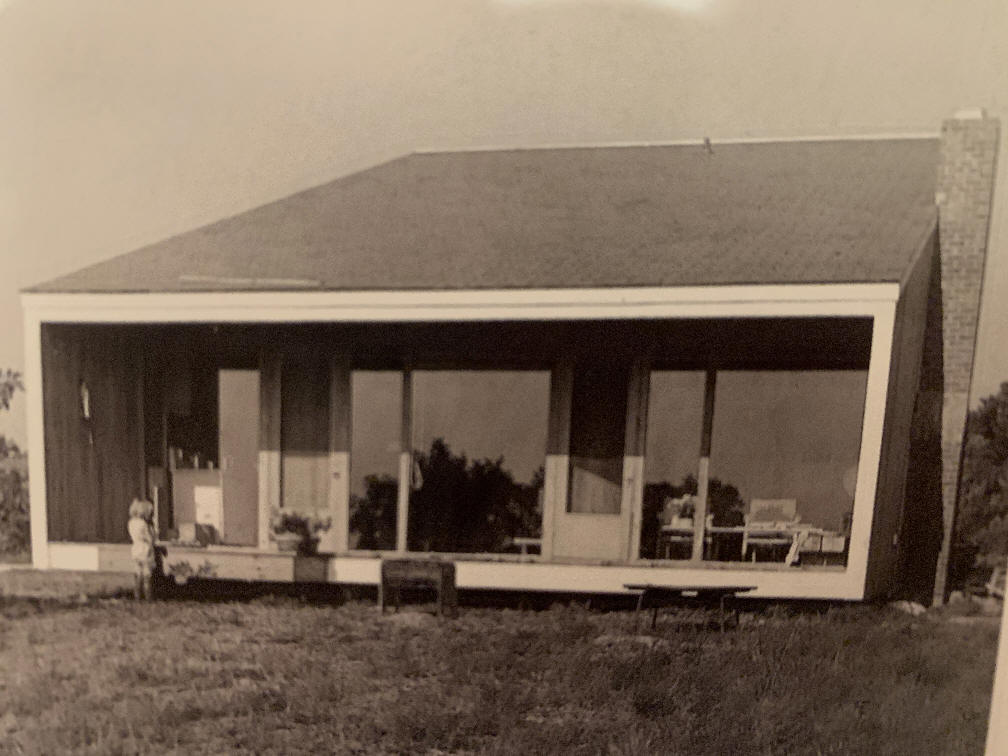 1956 - The Eliot and Molly Noyes Family Summer House, Nashaquitsa Pond, Martha's Vineyard, Chilmark MA. Was a rental during the 2000s.
---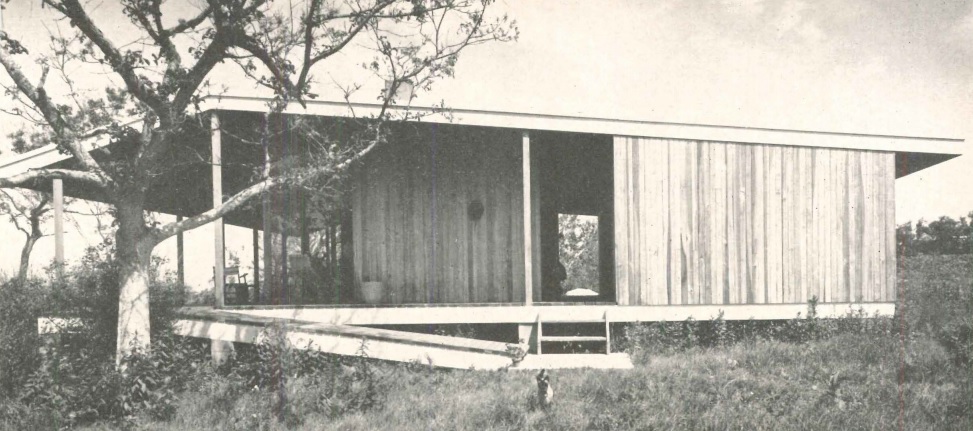 1959 - The Erik and Vibeke Simonsen Vacation House, 37 Flanders Lane, Martha's Vineyard, Chilmark MA. Vibeke Simonsen was an interior designer who partnered with Noyes, Philip Johnson, John Johansen, and others. Featured in Architectural Record, May 1962. Renovated by his son, Fred Noyes. Deeded in 2014 to Kimberly and Erik (Rick) Simonsen Jr.
---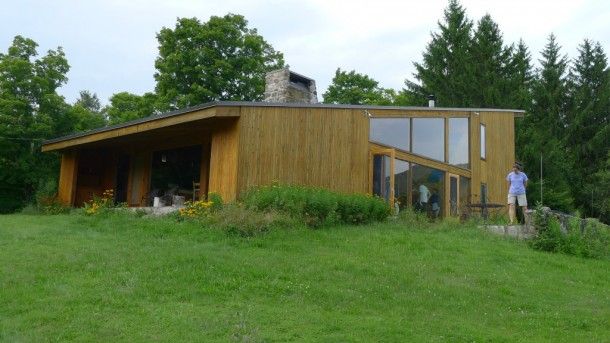 Around 1960 - The John and Elizabeth Ohly Ski House, 968 Thundering Brook Road, Killington VT. The town was formerly called Shelburne VT.
---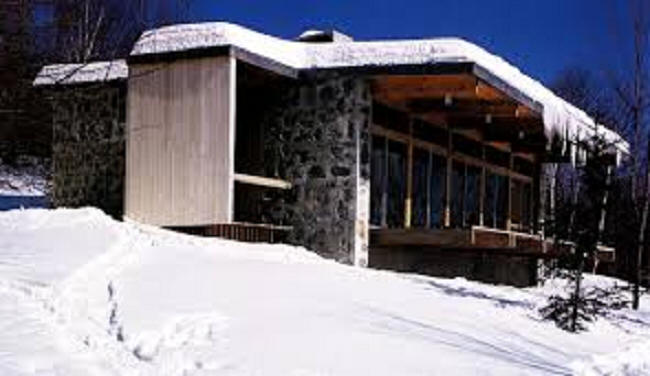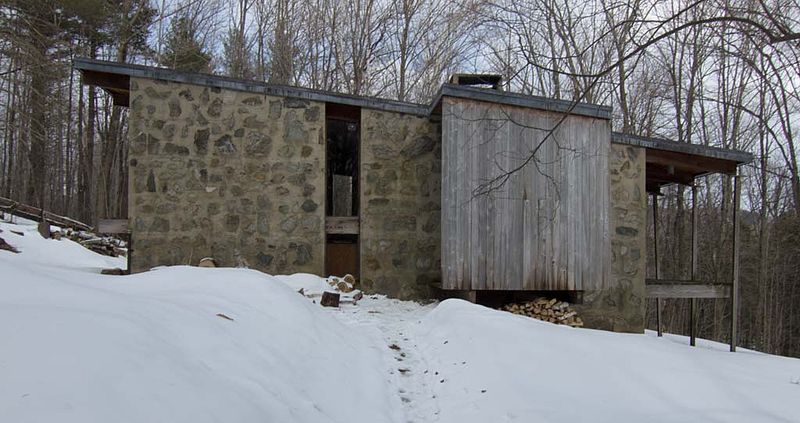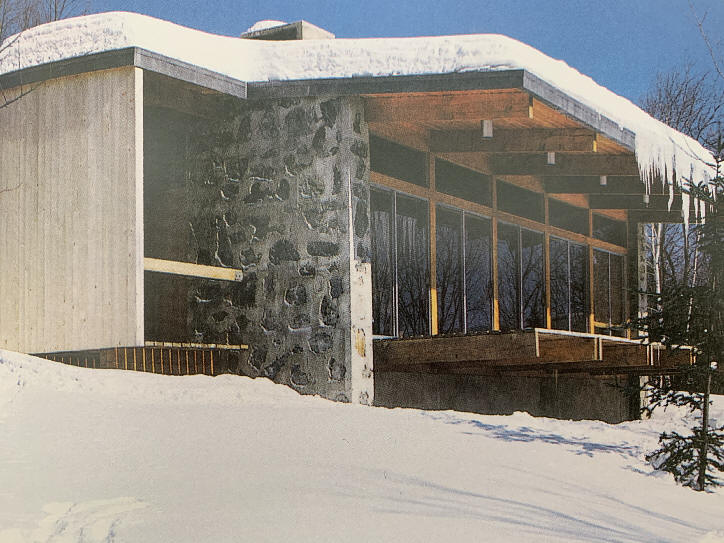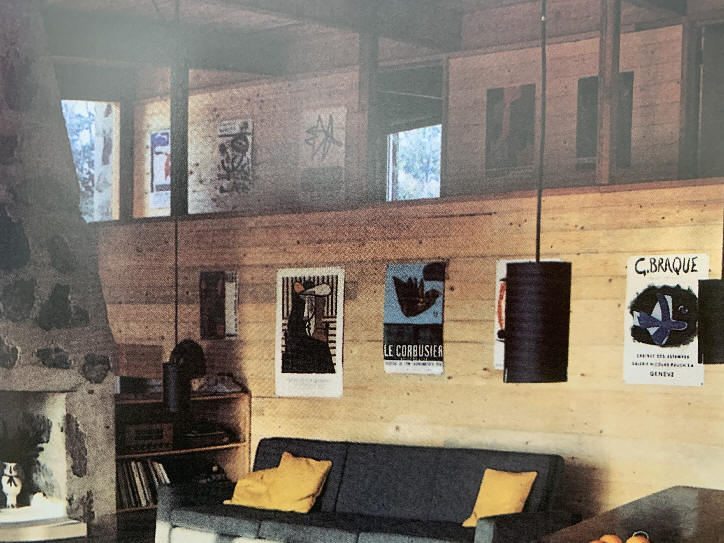 1962 - The Eliot and Molly Noyes Ski House, 712 Thundering Brook Road, Killington VT. The town was formerly called Shelburne VT. Still owned by the Noyes family as of 2023.
---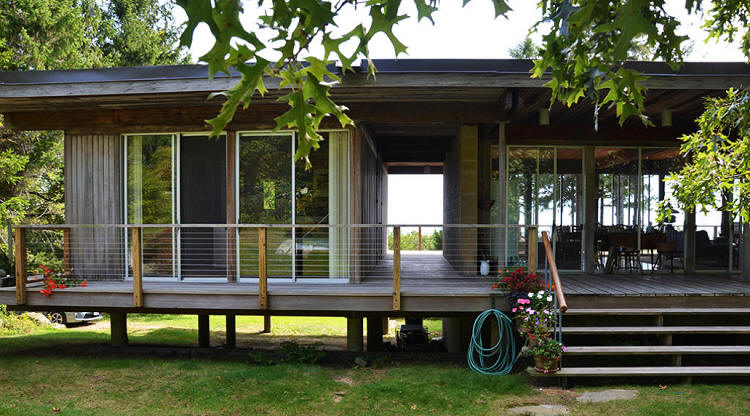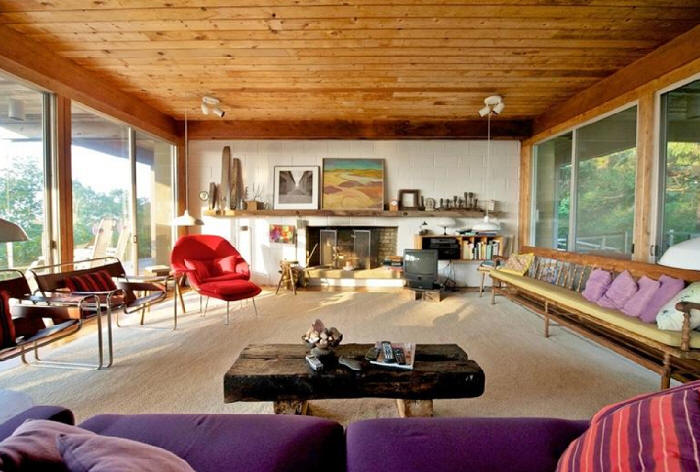 1962 - The Talbot and Claire Rantoul House, 4 Glacier Glen, Martha's Vineyard, Chilmark MA. Featured in LIFE Magazine. Still owned in 2018 by the Rantoul daughters as a vacation rental.
---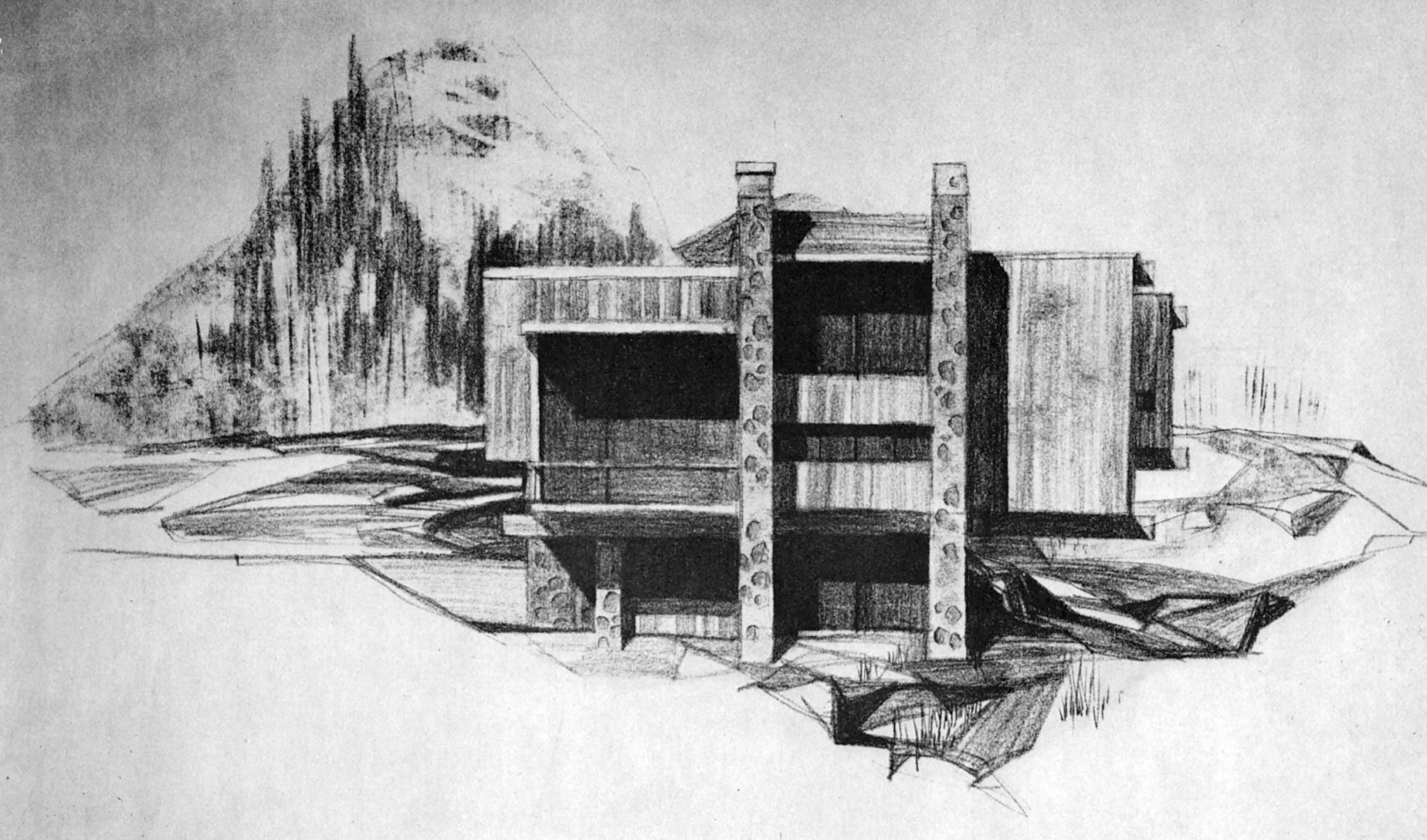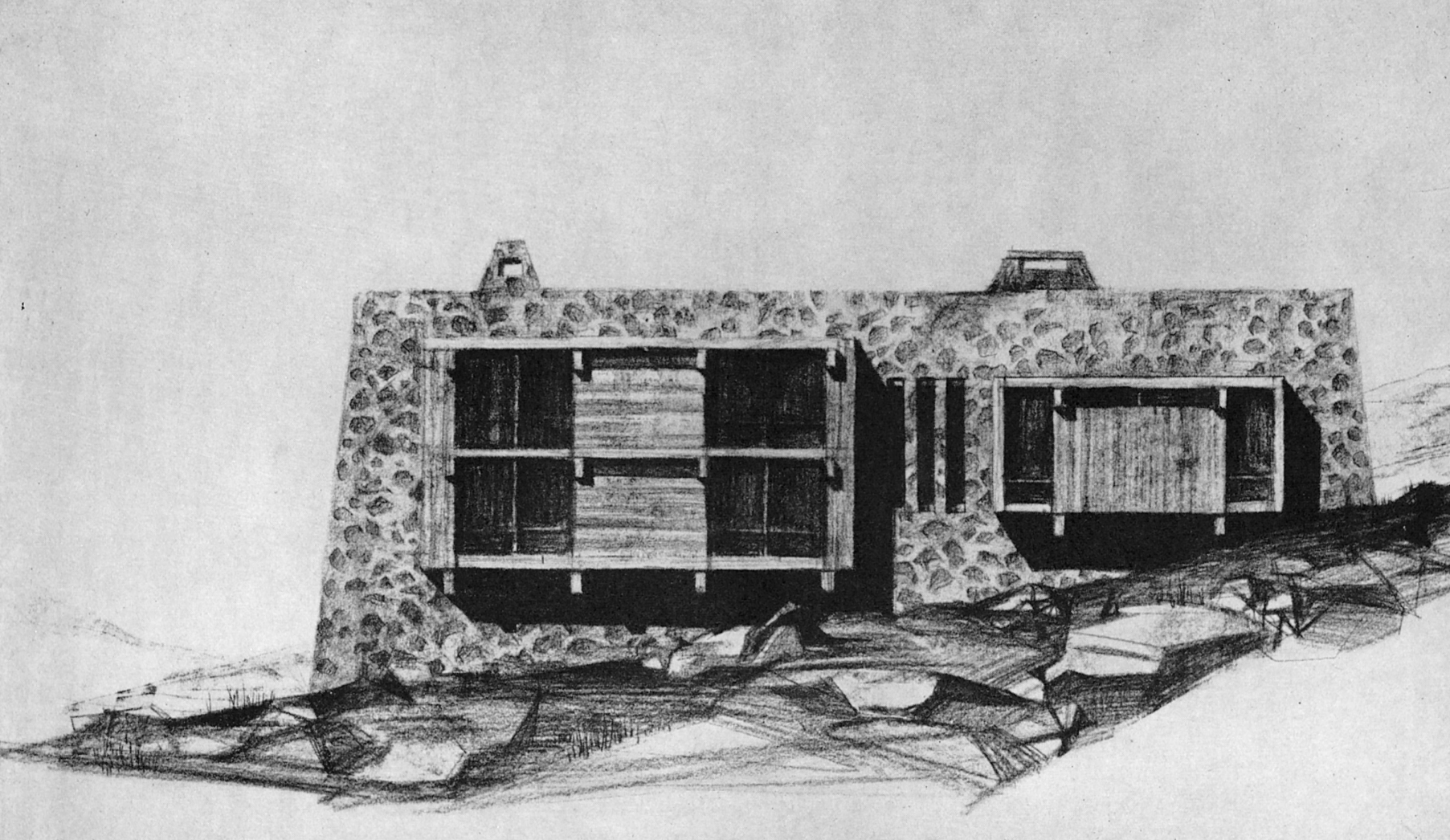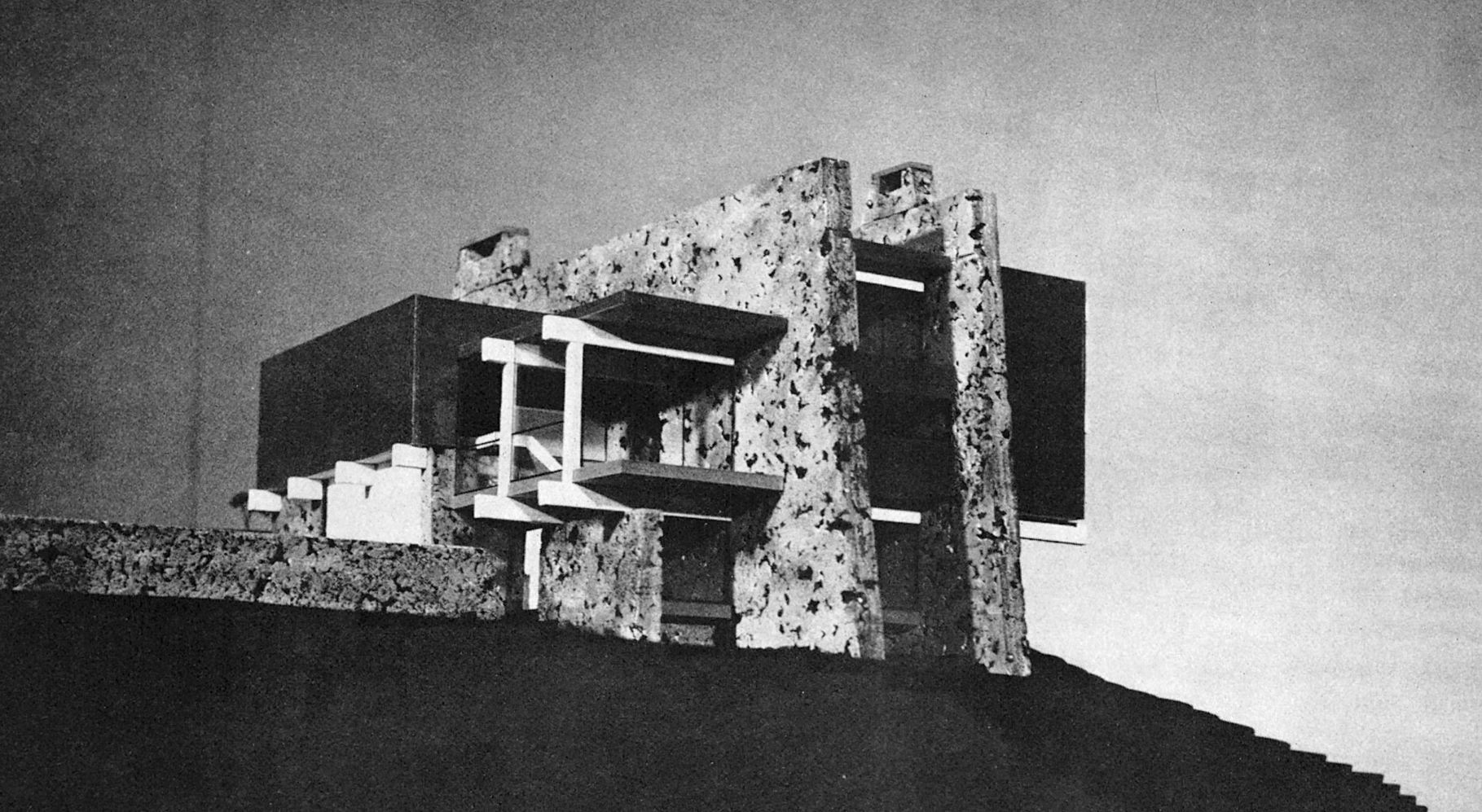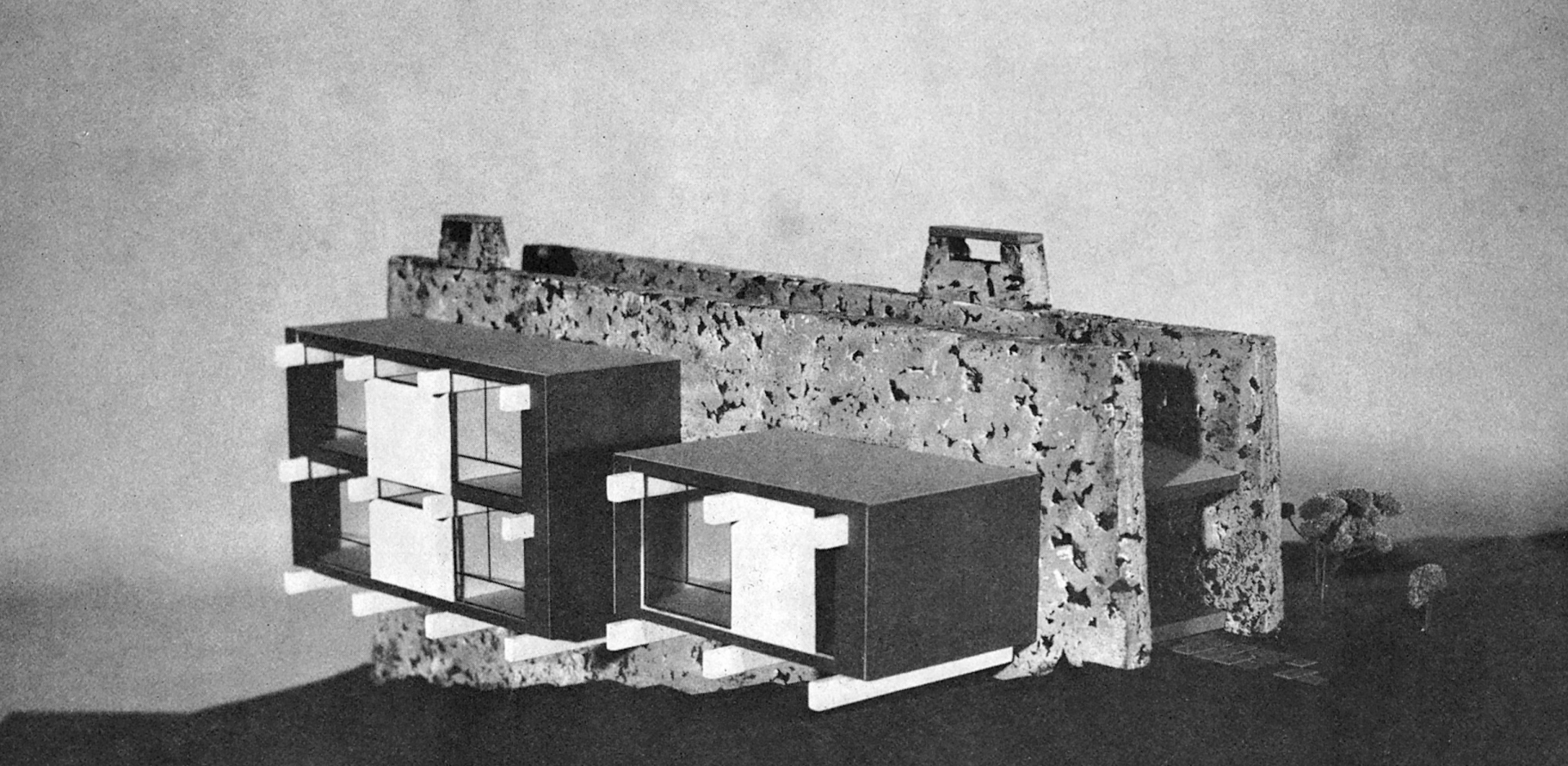 Around 1964 - aka House in Aspen CO. Featured in Arts and Architecture, January 1965. Unbuilt, according to son Fred Noyes.
---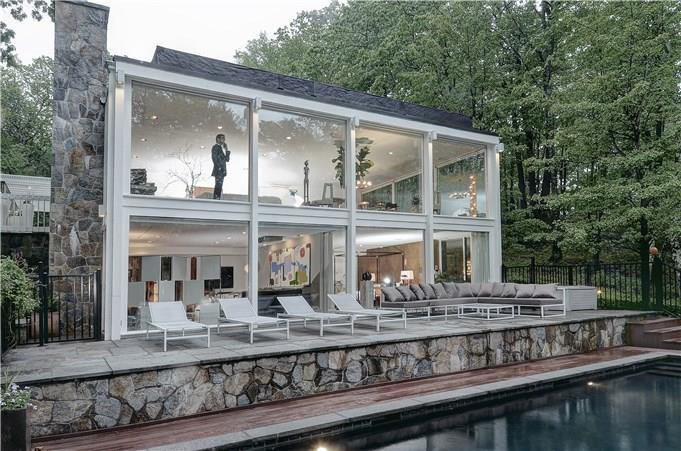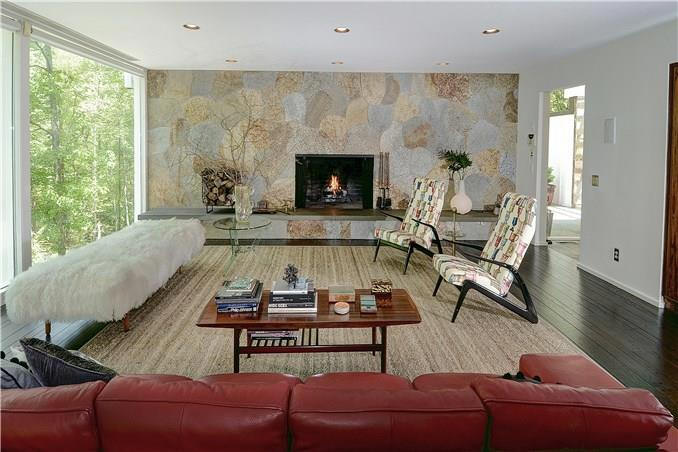 1966 - The Rob Graf House, 62 Moriarity Drive, Wilton CT. Designed by Rob Graf, who worked for Noyes; Noyes was not involved in the design. Sold to Leon C. Hirsch who did a massive renovation. Sold in 2007 to Ray Raymakers. Sold in 2018 to Crystal Ellis and Kenny Ulloa.
---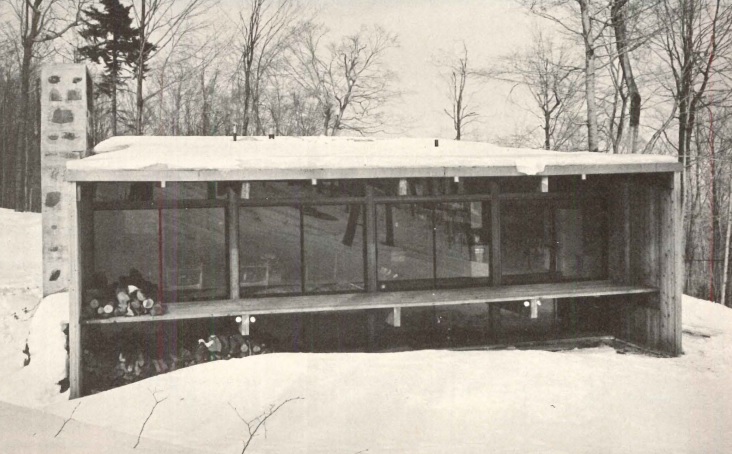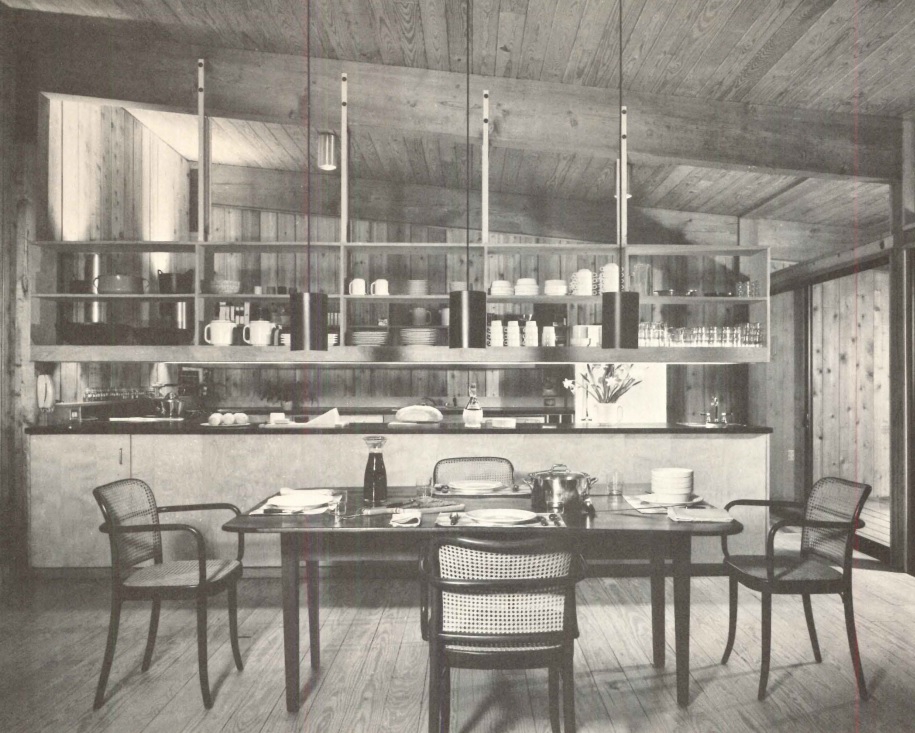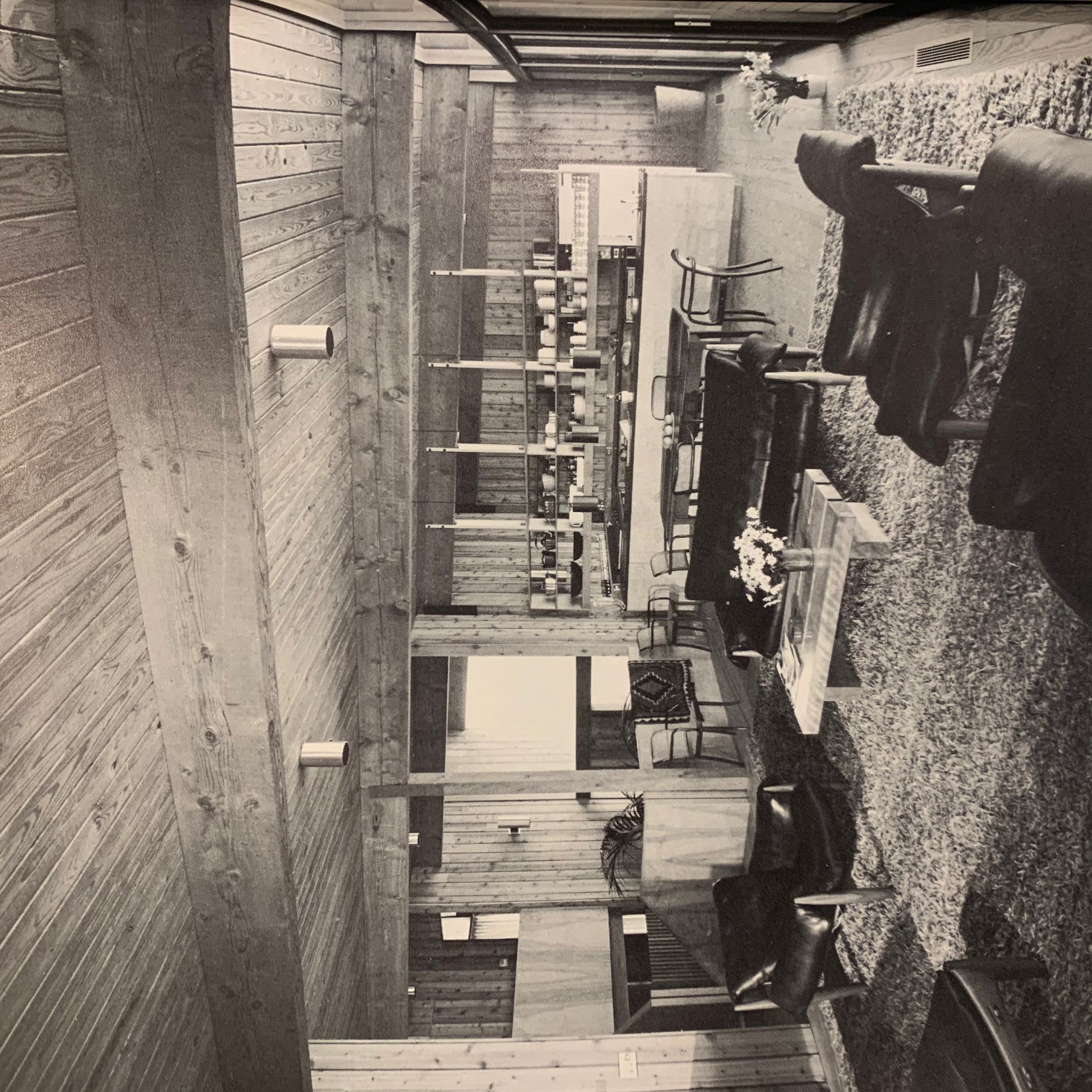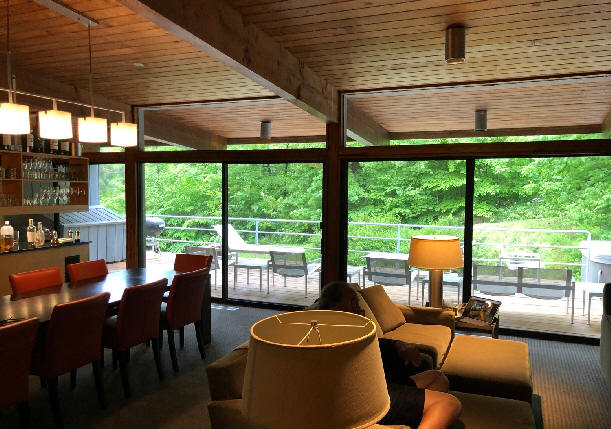 1966 - The McKay Vacation House, aka Stratton House, 102 North Brookwood Road, Stratton VT. Featured in Architectural Record, May 1969. Interiors by Noyes; mechanical engineers, DiMartino; built by R. T. Arnold Lumber Company. Photos by Hans Namuth. Sold to Rich Granoff.
---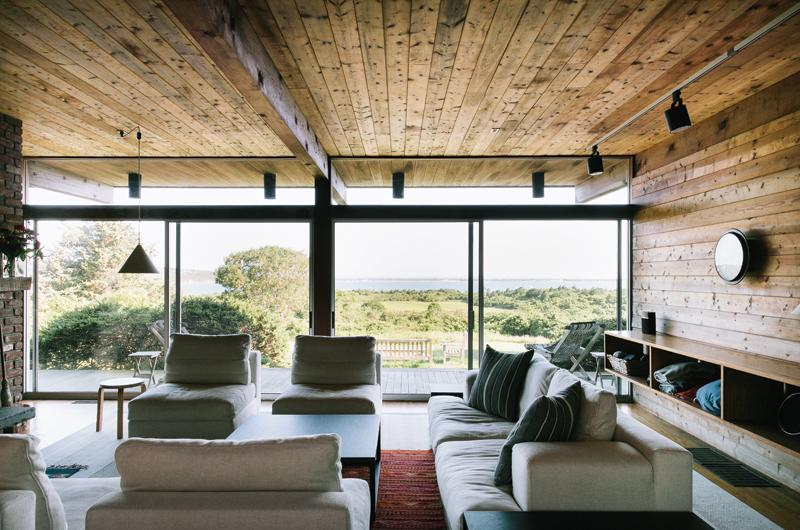 1969 - The Preston House, 9 Sheep Pen Lane, Martha's Vineyard, Chilmark MA. Son Fred Noyes was the restoration architect, primarily renovation of the kitchen. Deeded to Fred Noyes' sister and her family.
---

Around 1969 - The Price House, North Carolina. Unbuilt.
---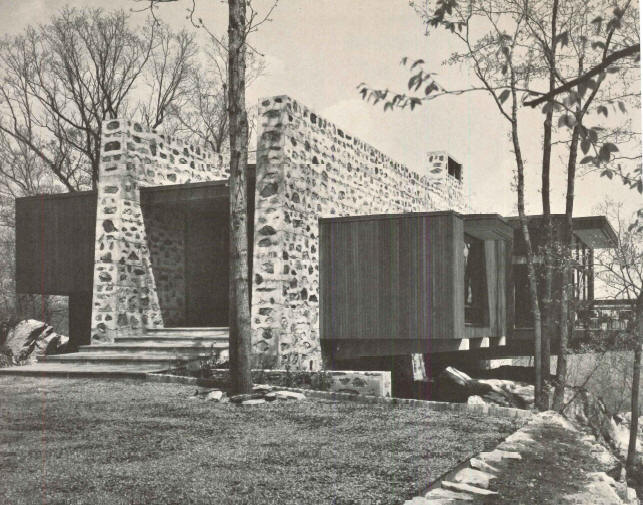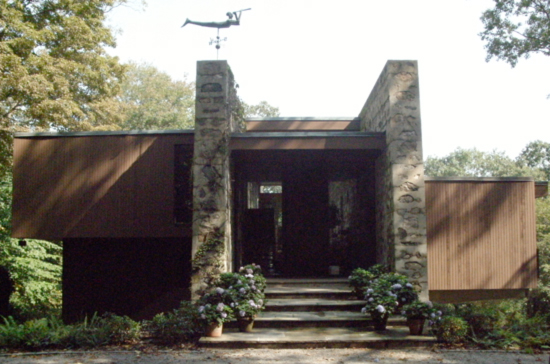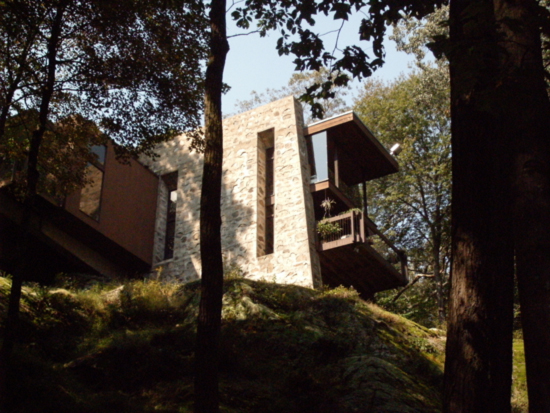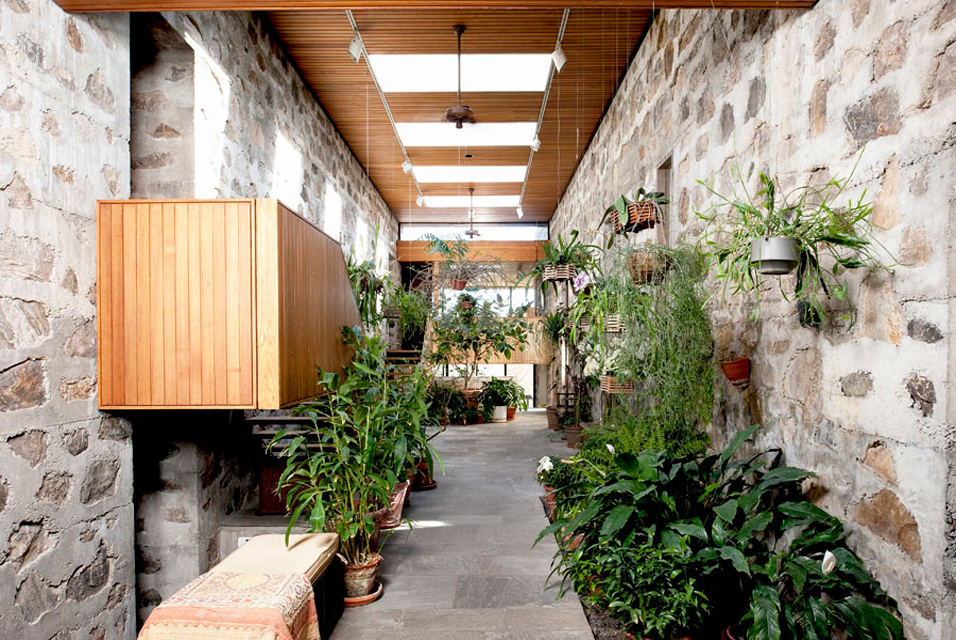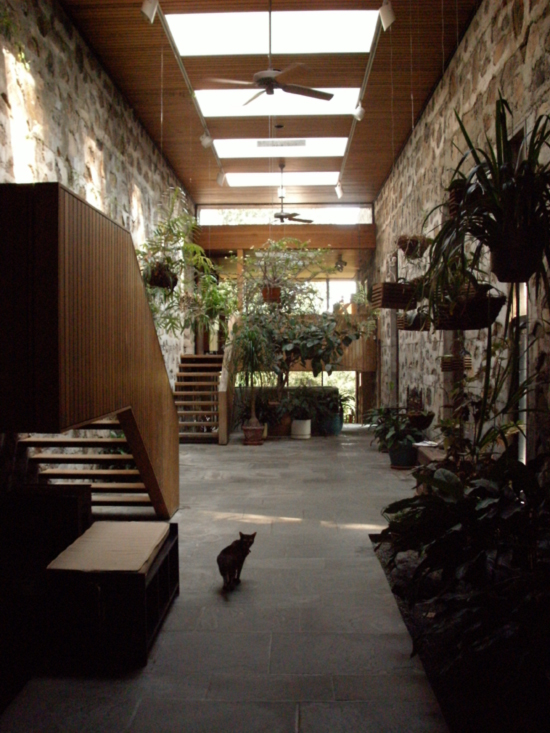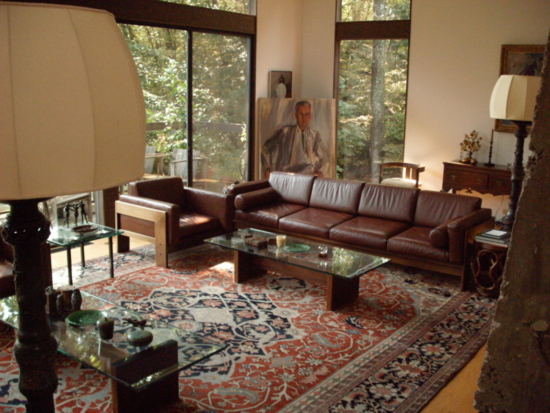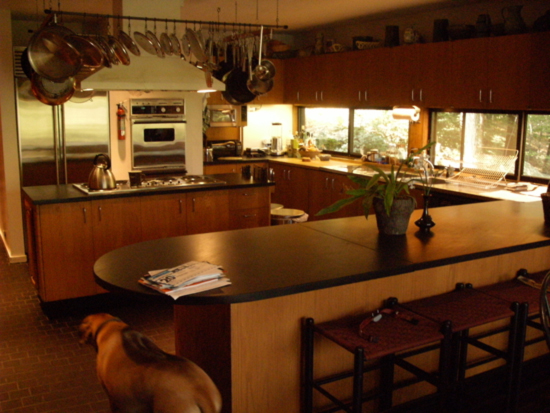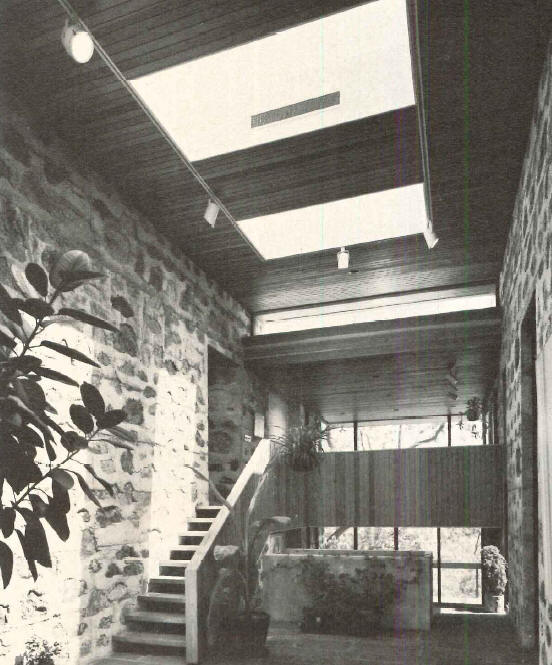 1970 - The Robert C. (Robin) Graham Jr. House, 425 June Road, Stamford CT. Commissioned in 1968. Located above the Mianus River. Structural engineer, Viggo Bonneson; HVAC, John Altieri; landscape, Peter G. Rolland; built by Sam Grasso; B/W photos by Joseph Molitor. Featured in Architectural Record Houses of 1971. Listed in 2012 on the National Register of Historic Places. Historic New England has a preservation easement on the site. Still owned by Graham as of 2020.
---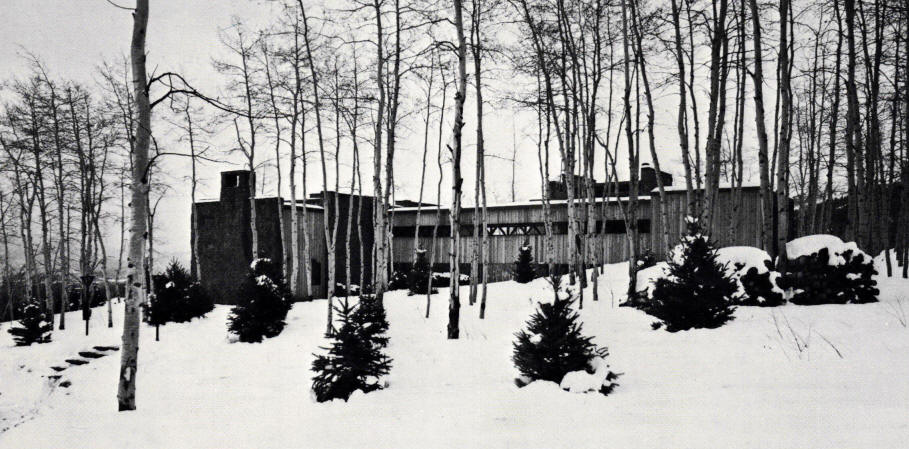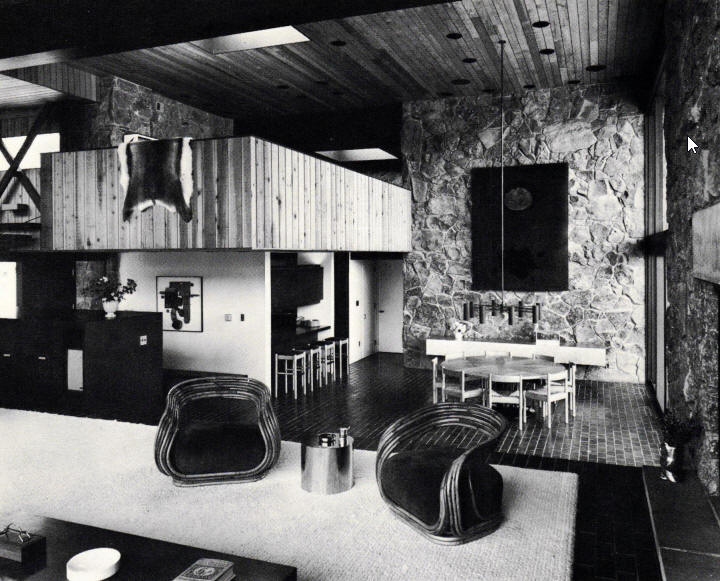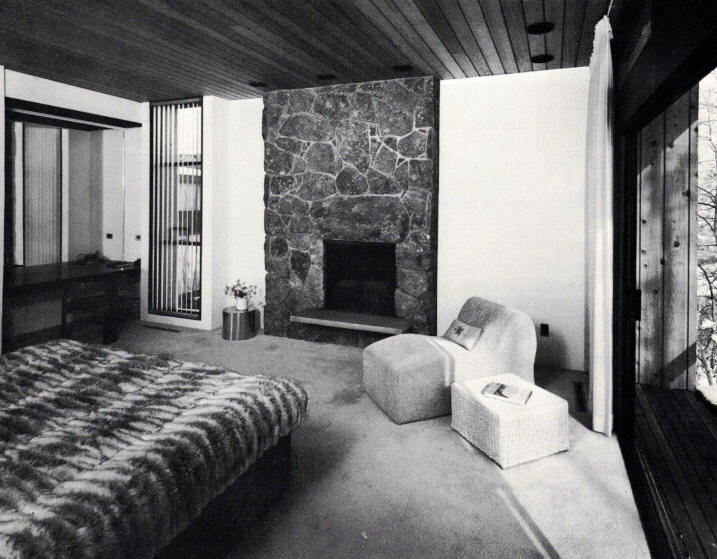 1970 - The Hodgson Vacation House, 1742 Wood Road, Snowmass Village, Aspen CO. Featured in: Architectural Record, March 1971; Architectural Record Vacation Houses of 1977. Photos by John Hill; built by HE Anderson; structural, Viggo Bonneson. Status unknown.
---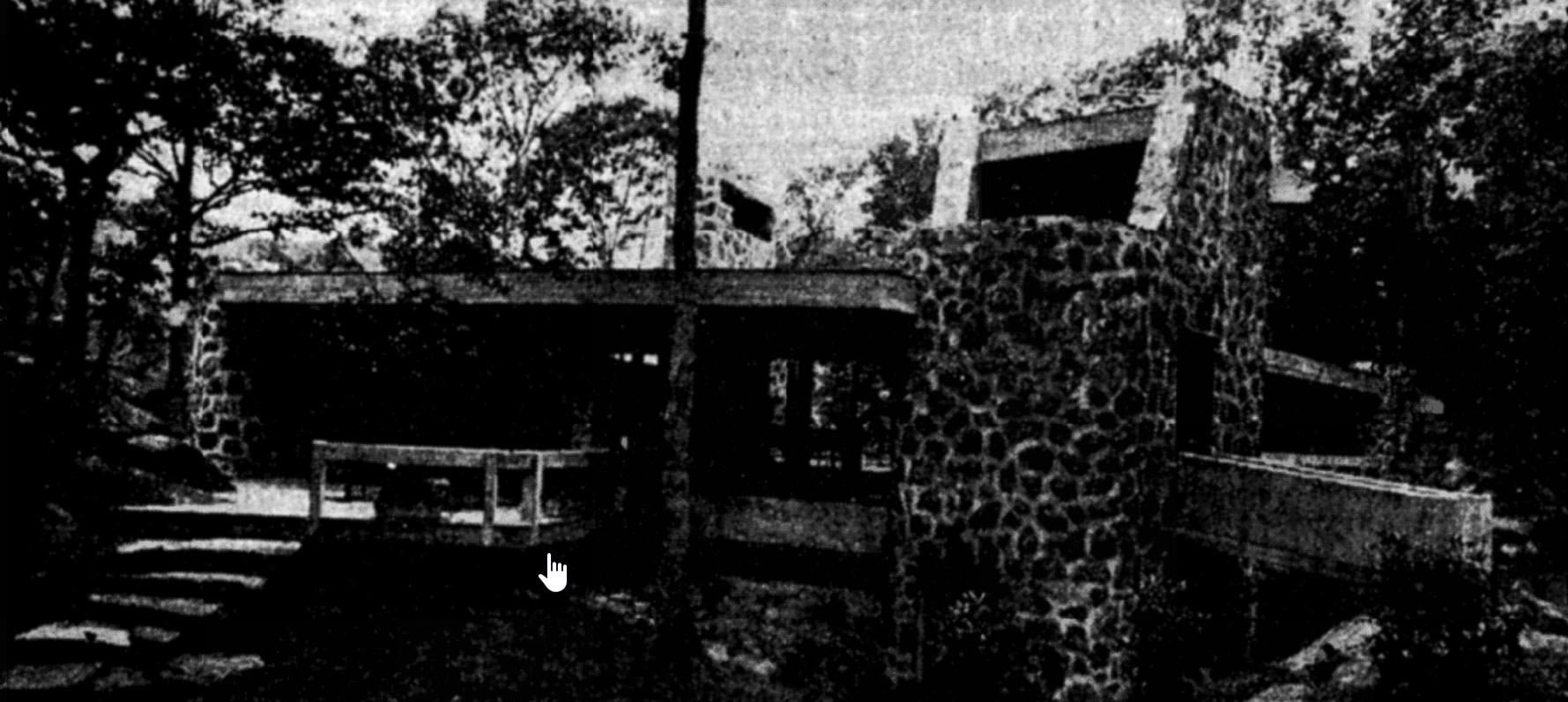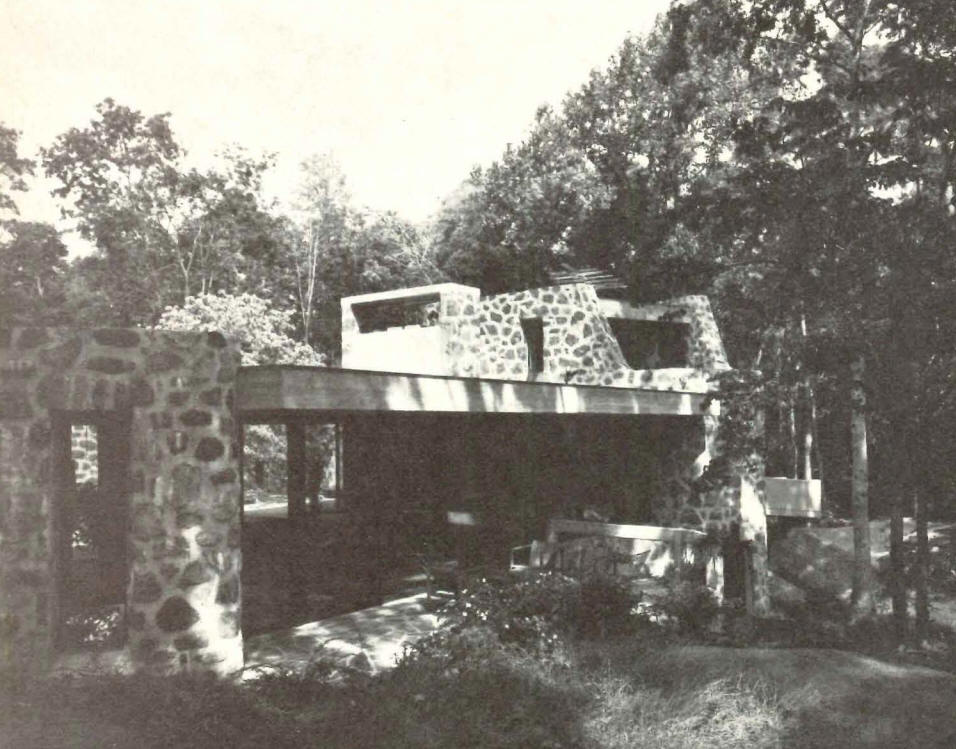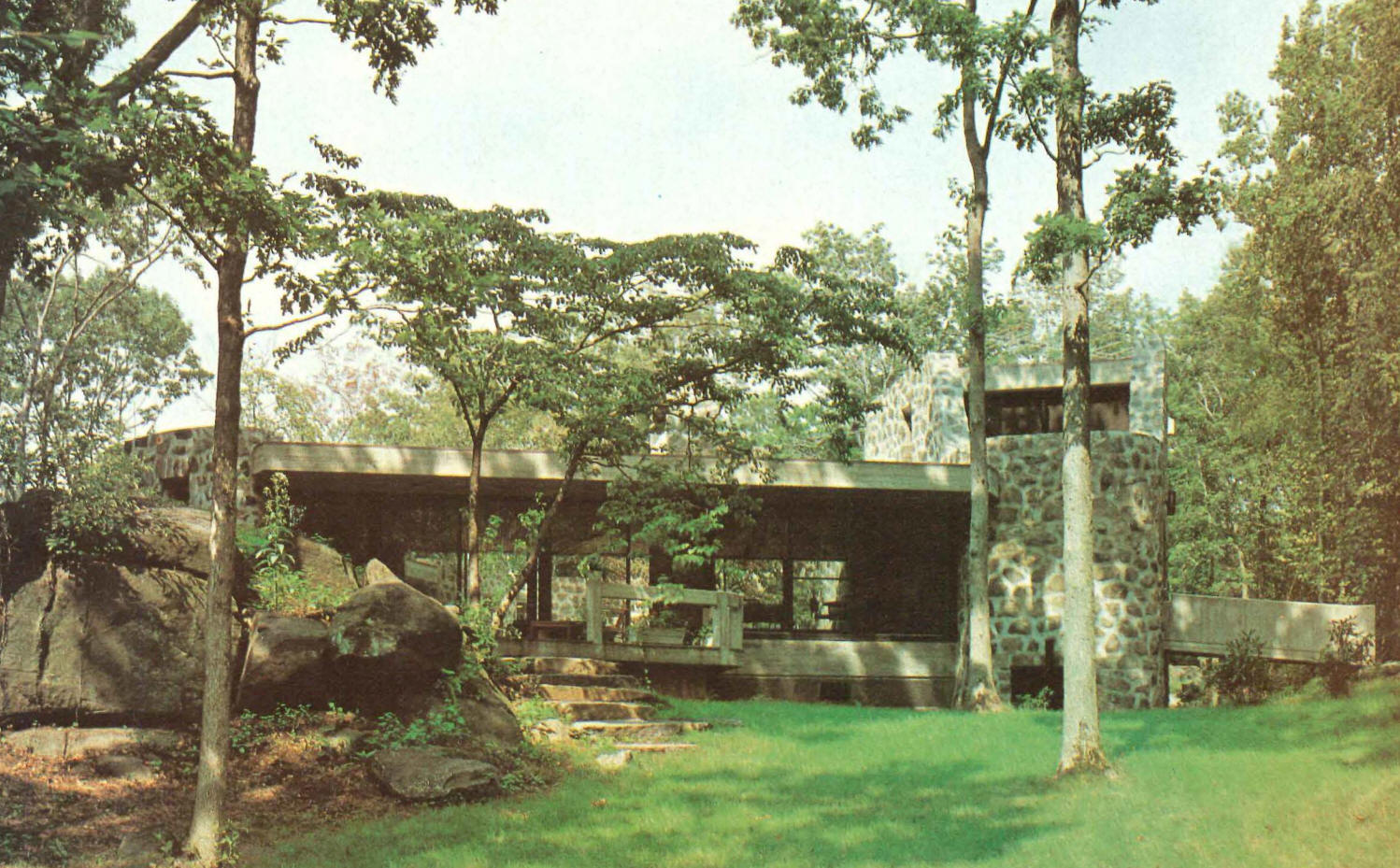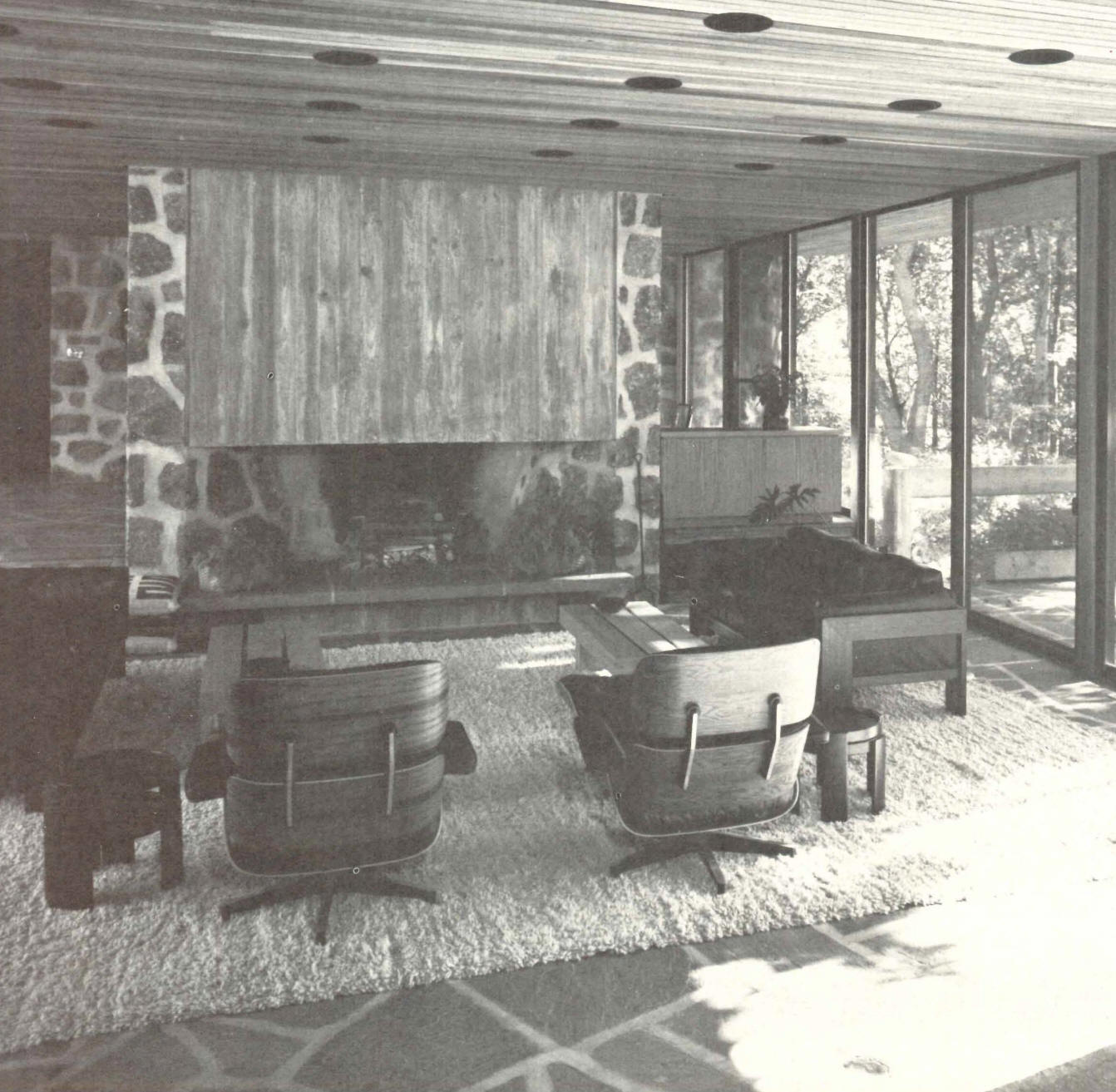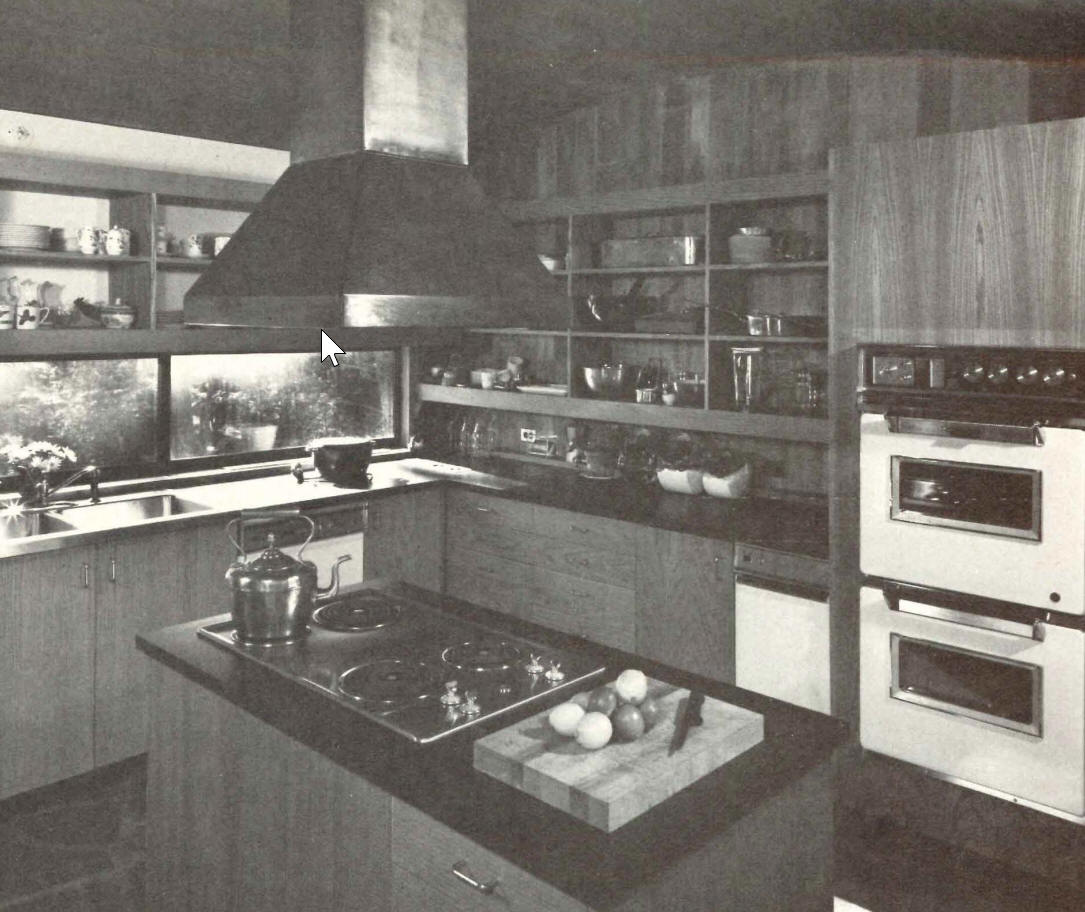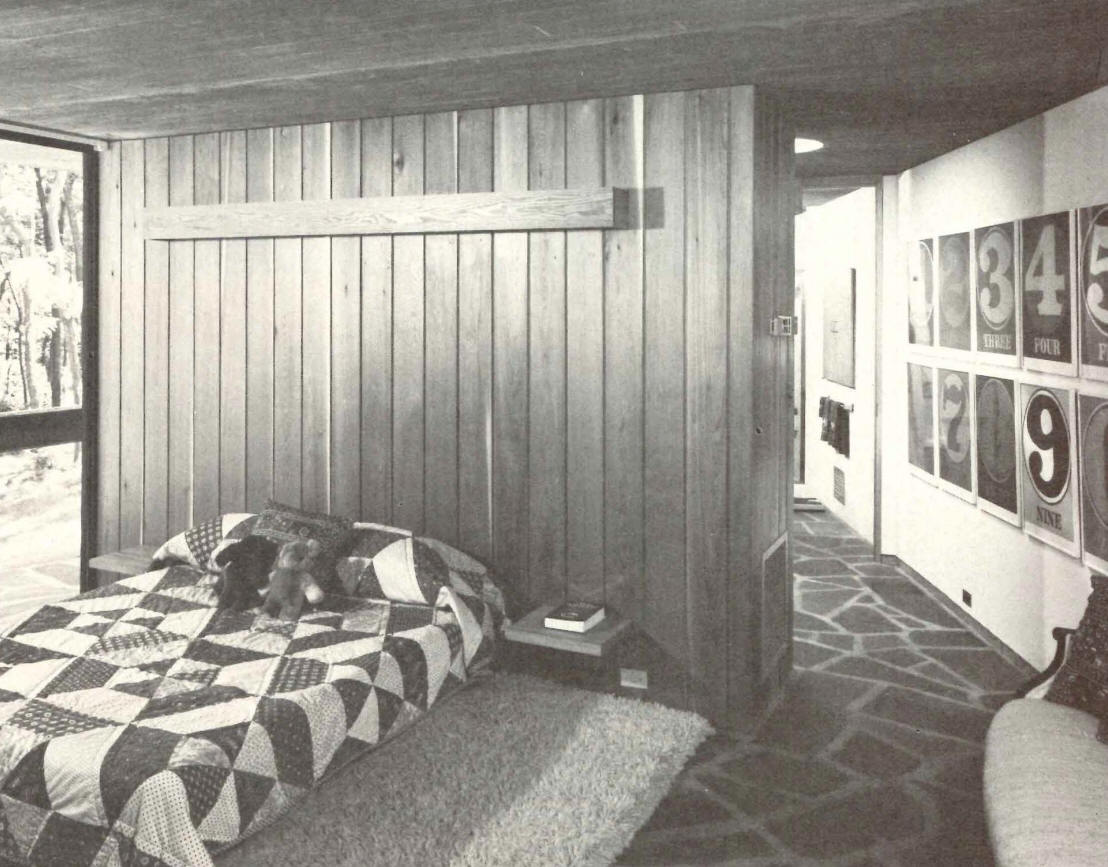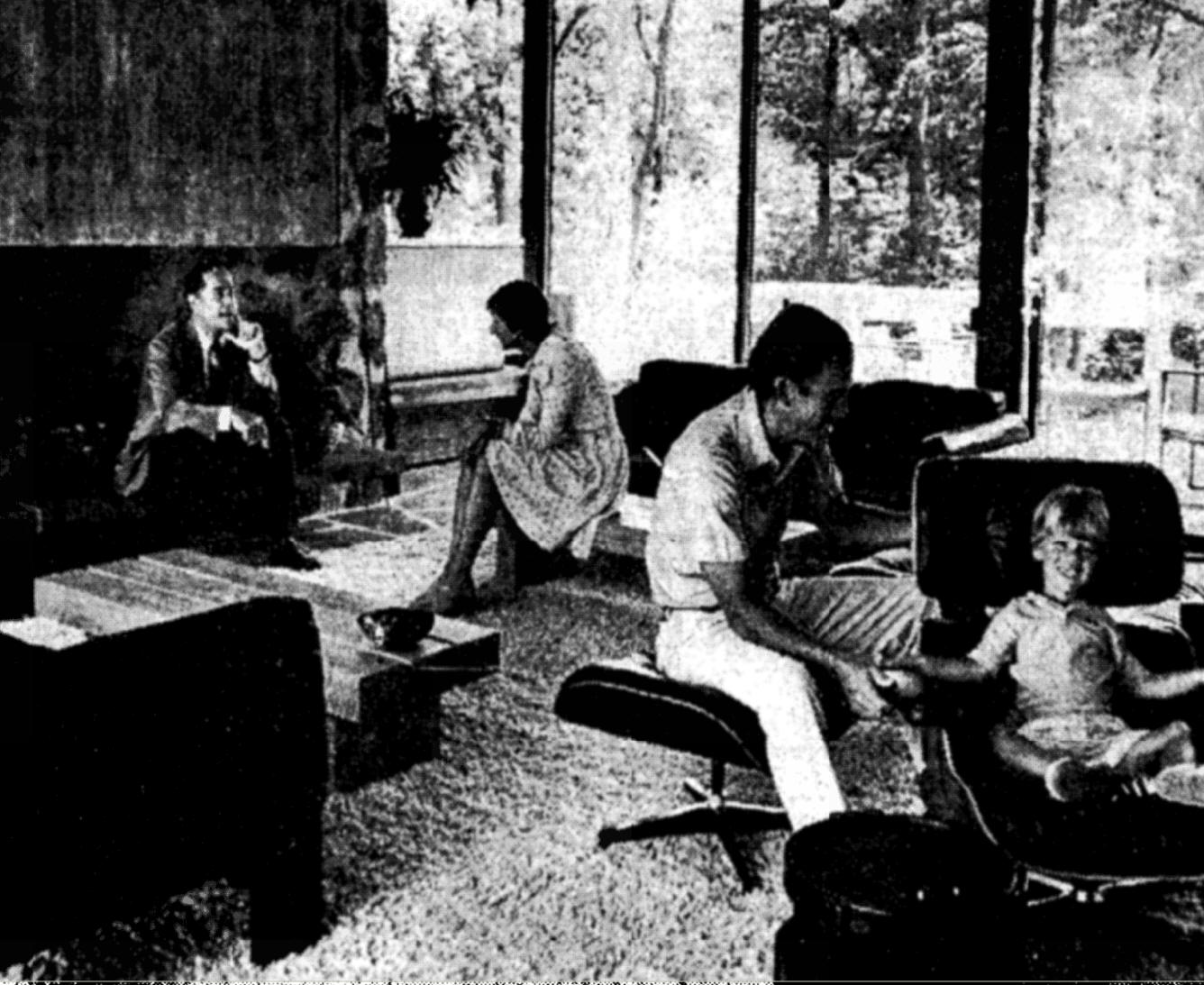 1974 - The John B. and Marian (Mimi) Ward Low Horton House, 45 Vineyard Lane, Greenwich CT. Commissioned in 1970. 5.8 acres. Engineering by Thune and Peter Szilyagi; built by Sam Grasso; landscape design by Peter Rolland. Noyes is on the left in the bottom photo. Featured in: the New York Times, 8/14/1973; Architectural Record Houses of 1974. Sold in 1992; destroyed a new house built, with some furniture auctioned off.
---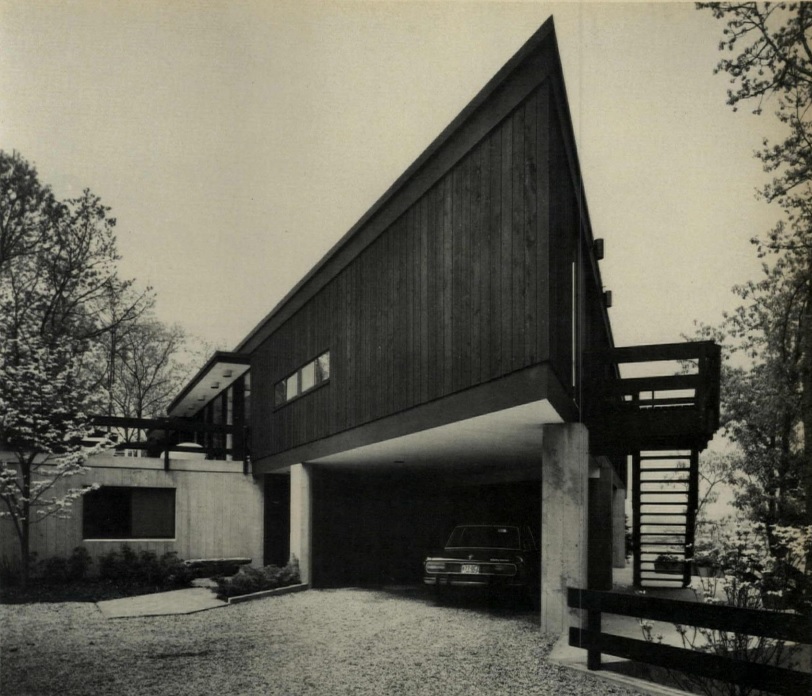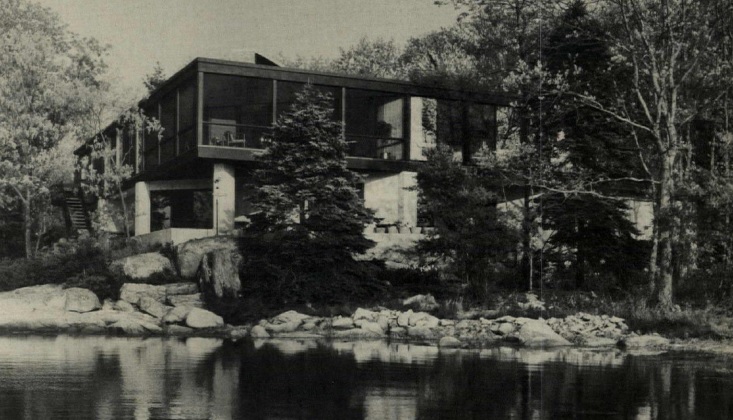 1975 - The R. Francis and Parthenia G. Johnson House, 30 Money Point Road, Mystic CT. Ole P. Jensen was the contractor. Located on Mason's Island. Won the 1975 Connecticut Society of Architects Award. Featured in Architectural Record, September 1975. Sold in 1992 to Cecil and Lana Ursprung.
---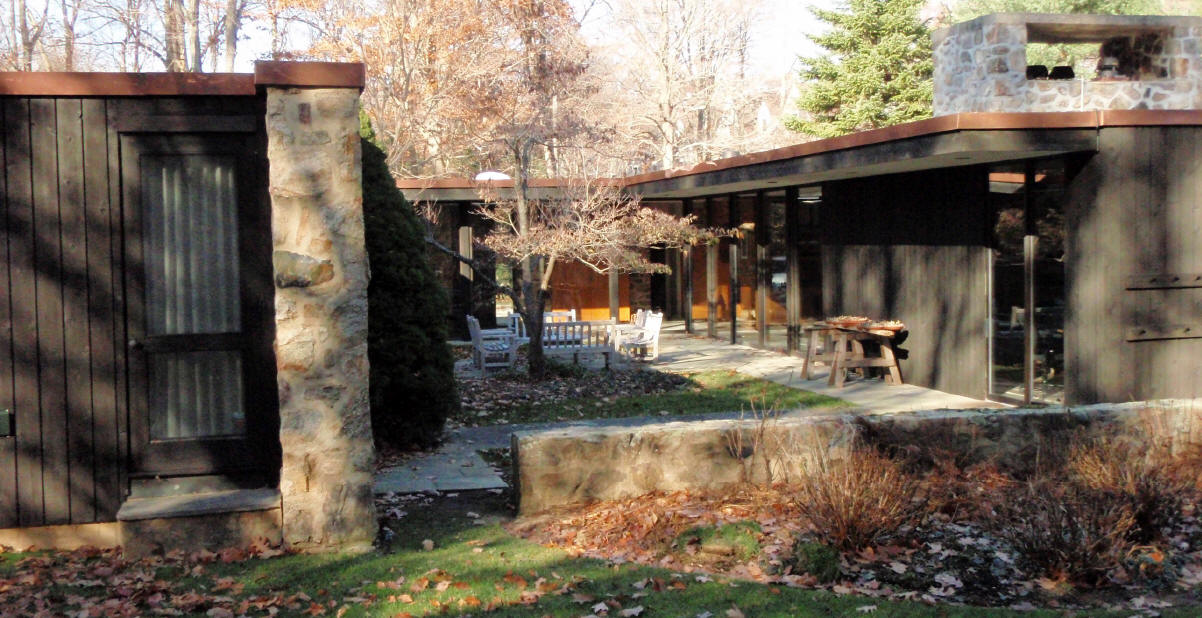 1978 - The Mary-Lynette (Lyn) and Arthur Beecher Chivvis Jr. House, 2 Wydendown Road, New Canaan CT. Alan Goldberg was the project architect. Garage added in 1982. Lyn Chivvis grew up in Noyes' Bremer house. Modernist documentary producer Devon Chivvis grew up in this house. Bottom photo by Martin Skrelunas. Location of the 2022 Netflix movie The Noel Diary. Still owned by the Chivvis family as of 2023.
---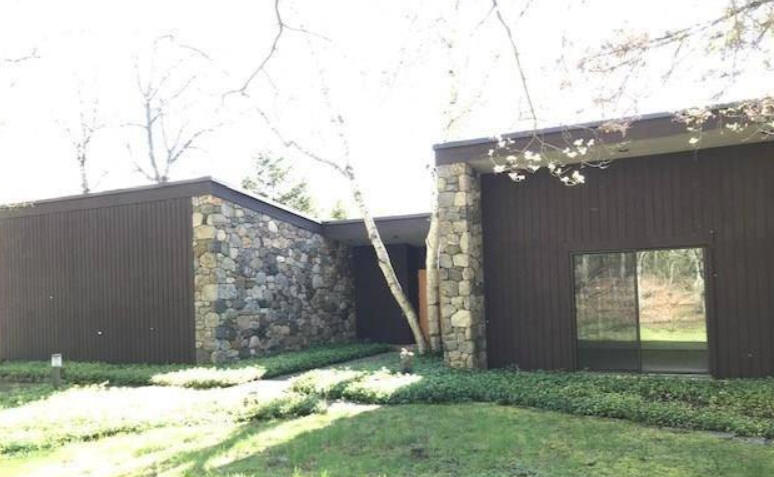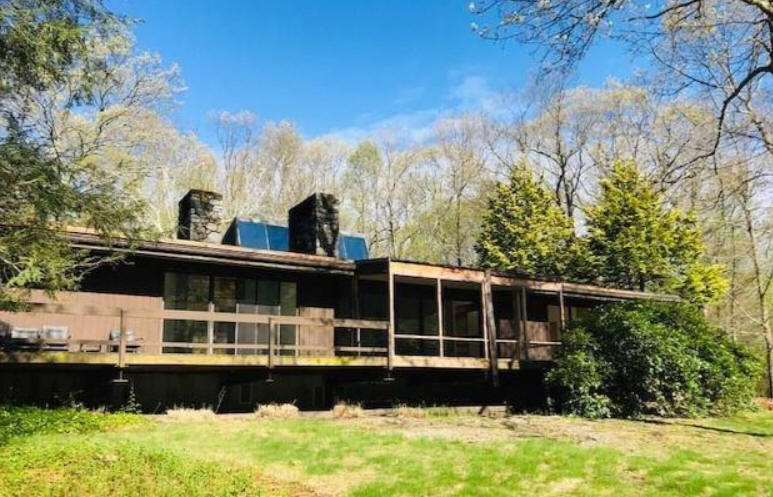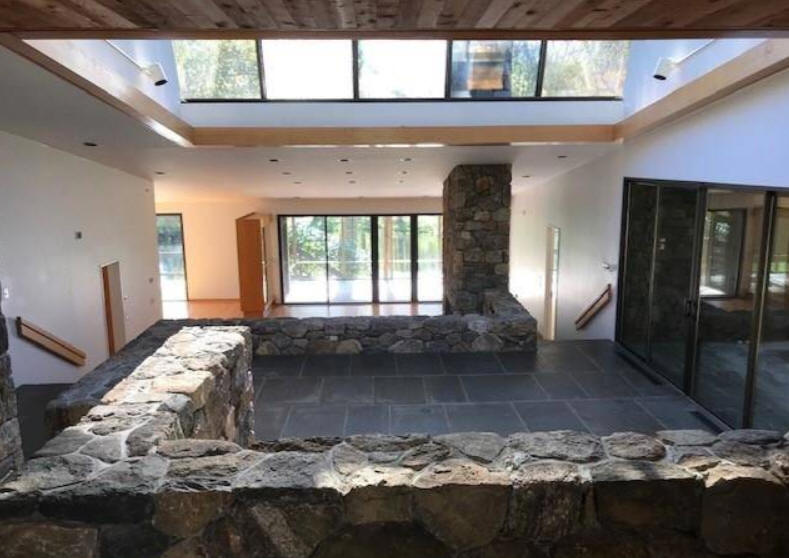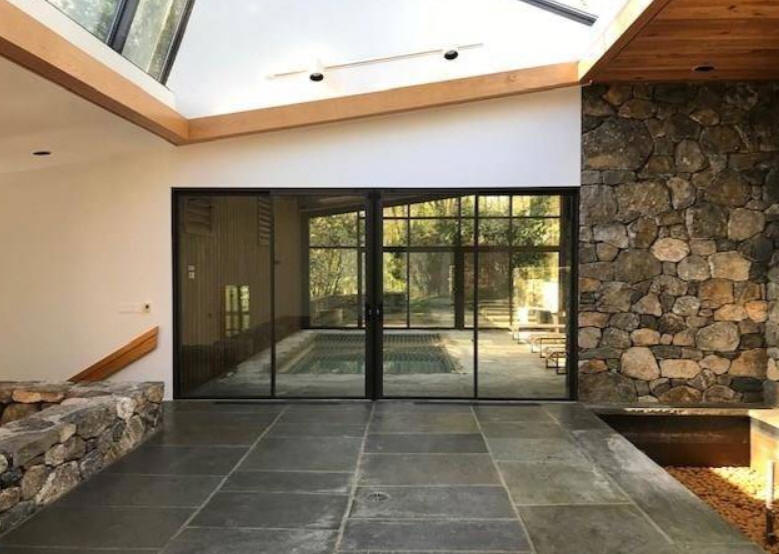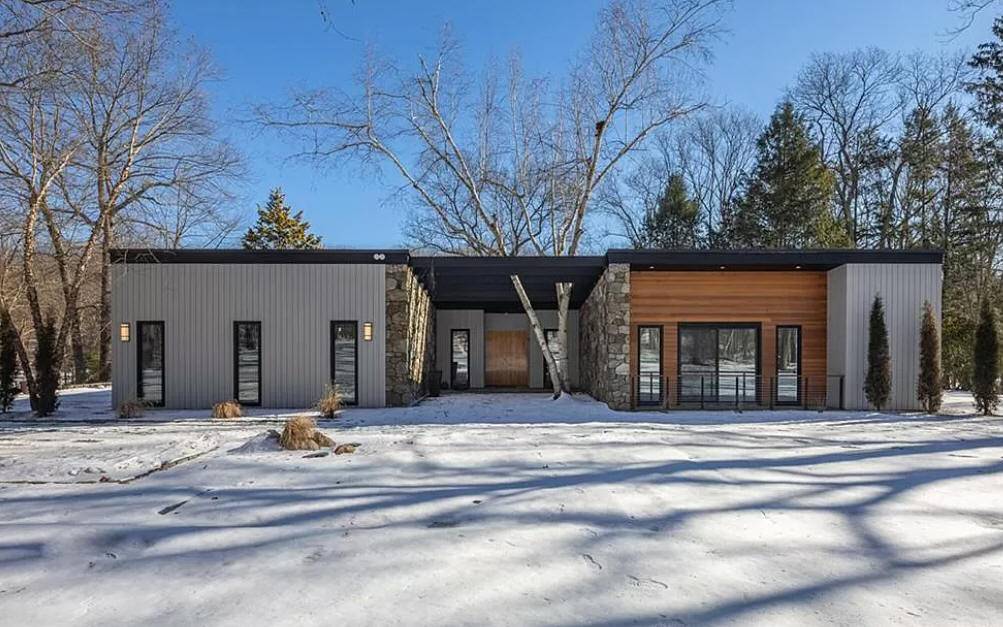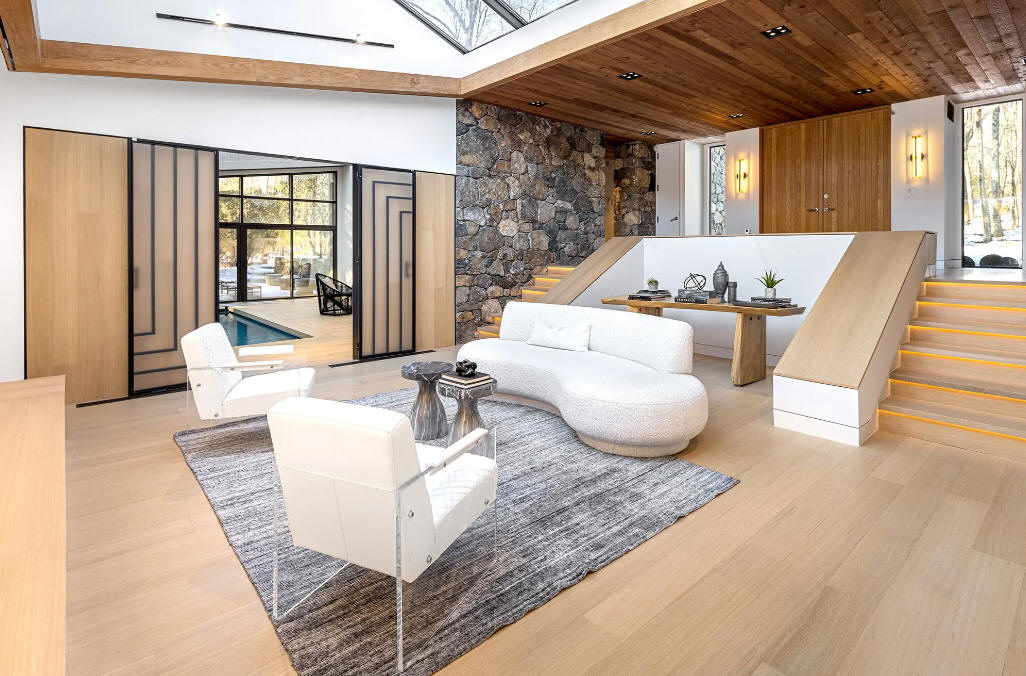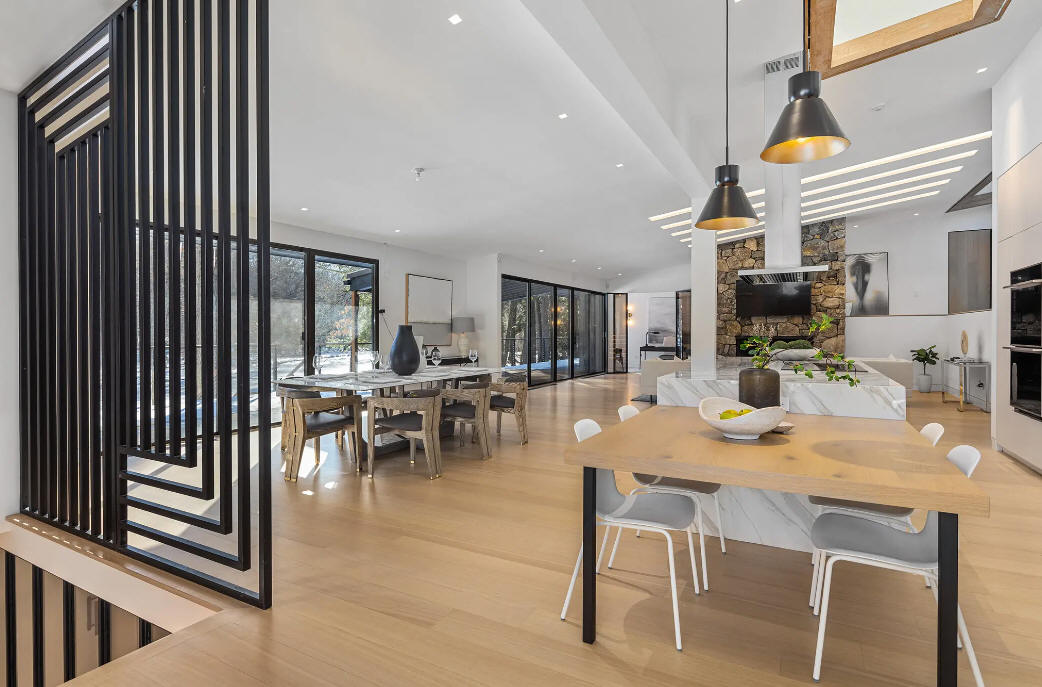 1979 - The Lewin House, 22 Ballwall Road, Easton CT. 4800 sf. About 3 acres. Indoor pool. Completed after Noyes' death by associate Lou Zurlo. The Lewins changed much of the original Noyes design during construction with Zurlo. Sold before 2002 to Robert L. and Susan F. Morris. Sold in 2007 to Malgorzata Galuska. Foreclosed and sold in 2018 to Wells Fargo Bank. Sold in 2019 to Gjon Kajal. Renovated, bottom three photos. Sold in 2022 to Tejinder and Harminder Grewal.
---
Sources include: Son Fred Noyes; Alan Goldberg; Devon Chivvis; National Trust for Historic Preservation New Canaan Survey.