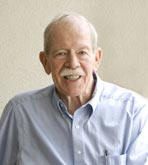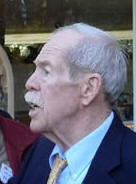 WILLIAM N. MORGAN, FAIA (1930-2016)
---
Morgan is the recipient of more than 100 architectural awards, with his firm,
William Morgan Architects
, having built more than 200 sites. The author of five books on the comprehensive study of indigenous architecture, Morgan schooled himself to be an archeologist—possessing a formidable knowledge of landscape, terrain, elevation and acclimation—building green buildings decades before LEED certification was ever imagined.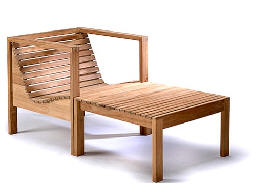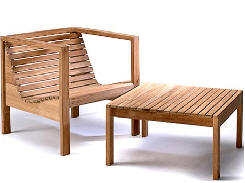 After meeting George Nelson and Ray and Charles Eames, Morgan became interested in furniture. The resulting creation was a minimal armchair and table made of teak from renewable forests. The furniture was fabricated in Indonesia, and when pulled together, the two pieces become a chaise lounge. Morgan, who studied under Walter Gropius at Harvard in the early 1950's, also studied with Josep Lluis Sert, a protégé of Lecorbusier. A former employee of Paul Rudolph, Morgan began by sweeping the floors and running errands but it wasn't long before he had become the manager of Rudolph's Cambridge office, assisting with the Jewett Art Center at Wellesley College and US Embassy in Jordan. House photos by William Morgan Architects unless otherwise noted. Text by Max Eternity, who interviewed Morgan.
---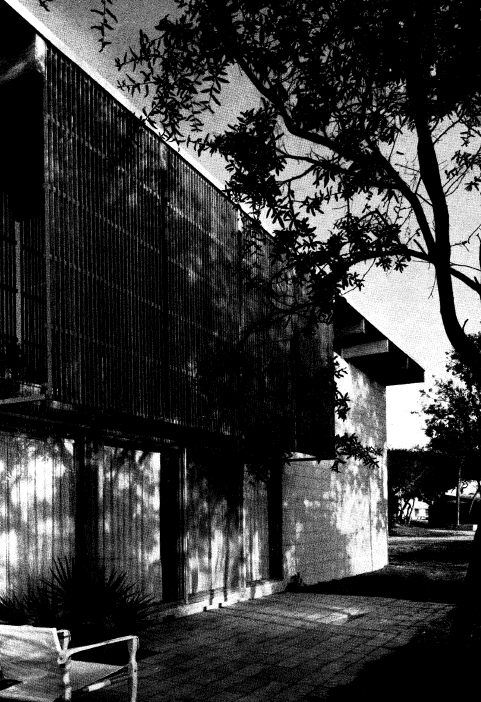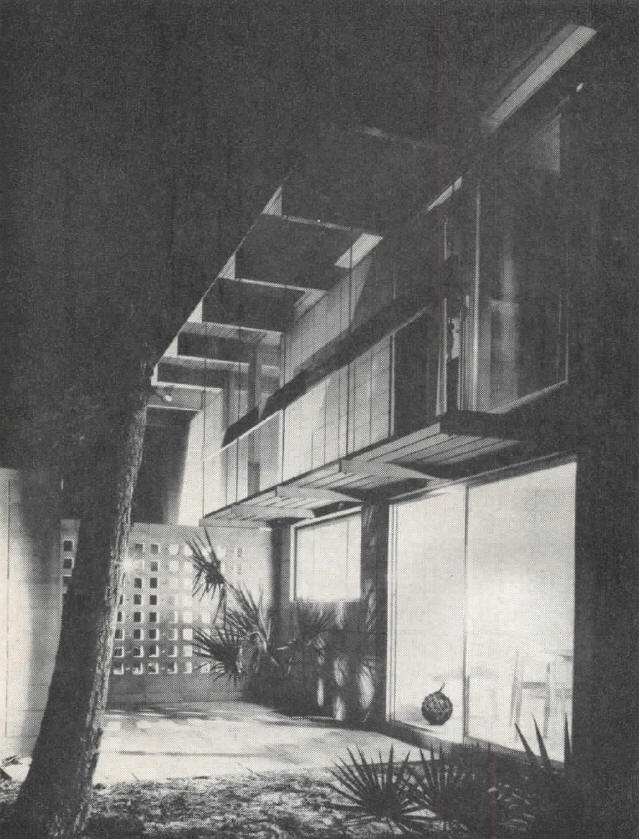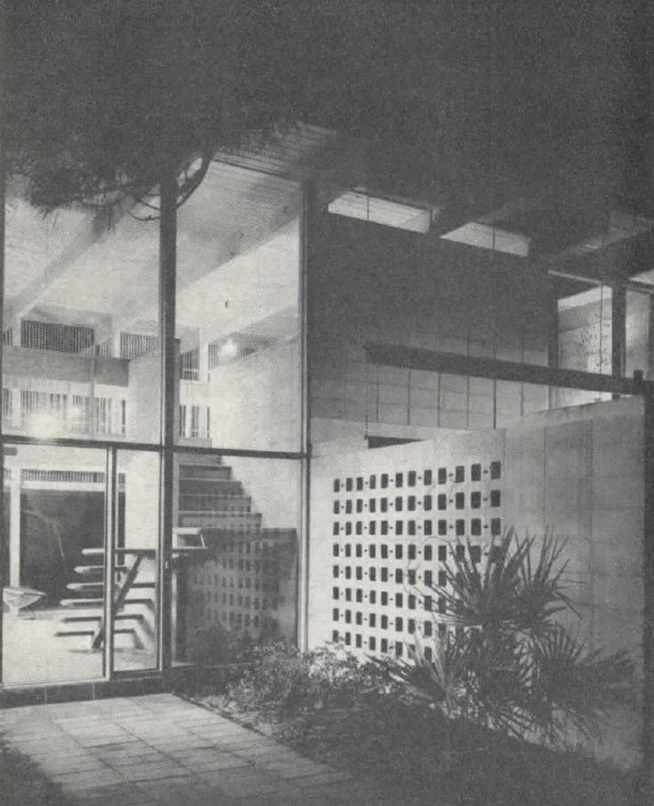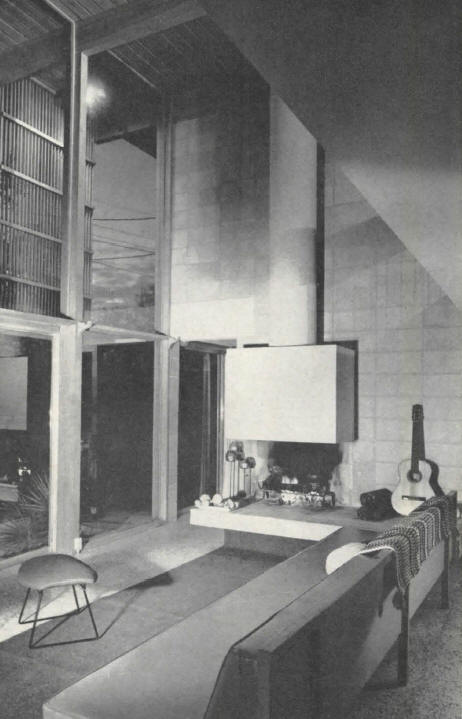 1962 - The Alvin D. and Harriett L. James House, 89 Dewees Avenue, Atlantic Beach FL. Commissioned 1960. Structural engineer, H. W. Keister. Built by Charles J. Pyatt. Two-story, constructed of concrete block walls supporting wood plank and beam roof. Cantilevered stairs from foyer to second floor. Master bedroom has a cable suspended balcony. Featured as a 1963 Architectural Record House. Featured in Florida Architect, June 1963. B/W photos by Alexandre Georges. Sold around 2013 to Jessica Goldman. For sale in 2020.
---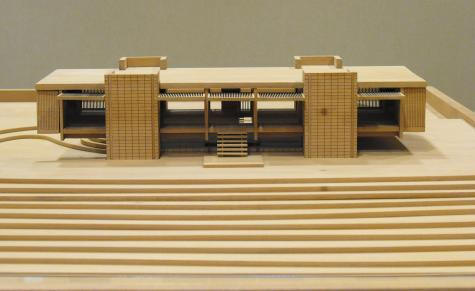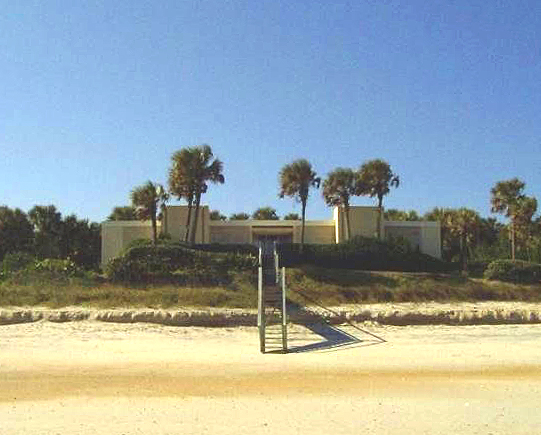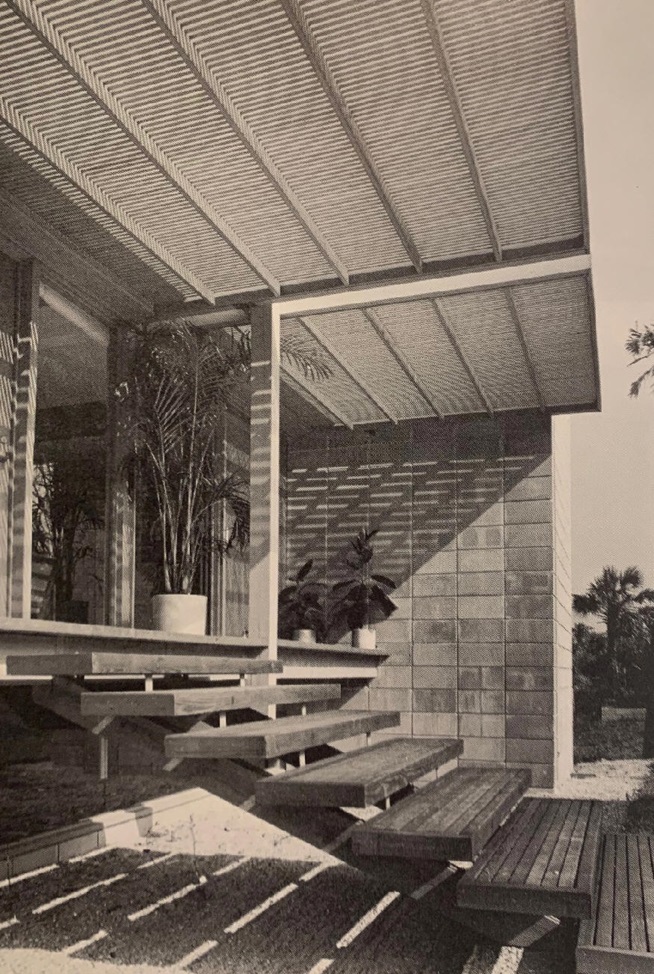 1966 - The Dan H. Williamson House, 945 Ponte Vedra Beach FL. 4140 sf. Commissioned 1964. Model by Peter Miller. Built by Ross Construction. Photo by Connie Bundgard. Featured in Architectural Record May 1964. Damaged during Hurricane Matthew, then sold to a new owner who destroyed it.
---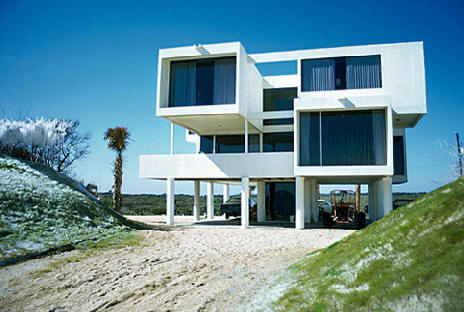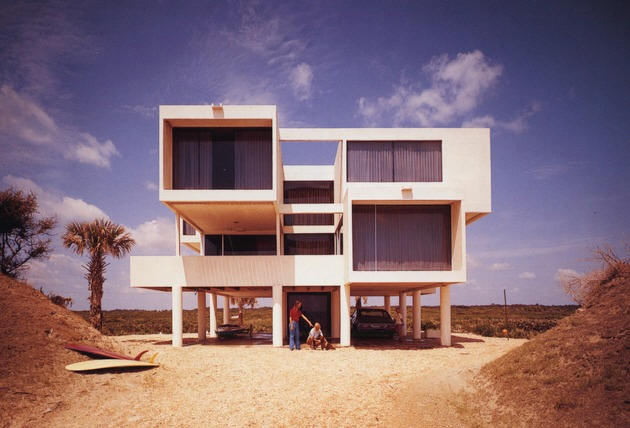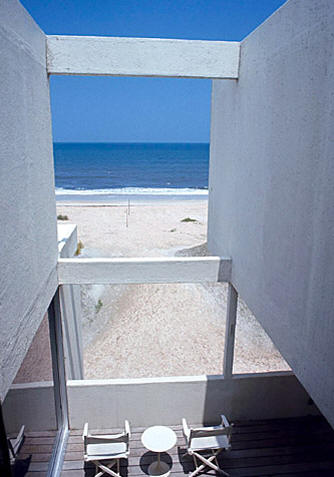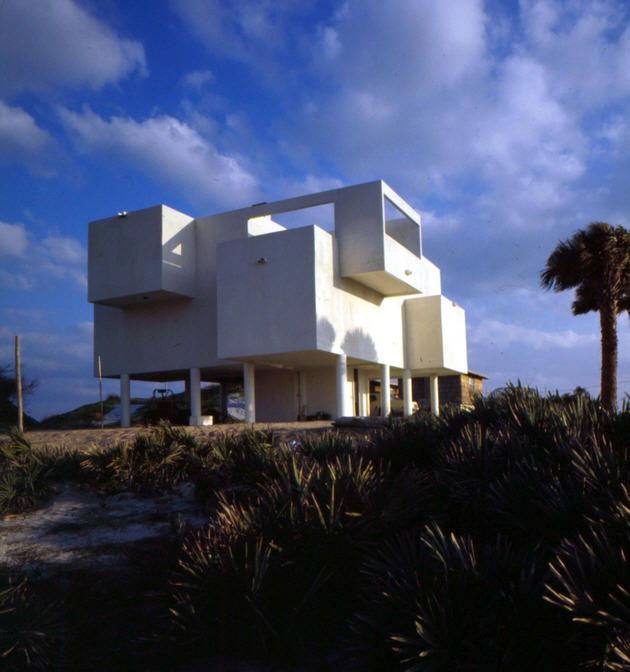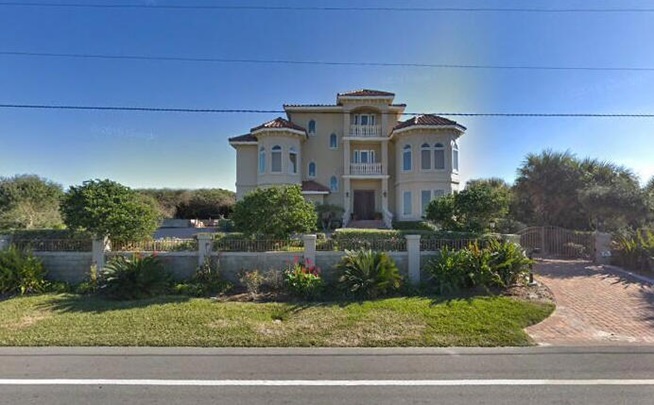 1965 – The George M. Goodloe House, 2425 South Ponte Vedra Boulevard, Ponte Vedra Beach FL. Concrete columns support the wood-frame platforms of this multi-storied house. Fiberglass reinforced resin encapsulates exterior plywood walls and roofs, with painted gypsum interior walls and ceilings. Destroyed and new house (bottom photo) built in 2006.
---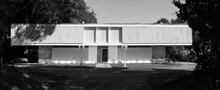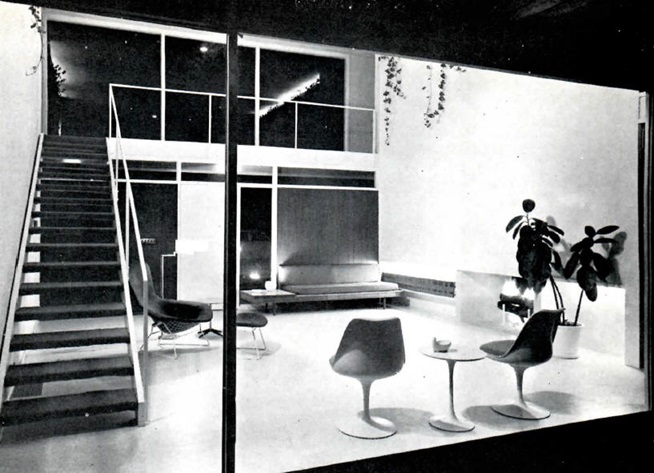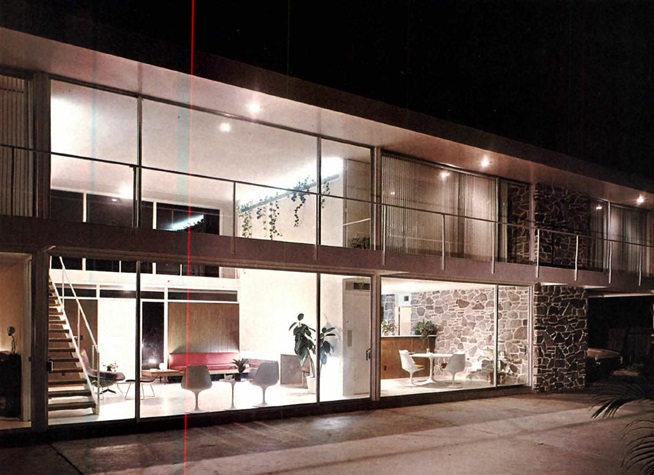 1965 - The Rawls House, 2047 University Boulevard, Jacksonville FL. Sold to William and Janice McClure.
---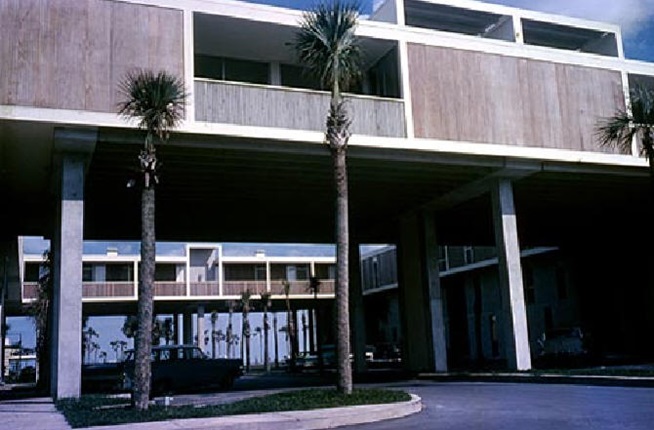 1965 – The Seaplace Apartments, 901 Ocean Boulevard, Atlantic Beach, FL. An oceanfront property containing 100 apartments of masonry and frame construction with cedar-paneled cantilevered balconies. Three stories high, with four evenly spaced courtyards. The building measures 520ft x 160ft for a total square footage of 110,000.
---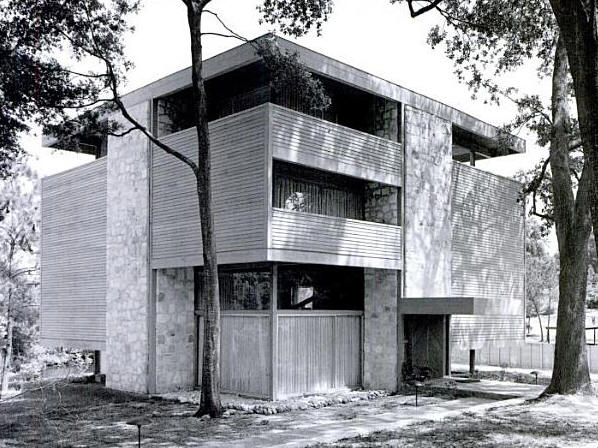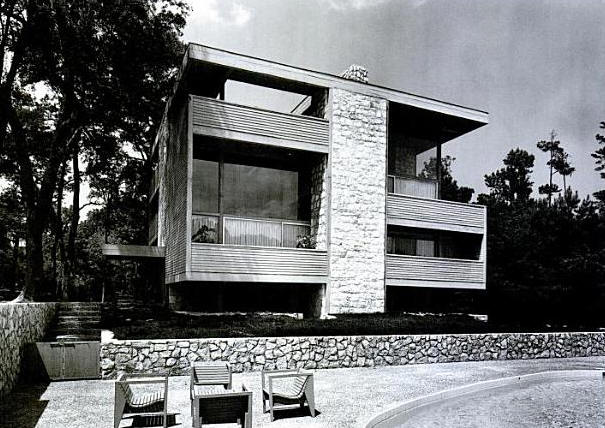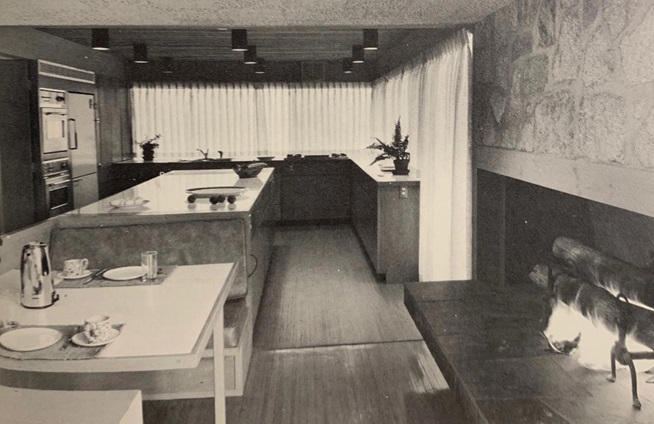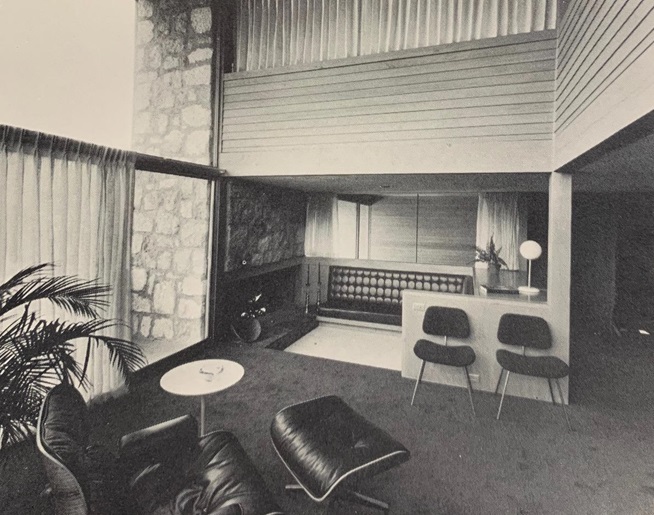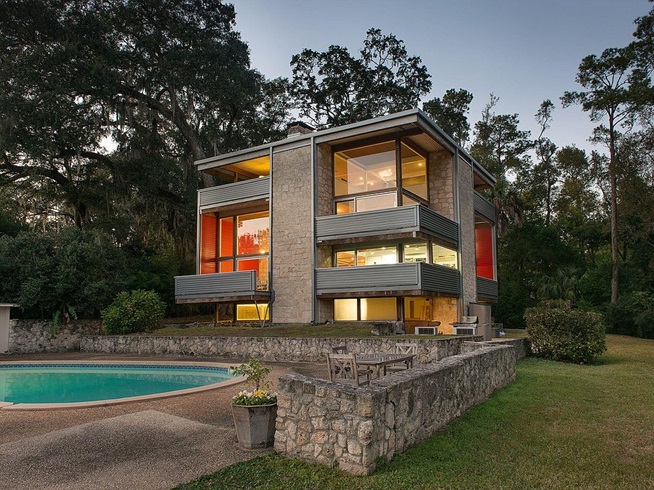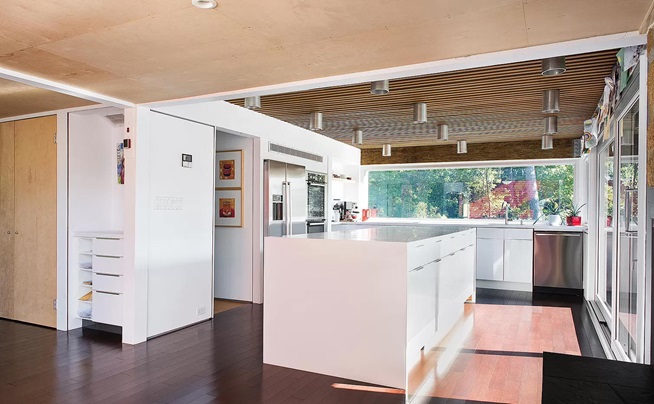 1967 - The William K. Hatcher House, 4842 River Basin Drive North, Jacksonville FL. Commissioned 1965. Engineer, Haley Keister. Built by Ross Construction. Featured in the December 1967 Architectural Record, January 1968 Florida Architect, August 1968 Architectural Review, and 1970 Architectural Record Vacation Homes. Repossessed in 2008 by Wachovia Bank which let it deteriorate. Sold in 2009 to Richard and Rebeccah Wolfe. Their restoration was not easy; they kept a blog of what happened. For sale in 2020.
---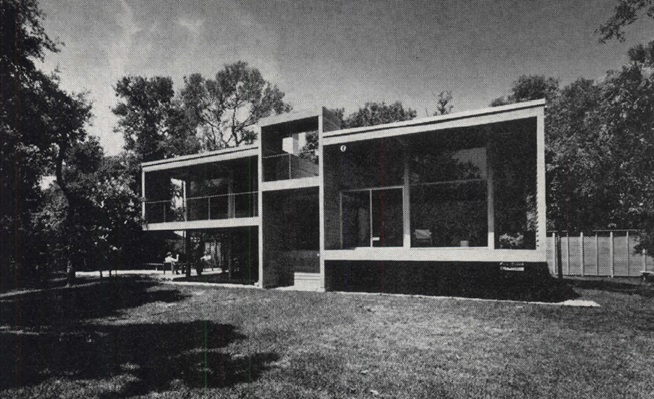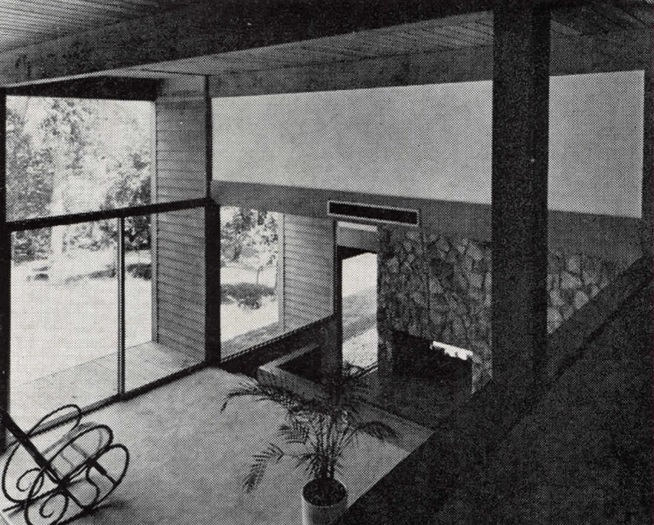 1967 - The Allen P. and Lucyle Ballantine House, 1755 Selva Marina, Atlantic Beach FL. Photos by Alexandre Georges. Featured in Florida Architect, February 1969. Still owned by Lucyle Ballantine as of 2019.
---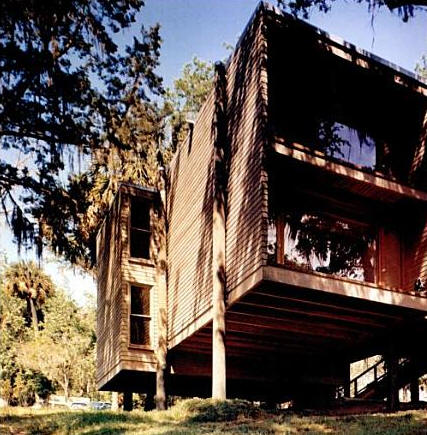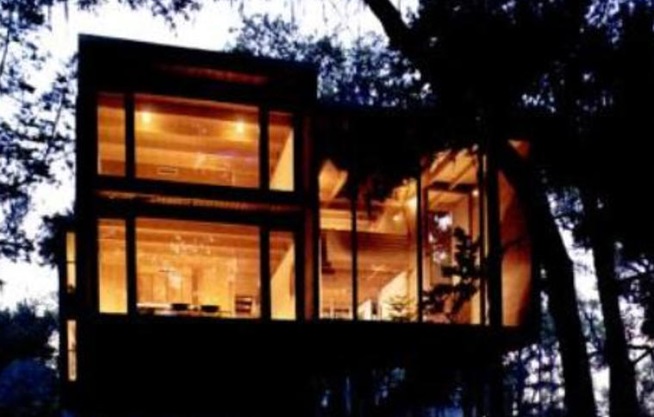 1971 - The Robert G. Stanley House, 13025 South US-441, Micanopy FL. 2300 sf.
Stanley was an internationally recognized Professor in the School of Forestry at the University of Florida who died in 1974.
Has been sold. Sold to Patricia Crass. Deeded to Suntrust Bank. Still there as of 2020.
---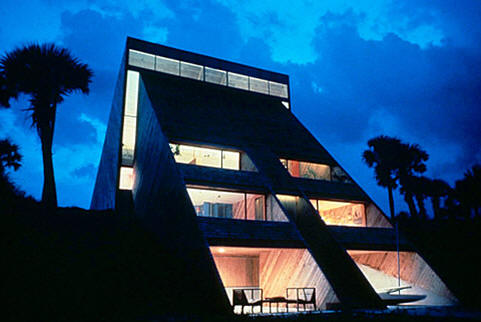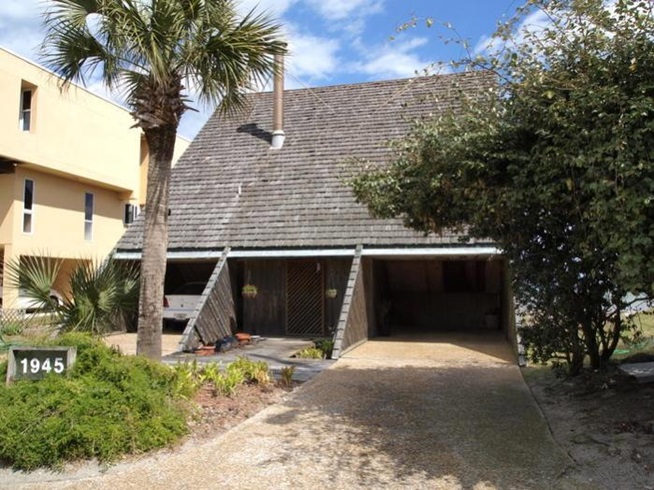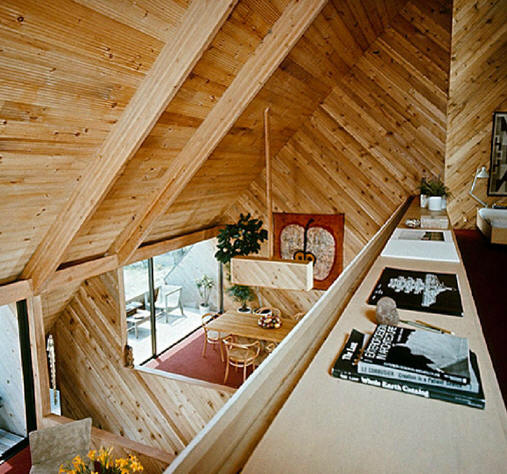 1972 - The William Morgan House, 1945 Beach Avenue, Atlantic Beach FL. 1800 sf. Commissioned 1971. Made of timber construction. Two triangular masses meet to form A-frame styled house. Sits partially atop a sand dune, with lower level resting on beach. Rough-sawn interior and exterior cedar siding, with central-entrance stairway. Symmetrical exterior with stepped balconies. Second photo by Lewis Wadsworth. Sold in 2018 to Martin Madaus.
---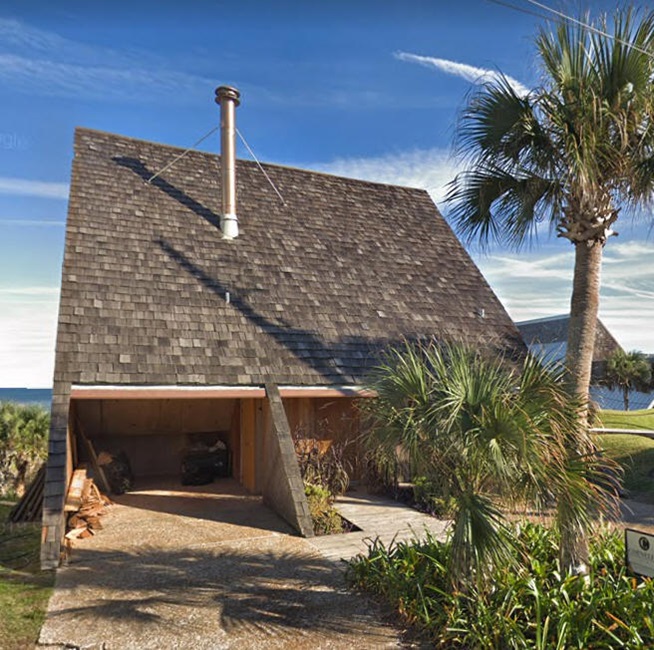 1973 - The Maxwell K. Dickinson House, 1199 Beach Avenue, Atlantic Beach FL. Still owned as of 2010 by the Dickinson Trust.
---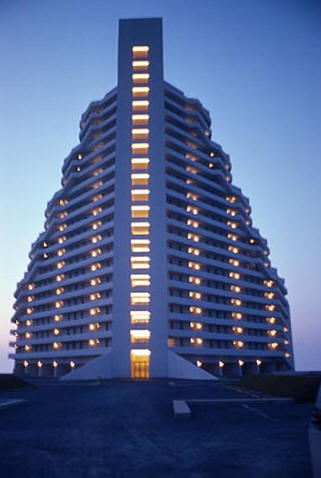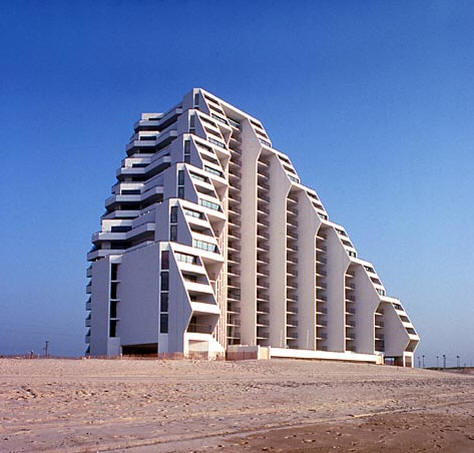 1975 – The Pyramid Condominium, 9500 Coastal Highway, Ocean City MD. Built for John S. Whatley. Sloping in all directions, the structure is all concrete with aluminum framed windows, resulting in an asymmetrical pyramid that silhouettes the shape of a steep dune. 171 one and two bedroom apartments. Viewed from the front, the symmetry of the interlaced stepped balconies can be seen. 250,000 sf. Commissioned 1971.
---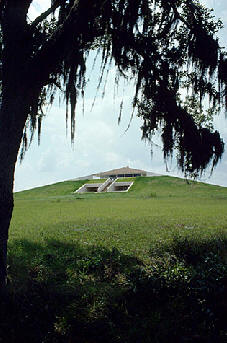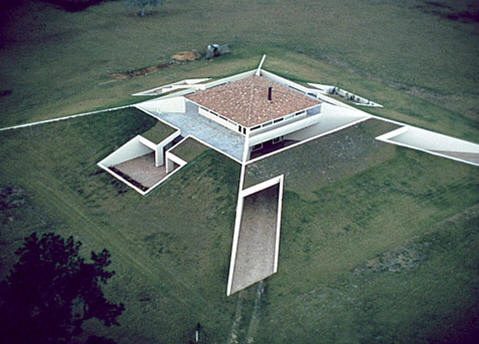 1975 - The Wayne Thomas House, aka The Hilltop House,

3350 Baseball Pond Road, Brooksville FL. Cast-in-place concrete with sloped retaining earth berm walls. Laminated wood beams support low-slung, pyramidal roof made from planked wood. 3,500 sf. Commissioned 1972. Still in the Thomas family as of 2018.
---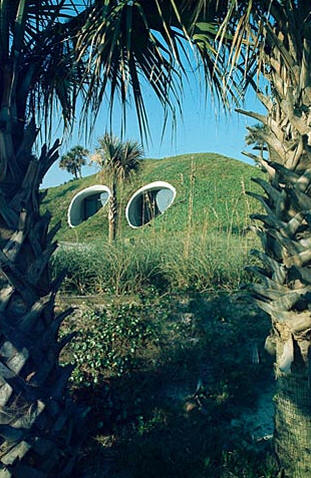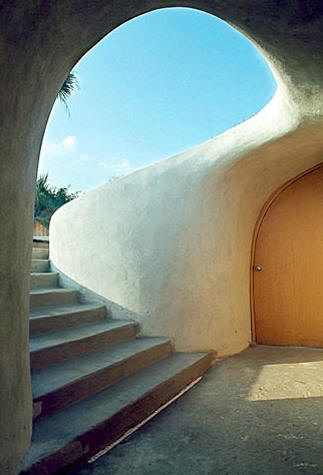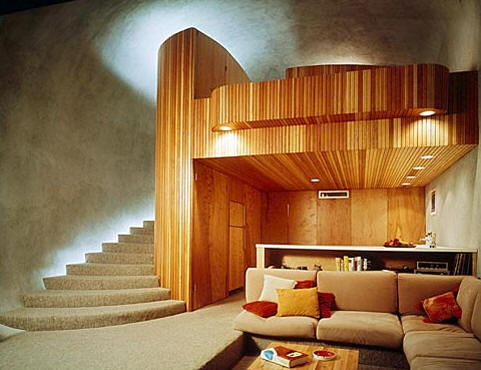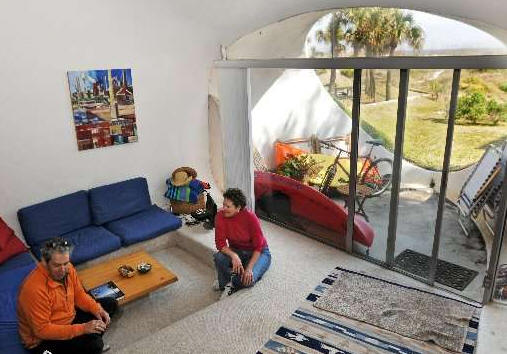 1975 - The William Morgan Duplex, aka the Dune Houses,
1941-43 Beach Avenue
, Atlantic Beach FL. Concrete and gunite shell encased in earthen walls, forming a man-made dune covered with grass. Two apartments make up the property. Curvaceous interior walls are part wood, part painted concrete. Each apartment 750 sf. Commissioned 1974. Sold in 2012 to William Drew and Jennie Malloy.
---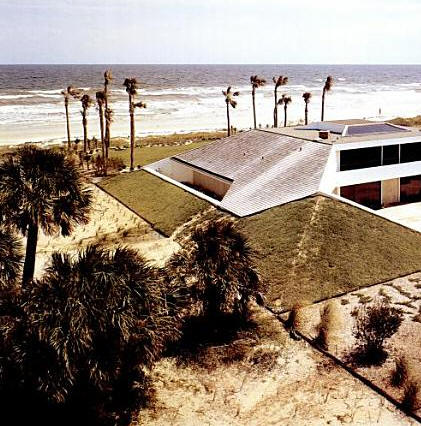 1976 - The Beach House, Point Vedra Beach FL. Commissioned 1974. Surrounded by earth berm walls whose gradation slopes to meet the truncated pyramidal roofs of the house. Concrete masonry provides additional wall support. Two-story. Full-height living and dining rooms, with upper level bedrooms as lofts looking over. Fiberglass insect-screens in aluminum frames acts as sloped-roof ceiling for indoor pool. Hexagonal courtyard provides access to entryway. 2,800 sf. Do you know where it is?
---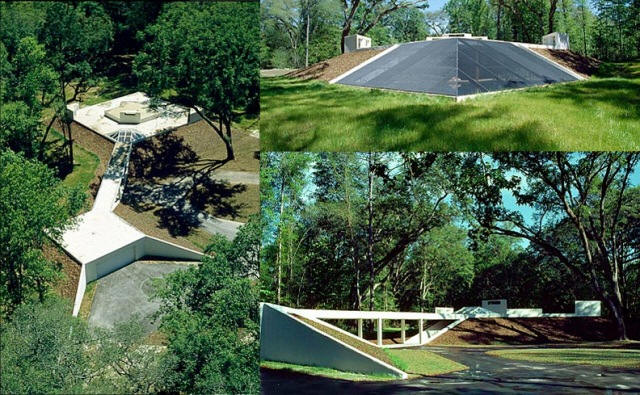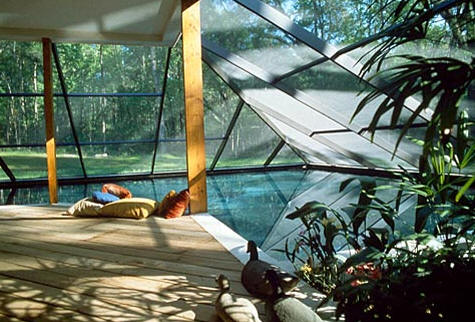 1979 - The Joshua C. Dickinson House, aka the Forest House, 6124 SW 30th Avenue, Gainesville FL. Commissioned 1977. Sold in 2015 to Anna L. Peterson and Manuel A. Vasquez.
---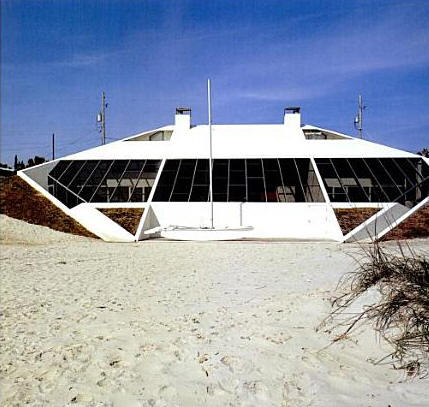 1982 - The George M. Goodloe Townhouses, 1971 Beach Avenue, Atlantic Beach FL. Three under one roof. Commissioned 1979. Sold to Mark S. Howard.
---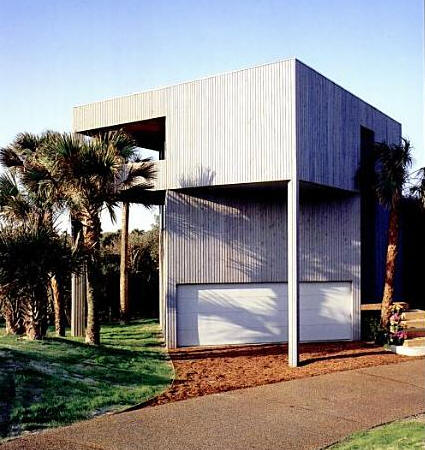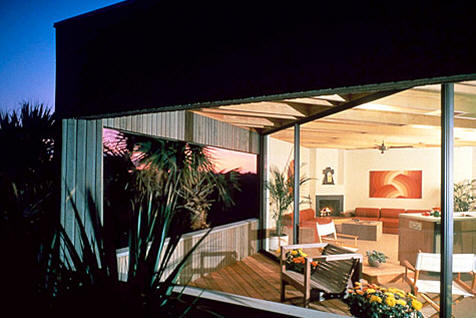 1983 - aka Treehouse, 1970 Beach Avenue, Atlantic Beach FL. 1000 sf. Commissioned 1979. This project was conceived as a prototype for higher-density residential development. Features thin vertical strips of cedar siding with exposed wood rafters and plank ceiling. Sold to Mark and Katrina Howard.
---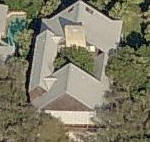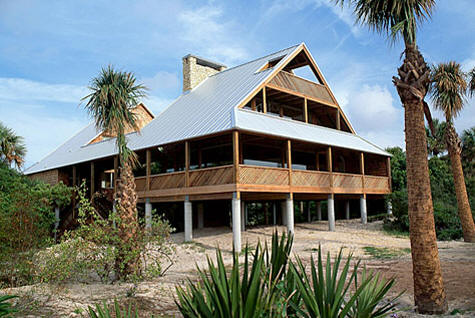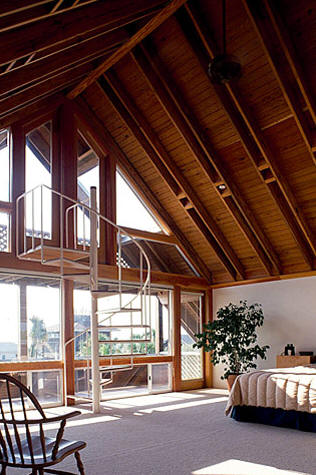 1987 - The Grandy House, 1927 Beachside Court, Atlantic Beach FL. Sold to Ronald and Marchant Martin. 3,570 sf. Three-story wood-framed structure on concrete piers.
---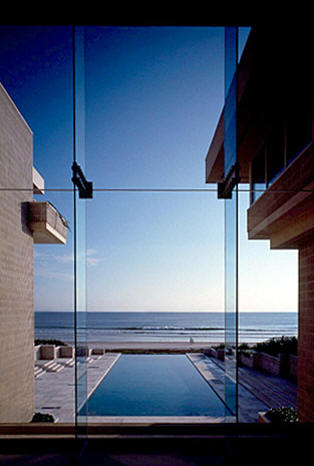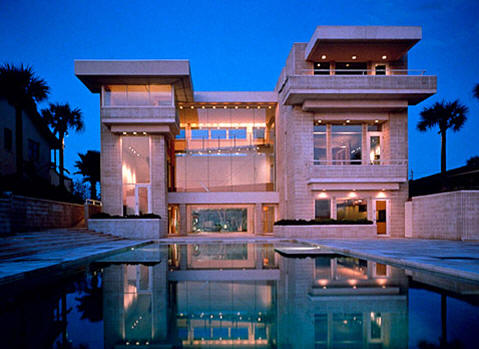 1994 - The Chapman Root III House,

489 Ocean Shore Boulevard, Ormond Beach FL. Two three-story, concrete block towers support second and third floor spaces bridging the towers. Swimming pool doubles as a reflecting pool, abutting the ocean shore. 6,500 sf. Commissioned 1989. Sold in 2015 to Andrea Bertele. For sale in 2019.
---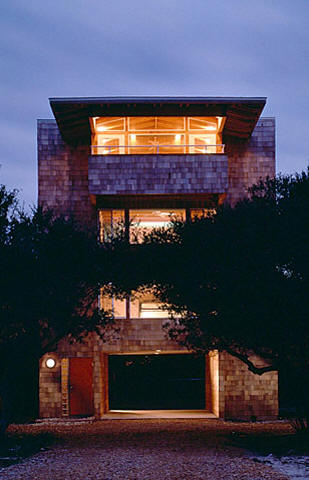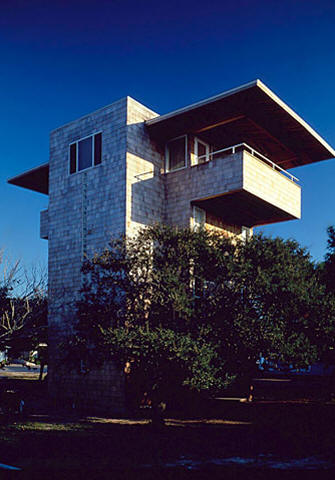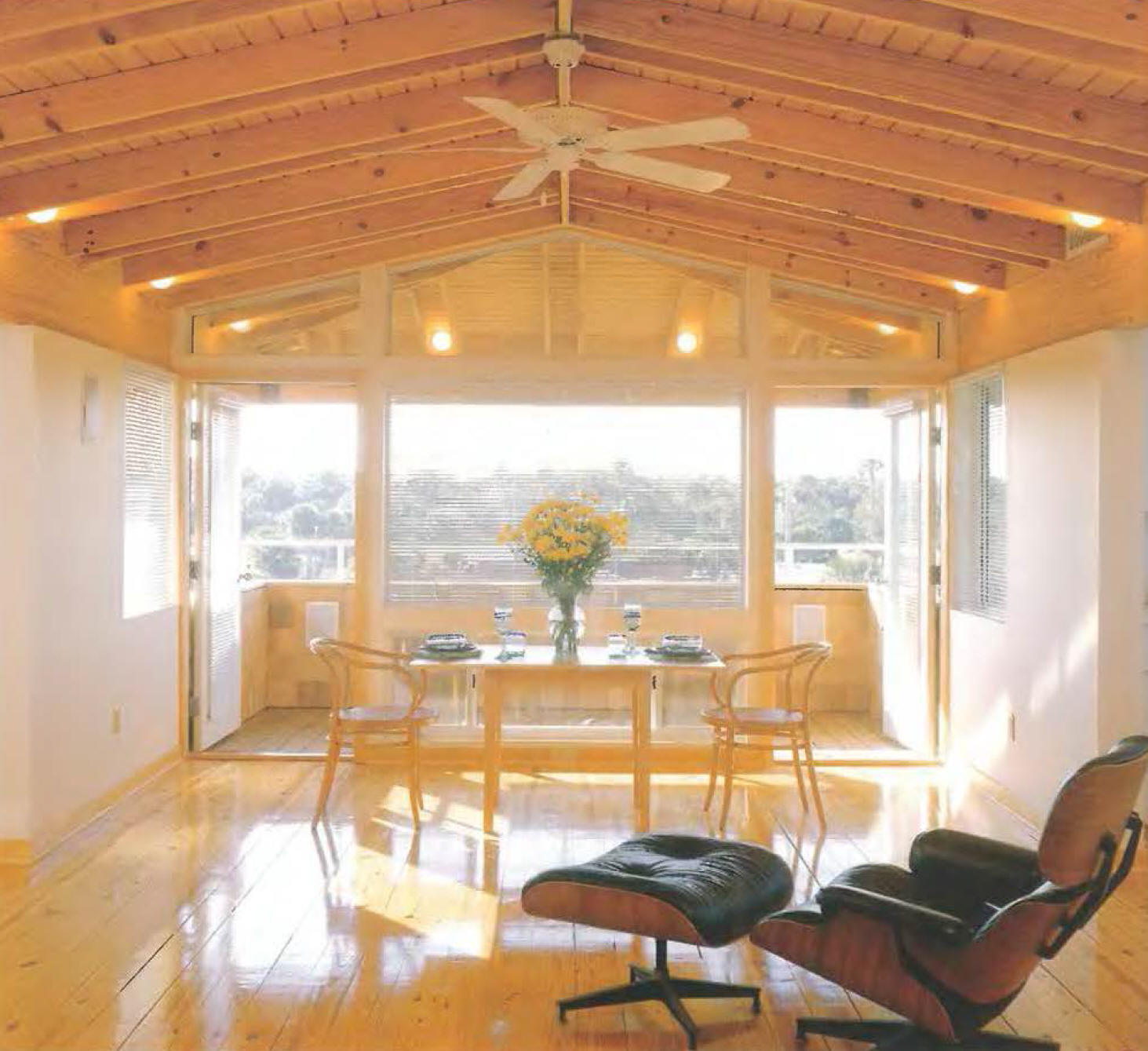 1996 - The Lynn Drysdale House, 1769 Ocean Grove Drive, Atlantic Beach FL. 1630sf. Four stories tall. The house is lifted into the air by a pair of large concrete towers. Top floor has a cantilevered balcony. Commissioned 1995. Featured in 100 of the World's Best Houses, Volume 1. Sold to Thomas and Judith Coughlin.
---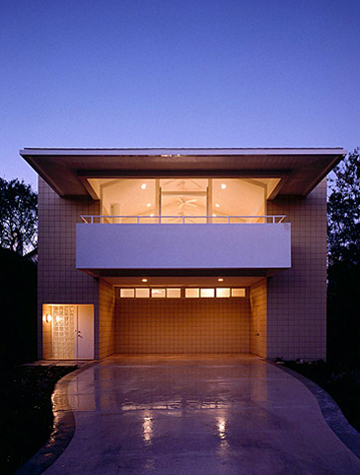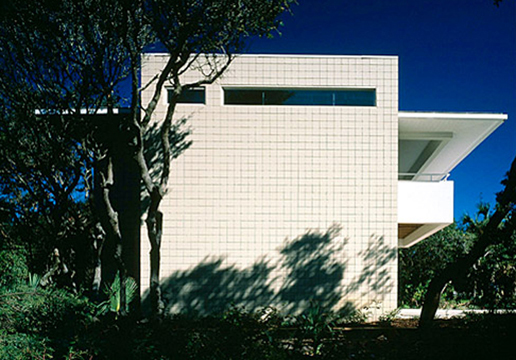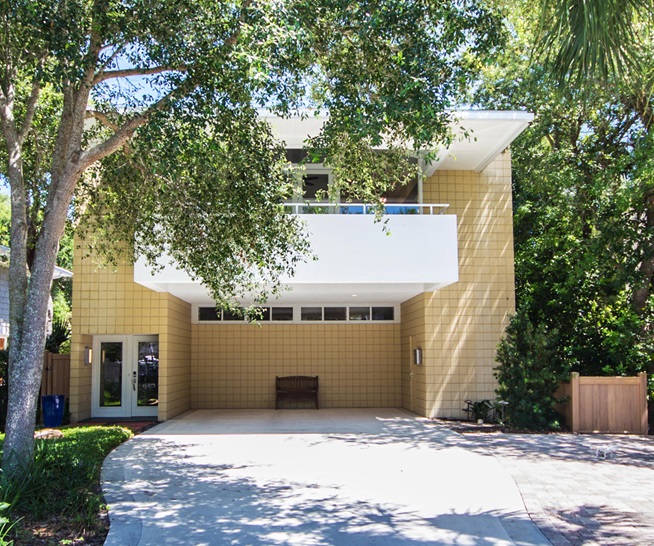 1998 - The Edwards House, 65 19th Street, Atlantic Beach FL. 1707 sf. Commissioned 1997. Sold to Janice Madsen. Sold in 2013 to David and Patricia Sweeney. Sold in 2017 to Lynn and Paul Mattingly.
---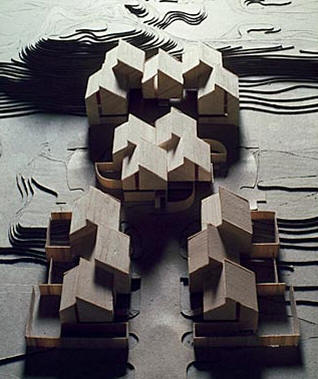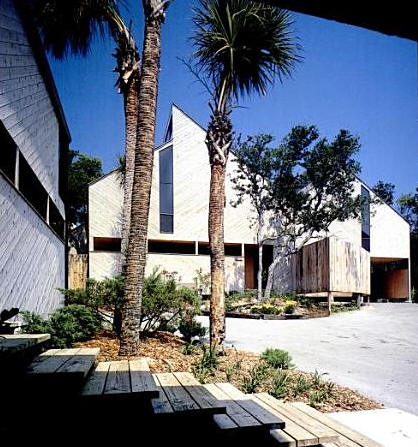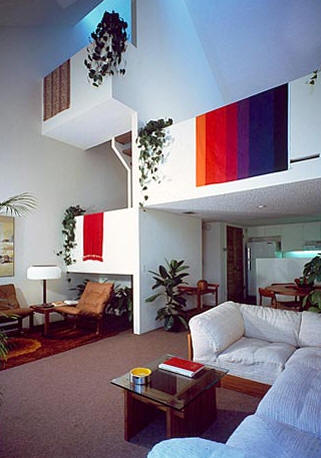 1999 - Sea Gardens Townhouses, 2277 Seminole Road, Atlantic Beach FL. Owned by Tore-King, Inc. 15 units. Commissioned 1977.
---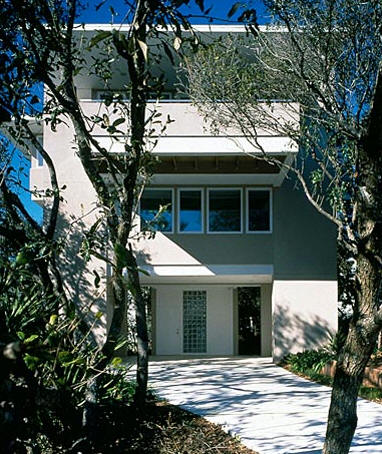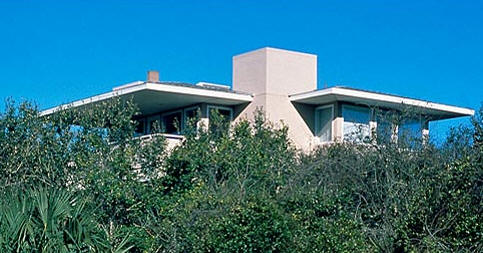 2000 - The Gregory K. West and Susan Hill House, aka West-Hill House, 57 19th Street, Atlantic Beach FL. 1,487 sf with 533 sf addition. Commissioned 1993. Concrete block towers support wood-frame superstructure.
---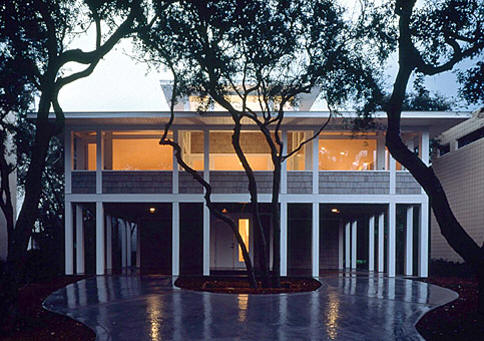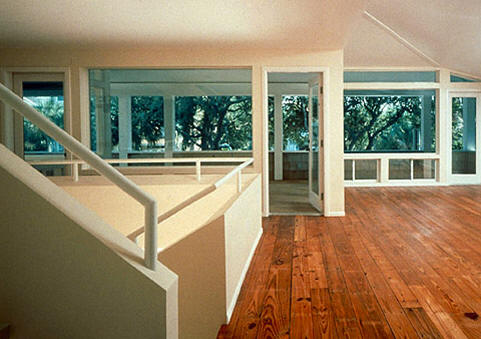 2001 - The Margaret S. (Peggy) Cornelius House, 71 19th Street, Atlantic Beach FL. Commissioned 1998. 2,205 sf. Design inspired by 19th century settlers' houses found in Northern Florida. Metal roofing with shingle siding. Sold to Stephanie Hardman and Karin Raudsep.
---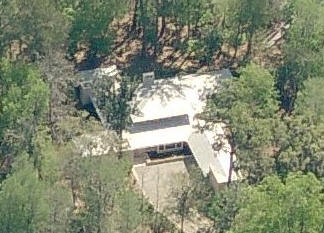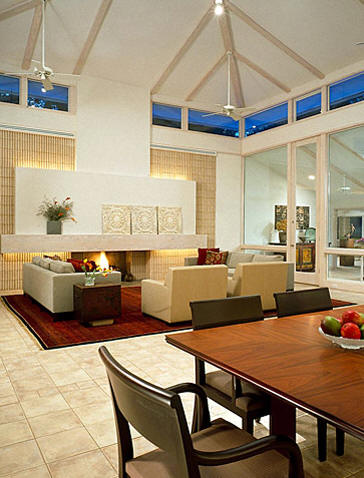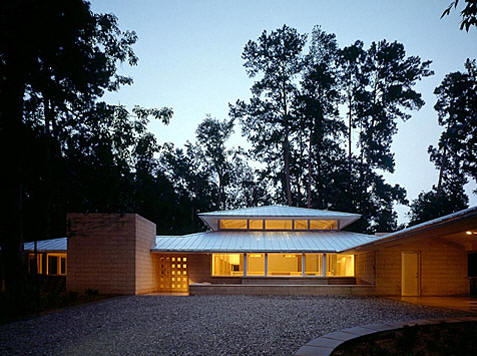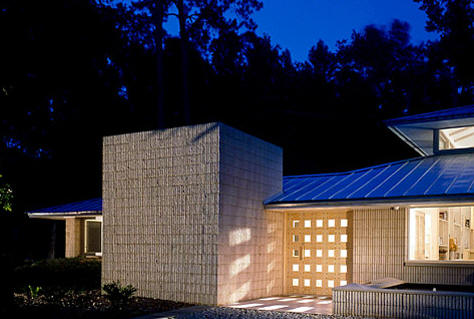 2001 - The Roger and Linda Blackburn House, 3047 NW 58th Boulevard

, Gainesville FL. Fluted concrete towers with latticed berm walls and metal roof on wood frame. 3,700 sf. Commissioned 1994.
---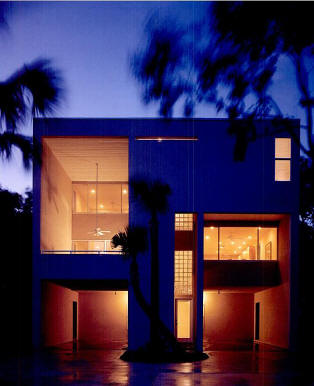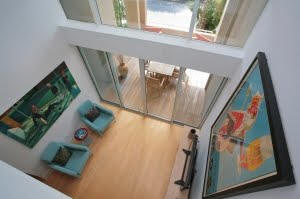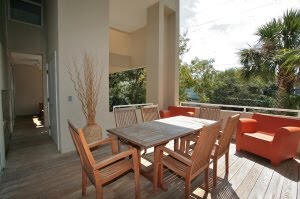 2001 - The Christopher Lambertson House, 77 19th Street, Atlantic Beach FL. 2300 sf. Commissioned 1999. Won an AIA Award. Sold in 2009 to John D. Lankshear. Sold in 2013 to Daniel Portnoy.
---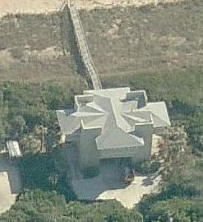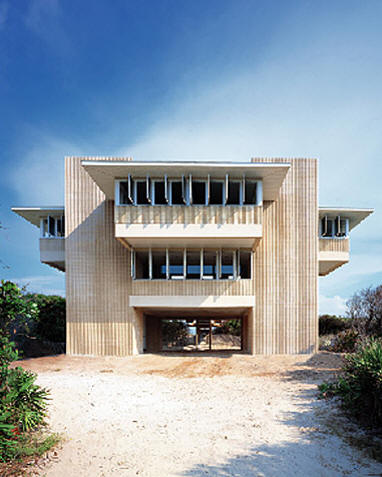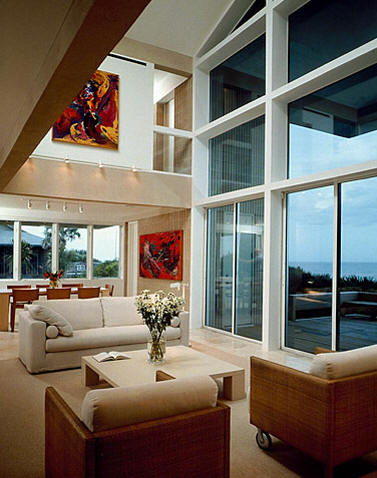 2002 - The James J. Conners House, 2397 Ponte Vedra Boulevard, Ponte Vedra Beach FL. 2882 sf. Commissioned 1998. Wood frame with four concrete block towers suspending the second and third floors. Alfresco first floor serves as covered parking. Second floor is flush with towers. Third cantilevers between towers on all four sides, supporting a squat, pitched roof with long eaves. The house essentially has two distinct rooflines—the flat roof of the perimeter towers and the slightly pitched roof of the third floor suspended in between. Sold in December 2014 to William and Alexandra Daugherty.
---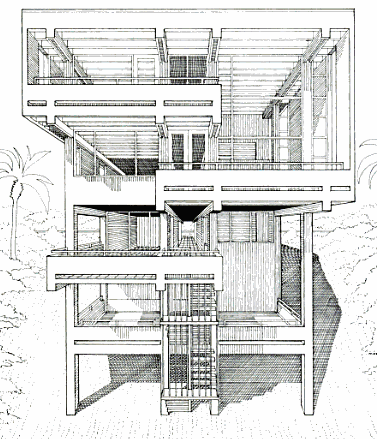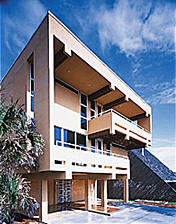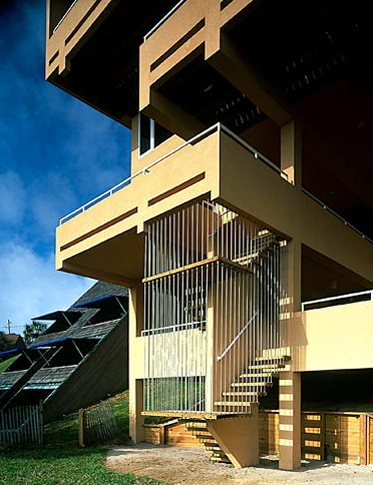 2002 - The Dylan T. Morgan House, 1951 Beach Avenue, Atlantic Beach FL. Designed for one of William Morgan's sons. Won an AIAFL Merit Award in 2003. Commissioned 1999. 3639 sf. With the front facing of the home resembling an extruded Greek key. The building is located adjacent to both William Morgan's own home and the Dune Houses. A most extraordinary aspect to the beachside entryway is the suspended-by-metal-thread, cantilevered, floating stairway that hangs from the bottom of the third floor balcony. Sold in September 2013 to Matthew Davis Fleming.
---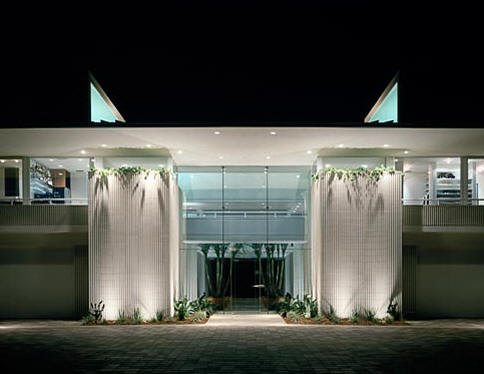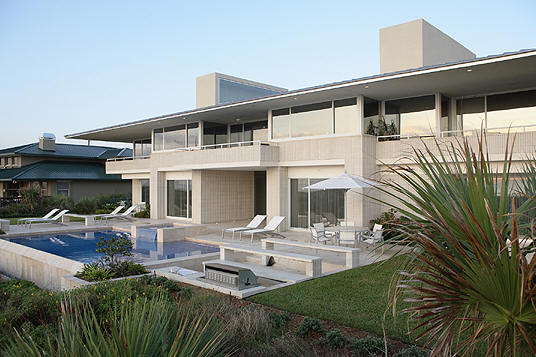 2006 - The Francis and Diane Lott House, aka Sealoft, 4296 Fletcher Avenue, Fernandina Beach FL. It is the signature house of the Amelia Islands. Interior concrete towers support and balance the whole of the wood-frame structure. Frontage faces street, rear faces beach with swimming pool in between, doubling as reflection pool. Lott is himself an architect, having received a BA degree from Georgia Tech. 5800 sf. Commissioned 2004. Video.
---

2010 - The Charles (Charlie) Knopf House, Stuart FL. Unbuilt.
---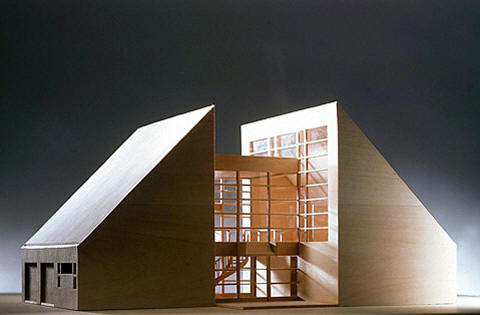 Year Unknown - Ocean Forest House, Atlantic Beach FL. Unbuilt.
---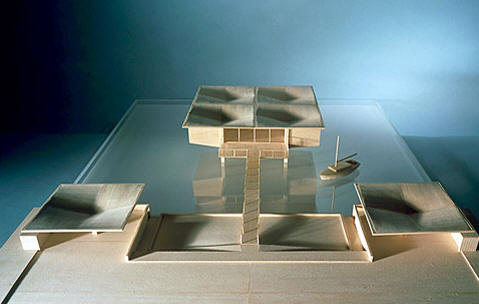 Year Unknown - The Lagoon House, Jacksonville FL. Unbuilt.
---
Sources include:
William Morgan
,
Max Eternity.